35+ Kitchen Wall Decor Ideas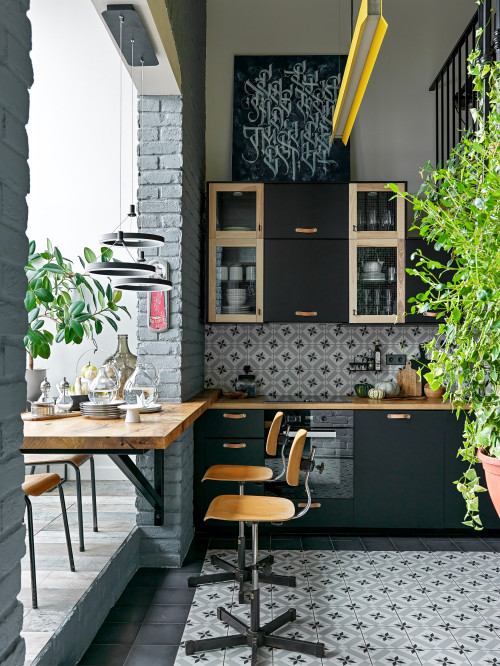 ID# 156404 | Houzz.com – Credit | © Totaste.studio | Виктор Штефан
---
Kitchen Wall Decor Ideas for Industrial Kitchen with Chalkboard and Plants
This industrial kitchen is fitted with black cabinets punctured by copper hardware and a floral-patterned backsplash. This combination feels both energic and reserved. Adding to this dualist design are also a chalkboard and indoor plants to enrich the kitchen's décor vocabulary. While the chalkboard makes for a fun addition, reminiscent of cafes, plants vivify the indoor space, creating an outdoor feel. Also, the timber countertops contribute to the raw and tactile character of industrial kitchens.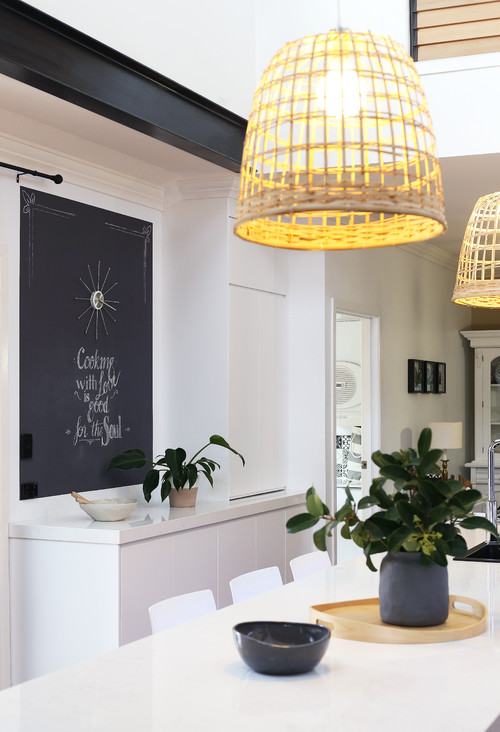 ID# 156424 | Houzz.com – Credit | © Bearcanvas Interiors
---
Beach-Style Kitchen with White Cabinets and Chalkboard
Instead of lining the empty walls with upper cabinets, why not go with statement décor ideas? This beach-style kitchen employs a sizeable chalkboard to leave some notes on or get creative with words. Whether you want to use it for jotting down aphorisms or recipes, a chalkboard serves as a great statement. Plus, it is functional as well. Here, also, the further enriching elements are kitchen plants and bamboo-carved lighting fixtures. They inject a coastal flair into the room, while white cabinets and countertops lighten it up all.
Kitchen Wall Decor Ideas
Kitchen wall decorations set the tone of the design, giving it a healthy dose of personality. Let's put it this way. If you have an all-white kitchen, it offers you a blank canvas for you to embellish as you wish. And it all is up to you whether you want to make it look modern or farmhouse. And with farmhouse kitchen wall décor and modern kitchen wall decor ideas, you can give this all-white kitchen a new vibe. Or if you prefer classy kitchen décor ideas over kitchen rustic wall décor, again, you can establish any look you want. Scroll down and find some inspirational kitchen wall ideas!
Creative Wall Decor Ideas
Wall décor for kitchen ranges from chalkboards to hanging pans, plants, floating shelves, plates, ceramics, and artwork. In other words, kitchen wall décor ideas don't necessarily have to be super expensive or too complicated. Simple wall décor ideas are plenty and are enough to construct the look you aim for. Kitchen wall décor made of timber as well as kitchen metal wall décor can be included in simple wall décor ideas. And they make immersive additions, creating effective looks.
And if you have an entire blank wall, large kitchen wall décor ideas can guide you at this point. Décor for large kitchen wall could be a sizeable artwork and a cluster of plates /cutting boards. For example, you can create a gallery wall in your kitchen to deepen the aesthetic mood of the space. Or if you love country looks, you can hang shovels and wooden cutting boards to emphasize the farmhouse flair.
Here we have a list of kitchen wall decorating that showcases how to play with different textures, materials, and forms. Take note of these designs and ideas to apply them to your kitchen and give it a new life.
What are good kitchen themes?
To start with, as good kitchen themes, all-white and contrasting color schemes rank at the top of the design themes. They have proven themselves as timeless and classic. And they can be updated whenever needed as they are suitable for a wide range of additions.
In addition to those, there is a wide range of designs that embrace Nordic aesthetics, luxurious touches, and chef's kitchen themes. They are very popular, soothing, and effective in their own right. Likewise, coastal design themes abundant in muted blue shades impose serenity. Tuscan design themes are awash with yellow and dark brown wrapping you with warmth and texture. Also, again, for nature lovers, soothing color schemes warmed up with timber accents and biomorphic forms result in timeless and artistic designs.
For those who love upscale household appliances, a chef's kitchen can be another design theme to go for. From cylinder-shaped range hoods to double-door fridges, and metal finishes, a chef's kitchen can boast all. Stainless steel countertops also take part in these designs, offering unparalleled durability.
Overall, all these styles are considered viable design themes, relaxing their users through their color and material vocabulary.
What Can I Use to Decorate My Kitchen Walls?
Popular wall decoration ideas include framed art prints, paintings, plates, chalkboards, lighting fixtures, and statement backsplashes. Each design element helps develop a certain design theme. For example, chalkboards can make fun additions to any design, while paintings introduce a formal version of art. You can visit thrift stores and find intriguing decors filled with history. In short, it is your imagination that sets the boundaries for decoration ideas.
Artworks
Whether colorful or monochromatic, landscape or abstract, the artwork gives plenty of options to impose a specific mood on kitchens. You can either hang them on walls or place them on countertops. Especially sizeable ones that add a high aesthetic value. Also, if you wish, you can create a gallery wall to accompany a kitchen island or a banquette.
What should I put on my kitchen walls?
From floating shelves to plates, artwork, lighting fixtures, and hanging cutting boards and pots, there is a wide range of decoration objects to accentuate kitchen walls. You can start with a gallery wall to deepen the aesthetic mood of the room. Floating shelves are popular, especially when the backsplash is extended up to the ceiling. You can accompany them with statement lighting fixtures.
Yet it also depends on the overall design theme of the kitchen. For example, rustic and country kitchens can exhibit shovels, cutting boards, and salvaged log pieces. Mediterranean kitchens, on the other hand, can benefit from plates, cast-iron statement lighting fixtures, and exposed wood beams.
So, first, plan a specific design theme. Then choose your decorations accordingly to retain consistency.
Statement Backsplash
Backsplashes not only protect the walls from water splashes, food splatters, and grease but also add aesthetic value to the walls. They can easily jazz up the overall look and make the design pop. So, if you don't have a penchant for accessories, you can go with a statement backsplash. From mosaic patterns to a marble slab, printed tiles, and geometric tile splash-backs there are different alternatives to make a statement with your backsplash. Just choose a statement material, size, or pattern, and then go for it to make a difference.
What colors are best for kitchen walls?
White, off-white, light beige, soft earthy shades, and warm colors are the most popular and suitable colors for kitchen walls. Additionally, lavender, pink, orange, and muted blue shades enrich the color repertoire.
How can I make my walls look nice?
Kitchens with more freed-up space always tend to feel much nicer. That's why you can start by taking your backsplash up to the ceiling. To leave more space for it, ditch the upper cabinets if you are not short on storage. But if that's not an option for you, you can use a color-blocking technique and paint a certain section of your walls another color. It could be a lively or a contrasting shade, depending on your preferences. Aside from those, using two types of backsplashes to create visual diversity also offers another alternative.
Additionally, suspended shelves, art prints, plates, cutting boards, and floating shelves are alternative options to beautify your walls. Industrial kitchens, for example, also prefer faux or original brick splash-backs. For a cleaner look, they can also be whitewashed just like rock backsplashes.
Hanging Pots
Especially popular in country and rustic designs, hanging pots are a great way to add accents to walls. Generally made of copper, they introduce color and a metal finish to the room. As simple metal kitchen décor ideas, they elevate the overall aesthetic ambiance. Plus, hanging them on the walls opens more space inside the cabinets.
Chalkboard
Budget-friendly and functional, a chalkboard can even replace a backsplash option. It is a great way to leave yourself some reminders and write grocery lists and recipes. Surely, art drawings and sketching are welcome too. You can install them by breakfast bars. Some designers even use them to accentuate the range hood fixtures, cabinets, and fridge doors.
Floating Shelf Display
Probably among the most popular kitchen wall décor ideas, we can count floating shelves. Installed symmetrically and in rows, they generally flank range hoods. Though, minimalist kitchens prefer a single linear shelf to maintain the kitchen's decluttered. But the key thing to keep in mind when designing them is to not store everything you find around. Rather, ensure to leave some breathing space between accessories, plates, and mugs. Focus on achieving intentional randomness, which will give you a well-curated look.
Plate Walls
Favored by Mediterranean, Tuscan, and traditional kitchens, plates, whether hung on the walls or placed on the shelves, give any space visual uplift. You can even create your own exhibition and give your kitchen a museum-like vibe. The plates add colors and patterns and also can be combined with artwork too. Thus, feel free to experiment with them.
How do you decorate a kitchen accent wall?
Kitchen wall décor ideas range from plates to chalkboards, open shelves, and curating a gallery wall. Yet when doing so, it is important to stay loyal to the overall theme. For example, if your kitchen is minimalist, stay away from pretentious elements and employ biomorphic forms and organic patterns. However, if you love shabby chic and eclectic designs, then you get the best chance to gather together different elements.
Yet aside from those, decorating is also about creating a more personal space. So, choose your favorite photographs, frame them, and hang them on your kitchen walls. They will not only provide an accent but motivate you while cooking too. It is always great to be surrounded by memories. And when you have the chance, why not use them to personalize your kitchen?
Statement Lighting
Both functional and aesthetic, statement lighting fixtures are more than light providers. You can use them to accentuate walls or anchor islands to the design. Also, feel free to mount them above the floating shelves. This way, you can provide accent lighting for the selves, which gives you a cozy atmosphere.
Plant Pots
One of the best ways to bring the design to life is plant pots. Greenery plants deliver freshness, a breath of fresh air, and color. You can place them on countertops and range hoods, or exhibit them on suspended shelves. Especially if you want to achieve a Scandinavian design, don't forget to get plant pots.