32+ Eclectic Kitchen Backsplash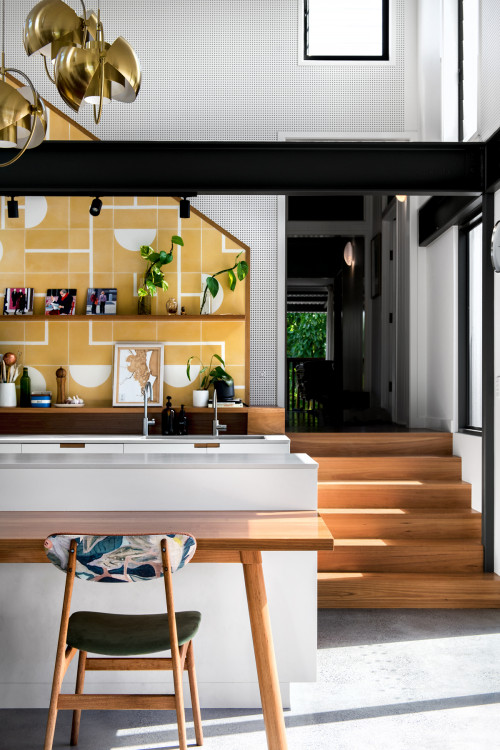 ID# 137202 | Houzz.com – Credit | © Maytree Studios
---
White Cabinets and Quartz Countertops with Yellow Cement Tiles
The white kitchen cabinets and the quartz countertops balance the colorful environment. The light wood texture brings a natural environment to the kitchen while the yellow eclectic kitchen backsplash tiles provide a burst of color and focal point. The cement tile backsplash design joins the warm atmosphere of the wood texture.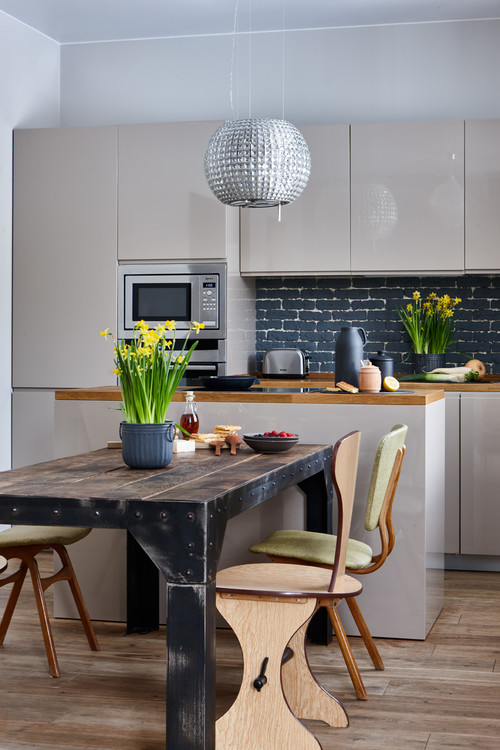 ID# 137217 | Houzz.com – Credit | © Вера Савельева
---
Light Gray Flat-Panel Cabinets and Wood Countertops
The light gray handleless flat-panel kitchen cabinets provide a contemporary appeal while the wood countertops and the dining table create different design styles, which makes an eclectic design eclectic one. The wood countertops and the black brick backsplash add a warm atmosphere with a familiar texture.
Eclectic Kitchen Backsplash
If you think that neutral, black, or white kitchens are dull, we can recommend an eclectic touch to your kitchen renovation! With the eclectic design style, you can spice up your kitchens and add colors with endless possibilities. Since a backsplash wall is a small area, you can add visual interest to cabinetry design and create focal points with an eclectic kitchen backsplash design.
Although the clean, minimalist style has captivated interior designers, it is not always suitable for everyone. Some people choose a far more daring strategy, like eclectic design. Experimenting with a wide range of textiles, textures, motions, and styles is what defines the eclectic aesthetic. By using a variety of materials and colors that contrast and complement one another, an eclectic design may make a space appear brighter. When it comes to an interpretative aesthetic, there are no right or wrong ways to attain the desired effect. Finding a place to begin might be difficult, though. On the one hand, you can feel like there is too much fabric and design going on at once. However, an eclectic kitchen backsplash can be the right place to add an aesthetic touch to your kitchen.
Given the variety of materials, shapes, and patterns present in your kitchen with a backsplash, it's a great location to start experimenting with strong and varied design aesthetics. So, if you want to spruce up your kitchen, scroll down and find inspiring eclectic kitchens!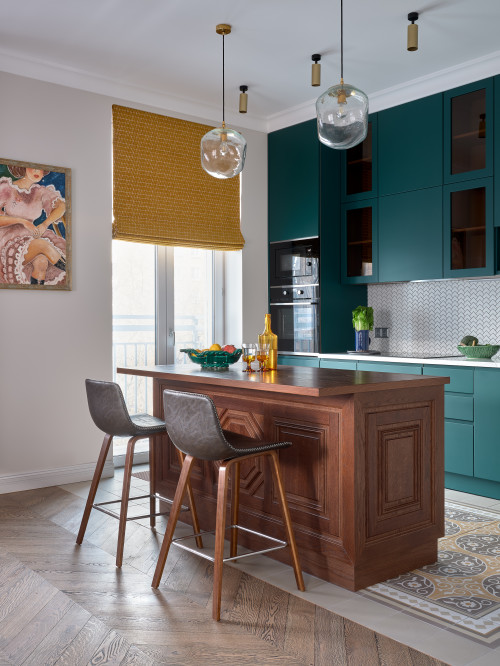 ID# 137201 | Houzz.com – Credit | © Natalie Vershinina
---
Eclectic Kitchen Backsplash with Blue Flat-Panel Cabinets and White Countertops
The colors add a stylish look to this eclectic kitchen. The contrast between the blue cabinets and the wood island creates a stylish and aesthetic appeal. The yellow curtains complement the blue cabinetry and the wooden textures stylishly. Thanks to the white environment, white countertops, and white mosaic tile backsplash, the dark hues of the cabinetry are enlightened well.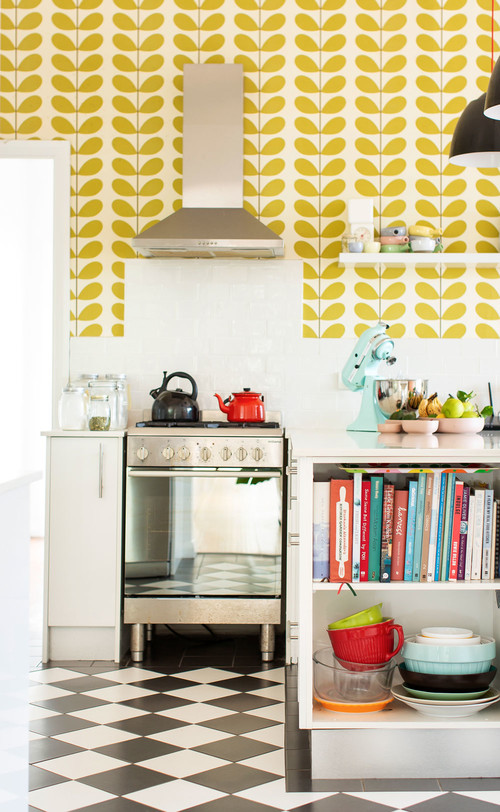 ID# 137203 | Houzz.com – Credit | © Bull Building Pty Ltd
---
White Flat-Panel Cabinets and White Countertops with an Eclectic Kitchen Backsplash
The stylish and clean white cabinetry design is accentuated by the yellow patterns of the wallpaper. While the wallpaper draws all the attention and acts like a backsplash, the white tile backsplash balance the environment with the cabinetry design. The checkerboard floors and the colorful wallpaper design bring color and energy to this beautiful kitchen design.
What is eclectic kitchen?
Your kitchen should, in our opinion, be as vibrant as you are! This calls for using creativity to design your kitchen and incorporating a little of your individuality into each component. A wonderful method to mix up the components is using an eclectic style. It's a free-for-all to experiment with your kitchen by combining modern and classic elements and adding accents to your preferred hue.
However, eclectic design or décor isn't a total free-for-all. It should be a thoughtful selection of what resonates with you the most. This entails thinking about how each component interacts with the others. Concentrate on contrasting colors, styles, and materials, but watch out for causing confusion. To delight, not to overwhelm, is the goal.
Mix and match a couple of kitchen design ideas for a modern eclectic kitchen design that will definitely have your visitors talking. The nice part about having an eclectic style in your home is that you may do it without completely remodeling your kitchen by using straightforward yet creative decorating ideas.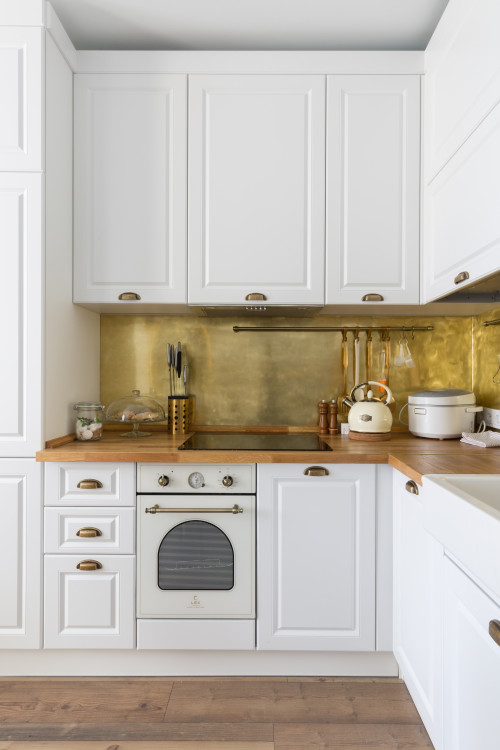 ID# 137204 | Houzz.com – Credit | © Шакирова Елена
---
Wood Countertops and White Kitchen Cabinets with White Appliances
To keep the unified appeal alive, using colorful appliances is one of the ways you can apply, as in this kitchen. White appliances do not break the wholeness of the cabinetry design. The most eye-catchy design element is the brass backsplash, of course. Copper hardware and the backsplash complement each other harmonizing with the wood countertops in terms of the color hues.
Color Options for Eclectic Kitchen Backsplash
Since a backsplash is now a component of design, there are endless color options for eclectic kitchen backsplash ideas, whether you want to create one from scratch or adapt an existing one. The purpose of a backsplash in the kitchen is no longer limited to protecting your walls from splashes. You can spice up your kitchen's overall look with the help of the many color options for eclectic kitchen backsplash ideas.
You may find a wide range of eye-catching color options for eclectic kitchen backsplash ideas in the backsplash market, from black to shocking green hues. Whether your style is classic or contemporary, there is a perfect fit for everyone with the large selection of color options for eclectic kitchen backsplash ideas. Scroll down to explore some stunning illustrations of the many color options for eclectic kitchen backsplash ideas.
White Eclectic Kitchen Backsplash
Your kitchen should be enjoyable for you in addition to being practical. Almost any kitchen backsplash design would look beautiful with a white eclectic kitchen backsplash. Despite being a pretty conventional choice, white backsplash may be used in numerous contemporary ways, too. Making a powerful statement may be accomplished by experimenting with surface coatings, or just enlightening the colors of an eclectic kitchen with a white backsplash.
Of course, white is a popular backsplash color in many kitchens. Some people view white backsplash tiles as a secure alternative with a really chic design appeal, while others regard them as a secure answer. White eclectic kitchen backsplash ideas are the simplest and most practical approach to accomplish your goal, regardless of whether you want to create the impression of a traditional white subway tile kitchen or add a new mood and atmosphere that will radiate originality. Check out some chic white eclectic kitchen backsplash design ideas by scrolling down.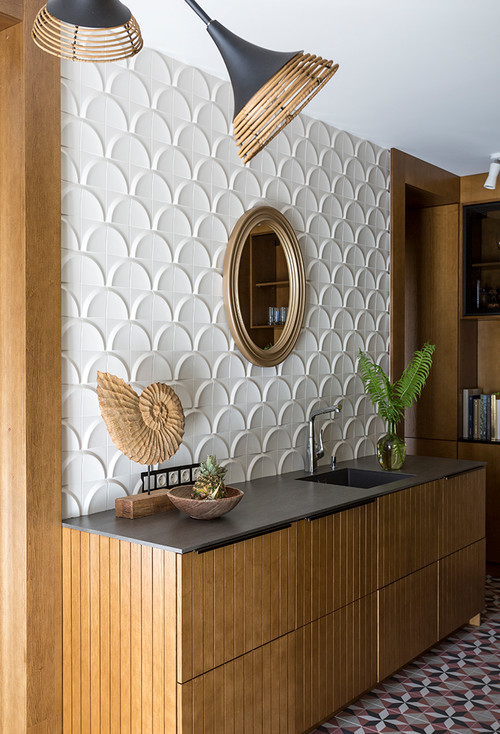 ID# 137205 | Houzz.com – Credit | © Make Interiors
---
White Eclectic Backsplash with Gray Countertops and Wood Cabinets
The 3d backsplash design idea can be helpful to fulfill your eclectic design idea! The 3d backsplash design of the fish scale tiles draws all the attention with its unique and beautiful pattern. The texture and pattern with the 3d effect provide depth to the cabinetry design. Having plain designs for the countertops and the cabinetry makes the backsplash stand out more.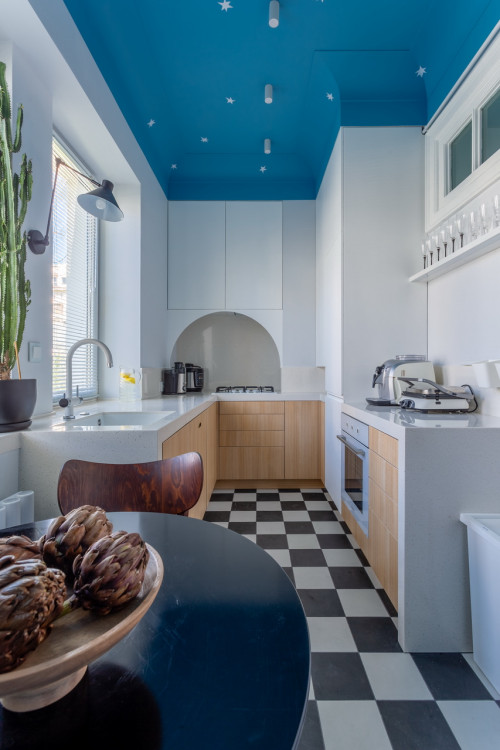 ID# 137206 | Houzz.com – Credit | © ArchBlack
---
Light Wood Cabinets and Checkerboard Floors with a Blue Ceiling
The freshness of the white flat-panel kitchen cabinetry meets with the blue hues. At first, these provide a coastal vibe, however, the checkerboard floor tiles and the wood cabinetry design complement the eclectic kitchen design look. The light wood flat-panel kitchen cabinets and the blue colors add an aesthetic contrast, also.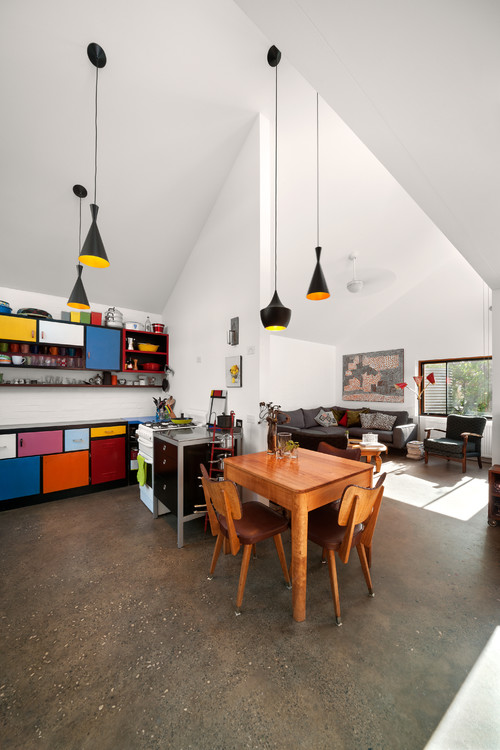 ID# 137207 | Houzz.com – Credit | © Ande Bunbury Architects
---
White Eclectic Kitchen Backsplash with Colorful Kitchen Cabinets
Such an energetic atmosphere! The dynamic look of the colorful kitchen cabinets fills the entire kitchen with colors! The mismatched cabinetry design and the black countertops complement each other while the white environment, concrete floors, and white backsplash balance this joyful appeal.
How to make a kitchen eclectic with backsplash?
If you want to put an eclectic touch to your kitchen with a backsplash, first you need to know that you do not overdo anything in your kitchen. Base your design around an attractive pattern or color choice, and then put in other, more muted aspects. In this manner, the design will be more spunky than freakish, and the atmosphere will be upbeat rather than oppressive. According to these, you can create a simple environment with a combination and make the backsplash stand out with eclectic colors and patterns.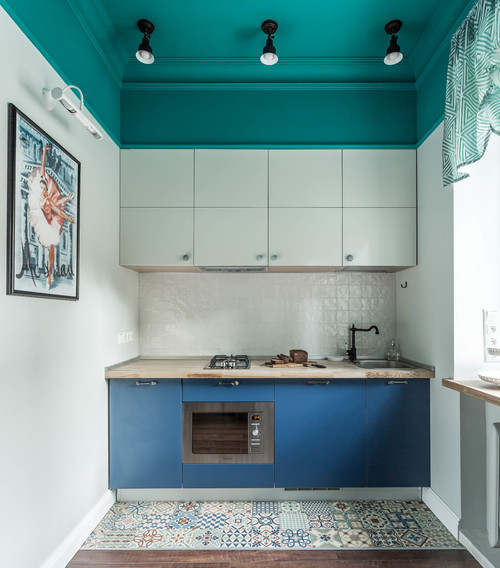 ID# 137208 | Houzz.com – Credit | © Ольга Шангина | Photography
---
Blue and White Flat-Panel Cabinets and Wood Countertops
White flat-panel uppers and blue flat-panel base cabinets provide a fresh and clean look. The turquoise ceiling painting creates a seaside vibe, too. The mismatched multicolored floor tiles complement the blue cabinets and the ceiling adding movement. The blue hues and the wood details put a stylish contrast that joins the eclectic design look of the kitchen. The white tile kitchen backsplash and the white environment with white uppers balance the colorful look of the kitchen.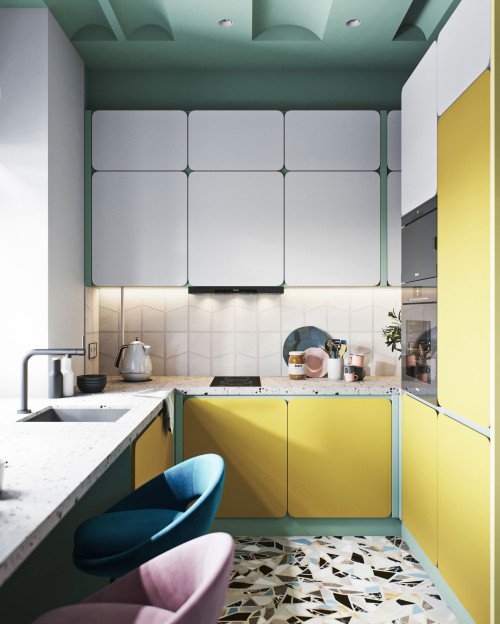 ID# 137209 | Houzz.com – Credit | © Дизайн-бюро Алёны Горской
---
White Eclectic Kitchen Backsplash with White and Yellow Kitchen Cabinets
The lovely hue of the yellow kitchen cabinets is accentuated by the light blue cabinetry frame. This contrasted look combines with the terrazzo kitchen floors stylishly while the white uppers and the white eclectic kitchen backsplash enlighten the colors with balance. The ceiling color and the frames with yellow cabinetry provide energetic vibes to the kitchen.
Gray Eclectic Kitchen Backsplash
The heart of your home is the kitchen. It provides a setting where people may assemble to celebrate and talk about life transitions. Instead of being cold or sterile, this room should be neat and welcoming. It might be difficult to create a friendly workplace that is also easy to maintain. You shouldn't have to put up with a backsplash constructed of less-than-ideal tiles because it requires extra work to maintain. In the kitchen, choose a gray eclectic backsplash. Gray backsplashes in eclectic kitchens look great when matched with either dark or light cabinets for a stylish look. It has a simple design and is welcoming, tidy, and uncluttered—exactly how a kitchen should be.
One of the neutral colors that may be used in both classic and eclectic designs is gray. Its adaptability allows you to use it in kitchens in a variety of ways. Additionally, a gray eclectic kitchen backsplash may help you soften the design appearance if you don't want a harsh white aspect or to cover the entire kitchen with a black backsplash. Gray may also be quite helpful if you want a monochromatic image with a soft complementary tone. Discover the astounding outcomes of the gray eclectic kitchen backsplash designs below for inspiration!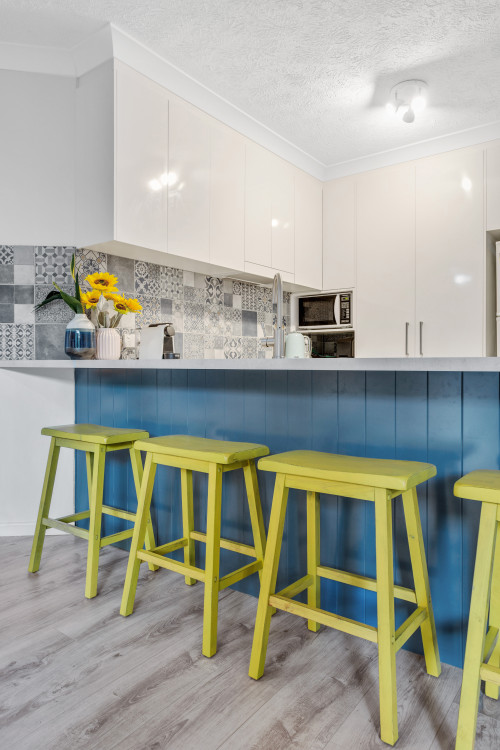 ID# 137210 | Houzz.com – Credit | © Verto Kitchens & Bathrooms
---
White Cabinets and a Blue Island with a Gray Eclectic Kitchen Backsplash
The light blue island and the yellow stools look eye-catchy! The white flat-panel kitchen cabinets and the white countertops act like a canvas to make the design elements stand out such as the gray eclectic kitchen backsplash, blue island, and yellow stools. The mismatched patterns of the backsplash tiles provide movement and add texture with an elegant appeal to the kitchen cabinetry design.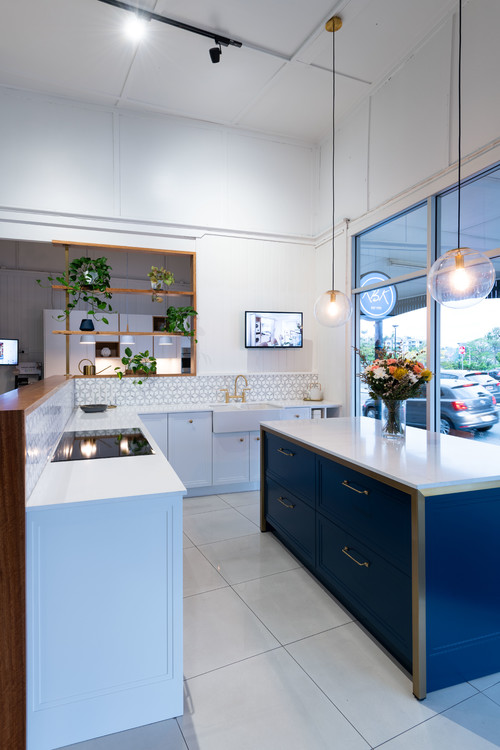 ID# 137211 | Houzz.com – Credit | © KBK – Custom Kitchens Designers based in Brisbane
---
White Cabinets and a Blue Island With White Countertops
The blue island and the brass details complement each other creating a luxurious appeal while the white kitchen cabinets and countertops create a clean and simple look. The light beige floor tiles and the floating wooden shelving system harmonize together adding a traditional touch while the gray eclectic kitchen backsplash design complements the white cabinets with an elegant look.
How to decorate an eclectic kitchen?
A variety of various color and texture combinations may be used in eclectic kitchens, like muted walls with robin's-egg blue cabinets, a subway tile backsplash, and stainless steel equipment, or a tiny kitchen island with a stainless steel top. Eclectic kitchens can have any number of colors, textures, and materials and are frequently playful and whimsical.
For instance, you might discover an eclectic kitchen design based on the backsplash's white-and-tangerine chevron pattern. Designers may then opt for simple white countertops and dark wood cabinets, putting the backsplash as the main focus. In this example, everything else might be understated while the backsplash reflects the diverse design feature.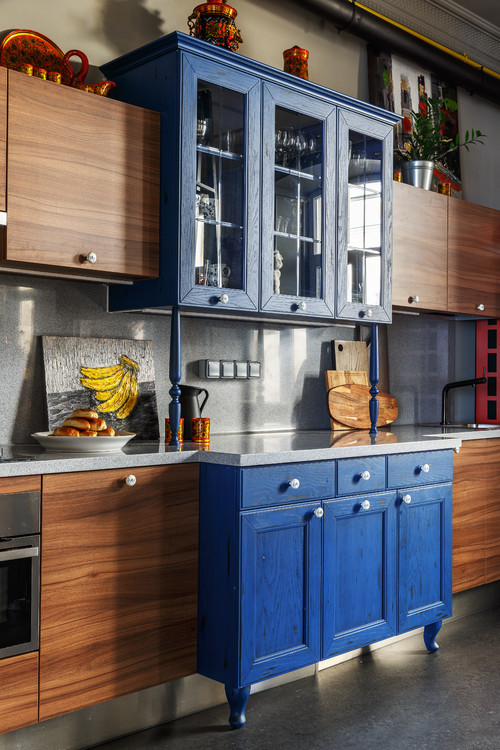 ID# 137212 | Houzz.com – Credit | © Totaste.studio | Виктор Штефан
---
Wood and Blue Cabinets with a Gray Eclectic Kitchen Backsplash and Countertops
The blue recessed-panel cabinets and glass front uppers stand out creating an aesthetic contrast with the wood flat-panel kitchen cabinets. The wood and blue cabinetry design provide a natural atmosphere and the solid slab gray eclectic kitchen backsplash with countertops complement them with a warm appeal.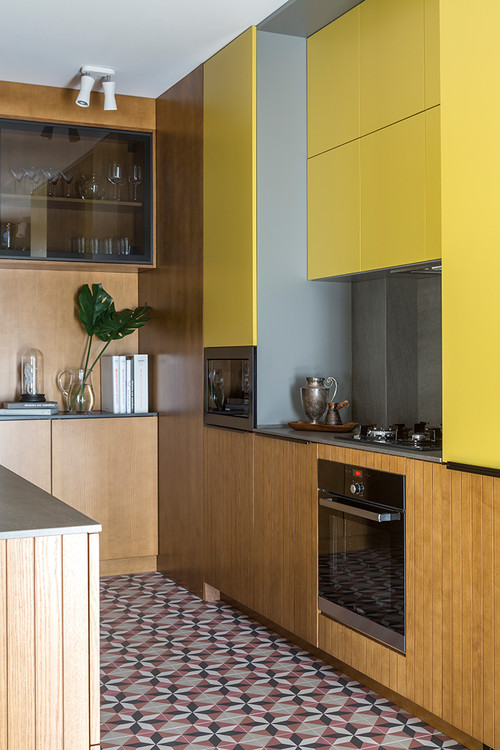 ID# 137213 | Houzz.com – Credit | © Make Interiors
---
Light Wood and Yellow Flat-Panel Cabinetry Design with Colorful Floor Tiles
The yellow and the wood kitchen cabinets complement each other adding energetic and familiar vibes to the kitchen while the glossy gray slab backsplash adds a contemporary touch. The colorful floor tiles put movement and texture to the plain design of the kitchen cabinetry.
Black Eclectic Kitchen Backsplash
Black is a traditional color that never goes out of style. Additionally, it provides the space with a more expensive appearance and contributes to the contrast or serious attitude. An incredible substitute for a black eclectic kitchen backsplash may provide beauty to a neutral or pastel-colored space or finish off a gloomy region. You may create the ideal gorgeous black eclectic kitchen backsplash with these qualities.
No matter what color scheme you choose for your kitchen—dark, somber, bright, or fully neutral—you may use a black eclectic kitchen backsplash. The industrial, modern, Scandinavian, and minimalist kitchen design styles are the most common ones that use matte black kitchen backsplashes. However, by backing it with black appliances, a hood, worktops, or fittings, you can even try it in a rustic, farmhouse, eclectic, or many other types of kitchens.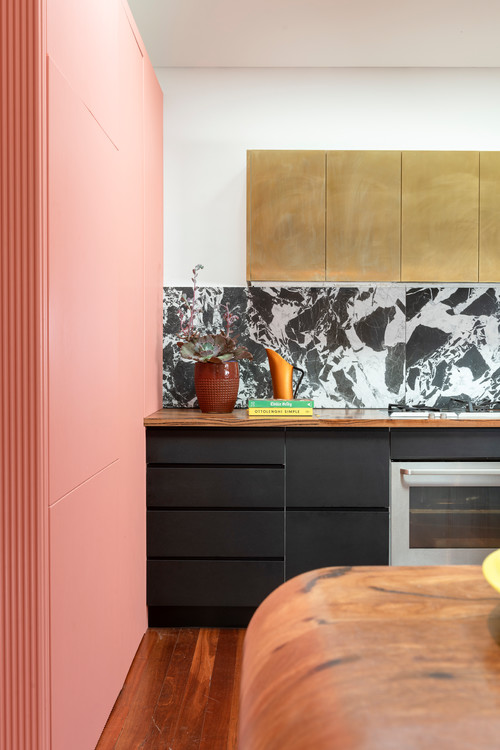 ID# 137214 | Houzz.com – Credit | © Handwerk
---
Black Eclectic Kitchen Backsplash with Charcoal and Pink Cabinets
Such a bold eclectic kitchen design! The contemporary cabinetry design meets with the pop of pink color! The charcoal color is one of the dark hues of gray and is complemented by the gorgeous pink cabinetry design adding an elegant and bold appeal. The black eclectic kitchen backsplash adds movement and natural touch to the kitchen.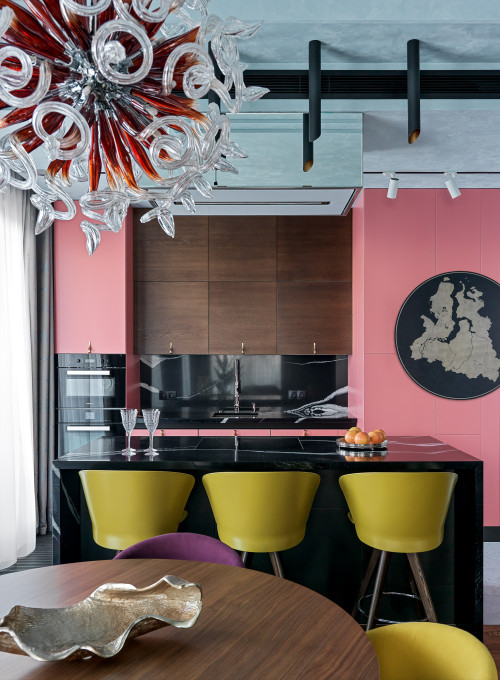 ID# 137215 | Houzz.com – Credit | © AR-1 | architecture & design
---
Pink and Wood Flat-Panel Cabinets with Stone Slabs
The black stone slab backsplash, countertops, and island with waterfall complement the pink and wood flat-panel kitchen cabinetry design with a luxurious and elegant appeal. The black color brings a sophisticated appeal while the pink cabinetry design adds energy and eclectic vibes.
Blue Eclectic Kitchen Backsplash
Because it stands for strength and confidence and has the potential to either uplift or lower spirits, blue is one of the most popular colors for a reason. If there is one thing we can be certain of, it is that there is a perfect shade of blue for everyone. This is why kitchen backsplashes with cool-toned, blue always look fantastic when paired with white or black cabinetry. A bold navy blue backsplash or a blue eclectic kitchen backsplash are some of the alternatives that you can combine for an eclectic kitchen design.
You may either pick a spectacular blue eclectic kitchen backsplash composed of deep blue glass tiles, or you can convert your kitchen into an island paradise using warm, blue-green ocean water as inspiration. To add some color to your kitchen, use a backsplash made with eye-catching blue picket tiles. It might serve as a sizable backsplash wall tile, a cooktop accent tile, and the perfect focal point that won't overpower a room. Scroll down to see a handful of the stunning blue eclectic kitchen backsplash design ideas we've compiled for you to be inspired!
Green Eclectic Kitchen Backsplash
If green is what you want in the kitchens, you can always rely on its lovely beauty and durable persistence! Green eclectic kitchen backsplashes are a popular choice among homeowners and interior designers. Whether it is a farmhouse design style or a modern design style, a green backsplash goes nicely with many different design kinds. You may give your kitchen decor a dynamic, vivid air by using a matte green backsplash.
Your kitchen may feel brighter and airier by using white kitchen cabinets with a gorgeous green eclectic kitchen backsplash. It's possible that wood countertops may contribute to this harmony, enhance its minimalist attractiveness, and give your mornings a more natural and fresh sense. View the gorgeous green eclectic kitchen backsplash designs by scrolling down!
Colorful Eclectic Kitchen Backsplash
To guarantee that the undertones and temperature of your backsplash for kitchens match the color scheme of the rest of the space, choose it carefully before making a purchase. However, for eclectic kitchens, you do not have to match the backsplash to the rest of the space. Bold choices can make a strong statement such as a colorful eclectic kitchen backsplash. It's also helpful to decide which finish is ideal for your home. The backsplash can be glossy or matte. While matte backsplash gives a sleeker, more modern appearance, the glossy backsplash is easier to maintain clean. By selecting the ideal finish, color, and design for your space, you can choose a colorful eclectic kitchen backsplash that has style and functionality for the long run.
Knowing the many types of colorful eclectic kitchen backsplash designs is crucial since patterns, materials, and lines may change a lot of things. You might choose to use a colorful subway tile backsplash or you can use one to give the white kitchen personality. The sorts of colorful eclectic kitchen backsplash designs are vital, too, to compliment the overall design aesthetic, just as the color scheme does. For more wonderful and lovely ideas for colorful eclectic kitchen backsplash ideas, scroll down.
What color backsplash is good for an eclectic kitchen style?
In general, we would recommend a white backsplash, it is still the most versatile one, however, since the eclectic design style is about, mostly, playing with colors and patterns, you can go with a colorful backsplash design!