29+ Eclectic Bathroom Ideas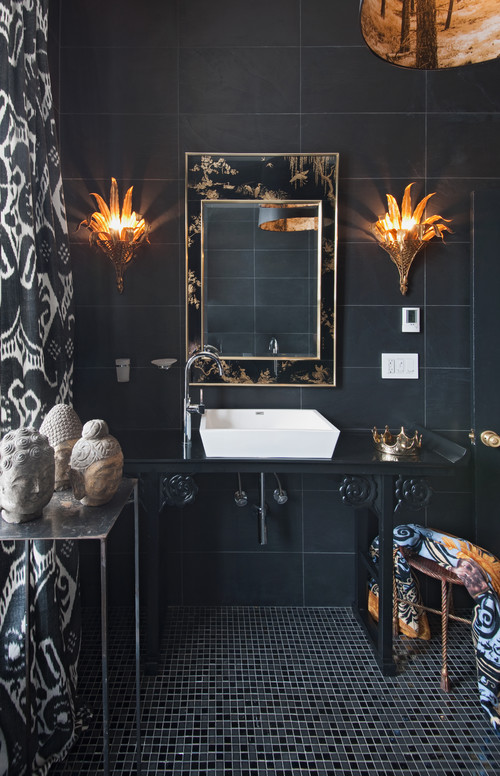 ID# 152104 | Houzz.com – Credit
---
Eclectic Bathroom Ideas and the Nobility of Black
This eclectic bathroom design offers a dramatic atmosphere with its black wall tiles, and black mosaic floor tiles. The white vessel sink of the black vanity contrasts with the black fixtures and creates a focal point. The gold appliques, unique mirror frame, and patterned curtains perfectly complete the dramatic and elegant look.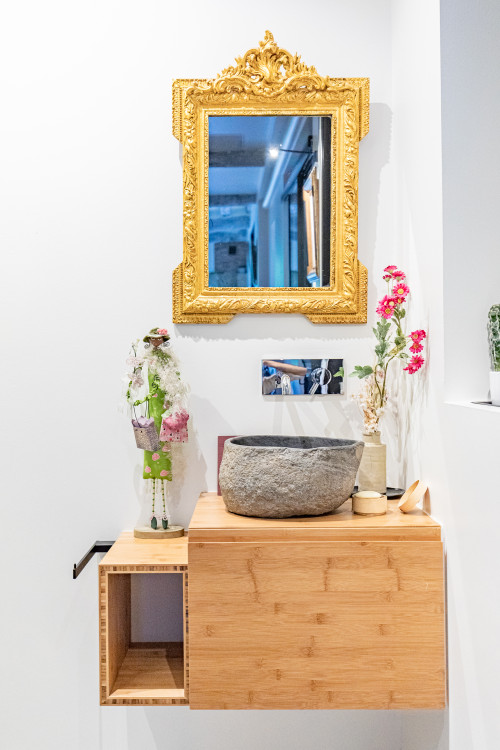 ID# 152124 | Houzz.com – Credit | © Castellanos
---
Contemporary and Classic Together
The wooden wall-mounted vanity in front of the white walls gives a contemporary impression. While emphasizing the naturalness of the stone washbasin standing on it, the mirror with its classic golden color frame adds a different atmosphere to the space and the bathroom gains a new identity with this eclectic bathroom mirror.
Eclectic Bathroom Ideas
If you want to create a unique and fun bathroom space in your home, you will want to review eclectic bathroom design ideas! An eclectic bathroom should combine styles, influences, and details to dazzle. Because Eclectic style describes the tendency to extract the best ideas from different contexts and combine them to create something unique. In a philosophical sense, it can be perceived as "taking the best of what each system has to offer". We can say that this style inspires by various design sources. Mixing and matching complementary and contrasting elements often creates a visually impactful design in eclectic rooms. Bathrooms are often different from the general design style of the house, here homeowners can choose eclectic bathroom ideas that offer unique and interesting options because they can combine a variety of influences and there are no strict design "rules.
Eclectic bathrooms can combine a variety of styles in one space, bringing together everything from vintage furniture to carefully selected art and decor items, design movements, and decorating styles from different eras. It is also a great way to combine contemporary and traditional styles. Or it could be an option to add rustic elements to a contemporary design. It is possible to come up with different ideas with this style according to personal taste. You can browse examples for eclectic bathroom ideas. If you are interested in eclectic bathroom ideas, you can take a look at the examples.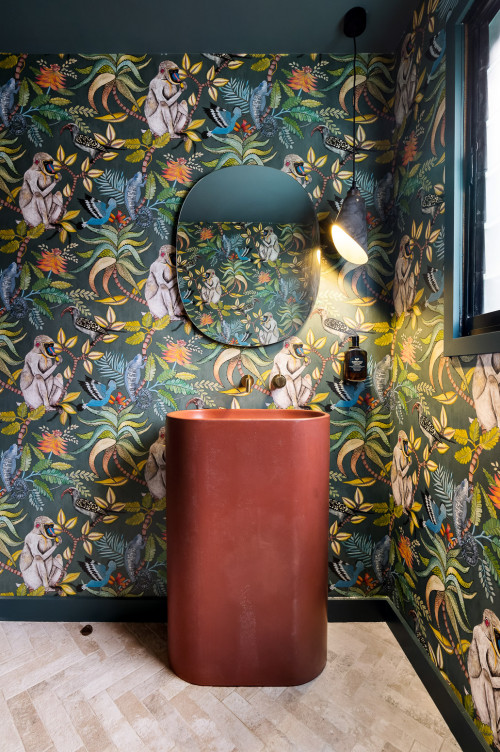 ID# 152101 | Houzz.com – Credit | © Rebecca Lu Photography
---
Eclectic Bathroom Ideas with an Exotic Wallpaper
Less furniture, much detail! The tropical wallpaper design offers a unique and eye-catching look for this bathroom. The frameless mirror acts as part of the wallpaper and creates a continuous look on the wall. On the other hand, the burgundy freestanding sink completes the dark and dramatic atmosphere which is created by the wallpaper. The beige floor tiles bring a bright look against the darker shades and add visual interest.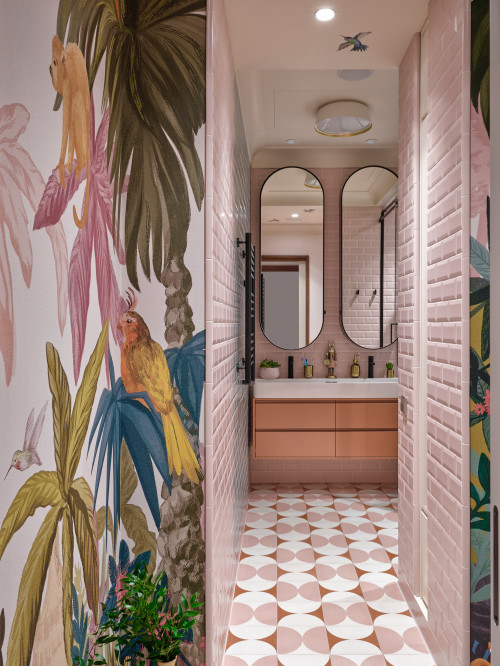 ID# 152102 | Houzz.com – Credit | © Indesign Buro
---
A Rose Eclectic Bathroom
Different ideas and patterns together and of course eclectic bathroom design. The wallpaper in a part of the bathroom gives a tropical atmosphere. The rest is accompanied by rose retro-style tiles. Multi-colored tiles in rose-pink-white tones with patterns on the floor, despite their contrasting patterns, fit perfectly into this environment. The sweet tone of the rose combines with the wooden sink cabinet. Two black framed mirrors add depth to this area and make it look higher with their shapes. When all the details come together, a wonderful eclectic bathroom idea is created with a rose.
What is an eclectic-style bathroom?
Eclectic style shows personality as it is an opportunity to fill a space with what you love. It describes the tendency to extract the best ideas from different contexts and combine them to create something unique. Eclectic bathroom design can also feature a wide variety of decor accessoriess, which can be a great opportunity to express your style. Artwork and photographs from different historical periods can be seamlessly combined in a gallery wall-style exhibition that mixes various frames and color and black and white photographs, paintings and drawings, and different subjects from family members to flora and fauna.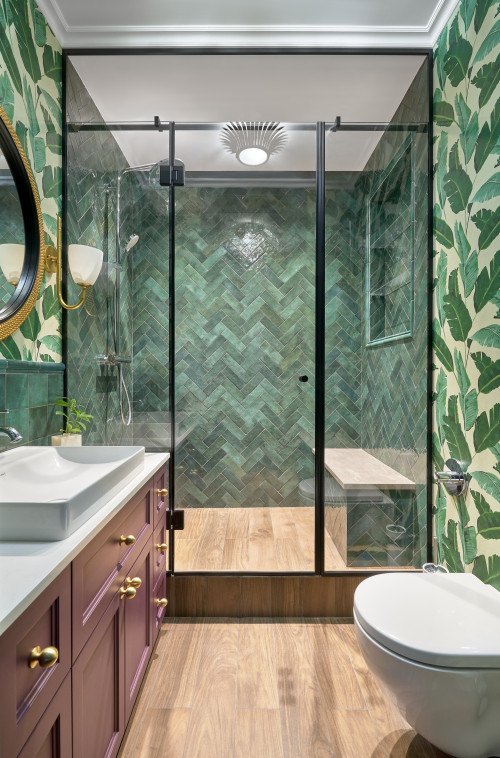 ID# 152103 | Houzz.com – Credit | © Natalie Vershinina
---
Eclectic Bathroom With The Freshness of Green
This bathroom design has definitely a wow factor! The harmony of the green and pink shades creates a unique and stylish bathroom design. The burgundy vanity offers an elegant look while the white countertop and the sink balance the intense pattern in the room. The leaf-patterned wallpaper brings a tropical vibe to the atmosphere. The green herringbone shower tiles complete this tropical vibe while adding an elegant look. The wood-look floor tiles perfectly complete the natural sense of the green.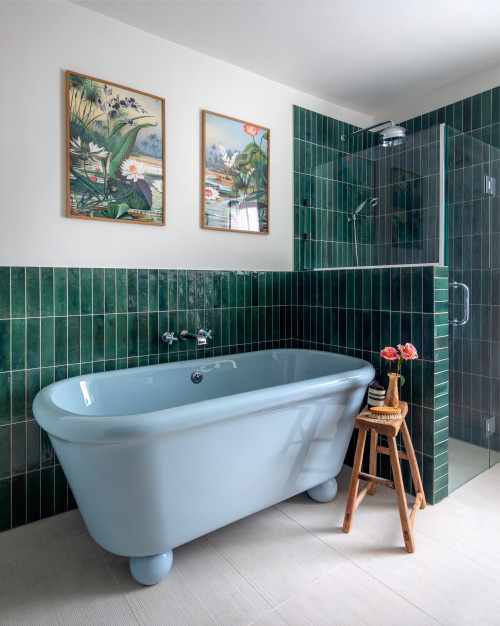 ID# 152105 | Houzz.com – Credit | © Ben Sage Photography
---
A Simple Eclectic Bathroom Design
Love the harmony of the blue and green! In this colorful eclectic bathroom design, the green wall tiles offer an elegant and dramatic look. The vertically stacked layout of the tiles adds a modern vibe. On the other hand, the blue freestanding bathtub softens the sharp appearance of the green tiles and brings a joyful look to the space.
What are eclectic colors?
Eclectic style is all about harmony and how different styles, juxtaposing textures, and contrasting colors come together to create a harmonious, beautifully designed room; As for colors: The palette can vary, but it's best to stick with a few neutrals to help tie all the elements together.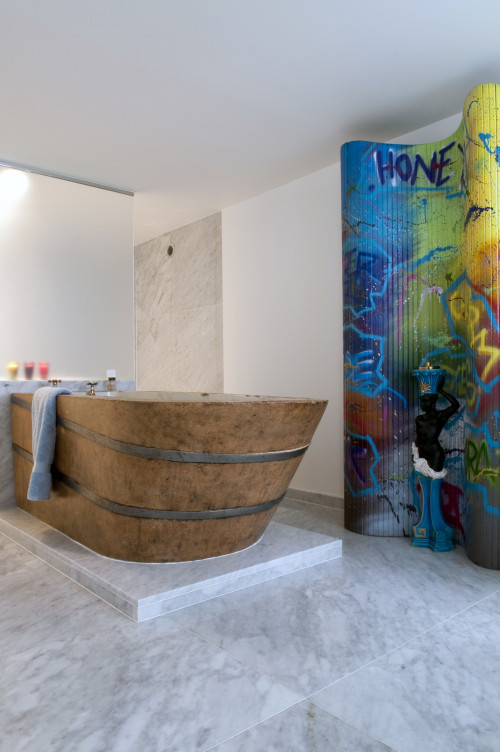 ID# 152106 | Houzz.com – Credit | © MDBOXCONTRCAT
---
Eclectic Bathroom Ideas Merging with Modern Style
The most eye-catching detail that makes this bathroom design eclectic is the graffiti wall detail. Standing in a wavy form, this detail adds a different atmosphere to the bathroom. A large space features a gray marble flloor and a wooden-look tub on a marble plinth. Although it looks bulky in its size, it creates a unique and one-of-a-kind appeal when combined with graffiti wall art.
Colorful Eclectic Bathroom
Eclectic bathroom ideas can of course be considered together with different colors. With the colorful eclectic bathroom, different styles can come together as well as different colors can come together. For those who like lively, dynamic, and unusual styles, the colorful eclectic bathroom can be an option. Everything that seems to be incompatible can suddenly be in perfect harmony with this style. For example, you can balance the dark tones against a backdrop of more neutral monochrome shadows for some control.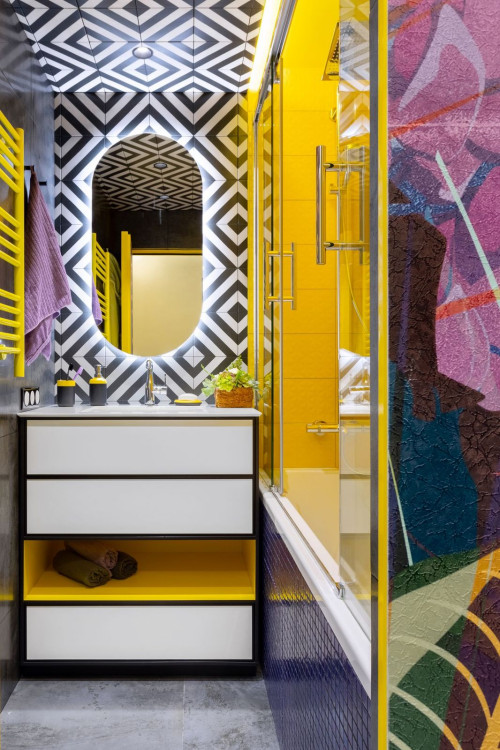 ID# 152107 | Houzz.com – Credit | © Дизайн-бюро Алёны Горской
---
A Dynamic Colorful Eclectic Bathroom Design with Vibrant Colors
Using vibrant colors takes courage! Here we see a lively and dynamic eclectic bathroom design. In the area where the tub is located, the yellow walls and yellow ceiling are like a shining light. The transition to this yellow backsplash is provided by the yellow detail on the sink cabinet, the yellow heater, and small yellow accessories. Thus, harmony is achieved. Other details emphasizing the eclectic style are the colorful wall on one side and the black and white backsplash in a geometric pattern behind the washbasin. When all the details come together, it becomes a colorful and dynamic eclectic design.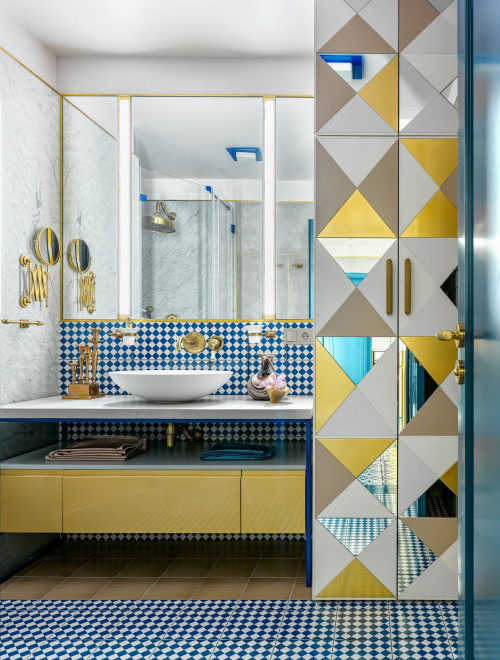 ID# 152108 | Houzz.com – Credit | © TONY ROAKS
---
A Bathroom With touches of Blue and Gold
What a colorful bathroom design! Even though there are different colors used in this bathroom, they create a harmonious look with each other and offer a stylish look without overwhelming it. The blue and white backsplash tiles and floor tiles add some beachy vibe to this design while the yellow vanity creates a joyful look. The gold fixtures perfectly complement the yellow vanity.
What is the difference between eclectic and bohemian?
Although these two styles seem very close to each other, there is a difference between them. Bohemians put all the rules aside, keeping personal taste above design principles. Eclectic, on the other hand, stretches but does not break design principles. It relies on elements such as balance, rhythm, proportion, and scale.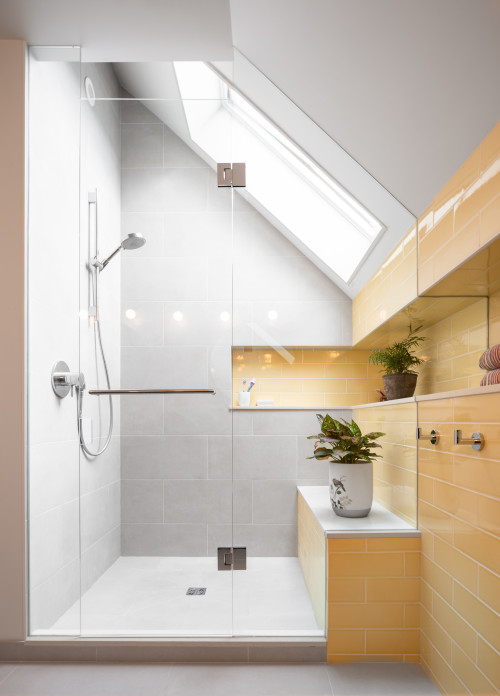 ID# 152109 | Houzz.com – Credit | © Wanda Ely Architect Inc.
---
A Contrasting Design with Grey and Yellow
The harmony of gray and yellow surrounds this bathroom design and offers a warm and inviting atmosphere. The yellow subway tiles expand the room feel with its horizontal layout while the gray tiles in the shower create a clean and sleek look. Thanks to the skylight, natural light fills the bathroom and provides a spacious atmosphere.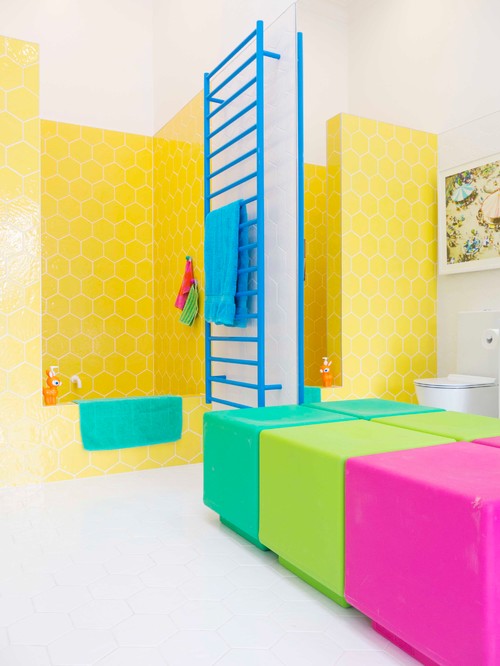 ID# 152110 | Houzz.com – Credit | © Alex Fulton Design
---
A Funny Design in a Colorful Eclectic Bathroom
What a colorful and funny bathroom design! This colorful eclectic bathroom is reminiscent of a playground at first glance. The yellow hexagonal wall tiles are the focal point with their eye-catching color, while the blue towel rack creates contrast on it. Colorful seats stand out on the white hexagonal tile floor. These unusual seats also give the bathroom an air of living space.
Eclectic Bathroom Vanity
Vanity is one of the most important pieces of furniture in a bathroom. Today, a double vanity is used very widely and it also gives advantages to homeowners. However, it may not always be possible to use this in small bathrooms. With the eclectic bathroom vanity, you can make different and extraordinary designs for your bathroom according to your taste. There are an unlimited number of options that we can use for vanity covers here. You can create original designs by combining different colors and patterns and adding movement to your bathrooms. You may be interested in eclectic style examples for the vanity, which is the main furniture in the bathroom.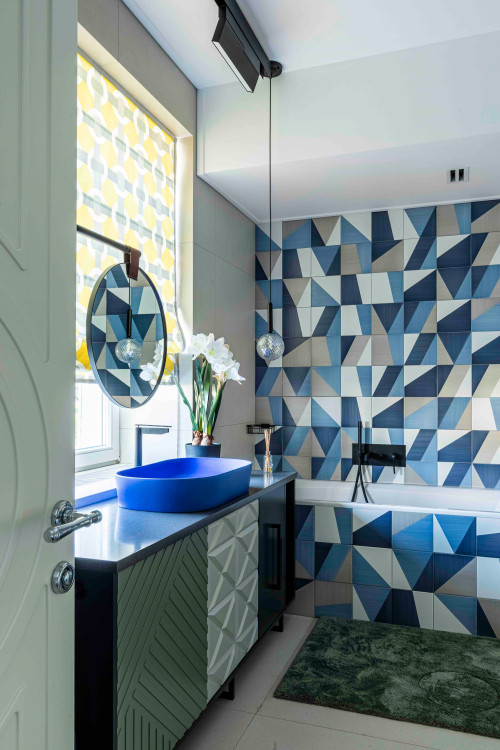 ID# 152111 | Houzz.com – Credit | © «Своя История» | Засимова Лада, Николаева Виктория
---
Eclectic Bathroom Vanity with Blue Color and Geometric Patterns
Blue color generally gives freshness to the environment and is associated with water. Thus, the color blue is widely used in bathrooms. Although the multicolored and vibrant backsplash in blue tones on the wall and tub body draws attention, the eclectic bathroom vanity is the star of the bathroom with its style. The covers, consisting of three different colors and patterns, offer a modern and eclectic style together. The blue sink on it completes the design.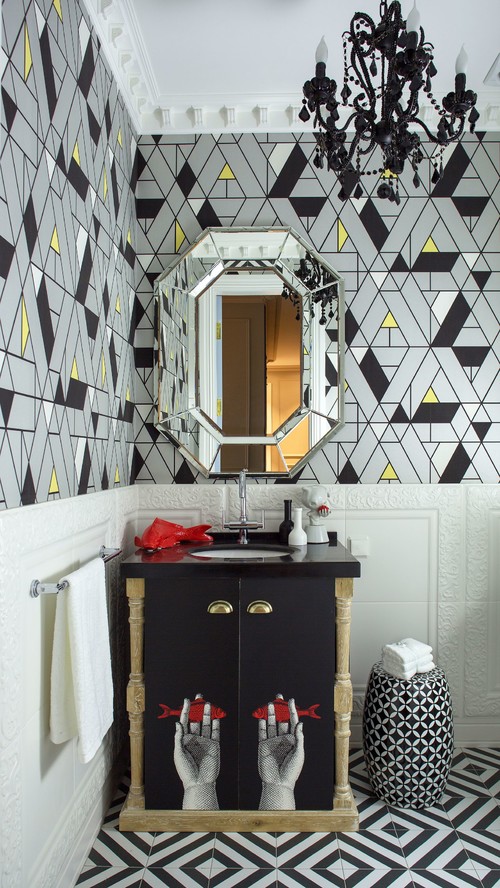 ID# 152112 | Houzz.com – Credit | © Оксана Олейник
---
Black and white Bathroom Combining Classic and Modern Styles
Eclectic bathroom design combines classic and modern styles. The eclectic bathroom vanity in this bathroom has a special design. While it gives a classic look with its black caps and marble-like columns on both sides, there is a contrast emphasizing the eclectic style with hand and fish print. The bathroom walls are divided horizontally into two parts. While the lower part is white with classic style patterns, the upper part is correspondingly modern and very lively. The backsplash is eye-catching with triangular mirrors and black details in between. The eclectic style is emphasized by the classic ceiling edges and the classic style of lighting.
How do you create an eclectic style?
Eclectic style is characterized by a multitude of fabrics, patterns, and art items. To catch this design aesthetic, mix and match materials, use oversized artwork, and incorporate bold and brave color schemes. Don't be afraid to use different accents because 'more is more' is the main idea of eclectic vibes!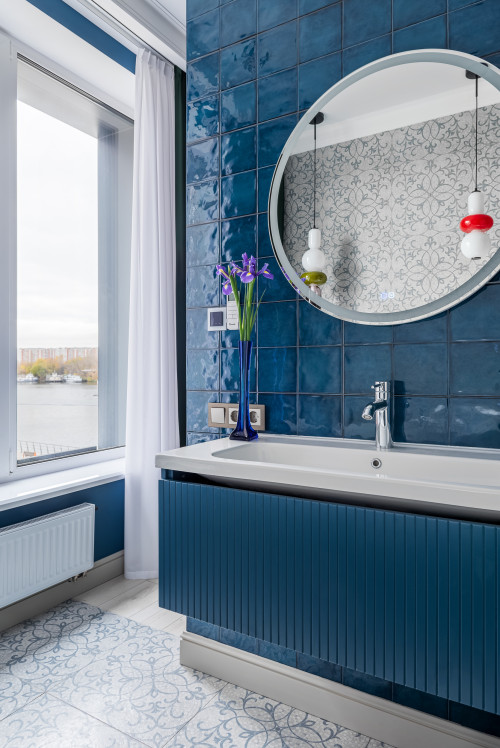 ID# 152113 | Houzz.com – Credit | © Оксана Олейник
---
The bathroom is Dominated by Blue
The freshness and vitality that comes with blue. The combination of white and blue is always great. The eclectic bathroom vanity stretches horizontally in blue stripes. It creates contrast with the white washbasin on it. This design is accompanied by a blue tile backsplash. Romantic patterned flooring and pendant lights give this bathroom an eclectic style.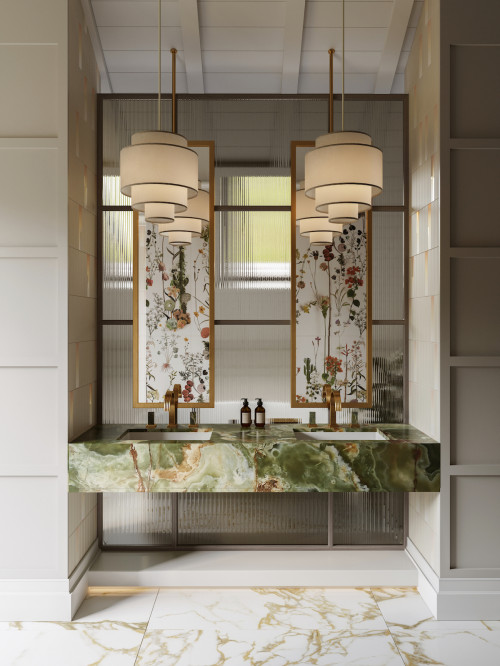 ID# 152114 | Houzz.com – Credit | © JL INTERIOR DESIGN STUDIO
---
A Natural and Romantic Design
Double eclectic bathroom vanity in a spacious bathroom. It looks like a piece of nature with its pattern in organic green tones. Unusually, on the upper part of the washbasins, instead of the mirror, the frame with two tall plant pictures takes its place. While adding a romantic atmosphere to this space, it also emphasizes the eclectic style. Two classic-style lightings, on the other hand, provide integrity to the atmosphere of this natural-looking environment, even though it is contrary to its modern style.
Eclectic Bathroom Backsplash
Just like in kitchens, one of the most important features of bathroom designs is backsplashes that provide multiple functional and aesthetic benefits. Although the main aspect of a bathroom backsplash is to protect the walls, with its visual appeal, it can instantly change the overall look and tie the other elements together. In eclectic kitchens which have a unique and colorful taste, backsplashes gain more importance. An eclectic bathroom backsplash can easily create a focal point and acts as a piece of art.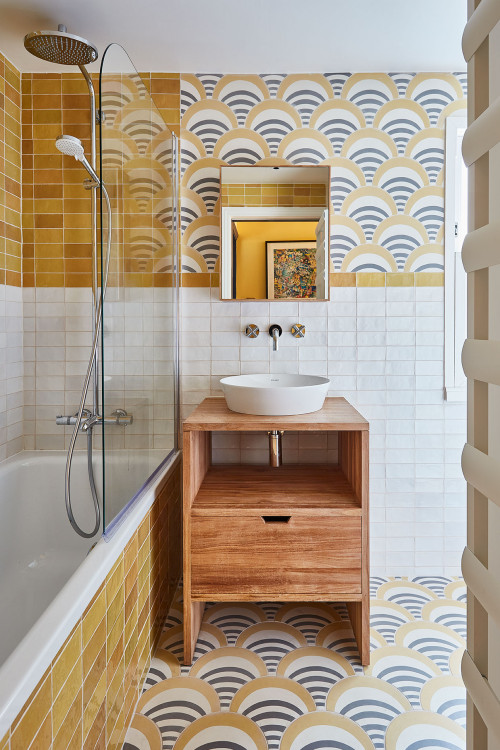 ID# 152115 | Houzz.com – Credit | © Cassidy Hughes Interior Design
---
Yellow and White Eclectic Bathroom Backsplash
Different patterns dominated by yellow and white are together but in harmony. Here is the eclectic bathroom backsplash. The floor of the bathroom and the top of the backsplash are in the same pattern so the harmony in this space looks great. The white mosaics extending from the floor to half of the wall make the patterns stand out more. This vibrant and revealing backsplash is accompanied by a small wooden vanity.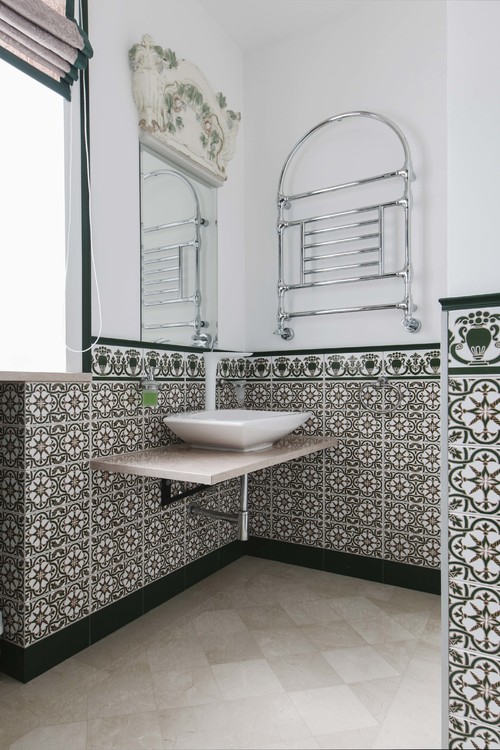 ID# 152116 | Houzz.com – Credit | © VerbaHome
---
Eclectic Bathroom with Ethnic Patterns
The ethnic patterned backsplash that extends from the floor to half of the wall creates a unique and eye-catching appeal to this monochrome bathroom design. White-painted walls above the black and white tiles balance the intense patterns and provide a more spacious atmosphere. The minimalist design of the bathroom vanity allows the wall tiles to stand out and be the star of the design.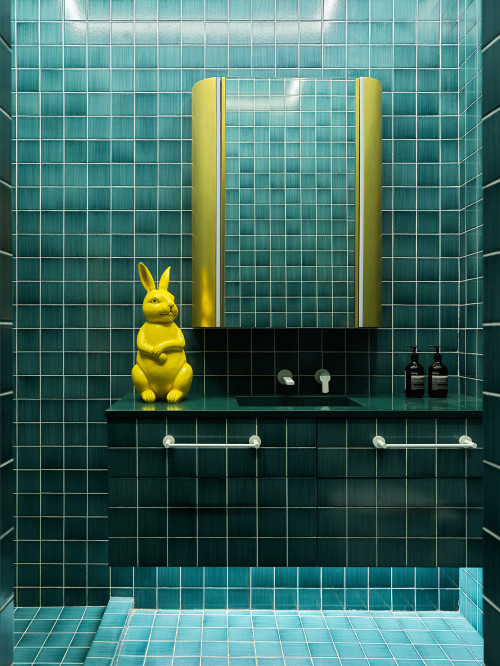 ID# 152117 | Houzz.com – Credit | © Дарья Василькова, студия «Art Group»
---
Green bath with Bunny Figurine
The bathroom is full of green and a touch of gold. The backsplash, consisting of green tiles, covers all the walls and continues on the floor. Vanity covers are also used in the same pattern as the backsplash and everything is completely monotonous. This continuity is broken by a golden rabbit on the vanity. This rabbit also provides integrity with the gold strips on both sides of the mirror.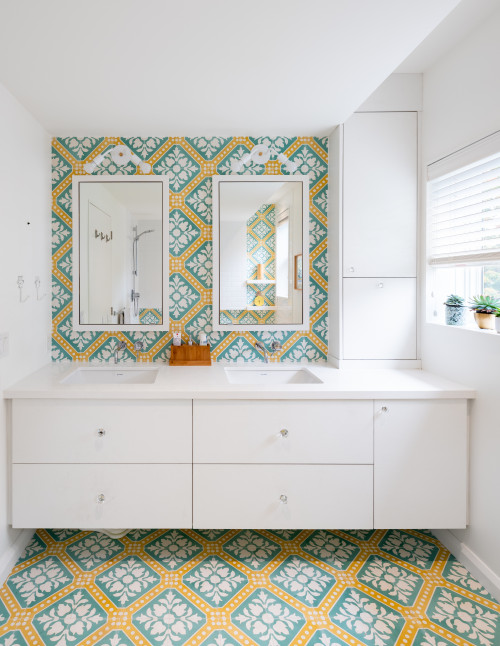 ID# 152118 | Houzz.com – Credit | © Wanda Ely Architect Inc.
---
A Bright and Spacious Design With Eclectic Bathroom Backsplash
The vibrant, patterned concrete tile eclectic bathroom backsplash made of teal and gold tones stands out in white. White flat cabinets, double sinks, and mirrors offer a very simple and contemporary look while creating contrast in style with the backsplash, which refers to more classical and old-world pattern concepts. Thus, this bright and eclectic bathroom also gains a bold image.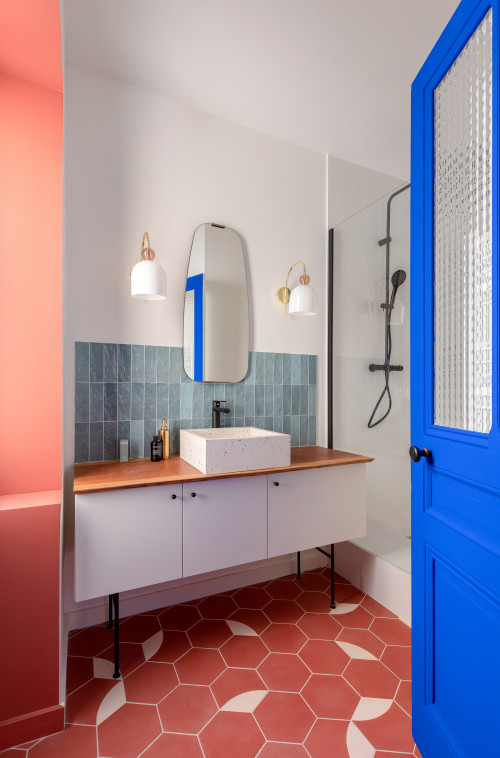 ID# 152119 | Houzz.com – Credit | © craie craie
---
Eclectic Bathroom with Blue Door
This contemporary bathroom offers a fun and joyful atmosphere with its colorful features. The blue-green stacked tile backsplash creates a focal point behind the vanity while the red hexagon floor tiles add a nice textural look. The plain and simple look of the white vanity allows the colorful features to stand out and balance the color palette. The rounded edges of the bathroom mirror soften the overall look while the sconces add a vintage feel.
Eclectic Bathroom Lighting Fixtures
Bathroom lighting fixtures are one of the indispensable elements of bathroom designs as they provide the necessary light to improve the ambiance of the space and make the interior feel more spacious. From wall sconces to ceiling lamps, pendants, chandeliers, recessed lamps, and floor lamps, bathroom fixtures come in a variety of forms. Depending on the size and style of your bathroom, you can mix and combine different lighting styles, including mirror backlighting, LED, and spotlights. Very striking results can also be achieved with eclectic bathroom lighting fixtures.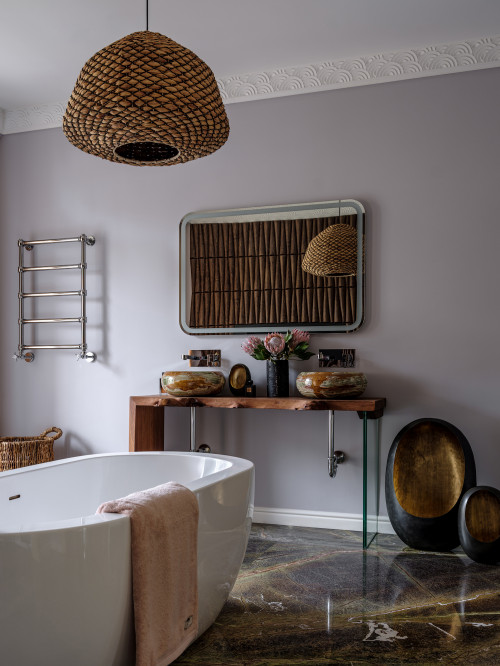 ID# 152120 | Houzz.com – Credit | © Tatiana Pirogkova
---
Eclectic Bathroom Lighting Fixtures like a Bee Hive
Country house bathroom, large and reminiscent of a living space rather than a bathroom. A natural and warm atmosphere is created with the wooden and glass side vanity and the marble floor with colors from nature. The lighting fixture, reminiscent of the beehive, completes these details. An eclectic bathroom design with purple walls, classic ceiling corners, and used accessories.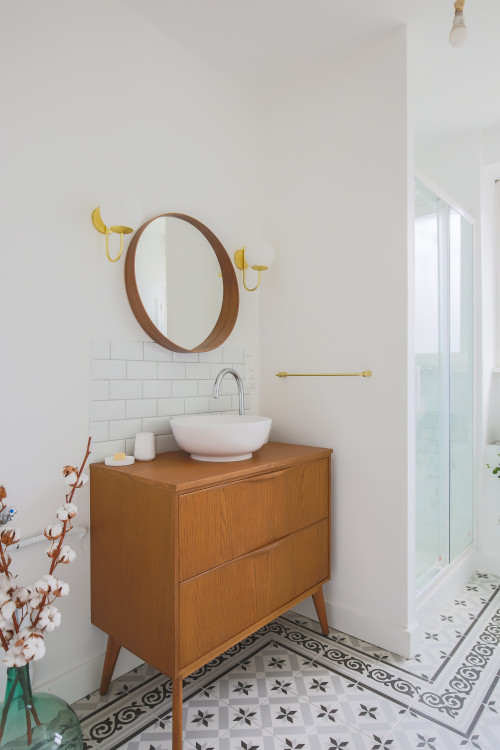 ID# 152121 | Houzz.com – Credit | © Marianne Cam décoration d'intérieur
---
Romantic Bathroom Design
This small bathroom design gives a midcentury vibe with its wood vanity and white vessel sink. The wood frame of the bathroom mirror complements the vanity while the white subway tile backsplash creates a clean and sleek drop for the vanity. The patterned floor tiles bring a nice texture to the plain design of the cabinets and add visual interest to the room.
Eclectic Bathroom Mirrors
Mirrors are the most widely used accessory in bathrooms. Although not always used, mirrors are a necessary accessory in bathrooms. The mirror can be used in many different forms and it also helps a space to be seen larger according to its size. You can take a look at some examples of eclectic bathroom mirrors.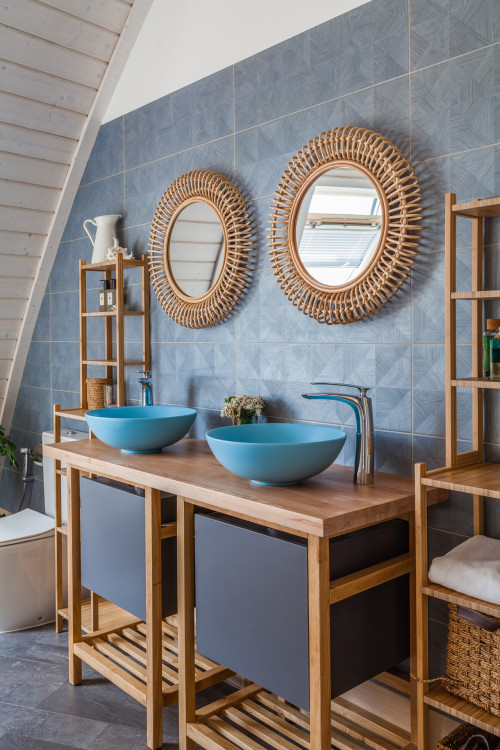 ID# 152122 | Houzz.com – Credit | © VerbaHome
---
Wood Eclectic Bathroom Mirrors
The harmony of the wooden textures and blue hues creates a stylish eclectic bathroom design. This combination also brings a sense of beach style. Each piece of furniture in this bathroom has a unique style and acts as a piece of art. The bathroom vanity also provides a storage space beside its beautiful look. The blue wall tiles add a nice textural look behind the vanity while the wicker frames of the mirrors create a focal point.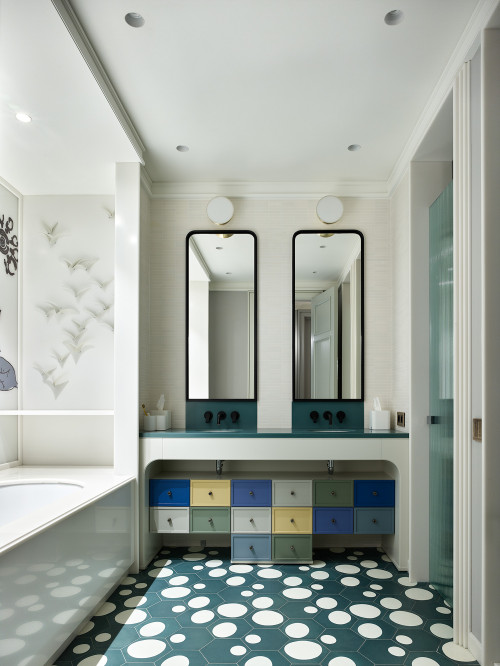 ID# 152123 | Houzz.com – Credit | © O&A Design
---
An Eclectic Bathroom with Speckled Floors and Colorful Drawers
Spotted floors, and colorful drawers here is an eclectic bathroom design. It becomes a spacious area with a cream-colored backsplash. The space is perceived higher with the vertically extending mirrors with black frames. Although the round lamps on the mirrors have a modern look, they emphasize the eclectic style of this space.
Modern Eclectic Bathroom
Like other rooms in the house, bathrooms are one of the places that get us excited about design. Bathrooms are spaces where we relax with long showers and sometimes get ready in a hurry, so it's understandable to want them beautifully designed. You can achieve stylish and ostentatious looks with a modern bathroom. You can use bold colors or neutral colors. When combined with eclectic style, exciting and unusual designs can emerge. If you are interested, you can take a look at the examples that will inspire you for the modern eclectic bathroom.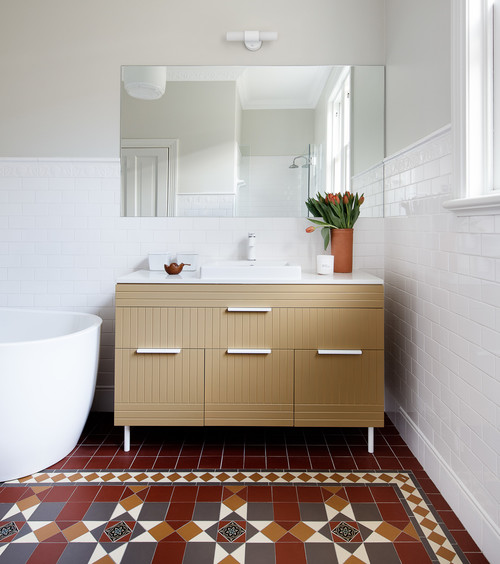 ID# 152125 | Houzz.com – Credit | © Brett Mickan Interior Design
---
Nostalgic Floors and Modern Eclectic Bathroom
With a modern white retro backsplash and a large flat mirror, it creates a bright and modern look. On the other hand, the colorful floor stands out by adding a nostalgic atmosphere. The floor harmonizes with a symmetrical cream-colored vanity. When all the details come together, a modern eclectic bathroom design emerges.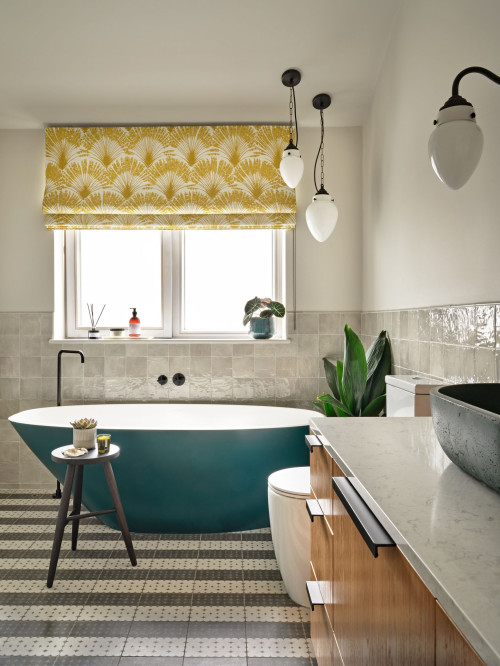 ID# 152126 | Houzz.com – Credit | © Susan Venn Design
---
Cute Bathroom with Blue Bathtub
A very warm ambiance and a modern eclectic bathroom design with a blue bathtub, yellow curtains, and pendant lights. While the light-colored mosaic backsplash, that extends to half of the wall adds shine to the bathroom, they are in perfect harmony with the black and white strip-shaped floor. Wooden vanity and plants add naturalness to this space and soften its air.
Small Eclectic Bathroom
We live in smaller houses with modern city life, and bathrooms are one of the most important rooms in our lives; The smaller they get, the less time we spend in bathrooms because we only use them for quick cleaning and getting ready. However, it is up to the designer to create delightful small bathrooms with the right material and placement options. It is possible to make small spaces more enjoyable with the eclectic bathroom style.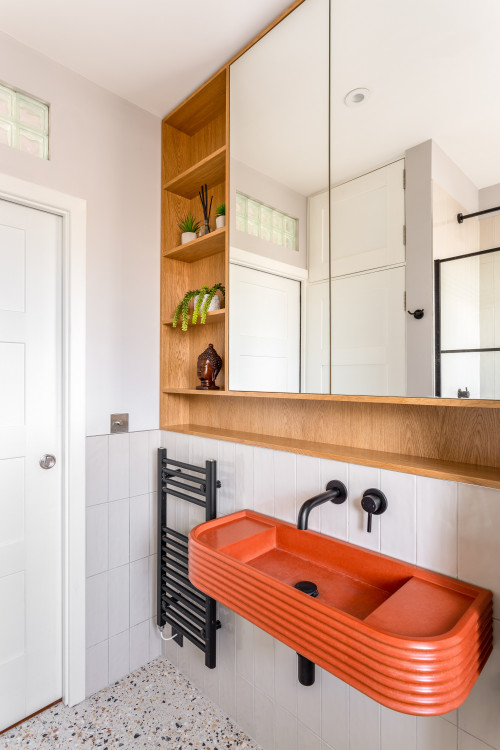 ID# 152127 | Houzz.com – Credit | © Nicky Percival Limited
---
Small Eclectic Bathroom with Orange Sink
By using light colors on the walls in small spaces, the space is perceived as wider. While the cabinet mirror offers storage space, it also does not have a bulky appearance with its design. The orange sink can be called the star of this bathroom. In the absence of a vanity, there is more room for movement. Cute and small eclectic bathroom design with a speckled floor, orange sink, and black details.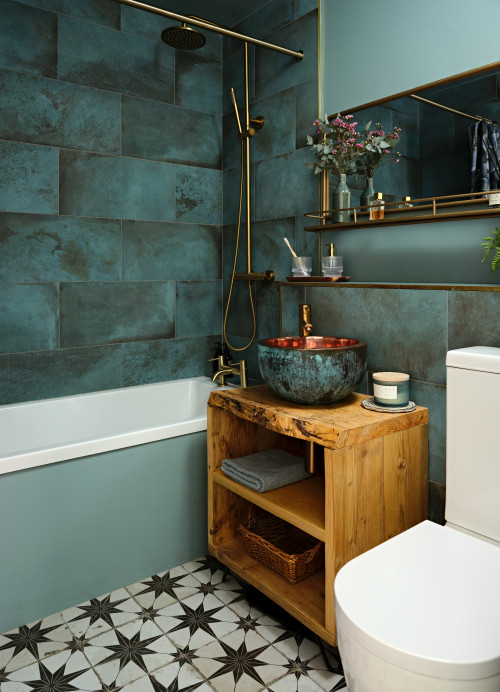 ID# 152128 | Houzz.com – Credit | © Anna Rickard Interiors
---
Small Eclectic Bathroom With a Bohemian flair
A bohemian green backsplash and green walls in a small eclectic bathroom design. A natural and warm atmosphere comes to the space with a natural-looking wooden vanity on a star-shaped floor and a stone washbasin on it.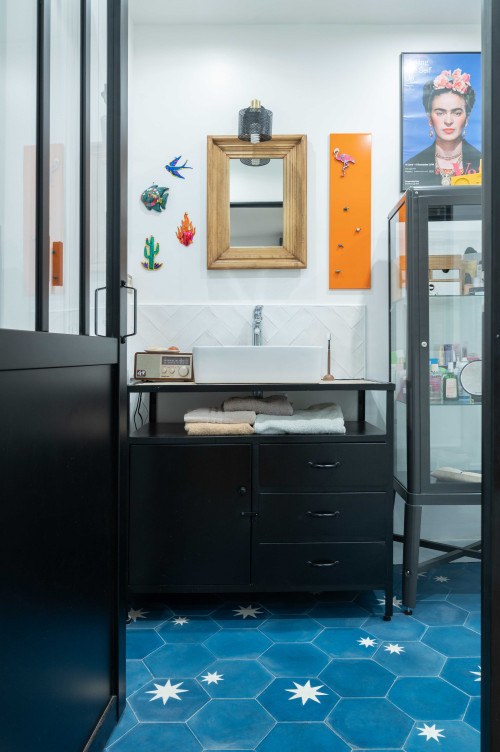 ID# 152129 | Houzz.com – Credit | © Virginie EUDO
---
The bathroom is Decorated with Art on the Walls
Small bathroom but lots of details! Here is an eclectic design. Black bathroom cabinetry stands out in front of the white herringbone backsplash. The walls of the bathroom are adorned with paintings and figures like an exhibition space. This bathroom on a hexagonal blue floor has an unusually different feel.