29+ Bathroom Backsplash Height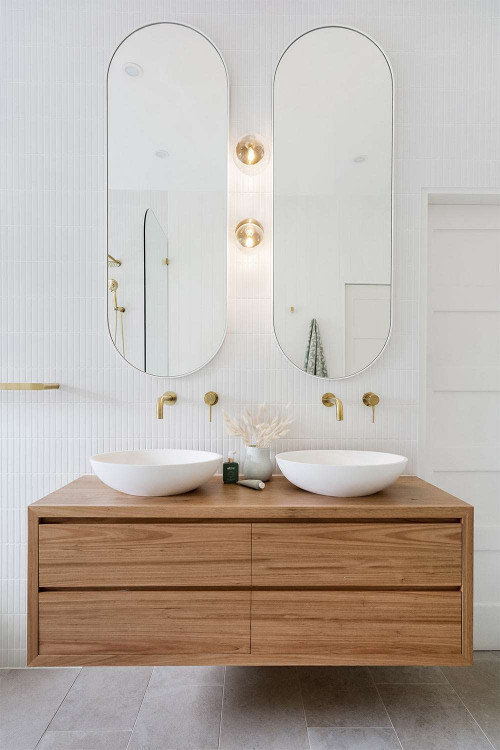 ID# 143701 | Houzz.com – Credit | © Small Bathroom Renovations Perth
---
Contemporary Bathroom with Floating Vanity and Double Mirrors
This tranquil contemporary bathroom design uses a ceiling-height white kit kat mosaic tile backsplash that creates a clean and neat background. The wooden floating shelf softens the all-white look with an organic touch. The wall-mounted brass plumbing fixtures and wall sconces add a dash of glamour, while wall sconces also provide task lighting for the rounded-edge mirrors. A duo of white vessel sinks and the use of double mirrors makes it perfect for couples.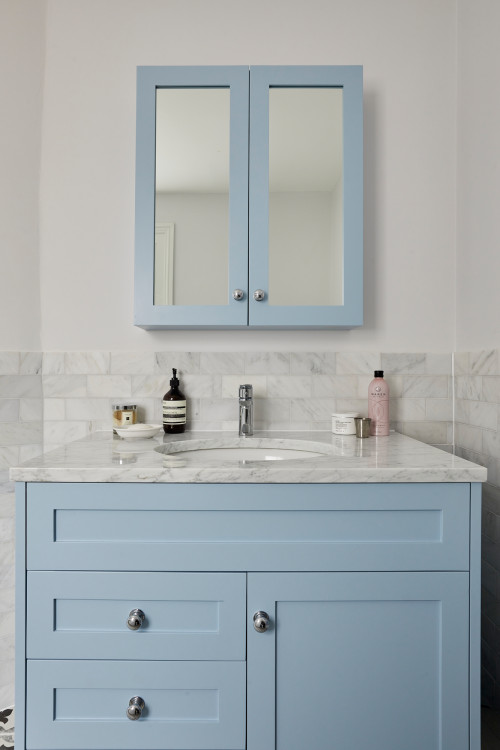 ID# 143715 | Houzz.com – Credit | © KALLUMS Bathrooms
---
Tranquil Bathroom Design with Blue Medicine Cabinet and Blue Vanity
Which color could have suited these pastel blue cabinets other than a marble backsplash? Coming in the form of subway tiles in this contemporary kitchen, the white marble with bluish veins pairs perfectly with the pastel blue cabinets. Together they propose restful repose, leaning against the white-painted walls. The backsplash extends 8 inches from the vanity to clad the naked wall surface between the countertop and mirror not to leave any spots unprotected. Lastly, the chrome hardware brings the right amount of contrast and metal to enrich the material palette of the kitchen.
Bathroom Backsplash Height
The most important feature of the bathroom designs just like in kitchens is backsplashes that come with multiple functional and aesthetic benefits. And if you want your bathroom walls to stay in their best version without giving way to mold and mildew, a backsplash is a must. But the question is how high it should be. A bathroom backsplash height ranges from 4-inch to 6 and 8 inches, and full-height backsplashes. This is rather determined by the faucet height or homeowners' aesthetic concerns regarding the bathroom design.
In other words, in addition to the fact that a bathroom backsplash height is proportioned to the faucet height, the limitless color and pattern options with tile backsplashes have opened up new design possibilities. This, in turn, allows homeowners to experiment with the tiles and project their personality on the space, which makes the designing process more enjoyable for them. Here, we have rounded out multiple inspiring bathroom design projects that keep backsplashes at different heights. Just take a closer look at them to get a better idea of what would serve your bathroom best.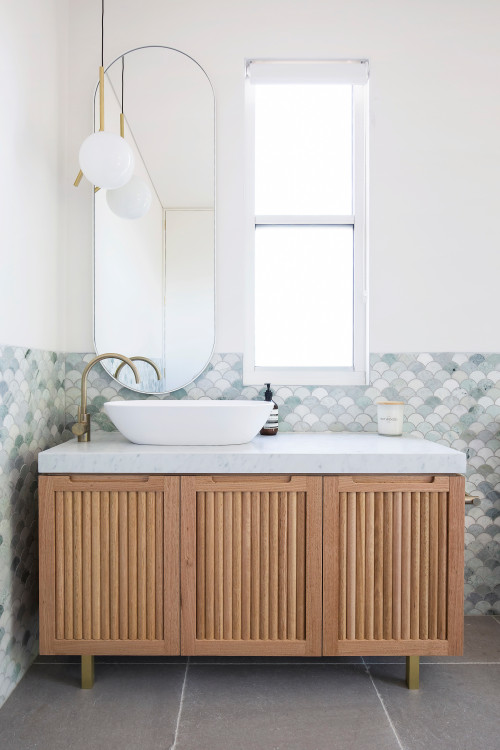 ID# 143702 | Houzz.com – Credit | © HBH Joinery
---
Mermaid Tile Backsplash with White Countertop And Wooden Cabinet
The corner of this bathroom exudes comfort, with its wooden ribbed design cabinet and a thick solid countertop complemented by a large vessel sink that creates depth. Adding elegance is the white glass globe shaped pendant light enhanced by a brass faucet. The mermaid mosaic tile backsplash features tasteful shades of blue covering half the kitchen while also safeguarding the wall and enhancing its contemporary aesthetic appeal. Meanwhile, the gray tiles on the floor create an illusion of more space in this roomy area.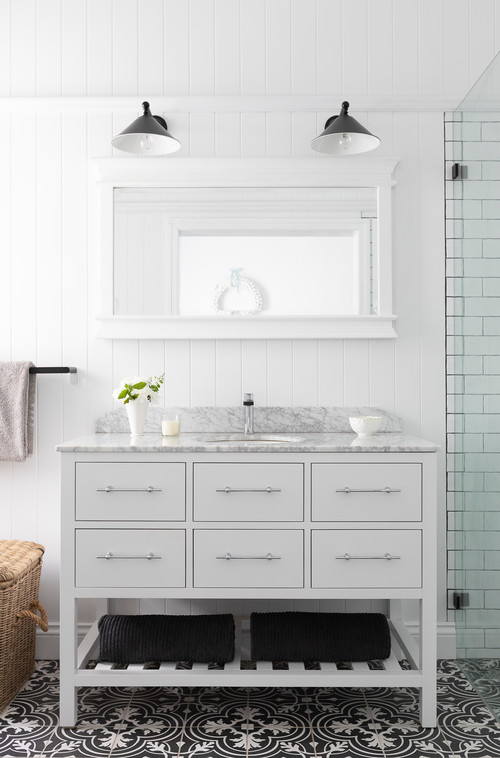 ID# 143703 | Houzz.com – Credit | © Vanity By Design
---
Bathroom Backsplash Height for Farmhouse Bathroom with Beadboard Walls
Awash with shades of white and light gray, this farmhouse bathroom offers a visually lightweight and airy atmosphere to wash the day off. To define the background, it goes with a 4-inch gray marble backsplash that is an extension of the countertop, providing a tiny functional and aesthetic touch. And behind this 4-inch backsplash stretch the white beadboard walls that contribute big to the farmhouse flair of the bathroom. Likewise, overhead, a duo of black wall sconces adds another modern country vibe, providing task lighting for self-grooming. On the other side of the glass division, the floor-to-ceiling subway tile backsplash defines the walk-through shower zone, differentiating it from the rest of the room. Finally, the black floral patterned floor tiles run across the bathroom floor to bring two different aesthetic moods together.
What is the best bathroom backsplash height?
The most common bathroom backsplash height is 4 inches. But in some designs, depending on the height of the faucet, backsplashes are kept higher, measuring up to 6 and 8 inches. So, it rather depends on the other design features of the bathroom to decide which bathroom backsplash height is the best.
Especially nowadays, bathroom backsplashes are not only praised for their functionality but also their aesthetics. That's why we see more and more wraparound backsplashes, ceiling height, and cabinet-to-cabinet backsplashes that create visual consistency, which has started to become a new standard.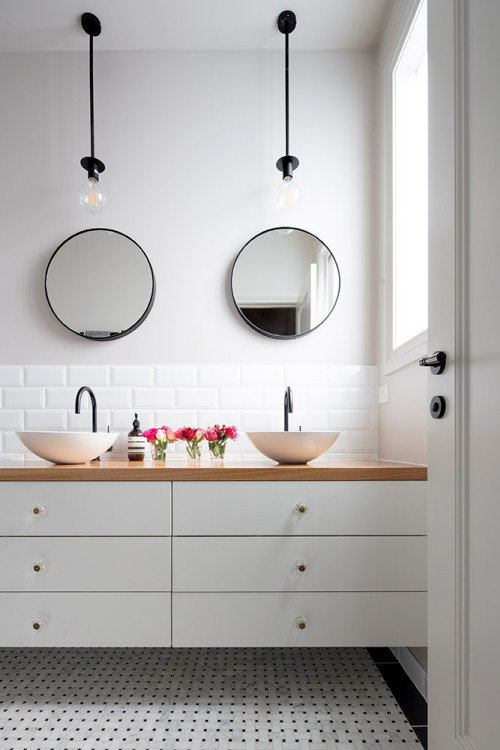 ID# 143704 | Houzz.com – Credit | © Caroline Touzeau Design
---
White Beveled Subway Tile Backsplash with Double Vanity and Butcher Block Countertop
This modern bathroom design feels calm and inviting with soft form fixtures, evident in the round mirrors and vessel sinks. These features are accompanied by a white beveled subway tile backsplash that adds a 3D feel to the backdrop for extra interest. The rest feels complete with a butcher block countertop and white floating vanity punctuated by knobs to allow for easy grip.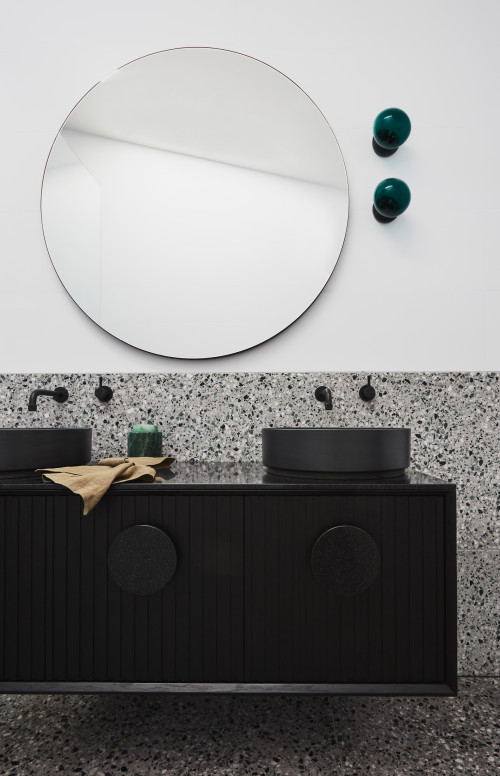 ID# 143705 | Houzz.com – Credit | © Penman Brown Interior Design
---
Bathroom Backsplash Height for Contemporary Kitchen with Fluted Design Black Cabinets
Looking for new ways to design a bathroom backsplash? Well, this contemporary kitchen is full of inspiration. And what it does is install a black-speckled gray base solid backsplash that coats the half bottom of the walls. Yet, the backsplash doesn't stop there but rather continues to coat the bathroom floor for visual integrity. The upper top, on the other hand, is painted light gray, and the black fluted design cabinet topped by a duo of black vessel sinks creates an all-black and seamless look. In addition to that, the second intriguing detail that this bathroom design excels in is the consistency in the use of certain forms. For example, the rounded island, the oversized button-shaped cabinet hardware, sink shapes, and circular wall sconces all claim a self-consistent design.
Do you really need a backsplash for the bathroom vanity?
A backsplash for bathroom vanity can be skipped only in some cases such as if you have a pedestal sink that doesn't lean against the wall and won't lead to any water splatters. But still, it is recommended to keep a backsplash for vanities to prevent the walls from getting wet and mold and mildew.
Also, in aesthetic terms, you wouldn't like your bathroom walls to look bare and plain. Today, backsplashes are championed for their intriguing tile patterns and limitless color options that elevate the overall look of the kitchen instantly. And if you want to impart a sense of your personality to your bathroom, you can easily do it via a bathroom backsplash.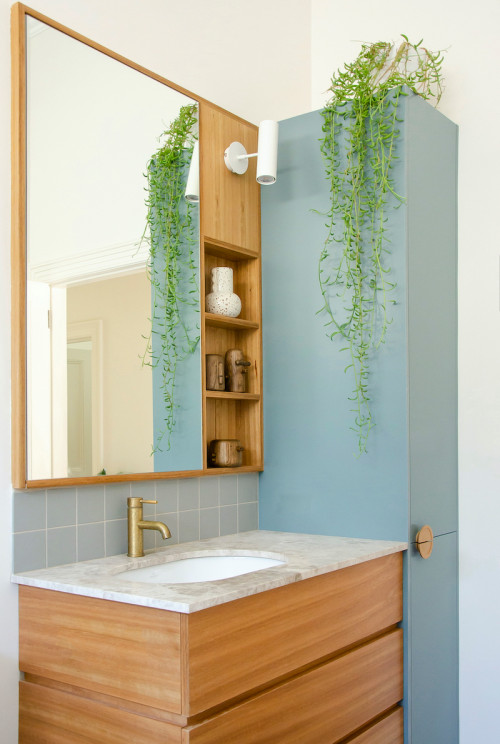 ID# 143706 | Houzz.com – Credit | © Lena Bruno
---
Scandinavian Bathroom Design with Soothing Color Palette and Blue Backsplash
This Scandinavian-inspired natural bathroom design offers a soothing color palette defined by a wooden vanity, a timber mirror frame, and a timber open cabinet. All these wood installations are also accompanied by a blue wall unit and a muted blue square tile backsplash. This serene and modern splash-back only extends for about 8 inches to fill the unprotected wall surface between the marble countertop and the mirror.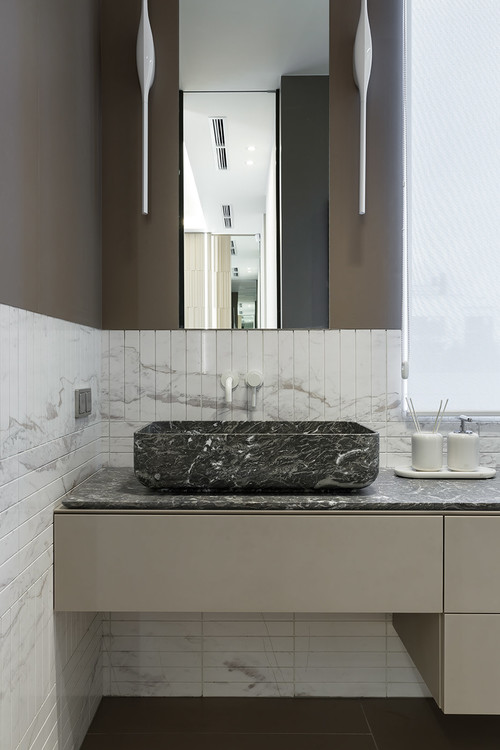 ID# 143707 | Houzz.com – Credit | © Suite n. Seven
---
Bathroom Backsplash Height for Black Marble Countertops and Cream Cabinets
This contemporary bathroom in a St Petersburg apartment chooses a high-end material -marble- and uses it in different forms and colors to create an opulent look. To start with, the black marble countertops and marble-carved vessel sink pair perfectly with the cream flat-front cabinets. This team is befriended by a white marble subway tile backsplash that starts right under the mirror and continues until the floor. This way, it offers full protection against water splashes, which is extra helpful if you have children running around. In case you want to add further interest to the wall, you can stack the subway tiles for a modern look. This bathroom, for example, lays subway tiles both vertically and horizontally to generate a sense of movement.
What Is the Standard Height of A Bathroom Backsplash?
A standard height of a bathroom backsplash is 4-inch, but this can change according to the faucet type and the needs of the space. Thus, in addition to 4-inch backsplashes, 6 and 8-inch backsplashes, cabinet-to-cabinet, and full-height backsplashes have also become standard. Especially given that in recent years, the aesthetic concerns in bathroom design have become more determining factors, full-height and even wraparound backsplashes stand out to be perfect alternatives to 4-inch backsplashes to create visual diversity and more welcoming bathroom designs.
4 Inch Bathroom Backsplash
4-inch bathroom backsplashes that are 4-inch extensions of the countertops have been around for years and served well to protect bathroom walls against water splatters. Coming at affordable prices, they are also easy to install. Yet, recently, they lost their popularity and are replaced by higher backsplashes that cater better to the needs of modern bathroom designs.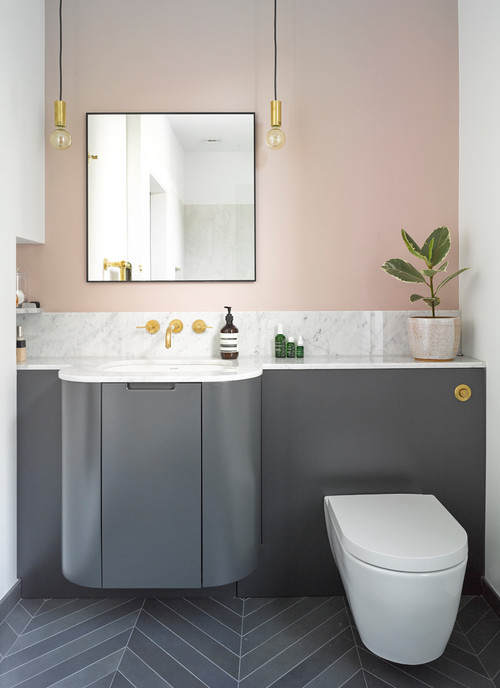 ID# 143708 | Houzz.com – Credit | © Brian O'Tuama Architects
---
Bathroom Backsplash Height for Gray Cabinet and Gray Floor
The pink-painted top half of this contemporary kitchen adds a feminine touch that is anchored by gray flat-front vanity and gray chevron floor tiles that introduce geometry to the space. The curved cabinet form offers a perfect match to the softness of the pink wall, bringing a calming effect. As for the background, the 4-inch gray marble backsplash provides another soothing touch that is organic. Even though this bathroom chooses a traditional backsplash height, it manages to preserve its modern vibe, with special thanks to the pink-painted walls, not to mention the brass-detailed bulbs serving as pendants to add depth to the space.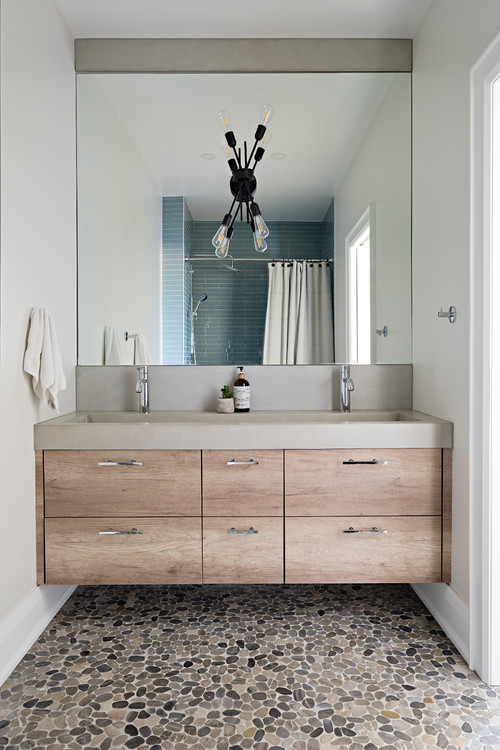 ID# 143709 | Houzz.com – Credit | © Soda Pop Design Inc.
---
Farmhouse Bathroom with Pebble Floor Finish and Gray Countertops
The light-sandy color palette of this farmhouse bathroom is supported by the materials borrowed from nature. To start with, the light timber floating adds a nice natural touch, keeping the floor level free and letting the floors make a statement. And the pebble-clad floor commands attention, creating a non-slip ground for the safety of bathroom users. Plus, these pebbles are also flattened not to hurt the feet but rather to give a comforting and gentle massage underfoot. Furthermore, at eye level, what greets us are warm gray countertops and a 4-inch gray backsplash that stay loyal to the color scheme. The rest of the wall is strategically clad with a mirror to make this relatively small footprint of the bathroom look more sizeable.
Are 4-inch backsplashes outdated?
4-inch backsplashes which are extensions of countertop designs and run relatively shorter on the walls have been popular for years. It is mainly because of the affordability and ease of installation and maintenance. Plus, even if they are only 4 inches, they are still able to provide enough protection for the walls against grease splatter and water splashes.
However, recently, with the ever-growing trendy look of the full-height backsplashes and counter-to-upper cabinet backsplashes, 4-inch backsplashes feel outdated nowadays and are very rare to come across. Especially in contemporary and modern bathrooms, backsplashes go up to the ceiling and sometimes down to the floor not only for functional but also aesthetic benefits as well. First of all, the taller versions add a high-end look that brings extra elegance and liveliness to the kitchen. Secondly, the material that you use for a full-height backsplash also exposes itself more to make a statement.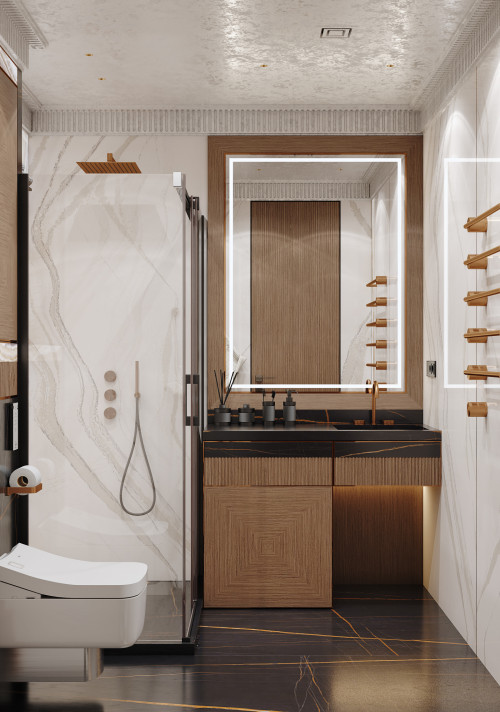 ID# 143710 | Houzz.com – Credit | © ALEDOconcept
---
Super-chic Bathroom Design with Black Countertops and Marble Backsplash
The overarching narrative of this super-chic bathroom is founded upon opulent marble that defines the whole room. For example, while black marble is chosen to sheathe the floor, countertop, and backsplash, the light-beige marble serves as the main wraparound splash-back. Adding to that is the intriguing cabinet design that is repeated on the door and feature wall design behind the toilet, ensuring visual consistency throughout the interior.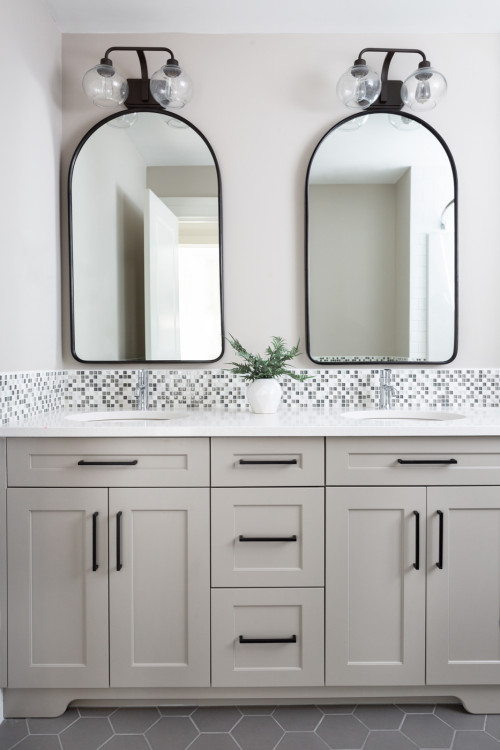 ID# 143711 | Houzz.com – Credit | © Reena Sotropa In House Design Group
---
Transitional Bathroom with Mosaic Tile Backsplash and Gray Shaker Cabinetry
Designed to create a calming atmosphere that relaxes you once you step into this room, this transitional bathroom packs a punch of personality and style, impressing its users. Here, the gray shaker cabinetry topped by a white solid countertop with integrated sinks provides a distant yet approachable look. And the black cabinet pulls add gestures to the cabinet doors, while the multi-colored mosaic tile backsplash creates an eye-popping backdrop. The round-edge, black-framed mirrors coordinate with the black hardware effortlessly. And finally, for extra interest and task lighting, these mirrors are topped by glass globular twin wall sconces that add a sense of playfulness.
Are backsplashes in the bathroom outdated?
Backsplashes in bathrooms are still popular and commonly used. Since the bathroom is a wet room with high traffic, it is important to protect the walls. And this is best accomplished by backsplashes. That's why it is almost impossible for a backsplash in the bathroom to feel outdated. What feels outdated and trending mostly encompasses the tile options, backsplash designs, and color schemes.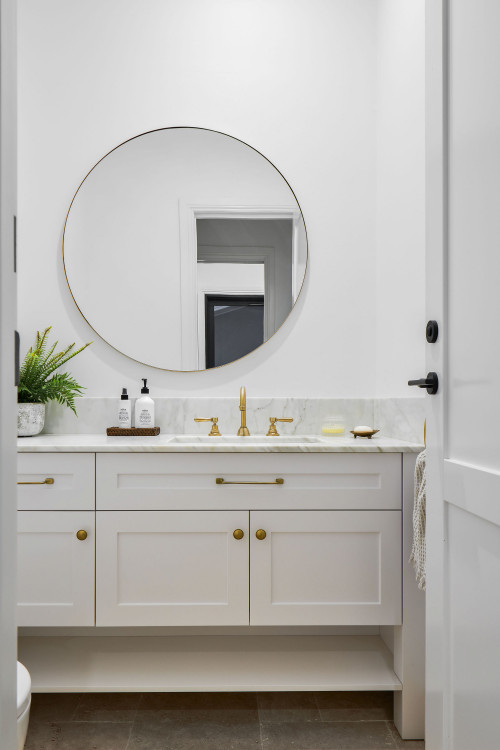 ID# 143712 | Houzz.com – Credit | © Intrim Group Pty Ltd
---
Monochromatic Bathroom Design with 4-inch Bathroom Backsplash Height
Just because the bathroom is monochromatic doesn't mean that it is short of spectacular. And nothing exudes elegance and calmness like a white-dominant color palette in a bathroom design does, and this contemporary farmhouse bathroom is no exception. Featuring a rounded mirror, a soft cream palette, and shaker cabinetry, it draws on its farmhouse roots and gives them a modern spin. The 4-inch marble backsplash and book-matching countertops pay homage to the old bathroom backsplash height style without making it feel old-fashioned. And the final product feels visually satisfying, which is honored colored with a touch of brass introduced by the faucet and cabinet hardware.
6 or 8 Inch Bathroom Backsplash
When you have a faucet height higher than 4-inch, then you will need a backsplash that is also higher than 4 inches. That's when you can use 6 or 8 inches bathroom backsplashes to provide enough protection for your walls. These backsplashes generally leave some space between the base vanity and the mirrors or mirror cabinets, unlike cabinet-to-cabinet bathroom backsplashes.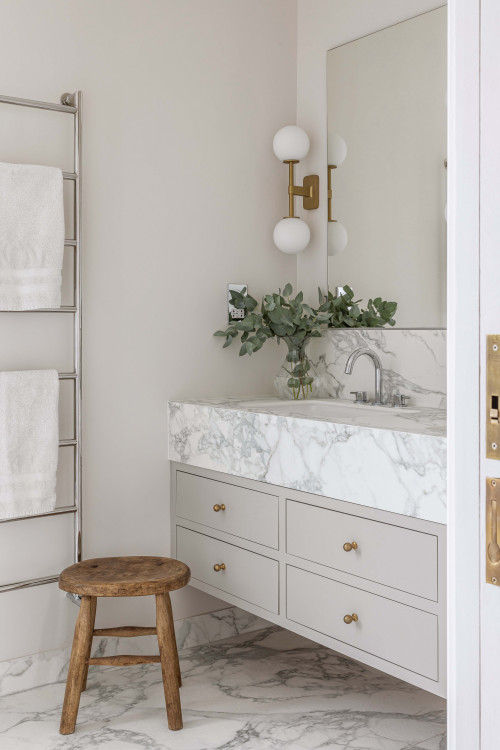 ID# 143713 | Houzz.com – Credit | © Emma Tutill Ltd
---
Modern Bathroom with 6-inch Bathroom Backsplash Height and Marble Floor
Marble is a sought-after material not only in kitchens but also in bathrooms, which enlivens this modern bathroom as well. This popularity mainly derives from marble's upscale look and its unique undulating veins that match the form of the water, so to speak, which makes it extra suitable for bathroom designs. And here, it serves in two functions, as a backsplash and countertop and for floor-coating. Regarding the marble itself, the bluish veins on the white marble base inject elegance and a fresh feel, while the cream cabinetry channels further warmth. Chrome fixtures paired with brass-detailed wall sconces and hardware bring additional depth and dimension. And the wooden step stool rounds out the total modern look, bringing a rustic edge.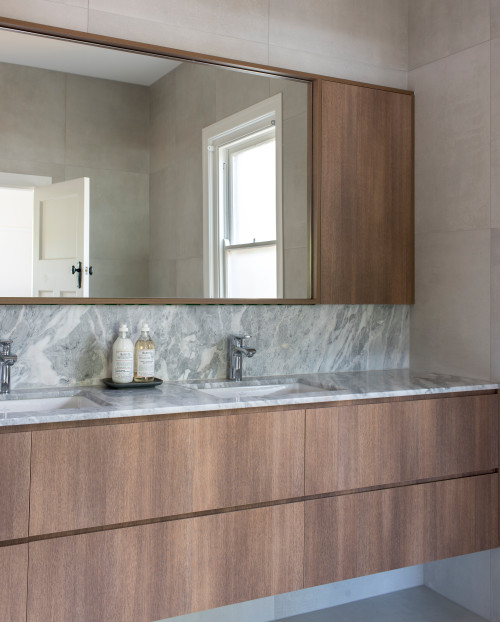 ID# 143714 | Houzz.com – Credit | © Tennille Joy Interiors
---
Wooden Floating Vanity with Gray Marble Backsplash And Countertop
This calm and natural bathroom design is characterized by a wooden flat-front floating vanity topped by a gray marble backsplash and countertops. To provide enough storage for couples, the vanity extends from wall to wall, while above, the accent mirror also assists the vanity. To complement them, the eye-catching backsplash serves as the focal point without screaming in your face.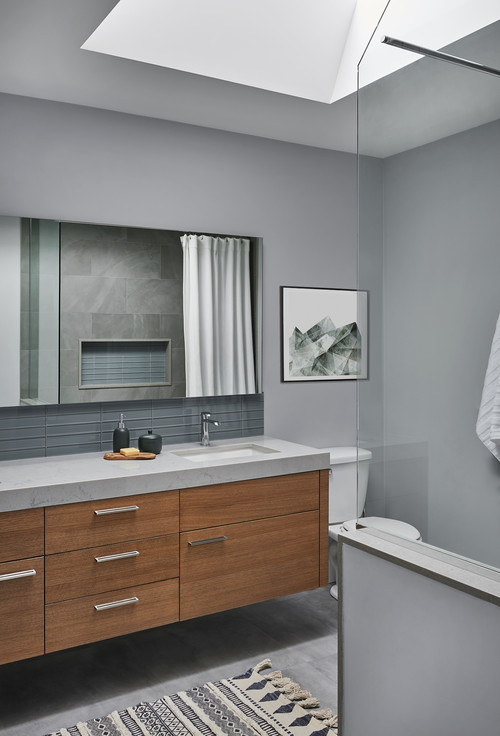 ID# 143716 | Houzz.com – Credit | © Carriage Lane Design-Build Inc.
---
Gray Subway Tile Backsplash with Gray Quartz Countertops and Timber Cabinet
The square-shaped skylight that illuminates the monochromatic color scheme punctuates this modern bathroom. The gray-painted walls are kept as part of the design with the further gray details brought by gray quartz countertops and a gray horizontally stacked subway tile backsplash. When it comes to the timber cabinet, tying it to the overall look is the brushed chrome hardware, while the geometric patterned rug casts a sense of warmth and texture underfoot. Also, the deftly chosen abstract mountain print hung on the wall deepens the aesthetic mood of the kitchen.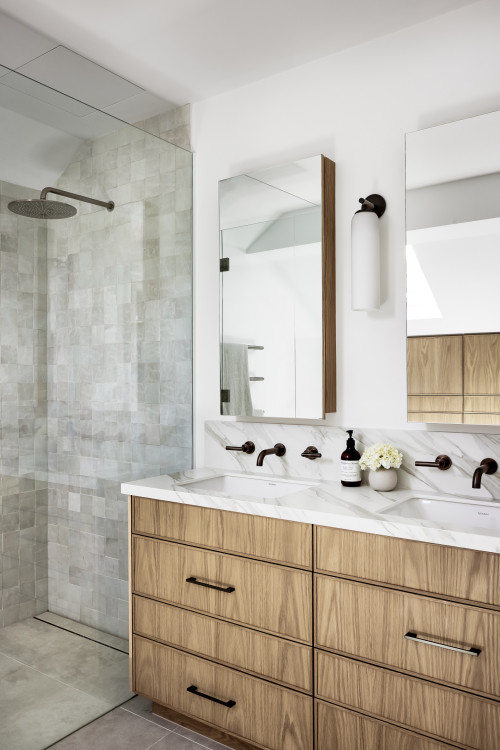 ID# 143717 | Houzz.com – Credit | © March Twice Interiors
---
6-inch Bathroom Backsplash Height for Marble Countertop and Wooden Freestanding Vanity
This transitional bathroom benefits from two backsplashes rather than using a wraparound backsplash as some bathrooms do. Here, the 6-inch bathroom backsplash teams up with the book-matching countertops and a wooden vanity. And these two materials come together pretty harmoniously as wood stains resemble the marble veins remarkably. On the other hand, the gray square tile backsplash provides a modern setup for the walk-through shower, and the glass division keeps both parts of the bathroom connected and alive.
Bathroom Backsplash Between Cabinets
The bathroom backsplash between cabinets covers the entire blank space between the upper and base cabinetry. This way, it offers full protection for the walls without leaving any uncovered spots. Modern, contemporary, and Scandinavian looks use this advantage to create instant focal points or let tile backsplashes blend into the background. In such designs, the color combination can be supported by wall paint to create a more integrated look and achieve visual consistency.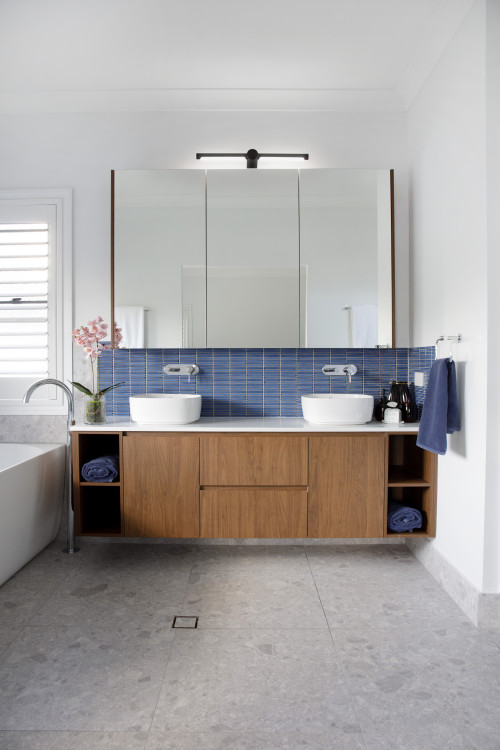 ID# 143718 | Houzz.com – Credit | © Interiors by Maz
---
Blue Stacked Kit Kat Tile Backsplash with Terrazzo Floor and Double Vanity
The blue stacked kit kat tile backsplash creates a striking focal point in this modern en-suite bathroom. Serving as the dash of color in the gray-white dominant color theme, it pops against the white-painted walls, stretching between the cabinets. The timber flat-front double vanity emanates warmth, and gray and understated terrazzo flooring runs across the space, adding a high-performance material to the bathroom design.
Design hint: If you have only one colored element and don't want it to feel alone, you can integrate accessories in the same color to build visual consistency.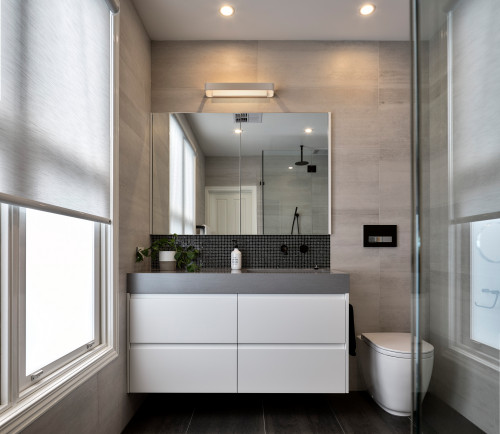 ID# 143719 | Houzz.com – Credit | © Mint Kitchen Group
---
Bathroom Backsplash Height Options for Contemporary Kitchens with Floating Vanity
What makes this bathroom design work is, first, that though the bathroom has a small footprint, the large format tiles camouflage this compactness. Secondly, the light earthy color palette of this bathroom is grounded with a black small tile backsplash and large black floor tiles. The white flat-front floating vanity topped by gray countertops plays along to mediate between the earthy and black shades for a sense of balance. As for the backsplash, it bridges the base and upper wall units, connecting different pieces and offering full protection.
Should the bathroom backsplash go up to the ceiling?
A backsplash doesn't necessarily need to go up to the ceiling, but if it does, it gives the kitchen a highend and custom look. Some designers even choose to use a wraparound backsplash to pull the entire space together and achieve visual integrity.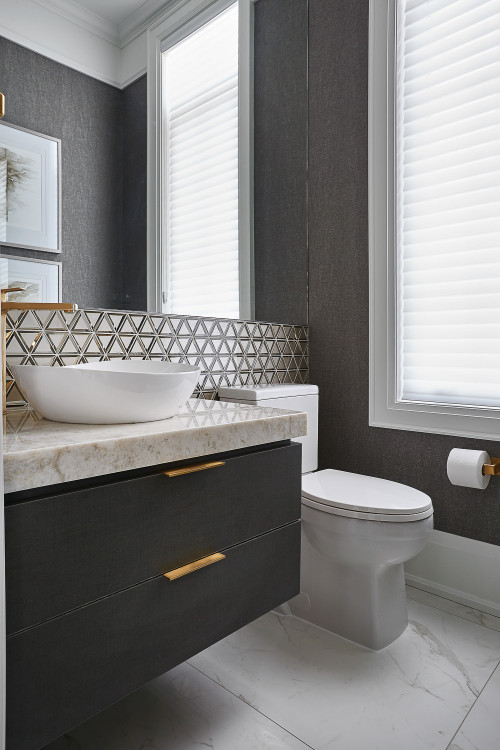 ID# 143720 | Houzz.com – Credit | © Parkyn Design
---
Contrasting Bathroom Design with Diamond Tile Backsplash and Marble Countertops
From the light-beige marble countertop to the cabinet-to-cabinet diamond tile backsplash, gray floating vanity, and gray walls, every element works harmoniously in this transitional bathroom. The white porcelain floor tiles alleviate the overall look, making the interiors feel more spacious. The brass lip pull notches add a small dose of glamour. And the resulting visual scheme feels contrasting but in a complementary manner, proposing a sense of restfulness.
Full-Height Bathroom Backsplash
A full-height bathroom backsplash refers to a backsplash version that goes up to the ceiling, delivering a high-end look. Modern and contemporary kitchens especially favor this look for its versatility. Some designers even divide the bathroom walls into two: top and bottom half. And for the bottom, they apply tiles; for the rest, they go with wallpaper designs to create diversity and a more welcoming atmosphere. Likewise, wraparound backsplashes and different types of backsplashes to clad the shower area and vanity offer design alternatives, opening up limitless design possibilities. In other words, full-height bathroom backsplashes and what you can do with them are fuel for your imagination, allowing you to express your personality through the language of tile materials and colors.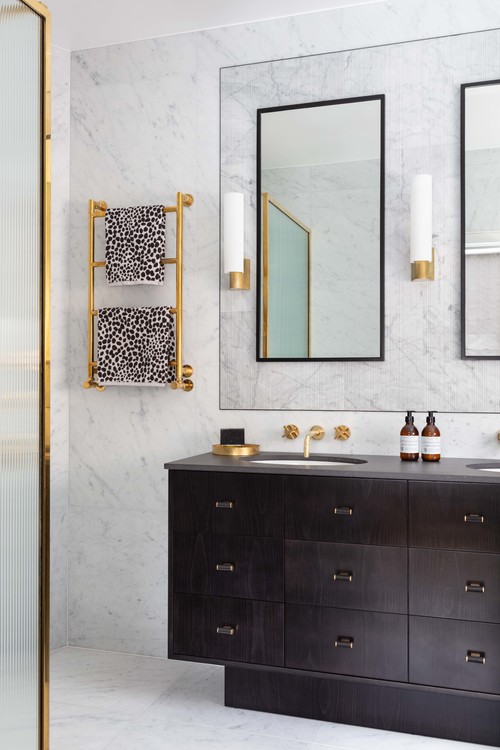 ID# 143721 | Houzz.com – Credit | © Shanade McAllister-Fisher Design
---
Bathroom Backsplash Height with Marble and Dark Vanity
This contemporary bathroom goes with a wraparound marble slab backsplash that clads not only the wall but also the floors to pull the entire space together. The light and feathery veins on the white marble base bring elegance, introducing undulating forms. The dark vanity serves as an anchor for the barely-there yet still immersive background, while the brass fixtures add an unexpected splash of color, taking the design to another level.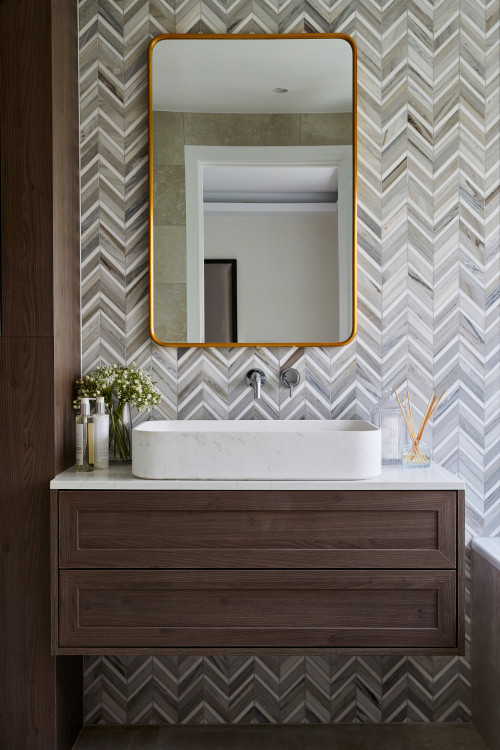 ID# 143722 | Houzz.com – Credit | © VORBILD Architecture
---
Chevron Pattern Backsplash with Wood Floating Vanity and Vessel Sink
This modern bathroom unveils itself in earthy shades that impart calmness. The sandy and light-gray subway tiles in a chevron pattern bring a sense of geometric design to the backdrop that elongates the kitchen by giving it the extra height. This way, it changes the perception of the space strategically to turn the bathroom into somewhere more breathable. Adding to that is also the dark wood floating vanity that keeps the bathroom floor free and open, while the white countertop and vessel sink brighten up the bathroom.
Should bathroom backsplash go on side walls?
If your bathroom vanity is close to the side walls, then it is considered necessary for the backsplash to continue on the side walls as well to make sure the walls stay protected. But the backsplash on the side walls is generally considered awkward and thus not very preferable. That's why it is mostly skipped unless it is really necessary to use one.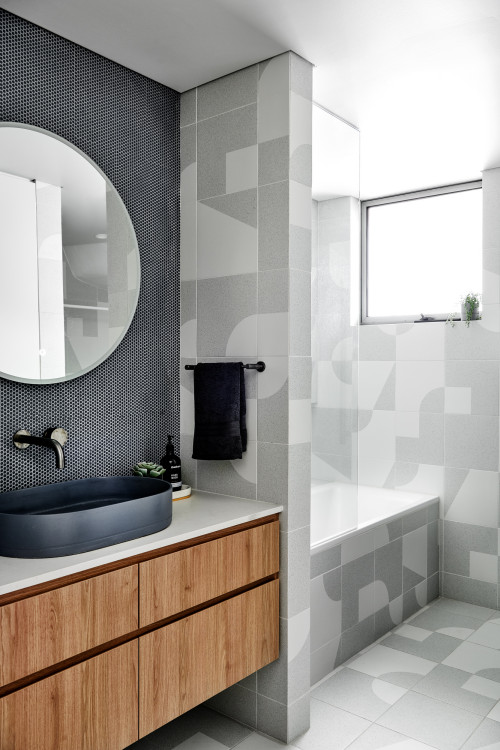 ID# 143723 | Houzz.com – Credit | © Ryan Linnegar Photography
---
Contemporary Kitchen with Timber Floating Vanity and Two Backsplashes
The bathroom has more than one part, including a self-grooming section by the sink and a shower section that includes a walk-through shower or a bathtub. When this is the case, you can treat the bathroom as if it is two-different spaces at the same time and design it accordingly. This contemporary kitchen, for example, uses two backsplashes to divide the entire space. First, it uses a blue penny-round tile backsplash that stretches from the counter to the ceiling. This creates an immersive effect to accompany the light timber floating vanity and the dark blue vessel sink. Secondly, it utilizes light gray geometric patterned tiles on the bathtub side that also clads the bathtub itself. As for the flooring, these gray tiles, again bring the space together.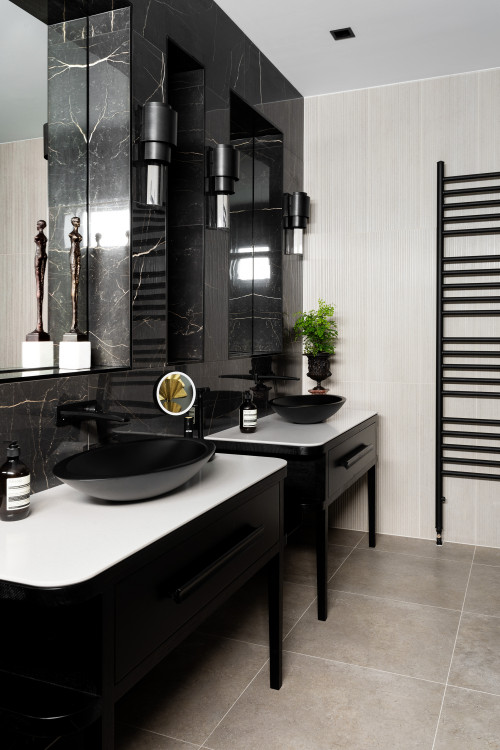 ID# 143724 | Houzz.com – Credit | © Peter Schaad Design Studio
---
Dramatic En-Suite Bathroom Design with Black Washstand and Black Backsplash
This contemporary kitchen goes with a duo of black washstands to establish a dramatic look, while the full-height black backsplash creates an eye-popping aesthetic for the background. The further enriching feature of the background is also the fact that marble is installed in the form of columns to add extra depth to the background. On the other hand, the pristine white countertops provide a stark contrast with the other black built-in furniture. The black vessel sinks nestle on the countertops comfortably, and the gray large format tiles clad the floors to soften the white-and-black contrast.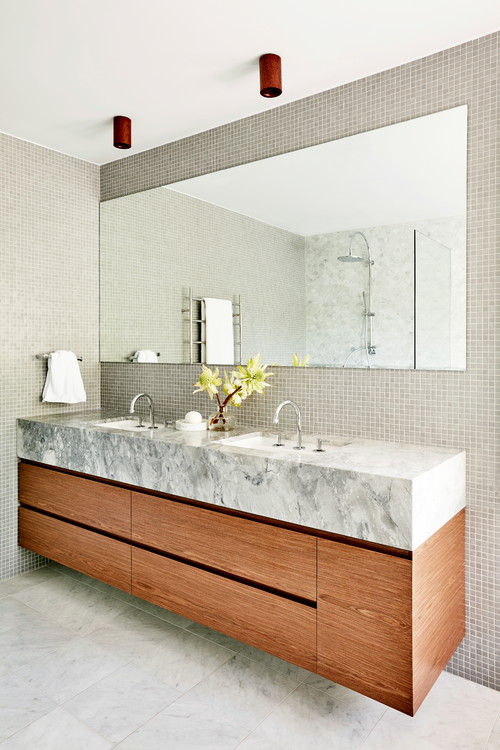 ID# 143725 | Houzz.com – Credit | © Studio Gorman
---
Bathroom Backsplash Height for Contemporary Bathroom with Marble Countertops
Designed to offer a hotel concept bathroom, this robust, soothing, and spectacular bathroom has everything to satisfy its users. From the double floating vanity to the thick marble countertops, and light gray small square tile backsplash, everything is rigorously complete each other. Especially the use of a full height backsplash sets the overall tone of the kitchen masterfully, while the large format floor tiles expand the floor scheme. Also, this sort of integration of small and larger tiles in the same space and using a floating vanity gives the kitchen extra height, roominess, and many more.
What is the most common height for the backsplash in the bathroom?
If your budget is a concern, you can go with a 4-inch backsplash that is very standard and common in most bathroom designs. And when combined with the right materials, a 4-inch backsplash can add personality and look modern and engaging. But in addition to the 4-inch backsplashes, ceiling-height backsplashes and cabinet-to-cabinet backsplashes have become very popular in recent years. It is mainly because it is easier to create focal points with these backsplashes. Plus, the more space you dedicate for backsplash tiles or slabs, the more they get to show what they have got.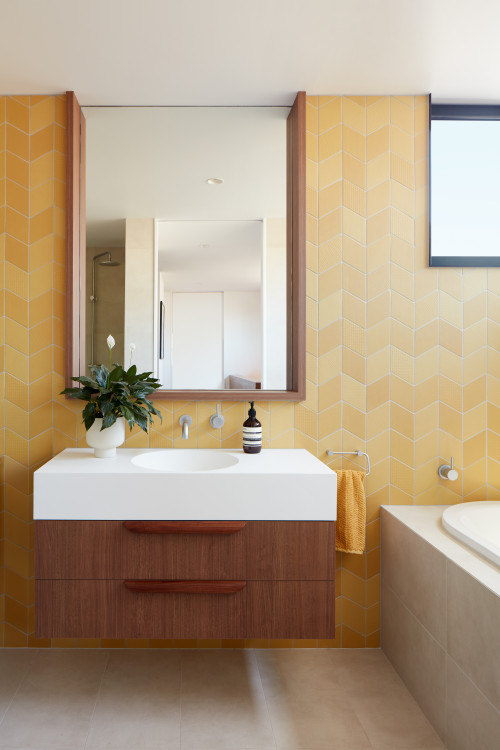 ID# 143726 | Houzz.com – Credit | © Bryant Alsop Architects
---
Orange Tile Backsplash with White Countertop and Walnut Vanity
If you prefer color to be the main protagonist of the bathroom, just go for it like this contemporary kitchen in Melbourne does. Here, the orange geometric tile backsplash stretches from the floor to the ceiling, serving as a wraparound backsplash and enveloping the kitchen with pops of oranges. The walnut floating vanity and wood-framed mirror calm down this vivid orange shade a little bit alongside the crisp white countertop. The rest feels complete with light gray large format floor tiles that continue on the bathtub also to integrate it into the design for a full-functioning design narrative.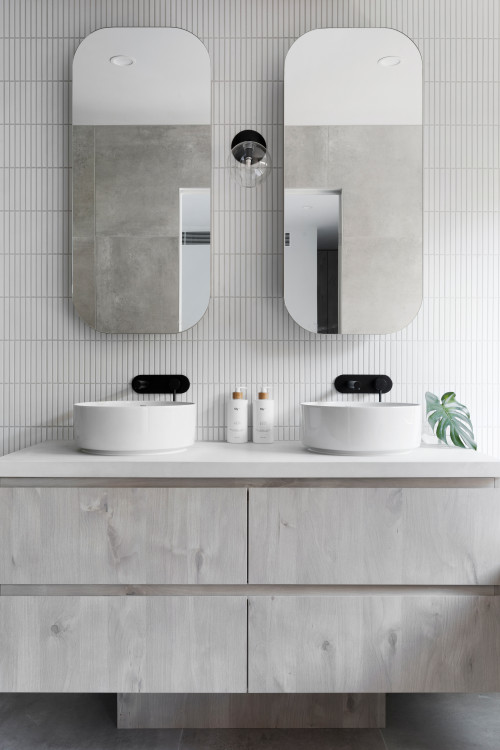 ID# 143727 | Houzz.com – Credit | © Atlas Architects
---
White Kit Kat Tile Backsplash with White Countertop and Floating Vanity
Here, the white kit kat mosaic tiles create a full-height backsplash, which is one of the favorite looks in contemporary bathroom designs. And accompanying them are a white floating vanity that serves for two and a duo of round-edged mirrors that stay loyal to the monochromatic color scheme. Also, the fact that the mirrors lack a frame helps them blend into the background, while the task lighting diffuses from the chic wall sconce installed between the mirrors. Design tip: If you would like to inject further color into such monochromatic looks, you can bring in indoor plants that not only clean the air but also incorporate a color of nature.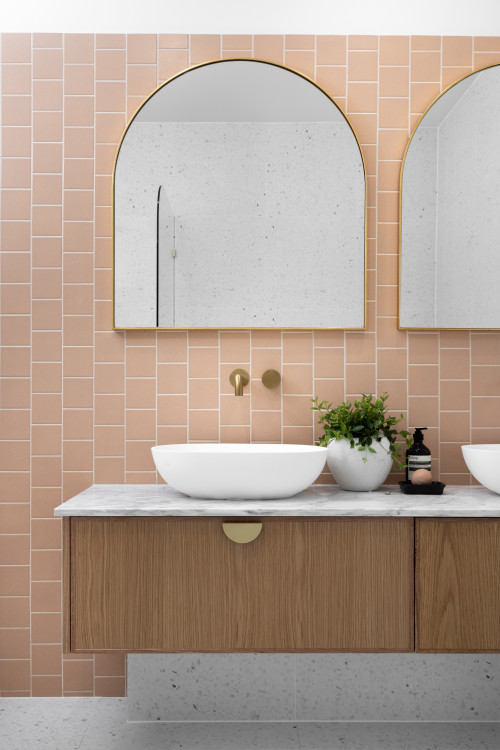 ID# 143728 | Houzz.com – Credit | © KjK Interiors
---
Bathroom Backsplash Height with Subway Tiles and Marble Countertop
This heartwarming bathroom design owes its cozy look to the muted pink subway tiles laid vertically in a running-bond pattern. Doing so creates a visual focal point and adds movement to the wall surface. The wood flat-front vanity topped by a white marble countertop and two vessel sinks complements this backsplash. Brass hardware and brass-framed mirrors also inject a dose of glamour without feeling over the top. The small indoor plant and gray flooring round out the overall look that feels soothing, dynamic, and sophisticated.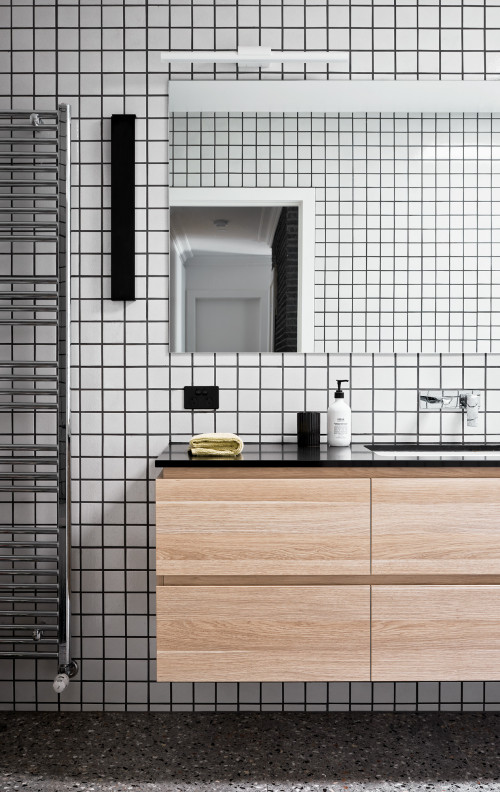 ID# 143729 | Houzz.com – Credit | © Jasmine McClelland Design
---
White Full-Height Backsplash with Black Countertops and Timber Vanity
Contemporary kitchens love contrasting and dark theme looks, and this one is no exception. Here, the white square tile backsplash clads the entire wall surface, while the black grout between the tiles adds a sharp contrast. The polished black countertop on the timber floating vanity further maintains the contrasting theme, and the timber offsets this contrast slowly. The speckled finish dark gray flooring complements the design by introducing a new pattern that looks both industrial and modern with a sense of masculinity.