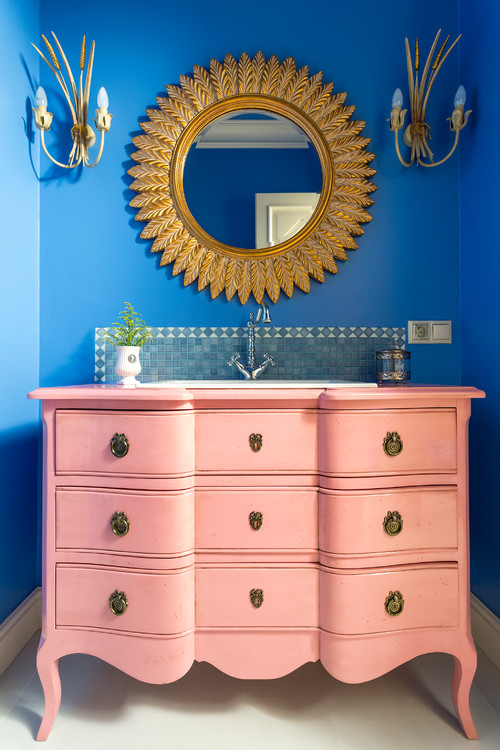 ID# 163005 | Houzz.com – Credit | © Людмила Кришталева
---
Blue and Pink Bathroom Ideas with Gold Accents
If you want to make a statement with your vanity, this vintage design might be best for you! In this eclectic bathroom, this pink vanity takes the stage and serves a one-of-a-kind appeal. The blue wall paint creates a contrasting look with the pink shade while offering a bold backdrop. The gold-framed mirror and wall sconces create a striking focal point on the blue wall, completing the glamorous appeal of the vanity. The blue mosaic tile backsplash behind the bathroom sink creates a continuous look with the walls.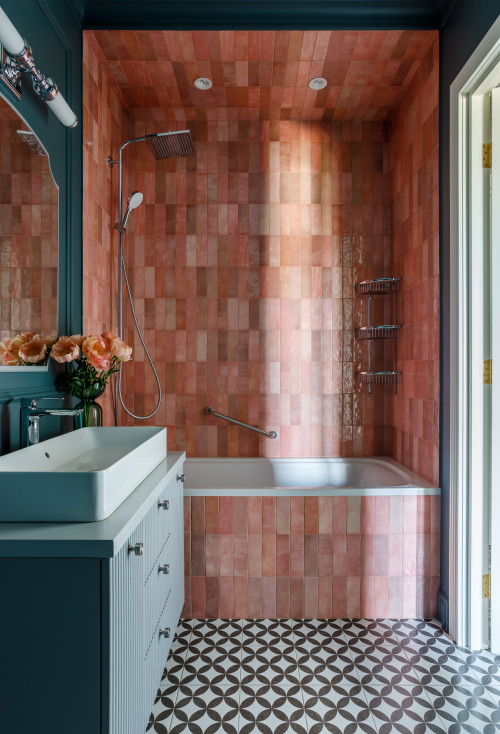 ID# 163018 | Houzz.com – Credit | © Зуева Анна
---
Dramatic Pink Bathroom Ideas with Dark Green Walls
In this modern bathroom, a chic color palette exudes a captivating ambiance. The shower area boasts stunning pink tiles covering both walls and ceiling making a bold and striking statement. The same pink tiles are used to wrap around the bathtub, elevating its prominence and adding a touch of sophistication. The rest of the walls, painted in a rich dark green shade, create an illusion of depth and luxury. Dynamic and energetic black and white patterned tiles give a lively flair to the overall design. Against this vivid backdrop, a light blue vanity stands out as an unexpected and refreshing element. Its cool tone provides a harmonious balance to the warmth of the pink and green hues.
Pink Bathroom Ideas
The bathroom is one of the most important points of the house. Cleaning is the place of purification. For this reason, it is necessary to create an environment where the users feel the best and with care. Adding color to the bathroom design is one of the best ways to brighten and beautify the space. For example, while you may like the soothing and mysterious tones of blue, the elegance of black, or the refreshing effect of green when you add pink to your bathroom design, you can create a fun but sweet feeling at the same time. In this article, we gather joyful and inviting pink bathroom ideas that will inspire you. Scroll down and check out these stunning design ideas for your next renovation project!
Whether it's a vibrant coral, millennial pink or the most subtle blush pink, there's a shade of pink to suit everyone and every style. And the way a pink bathroom looks good depends on personal design preferences. From eye-catching tile designs to vanities, there are plenty of different ways to incorporate this lovely color into your bathroom. To find the perfect look, all the materials should be chosen in harmony and should be in an elegant flow without suffocating. If you want to get more inspiration about pink bathroom ideas keep reading!!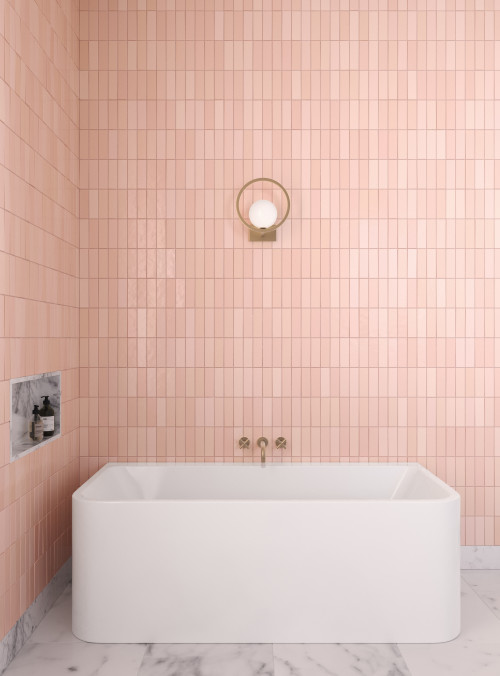 ID# 163001 | Houzz.com – Credit | © The Build by Temple & Webster
---
Contemporary Pink Bathroom Ideas with White Freestanding Tub
This contemporary bathroom is a great example of how well-chosen color schemes can easily enhance the overall look. Here, the pink ceramic tiles surround the walls and create a joyful atmosphere. The vertical placement of the tiles enhances the modern vibe. The white freestanding bathtub creates a focal point in front of the pink wall tiles while the marble floor tiles make a luxurious twist, adding another layer of texture. The brass sconce and faucet add some vintage flair to the room. The tiny built-in shelf provides storage space for shower essentials and also complements the floor tiles with its marble texture.
What Color goes with pink in the bathroom?
You can apply pink in the bathroom with neutral colors such as whites, beiges, and grays, or you can enhance the vintage look that pink adds and choose bold colors such as turquoise, which is more on the retro side.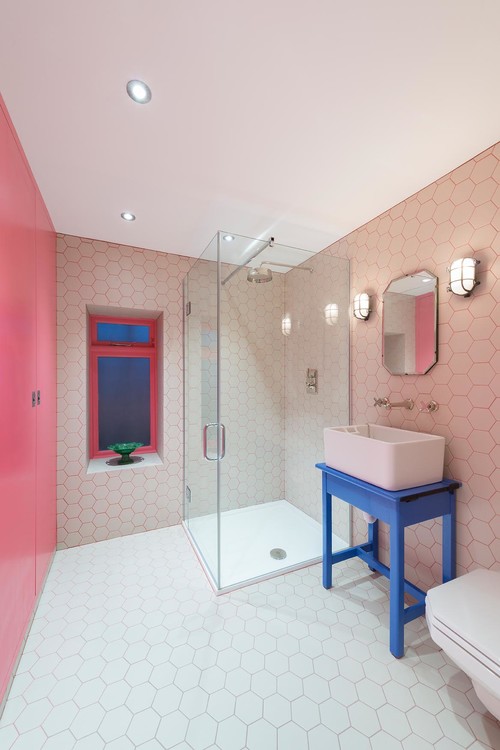 ID# 163002 | Houzz.com – Credit | © Alexander Owen Architecture
---
Pink Bathroom Ideas with Blue Accents
Different shades of pink surround this contemporary bathroom and offers a joyful and inviting space where you can relax after a long day! While the soft pink hexagon tiles are laid on the floors, the fushia details such as the window frame and tall cabinets enhance the impact of the pink. The blue bathroom vanity stands out between the pinks, creating a focal point. The white hexagon floor tiles balance the vibrant colors and offer a clean and sleek look. The chrome details make a beautiful final touch, adding a dose of shine.
Is pink a good color for the bathroom?
Pink can definitely be a fantastic color choice for your bathroom! It has the ability to impart a gentle and soothing vibe, while also adding a hint of femininity and warmth to your space. The versatility of pink is another great advantage, with a range of shades available to suit your preferences and desired atmosphere – from soft pastels to bold and vibrant hues. Whether your design style leans toward vintage, modern, or eclectic, pink can effortlessly complement your vision. Additionally, pairing pink with accents such as white, gray or metallics can create an aesthetically pleasing and balanced combination.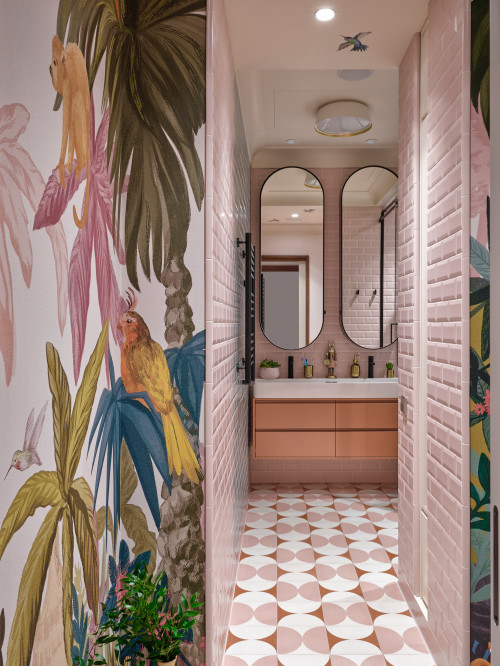 ID# 163003 | Houzz.com – Credit | © Indesign Buro
---
Eclectic Bathroom with Beveled Subway Wall Tiles
Wow! Each feature in this eclectic pink tiled bathroom act as a piece of art and together creates a one-of-a-kind appeal. The light pink beveled subway tiles create a nice textured look on the walls, without overwhelming it. The pink floating vanity with a white top creates a cohesive look with these tiles. The large rounded edge mirrors create a visual illusion and bring depth to the room. The multicolored floor tiles add another layer of texture. The tropical wallpaper, on the other hand, perfectly completes the characteristic details.
How Can I Make My Bathroom Pink?
When designing a bathroom, it is very important to apply colors correctly. It takes meticulous work to make a bathroom pink because it is the right way to work with the color pink without overwhelming the space.
If you want to create a romantic heaven with pink color, there are plenty of ways to do it! Painting your bathroom walls pink is the easiest and most affordable way. However, because a bathroom is a wet space, you need to consider waterproof paint options. On the other hand, if you are looking for a more durable material for your walls, tiles are the way to go. From subway tiles to hexagons, you can find endless pink tile design options in today's market.
If you are looking for something different, you may consider using a pink vanity. Choosing pink bathroom vanities creates beautiful views. If you want to add a little touch of pink to your bathroom, try incorporating pink accessories and decor! Swap out neutral towels and bath mats for pretty pastel ones, and hang a pink shower curtain to instantly bring some color to the space. You can also add in pink accents like soap dispensers, toothbrush holders, and even pink-colored bathroom fixtures for an extra pop of pink.
Pink Bathroom Vanity
When designing a bathroom, the bathroom vanity is one of the most important design elements. It should appeal to the user both visually and functionally. Bathroom vanities can be designed to suit any style. It can be planned in many variations, from modern to contemporary, from traditional to industrial designs. When it comes to pink bathroom vanity designs, while shaped according to the general concept, a variation can be prepared in modern flat styles, with chest of drawers designs, or with more classic style cabinets. Apart from these, there are various alternatives such as open shelves and a washbasin with pink pedestals. Of course, taking into account other elements and tastes, beautiful works emerge with different shades of pink.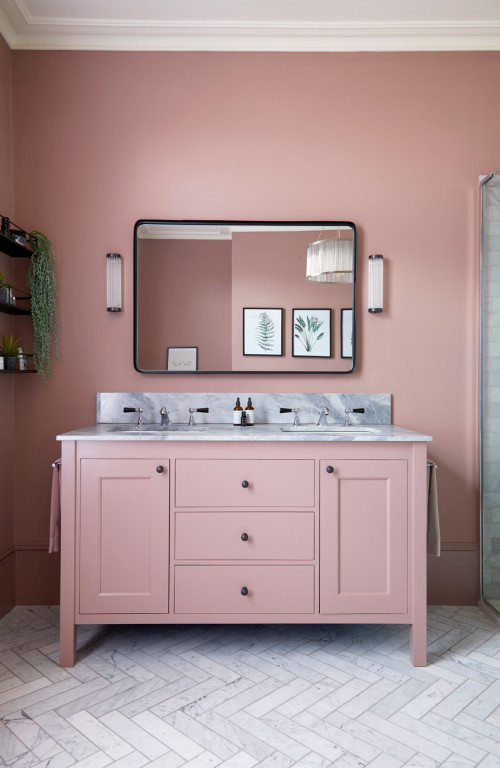 ID# 163004 | Houzz.com – Credit | © Born & Bred Studio
---
Pink Vanity Design with Marble Countertop and Bronze Knobs
This contemporary bathroom showcases the beauty of the lovely pastel shade of pink! The pink shaker vanity and the walls create a cohesive look and offer a calm and relaxing atmosphere. The marble herringbone bathroom floor tiles and the marble top of the vanity perfectly match the romantic vibes of the pink while adding a luxurious sense. The oil-rubbed bronze knobs of the vanity and the black frame of the mirror create a contrast against the light shades, adding visual interest.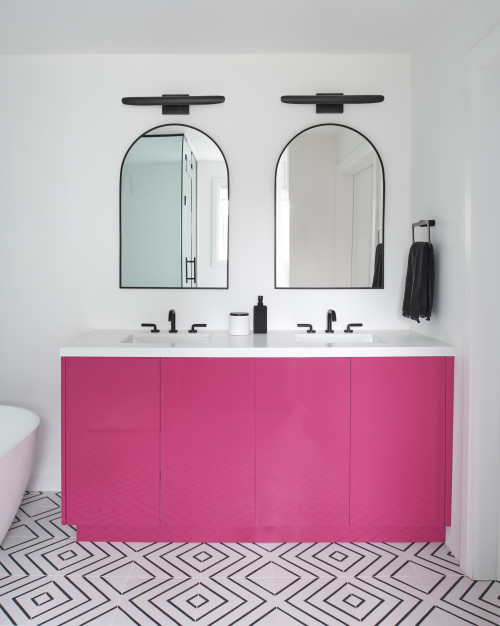 ID# 163006 | Houzz.com – Credit | © Julia Bewcyk
---
White Contemporary Bathroom with Hot Pink Vanity 
If you have a white bathroom and want to spruce up a little bit, using vibrant shades for your vanity will make the statement that you want! In this contemporary bathroom, the hot pink vanity creates a striking focal point between the white features. The white top of the vanity perfectly complements the bright look of the walls. The black and white patterned floor tiles create a visual illusion and bring depth to the space while the black accents complete the modern design of the vanity.
Are pink bathrooms out of style?
The old becomes new again. According to reviews from designers, users, and people in the business, pink bathroom ideas of mid-century popularity are catching a whole new fan base with trendy homeowners. Inspired by former First Lady Mamie Eisenhower, who adored pink, bathrooms were built by millions in the 1950s and 1960s.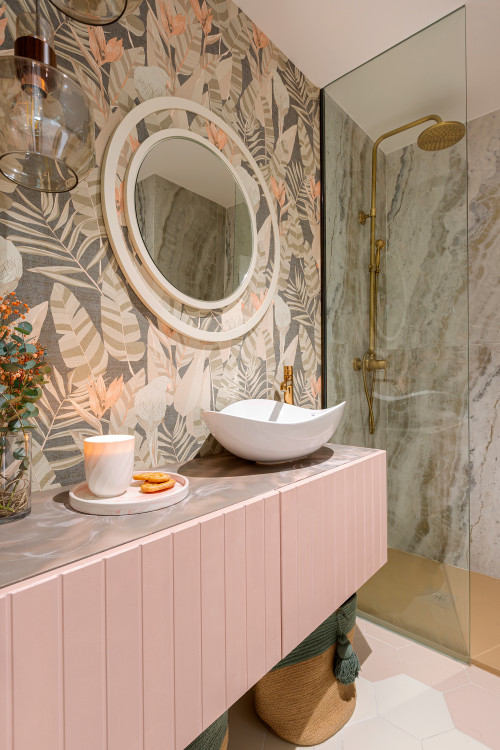 ID# 163007 | Houzz.com – Credit | © LÉ INTERIOR DESIGN
---
Contemporary Bathroom with Tropical Wallpaper Backsplash
Thanks to its leaf-patterned wallpaper, this contemporary pink bathroom serves a tropical atmosphere! The pastel pink vanity creates a cohesive look with this bathroom wallpaper. The white vessel sink and brass accents perfectly complete the luxurious overall look.
Pink Bathroom Backsplash
Backsplashes create desired effects with various colors, patterns, and material types for bathroom designs. When it comes to pink bathroom backsplashes, pink tiles in different shades impress with their different interesting designs. With different patterns, there are many options from modern to traditional, from rustic to industrial.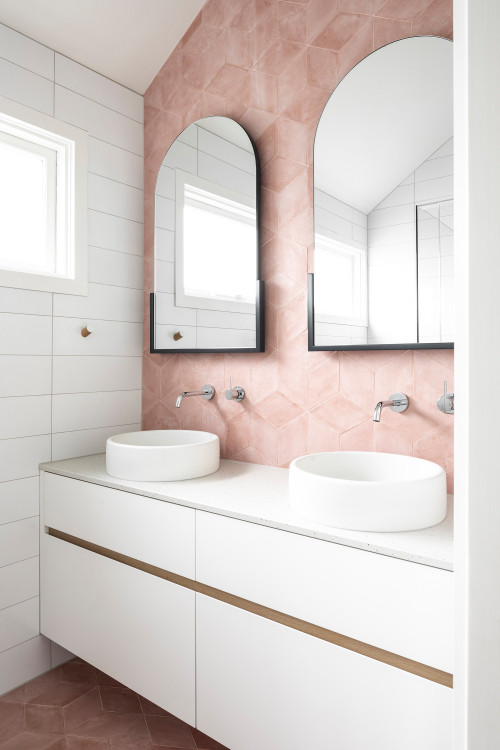 ID# 163008 | Houzz.com – Credit | © eat.bathe.live
---
Small Pink Bathroom Ideas with White Vanity and Vessel Sinks
The pink diamond tiles are the focal point of this little contemporary bathroom. These matte-finished, soft pink tiles provide a simple, opulent backdrop while also giving a splash of color. Large white ceramic tiles that create a bright and airy environment are used to highlight the pink tiles. The pink tiles stand out thanks to the white floating double vanity with vessel sinks, which gives the space a clean and cheerful appearance.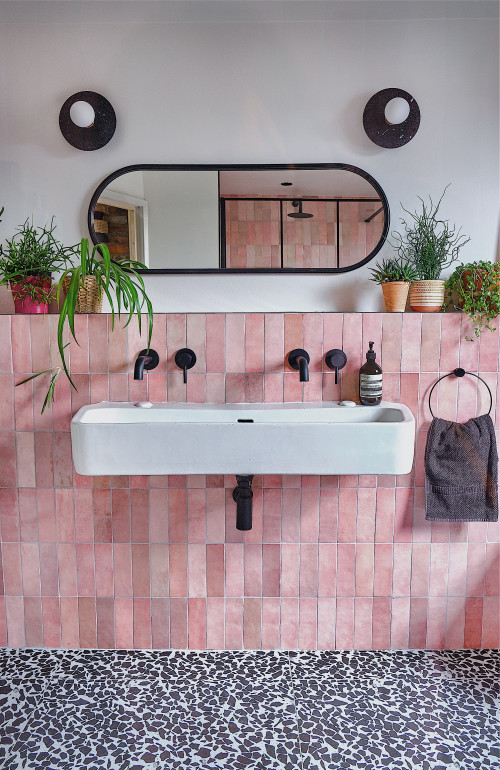 ID# 163009 | Houzz.com – Credit | © Emilie Fournet Interiors
---
Colorful Kids' Bathroom with Black and White Terrazzo Floor Tiles
This colorful kid's bathroom offers a fun and joyful atmosphere. The vertical pink metro tiles create an eye-catching backdrop for the space while the black and white terrazzo floor contrast with pink tiles. To add to the aesthetics, an old, rustic school trough sink was reclaimed and skillfully incorporated, lending character to the space. Additionally, a spacious storage cupboard with Georgian wire glass was added, allowing for ample storage while providing a fresh display for an array of plants.
How do you make a pink bathroom look masculine?
In your pink bathroom design, adding dark gray and black will make it feel more masculine. After painting the walls, it may be enough just to add some accessories to the space. Masculine air can easily be created with the contrasting harmony of pink and dark tones.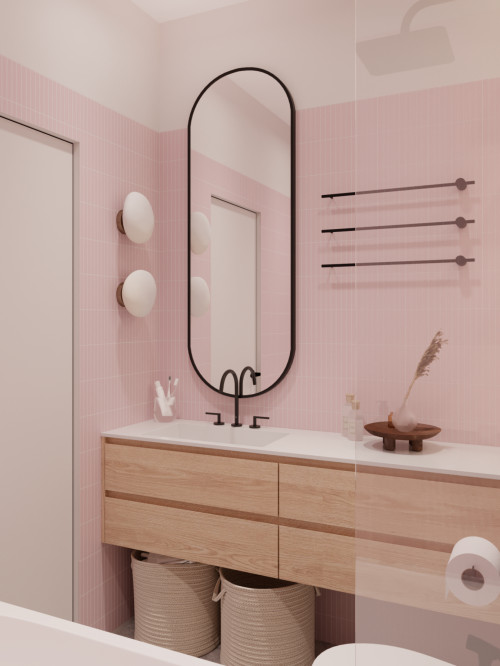 ID# 163010 | Houzz.com – Credit | © 3D Group
---
Wood Floating Vanity with Pink Kit Kat Wall Tiles
Step into this modern bathroom and discover the breathtaking artistry of the walls, as they are gloriously adorned with exquisite pink kit kat tiles! The playful and sophisticated touch of these tiles adds a burst of character to the space, making it the perfect spot for a luxurious retreat. The floating wood vanity steals the spotlight, designed to be chic and functional, with a crisp white countertop to match. The sleek faucet and mirror frame with black accents creates a striking contrast against the soft pink backdrop.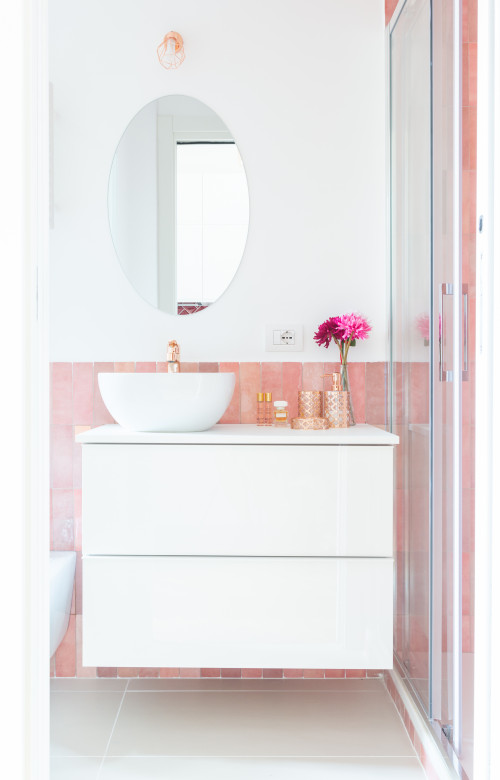 ID# 163011 | Houzz.com – Credit | © MATTEO MARTINI ARCHITETTO
---
Pink Backsplash with Small White Flaoting Vanity
With pristine white walls and an abundance of natural light, this small bathroom feels open and airy, providing a welcoming escape from the outside world. The playful pink backsplash adds a touch of whimsy without overpowering the room's sophisticated ambiance. The compact floating vanity maintains a minimalist edge while accommodating your essentials. The contemporary vessel sink adds a touch of luxury to the space's understated aesthetic. Finally, the light grey tile flooring ties everything together, creating a harmonious retreat that exudes modern charm and elegance.
How to decorate a pink bathroom?
If you're sprucing up pink bathroom ideas, coordinating with complementary colors, embracing a theme, balancing with neutrals, playing with patterns and textures, adding greenery, selecting appropriate fixtures and hardware, and personalizing with accessories are vital. The key is to find a balance between the pink color and the other elements in the area. Doing so will result in a cohesive and visually pleasing environment.
Pink Bathroom Walls
When you're contemplating bringing a pink theme to your bathroom walls, there are a multitude of options you can explore. One route is to coat the walls in the perfect shade of pink that matches your envisioned aesthetic. This can range from a pale pastel to a bright bubblegum hue, depending on your personal preference. Otherwise, you could try adding an eye-catching texture with pink wallpaper featuring various patterns or designs. Pink tile is another viable option for the walls, utilizing subway styles for a classic look or mosaic tiles for something more intricate. If you want to create a more traditional feel, pink wainscoting on the lower half of the walls might be the best option for your design!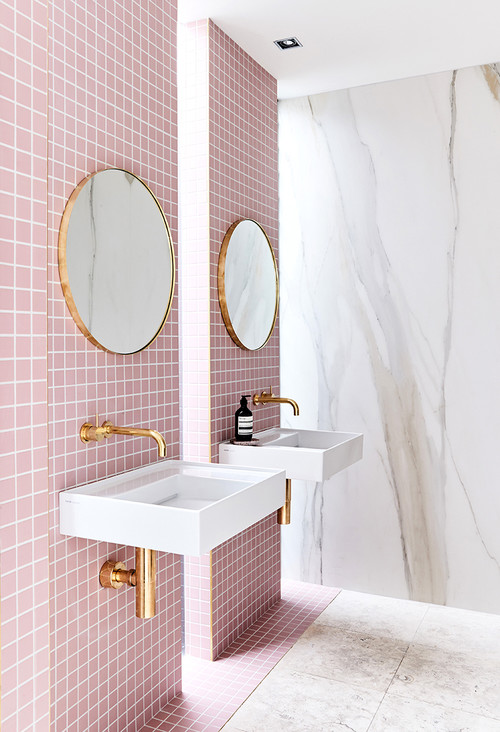 ID# 163012 | Houzz.com – Credit | © WK Quantum Quartz
---
Modern Bathroom with Pink Accent Wall and Gold Details
With its square wall tiles, brass accents, and wall-mounted sinks, this bathroom offers a charming vintage flair with a touch of modern sophistication. The pink square wall tiles directly draw attention at first sight and create an eye-catching accent wall. The white grout of the tiles highlights the grid pattern and enhances the impact of the tiles. The polished brass frames of the mirrors and faucets add a dose of glamour while the wall-mounted sinks complete the overall look with their simple and minimalistic designs.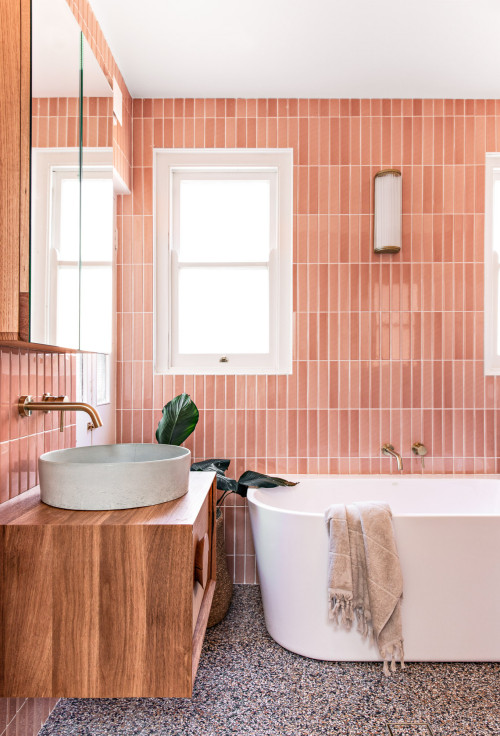 ID# 163013 | Houzz.com – Credit | © Kitty Lee Architecture
---
Scandinavian Bathroom with Wood Vanity and Terrazzo Floor Tiles
The bathroom in question is a true sanctuary of serenity, crafted with an expert hand to create a perfect balance between soothing elements. Pink, wood, and white combine to form a harmonious whole that is both inviting and calming. The focal point of the space is undoubtedly the beautiful vertical pink wall tiles that instantly captivate the eye and exude a soft and comforting ambiance. The wood floating vanity, boasting a natural finish, adds warmth and organic charm to the décor, while a sleek gray vessel sink offers a contemporary update. Central to the bathroom's aesthetic is the luxurious white freestanding tub, beckoning you to indulge in a little pampering. Last but not least, terrazzo floor tiles complete the Scandinavian look to perfection.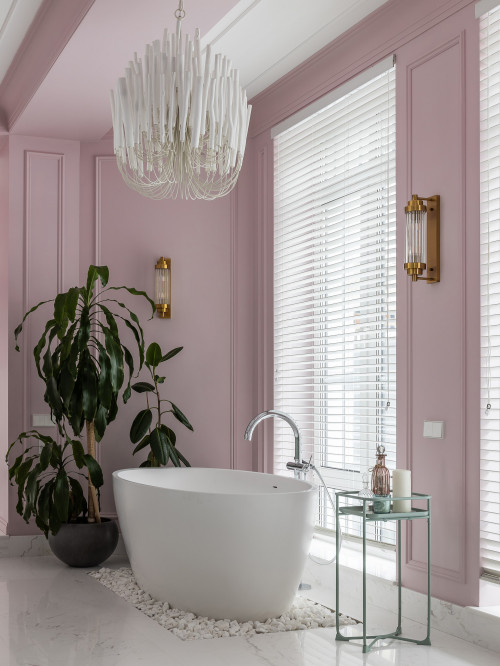 ID# 163014 | Houzz.com – Credit | © Студия дизайна PlatFORM
---
Luxury Bathroom Design with Pink Walls and Unique Chandelier
This bathroom offers a romantic and luxurious atmosphere with its colour scheme and high-end material choices! The pastel pink painted walls create a sleek and calm backdrop. The white freestanding bathtub creates a focal point while brass detailed sconces add vintage flair. The unique chandelier design above the tub adds a bunch of character to the space, completing the luxurious sense.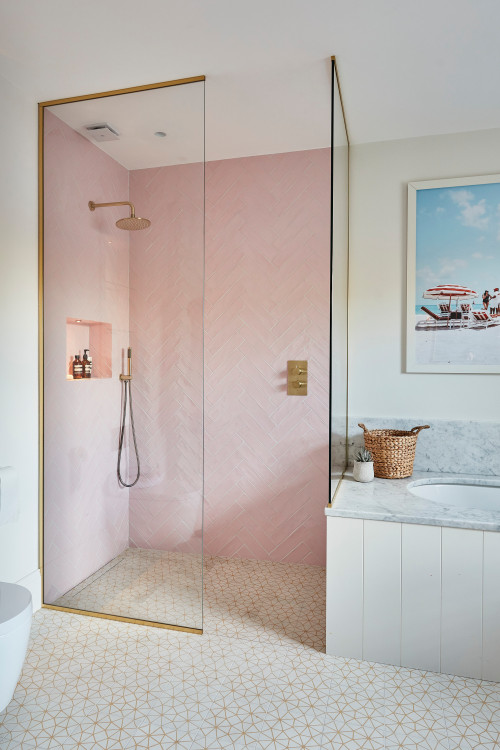 ID# 163015 | Houzz.com – Credit | © Pencil and Brick
---
Pink Herringbone Shower Tiles with Brass Fixtures
The standout feature in this bathroom is undeniably the gorgeous pink herringbone wall tiles in the shower, which exude an air of lighthearted elegance! The intricate design of the floor tiles evokes the peaceful motion of ocean waves, infusing the room with depth and personality. The gold fixtures add a sense of refinement and warmth, perfectly complementing the soft pastel tones. Their radiant shine creates a striking contrast to the overall beachy-vibe aesthetic, yet still blends seamlessly with the refined elegance of the space.
Pink Bathroom Accessories
While making bathroom designs, even if you want to work with lively and energetic colors, thinking about the possibility of getting bored causes users to turn to simpler, timeless styles. Of course, white, like gray, especially white is a preferred color that is loved by everyone and elegant designs are obtained that are different from each other. If you do not want to use the color pink on the ironwork of a bathroom such as walls, cabinets, and floor tiles assertively, but you want to feel pink, the work you need to do is very simple and practical.
You can include the pink color as you wish in the accessory. By placing objects such as towels, ornamental objects, floor mats, and soap dispensers, you will both color and add vitality to your simple bathroom. It is very practical to provide a color effect with accessories and then make different colors as you wish. With just a few accessory changes, you can create a renewed feeling by changing the whole atmosphere of the bathroom.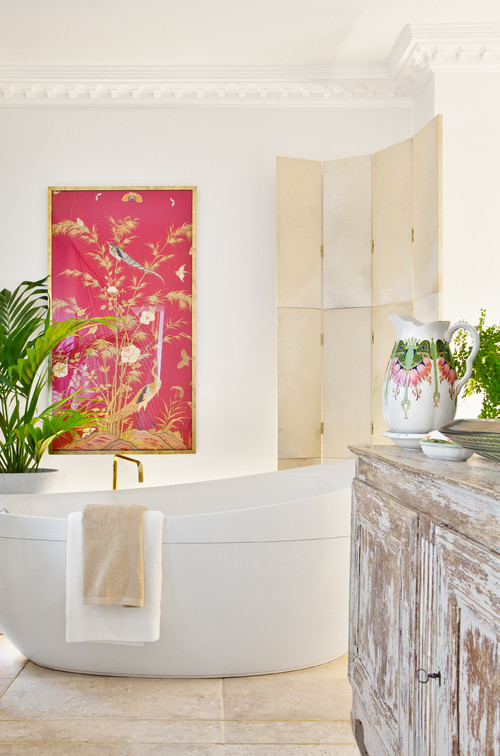 ID# 163016 | Houzz.com – Credit | © Beatriz Silveira-Batik Interiores
---
Eclectic Bathroom Design with Curved Bathtub and Pink Artwork
Prepare to be mesmerized by the delightful combination of textures, colors, and artistic details that transform this bathroom into a serene haven for the senses! At the heart of this charmingly eclectic space lies a stunning white freestanding bathtub, beckoning you to indulge in a luxurious moment of calm and bliss. Enhancing the ambiance with a touch of the rustic allure is the distressed wood vanity, exuding a unique character and featuring a weathered finish. The walls are bejeweled with enchanting pink wall art that injects a burst of color and artistic pizzazz into the space. The beige floor tiles establish a neutral base, grounding the vibrant features of the room in perfect harmony.
Pink Bathroom Tub
Are you looking to spruce up your bathroom and add a pop of color? Look no further than a pink bathtub! Not only can it serve as a stunning focal point for your space, but it's also available in various shades and materials to suit your taste and needs. Complete the look with matching pink fixtures and hardware for a cohesive and stylish finish. And don't worry about the overall style of your bathroom – whether you prefer vintage or modern design, a pink bathtub can seamlessly fit in and add a charming touch! On the other hand, if you're not quite ready to commit to a full replacement, you can consider refinishing your existing bathtub in a custom pink shade.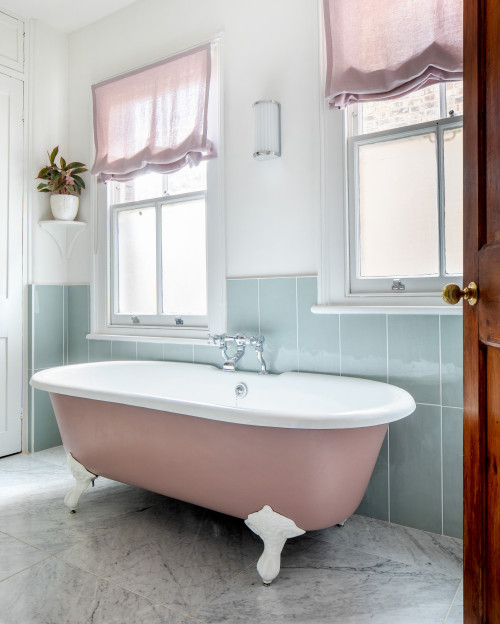 ID# 163017 | Houzz.com – Credit
---
Pink Clawfoot Bathtub with Pastel Blue Wall Tiles
Indulge in a luxurious bath experience with the alluring pink clawfoot tub that invites you to soak away your worries in style! The calming pastel blue tiles surrounding the tub create a refreshing and serene ambiance that complements the soft pink hues. The spectacular marble tiles on the floor elevate the space with their elegance and sophistication. As the natural light fills the room, the pink window treatments exude a gentle warmth, casting a welcoming glow throughout the bathroom.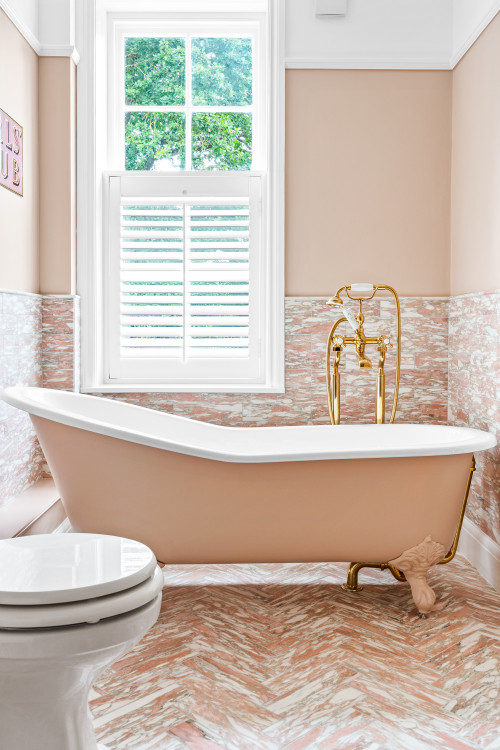 ID# 163019 | Houzz.com – Credit | © Bournes Projects LTD
---
Contemporary Bathroom with Pink Color Scheme
Welcome to a delightful and charming bathroom that embodies an elegant and vintage feel with a touch of pink overload! The centerpiece of this dreamy space is a breathtaking pink clawfoot tub, reminiscent of a bygone era and an epitome of luxury. The tub's gleaming brass faucet exudes a refined and classy vibe while complementing the overall aesthetic perfectly. The floor and walls are adorned with delightfully patterned tiles in a charming blend of white and pink hues. The intricate patterns and delicate color palette add a playful and whimsical touch to the ambiance. The upper part of the walls is painted in a soothing pastel pink shade for a subtle contrast and to augment the room's cozy and inviting atmosphere.
Modern Pink Bathroom Ideas
When it comes to modern bathroom designs, simplicity is key! Rather than ornate details and vintage styles modern designs prioritize clean lines and neutral decor. In particular, modern pink bathroom ideas incorporate a range of different pink tones, from the wall tiles to the bathroom vanity and accessories. With careful attention to the dimensions and shape of the space, these designs can be truly stunning. Modern designs are perfect to create a cohesive look that puts the color pink front and center.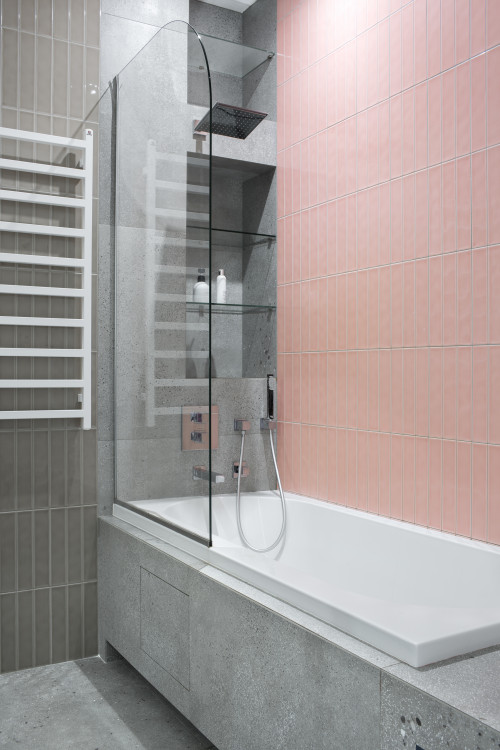 ID# 163020 | Houzz.com – Credit | © MIYAO
---
Modern Gray and Pink Bathroom Ideas with Built-in Niche
Welcome to a modern oasis that exudes sophistication and style with a captivating color scheme of gray and pink! The focal point of the space is created by vertical pink tiles serving as an accent wall, bringing a burst of vibrant color to the overall design. The rest of the room and tub surround is adorned with sleek gray tiles, creating a perfect balance between the two colors. With a sense of understated elegance, the gray tiles provide a neutral backdrop, allowing the pink accent tiles to shine brilliantly. To make the bathroom convenient and functional, a built-in niche is seamlessly incorporated into the design, giving you a beautiful space where you can relax and rejuvenate in style and comfort.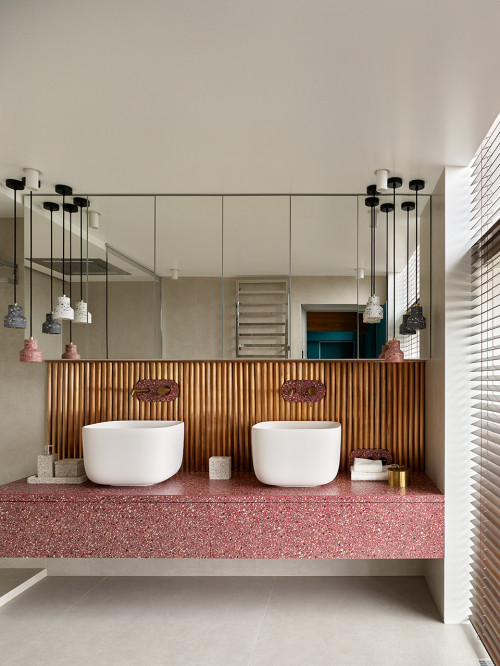 ID# 163021 | Houzz.com – Credit | © Рожкова Полина
---
3D Bathroom Backsplash with Mirrored Cabinets
The lovely pink floating vanity brings a lively and vivid element to this modern bathroom. The vanity's clean form is supplemented with sophisticated white vessel sinks, which provide a dramatic contrast against the pink backdrop. A compelling 3D backsplash, which provides depth and texture to the walls, adds to the bathroom's particular attractiveness. Mirrored top cabinets not only provide useful storage but also add to the overall appearance of the area. Colorful pendant lights are strung above the vanity to improve the mood and add a bit of whimsy to the area.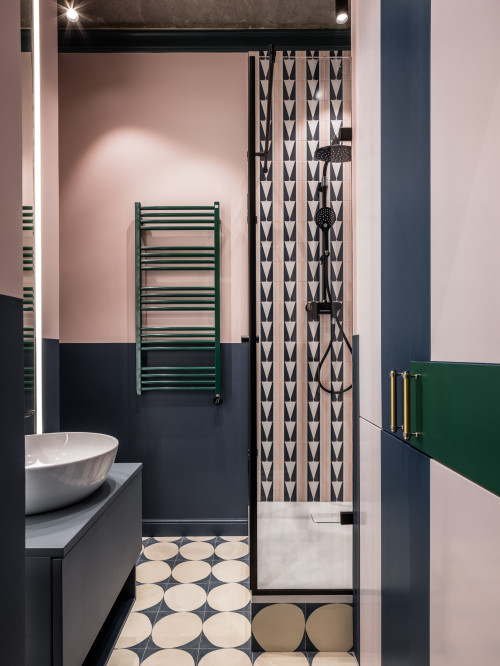 ID# 163022 | Houzz.com – Credit | © Зуева Анна
---
Gray and Pink Modern Bathroom with Patterned Tiles
In this contemporary bathroom, the mix of dark gray and pink tones adds depth and contrast to the space and provides a sense of refined beauty. This gray and pink bathroom décor has artistically patterned tiles on the walls and flooring! A sleek and professional dark gray vanity takes center stage, providing ample storage space for your bathroom essentials. To add to the modern look, black fixtures are utilized throughout the bathroom.
Luxury Pink Bathroom Ideas
Since the color pink creates a sweet effect, although it is preferred in styles such as modern, vintage, and children's bathrooms, luxurious designs can be created with the right matches and the way pink is used. Marbles in pink tones, the pink vanity matched with elegant cabinet handles, combined with the right lighting shapes create luxurious effects. The quality and luxurious effect of marble is always the right and useful piece passing to the user. In addition, by pairing pink tones with light tones, soft luxurious effects can be achieved while helping to neutralize.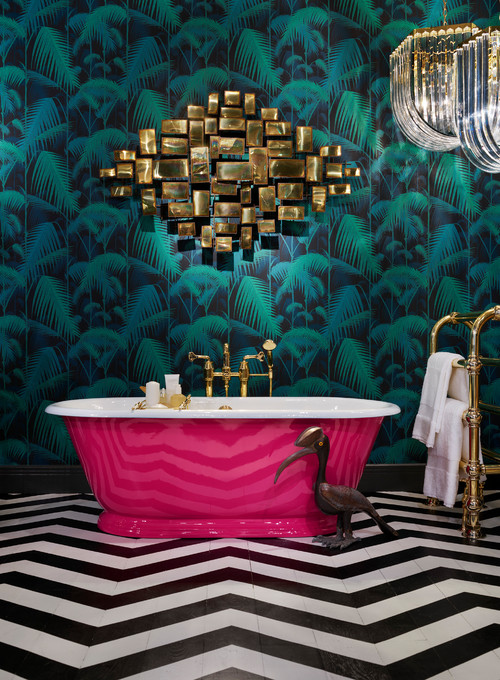 ID# 163023 | Houzz.com – Credit | © Maurizio Pellizzoni Ltd
---
Eclectic Pink Bathroom Ideas with Tropical Wallpaper and Chevron Floor Tiles
In this eclectic bathroom, each feature acts as a piece of art and together creates a unique and luxurious design. The pink freestanding bathtub creates a striking focal point in front of the tropical wallpaper. The black and white chevron patterned floor tiles create a visual illusion and bring depth and dimension to the space. The gold artwork on the wall and other gold accents perfectly complete the luxurious overall look.