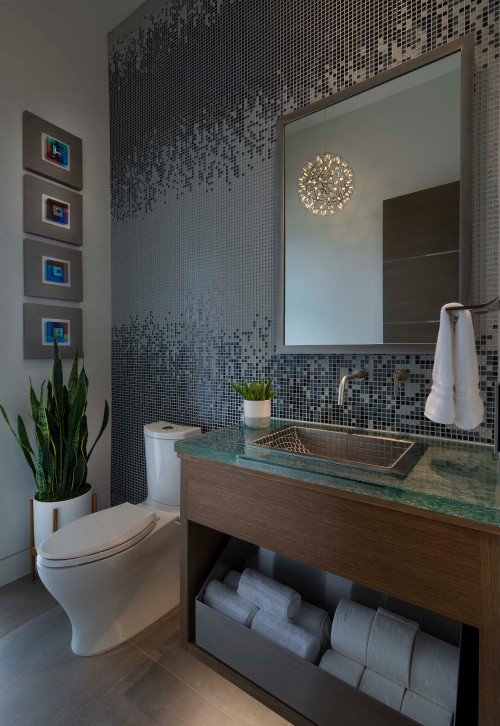 ID# 123407 | Houzz.com – Credit | © Mary Anne Smiley Interiors
---
Wood Vanity with Glass Countertop and Glass Tile Backsplash
In this contemporary black bathroom, a black and gray glass tile backsplash offers a sleek and stylish backdrop. The wood vanity is paired with a glass countertop which complements the shiny surface of the backsplash tiles.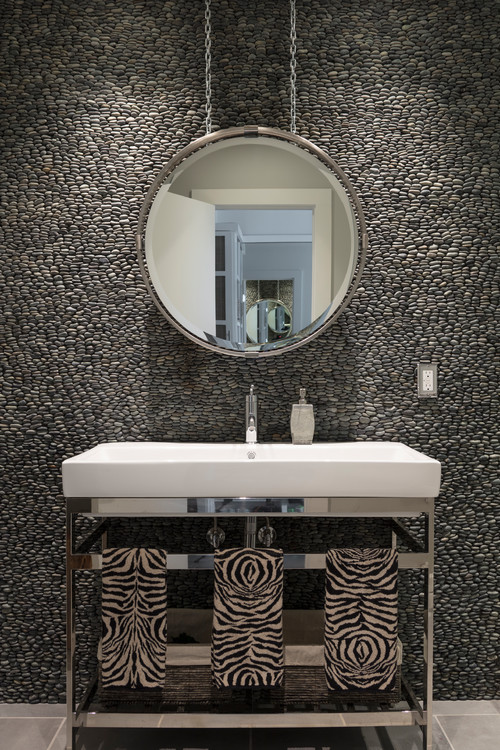 ID# 123442 | Houzz.com – Credit | © RTH Building Company
---
Black Pebbled Wall with Metallic Accents and Zebra Printed Towels
In this black and white powder room, the black pebbled wall brings a natural feel while creating an elegant backdrop. Metallic accents like the stand of the sink, mirror frame, and faucet add a sparkle to the design.
Bathroom Backsplash
When designing a bathroom, bathtub, shower, and vanity are the essentials. However, besides these features, choosing the right backsplash is important as other elements. But after all, decisions that you made for your bathroom, deciding a backsplash is the fun part of the job and you can be as crazy as you want. A bathroom backsplash is a vertical extension to a counter which needs to protect walls against water spills. It can be a few inches high or cover all the walls behind the vanity.
The primary function of the backsplash is protection but it is more than this. Backsplashes also add visual interest to the bathrooms and create a focal point behind the vanity. You can play with different colors, textures, and materials to finalize your dreamy kitchen. Whether it's a classic subway tile or eye-catching metal tiles, choosing the right backsplash will elevate your bathroom design. A well-chosen backsplash brings the all components together and completes the overall look of the bathroom. Here are our favorite bathroom backsplash ideas. Scroll down and find the best material that suits your taste and budget!
Bathroom Backsplash Material
Choosing the right material for your bathroom backsplash might be the triest decision that you need to make. A bathroom backsplash needs to defend walls against water spills and it should maintain this function throughout time. It must be stretch-resistant, easy to clean and maintain. That's why you need to choose the right material. For all these expectations, tile backsplashes have become the most popular method for homeowners and interior designers. Glass, ceramic, and porcelain tiles are the most popular material options but from metal to stone there are endless choices for a backsplash material. With their natural beauty and striking appearance, granite, quartz, and marble also gain their popularity in recent days.
Marble Backsplash Bathroom
Marble is a natural stone that has a unique beauty. This elegant stone can lend a luxurious sophistication to any space and create a timeless look. From tiny hex tiles to giant slabs, marble can be used in many different ways as a bathroom backsplash. Also, there is plenty of marble type that provides different appeals. The average cost of the marble tiles is between $15-$30 per square foot. But depending on the type of marble this price can go up. For example, Calacatta Gold Marble is a high-end stone that can cost $30 – $80 per square foot.
Also, marble is an easy-to-clean material that you can clean with warm water, dish soap, and a soft cloth. However, marble is a porous material that needs to be sealed regularly. This means marble tiles are a little bit harder to maintain but if you do this maintenance regularly, you can keep your marble backsplash as fresh as the first day.
1# Best Seller White Backsplash tiles for Kitchens
Sparkling White Diamond
Glass & Marble Mixed Backsplash Tile
Item #: BA62046
White Modern Marble Chevron Mosaic
Crystal White Marble chevron mosaic tile
Item #: BA631613
Modern White Gray Subway
Unique marble comes with gray white and few brown colors
Item #: BA1034
White Glass Metal Backsplash
Need a glittering element for your decidedly modern space?
Item #: BA1138
White Subway Marble Glass & Metal
Add elegance and class to your project with this glass and metal mix mosaic tile.
Item #: BA62032
White & Silver Shiny, Glittery Backsplash Tile
White and silver color glass mosaic tile for elegant kitchens backsplash project.
Item #: BA1206
Since 2012 with
Over 25.000+ happy customers!
Whether you're a designer, an architect, a contractor, or a homeowner, Backsplash.com is ready to help you make your next project a success.
888-298-6456
STERLING, VIRGINIA, USA
Copyright © Backsplash.com
All Rights Reserved
Glass Backsplash Bathroom
Using glass is one of the most popular materials as a backsplash for homeowners and interior designers and they provide several advantages. Glass backsplash bathroom, come in a variety of colors, sizes, and finishes which is a great way to add visual interest to walls behind the vanity. From classic subway tiles to eye-catching mosaic tiles, glass material can suitable for different styles according to your taste. The other biggest advantage of glass tiles is they are easy to clean which makes them a perfect material as a backsplash.
Also, glass is a natural material that can be recycled. So, that is perfect for environmentally-friendly concepts. Glass tiles are more affordable options than some other materials like marble. The average cost of a glass tile backsplash is between $12-$25 per square foot. This price can change according to company and location.
Wood Backsplash Bathroom
If you are looking for something different than a classic tile look for your backsplash, a wood backsplash bathroom might be your solution. The natural beauty of the wood can instantly warm up to space and create a unique backdrop for bathrooms. From rustic to modern, wood backsplashes can be suitable for different styles. You can use wood planks in original textures and colors or paint them to create a more clean look. Whatever your choice is a wood backsplash will bring warmth to the atmosphere and make your bathroom more welcoming.
But if you want to use wood backsplash, you need to treat wood to protect it from water spills and to make it more durable. If you are still worrying about the durability of wood, you can check the wood-look tiles. They also give a realistic wood appearance with easier maintenance. There are ceramic and porcelain tiles with a wood texture. The cost of these tiles is between $2-$10 per square foot.
How To Install Bathroom Backsplash?
The installation process of the bathroom backsplash depends on the type, style, and size of your material. If you are covering all the walls behind the vanity, first you need to prepare the wall and tiles. Sand and clean the wall where you intend to install the backsplash.
Before applying adhesive, you need to decide the layout of your tiles. Mark starting and endpoints. Then apply the adhesive on the wall with a trowel by using a 45-degree angle. The starting point depends on the shape of the backsplash area and the layout of the tiles. After applying the adhesive, place your tiles or sheets along the wall and press them with the trowel. Wipe down the extra adhesive on the tiles. Wait 24 hours to allow the mortar and tiles to dry.
After it completely dries, apply the grout with the grout float at a 45-degree angle. Grab a wet sponge and clean the grout from the face of the tiles. If this process is not enough to cover all the spaces between the tiles, you can repeat these steps. After the grout dries, apply the grout sealer on the grouts to protect them from staining. If your backsplash material is porous like marble, granite, or travertine, you need to seal also tiles. After all these steps you can clean your backsplash with warm water and a soft cloth.
If you are using a vanity backsplash the installation process is the same with tiles. Some vanity tops come with integral backsplashes, but generally, bathroom backsplashes come separately that needs to be attached vanity top after the installation. After installing the backsplash material, you need to apply caulk between the vanity top and the backsplash.
Metal Backsplash Bathroom
With their glamorous effect, metallic accents are in rising trend lists and backsplash s a great way to incorporate metal into the design. From shiny brass to sleek stainless steel, metallic backsplashes come in a wide range of types, colors, and sizes. The contemporary appeal of the metal backsplash offers a distinctive look and creates an eye-catching focal point in the bathrooms. Metal sheets are perfect to create a sleek modern look. But if you still want to create a classic tile look, there are plenty of metal tile options.
Besides being used as a perfect backsplash on its own, metal can also be combined with glass, stone, or other materials and create stunning looks. Metal backsplashes are incredibly durable and easy to clean materials. Metal is nonporous and provides a hygienic surface which makes them a perfect material for kitchens. The average cost of the metal tiles is $15-$30 per square foot.
Do You Need Backsplash In Bathroom?
Water spills and moisture can be a big problem for bathrooms especially wet areas like behind the vanity. So, you'll likely benefit from
Installing a backsplash. Besides its function, installing a backsplash is a great way to personalize your bathroom and create your dreamy bathroom.

Travertine Backsplash Bathroom
Just like marble, travertine is one of the popular materials used for bathroom applications. Travertine is a durable and cost-effective material that can elevate the bathrooms. The soft color palette of the travertine emphasizes the natural striation of the stone which will never go out of style. From tumbled to polished, travertine backsplash comes in different finishes that can be incorporated into different styles. Also, care and maintenance of the travertine are easy. The average cost of a travertine backsplash is between $20-$35 per square foot.
Bathroom Backsplash Tile Style
Bathroom backsplashes come in a wide range of materials, colors, and styles and tiles are the most popular option for a backsplash. From modern geometric patterns to a classic herringbone pattern, backsplash tiles offer an array of styles. You can go with a glossy white subway backsplash to create a timeless look or colorful mosaic tiles to give a striking appeal.
Mosaic Backsplash Bathroom
Mosaic tile is a combination of different tile colors, sizes, shapes, and materials. These unique combinations act as a piece of art and offer a distinctive focal point as a backsplash application. From natural stones to glass, porcelain to metal, any type of material can be used as a mosaic tile. The average cost of mosaic tiles starts at $15-$25 per square foot but because mosaic tiles can contain different materials, the actual cost may vary. Generally, mosaic tiles come on a mesh-mounted sheet which provides an easy installation.
Subway Backsplash Bathroom
From its first launching to today, subway tile backsplash is classic for bathrooms. With their clean lines, subway tiles are a representation of simple sophistication. The classic, clean beauty of the subway tiles provides a timeless look. Also, subway tiles are beautifully versatile that can look modern or traditional, contemporary or transitional. The original subway tiles were made from a white glazed ceramic tile in 3×6 inches. However, today subway tiles come in an array of colors, patterns, and materials. Standard subway tile costs around $3-$8 per square foot but the actual cost depends on the material, company, and location.
How High Should Bathroom Backsplash Be?
The classic eight of the bathroom backsplash is 4-Inch but today, interior designers and homeowners using a full backsplash that can extend until the ceiling. Full backsplashes give a more modern look and allow you to create a distinctive focal point behind the vanity. Also, full backsplashes are a better way to protect walls against water damage. But this type of backsplash may cost more than a standard 4 inches backsplash.

Stacked Backsplash Bathroom
Stacked is a simple pattern that offers a modern look for bathrooms. This sleek look is created by stacking the tiles laid one atop the other and creating a grid pattern. A stacked pattern can be laid in both vertical and horizontal ways. Vertically stacked tiles are a perfect way to emphasize the height of the bathroom. This modern appearance works well with clean shapes and crisp angles or contrasts with organic shapes.
Backsplash Style
When choosing the style of your bathroom backslash, you need to consider the overall style of the bathroom. Modern and contemporary styles gain popularity in recent days. Clean lines and sleek looks dominate the rising trends lists. Besides these, classic bathroom styles like farmhouse, rustic, beach are still on the table and they will continue to be so.
Modern Bathroom Backsplash
Modern style is the representation of the minimalist design approach. Geometrical shapes, natural materials, minimalist decors, and basic color schemes are the essentials of the modern style. From classic rectangular tiles to unique hexagon tiles, there is plenty of material and shape option to create a modern bathroom backsplash. Generally, modern bathroom backsplash tile continues up to the ceiling for more continuity and a sleeker look.
Granite Backsplash Bathroom
Granite is a natural stone that offers a unique look with beautiful patterns. This unique look gives endless design options and creates a luxurious focal point. Granite backsplashes come in many different colors and patterns that you can incorporate into any kitchen. Besides its visual beauty, granite is a strong and durable material that provides easy-to-maintain surfaces. But granite is a porous stone which means it needs to be sealed regularly. A granite bathroom backsplash can cost something between $30-$60 per square foot.
Pebble Stone Backsplash Bathroom
Pebble stone backsplash bathrooms are created by using many tiny pebbles that bring the earthy look of nature. This natural look offers a serene, spa-like atmosphere for relaxation. Pebbled backsplashes are available in a variety of shapes, sizes, and colors. You can even create a pebble stone bathroom backsplash by using real pebbles on your own or find the mesh from your local home improvement store. Generally, pebble tiles come on a mesh that provides easy installation. The average cost of these tiles is $6-$15 per square foot.
Farmhouse Bathroom Backsplash
Farmhouse style has a warm and cozy feel that offers a homey ambiance. Installing a farmhouse bathroom backsplash is a great way to complete this atmosphere. From modern to rustic there are plenty of ways to incorporate a backsplash for your country-styled bathroom. The clean and fresh appeal of the subway tiles stands against the rough textures and creates a balanced look. If you want to create a more rustic look, brick or wood backsplashes pair well with this style. But, if you want to give a more unique look, patterned tile backsplashes are popular these days and are a wonderful way to add interest.
Beach Bathroom Backsplash
Beach style or coastal décor is known for its white, blue, and beige color scheme and rope, jute, and wood accents. White, beige, or wood backslashes can also be suitable for beachy bathrooms but for this beautiful relaxing theme, a blue tile backsplash is indispensable. From eye-catching mosaic tiles to fresh glass tiles, you can bring different shades of the ocean into your bathroom by using a backsplash tile.
Backsplash Color
Choosing a backsplash color is important because it completes the overall look of the bathroom. With its cleanliness and pureness, white is the most popular color option for bathroom backsplashes and it will probably always remain so. Besides white, beige, blue, and gray are also popular color choices for homeowners. For those looking for a bolder look, black is a nice and elegant option.
White Bathroom Backsplash
White is the representation of cleanliness and it can create a fresh look in any space. So, no wonder why a white backsplash is the most popular choice! From glossy glass tiles to luxury marble tiles there is plenty of different material, style and budget option for white bathroom backsplash.
Beige Bathroom Backsplash
Beige is great to achieve a relaxing and welcoming atmosphere in the bathroom. The beige bathroom backsplash comes in an array of different materials like glass, travertine, marble, porcelain, and more. If you want to create a spa-like feeling there is no better color than beige.
Gray Bathroom Backsplash
Gray is a versatile color that can fit in any style. This versatility makes a gray is a perfect option for a backsplash. A beautiful gray backsplash helps create an elegant, sophisticated, and stylish bathroom with the right approach and material!
Blue Bathroom Backsplash
Blue color represents the calm and relaxing evocative of the sea and sky. From calm and serene pastels to bold navy blues, the wide color range of the blue bathroom backsplash can create a perfect backdrop for bathrooms.