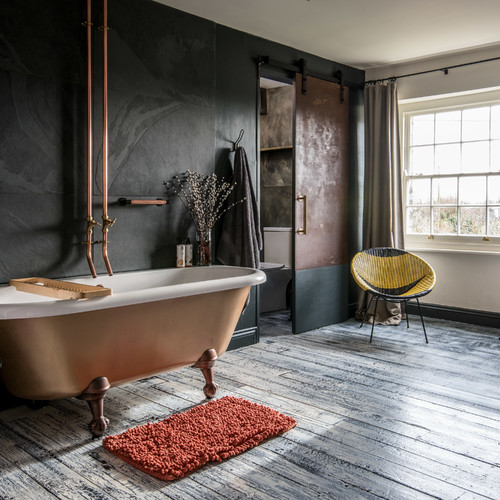 ID# 107203| Houzz.com – Credit | © Edson
---
Copper Freestanding Bathtub with Black Accent Wall
The copper freestanding bathtub shines out in front of the black accent wall and makes a big statement in this contemporary bathroom. Copper pipes, black wall paint, and copper barn door create an industrial appearance. Gray wood floor parquets add a nice texture to space.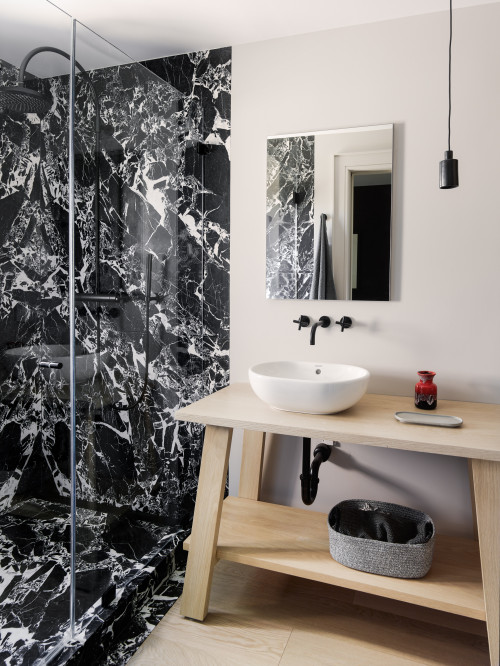 ID# 107242| Houzz.com – Credit | © General Assembly
---
Contemporary Bathroom with Wood Vanity and Marbled Shower
Light wood table transformed into a bathroom vanity and paired with white vessel sink and black wall-mounted faucet. The vanity has an extra shelf under it for towels or bath products. In the shower area, black marble tiles surround everywhere and create a unique look next to the basic vanity area. Because the bathroom has a bright and large space black marbles don't drown the visual space.
Cool, Chic and Timeless Black Bathroom Ideas
When it comes to designing a bathroom, fresh and bright whites are the first choice because of it reflects the feeling of cleanliness so well. But if you want to create a chic, sleek and timeless bathroom, black will never let you down. Scroll down and find the best black bathroom ideas that will inspire an elegant makeover!
Add a dramatic hue with the black bathroom ideas
The black bathroom trend is on the rise. So, can we say the black is the new white? Black has a bold aesthetic and makes a strong style statement. This stylish and sophisticated color adds a touch of dramatic hue to your bathroom and easily matches with other shades. From black fixtures to eye-catching black tiling, there is plenty way to incorporate black into your bathroom. If you love this trend but don't know how to include your design, we gather out some of our favorite fabulous black bathroom ideas to get inspiration!
Don't miss the functional lights or incorporate natural light into your black bathroom!