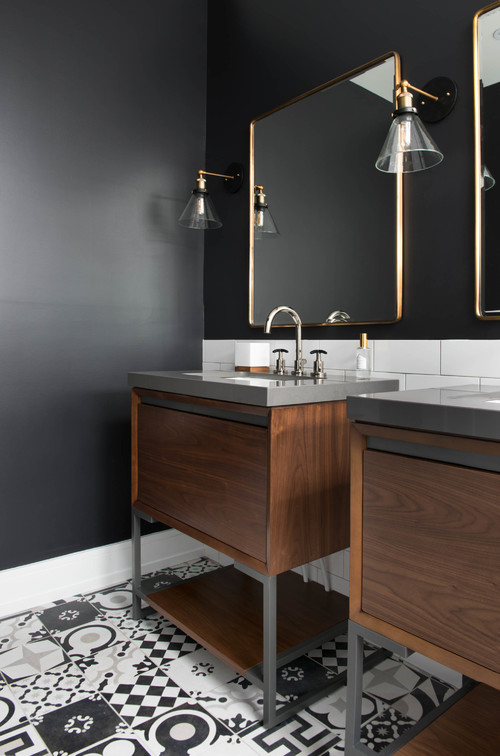 ID# 119802 | Houzz.com – Credit | © Klassmore
---
Black Bathroom with Cement Tiles and Walnut Cabinets
This is a bathroom that uses black as wall paint and combines with the black and white cement floor tile, white subway wall tile, and gold accessories as faucet, mirror, and scones. Cement tiles give a vintage effect, walnut, and faucet support it, but the overall shape and style of the cabinets and mirror are modern. White tiles provide an open and airy atmosphere.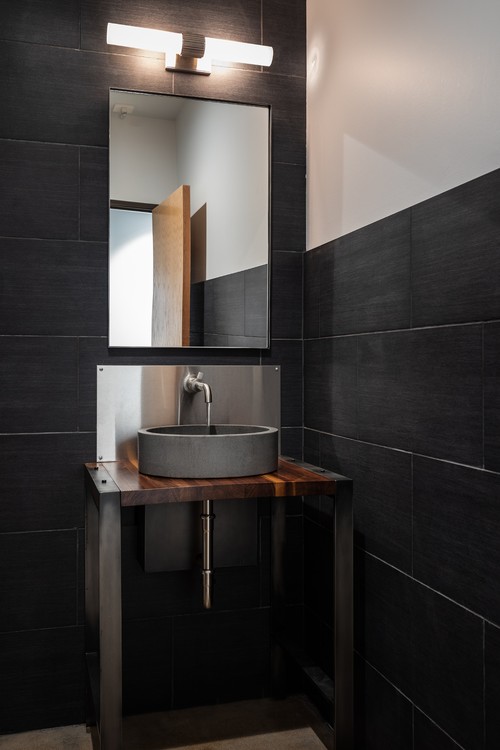 ID# 119817 | Houzz.com – Credit | © Ejay Interiors
---
Industrial Bathroom with Concrete Vessel Sink and Black Wall tiles
Industrial style is applied very well in this bathroom, the concrete vessel sink looks very stylish. Black porcelain plank tiles, a wooden small countertop with steel frame and metal sheet backsplash, black thin framed mirror, linear wall lamp, and half tile half white wall complete the industrial look. From the mirror we can see the door is also a black framed wooden leaf, it's matching with the countertop nicely.
THE COOLEST WAY TO STYLE A BATHROOM, BLACK IS THE NEW BLACK!
Black may seem a bit controversial to use in interiors, however, it is sure a bold one, the huge dramatic impact of black mesmerizes our eyes and creates the most stylish spaces ever! Check out our eye-catching black bathroom design ideas to find some inspiration for your house!
Stylish, sophisticated, and elegant black bathroom ideas
Either you apply the black on the background, or bring it to the front, it will always be a sophisticated choice. Black backgrounds always create big contrast and emphasize what's on the front, if this is what you prefer.
You can use various examples of tiles (mat, glossy, patterned, textured), wainscotting ideas, marbles, mosaics, wallpapers or just plain wall paints, all of these are good examples of materials you can use the black color, also with a different approach, using black as mountings, bathtubs, faucets or sanitary ware on a different wall color adds contrast and richness to the bathroom, back then we would not think we can be impressed by a toilet seat, but if it is black it is possible now, classic white sanitary wares and chrome mountings left their places to the black ones, be brave and try black, black is not a color of regret. Scroll down to see elegant black bathrooms in different styles!