17+ Concrete Bathtub Ideas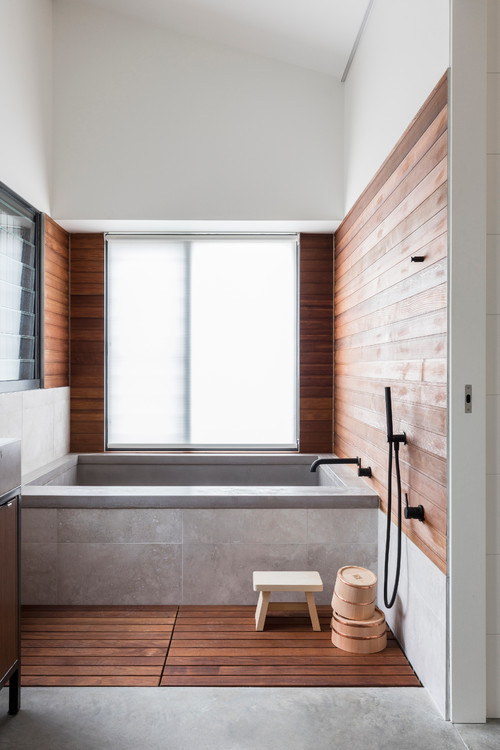 ID# 90513 | Houzz.com – Credit | © Houzz.com Architects
---
Contemporary Minimalist Bathroom with Concrete Tile Alcove Tub
Reminiscent of Japanese traditional baths, this contemporary minimalist bathroom gives off a zen ambience. Featured here is an alcove tub of concrete tiles trimmed in a slab of concrete. Composite wood decking tastefully conceals the drainage system, met by a seamless concrete floor.The walls of wood siding in natural finish warmly complements the stark coolness of the concrete. Matte black fixtures stand out in a non-opposing way, juxtaposed against blonde wood furniture forms. Louvered windows allow for ventilation and maximization of natural light.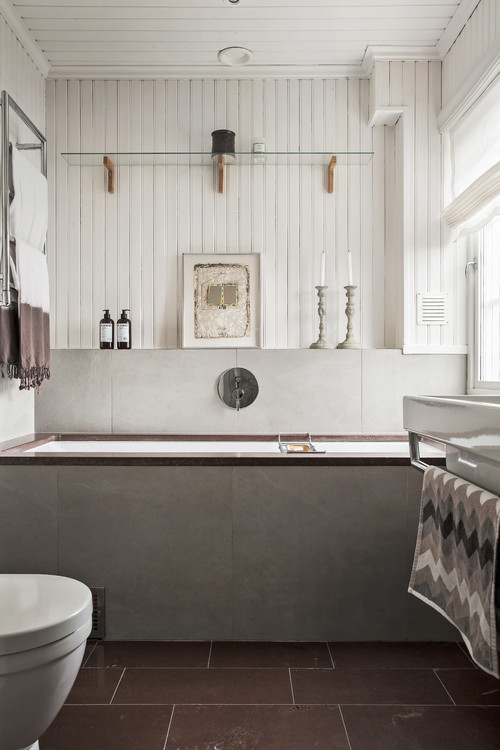 ID# 90507 | Houzz.com – Credit | © Kronfoto
---
Contemporary Scandinavian Bathroom with Alcove Tub and Perfectly Harmonized Neutral Palette
Soothing and calming are two words that come to mind when describing this Contemporary tile Scandinavian bathroom. The cement-tiled alcove tub is tastefully trimmed in brown granite, which parallels the 12×24" chocolate brown tiled floor. Wood strips in painted flat white make up the wall in the background. An elongated shower shelf is perched above the tub, which is minimally yet tastefully accessorized. A large window to the corner allows natural light to stream into the space.
Amazing modern to contemporary bathroom concrete bathtub Ideas
Custom concrete bathtub for creative bathroom designs. Concrete has come a long way, from its crude beginnings in ancient times of crushed then burned limestone or gypsum to today's Portland cement, sand, and coarse aggregates.
Modern, Contemporary, Rustic or Zen Design Styles

Rich color scheme

Any shape designs

Indoor or outdoor usage
Natural Look! Unique & Personalized; Concrete Bathtub
Concrete presently has a wide range of applications because it is a durable and versatile yet inexpensive material, used anywhere from building construction to interior finishing. Fortunately, in this day and age, it is possible to craft concrete into beautiful bespoke bathtubs to add character to your bathroom.
Concrete Bathtub Cost / Price;
Concrete bathtub varies between $5000 and $20000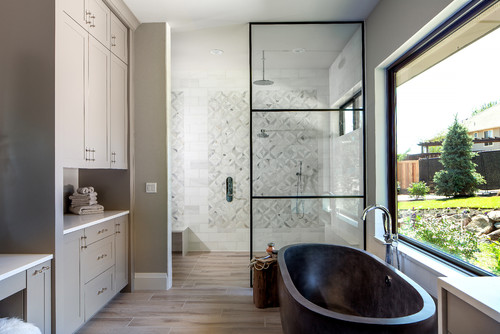 ID# 90501 | Houzz.com – Credit | © Wendy O'Brien Interior Planning & Design
---
Scandinavian Modern Bathroom with Concrete Tub
One would take long, cozy showers in this contemporary bathroom. The concrete used in this stand-alone bathtub is of a deeper, darker shade of gray–a lovely contrast with the subdued, predominantly neutral colors. The rounded corners of the freestanding tub give it a sleek look. The accent wall in the background is composed of intricately positioned marble backsplash tiles forming a lozenge pattern. Ceramic floor tiles mimic classic hardwood flooring without compromising material integrity. Note the sectioned tree trunk side table, a warm accent piece that complements the coolness of the concrete tub. The factory window-style shower divider gives the bathroom a spacious feel, all the while contributing to the contemporary look of the space.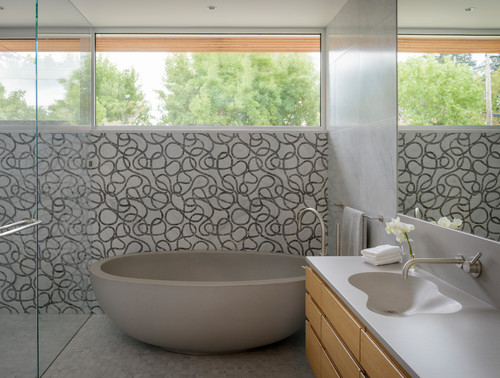 ID# 90502 | Houzz.com – Credit | © Verner Architects
---
Contemporary Whimsical Bathroom with Concrete Tub
This contemporary bathroom is playfully whimsical, what with the abundance of free flowing forms.The concrete bathtub employed here is freestanding and rounded, and is of a warmer hue of gray. The free flowing, abstract script patterns on the accent wall are complemented by the subdued, 2×2" veined mosaic tile floor. Conversely, the adjacent wall of 24×24" imitation marble tiles matches the floor as well. More organic influence is seen in the curvy lavatory, which parallels the curvature of the tub and abstractness of the accent wall. The clear glass shower enclosure opens up the space more, and the clerestory windows allow for maximization of natural light.
PROS OF CONCRETE BATHTUB: ADVANTAGES
Concrete itself is a super material!: – Concrete bathtubs are great because of concrete's inherent properties. The material's versatility allows for creative freedom, as concrete can assume virtually almost limitless shapes and forms. Concrete is also extremely durable, being able to withstand great pressure, and is fire-resistant.
Aesthetically-pleasing yet functional: – While smooth enough that it is not uncomfortable to lie on, concrete's texture makes for a raw, industrial aesthetic, doubling as a non-slip surface ideal for wet areas.
Indoor or outdoor: – Concrete bathtub can be used for indoor or outdoor projects.
CONS OF CONCRETE BATHTUB:
Prone to Cracking: – However, it is important to note that concrete is prone to cracking, due to mishandling it in application or extreme weather changes.
Expensive to Hire a Professional – While concrete itself is relatively inexpensive, the labor costs might make for most of the budget, as you would need to hire a concrete craftsman with the expert knowledge on how to manipulate the material.
Buying Options Where to Buy Concrete Bathtub
Concreteworks East is a full-service custom architectural precast firm that creates innovative design solutions from one of the world's most flexible, beautiful, and sustainable materials.; Concreteworks