33+ Cement Tile Backsplash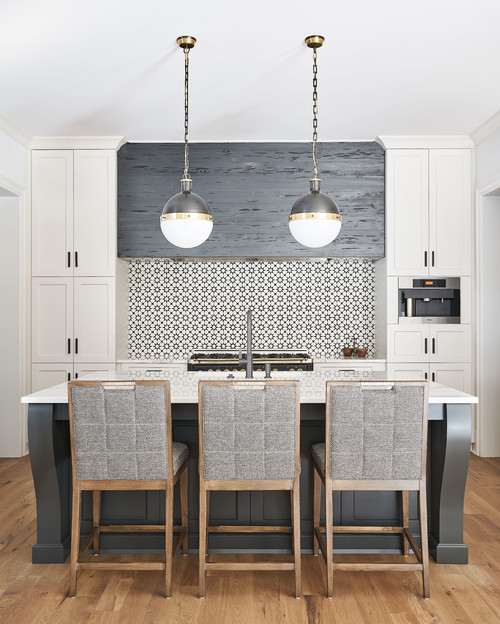 ID# 129301 | Houzz.com – Credit | © Kingswood Custom Homes
---
Grey Kitchen Cabinets with Floral Patterned Cement Tile Backsplash
Mid-color wood floors and grey-colored kitchen cabinets create an amazing harmony together. The stylish pendant lighting fixtures join this harmony with their design. White kitchen cabinets and black hardware create a natural contrast to each other and the black and white floral patterned cement tile backsplash complete each other. The movement comes from the backsplash in this simple and stylish kitchen design.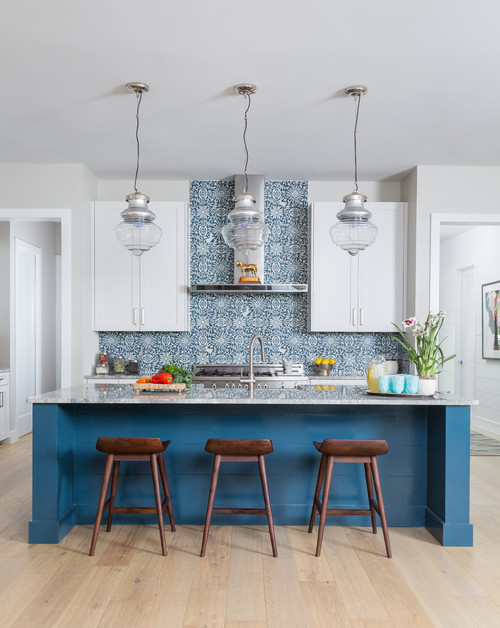 ID# 129331 | Houzz.com – Credit | © Murphy Moon Design
---
Patterned Cement Tile Backsplash with a Blue Knee Wall and White Cabinets
You may like modern styles as you love the farmhouse design style. If it is so, it is okay to go with both of them in the same interior as in this kitchen. Blue island and blue color patterned cement tile backsplash create a gorgeous match and add a fresh look. Wooden stools put a soft contrast and join the harmony with the blue color, of course. The white colors of the cement tile patterns matched with the white cabinets harmoniously.
Cement Tile Backsplash
Thanks to their unique style and ability to liven up your interior with their colorful patterns, cement tiles are the perfect fit to use as a backsplash. You can use them with many design styles from contemporary to vintage or industrial to farmhouse styles! They can protect your walls from splashes and spills thanks to their durability and efficiency. They have modern patterns and colors as they have stylish colorful patterns. You may like to combine them with both bold colors or soft ones. If you plan to design a different kitchen with a movement check these stunning cement tile backsplash ideas to find some inspirational different tile designs!
Cement tile backsplashes are different than ceramic tiles in terms of the production process, it contains cement, a hard-wearing mixture of mineral powder, color pigment, and sand. If you are not sure what the design should be, you can use floral patterns or Moorish patterns which are the most popular ones. These colorful patterned tiles can offer you a virtually endless amount of design options! Scroll down and dive in to the trendiest backsplash ideas!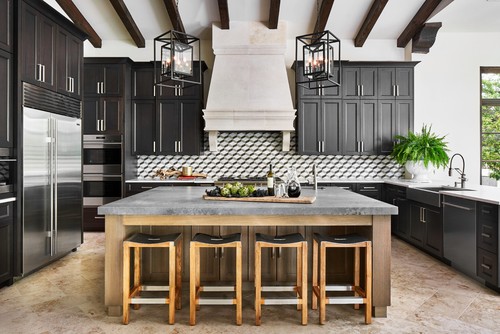 ID# 129303 | Houzz.com – Credit | © Carla Royder Designs & Co, LLC
---
Exposed Wooden Beams in a Mediterranean Kitchen with Dark Color Cabinets
Generally, we see Mediterranean kitchen design has light color cabinets that give us a fresh and bright look. The simple dark wood cabinets and chrome hardware create an elegant view. Dark wood exposed beams and cabinets have a wholeness together, adding a finished look. The patterns of the cement tile backsplash give movement to the interior.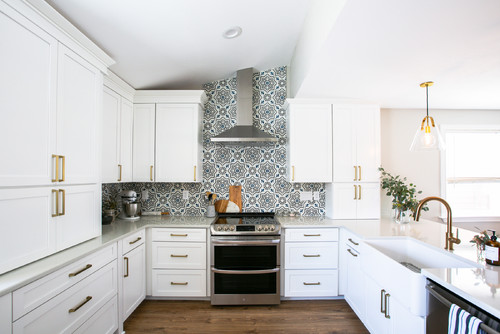 ID# 129302 | Houzz.com – Credit | © TVL Creative Ltd.
---
A Peninsula and White Kitchen Cabinets with Brass Hardware and Cement Tile Backsplash
The eclectically styled cement tile backsplash and white quartz countertop create a seamless harmony thanks to the plain surface of the countertops and floral pattern of the cement tiles. The peninsula surrounds the kitchen and draws a line that gives the u-shape to the interior. Brass hardware and wooden floors team up together to add an elegant look.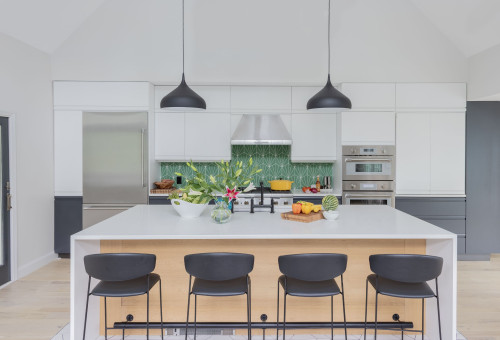 ID# 129304 | Houzz.com – Credit | © color theory Boston
---
White Scandinavian Kitchen Design with Green Cement Tile Backsplash
Black and white create a strong contrast as always, that draws a line in the design. The green backsplash and white cabinets created a natural look thanks to the green color that adds a freshness, also. White Corian quartz countertops and flat-panel cabinets team up to put wholeness to the design.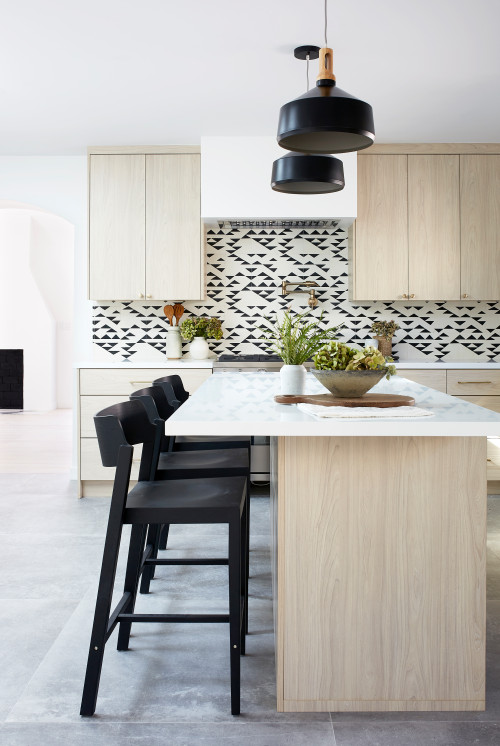 ID# 129305 | Houzz.com – Credit | © Shapeside
---
Contemporary Kitchen with Light Wood Cabinets and Island
The simple design of the light wood cabinets creates a stunning look with the harmony of white countertops. The minimalistic style of the handles and flat-panel cabinets add stylish harmony together. Black island chairs show off with the black pendant light fixtures and highlight themselves between the light color usage in the kitchen. Of course, the most eye-catchy design element is that black and white backsplash. Thanks to its colors and patterns, the backsplash adds movement to the kitchen and creates harmony with the black furniture.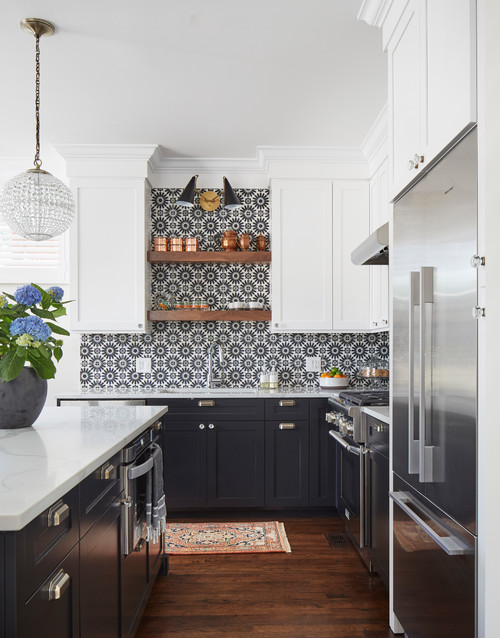 ID# 129306 | Houzz.com – Credit | © Dan Rak Design
---
Lovely Floral Patterns with Black Shaker Cabinets and White Countertops
This transitional kitchen welcomes us with a warm look with the help of wooden floors and floating shelves, of course. The floral-patterned cement tile backsplash has a gorgeous look that creates harmony with the black shaker cabinets. The stylish chrome hardware and stainless steel appliances add their modern look to the kitchen and created a luxurious view. There is a friendly greeting glance!
ID# 129307 | Houzz.com – Credit
---
Navy Blue and White Shaker Cabinets with Multi-Colored Tiles
This lovely kitchen has a different approach to using backsplash tile! As you can see for the stove backsplash there is a far cry design, and for the normal backsplash, there are this white brick ceramic tiles. It is undeniable that the blue-white-brown trio has a gorgeous harmony that helps the kitchen look complete. Black and white floral patterns of cement tile backsplash are highlighted by the white kitchen cabinets.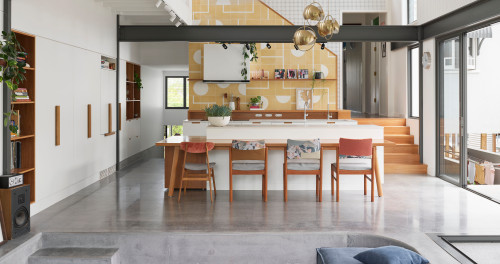 ID# 129308 | Houzz.com – Credit | © Maytree Studios
---
Contemporary Kitchen with Yellow Colors and Wooden Details
The concrete floors become a plain endless surface to white and yellow kitchen design. It is a clever idea to use grey and yellow contrast that we do not see every day. White flat-panel cabinets with wood handles add a little Scandinavian style look and the design gives the feeling of fresh and clean vibes. The yellow cement tile backsplash and wood color create a duo that adds a stylish view.
Colors of Cement Tile Backsplash
When it comes to choosing a color for your design, you may wonder what can be the best for your kitchen! You may use gray, white, and, black or just use colorful ones. No matter what kind of style you have, there will be always a suitable cement tile color for your backsplash! It is up to your design taste whether it will be colorful or just one color. Their alternatives for patterns and colors allow you to choose the best fit for your backsplash.
You may wonder what is the best color for your style or design. If you want to go with a contemporary design you use plain and one-colored tiles or you can design your cabinets simply and highlight the floral patterns of the cement tile backsplash. There are different kinds of colors for every style that you can choose. Let's see what can be the color for your backsplash!
Gray Cement Tile Backsplash
Whether it is light or dark, gray color adds a different atmosphere to kitchens. When we think of cement tiles, their patterns and gray shades add a pleasant elegance to interiors. Whether you combine the gray cement tile backsplash with black, multi-colored, or white colors, these tiles will add a tasteful look to your design. It adds a clean and elegant look to your kitchen when used on gray color cement tiles, which softly convey the purity of white.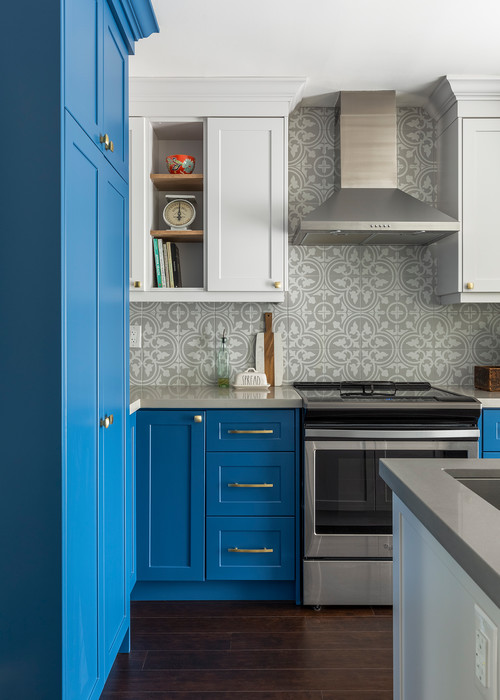 ID# 129309 | Houzz.com – Credit | © Urbanest Construction
---
Blue Cabinets with Grey Cement Tile Backsplash in Harmony with White Uppers
There is a little crowdy but stylish look in this beautiful kitchen. The lively blue color and dark wooden floors, of course, created a soft contrast. The perfect harmony of the golden hardware and blue cabinets is incontrovertible. The grey floral cement tile backsplash and grey quartz countertops team up with stainless steel appliances that are a beautiful fit for white kitchen cabinets.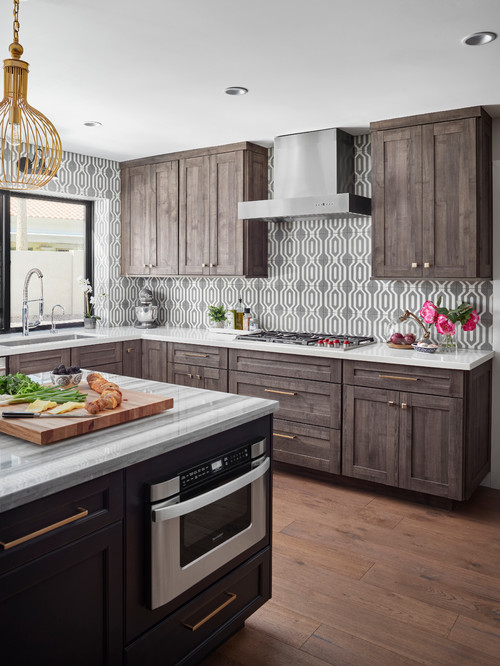 ID# 129310 | Houzz.com – Credit | © Caine & Company
---
Dark Wood Cabinets with Grey Cement Tile Backsplash with Brass Hardware
Using bright colored backsplash for dark cabinets and light countertops is a great way to enhance freshness. Here, the cement tile kitchen backsplash and its gorgeous grey-colored patterns create a wonderful harmony with the dark wood cabinets. You can see the beautiful match of the white countertops and the stainless steel appliances with a modern look. This kitchen gives an eye-catchy look with its stylish brass handles that blend in the warm look of the wooden materials.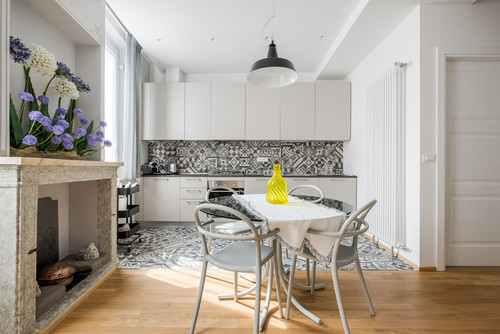 ID# 129311 | Houzz.com – Credit | © RP studio
---
Grey Cement Tile Backsplash and Floors with Flat-Panel Cabinets
The perfect look of this modern kitchen comes from the beautiful match of the grey cement tile backsplash and floor. They create a team that separates the kitchen from the room. White flat-panel cabinets balance the simple design contrast to cement tiles. Wooden floors add a warm atmosphere, of course, and the white-grey kitchen design completes it with those perfect tiles.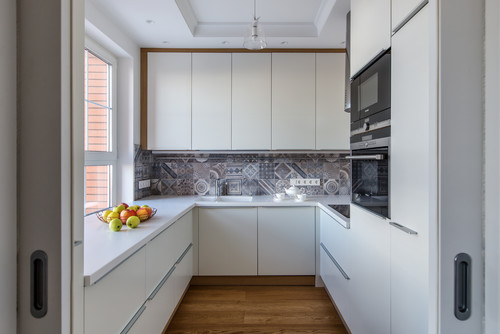 ID# 129312 | Houzz.com – Credit | © Katerina
---
U-Shaped Modern Kitchen with Grey Backsplash and White Countertops
If you want to create a simple and modern kitchen the first step must be to choose flat-panel cabinets. They are a perfect fit for the small kitchen designs to reduce the crowded look from the interior. This makes your interior look wider and spacious. White color usage helps daylight to diffuse through the interior smoothly. The wooden frame of the upper cabinets matches with the floors giving a warm look. Finally, a grey concrete tile backsplash finishes the friendly and stylish look in this modern kitchen. Using white cabinets with a dark backsplash also adds a nice contrasting look!
White Cement Tile Backsplash
It is an indisputable fact that white cement tiles, whether patterned or plain, will be compatible with every color and style. This ease of white color leaves you alone with choosing patterns. When you decide on your style, you can choose your white cement tile backsplash to match it or to highlight it. For this, a wide range of products awaits you!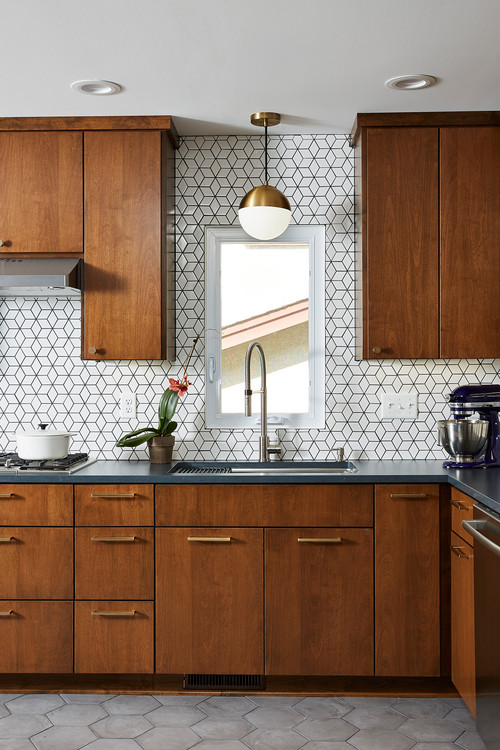 ID# 129313 | Houzz.com – Credit | © Fox Interiors
---
White Cement Tile Backsplash with Wooden Cabinets in a Midcentury Kitchen Design
The harmony of natural wood cabinets and brass hardware makes the brown color usage stylish and beautiful. Thanks to the dark wood cabinets and grey quartz countertops white cement tile backsplash stands out. The light grey floors in hexagonal patterns match with the patterns of white backsplash and create a team.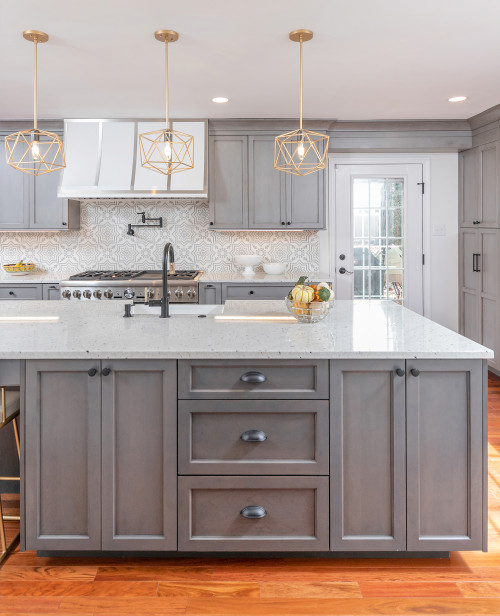 ID# 129314 | Houzz.com – Credit | © Kristin Ferro of HBS Home
---
Perfect Grey Color Kitchen with Island and White Quartz Countertops
The light grey color and white team up in an elegant way in this traditional kitchen. The soft look of the grey blends with white countertops and white cement tile backsplash. Light wood floors join to the elegant look of the cabinets and thanks to the brass pendant lighting fixtures this kitchen looks in full ring.
How to install cement tile backsplash?
You decided on your very special cement tile and want to use it as a backsplash. For the installation, you will need a thin-set, grout, grout float, notched trowel, a sponge, a bucket, a level, a wet tile saw, and a drill with a mixing attachment.
First of all, you need to measure the wall and count how many tiles are needed for the backsplash. Then you need to prepare the space. Turn off the power in your working area and clean the wall. After that, it will be good to arrange the tiles across the wall to see if they are suitable or not. The fourth step is to cut the tiles. To avoid cracking or chipping the cement tiles it is good to use a wet tile saw and make the bottom row and end cuts.
Then you can apply the thin-set. For the light color tiles, it is good to use a white thin-set, if you have darker you can use gray. To apply the thin-set in small sections, use the flat side of the trowel and to spread it and create even grooves use the notched side.
Then, take your first cement tile peace and lay it onto the wall with a slight twist. To allow for expansion at the corner it is important to leave 1/8 inch gap. Start from the vertical border row and put a spacer at the bottom. You can start from the bottom row at the center mark if there is no border. Use spacers between the tiles and continue to work in small sections. 
Sealing and Grouting
Cement tiles are porous and can absorb grout and stain, for this reason, seal the tiles before you apply the grout. It is important to wait for the thin-set mortar to dry, later wipe the penetrating sealer on the tiles. Three hours is good to wait for applying the grout.
Instead of sanded grout, the best thing for the tiles is unsanded grout with narrow grout lines. Use a grout float to spread the grout and it is important to be sure to remove the excess grout from the tiles, for this you can use a damp sponge.
It takes 24 hours to 3 days for the grout to dry completely. After the completely dry, you can apply grout sealant. For a final step, add a little amount of caulk to the base of the backsplash when the sealer is dry.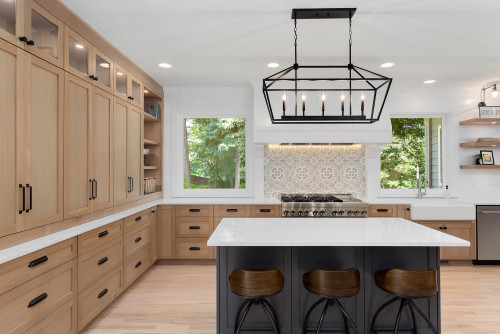 ID# 129315 | Houzz.com – Credit | © Northland Design & Build
---
Farmhouse Kitchen with Wood Shaker Cabinets and Black Hardware
The light wood cabinets and black hardware create a soft harmony and this harmony complete with a black island. Although the white and black colors put a contrast, this contrast blends in the harmony of wood and white harmony. The black candle chandelier teams up with black hardware. The white handmade cement tile between the windows put a stylish look with the white countertops.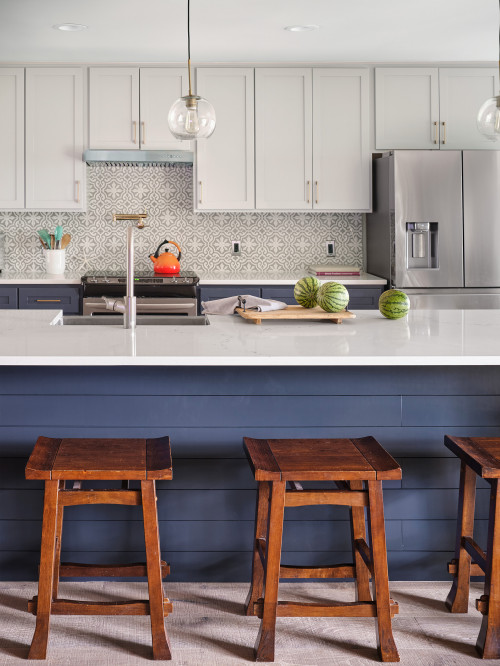 ID# 129316 | Houzz.com – Credit | © Paper Moon Painting
---
Navy Blue and White Cabinets with Brass Hardware In Transitional Kitchen
The freshness of the white and navy blue cabinets welcomes us with their lovely match in this kitchen remodel. The simplicity of white quartz countertops and navy blue cabinets make the kitchen look stylish. The perfect match of the wood stools and blue knee wall adds a natural atmosphere. It is a stylish choice to use brass hardware with a white and navy blue cabinet thanks to its glamorous look. Finally, the white cement tile backsplash put the finished look.
Black Cement Tile Backsplash
Black color, which is mostly used in contemporary design style, is famous for giving a mysterious and noble air. You may want to use this color as a backsplash, which takes the elegance one step further. The strong contrasts you will create with the black cement tile backsplash add movement and elegance to your interiors. You can choose your black tiles with or without a pattern, which you can use with a modern or classical approach.
Blue Cement Tile Backsplash
Blue! Depending on how you use it, this color can give a sharp freshness or a soft harmony. When it is used with brown, the oriental and stylish look can lead you to use blue color with wooden materials. You can feel the Mediterranean breeze in a kitchen with blue cement tile backsplash in a white environment! If you want to get a more elegant look, add brass or gold details and your design will gain a magnificent look.
Colorful Cement Tile Backsplash
Couldn't decide which color to choose or just one color choice didn't satisfy you? Then you can add movement to your kitchen by using a colorful cement tile backsplash. A cement tile decorated with pastel colors can give you a soft and contemporary look. Or you can take your design to a bolder point with sharp colors. With the colorful cement tile backsplash, you will be able to easily achieve harmony no matter what color you use in your kitchen.
Is cement tile hard to maintain?
Cement tiles are easy to maintain. If the cement tiles have been sealed correctly you can use cleaning products that are suitable for the stone surfaces. It is a good idea to test new products in a space that is hidden and always follow the instructions. It s important to use only non-acidic cleaning products. Vinegar is dangerous, too.
Patterned Cement Tile Backsplash
You can use colorful cement tiles to easily achieve harmony in the interiors, and most importantly, when you turn it into a patterned use, your design can go in many different directions. A patterned cement tile backsplash can easily accompany you in styles such as rustic, vintage, farmhouse, or more. The best part is the stylish and lively look that emerges in the designs created with the patterned backsplash.
Can cement tile be used as a backsplash?
Yes, cement tiles can be used as a backsplash. Thanks to their durability and protection the walls from splashes and spills. You can liven up your interiors with these beautiful tiles which can be in colorful or plain designs.