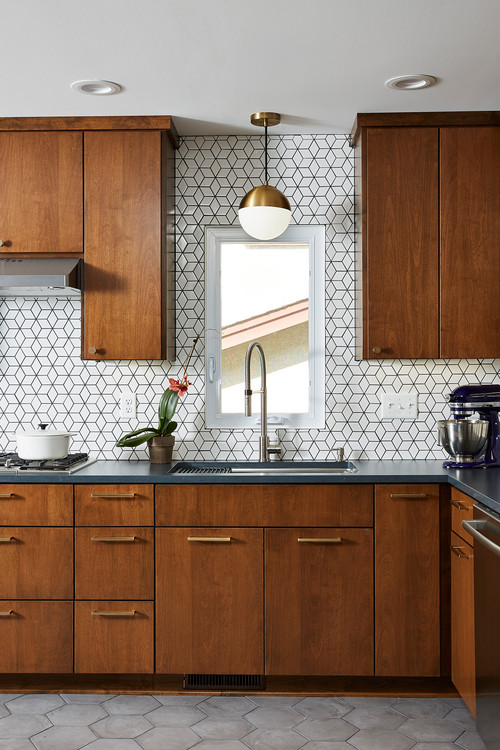 ID# 132601 | Houzz.com – Credit | © Fox Interiors
---
Midcentury Kitchen with Honeycomb Backsplash
This old-timey style kitchen impresses with its simplicity and elegance. Flat-panel kitchen cabinets and a self-patterned hexagon backsplash provide a classic look. The choice of anthracite quartz countertop with medium tone wood kitchen cabinets and hexagon backsplash complements each other. The under-mount sink and stainless steel appliances are used. The floor is made of gray honeycomb ceramic tile. The pendant lighting above the washbasin complements each other with its gold details and cabinet handle colors. And finally, a warm space was created with the lively wall color.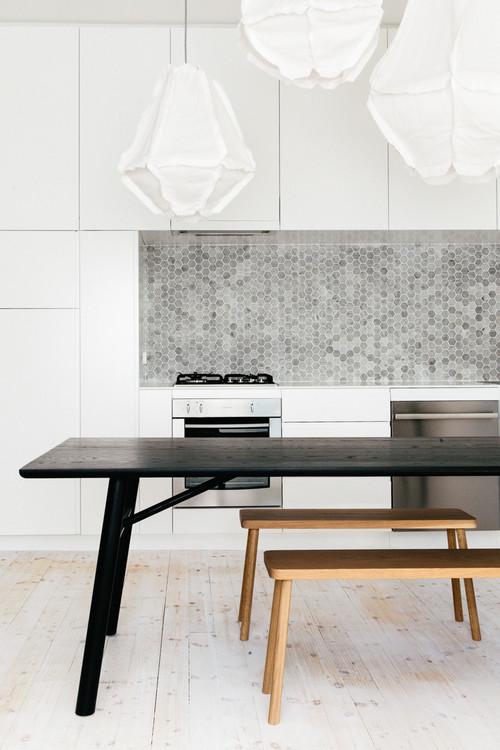 ID# 132622 | Houzz.com – Credit | © Caroline McCredie
---
Gray Mosaic Marble Effect
The kitchen, which consists of modern flat cabinets, is completed with a white quartz countertop. A bright, spacious, and clean-looking space is created by applying light wood to the floor. The gray mosaic marble backsplash could not be emphasized so well. This stylish combination is one of the trends today. It reflects the elegance of simplicity.
Honeycomb Backsplash
Honeycomb backsplash is a very popular product used for bathrooms and kitchen applications. Since there are various sizes and models, we see different effects in different designs. It is a product that can be applied to every kitchen style. For example, you can add mobility and vitality to your plain kitchen cabinets with colorful honeycomb tiles or create a timeless look with simple and sleek hex tiles. Also, the same tile can create utterly different effects with different grout and different cabinet styles. In short, it is a popular material that can instantly elevate your kitchen design!
These hexagonal backsplashes shouldn't be intimidating how to apply them, either. Because it is very easy to apply and it is no different from other ceramics. With the right workmanship, excellent results are obtained!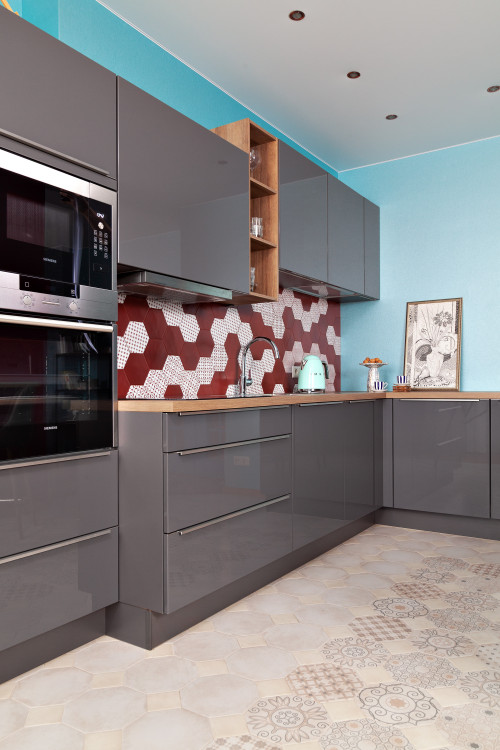 ID# 132602 | Houzz.com – Credit | © Лилия Салах
---
Mixed Color with Modern Kitchen
This modern kitchen is formed by a combination of different colors. Gray flat cabinets and oak wooden countertop are used. The dining table is fixed to the wall and is made of the same material as the countertop. Red and white patterned hexagon porcelain backsplash bring movement to the space. The walls create contrast with the red tiles by using blue colors. Light-colored mosaic patterned ceramics were used on the floor. We can see how different colored and patterned materials can create harmony!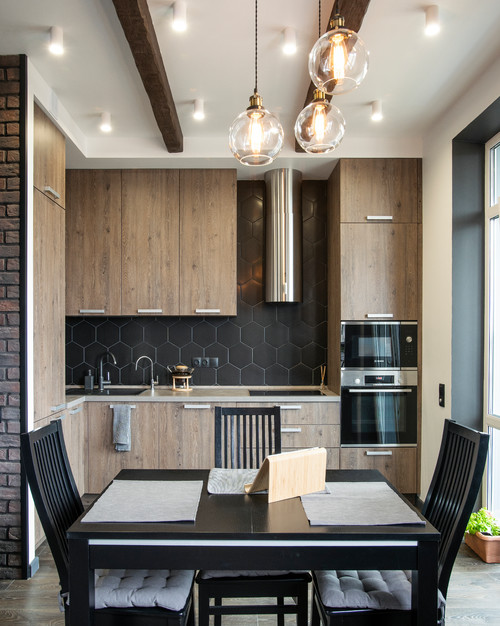 ID# 132603 | Houzz.com – Credit | © Авальремонт
---
Modern Dark Kitchen with Cool Effect
In this modern kitchen, dark colors are preferred. Brown flat-panel kitchen cabinets and black backsplash have created a very cool space. In addition, the black backsplash has made the kitchen cabinets more prominent. Beige countertop and under-counter sink were preferred. Stainless steel hood, black glass, and stainless cooker, ovens are used. The black table chairs and dark brown floorboards are in harmony with kitchen cabinets and accessories. While the woods used on the ceiling make the space authentic and sporty, it also maintains its elegance with the pendant lighting used.
How to install a honeycomb backsplash?
For the honeycomb backsplash installation, first, you need a sander, sponge, painter's tape, thin-set mortar, notched trowel, tape measure, wet saw, grout float, grout sealer, and caulk gun. Then you need to clean and sand the area to be applied to create a smooth surface. Then, the boundaries of the area to be made are determined with a separator band.
Before starting to build, arrange the tiles elsewhere and create the layout. In this way, you can easily find which parts need to be cut. While cutting the tiles, if you are using ceramic or porcelain tiles, a simple tile cutter will do the job. On the other hand, for natural stone tiles like marble, a wet saw with a diamond blade can be used to prevent cracking.
You can lay the tiles on the mortar by spreading the adhesive mortar in small sections with a notched trowel. To fix the tiles, place the spacers between the tiles (this is not necessary if you are using small tiles with mesh.) and follow these steps until you have covered all the surfaces and wait until they dry and the tiles adhere. Next, remove the spacers, if you are using a sealant, you can do this after the tiles are completely dry. Apply the grout mortar prepared with a grout trowel and wait until it dries. After the grout dries, you can clean the tile surfaces with a damp cloth. You can fill the point where the counter and the tile meet with caulk.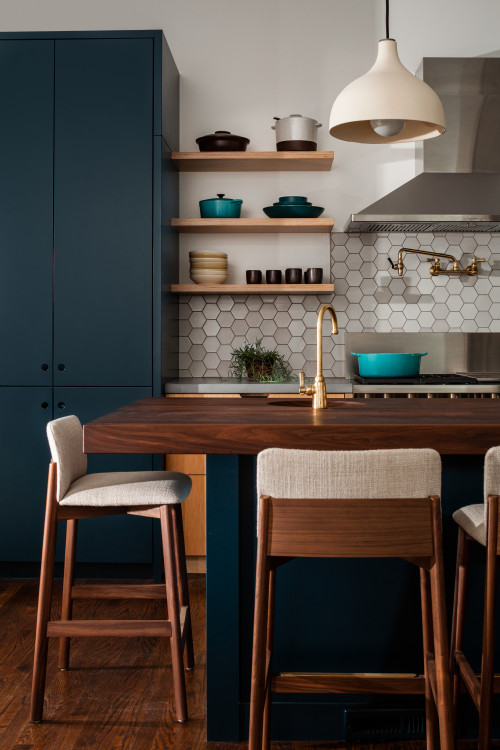 ID# 132604 | Houzz.com – Credit | © Craig O'Connell Architecture
---
Wood and Blue with Contemporary Kitchen
In this contemporary kitchen plain dark blue and natural wood cabinets create harmonious looks. The island countertop and the details are walnut wood. A warm space has been created by choosing wood in the same tones on the floor. The gray countertop of the base cabinets and the stainless steel appliances create a cohesive look. The hexagon backsplash, used in gray tones, balances the blue-wood color transitions, creating integrity and adding mobility.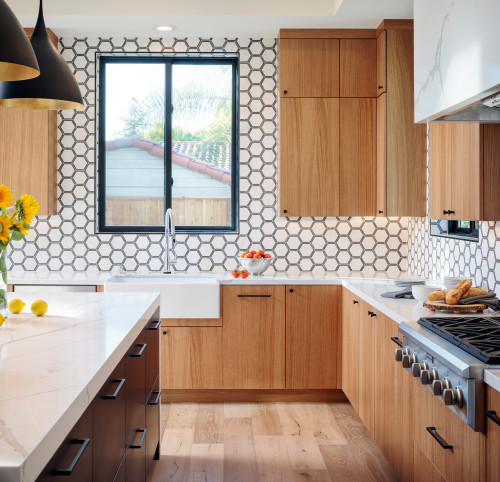 ID# 132605 | Houzz.com – Credit | © Gilmans Kitchens and Baths
---
Honeycomb Backsplash Effect in Simple Modern Kitchen
Oak kitchen cabinets are used in this modern kitchen. Since the kitchen is large, a large island is considered in the middle. Island cabinets are made in black. A simple and spacious space is created with a grained Silestone quartz countertop, stainless steel appliances, and a farmhouse sink. The floorboard was chosen in a color suitable for the kitchen cabinets and a plain appearance was achieved. The honeycomb backsplash is used a black and white patterned model, providing contrast with the cabinets and countertops.
Color Options for Honeycomb Backsplash
Honeycomb backsplash, which has a wide variety of color options, can be used in many different types of kitchens and bathrooms. There are different types of materials such as ceramic, porcelain, marble. this way, the scope of application is also very wide. Each color has a different effect. Even if the ceramic is the same, the same color backsplash can create a completely different effect by using different color grouts.
White Honeycomb Backsplash
The white honeycomb backsplash makes the spaces spacious and bright. They can provide a clean look. It is a product that can be preferred in small kitchens. Also, it is a frequently preferred product in bathrooms. It can be easily used in both sports and stylish places.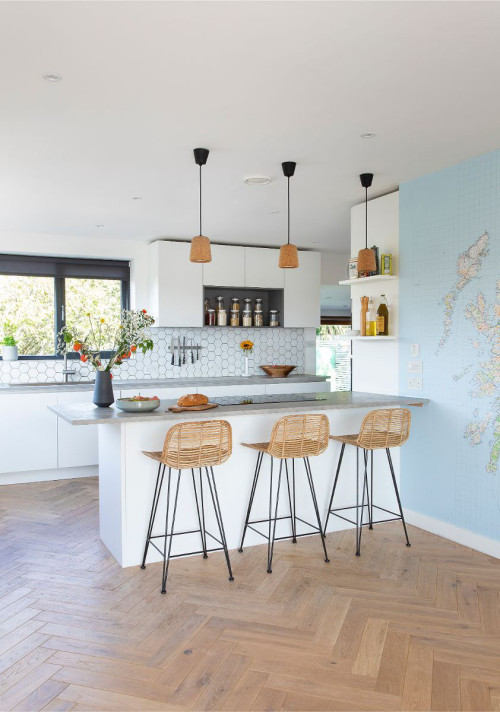 ID# 132606 | Houzz.com – Credit | © nest
---
Spacious and Simple Modern Kitchen
A modern white kitchen, plain and handleless cabinets are preferred. Gray countertops and white porcelain backsplash are used. This chosen backsplash has both enlivened the plain kitchen and at the same time preserved its simplicity. An island is made into the kitchen and used as a stove and bar. The cork over the bar is completed with pendant lighting and ready-made bar chairs. One wall of the kitchen was also painted blue and a map was processed on it. Oak herringbone floorboard is preferred as the floor covering, ensuring integrity in the space.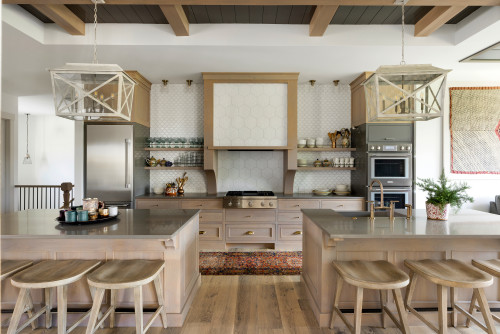 ID# 132607 | Houzz.com – Credit | © WEST BAY HOMES real estate development
---
Farmhouse Style Kitchen with White Honeycomb Backsplash
In the farmhouse kitchen, light wood shaker cabinets are used. Two types of white backsplash are used. Large hexagonal backsplash over the cooktop and hood box, and a small hexagonal backsplash behind the two side countertops. And stainless steel tools were used. Countertops light brown quartz countertop is used. There is two island countertop. It is also used as a dining table. 2 large pendant lights were used above the island countertops. A warm atmosphere is created in the kitchen by using wooden beams and wooden coating on the ceiling. The space is completed by making the walls white and wooden parquet on the floor.
How to grout honeycomb backsplash?
The top of the backsplashes adhered to the area to be applied is cleaned first if the t lath is used, they are removed, then the prepared grout is applied to the entire surface with a trowel, corrected with the help of a spatula and sponge, and left to dry.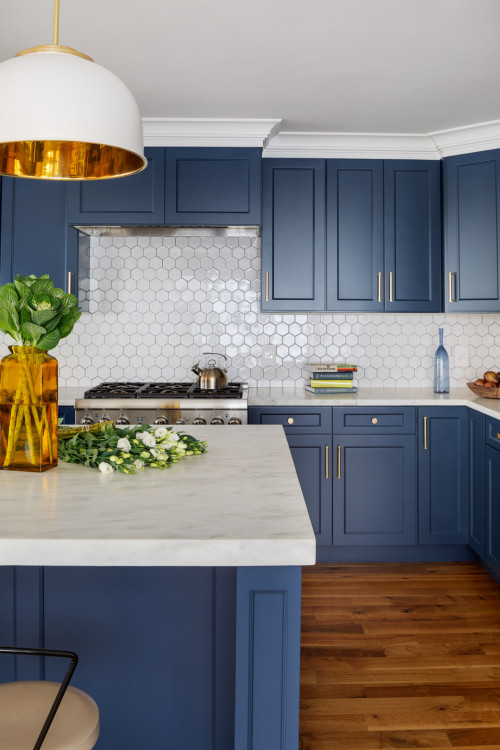 ID# 132608 | Houzz.com – Credit | © Eleven Interiors
---
Transitional Style Kitchen with Blue Cabinets
Blue shaker kitchen cabinets and white hexagon backsplash create harmonious looks. By using a white marble countertop, they complement each other with the backsplash, adding brightness to the space. Gold cabinet handles and stainless steel appliances are used. Warmth is added to the space by using a wooden floorboard.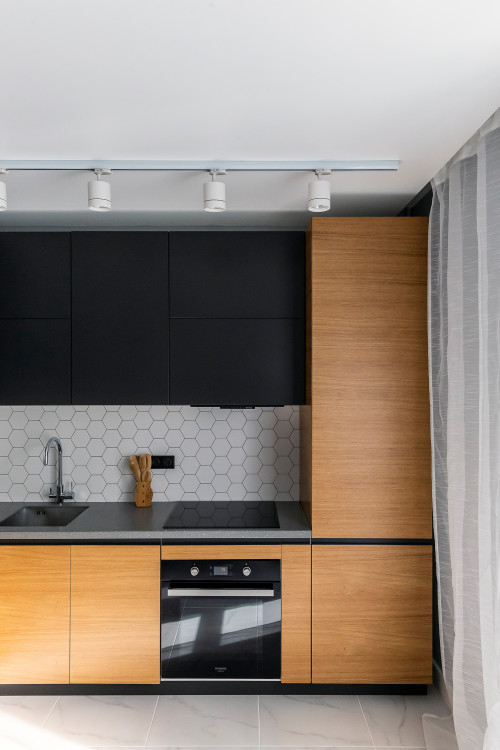 ID# 132609 | Houzz.com – Credit | © duo.ru
---
Sports Style with Modern Kıtchen
This modern kitchen consists of flat-panel cabinets. Black color and oak wood cabinets were applied. White hexagonal backsplashes have adapted to this kitchen style and the use of black grout has provided integrity with the cabinets. Its color combination and handleless design created a sporty style. Black built-in appliances were used. Gray cement stone is preferred as the countertop. Floor white marble-like ceramics were chosen and ray spot lightings were used on the ceiling in accordance with the sports style of the place.
Black Honeycomb Backsplash
Black is a color that never goes out of style. It can add different atmospheres by combining them with various styles and colors and it always shows differently. There are many types of black backsplash. The hexagonal backsplash is also quite popular. It is used in many places comfortably and stylishly.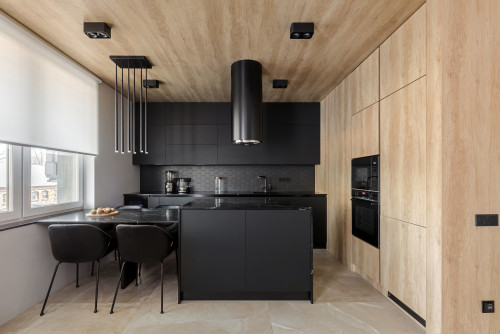 ID# 132610 | Houzz.com – Credit | © Nowdesign
---
Black and Wood Combination with Modern Kitchen
The very popular black and wood combination is beautifully rendered in this kitchen. The plain and completely black cabinets are completed by a black veined marble countertop. Using it with a matte black hexagonal backsplash and black grout adds a cool elegance. Black built-in appliances and black lighting are used. The ceiling and some of the cabinets are made in light wood, and the two-color combinations are sporty and stylish at the same time. The place has been completely completed by using beige marble on the floor.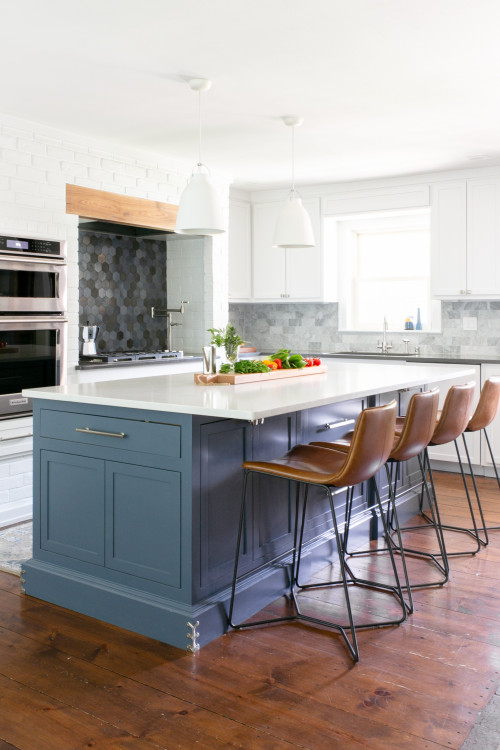 ID# 132611 | Houzz.com – Credit | © Brakefield Design Collective
---
Transitional Kitchen with Different Type Honeycomb Backsplash
In this kitchen, which consists of two-color kitchen cabinets, shaker cabinets are used. In the cabinets consisting of white and blue colors, the counters of the white cabinets are anthracite, and the blue island cabinets are white quartz countertops. Stainless steel appliances and an under-counter sink were used. The hearth surround is covered with a white brick wall, a black-blue glittering hexagonal backsplash is used behind the hearth, and a gray subway backsplash is applied to the other sides. This hexagon backsplash draws attention to it and makes its presence known in the kitchen. Walnut-colored wood was used on the floor and leather bar chairs close to that color were placed. The space, which is spacious and bright with its colors, has become warmer with these.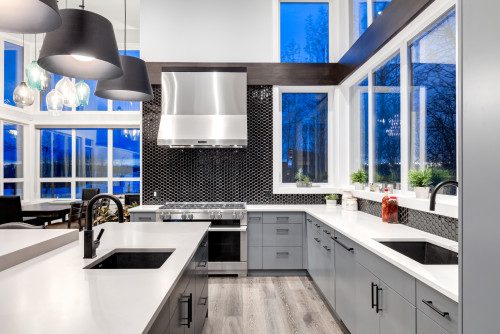 ID# 132612 | Houzz.com – Credit | © Ellergodt Design
---
Modern Kitchen with Cool Colors
Flat cabinets are used in this kitchen, which is multi-glazed and has a high ceiling. White quartz countertops are applied to the cabinets selected in light gray and black tones. The perception of the space is emphasized by using a black mosaic hexagonal backsplash. The glossy ceramic also provides an elegant appearance. Tools are made of stainless steel. The floor is gray-toned wood.
Blue Honeycomb Backsplash
Vivid colors are preferred for a lively space. Blue is one of these colors. Evokes a feeling of lightness and spaciousness, it complements each other well, especially with white cabinets. When the blue hexagonal backsplash is applied creatively, it can easily stand out by showing itself better in the spaces.
ID# 132613 | Houzz.com – Credit | © Creative Cabinets & Design
---
Blue Effect in White Kitchen
In this transitional kitchen, white shaker cabinets are used. There is an island counter and an under-the-counter sink in the middle. A veined white Premium Natural quartz countertop is used. Tools are used stainless steel. By choosing dark wood on the floor, the white kitchen is more spacious and bright and has come to the fore. White subway backsplash was used in the kitchen and only the wall behind the cookstove was made with a blue honeycomb backsplash. This refreshing place has become a lively and pleasant place with the introduction of the color blue.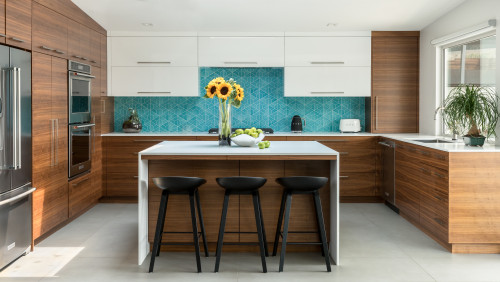 ID# 132614 | Houzz.com – Credit | © Benning Construction Inc
---
Old Fashioned Kitchen
This kitchen consists of two color flat-panel cabinets. Cabinets, grained wood, and upper cabinets are made in white. Devices are selected stainless steel. Floor, large size gray ceramic was chosen and this is to refresh the space. An island counter was made in the middle and black bar chairs were placed around it. The countertops were chosen in white quartz and an undermount sink is used. . In this white and wood kitchen, the space is enlivened by using a blue self-patterned honeycomb backsplash.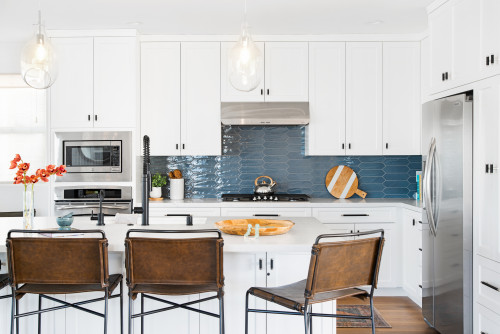 ID# 132615 | Houzz.com – Credit | © AAA Development, Inc.
---
White Cabinets with Transitional Kitchen
The use of black handles and fixtures in the L kitchen, where white shaker cabinets are used, created a nice contrast. The use of white quartz countertops continued the integrity. Stainless steel appliances and an under-counter sink are used. The bright blue motif backsplash adds a transitional style feel to the kitchen. The use of brown wooden upholstery and the same color chair completes this style.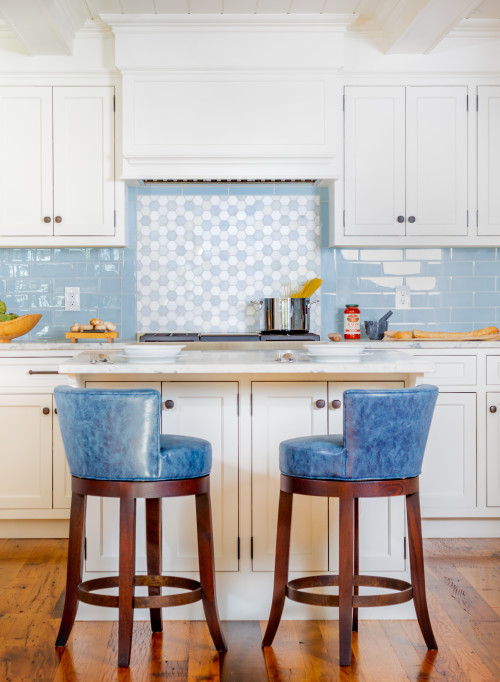 ID# 132616 | Houzz.com – Credit | © Colonial Reproductions, Inc.
---
Old Time Effect Blue Backsplash
This kitchen ceiling, which comes from ancient times, is made in shiplap style. It consists of white rustic cabinets. A white marble countertop has been applied. Medium tonewood is used on the floor. blue subway backsplash is used and the old-time effect is fully processed by using only patterned mosaic ceramic behind the cookstove.
Gray Honeycomb Backsplash
Gray backsplash is among the colors that provide an elegant and stylish look. It creates a cool atmosphere in the spaces used. It is available in many hexagonal forms and successful designs can be made. When this hexagonal form and color are combined, it creates very beautiful effects.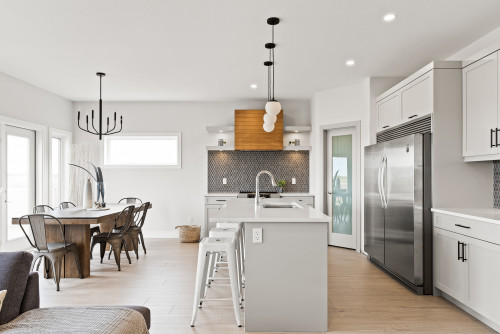 ID# 132617 | Houzz.com – Credit | © Crawford Homes
---
Contemporary Kitchen in Gray Tones
In this place where gray rustic kitchen cabinets with white quartz countertops create harmonious looks, an island bench shiplap wooden cabinet completes the rustic vibes. Under counter sinks, stainless steel appliances, and black handles finalize the design. The hood box is also made of shiplap-type wood. A dark-gray mosaic honeycomb backsplash between the countertops and cabinets creates an eye-catching appeal. The fact that it is glossy creates an industrial effect. The oakwood floor breaks the cool feeling of gray and creates a warm place.
---
Modern Kitchen with Gray Backsplash
Gray quartz countertop is used in the kitchen, which consists of black and white flat handleless cabinets. Under-counter sink and built-in stainless steel appliances are used. A hexagonal backsplash consisting of grays in different tones adds visuality. Rose-gold pendant lights hung on the counter created a beautiful contrast to these backsplashes, which gives a striking effect to the kitchen cabinets in straight lines.
How to finish honeycomb backsplash?
Tile finishes can be evaluated according to the material used and the place where it is used. Mostly grout paste or metal laths are used. Various, stylish metal laths are generally preferred because they are decorative.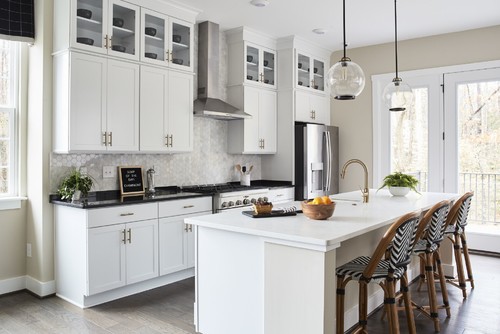 ID# 132619 | Houzz.com – Credit | © Creative Group Interiors
---
Elegant Design with White Cabinets
In this kitchen with white shaker cabinets, 2 different color countertops are applied. There is a large island counter in the middle. The island countertop is a white quartz countertop, while the other countertop is applied as black quartz. The cabinet handles and faucet brass color were chosen, creating a transitional atmosphere. Glossy light gray hexagonal backsplash creates an elegant effect on the kitchen. Gray-toned wooden parquet also completes the space, creating a fresh and stylish look.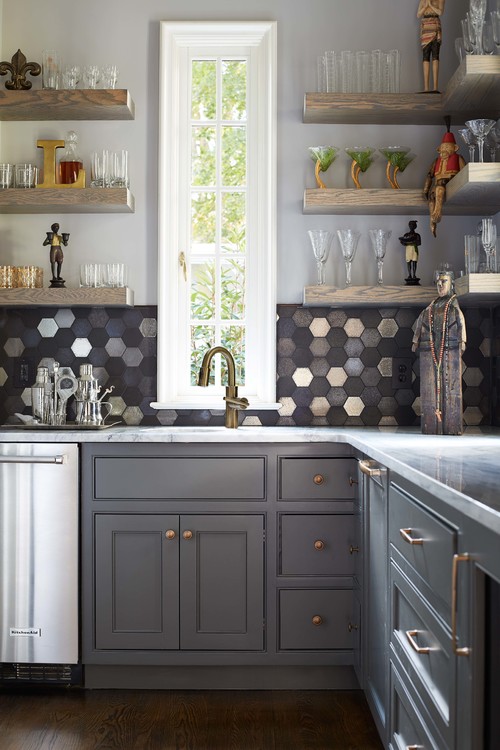 ID# 132620 | Houzz.com – Credit | © Grandfather Homes
---
Multicolored Backsplash with Kitchen
Gray rustic kitchen cabinets and white veined marble countertop are indispensable combinations of all times. Brass color cabinet handles and sinks mixer create a cool and stylish look. Open countertops are made of wooden shelves. The classic and luxurious look is completed by using a metal backsplash.
Tile Materials
There are different materials such as ceramic, porcelain, glass, marble, granite, other Natural Stone tile, and many different types of these materials. There are options according to the place, style and many tastes to be used. E.g; In areas where wood cannot be used, it is possible to catch the warmth of wood in many areas by choosing a wood-like ceramic.
Marble Honeycomb Backsplash
Marble is a material that will never go out of fashion. This solid and high-quality material has always created elegance. It is a preferred product due to its robustness. There are countless design examples such as honeycomb backsplash. It continues to be a trend as different types increase every day. Also, it can be a perfect addition to any kitchen furniture with its luxurious appeal!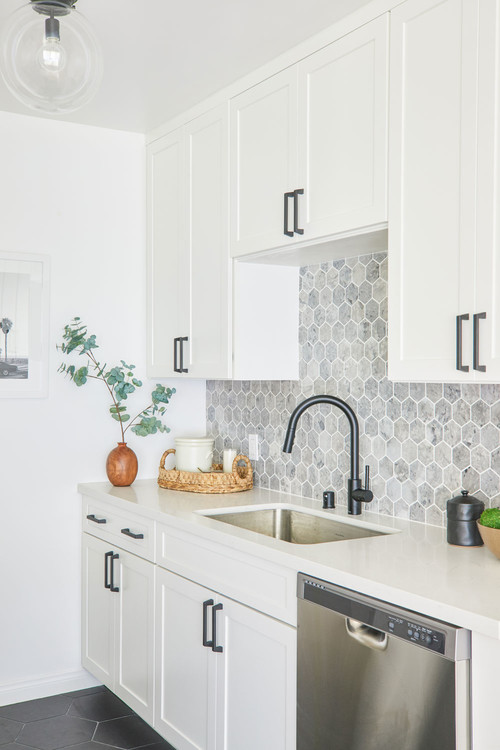 ID# 132621 | Houzz.com – Credit | © Soko Dai Design Studio
---
Minimal Kitchen with White Cabinets
Indispensable for small kitchens, white shaker cabinets are the best savior by showing small spaces spacious. The white marble countertop and gray hexagonal marble backsplash perfectly complete the white cabinets. At the same time, black hexagonal ceramic floor and black accessories create a contrasting look. As a result, all these beautiful details offer a minimalistic kitchen.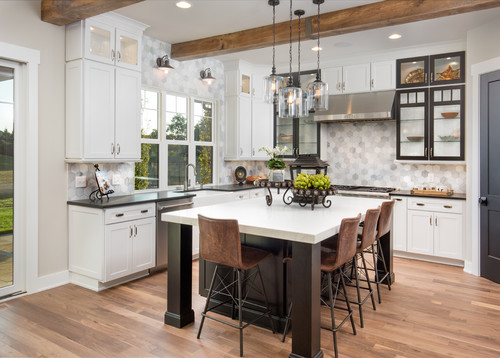 ID# 132623 | Houzz.com – Credit | © Manor Homes
---
Black and White Farmhouse Kitchen
A stylish farmhouse kitchen features black and white shaker cabinets which serve a timeless appeal. The island kitchen cabinets are black, the quartz countertop is white, the other cabinets are white and the countertops are black. This contrast suits very well. The farmhouse sink ad stainless steel appliances were used. The gray and white mix hexagonal marble backsplash kept its weight in the space. It provides a smooth transition between black and white. The wooden beams on the ceiling are suitable for the farmhouse concept. Brown leather seats add an extra character to the island.
Glass Honeycomb Backsplash
Glass honeycomb backsplash is one of the stylish pieces applied in bathrooms and kitchens. It provides a bright and sparkling appearance while making it attractive and lively.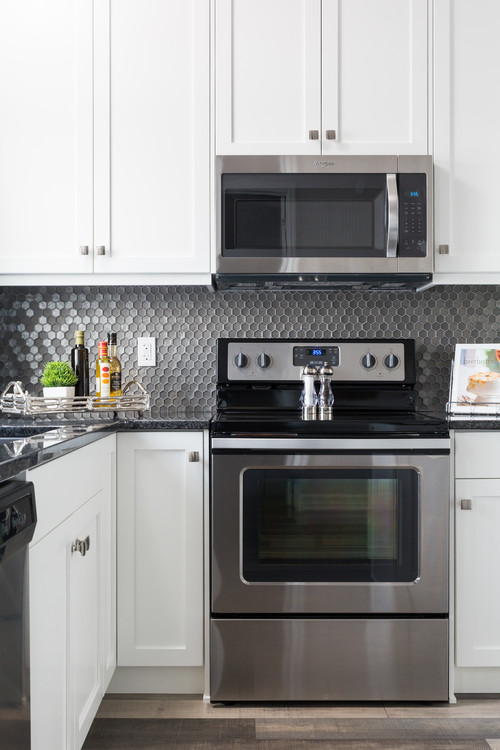 ID# 132624 | Houzz.com – Credit | © Landmark Homes
---
Eclectic look in the kitchen
In this eclectic kitchen, the white shaker cabinets serve a slean and fresh look while the stainless steel appliances perfectly complete their look. The glass mosaic hexagon backsplash between the countertops and cabinets gives a characteristic look. It can be used easily in large kitchens. Different combinations can be produced by mixing different colors.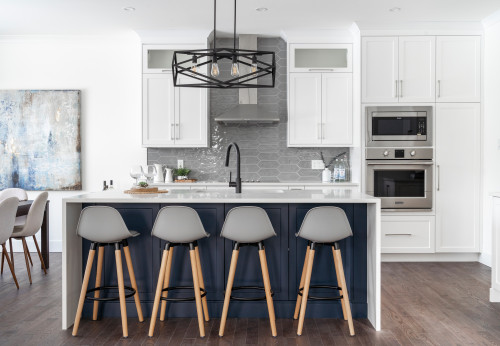 ID# 132625 | Houzz.com – Credit | © YourStyle Kitchens Ltd
---
Glass Tile Backsplash in the Kitchen
Shaker white kitchen cabinets have harmonious combinations with all kinds of backsplash. One of them is a gray hexagonal glass backsplash. This shiny material creates vitality in the space. Appliances in stainless steel compliment each other on the gray backsplash. Adding a modern and stylish atmosphere, these ceramics are one of the trend products.
Tile Sizes
There are many types of tiles, large and small. The size of the spaces to be used varies according to the concept and tastes. It can now be produced according to the desired dimensions, as it is by certain standards. It is really important to determine to what extent a product will be furnished, it is the correct use that conveys the quality of the space and the quality of the product to the users.
Large Honeycomb Backsplash
The hexagonal backsplash is among the indispensables of minimalist kitchen types. The large honeycomb backsplash, which is preferred in modern kitchens, looks stylish and cool as it creates the effect of large marble slabs. These large-size ceramics are very useful to create a refreshing effect in narrow spaces.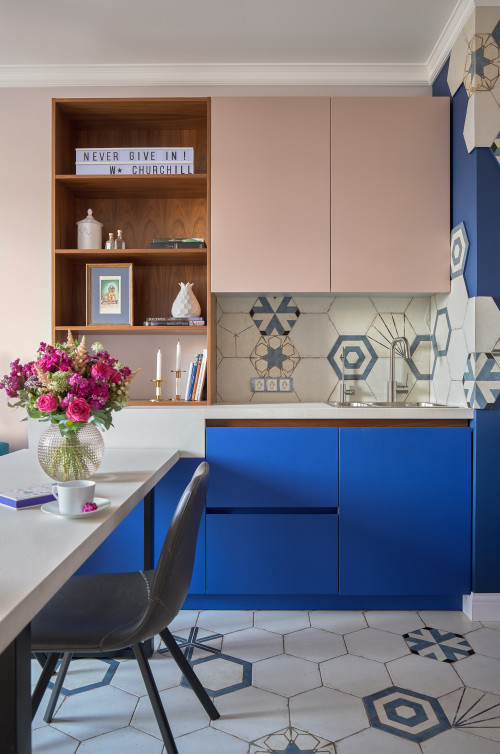 ID# 132626 | Houzz.com – Credit | © VerbaHome
---
Honeycomb Backsplash Effect in Small Kitchen
In this colorful kitchen, the pink and blue plain kitchen cabinets offer a joyful look while the white quartz countertops bring a fresh feel. The same material was chosen between the floor and the countertop, and a self-patterned blue-white hexagonal backsplash was applied. In this way, the transition from the blue cabinets to the pink cabinets was in harmony. All these beautiful features offer a colorful and heartwarming kitchen style for a small space.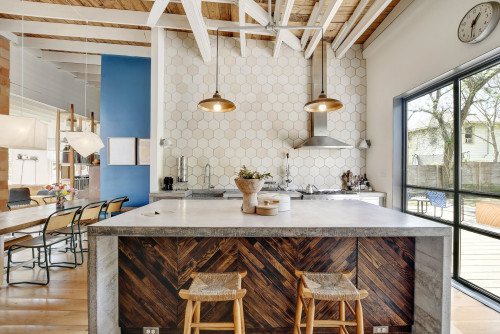 ID# 132627 | Houzz.com – Credit | © Twist Tours Real Estate and Portfolio Marketing
---
Industrial Impact in the Kitchen
Plain stainless steel cabinets, concrete countertop, concrete farmhouse sink a full-fledged creates industrial kitchen effect, consisting of appliances and stainless steel appliances. They are products that integrate high ceilings and wooden beam floors with raw brick walls. And up to the ceiling behind the counter, a large beige hexagonal backsplash creates a nice textural look. The space has become minimal and stylish with simple lighting fixtures and wicker-wooden stools.
How to cut honeycomb backsplash?
Tile cutting can be done manually or with an electric machine. The manual can be used to cut tiles with a thickness of not more than 6 mm. Also, a diamond blade is used. The thickness and size of the material to be applied are important according to the tool to be used for cutting. For example, a spiral cutting machine is used to open round holes.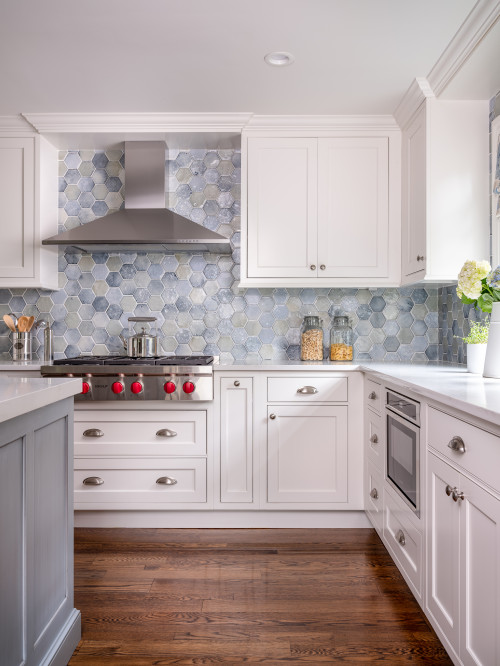 ID# 132628 | Houzz.com – Credit | © Artista Kitchen & Bath Design
---
Romantic Transitional Kitchen
This transitional kitchen, consisting of a plain white shaker cabinet and a light blue cabinet island countertop, is one of the most preferred styles of large kitchen spaces. The white quartz marble countertop and the stainless steel appliances perfectly complete the cabinets. The naive-romantic atmosphere of white and blue is accompanied by a hexagonal backsplash in blue-gray tones, completing the space. Choosing dark wood parquet for the floor brings the kitchen combination and refreshing style more to the fore.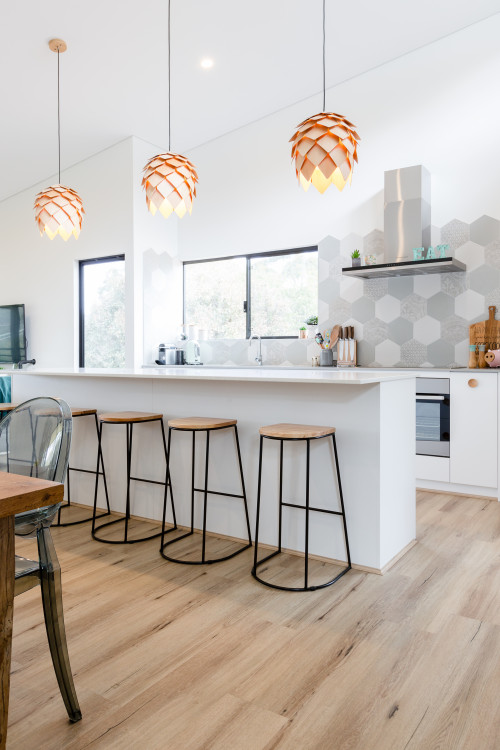 ID# 132629 | Houzz.com – Credit | © IQ Construction
---
The spaciousness of White Simple Modern Kitchen
In minimalist, plain white kitchen cabinets, wooden handles come to the fore and have a simple and cool effect. A white quartz countertop makes a fresh touch. The floor parquet and wooden bar stools placed around the island are also pieces that integrate the space. The large hexagonal backsplash chosen in gray-white tones gives its simplicity, It added a different atmosphere without spoiling it.
Small Honeycomb Backsplash
The small hexagonal backsplash, which has many types, is preferred in areas such as bathrooms and kitchens. It creates beautiful effects when used in large areas. Modern, sports, classical, etc. It can work with many different designs. Unlike other flat ceramics, it is a product that can add movement by itself because it is in hexagonal form. This type of backsplash example, which has been used since old times, is very popular and preferred in most homes.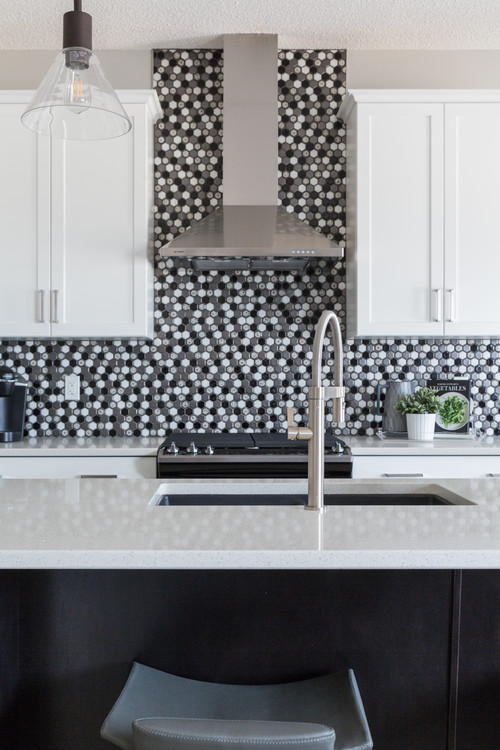 ID# 132630 | Houzz.com – Credit | © Landmark Homes
---
Small backsplash and Big Effect with Contemporary Kitchen
This kitchen features black and white shaker cabinets which offer timeless appeal! The white quartz countertops and stainless steel appliances perfectly pair the cabinets. The light wooden floor brings warmth. In this stylish kitchen where only black and white is dominant, the small hexagonal multicolored backsplash made of black, white, and gray draws all the attention to the space.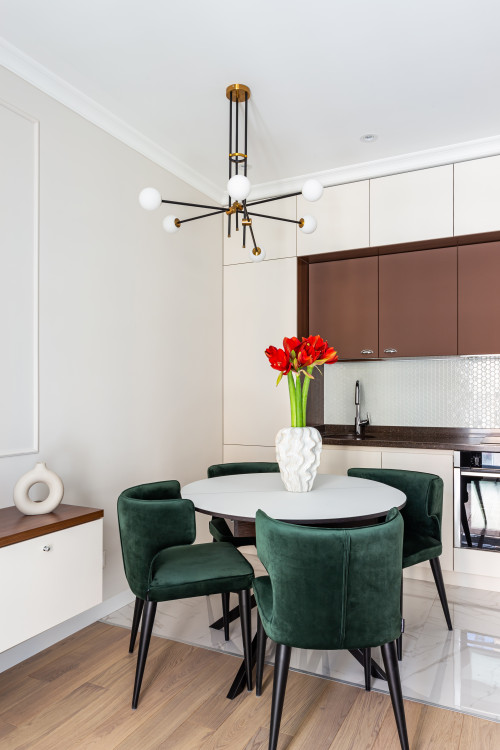 ID# 132631 | Houzz.com – Credit | © Марина Светлова
---
Small Contemporary Kitchen with Honeycomb Backsplash
The kitchenette, which consists of beige and brown, is made of brown quartz countertops. By using a small, bright, and white hexagonal mosaic backsplash, it can be seen how a stylish look can be achieved even in a tiny space. White Carrara ceramics add a luxurious feel to the floor.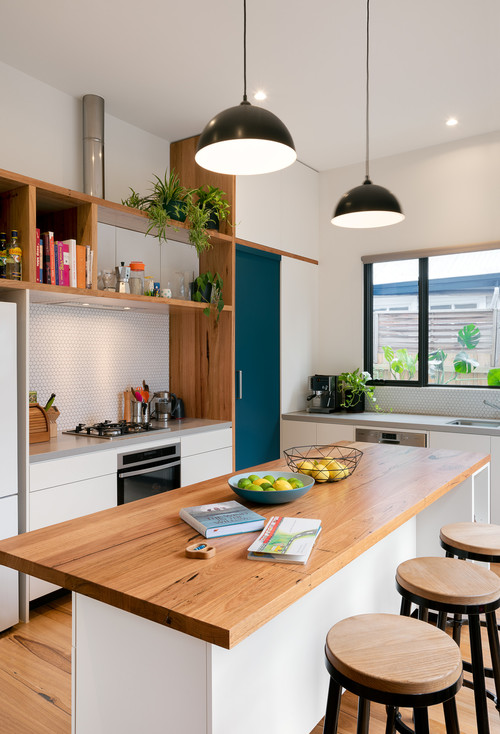 ID# 132632 | Houzz.com – Credit | © Green Sheep Collective
---
Simple Modern Kitchen with small White Honeycomb Backsplash
Minimal and simple in white and wood tones, this kitchen features plain cabinets and wooden open shelves. The gray quartz countertop and the island countertop are wooden. A small white hexagonal mosaic backsplash creates a clean look. Black glass built-in appliances, black pendant lights, and black-footed stools complete each other by catching the same color line.