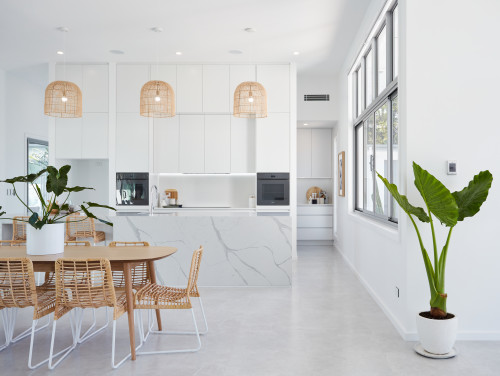 ID# 113836 | Houzz.com – Credit | © Lea Design Studio
---
Scandinavian Kitchen with Marble Island and Wicker Pendants
A completely white palette and minimal warm tones add interest to this modern kitchen. The matte white, handleless kitchen cabinets create a flawless look, while the white backsplash matches this clean look. The island, which is made up of marble-looking quartz countertops, creates a noble focal point with its white-gray pattern and combines with the gray floor with elegance. A wooden dining table and warm-toned wicker chairs and wicker pendant lamps add warm touches to the kitchen.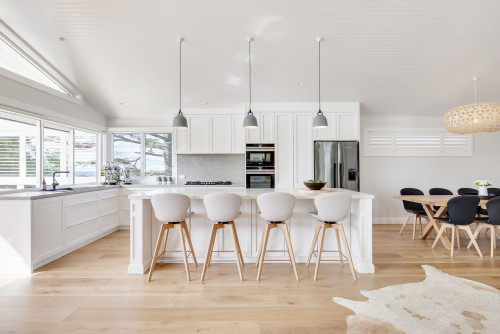 ID# 113809 | Houzz.com – Credit | © Northern Beaches Kitchens and Bathrooms
---
Modern White Kitchen Ideas with Gray Detailed and Marble Countertop Island
This kitchen stands out for its beachy style and enduring appeal. The handle-less shaker white cabinets pair beautifully with the gray backsplash and gray kitchen countertop that add a touch of contrast, while the light wood parquet brings a modern and relaxed atmosphere to space. The white island kitchen adds elegance to space by providing integrity with the white countertop. Minimal trio gray pendants and wooden bar chairs are the finishing touches.
Timeless, Full of Personality: Modern White Kitchens with Elegant Touches!
A kitchen is the heart of the home, and to create a timeless design plan, choose an all-white color palette. Mix textures with white, add warmth to your kitchen with wood details and complement white beautifully to create the perfect balance of cleanliness and comfort. With our modern white kitchen design ideas, you can be your own interior designer!
Add depth and dimension to the white kitchen with different colors and textures.
The restrained palette of white kitchens makes it easy to combine cabinets, countertops, fixtures, and floors in a harmonious look. White kitchens are bright and clean and don't require too much stressful color decisions during decorating. There are many ways to spice things up with kitchen decor ideas so that white kitchens don't get boring, from natural textures like marble countertops and wooden shelves to dynamic flooring options like interlocking wood tiles. Add elegance and dimension to a white kitchen with subtle accents in soothing hues like a gray backsplash or black detailing. Whatever your interior design style is, you will find a stylish white kitchen you can imagine below.
Suitable for every style; you can find all-white kitchens, the elegance of marble and wood details and natural material ideas or quartz countertop ideas, design kitchens with contrasting and harmonious hues.