23+ Concrete Kitchen Backsplash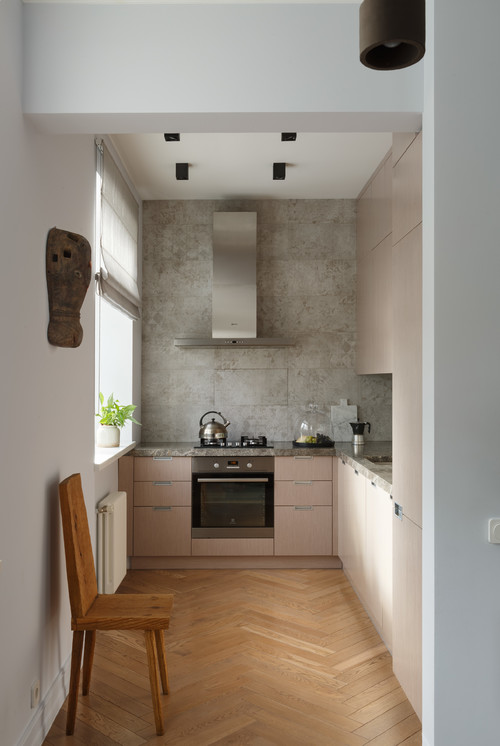 ID# 136301 | Houzz.com – Credit | © U(nik) design team
---
Cool Effect with Concrete Kitchen Backsplash in Contemporary Kitchen Design
In the small contemporary kitchen design, natural wood flat cabinets and beige marble countertops combine coolly, while concrete kitchen backsplashes up to the ceiling between the counter and behind the stove stand out with their cool effect. Built-in appliances and under-counter sinks also take their place. The medium-toned herringbone parquet on the floor offers a warm atmosphere. It is a kitchen design with a minimal and cool style.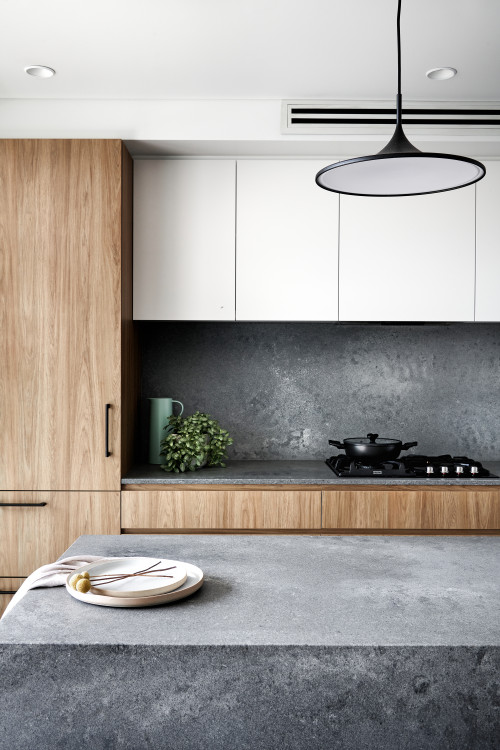 ID# 136316 | Houzz.com – Credit | © Improva
---
White and Wood Cabinets with Dark Gray Concrete Slab Kitchen Backsplash in Contemporary Kitchen Design
The kitchen, which has a modern design, consists of white and wood-coated flat cabinets. The dark gray concrete slab kitchen backsplash and the countertop from the same material harmoniously combine. The concrete slab backsplash, placed as a single slab, creates an airy effect in the space. It harmonizes with the cabinets in style. The island in the middle is valued as a preparation bench. The under-counter sink is located here. They are elegant details in the pendant lights on the island. A quality effect is created by laying the floor with dark brown wooden parquet. It is accompanied by a black dining table and white chairs.
Concrete Kitchen Backsplash
Concrete is a very popular type of material for home decorations. If it fits your design, it is a suitable material for any room, from the bathroom to the bedroom. When it comes to concrete kitchen backsplash, they produce excellent results with their characteristic effects.
While concrete has been very trendy especially lately, using a concrete backsplash adds texture and depth to the space. Although its cool stance seems to be suitable only for industrial or minimalist areas, stylish spaces are created in many other kitchens with a beautiful combination. It is a useful product variety for modern, art deco, vintage, and many other kitchens.
Concrete has many different looks. It can have any shape, texture, and coating. In addition, concrete backsplashes are a more affordable material compared to other materials such as marble and quartz. Tile, slab, and concrete-looking backsplash options achieve a cool effect. It is the right type of material for characteristic spaces. Provides a harmonious match with most cabinet colors.
Can you use concrete as a backsplash?
Concrete is a very fashionable product, especially in recent times. Using a concrete backsplash provides texture and depth to the applied area. It is used not only for industrial and minimalist spaces but also in many kitchen styles.
Concrete Tile Kitchen Backsplash
Tile backsplashes are a type of material that is easy to apply and useful. It has a wide range of samples of various types such as marble, ceramic, mosaic, and cement. There are unlimited options with alternatives in desired shapes and sizes.
When we look at the concrete tile kitchen backsplash option, the hard and cool stance of the concrete displays a cool image. Thanks to its various sizes, it matches any style of kitchen in a way that creates unique spaces. It is a type of material that is very easy to maintain and use. They maintain their brand new appearance with regular cleaning.
How do you do a concrete backsplash?
Concrete backsplashes consist of various types of materials such as ceramic, cement, mosaic, and marble. Natural concrete backsplash designs can also be made by pouring into certain molds.
Concrete Slab Kitchen Backsplash
The slab backsplash assortment has a wide variety of material options, from luxurious natural stone to flamboyant glass plates. It is very easy to apply and use.
Concrete slab backsplash in kitchens has been quite a trend in recent years. Concrete slab backsplashes are durable and have fascinating effects. They create characteristic effects that suit any style, from traditional to contemporary kitchens, from eclectic to farmhouse. As they are placed in whole plates according to the application area, they minimize the joint lines, providing a whole look, and offering a quality and luxurious appearance.
How do you seal a concrete tile backsplash?
As with any tile backsplash, after preparing the seal mortar, you can spread it over the concrete backsplash and wait for it to dry. You can complete your process by cleaning it with a damp sponge so that the concrete tiles do not remain on it.
Concrete Look Kitchen Backsplash
Backsplashes are important elements for kitchen designs. They leave interesting effects with various material types on concrete backsplashes. While designing, one of the most used options is concrete look kitchen backsplashes. There are many backsplash options available in shades of gray and some with textures like concrete. There are concrete-looking kitchen backsplash designs with panels, grainy paints, or tile options. From modern to industrial styles, there are various beautiful designs.
How do you clean a concrete tile backsplash?
Firstly, wipe with clean cold water. Thoroughly clean the countertop with a damp sponge and a soft non-abrasive cloth or paper towel to ensure a residue-free surface. You can then dry it and polish it.