49+ Kitchen Backsplash Trends 2022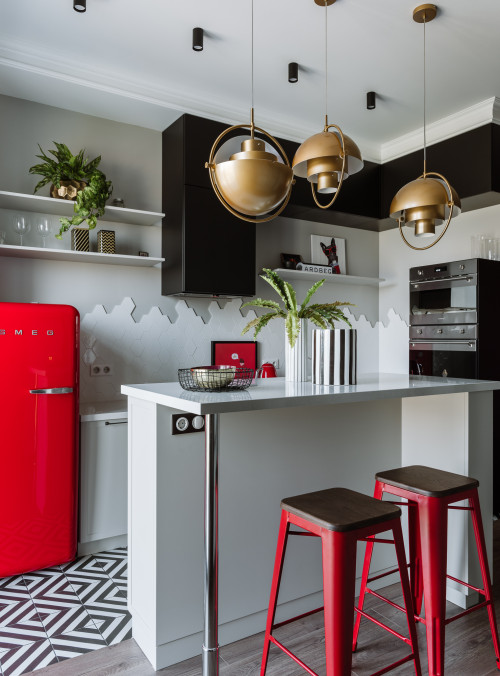 ID# 133209 | Houzz.com – Credit | © Анна Моджаро
---
Contemporary Kitchen with White Hexagon Backsplash and Floating Shelves
If you want a kitchen that doesn't look like one, here you have an example. This tiny contemporary kitchen is fitted in a corner equipped with the flat-panel black upper and white base cabinets and is filled with modern retro appliances: a red refrigerator and oven that looks like a radio. They add an antique soul to the kitchen that contrasts with the contemporary flair. A white island with a bar table leg is paired with backless stools with red legs that harmonize beautifully with the kitchen's overall scheme. The white hexagon tile backsplash gives you the impression of an incomplete puzzle. When combined with the toy-like decorative items displayed on the floating shelves, this contemporary kitchen gets dressed into another identity, looking inspiring, somehow serious but also entertaining.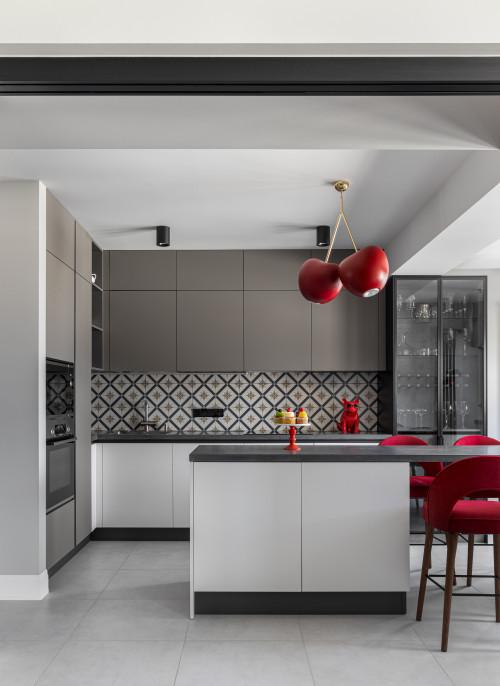 ID# 133235 | Houzz.com – Credit | © Ирина Чернейкина
---
Contemporary Kitchen with a Star-pattern Backsplash and Cherry-shaped Lighting Fixtures
Here we are viewing a one-of-a-kind interior design with a cherry-shaped lighting fixture, whose redness is complemented by red counter stools. The slab-front gray upper cabinets go up to the ceiling to maximize the kitchen capacity for storage and make the kitchen look taller. The star-pattern backsplash and black glass-front cabinet enrich the visual scheme of the kitchen. If you desire to jazz up the kitchen, the backsplash can easily create diversity, as is here. To achieve a trendy look, you can also add a sense of humor. It could be a red toy dog and fake cupcakes.
Kitchen Backsplash Trends 2022
A backsplash not only protects your kitchen walls from stains but also aestheticizes them, which makes the backsplash the most essential element of your kitchen. Besides its functional aspect, a kitchen backsplash can bring the all elements together and help to create visually pleasing spaces! But what about the kitchen backsplash trends 2022? Even though there are times when specific patterns gain more popularity, for backsplashes, it would be safe to say that none of them goes out of style.
Still, some backsplash styles stand out in 2022. Among these kitchen backsplash trends 2022, we can count mirror, metal, patterned, subway tile, and geometric tile backsplashes as well as wallpaper designs. Also, open wall surfaces are preferred to create an airy and spacious feeling. At this point, full-height kitchen backsplashes come into the picture to replace the upper cabinets. Especially, solid stone slab backsplashes with inherent veins and movements are favored to create stunning kitchen designs. So, to find more about the trendiest backsplash ideas in 2022, keep reading!
What Is The Kitchen Backsplash Trend for 2022?
Kitchens are the most frequently visited zones of a house, which makes them the heart of it. Thus, it is no wonder that we all want something inspiring for our kitchens. So, we ask: What is the kitchen backsplash trend for 2022? Don't get surprised if you encounter subway tile, marble, solid stone, and geometric backsplashes in this list, which we all know as timeless classics.
In 2022, what makes a trendy look is more than what your backsplash is. It is more about how you combine it with other elements. For instance, you will see examples of how a backsplash pattern is also applied to coat the floors and clad the island base to achieve a cohesive look. Mirror backsplashes, for instance, will serve to bring integrity in open-plan layouts while reflecting the other parts of the room from various angles. Wallpapers will surprise you with their unconventional designs. If you are ready, scroll down to see some examples.
Is backsplash going out of style?
No! A backsplash is vital to every kitchen both for functional and aesthetic reasons. It is essential to create a backdrop theme and to protect the walls from grease, stains, and steam.
Subway Tile Kitchen Backsplash Trends 2022
Subway tile is one of the most popular patterns that fit into any style, which makes them indispensable. This classic tile has always been a safe choice in the kitchens and will continue to be so. The original size of the subway tiles is 3 x 6 inches. However, you can find different size options such as 2 x 4, 4 x 8, 6 x 12, or 10 x 20 inches. You can try these different sizes to give different visual impacts to your kitchen walls.
Vertical Tile Kitchen Backsplash Trends 2022
Vertical tile backsplashes add movement to the wall surfaces and make the kitchen look taller than it is. Especially, if they are taken up to the ceiling, they achieve full impact and create expressive wall surfaces without a doubt.
Fish Scale Tile Kitchen Backsplash Trends 2022
Also known as mermaid and scallop tiles, fish scale tiles are admirable for their intriguing patterns and suit best the beach-inspired kitchens when used as a kitchen backsplash. Particularly, the turquoise tones of these tiles create an impression of an ocean or a wavy sea. Depending on the effect you desire for your kitchen, you can also choose matte, semi-gloss, and gloss finishes and sharp or flat tips to develop an impactful background.
Last but not least, these tiles allow you to experiment while laying the tiles. In addition to the tip-up and tip-down versions, you can come up with more complex patterns.
Geometric Tile Kitchen Backsplash Trends 2022
Geometric tile kitchen backsplashes introduce eclectic forms and exciting patterns that can easily go with any style. They stand out as statement pieces and become the visual focal point of the kitchen effortlessly. If you want something homey and more traditional, you can choose patterns reminding you of flowers.
What is a timeless kitchen backsplash?
A timeless kitchen backsplash, contrary to trending ones, creates an eye-appealing surface that will surpass the test of time easily. For the same reason, a neutral backsplash rather than something fancy would make it timeless. Solid slab backsplashes are a great example. Thanks to their inherent veins and movements, they present both timeless and elegant looks and can fit into any style, be it modern, contemporary, transitional, or traditional.
Another example is subway tile backsplashes. Just like solid slab backsplashes, they also offer a timeless look and go well with any style. The fact that they can be laid in various forms generates different effects. Likewise, the grout color between the tiles can serve as another definitive feature to achieve the effect you desire for your kitchen.
How do I choose a kitchen backsplash?
Before choosing a kitchen backsplash, there are a couple of things you need to consider. First, what is the style of your kitchen? Do you want a modern or more traditional look? Or, do you want something neutral or more exciting and colorful? You may even consider your cabinet styles. But if you have shaker cabinets, then you are lucky, as they fit any style.
In today's market, there are an infinite number of backsplash tiles in a wide range of colors, patterns, and shapes. Though, the diversity may lead to confusion and makes it hard to decide what is best. To have a more solid idea, you can take a look at our catalogs and see which combinations you love more.
Metal Kitchen Backsplash Trends 2022
No backsplash can get closer to a metal kitchen backsplash to shout modernity and gleam as they offer a creative way to add interest and texture.
Metal backsplashes come in various shapes, colors, and finishes. First of all, not all of them have a shiny finish but a matte one for those looking for something simpler. Secondly, they can be molded into floral patterns or geometric forms in addition to their sheet formats. Thirdly, the types of metal such as brass, copper, zinc, and silver enrich the metal backsplash repertoire. To contribute warm tones, brass and copper are excellent options, while for cool vibes, silver can be a good candidate.
To achieve something different and natural-processed, oxidized copper panels are an interesting addition. These oxidized or sun and seawater exposed metal sheets offer a vintage look that is very much welcomed and incorporated in modern kitchens as well. Overall, for a trendy and unconventional look, a metal backsplash has all the answers for you.
Patterned Tile Kitchen Backsplash Trends 2022
Patterned tile kitchen backsplashes are best at evoking a visual interest and endowing your kitchen with entertaining wall surfaces. You can also use them only as a stove backsplash to diversify the overall look of your kitchen.
Stone Slab Kitchen Backsplash Trends 2022
Stone slab kitchen backsplashes are very popular and excellent options not only for a trendy but also a timeless look. Marble, granite, quartz, quartzite, and porcelain slab backsplashes execute elegance and elevate the overall look of the kitchen instantly. To achieve a full impact,
you can match the backsplash with flooring, countertops, or island top, or you can take the backsplash up the ceiling, which is also very trendy. Last but not least, covering the range hood with the same stone slab used for the backsplash offers a seamless design.
What is a kitchen backsplash?
A kitchen backsplash is made of a variety of materials, natural or man-made, such as marble, granite, ceramic, porcelain, etc. to cover the area above the countertop to protect the wall surface from grease, stains, and steam. Their standard versions are 4 inches. However, depending on the customer's wish, they can go all the way up the ceiling to achieve a seamless design in the kitchen.
In other words, a kitchen backsplash is a must for functional and aesthetic purposes, which is why they will never be out of style.
Mirror Kitchen Backsplash Trends 2022
A mirror kitchen backsplash is a space-enhancing element, thus making it favorable in small kitchens to add depth and create a sense of spaciousness. But they have a lot more benefits than that and can be applied for various reasons. For instance, the open-layouts are favored in modern homes as they create intimate living spaces encouraging socialization. In such layouts, a mirror backsplash can be used to reflect the other parts of the rooms to make different corners flow into each other. In other words, mirror backsplashes help retain a sense of integrity.
The types of mirror backsplashes include vintage-looking, tinted, and antiqued mirrors that suggest a lived-in look and feel. They can also be given shape and found in different formats to expand the kitchen's visual dynamism.
Ceiling-Height Backsplash Trends 2022
A ceiling-height backsplash, as the name suggests, goes up to the ceiling. It is an excellent choice to make a bold statement and adds a character to your kitchen.
How to install a kitchen backsplash?
Installing a kitchen backsplash can be tricky. But if you have the right materials and instructions, then everything should go smoothly. First, you should measure the backsplash area and make a template to design the pattern before applying anything on the wall surface. While designing the tiles, it is recommended to start from the center. After finishing the design, see how much you need to cut the tiles to have straight edges. After wearing your eye protection, start cutting the tiles and have them ready before installation.
Installation
Before laying the tiles, make sure the wall surface is clean and dry. Then, apply the mortar and start laying the pre-cut tiles. Use spacers to leave even space between them. After you are done with the installation, wait 24-48 hours and come back to apply the grout. For that, you need a trowel, a bucket of water, and a few sponges.  Spread the grout between the tiles and clean the tiles with the water-soaked sponges before it dries up.
Wallpaper Kitchen Backsplash Trends 2022
Wallpapers have a great capacity to create homey vibes and a cozy ambiance. For those who can't give up on them, the good news is that now they are popular as kitchen backsplashes. Wallpaper backsplashes are versatile, perhaps even more versatile than tiles, with animal figures or patterns you couldn't even think of. So, they allow you to feel free and more adventurous when you are choosing a wallpaper backsplash. What is better, they are easy to apply and cheaper to get rid of!