34+ White Kitchen Countertops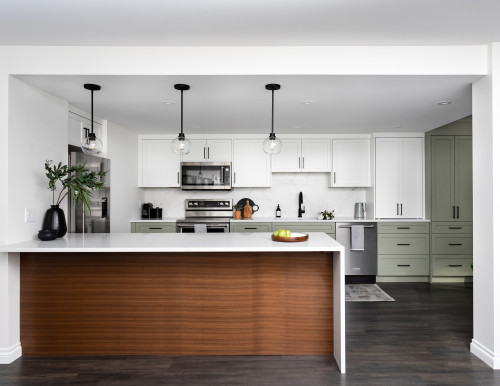 ID# 127203 | Houzz.com – Credit | © ALTER Design Studio
---
White and Gray Kitchen Cabinets with White Quartz Countertops
Thanks to the bright white upper cabinets, backsplash, and countertops, this transitional kitchen offers a bright and spacious atmosphere. The quartz backsplash and countertops add a slight texture while the light gray perimeter cabinets soften the crisp white colors. The matte black hardware and other accents modernize the overall look.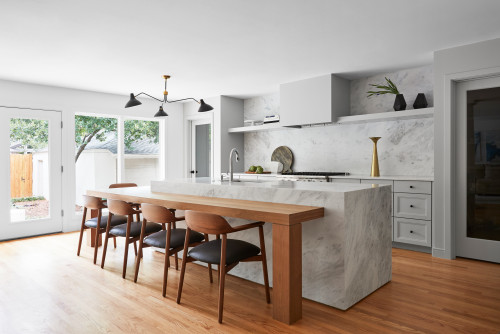 ID# 127211 | Houzz.com – Credit | © Yates Desygn
---
White Contemporary Kitchen with Wood Accents
In this contemporary kitchen, the bright look of the white features is perfectly balanced with the warm look of the wood textures. The light gray kitchen cabinets, white marble backsplash, and countertop, and the marble kitchen island give a modern luxurious look while the wood extension of the island and wood counter chairs make a warm touch without breaking the lux feel of the marble. Also, wood textures create a continuous look with the wood flooring.
White Kitchen Countertops
Clean, fresh, and bright! Using white colors is a great way to create the illusion of making rooms appear larger and white kitchen countertops are one of the most trendy ways to incorporate this color into kitchens. The bright and light appeal of the white kitchen countertops effortlessly makes your kitchen beautiful. If you are looking for more about white kitchen countertops, scroll down and find some inspirational design ideas!
After years of dark countertop domination, bright and light colors gain their popularity and white is the most popular and common option. From luxurious marble slabs to glass countertops, white kitchen countertops come in a wide range of material, texture, and pattern options. You can balance out the darkness with a white countertop or add a fresh feel between the wood textures, or go trendy and complete your all-white kitchen. Whatever your style is, white kitchen countertops can be a perfect addition to any kitchen and easily finalize the overall look! In this article, we have put together an amazing collection of ideas that can help you to find the best and right white countertop for your kitchen.
How do you choose a white countertop?
When it comes to choosing a white countertop, style, function, and cost are the most important aspects that you need to figure out. For these aspects, the material choice becomes the most important decision. But how do you choose the right material? Natural stones like marble, granite, or quartzite are porous materials that require more maintenance. Also, these countertops are more pricer than other material options but nothing can beat the undeniable beauty of these. Quartz countertops are a perfect alternative for natural stones. They offer different patterns and textures at more affordable prices. If you have a tight budget, laminate countertops might be a better option.
White Marble Countertops
Marble is one of the most precious stones that is commonly used for interior design applications, especially for kitchens. The beautiful and natural veinings of the marble offered one-of-a-kind appeals and if you are looking for a timeless and luxurious option, there is no better option than a white marble countertop.
Yes, the appearance is undeniably beautiful and it can change instantly the atmosphere but these slabs are very expensive than the other materials. According to the size of the slabs and the source of marble, the prices is ranging from $50 to $250 per square foot. For example, Carrara and Calacatta command high prices.
The other important cons of this material are its porous surface. That means it can easily absorb the liquids and is more likely to get stained and it requires more care. That's why it must be sealed before the installation and it immediately needs to clean after cooking.
Are white countertops a good idea?
The short answer is yes. With their bright and sleek beauty, white kitchen countertops are at the top of the trend lists and they will stand the test of time with any design aesthetic! You might think that white can be a risky color for a countertop but with the right maintenance, you can keep their bright look over years.
White Quartz Countertops
Unlike marble, quartz is a man-made stone that involves combining around 95 percent ground quartz and a mix of polymer resins. The result is an extremely durable surface that makes it a perfect countertop material. This durable surface is both heat resistant and stain-resistant. That means it required less maintenance than natural stones. Besides their durability, white quartz countertops offer a wide range of pattern and texture options. In addition to the solid colors, quartz countertops also offer stone-like appearances. So, if you are carving the luxurious feel of the marble but don't want to spend a fortune, a white quartz countertop might be a perfect option for your kitchen. In today's market the most popular white quartz countertops are;
Pure White – Caesarstone
Aterra Blanca – Caesarstone
Empira White – Caesarstone
Statuario Maximus – Caesarstone
Arctic White – MSI
Calcatta Classique – MSI
Carrara Grigio – MSI
Portrush – Cambria
Eternal Calacatta Gold – Silestone
White Granite Countertops
Granite is a natural stone that comes in different colors, patterns, and textures. Unlike the dark granite colors, white granite countertops are increasing in popularity. Besides their bright and fresh looks, white granites can also add elegance to the design without sacrificing durability. However, just like marble or other natural stones, granite also has a porous surface that can absorb liquids and bacteria. That's why it needs to be sealed and requires maintenance. But with a regular cleaning routine, you can maintain the fresh look of your white granite countertop. Here are the top white granite countertop colors
Alaska White
White Valley
Alps White
White Spring
Andino White
Colonial White
White Ice
White Concrete Countertops
Concrete is a versatile material that can be shaped in different ways. With their sleek beauty, concrete countertops are a popular design element in modern style. If you want to create a solid white look, a white concrete countertop will be a perfect addition to your kitchen. However, it can easily stain and it needs to be sealed for resistance. For greater durability and stain resistance, Polyurethane Sealer can be used. Also, concrete can be prone to chips, scratches, and hairline cracks. So, before the installation, make sure you're aware of all the quirks of white concrete countertops.
What is the most durable white kitchen countertop?
When it comes to the countertop, quartz countertops can consider the most durable option because they are man-made materials. The non-porous surface of quartz provides extreme durability. Natural stones also provide strong durability but they need to be sealed and require more maintenance.
How to clean white countertops?
Different materials require different cleaning routines but, for a regular cleaning routine, you can use warm water, dish soap, and a microfiber cloth to wipe the white counter. For more stubborn stains on the laminate, marble, or granite countertop, you can prepare a mix with one cup of vinegar, a tablespoon of baking soda, and two cups of warm to hot water. For white quartz, glass or a surface cleaner is more effective and safer.
What color countertops go with white cabinets?
White cabinets are like a black canvas that can work with different color schemes. But, if you are looking for the most timeless option, a white countertop will be a perfect addition to your white kitchen cabinets.
White Quartzite Countertops
Unlike engineered quartz, quartzite is a metamorphic rock that's quarried. It is known for its natural veins and sparkles that can lend sophistication to any kitchen. However, just like marble, white quartzite countertops have a porous surface that can be damaged by water and food spills. That's why it also needs to be sealed like other natural stones.
How to protect white countertops?
The key point of protecting the white countertop is regular cleaning. Whether it's marble or laminate, granite, or quartz, a white kitchen countertop needs to be cleaned regularly and immediately after cooking. Otherwise, food or water spills can create permanent stains on the counter that gives unhygienic surfaces an unpleasant look.