30+ White Kitchen Island Ideas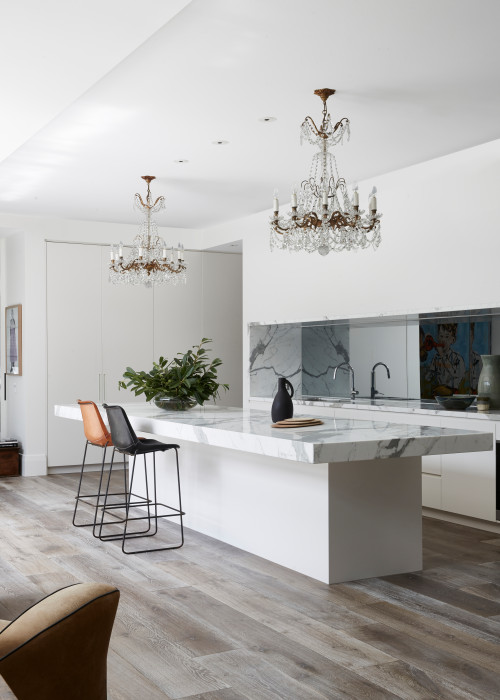 ID# 158701 | Houzz.com – Credit | © MR.MITCHELL
---
White Kitchen Island Ideas with a White Marble Top and White Cabinets
This contemporary kitchen showcases simplicity and elegance. The clean lines, white flat-panel cabinets, and marble countertops create a sleek and sophisticated look. The mirror backsplash and medium-tone wood floors provide warmth and texture. The white flat-panel cabinets are the hallmark of this contemporary design, emphasizing their clean lines and smooth surfaces. The white island with its marble top serves as a stunning focal point while providing a practical surface for food preparation and dining. Ultimately, this kitchen perfectly exemplifies contemporary style with its simplicity and elegance.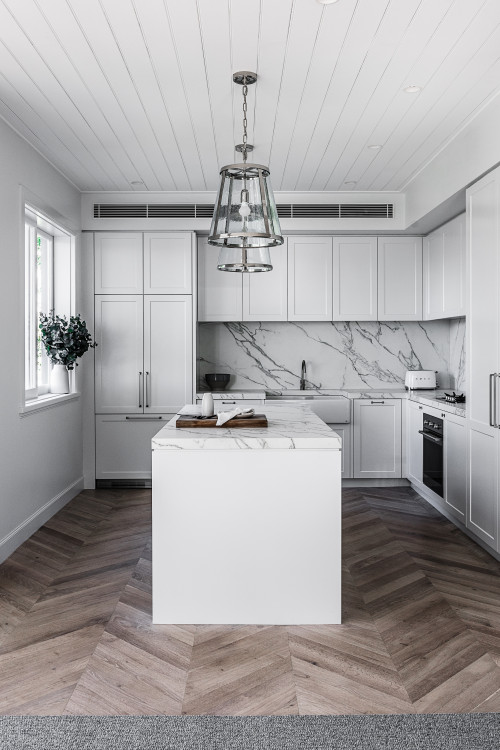 ID# 158718 | Houzz.com – Credit | © Hollier Studio
---
Shaker Cabinets and Paneled Appliances for a Modern Touch
The white shiplap ceiling and the white shaker cabinets provide a stylish and welcoming appeal that reminds the farmhouse touch with a modern charm. The medium-tone wood chevron floors add texture and movement to the white cabinetry design with a small white island. Thanks to the white marble countertops and the slab backsplash the sleek and contemporary design of the kitchen draws attention. The marble also brings an organic flow with a contrast thanks to its dark gray veins.
White Kitchen Island Ideas
Many homeowners looking to add both style and practicality to their kitchen opt for white kitchen islands. Thanks to their neutral and clean effect, they can be adapted to a multitude of kitchen designs and boast a versatile look. This article will showcase some great white kitchen
island ideas
that could help boost the overall look and functionality of a kitchen!
White
kitchen islands
are a stylish choice for those wanting to add a classic and sophisticated edge to their cooking area. These islands boast a light and airy appearance which brings about an air of spaciousness. Their versatility makes them perfect for coordinating with any interior design, from traditional to modern and everything in between. Countertop materials such as marble, granite or wood can be combined with the island to create a unique, signature look. Cleaning is often a headache but with these islands, it's no trouble; a wipe with a damp cloth and they're good to go! White
kitchen islands
are a great investment for homeowners wanting to make their cooking area look a touch more special.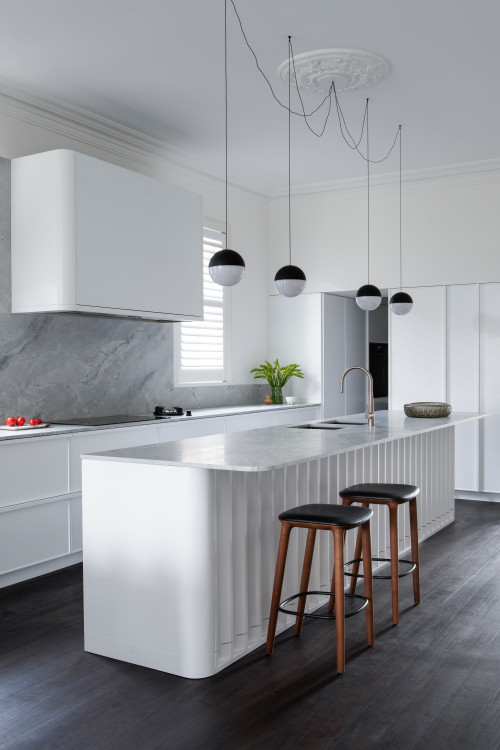 ID# 158702 | Houzz.com – Credit | © Minosa | Design Life Better
---
Contemporary Style with Dark and Light Elements
This kitchen features a timeless and elegant look with its dark wood floors, white cabinets and light gray marble countertops and backsplash. The white island with a light gray marble top and black and white pendant lighting fixtures adds a touch of visual interest and contrast to the space. Rich dark wood floors provide a warm and inviting atmosphere and make a dramatic statement while being contrasted with the cool tones of the white cabinets and gray marble. The seamless white surface of the island blends with the white cabinets and the light gray marble top gives a sense of luxury. The rounded corners of the island provide a sense of warmth and organic feel while the cupboards and countertops have sharp edges!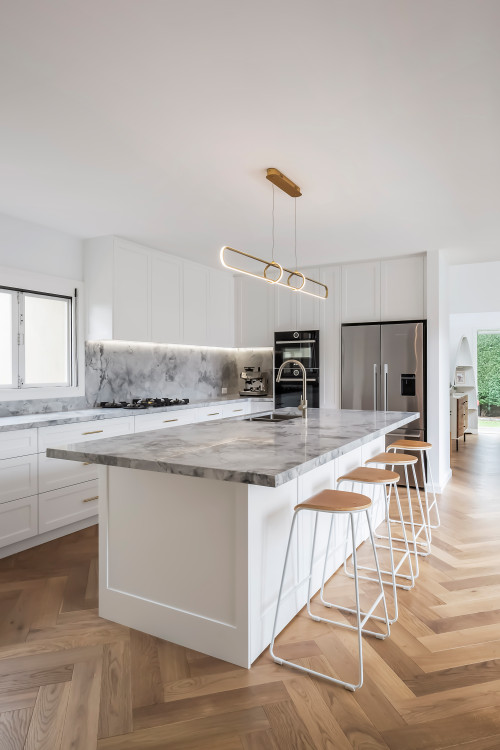 ID# 158703 | Houzz.com – Credit | © Northern Beaches Kitchens and Bathrooms
---
White Kitchen Island Ideas for Beachy Vibes
This kitchen design provides a warm and inviting atmosphere that is cozy and elegant! The medium toned wood floors offer a natural look and texture to the space, while the timeless white shaker cabinetry adds a modern and understated touch. The marble counters, slab backsplash and subtle brass accents bring a touch of sophistication and luxury, making it a true heart of the home.
What colors go best with a white kitchen island?
A white kitchen island is a vogue choice that works well with various tones. Here are some hues that partner with a white one harmoniously:Gray: Gray is a stylish color that pairs beautifully with a white island. Adding a gray countertop or tiles for the backsplash creates an eye-catching yet sophisticated contrast with the glowing white.
Black: If one wants to create a dramatic style statement, select black as an opposing option to white. Installing black accessories, lighting, or seating adds captivating depth and splendid visual effect to the domain.
Wood Tones: Neutral wood nuances like deep hue or pale ones can be added to grow a warm and textural aesthetic with a white kitchen island. Choosing a wooden countertop or stool assists to build a cozy and welcoming air.
Blue: Blue is a comforting and harmonious shade that perfectly complements a white kitchen island. Decorating the backsplash and cabinetry in a blue pigment presents an invigorating look with a relaxing touch.
Green: Green is an alternative that bestows a natural and tranquil atmosphere to a white kitchen island. A green backsplash or repainted cupboards adds a refreshing aura that enlivens the domain.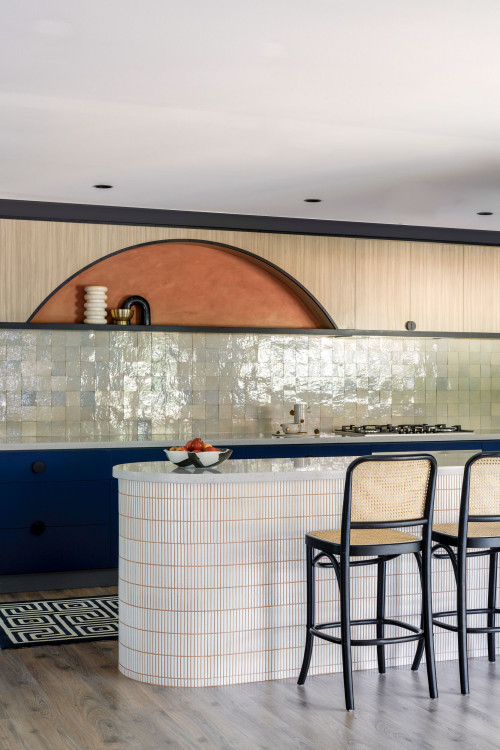 ID# 158704 | Houzz.com – Credit | © Kaiko Design Interiors
---
Navy Blue and Timber Cabinets with a Square Tile Backsplash
Navy blue flat-panel base cabinets and wooden top cabinets with black hardware provide a stunning contrast in this modern galley kitchen. The beige stone tile backsplash harmonizes with the entire design, while the gray countertops lend a subdued air of sophistication to the room. The kitchen's galley arrangement makes effective and practical use of the available space. This kitchen is the ideal illustration of how to design a room that is both fashionable and useful by combining various materials and finishes.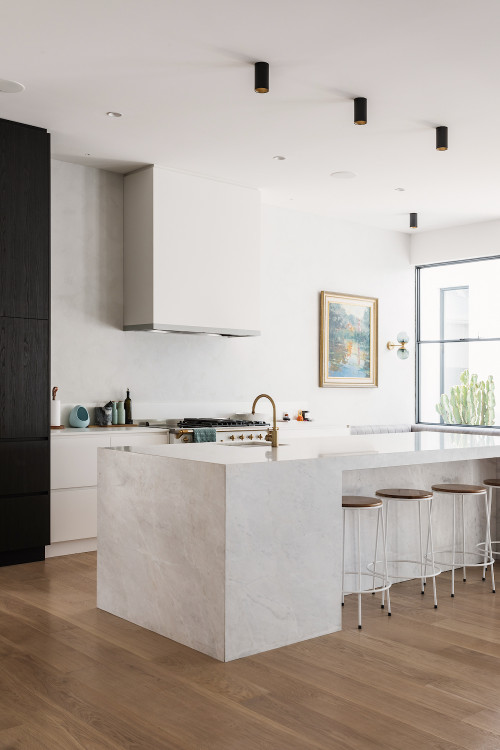 ID# 158705 | Houzz.com – Credit | © COSWICK LTD
---
White Kitchen Island Ideas with Medium-tone Wood Floors
This contemporary kitchen is a perfect blend of warmth and modernity, evoking a feeling of both luxury and edginess. The medium-tone wood floors create a cozy atmosphere, while the stark contrast of the white flat-panel and black flat panel cabinets lend a contemporary, dynamic edge. The white countertops and short slab backsplash provide a clean and sleek backdrop, further emphasizing the contrasting elements. The dramatic effect of the black spotlights over the white stone island, along with the brass faucet, creates a sense of grandeur in the interior. This kitchen is a perfect example of how distinct elements can collaborate and produce a stunning, yet very practical, space!
Types of White Kitchen Island Ideas
A white kitchen island is an inviting addition to any home – providing extra space, a workspace, and a spot for socializing or relaxation. It's the perfect piece of furniture to make any kitchen feel spacious and airy, with a clean and modern touch. Whether you go for a classic white marble island, a cozy white wooden one, or a contemporary white metal one, the possibilities are endless! Let your personal style be reflected in your white kitchen island and make it truly feel like home. With its versatile functions and bright, airy atmosphere, a white kitchen island can bring inviting warmth to your kitchen and be the perfect place to enjoy meals, entertain guests, or simply relax.
All- White Kitchen Island
Bring brightness, cleanliness and a modern look to your kitchen with an all-white kitchen island. An eye-catching focal point for your kitchen, white pairs of varying textures for visual interest. From glossy marble to rough-hewn wood, the distinctive combination of materials adds depth and character. Pendants and under-cabinet lighting further attract attention, while color pops of accessories bring personality and warmth to the space. Inject an inviting personality into your kitchen by adding fresh herbs and brightly colored fruit to your all-white kitchen island.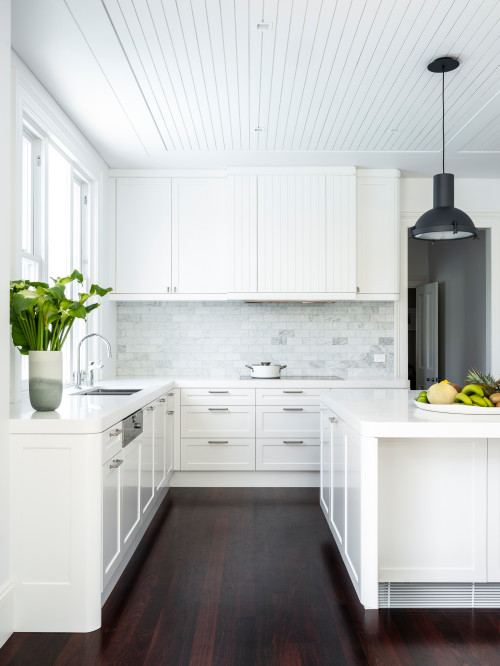 ID# 158706 | Houzz.com – Credit | © Porebski Architects
---
All-White Kitchen Island Ideas with Dark Wood Floors
This kitchen layout is incredibly striking and its all-white design fills the space with an inviting and cheerful ambiance. The combination of the white shaker cabinets, worktops, island and
marble backsplash tiling
in conjunction with the dark wood flooring accentuates its beauty. An all-white kitchen is a timeless choice that's always in style, while providing an open and breezy feeling that is both quaint and refreshing.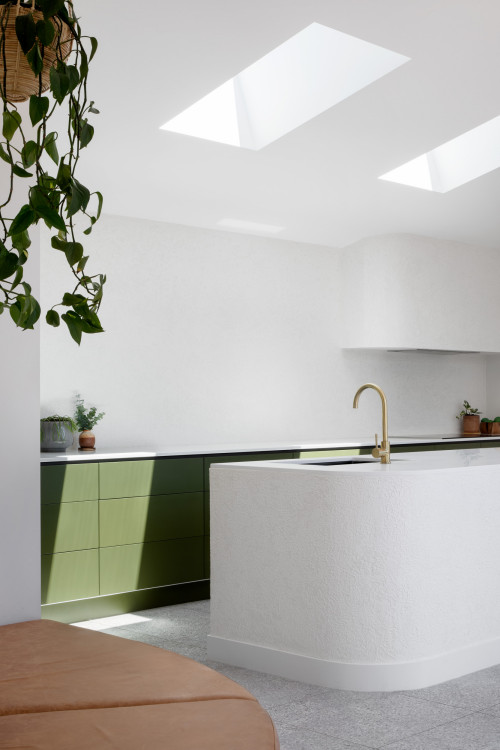 ID# 158707 | Houzz.com – Credit | © DOOD Studio
---
Green Flat-Panel Cabinets and Skylights for a Contemporary Touch
This contemporary kitchen evokes feelings of warmth and calm. The unique combination of green flat-panel cabinets, white countertops, and gray floor tiles creates a cohesive design that radiates sophistication. The white walls and skylights create an open and airy vibe, while the all-white kitchen island takes center stage and gives the space an added touch of elegance with its brass faucet. The lack of a backsplash adds to its minimalistic charm, making the kitchen a perfect place to unwind and relax.
Does a white kitchen island look outdated?
White kitchen islands evoke feelings of timelessness, versatility, and freshness – all of which make them perfect for a variety of kitchen styles. Although the perception of whether a white kitchen island looks dated can depend on its design and finishes, the right combination of elements can create an elegant and contemporary look in the kitchen. For some, a white kitchen island with ornate details and traditional finishes can be beautiful and classic while a minimalistic white kitchen island with clean lines creates a stylish, modern feel!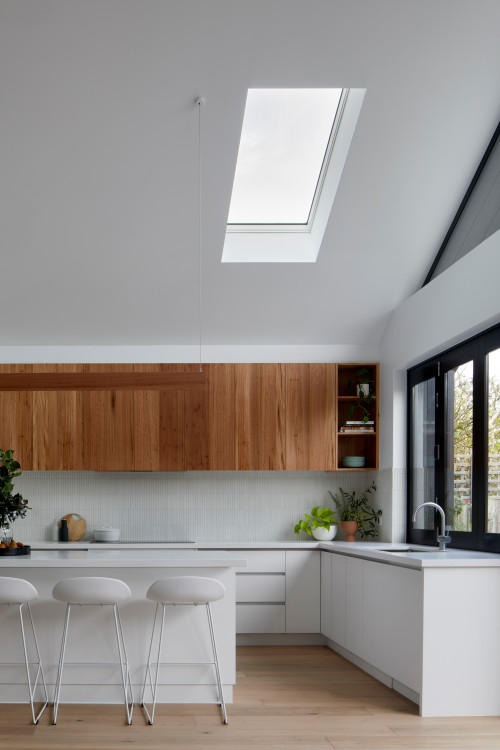 ID# 158708 | Houzz.com – Credit | © Demardi
---
All-White Kitchen Island with Wood Cabinets
This kitchen radiates a classic and opulent aesthetic with its L-shaped layout and muted color scheme. The medium-wood finished top cabinets lend a cozy and elegant finish, while the white flat-panel bottom panels along with an all-white kitchen island give the room a modern twist. The light-wood floors combined with the white vaulted ceiling and skylight contribute to a breezy and luminous atmosphere. This room not only looks great but also provides ample storage and counter area, making it an excellent choice for hosting and cooking. It's the perfect space to dine, relax and enjoy time with your family.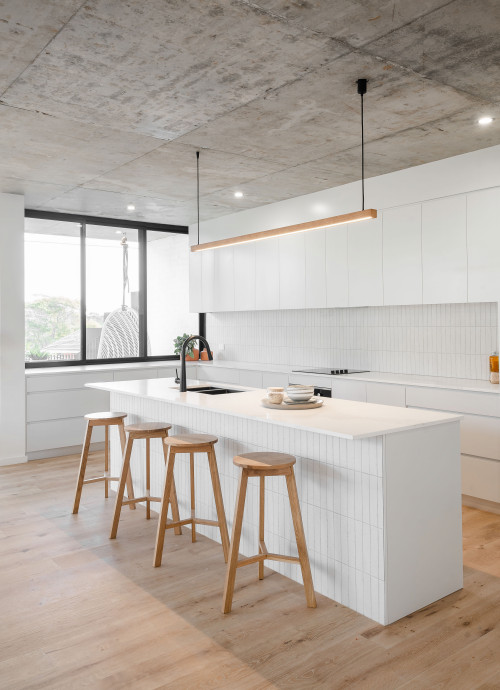 ID# 158709 | Houzz.com – Credit
---
Industrial Charm with Concrete Ceilings
This
modern kitchen
has a distinctive and industrial vibe thanks to the exposed concrete ceiling. With its bright white flat-panel kitchen cabinets and light wood floors, it has a cozy and cheery atmosphere, further highlighted by the white worktops and white
porcelain tile backsplash
. The light wood stools and white island impart a sense of tidiness and harmony, making it an ideal space to gather and cook.
White Kitchen Island with Seating
A white kitchen island with seating will evoke a sense of style, freshness, and comfort. It's the perfect addition to your kitchen design to give it a vibrant and inviting atmosphere. Not only will it create a modern and contemporary aesthetic, but it will also provide a functional workspace and ample storage. Seating around the island is the perfect way to create a cozy, inviting gathering spot for family and friends. Explore the many possibilities of white kitchen islands with seating for your own space and be inspired by their beauty!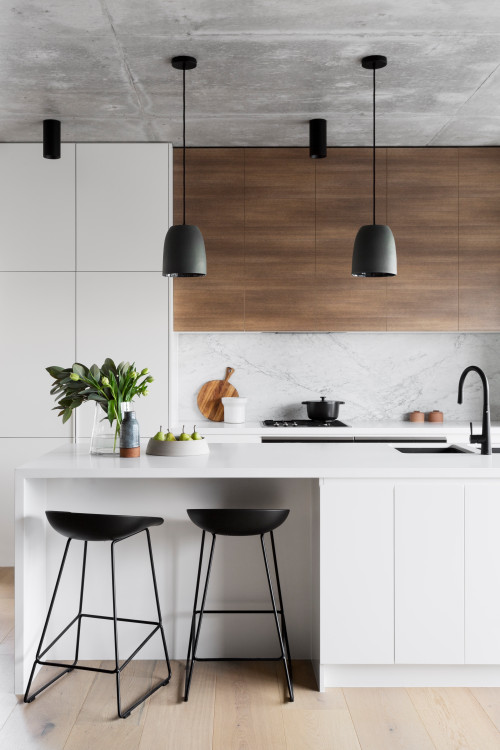 ID# 158710 | Houzz.com – Credit | © Heartly
---
White Kitchen Island with Seating and Wood Flat-Panel Cabinets
This contemporary kitchen brings together a striking blend of white flat-panel lower cabinets and medium-hued wood upper cabinets, complemented with white countertops as well as a white stone slab backsplash. The warmth of the light wood floors is contrasted by the industrial feel of the concrete ceilings, yet further highlighted by black accents like lighting fixtures, faucets, and appliances. The result is a sophisticated and stylish kitchen with a wonderful combination of materials and textures, creating an inviting atmosphere that one can't help but feel drawn to.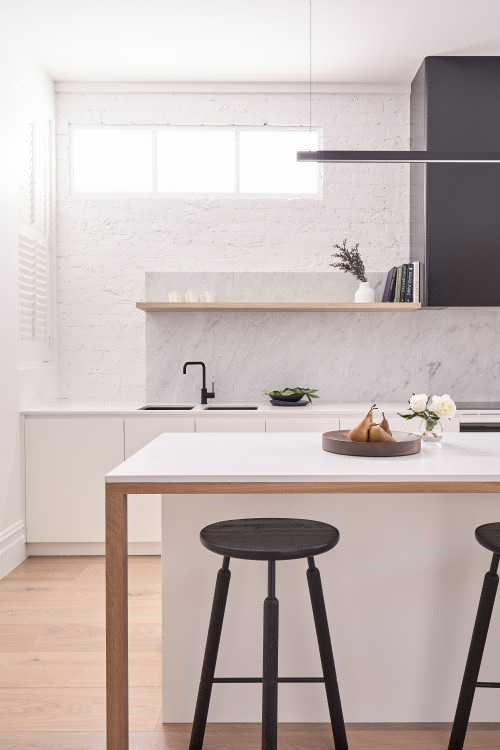 ID# 158711 | Houzz.com – Credit | © Heartly
---
Add Texture with Brick and Marble Slab Backsplash
This delightful and airy kitchen offers a harmonious conjuring of light wood and white finishes – a perfect combination for a modern and vibrant feel. The white flat-panel cabinets and island, complete with light wood accents, are complemented by a striking white brick and marble slab backsplash. To add a bold contrast, black stools at the island and a black hood above the range are featured. The light wood floors make the room feel warm and inviting.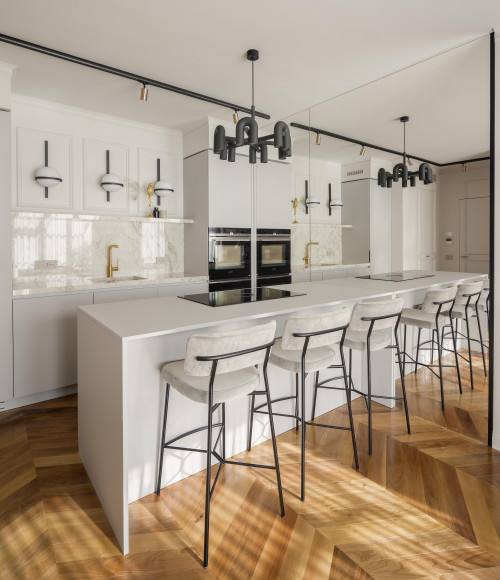 ID# 158712 | Houzz.com – Credit | © Archventil
---
White Kitchen Island with Seating and Black Accents
This contemporary kitchen is a study in contrast, bringing together a soothing white color palette with striking black accents. The soft white flat-panel cabinets and marble countertops create an air of sophistication, further highlighted by a luminous white marble slab backsplash. Dramatic black lighting fixtures and appliances add a touch of modern-day sophistication to the room, while the white island with seating offers practicality and comfort. Warmth and texture are further added to the space via medium-tone wood chevron floors, creating an atmosphere of complete harmony and tranquility.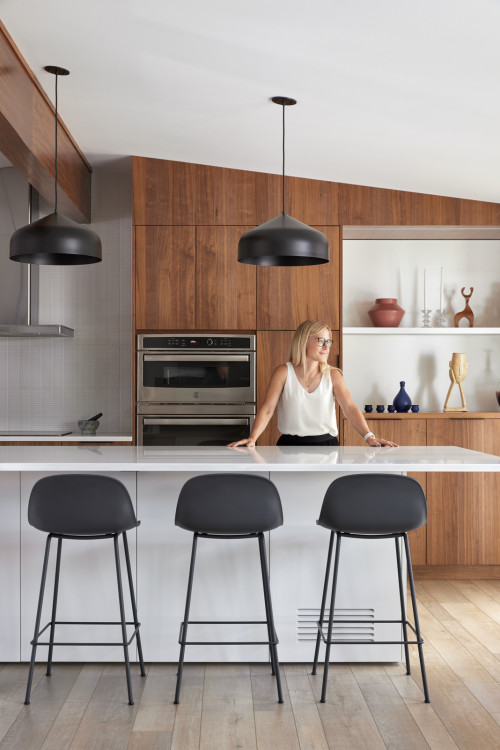 ID# 158713 | Houzz.com – Credit | © Loop Interior Design Inc.
---
Airy Backdrop with Medium-Tone Wood Flat Panels
This mid-century kitchen offers the perfect balance between classic style and modern convenience. Its bright and airy atmosphere is created through the white worktops and tile backsplash while its cozy and welcoming feel is provided by the medium-tone wood flat-panel cabinets. The stainless steel appliances bring an element of contemporary elegance, complemented by the crisp white countertop on the island for added workstations and storage. The light wood floors bring in an inviting, natural touch, providing a pleasing contrast to the kitchen's otherwise cool toned cabinetry and worktops. It's a kitchen that is sure to invoke feelings of comfort and tranquility.
Modern White Kitchen Island
White kitchen islands evoke feelings of cleanliness, sophistication and style. They make an ideal choice for modern kitchens, melding seamlessly into a variety of styles, from traditional to contemporary. Their versatility and understated elegance lend well to a variety of spaces. With so many design options available you're sure to find the perfect white kitchen island for your home.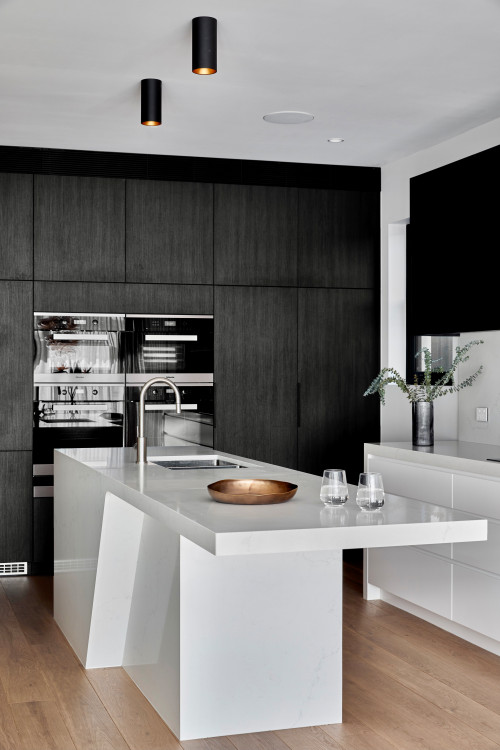 ID# 158714 | Houzz.com – Credit | © LivingLot
---
Modern White Kitchen Island with Black and White Flat Panels
This contemporary kitchen has a sleek and minimalistic design that is sure to bring a sense of warmth and happiness to any home. The white flat-panel cabinets and countertops contrast with the darker black flat-panel uppers and appliances to create a modern look that is both aesthetically pleasing and functional. The medium-tone wood floors add a cozy feel to the already striking monochromatic color scheme. Cooking in this kitchen is sure to feel like a special experience as you take advantage of the abundant storage options and other functional features this space has to offer.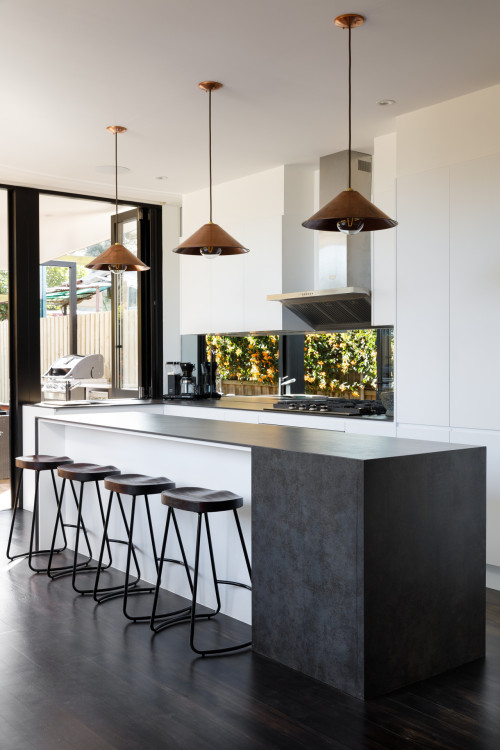 ID# 158715 | Houzz.com – Credit | © Bayside Built
---
Depth and Illusion with a Backsplash for a Contemporary Design
The white flat-panel cabinetry style shines out with contrast due to the dark wood kitchen floors. Of course, the mirror backsplash for gray countertops is the most eye-catching design feature. The white cabinetry design in the kitchen illuminates the dark hues with the refracting light from the backsplash. Moreover, there is illusion and depth.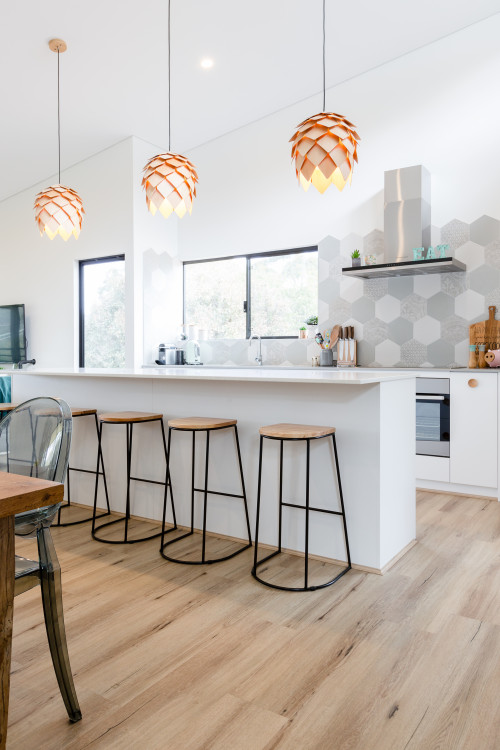 ID# 158716 | Houzz.com – Credit | © IQ Construction
---
Warm and Stylish with a Modern White Kitchen Island
The pleasant mood created by the pendant lighting fixtures over the island is complemented by the sophistication of the hexagonal backsplash tile. The stainless steel appliances balance the natural attractiveness of these with the white flat-panel kitchen cabinets, while the wood textures add a cozy appearance. The modern white kitchen island increases the sleek appeal of the entire kitchen thanks to its straightforward design.
Small White Kitchen Island
A functional and fashionable complement to any kitchen is small white kitchen islands. There are a ton of possibilities available to suit your needs, whether you're dealing with a little amount of room or are merely searching for a useful and lovely piece to enhance your current design. These are just a few suggestions for a small white kitchen island. Think about getting a small, white kitchen island with storage first. A tiny island may provide your kitchen with much-needed storage and a workstation, including shelves, drawers, and a built-in wine rack. It's also a practical method to keep commonly used goods within reach and to exhibit your favorite kitchen accessories.
Second, select a kitchen island in white with a built-in sink. It's ideal to have a sink on your island for cooking and cleaning up, and it's a terrific way to designate a second work area in your kitchen. To finish the aesthetic, use a contemporary sink with a high-arc faucet. Last but not least, if you're after a more traditional appearance, think about getting a small white kitchen island with carved accents or twisted legs. Although yet retaining a clear and straightforward look, these timeless design components give the item intrigue and depth. To finish the design, select a coordinating set of bar stools or seats.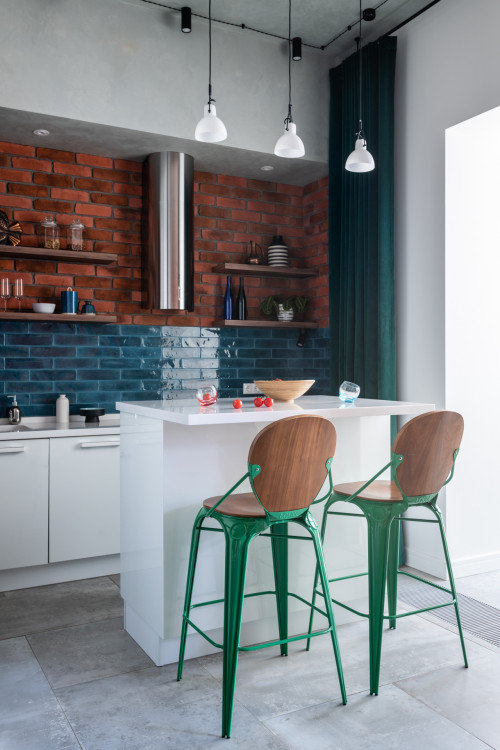 ID# 158717 | Houzz.com – Credit | © Князева Вероника /студия "ProIntDesign"
---
Small White Kitchen Island for an Industrial Design
This industrial style kitchen boasts texture and interest through its high gloss subway tiles and brick backsplash. The white countertops, flat panels and light gray floor tiles all contribute to a unified contemporary look. For extra storage and seating, a white peninsula with green and wood chairs was included. With this added feature, the kitchen is an ideal space for both dining and meal preparation!
Are kitchen islands outdated?
Kitchen islands remain a sought-after component in modern kitchens, not viewed as outdated. Indeed, they have become an integral part of contemporary kitchen design, proving invaluable for extra workspace, storage, and seating. This functional and fashionable element adds a special focus to your kitchen, making it the perfect spot for friends and family to gather.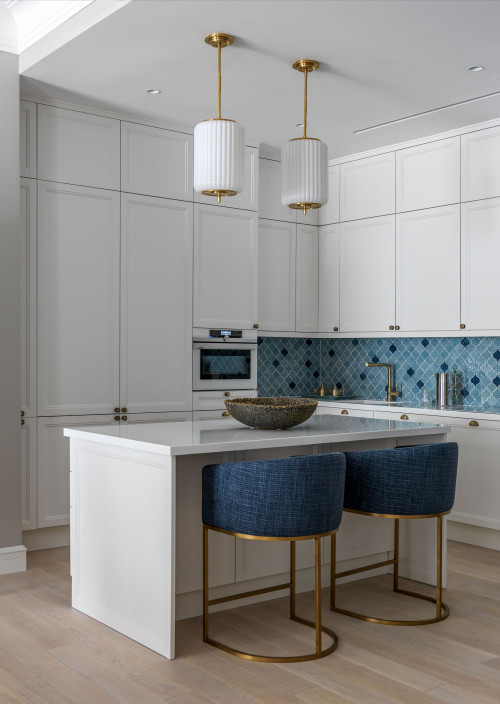 ID# 158719 | Houzz.com – Credit | © Ангелина Аскери / Angelina Askeri Interiors
---
Small White Kitchen Island with White Shaker Cabinets and Brass Accents
The white shaker cabinets get an eye-catching bonus with their blue accents. The light wood kitchen flooring combined with the full height cabinet design provides a sophisticated look. The brass textures and navy blue hues give an elegant contrast, making the kitchen glitzy. The small white kitchen island brings both seating and storage with an elegant flair!
Large White Kitchen Island
A kitchen island can offer an abundance of charm, style and function to a kitchen, one that brings together both friends and family. With a large white kitchen island, you can transform your cooking space into something that radiates beauty and practicality. To spark inspiration, here are some ideas to elevate your kitchen design. A timeless and elegant addition to any kitchen is a white kitchen island with a marble countertop. The contrast between the bright white of the island with the subtle gray veining in the marble creates a stunning visual effect, drawing people to its beauty. It's also durable and heat-resistant, providing a useful workspace for preparing meals.
For a convenient and organized kitchen, create storage and seating areas with your island. Built-in shelves, cabinets and drawers help keep essential items and appliances in check, so your kitchen remains tidy and clutter-free. An added benefit – an island with seating provides a pleasant spot for friends and family to gather and share in conversation.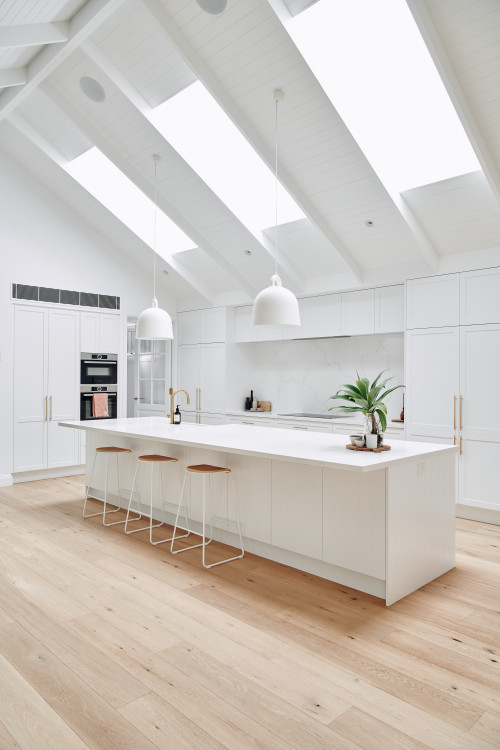 ID# 158720 | Houzz.com – Credit | © BD Building Design
---
Large White Kitchen Island With White Cabinets in a Spacious Kitchen
This kitchen evokes a feeling of luxurious space and sophistication, with its white vaulted ceiling, skylights, and paneled appliances that all complement the soft white shaker cabinets. As you step onto the light wood kitchen floors, you're enveloped by a cozy and refreshing atmosphere. The grand white kitchen island provides a modern, elegant touch that rounds out the cabinets perfectly. Combining these features creates a room with a welcoming, stunning ambiance.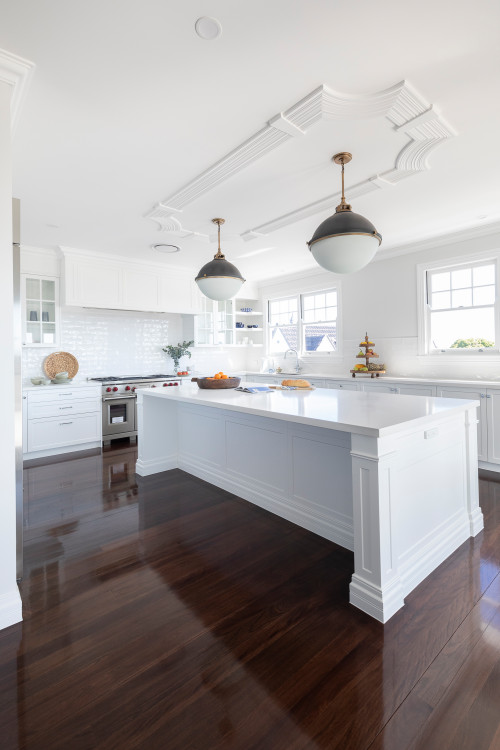 ID# 158721 | Houzz.com – Credit | © Popham Interiors
---
Dark Wood Floors with a Warm Contrast
This transitional kitchen exudes a timeless yet inviting feel, with its classic white shaker cabinets and countertops and white subway tile backsplash. The dark wood floors offer a warming contrast, while the large white kitchen island serves both as ample workspace and a focal point for entertaining and casual dining. The overall aesthetic is clean and elegant, creating a neutral and versatile canvas that can be further enhanced with personalized decor and accessories.
How to design a kitchen with an island?
 Designing a kitchen with an island can be an exciting and fulfilling venture that adds extra flair and convenience to cooking and living. Consider the size and shape of your kitchen, as this will dictate the dimensions and design of the island. Make sure that it is complementary to the size of the kitchen and allows you to traverse with ease around the area. Think pragmatically about the purpose of the island: is it primarily meant for cooking, dining, or storage? This can determine the appliances and materials used for the island. For example, if it's primarily used for cooking, it should be outfitted with a stovetop or sink. If its main purpose is for dining, leave enough seating and space for dishes to be placed.
Additionally, research the style and color scheme of the kitchen and blend the island accordingly. Lastly, pay attention to the lighting, as it's a crucial factor in achieving functionality and atmosphere. With these things in mind, designing a kitchen with an island can be a fulfilling experience that creates a space of joy, comfort, and enjoyment.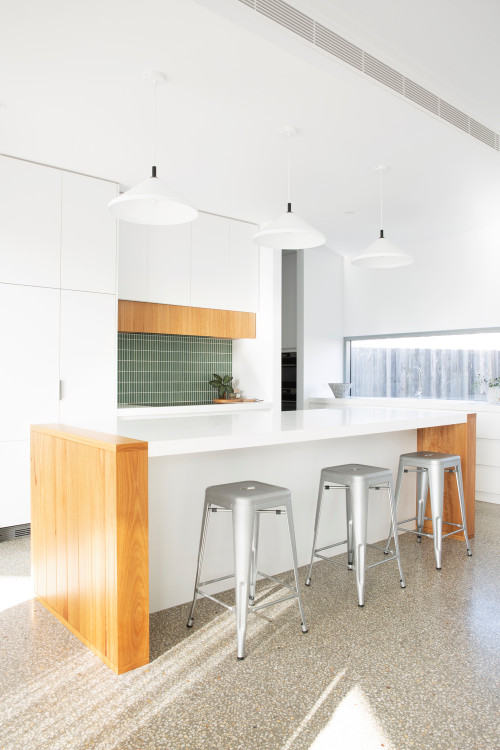 ID# 158722 | Houzz.com – Credit | © Meredith Lee
---
Large White Kitchen Island with Wood and Green Details
This stunning white kitchen features timber accents on the island bench and overhead cupboards, creating a warm and natural touch to the space. The green minimalistic tile backsplash adds a pop of color and interest against the neutral palette of the white flat-panel cabinets and gray floor tiles. The timber details bring a sense of texture and depth to the room, creating a unique and modern aesthetic. This kitchen is perfect for those who want a minimalist yet stylish space that is both functional and beautiful.
White Marble Kitchen Island
Adding a white marble kitchen island can bring a touch of luxury and distinguished style to any kitchen. Attain a timeless and graceful look in the room by utilizing this classic material. We have some ideas to inspire you and your kitchen's design with this stunning island. Embrace its natural beauty as the focal point of the kitchen by keeping the rest of the room neutral in its simplicity. You can start with white cabinets, a white backsplash, and Wooden floors or accents to create a cozy and modern layout.
Alternatively, you can contrast the white marble island with darker hues to make a bold statement. Dark-colored cabinets or a dark backsplash can contrast splendidly with the light marble stone and create a grand space. You can even add a metallic finish like copper or gold to make an alluringly luxurious atmosphere.
Bring in more of a personalized style with a unique marble slab that offers a range of veining and patterns. Get a honed finish for a matte and subtle look or a polished finish for a glossy reflection.
So whatever you choose, the white marble kitchen island addition can deliver a majestic atmosphere filled with comfort and sophistication.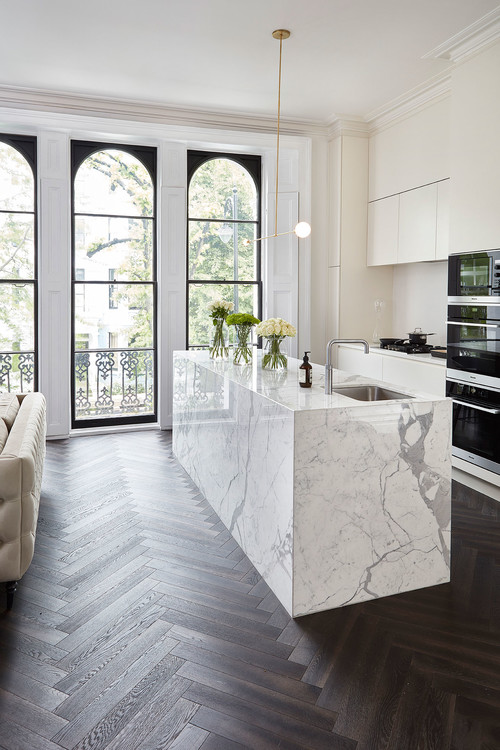 ID# 158723 | Houzz.com – Credit | © Huxley Home Design Group
---
White Marble Kitchen Island for a Contemporary Kitchen
This contemporary kitchen exudes warmth, elegance, sophistication and modernity. The dark wood herringbone flooring amplifies the feeling of welcome and coziness, while the white marble island with gray veins injects an element of high-class and refinement. The white flat-panel cabinets and countertops balance out the look with smoothness and a contemporary edge. To add an exciting contrast, black appliances offer a bold and distinctive feature. This kitchen is perfect for those who are after a glossy feel with comforting touches from the wooden floors.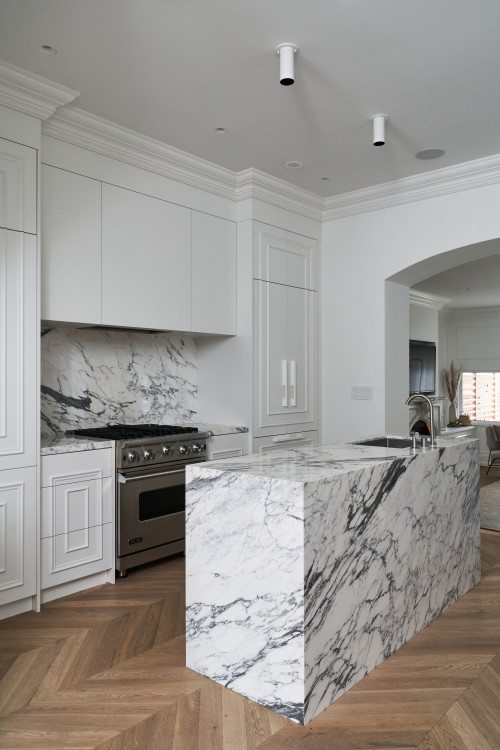 ID# 158724 | Houzz.com – Credit | © Alair Homes Forest Hill
---
Paneled and Stainless Steel Appliances for a Modern Touch
This modern kitchen elicits feelings of elegance and sophistication, boasting an all-white design with white marble countertops and slab backsplash. The stylish paneled stainless steel appliances add a modern flair, while the white marble island functions as a beautiful and practical centerpiece. The warmth and texture created by the medium-tone wood chevron floors blend harmoniously, creating a balanced and inviting atmosphere. For those desiring a clean and contemporary look with a luxurious touch, this luxurious kitchen provides a perfect fit.
What is the best island size?
Considering the size of a kitchen island is an important factor when renovating, it can be quite overwhelming trying to decide which size is best suited to your particular needs and kitchen layout. To help you make a more comfortable decision, a general rule of thumb is that islands typically range anywhere from 3 feet by 5 feet to 4 feet by 8 feet. Really though, it's best to consult with a professional designer or contractor to get an opinion about what size island would work best to complete your desired look.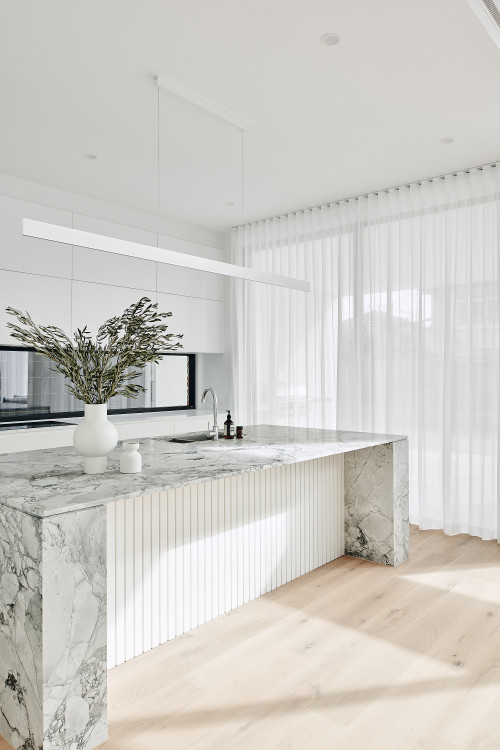 ID# 158725 | Houzz.com – Credit | © Construct Melbourne
---
White Marble Kitchen Island With White Flat Panels
This contemporary kitchen exudes warmth and inventiveness with its light wood floors. The glamorous white marble top island with waterfalls is a stunning centerpiece that brings a luxurious and sophisticated feel to the living space. Further amplified with the flat-panel white cabinets and countertops, the design has a sleek, clean look that is enhanced with the reflective mirror backsplash, creating an incredibly beautiful finish.
White Waterfall Kitchen Island
A white waterfall island can bring a luxurious, modern feel to your kitchen. It's a stunning feature that can truly elevate the design of any room, creating a seamless and sophisticated look. To add a human touch, try contrasting your cabinets with the white waterfall, opting for darker shades for a dramatic feel or lighter shades for a more subtle and unified appeal. Incorporate hardwood to bring warmth and texture to the room, or use metallic accents, such as copper or gold, for a luxurious touch. As the centerpiece of your kitchen, keep the rest of your design simple and neutral to draw attention to the island. For a truly unique look, vary the size and shape of your white waterfall island, from rounded corners to angled edges.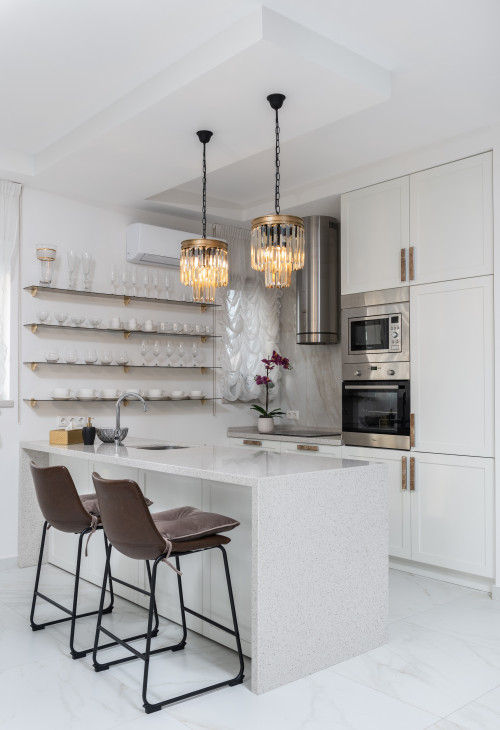 ID# 158726 | Houzz.com – Credit | © Comma Design Studio
---
White Waterfall Kitchen Island with White Shakers and Brass Details
The white shaker cabinets and waterfall kitchen island provide a modern, sleek look that is sure to captivate. Adding warmth and elegance, the brass hardware adds a touch of sophistication to the all-white décor while the glass chandeliers hanging over the peninsula bring a sense of opulence and luxury. Moreover, the open shelf of glass and metal has a unique, modern style while opening up additional storage possibilities and providing a light, airy atmosphere. All in all, the effect of this space is one of grandeur, beauty and magnificence that is sure to stir the heart.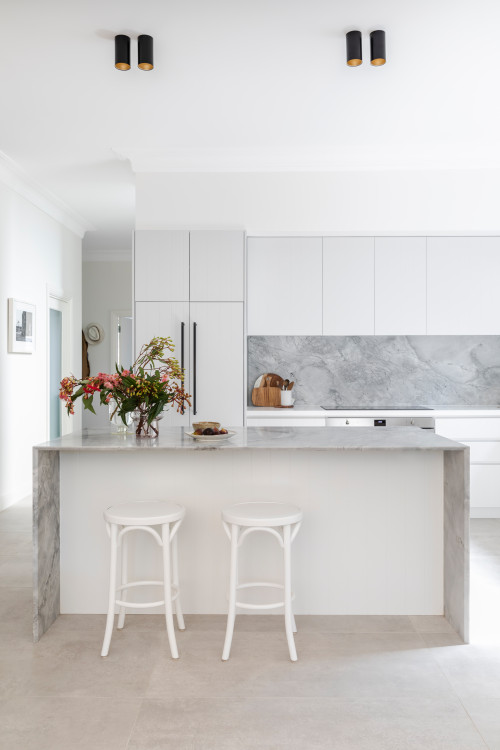 ID# 158727 | Houzz.com – Credit | © Blue Tea Kitchens and Bathrooms
---
Flat Panels and a Dolomite Slab Backsplash with Countertops
The white flat-panel cabinets and light beige floor tiles create a tranquil, soothing atmosphere. The light grey dolomite backsplash and countertops provide a subtle hint of texture and shade, while the white island accompanied by a white-grey dolomite top and a waterfall design adds a modern and stylish touch. This refreshing color palette exudes a bright and welcoming ambiance that elicits feelings of relaxation and peace.
Should kitchen island be darker or lighter than cabinets?
The decision of whether a kitchen island should be darker or lighter than the cabinets surrounding it comes down to opinion and the atmosphere desired in the kitchen. There is no single solution as it is based on individual taste and the atmosphere one wishes to create. Therefore, it is ultimately a matter of personal preference.
ID# 158728 | Houzz.com – Credit | © Екатерина Федорова
---
White Waterfall Kitchen Island with Marble and Gray Cabinets
This kitchen is a cozy, welcoming space, with beautiful light gray and wood cabinetry that creates an elegant contrast with the black appliances. The white marble backsplash, marble countertops and gray and white floor tiles add texture and give the room enchantment. The wood bar seats offer a comfortable spot to enjoy the marble waterfall island, which is the room's gorgeous focal point. We feel inspired and relaxed here, thanks to the materials and colors used to bring together this sophisticated yet practical kitchen.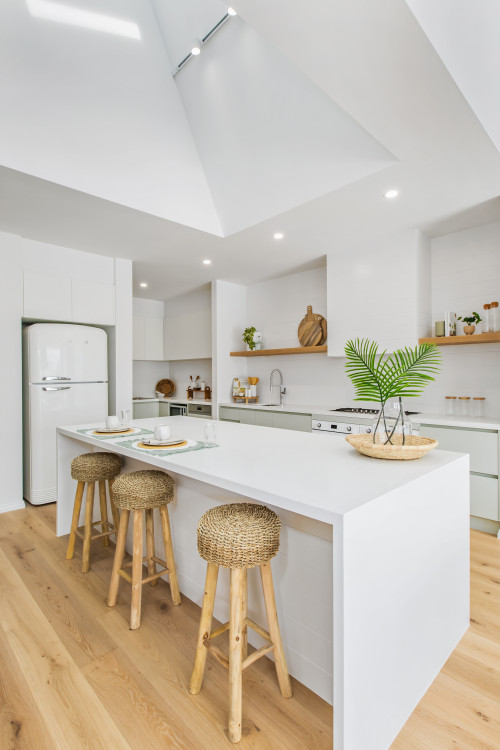 ID# 158729 | Houzz.com – Credit | © Oak Living
---
Beachy Vibes with a Vaulted Ceiling
This beachy kitchen seems clean and modern because of its all-white color scheme. The white vaulted ceiling, waterfall island, worktops, and appliances provide a coherent and airy image. The light wood floors and woven stools for the island give warmth and texture while separating the expanse of white to generate visual interest. The white walls, which continue the theme, make the space appear spacious and light. This kitchen is the perfect example of how to use a monochromatic color scheme to create a stylish and well-balanced design. The island's light wood braided stools are a great touch that gives the space an organic vibe.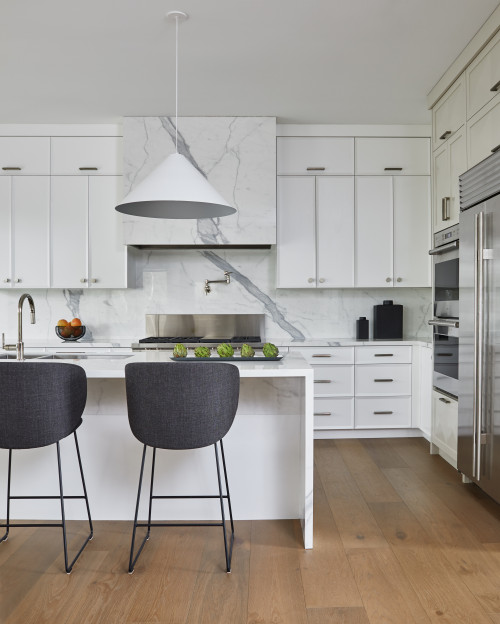 ID# 158730 | Houzz.com – Credit | © Madison Taylor
---
Contemporary Style with a White Waterfall Kitchen Island
This all-white kitchen radiates an extravagant and sophisticated look with light and dark accents that warm the heart and evoke a feeling of luxury! The clean and contemporary finish, provided by the white cabinets and chrome hardware, complements the beautiful marble slab backsplash and countertop, also adding a sense of opulence.