20+ Backsplash for Dark Cabinets and Light Countertops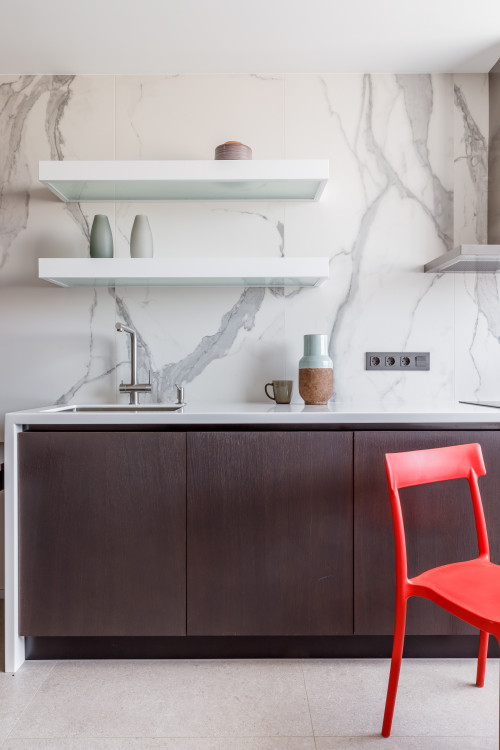 ID# 152709 | Houzz.com – Credit | © MAKEdesign
---
Dramatic Marble Backsplash with Floating Shelves and Wood Cabinets
The refined and minimalist design of this kitchen is packed with style and character. From the dramatic marble backsplash to wood cabinets, and floating shelves, each element preserves its individuality. The white countertop falling over the edges of wood cabinets creates a waterfall effect. The backsplash taken up to the ceiling exposes its brownish veining. The red stool brings a playful and contemporary twist, waking up this otherwise too-calm kitchen design. Yet, it doesn't break up the visual integrity of the kitchen. Rather, it adds to the assertive character of the room.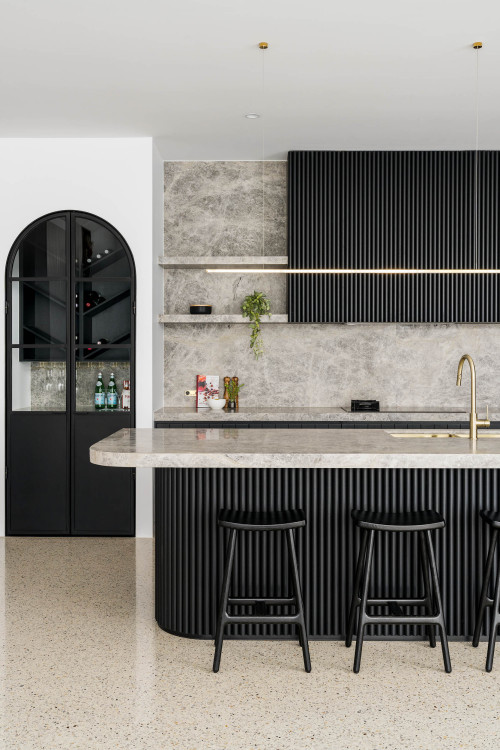 ID# 152716 | Houzz.com – Credit | © First Avenue Homes
---
Marble Slab Backsplash with Curved Island and Black Cabinets
Inside this kitchen, the juxtaposition of gray and black results in a very memorable design supported by curved forms and fluted design panels. The sophisticated materiality builds on the existing narrative, which finds a body in the gray marble backsplash and countertops. Also used to top the curved island, it creates visual cohesion throughout. In a similar way, the fluted design of the black island finds correspondence in the fluted range hood fixture. Likewise, the curved form of the island resonates with the arch-shaped niche fitted with a custom-built cabinet serving as a dry bar. These tiny details add to the luxurious feel of the room, along with a rosy gold linear lighting fixture and tapware. For one final touch, the speckled-finish concrete floor spreads across the kitchen, creating a seamless coating. As such, it matches the marble slab splash-back, providing the kitchen with a sleek profile.
Backsplash for Dark Cabinets and Light Countertops
Backsplashes are workhorses of kitchens. They not only protect walls from grease, dirt, and water splashes but also add value to a kitchen aesthetic. That's why when choosing a backsplash, it is important to take notice of the surrounding pieces of furniture. This way, you can get your backsplash suited to the overall design theme. Given that one of the most popular design themes is dark cabinets with light countertops, choosing a backsplash for dark cabinets and light countertops is a very concerning topic.
And this very common design theme that engages with dark and light shades ensures timelessness and gives your kitchen a classical finish. But how do you complete it? With a surge of vibrant hue? Or something that is as resilient as dark cabinets with light countertops. A backsplash for dark cabinets and light countertops could come in a wide range of looks. In this round-up, we have compiled design projects that focus on backsplash ideas for dark cabinets and light countertops. Keep reading to find a design project that suits your taste and kitchen.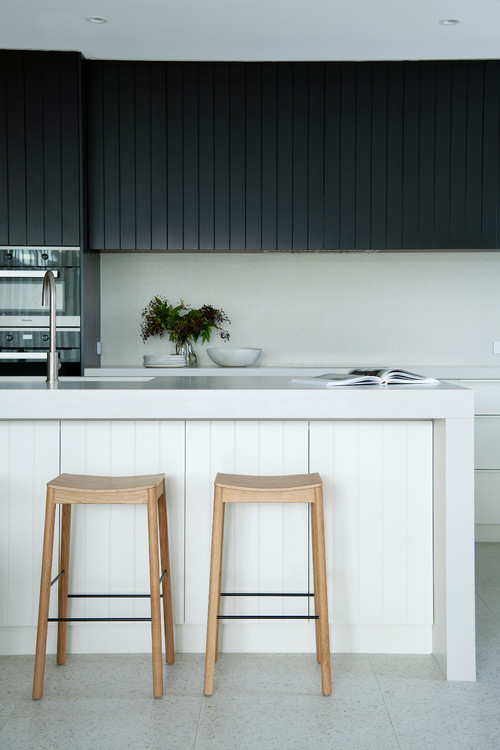 ID# 152701 | Houzz.com – Credit | © David Wilkes Design
---
White Backsplash for Dark Cabinets and Light Countertops
A contrasting color scheme and textured surfaces take precedence in this contemporary kitchen design. In doing so, they also subvert a general rule of thumb of color coordination. Though the dark cabinets are casually used as base counters to anchor the look, here they come as overhead units. So, right from the very start, this kitchen signs itself up for a more authentic look. The white base counters with black wall units coordinate harmoniously. The beadboard panels of the upper cupboards and the island's base add movement while staying loyal to the restrained architectural approach. The minimalism remains evident in the color palette and decluttered lines defining the kitchen. And the white backsplash supports this union by keeping itself simple and subtle like the rest of the design.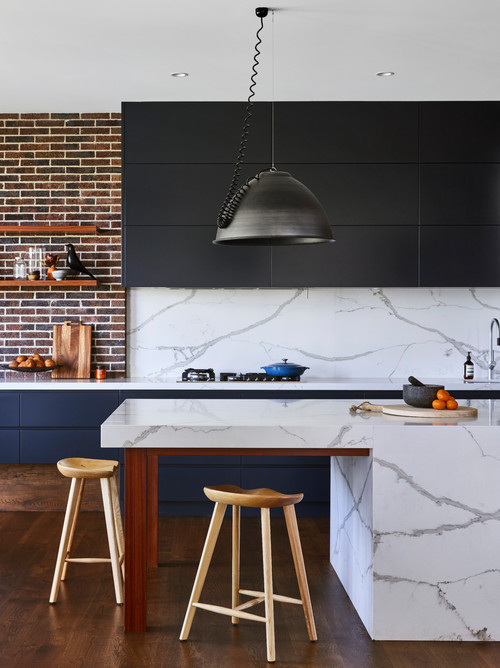 ID# 152702 | Houzz.com – Credit | © Smartstone | Quartz Benchtops, Engineered Stone
---
White Quartz Slab Backsplash with Brick Feature Wall and Dark Blue Cabinets
Designed to serve as a "family home," this contemporary kitchen champions natural and textured finishes to create a smoother transition between inside and out. This design goal explains the juxtaposition of the brick feature wall, marble-effect quartz slab backsplash, and wood accents employed to fulfill this aim.
The second target of creating a functional and family-oriented space finds embodiment in the oversized kitchen island. Clad in quartz to match the backsplash, it creates a social hub for family members to gather around. Thirdly, the color scheme is studied to offer a cohesive design for homeowners. And it explains the coordination of dark blue cabinets and black wall units to resonate with the brick wall color-wise.
Should the backsplash be lighter or darker than the cabinets?
As a general rule of thumb, cabinets are generally darker than backsplashes to serve as an anchor. Also, keeping the backsplash lighter helps create a better-lit and safer food preparation zone. But this doesn't mean that you always have to follow it as a design rule. Many kitchen designs prefer to go with opposite color coordination. And as long as your kitchen receives enough sunlight or has a good lighting system, you can also go with a dark backsplash. Under-cabinet spotlights or LED-strip lighting could be a solution to further illuminate benchtops.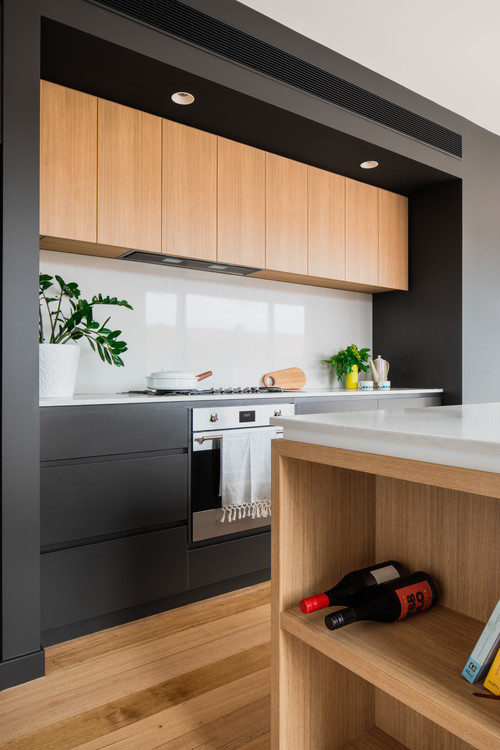 ID# 152703 | Houzz.com – Credit | © Architected
---
White Glass Sheet Backsplash with Dark Cabinets and White Countertops
A glass sheet backsplash is a way to incorporate a contemporary flair and make for a practical design. Seamless and grout-free, a glass sheet provides an easy-to-clean surface. Plus, it is eco-friendly and durable in addition to its high aesthetic value. That's why it wouldn't be surprising if we start seeing them more often. Here, for example, it teams up with dark cabinets and white countertops. With the integration of this beautiful shiny material, the kitchen brings dark and white shades to balance. The wood wall units, on the other side, let homeowners enjoy warmth, texture, and intimacy. They also offset the contrasting color scheme, along with the kitchen plants stylizing the countertop.
What backsplash looks best with dark cabinets?
Light-colored backsplashes create a well-balanced look with dark cabinets. White, off-white, gray, and light gray are very popular backsplash colors with dark cabinets. Those who love strong colors can consider red, yellow, pink, and orange backsplashes. These splash-backs offer limitless design options with dark cabinets, giving them an entertaining vibe.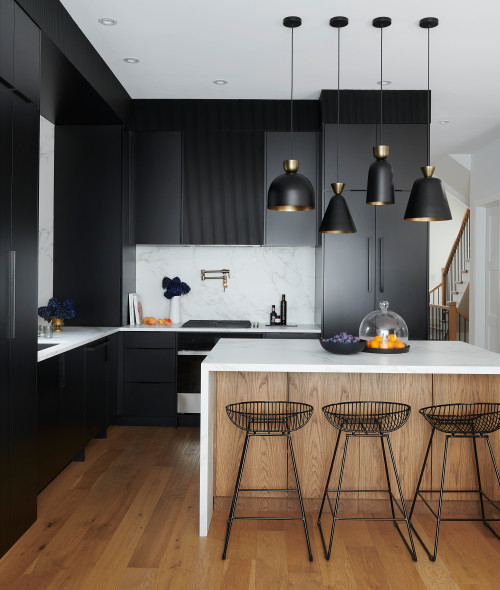 ID# 152704 | Houzz.com – Credit | © avenue design inc
---
Marble Slab Backsplash with Black Cabinets and Waterfall Island
Using a marble slab backsplash is a recurring element in designs with dark cabinets and light countertops. And this kitchen is no exception. Here, featuring gentle veining, a white marble slab stands out as a statement maker. It is gently accompanied by black flat-front cabinets that anchor it to the room. The white quartz countertops, by contrast, brighten it up to prevent the kitchen from looking too dark or claustrophobic. Likewise, the waterfall island adds a sense of flow. And its wooden base brings in a warming touch that offsets the striking contrasting scheme. Not to mention the black fluted design range hood fixture, whose fluted look is continued on the top of the counters. It gives the design a cohesive look. Finally, rounding up the design is a set of variously shaped lighting fixtures and wire stools.
Backsplash Color Options for Dark Cabinets and Light Countertops
When deciding on a backsplash color for dark cabinets and light countertops, there is one main thing you need to consider. Do you want to keep it calm and neutral? Or do you want something more colorful that energizes the kitchen instantly? If you fall into the former category, white, black, and gray backsplashes would serve as better options for you. They keep the backdrop neutral, ensuring timelessness. But if you are fond of colors, getting a bold-colored or even patterned backsplash could make a drastic change. You can borrow pink, yellow, green, and blue from the color wheel to make your backsplash pop truly.
White Backsplash for Dark Cabinets and Light Countertops
White backsplashes can make any space feel more spacious and brighter, which makes them suitablle for dark cabinets. Whether it is a white marble slab, ceramic tile splash-back, or a glass sheet, a white backsplash is ready to make a big impact on a kitchen's aesthetic. To make it extra shine, give it a polished finish. This way, it can also play with natural light more effortlessly.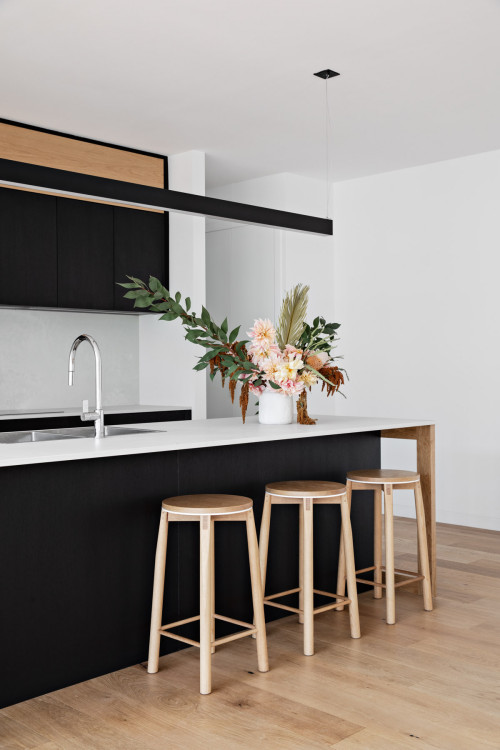 ID# 152705 | Houzz.com – Credit
---
White Backsplash for Dark Cabinets and Light Countertops
This contemporary kitchen is well-appointed with black cabinets and a white solid stone backsplash which blend seamlessly, achieving a harmonious whole. The white countertops with the backsplash offer enough light for the dark cabinets. And the wood accents and timber stools bring just the right amount of warmth and texture. Creating an intimate cooking space, these wood applications also continue on the floor design. The kitchen island runs parallel to the perimeter counters, extending the benchtop and storage options of the kitchen. Overhead, a linear lighting fixture overhangs the island, bringing a minimal touch. The chrome tapware and integrated sink add to the sleek profile of the kitchen.
Should the backsplash match cabinets or counter?
One of the biggest concerns in home design is whether backsplashes should match cabinets or counters. Well, there is no rule of thumb stressing that cabinets and backsplashes should match. If you love monochromatic looks, surely you can match backsplashes with counters. But they can also feature contrasting colors and shades that are on opposite seats of a color wheel.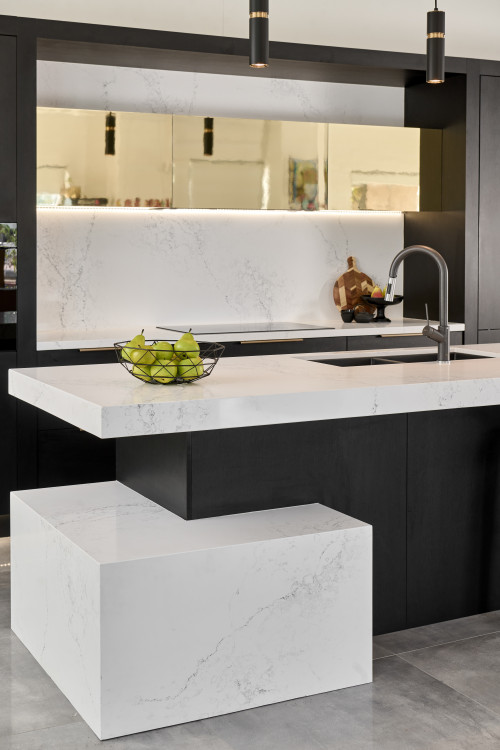 ID# 152706 | Houzz.com – Credit | © Joyce Kitchens
---
White Slab Backsplash with Cantilevered Island and Black Cabinets
Living up to its potential to the fullest, this contemporary kitchen knows how to tie together statement elements. Here, first, the mirrored cabinets come as flash elements that incorporate lightness and brightness, ushering visual interest. Secondly, the striated white backsplash and countertop support this brightness, bringing a calming contrast to the black cabinets. The cantilevered island with its intriguing form adds another focal point, capturing the gist of contemporary designs.
Should the backsplash be the same color as the countertop?
Matching your backsplash with your countertop creates a seamless and continuous look that embeds visual integrity. But you don't necessarily have to match them. They can feature contrasting shades or two neutral shades. Or even better, you can go with butcher block countertops for warmth. Or a multi-colored backsplash can pair with white countertops. How you should be designing, indeed, depends on your imagination and what kind of look you aim for.
Counter-splash-ing, in which the backsplash is made of the same material as the countertop is a popular design trend. And it especially suits natural stone backsplashes such as marble and quartzite.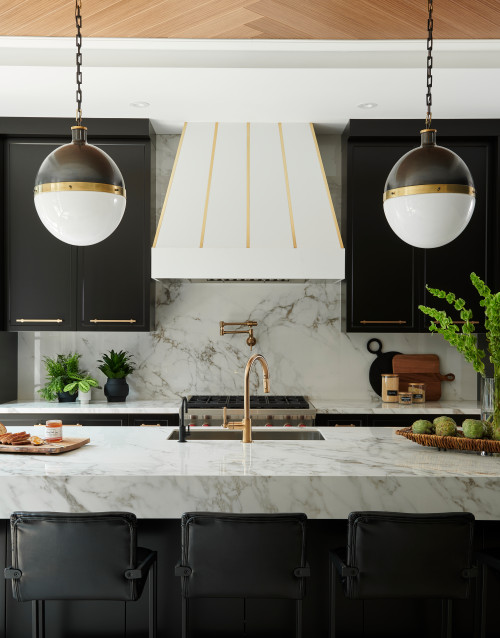 ID# 152707 | Houzz.com – Credit | © Jodie Rosen Design
---
Marble Backsplash for Dark Cabinets and Light Countertops
This dramatic contemporary kitchen accommodates flat-front black cabinets paired with a white marble backsplash. Employing a counter-splashing technique, it also goes with marble countertops that are an exact match to the backsplash. This way, it creates a continuous and cohesive design, while marble serves as the centerpiece. To complement them, the white range hood fixture with gold accents adds luxury. The orb lighting fixtures tap into the spirit of mid-century kitchen designs, exposing kitchen users to nostalgia.
What is the most popular backsplash in 2023?
From dramatic natural stones to eco-friendly materials, organic forms textured tiles, and mixed material backsplashes, trending backsplash styles in 2023 are various. Yet their overall aim is almost the same. They aim to bring nature, create a sustainable design, and energize their users with colorful and bold patterned backsplashes.
Additionally, classic finishes like porcelain and ceramics also take their place among the on-trend backsplashes in 2023. Especially you can get their geometric tile backsplashes. They both give your kitchen a quick contemporary upgrade and offer a practical option. Easy to clean and maintain, they are also heat resistant.
Another popular design option is achieved by a mix-and-match method. So, feel free to use two different backsplash tiles. Whether your purpose is to accentuate the stove or some other kitchen station, go with a bold patterned backsplash.
In addition to those, glossy tiles are ready to encourage your kitchen to feel more spacious and brighter. You can give them a chance in 2023 because they are trending too.
In the nutshell, 2023 is the year to play with patterns and entertain your space, enjoying the design process and pushing the boundaries of your imagination.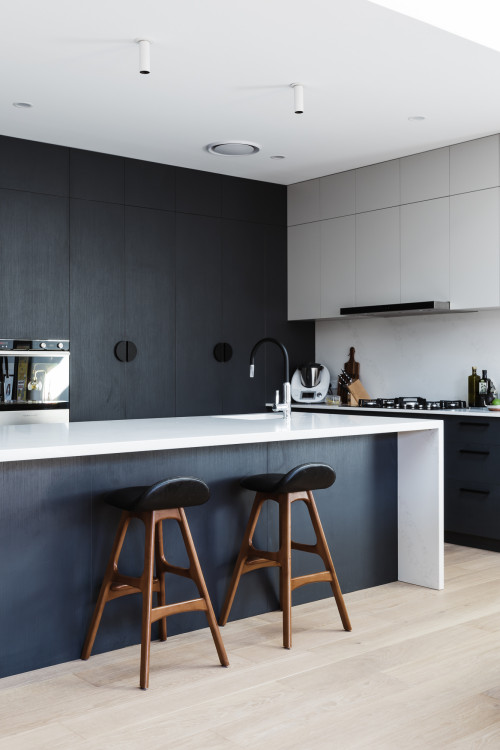 ID# 152708 | Houzz.com – Credit | © Coswick
---
Contemporary Kitchen with Waterfall Island and Two-Tone Cabinets
The juxtaposition of black and white divides this kitchen zone into different stations, creating a two-tone effect. For example, while the full-height cabinets come in black, the cooking zone features white upper units and black base counters. Such color switches prevent the kitchen from looking too monotonic, even though the kitchen uses only two neutral colors. And to stay loyal to the main color palette, the waterfall island mirrors the perimeter counters. While doing so, it also brings a sense of flow with its countertop falling over the edges. Ultra-modern low-back stools team up with the island, turning it into a social hub to gather around with friends. To avoid visual clutter overhead, the pendants are traded with simple yet efficient LED lighting fixtures.
Should my backsplash be shiny or matte?
Depending on the look you aim for, you can choose a shiny or matte finish. Let us get you started on how to approach it.
First, do you prefer a luxe or more natural look? Shiny or polished backsplashes, for example, give the kitchen a clean and crisp look. A matte finish, by contrast, has a more natural finish.
Secondly, in functional terms, a shiny backsplash is much easier to clean, thanks to its polished smooth surface. Yet, for the same reason, it is not good at hiding fingerprints or watermarks. Unlike shiny backsplashes, matte finish ones are better at hiding water stains and fingerprints. But they are harder to clean due to the honed finish, which is even obvious when you have a textured material like a natural stone.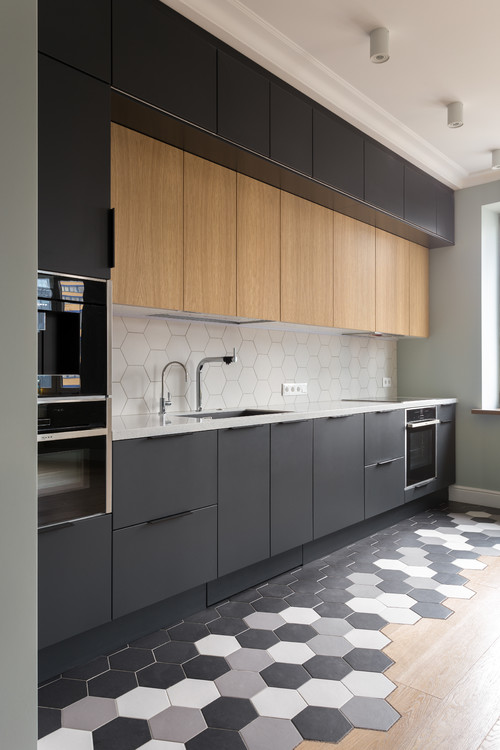 ID# 152710 | Houzz.com – Credit | © PUUSTELLI MOSCOW
---
Hexagon Tile Backsplash for Dark Cabinets and Light Countertops
This I-shaped contemporary kitchen boasts a combination of wood and dark cabinetry with white countertops. And a white hexagon tile backsplash complements them, introducing a biophilic pattern. For the floor design, this kitchen, again, uses hexagon tiles. Yet, this time, they create an ombre effect, layering the engineered wood flooring and protecting it from water splashes. Overall, the final product is well-balanced and feels visually integrated with a designer look.
Black Backsplash for Dark Cabinets and Light Countertops
Dramatic and opulent, black backsplashes are ready to contribute to the upscale feel of the room. To create a clean and crisp backdrop, you can treat them with a polished finish. When combined with light gray countertops and dark cabinets, they provide you with a solid and assertive design. With a few golden touches or metallic accents, you can also make the design extra charming.
As for backsplash materials, black marble slabs, black glass sheets, and beveled subway tiles make for eye-catching backsplashes. If you want to emphasize the black backsplash, pair it with a white quartz countertop. It, in turn, brightens up the kitchen instantly and drastically.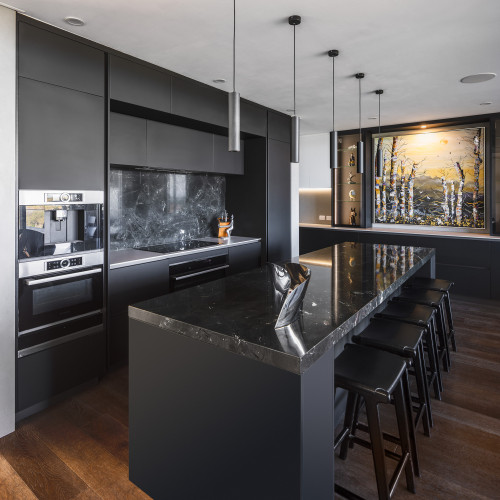 ID# 152711 | Houzz.com – Credit | © Retreat Design
---
Black Backsplash for Dark Cabinets and Light Countertops
Dressed in black from top to toe, this contemporary kitchen features a galley-style layout supported by a kitchen island. The sophisticated materiality and the complementary finishes of matte and polished are enough to give the kitchen a sense of life despite its dark color scheme. First, the dark marble backsplash with feathery white veining allows kitchen users to immerse themselves in luxury. And the polished finish allows lights to bounce around the room, softening the marble's dark shade with light gray countertops. Opposite the perimeter counters is the kitchen island topped by a marble countertop. It is wide enough to accommodate five stools and is illuminated by LED stick pendants. Lastly, what envelops this kitchen with a sense of warmth is the medium-dark wood flooring and a painted winter landscape.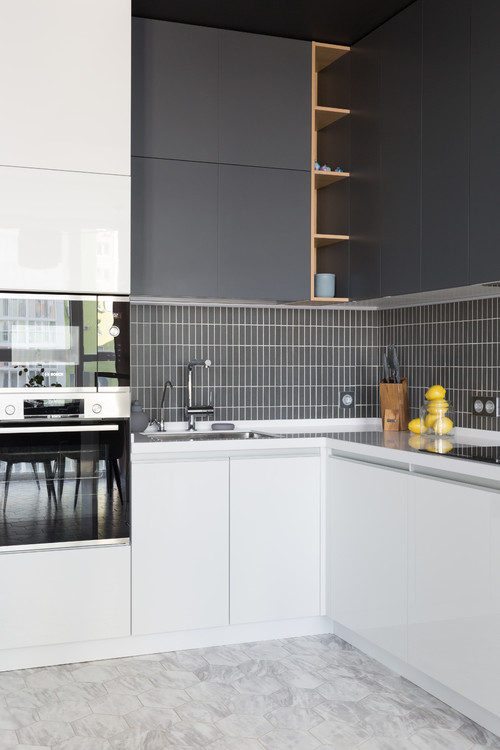 ID# 152712 | Houzz.com – Credit | © Re-PIN
---
Kit Kat Tile Backsplash with White Grout and White Countertops
This Scandinavian kitchen prefers to capture a two-toned effect with a combination of white and black flat-panel cabinets. And to accompany them, it creates a backsplash design that resonates with both. Consisting of black kit kat tiles, this backsplash features white grout that gives a better definition to the tiles. The white countertops and white gloss finish cabinets lighten up the interior for a sense of balance. The wood accents of the cabinet shelf bring visual interest. The grayish-white marble hexagon pattern floor tiles introduce an organic form, fulfilling all the premises of a Scandinavian kitchen.
What is the most timeless kitchen backsplash?
Natural stone, particularly marble, is the most timeless kitchen backsplash. Its dramatic veining or gentle striations and color options make it an excellent backsplash material. From white to green, you find it in many colors. And whether you want one that is more dramatic or calmer, again, you have many options to choose from.
In addition to its high aesthetic value, marble is also a durable material. And as long as it is maintained properly and sealed regularly, it ensures durability. Also, since it is heat resistant, it can be installed behind stoves.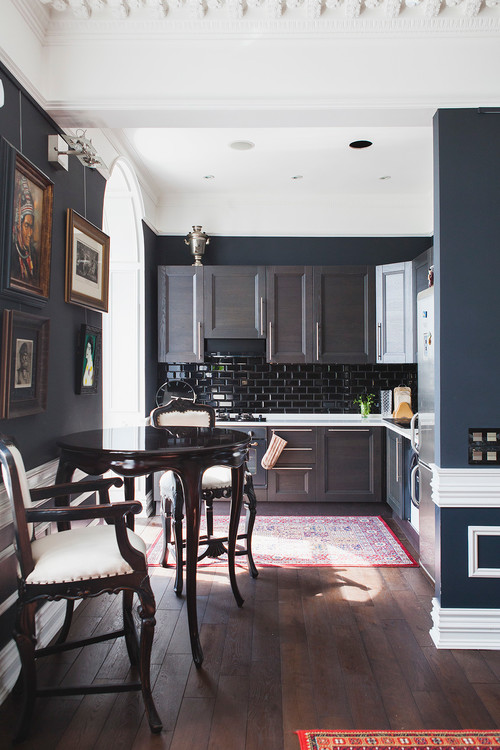 ID# 152713 | Houzz.com – Credit | © Yuri Grishko
---
Black Subway Tile Backsplash with Black Cabinets and White Countertops
Blessed with an arched window that bathes the room in sunlight, this open-plan traditional kitchen is nestled in a corner. It is outfitted with matte black cabinets, a black backsplash, and white quartz countertops. This contrasting scheme creates an immersive and effective palette for this kitchen that feels dramatic at the same time. The polished finish on the black subway tiles adds to the dramatic kitchen theme. And the red and pattern-rich carpet gives the kitchen a traditional spin. As users move further away from this cooking zone toward the lounge, a gallery wall presents a regal greeting. With plenty of wall-mounted paintings put on display on this wall, the kitchen deepens its artistic mood. A classical finish dining table placed next to this wall allows kitchen users to enjoy this artsy asset of the room.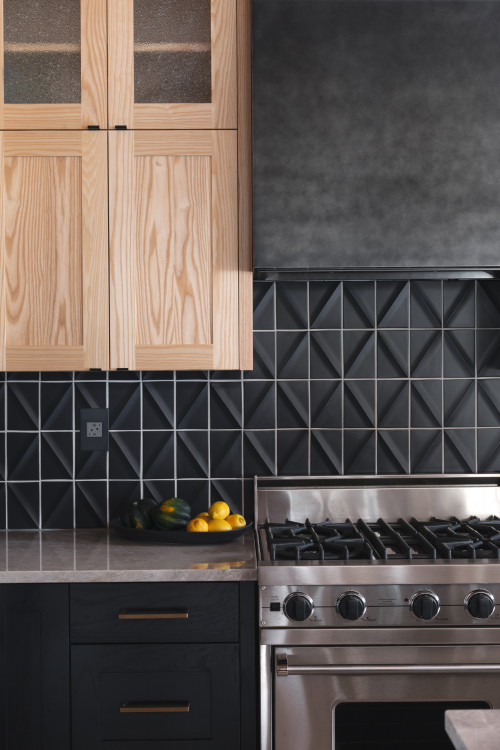 ID# 152714 | Houzz.com – Credit | © Knight Custom Homes
---
Black Diamond Pattern Backsplash with Gray Countertops and Black Cabinets
Here we have a modern kitchen with a dark color palette where a diamond pattern backsplash ensures to give the kitchen a little bit of pattern and dynamic. In the rest, the black flat-front cabinets topped by gray granite countertops create a decluttered and sleek profile. The bronze cabinet handles add tiny gestures and metallic accents to soften the black cabinets. Likewise, the light wood wall unit adds a touch of warmth, bringing a rustic flair. And it does so without sacrificing the modern character of the kitchen. Rather, it enriches the color and material palette of the otherwise too-black kitchen design. Also, stainless steel appliances perfectly matched the modern vibe of the design.
Gray Backsplash for Dark Cabinets and Light Countertops
If you want to avoid a white backsplash but still want something that feels visually lightweight, consider a gray backsplash. A gray glass tile backsplash, marble slab, or ceramic tiles could make a fantastic addition to dark cabinets and light countertops. You can complement a gray backsplash with metalllic accents. And to bring a sense of life, kitchen plants and flowers are more than enough to make a drastic change.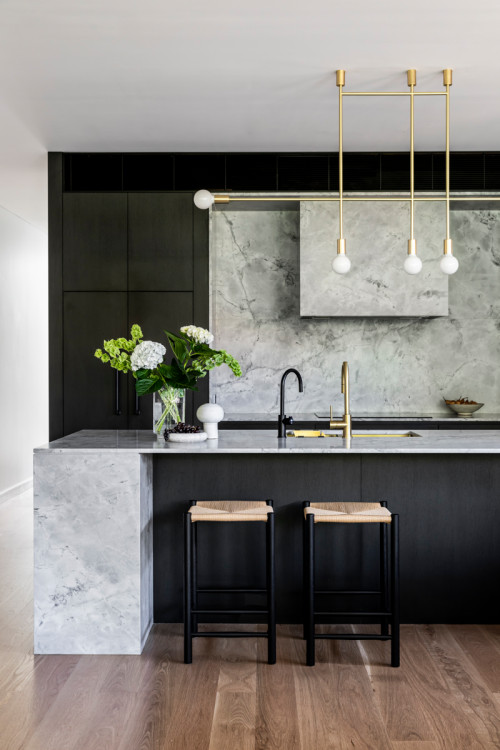 ID# 152715 | Houzz.com – Credit | © onefour interiors
---
Gray Backsplash for Dark Cabinets and Light Countertops
A bold approach, when it comes to materiality, is sometimes a necessity to ensure a sophisticated and luxe feel- as showcased by this kitchen. Here, the gray marble backsplash brings depth and intrigue with a subtle hint of shade. Its slab format provides a seamless look, incorporating a distinct opulence. Enveloped with dark cabinets, it supports a gloomy and distant atmosphere without losing its approachability. The statement island with its marble-clad countertops and column oozes a sense of quirkiness. Overhead, the rosy gold-tinged lighting fixture presents itself as a simple and basic lighting fixture. It mediates somewhere between industrial and mid-century-modern, feeling saturated in a contemporary context. To complement the design aesthetic, flowers bring a breath of fresh air and lots of green. This way, the kitchen comes back to life, which is supported by engineered wood flooring.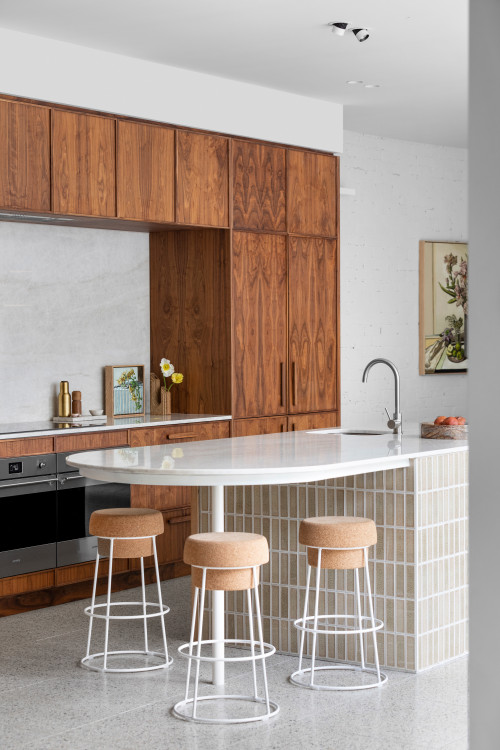 ID# 152717 | Houzz.com – Credit | © BuildHer Collective
---
Dark Walnut Cabinets with Gray Backsplash and Tiled Island
Paying homage to the 70s design, this contemporary kitchen honors the dark wood cabinets with a gray marble backsplash. The former features flat-front cabinets and the latter comes in a polished slab format. Together they give a smooth and soft definition to the kitchen, layering it with warmth and texture. The white thin countertops further the genteel atmosphere within the room. The curved island, on the other hand, is tiled in light beige subway tiles. The tiles stacked vertically elongate the island on the vertical axis, giving it a clean and neat look. The backless stools reminiscent of cork stoppers add a fun element to the island. And beneath them, the lightly speckled floor finish makes the design even more interesting and inviting.
Colorful Backsplash for Dark Cabinets and Light Countertops
Bored of neutral color schemes? Then why not go with a colorful backsplash for dark cabinets and light countertops? Today's market offers a wide range of colorful backsplash options that come in different patterns, designs, and styles. If you have a favorite color, for example, you can go with a vibrant saturation of it.
Additionally, it is also important to keep in mind that each color brings a specific mood. For example, while blue suggests calmness and serenity, yellow is associated with cheerfulness. Red is related to passion, and green brings wisdom and nature to any space. Thus, when deciding on the color, first, decide what kind of mood you aim for your kitchen.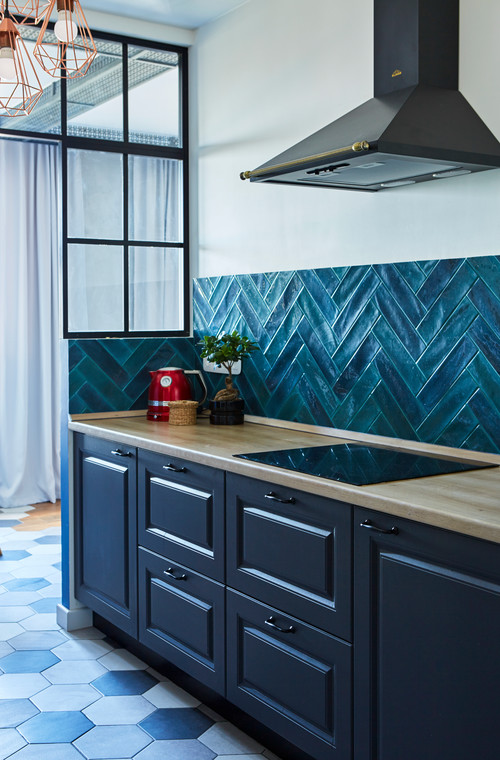 ID# 152718 | Houzz.com – Credit | © Creative Home
---
Colorful Backsplash for Dark Cabinets and Light Countertops
Peeking out behind the gridded glass panel, this contemporary kitchen awaits its users 24/7 with its energizing color and pattern scheme. Mainly defined by hexagons and herringbones, it proposes a fun profile abounding in geometric forms. First, taken only halfway up from the countertop, the blue ceramic herringbone tile backsplash creates an intriguing effect on the wall. Not to overwhelm the kitchen and cause blue poisoning, the rest of the wall comes in shades of white. Kept bare, the white top wall leaves enough room for open space. Below, the dark kitchen cabinets topped by butcher block countertops complement the blue backsplash. While the dark cabinets ground the look, light wood countertops bring a calming contrast.
And finally, on the floor, the multi-colored and large-format hexagon tiles sprawl out, continuing toward the dining area. It, in turn, helps establish visual integrity, which is supported by the cased opening.
How can I brighten my kitchen with dark cabinets?
If you want to brighten your kitchen with dark cabinets, there are several design tricks you can employ. From backsplash styles to a good-planned lighting system, and metallic accents, you can play with different elements. Be it tiny or big, any change could make a huge difference.
To start with, a backsplash is one of the key features to lighten up dark cabinets. Light-colored tiles, glass sheets, metal sheets, glass tiles of any color, white natural stones, polished tiles, and mirror backsplashes are some of the strategic backsplash options. Thanks to their reflective surface, they can make the room feel brighter easily. Plus, for a change, you can use a window as your backsplash. You can also trade upper cabinets with a light-colored ceiling-height backsplash. That would easily compensate for dark base counters.
Creative Lighting Fixtures
Secondly, a good-lighting system is important to provide enough ambient, task, and accent lighting. And one great way to lighten up dark cabinets is to integrate under-cabinet lighting. Also, in case there are display cabinets in the kitchen, they can also be provided with interior cabinet spotlights or LED-strip lighting. If you wish, you can even consider getting lamps for the countertop. They can also add a stylish gesture to a kitchen aesthetic.
Thirdly, metallic accents and shiny appliances come with sparkling surfaces, engaging with natural light. The same goes for little mirrors that can be used to punctuate the design. Also, introduce pops of colors that wake up the room right away. Lighting fixtures, stools, and accessories are the best ways to make that happen. Plus, when you get bored, you can easily change them with new ones.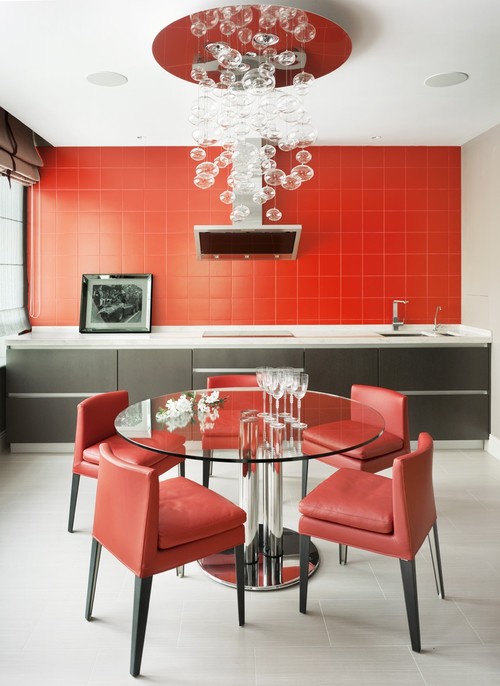 ID# 152719 | Houzz.com – Credit | © Atria Magna
---
Red Backsplash with Dark Cabinets and White Countertops
This kitchen design looks as if it jumped out of a film. Awash with red, it is complemented with dark and white shades to achieve a sense of balance. First, the background is characterized by a red square tile backsplash. Taken up to the ceiling, it provides a dynamic color scale. The black cabinets and white countertops as neutral shades soften it, calming the surge of red down. Yet, the designers don't end the design there, bringing a fun twist to the kitchen with a lighting fixture. This modern chandelier consists of bubble-like shades rather than crystals, creating a unique visual focal point. Nestled under this statement fixture, the glass rounded table top paired with red upholstered stools makes for a stylish seating spot to enjoy dinner.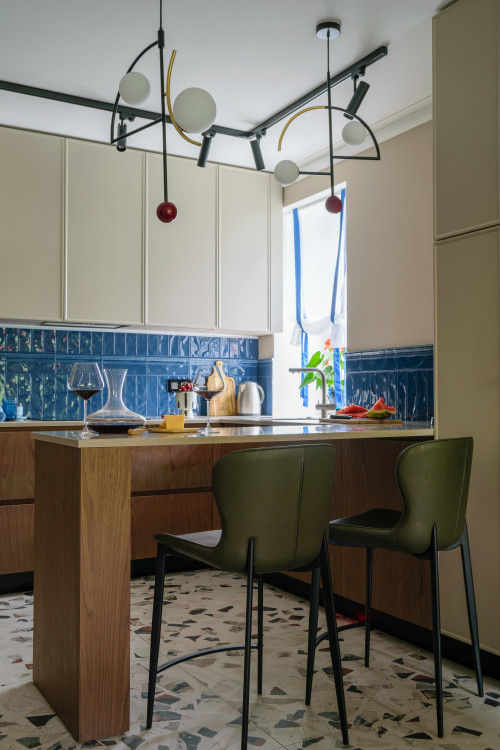 ID# 152720 | Houzz.com – Credit | © Galina Goliney
---
Blue Backsplash with Terrazzo Floor and Cream Cabinets
This transitional kitchen is one of the great examples of the cross-pollination of contemporary and traditional designs. For example, while the wood base counters mingle with light cream wall units, they create a warm atmosphere reminiscent of old country houses. By contrast, the vibrant blue backsplash comes as an unexpected element that defies all formulations of kitchen design. Consisting of vertically stacked subway tiles, this backsplash brings a contemporary voice. Also, treated with a polished finish that further emphasizes it, it serves as the showstopper of this kitchen.
Additionally, the green stools paired with a wood peninsula are turned into another visual point with eye-catching geometric lighting fixtures. On the floor, the terrazzo floor coating is dotted with large chips of various colors that resonate with the color scheme. Overall, the final product feels design-conscious, presenting a harmonious whole with a fun twist.