30+ Marble Slab Backsplash Ideas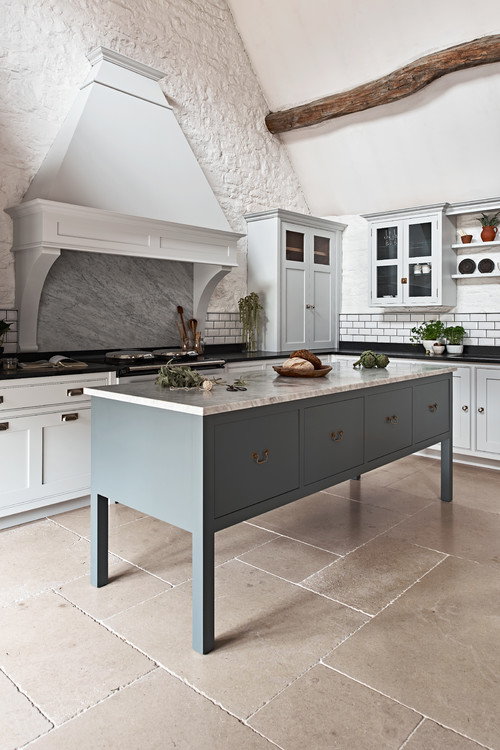 ID# 139821 | Houzz.com – Credit | © Cheverell
---
Country Kitchen with High Ceilings and Marble Backsplash
If you have high ceilings, don't miss to use this chance to create a more country look. This almost double-volume kitchen, for example, employs statement pieces that emphasize its grandeur and pay tribute to country designs. Adding to that is the bulky range hood, salvaged wood log mounted on the wall, the whitewashed stone wall, and marble slab backsplash that honor the architectural features of the space. The display cabinets, subway tile backsplash with black grout, and floating shelves traverse the walls for extra storage and a lived-in feel. In the center sits a pale blue cabinet with tall legs that open up the spaciousness, while the stone-finish floor preserves the cool vibes of the kitchen, cohering with the rest masterfully.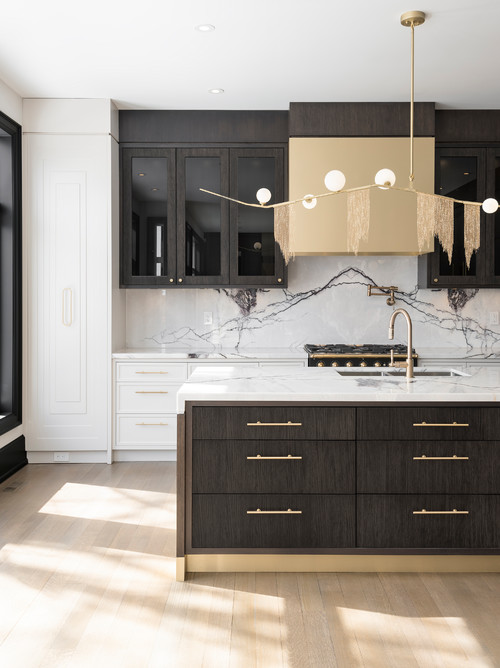 ID# 139839 | Houzz.com – Credit | © Drake+Khan Design
---
Dark Cabinets with Polished Marble Backsplash and Wooden Floor
If your kitchen opens toward the garden views through full-height glazed windows, you are lucky to observe the interplay of light and shadows falling across your kitchen just like in this one. Consisting of dark cabinets, wooden floors, and a white polished marble backsplash, the contemporary kitchen has a dramatic color scale soothed with brass hardware. The base on which the island is elevated adds an extra layer and spices up the dark cabinets, while the intriguing contemporary lighting fixture makes the island a focal point that feels complementary to the white backsplash in the background.
Marble Slab Backsplash Ideas
Marble slab backsplashes are a luxurious material that can transform dull walls into something memorable and elegant. Available in multiple colors, shades, and honed and polished finishes each marble slab has a distinct veining, which also depends on where it is quarried from. But overall, adjustable to any kitchen design, marble slab backsplash ideas are suitable for open-plan or separate, compact, and vast kitchens. So, if you want to create a solid look and bring the luxurious sense of the marble, you can think to incorporate a marble slab instead of a marble tile backsplash.
In today's market, you can find plenty of different material options for a slab design such as a quartz slab backsplash or a granite slab backsplash. However, if you want to add timeless elegance with a durable surface, marble will be the best option. Marble slab backsplash ideas work well in both contemporary and traditional kitchens. Since marble is classical material, it finds a way to adjust itself to the surrounding elements. And by adding attention to small details and centering your design theme on the marble slab backsplashes, you can easily curate looks that will feel timeless and sophisticated. Just to get a better idea of how to come up with your marble slab backsplash ideas, take a look at our blog which compiled numerous inspiring design projects for you.
Can you use a marble slab as a backsplash?
Available in multiple colors and patterns, marble slab backsplashes make great additions to any kitchen design. Be it modern, traditional, contemporary, or country, they just adjust themselves to the surrounding features, bring an upscale feel, and become a visual focal point effortlessly. Especially if you are looking for a backsplash to transform your dull kitchen walls from something ordinary to something more sophisticated and elegant, marble slab backsplashes are the way to go since they bring a high aesthetic value. Plus, using it as a slab backsplash rather than tiles enables homeowners to use the marble in the purest and most seamless form that looks much more sophisticated. And finally, in terms of functionality, they still stand out as practical and durable options as long as you clean and seal them properly and regularly.
Top Marble Colors
Marble is a luxurious material rich in crystals, coming in shades including white, green, gray, black, and rose. Though it used to be more expensive in the past, the advancements in technology also resulted in the increased availability of marble. This, in turn, renders marble more accessible at much more affordable prices for today's customers. Though, the prices and popularity also depend on the type of marble and where it is quarried from. Now let's take a closer look at top colors of the marble slab backsplash ideas.
Calacatta marble backsplash: Calacatta marble is a very distinctive marble type with its bold and pronounced veining on a white background. It is extremely suitable for book-matched installations that result in dramatic and memorable looks.
Calacatta Gold Marble: As the name suggests, it is a sub-category of the Calacatta marble and a very expensive one. It features golden and dark dramatic veining that oozes opulence and elegance.
Carrara marble backsplash: Unlike Calacatta, it has more frequent, soft, and feathery veins on a white base. Thus, when compared to Calacatta, it can be easily paired with complementary design elements.
Negro Marquina: It is a black marble quarried in Spain, featuring white veins that are soft in character. It is one of the worldly recognized and popular black marble types.
Emperador: Quarried in Spain, this alluring natural stone features a brown base with gold and light veins that resemble spider webs.
White Marble Slab Backsplash
The most popular color option is the white marble slab backsplashes that lend brightness and airiness to any kitchen. Featuring pronounced and unpronounced undulating forms that come in various shades, white marble backsplashes can create focal points easily just like another color. So, just because they are white, they don't look ordinary at all. Rather, they are visually rich and sophisticated materials, creating visual focal points effortlessly.
How thick is the marble slab backsplash?
In general, the average thickness of a natural stone marble backsplash range between ¾ and 1 ¼ inch, which also applies to the marble. But if you wish, you can ask your supplier to make a custom-design backsplash for you in the exact thickness you want it to be.
Gray Marble Slab Backsplash
Suitable for darker and all-white color palettes, a gray marble slab backsplash is one of the most versatile color options that bring a genteel atmosphere to any kitchen. If you are after minimalist and Scandinavian looks, you can use a gray marble backsplash that will give your kitchen the essential vibe it needs. To complement gray marble slabs, you can combine them with biomorphic form decorations, wall sconces, and long linear floating shelves to support the minimalist look.
Is marble durable for a backsplash?
Marble is a durable and heat-resistant material with a longer lifespan than porcelain and ceramic tiles. And it can even outlive your home as long as it is maintained and sealed regularly.
Black Marble Slab Backsplash
One of the most stunning marble colors is surely a black marble slab backsplash ideas. It not only creates visual drama but delivers sophistication to any space. It is also suitable for all-black kitchen designs as long as the concerned kitchen is flooded with natural lights to compensate for the dark color palette. But you can also incorporate LED strip lighting that will highlight the gorgeous black marble and brighten up the interior for an efficient working space.
How to install a marble slab backsplash?
Installing a marble slab backsplash is not so different from installing marble tiles. It is only that you just have a marble slab rather than individual tiles. And the installation procedure is almost the same.
You can start by removing items on the countertops and covering them with a plastic sheet not to cause any damage to them. The next step is to clean the application area and get rid of the bumps on the wall by sanding it. To remove the residual dust, you can use a soft cloth or a vacuum cleaner. Then spread constructive adhesive to the slab or apply mortar to the wall and place the marble slab carefully and apply some pressure to make sure that it is properly installed.
For the next stage, apply silicone along the joint between the countertop and the backsplash with a caulking gun to prevent water or any liquid from seeping under the worktops. Then dampen your finger and smooth the caulk line with your finger until it feels all flat and even.
Brown Marble Slab Backsplash
Shades of brown are especially great hues if you want to emphasize the opulent and rich character of the design. You can combine the brown marble backsplash ideas with black, gray, and brownish cabinets to create a more dramatic look. If you give them a polished finish, you can also compensate for their dark shades effortlessly. And to spice them up, you can utilize brass and chrome hardware and lighting fixtures.
Finish Options for Marble Slab Backsplash Ideas
Finish options for marble slab backsplashes include honed, tumbled, and polished finishes, each one giving a different vibe to how marble looks and feels. Depending on the needs of your kitchen design, you can choose the right finish for your home. For example, if you have a rustic theme, you can prefer a honed finish. However, if you have a compact kitchen, it would be better to go with polished marble since it brightens up the kitchen and enhances openness.
Honed Marble Slab Backsplash
Honed or matte finish refers to the sanded marble surfaces, thus featuring no shine or sheen. Rather they feel more texture-rich, which makes them more suitable for natural and rustic kitchen designs.
Does a marble backsplash need to be sealed?
Since it is a natural stone and has a porous texture, unless it is sealed, it can etch, stain, and harbor bacteria over time. To avoid that and keep its best form, cleaning and annual sealing are basic requirements of maintaining a marble backsplash.
Polished Marble Slab Backsplash
Unlike the honed one, polished marble slab backsplashes come with a nice sheen with them. Introducing glow and shimmering effects, they can easily elevate the overall feel and create a sleeker and cleaner look. If you are fond of stylish and contemporary looks, polished stone marble is more suitable for you. Especially if you have a compact kitchen, it is better to go with a polished backsplash to add an element more interactive with natural and artificial lights. This way, lights can also bounce off around the kitchen playfully to evoke extra interest and accentuate the interior design.
How do you clean marble backsplash?
Cleaning a marble backsplash is a hassle-free process. All you need is to use warm water and dish soap for casual cleaning. As for stubborn stains, you can use a mixture of baking soda and water. Also, during the cleaning, use soft (non-abrasive) sponges and clothes not to etch the marble backsplash and its sealed surface.