30+ Marble Slab Backsplash Ideas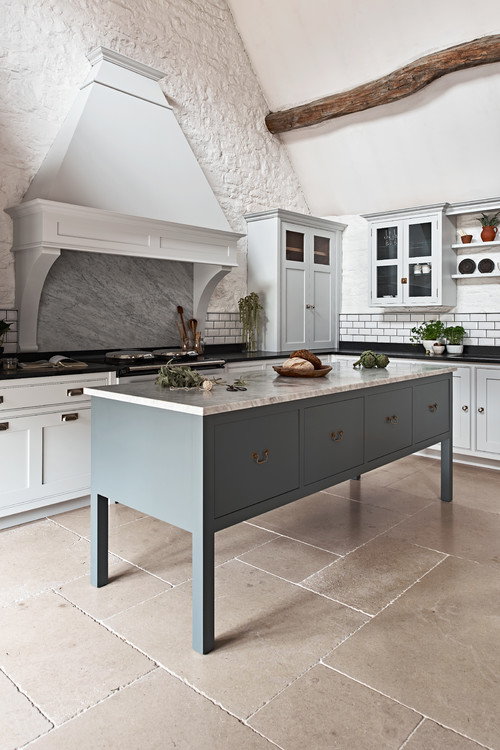 ID# 139821 | Houzz.com – Credit | © Cheverell
---
Country Kitchen with High Ceilings and Marble Backsplash
If you have high ceilings, don't miss to use this chance to create a more country look. This almost double-volume kitchen, for example, employs statement pieces that emphasize its grandeur and pay tribute to country designs. Adding to that is the bulky range hood, salvaged wood log mounted on the wall, the whitewashed stone wall, and marble slab backsplash that honor the architectural features of the space. The display cabinets, subway tile backsplash with black grout, and floating shelves traverse the walls for extra storage and a lived-in feel. In the center sits a pale blue cabinet with tall legs that open up the spaciousness, while the stone-finish floor preserves the cool vibes of the kitchen, cohering with the rest masterfully.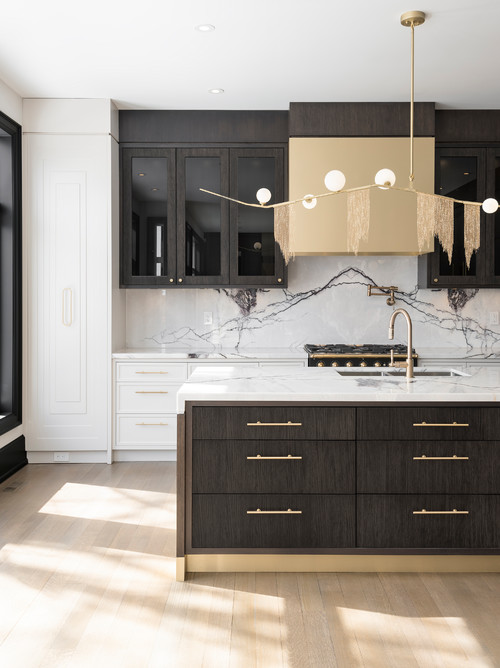 ID# 139839 | Houzz.com – Credit | © Drake+Khan Design
---
Dark Cabinets with Polished Marble Backsplash and Wooden Floor
If your kitchen opens toward the garden views through full-height glazed windows, you are lucky to observe the interplay of light and shadows falling across your kitchen just like in this one. Consisting of dark cabinets, wooden floors, and a white polished marble backsplash, the contemporary kitchen has a dramatic color scale soothed with brass hardware. The base on which the island is elevated adds an extra layer and spices up the dark cabinets, while the intriguing contemporary lighting fixture makes the island a focal point that feels complementary to the white backsplash in the background.
Marble Slab Backsplash Ideas
Marble slab backsplashes are a luxurious material that can transform dull walls into something memorable and elegant. Available in multiple colors, shades, and honed and polished finishes each marble slab has a distinct veining, which also depends on where it is quarried from. But overall, adjustable to any kitchen design, marble slab backsplash ideas are suitable for open-plan or separate, compact, and vast kitchens. So, if you want to create a solid look and bring the luxurious sense of the marble, you can think to incorporate a marble slab instead of a marble tile backsplash.
In today's market, you can find plenty of different material options for a slab design such as a quartz slab backsplash or a granite slab backsplash. However, if you want to add timeless elegance with a durable surface, marble will be the best option. Marble slab backsplash ideas work well in both contemporary and traditional kitchens. Since marble is classical material, it finds a way to adjust itself to the surrounding elements. And by adding attention to small details and centering your design theme on the marble slab backsplashes, you can easily curate looks that will feel timeless and sophisticated. Just to get a better idea of how to come up with your marble slab backsplash ideas, take a look at our blog which compiled numerous inspiring design projects for you.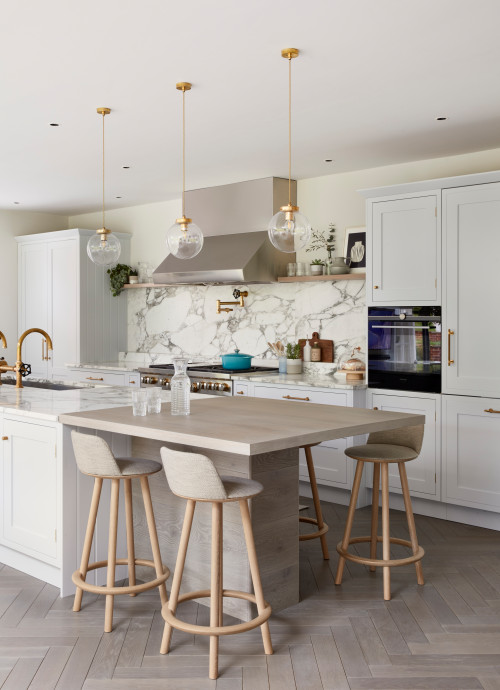 ID# 139810 | Houzz.com – Credit | © Snug Kitchens
---
Marble Slab Backsplash Ideas with White Cabinets and Brass Hardware
With white cabinets and brass hardware, this transitional kitchen offers a blank canvas warmed up with wood and gold additions. The marble slab kitchen backsplash with pronounced brown veins oozes opulence, continuing on the countertops. The kitchen island mirrors the perimeter counters with a wooden cantilevered extension paired with the stools in the same color. The glass orb-style lighting system and built-in spotlights provide task and ambient lighting, respectively, while chevron wood flooring in light sandy shades pulls the whole design theme together.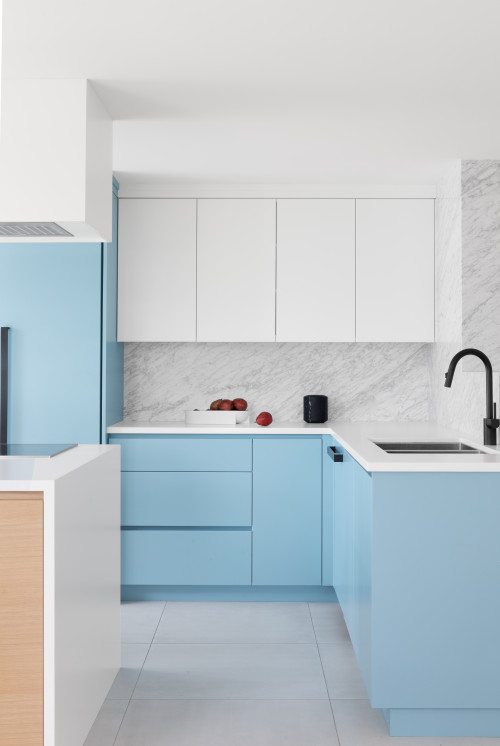 ID# 139811 | Houzz.com – Credit | © PlaidFox Studio
---
Blue Cabinets with White Marble Backsplash and White Quartz Countertops
This kitchen is given a modern and colorful overhaul with blue and white cabinets, while the island's wooden base ensures a sense of warmth and incorporates natural textures and shades. Topping the cabinets are the white quartz countertops that inject optimism and cheerfulness that level up the dynamic atmosphere of the kitchen, which surely benefits its users, upgrading their moods even after long working days. Between the two-tone cabinetry is the marble slab backsplash with bluish gentle veins on a white base, delivering sophistication and introducing soft forms to break up the formality of the rectilinear cabinets.
Can you use a marble slab as a backsplash?
Available in multiple colors and patterns, marble slab backsplashes make great additions to any kitchen design. Be it modern, traditional, contemporary, or country, they just adjust themselves to the surrounding features, bring an upscale feel, and become a visual focal point effortlessly. Especially if you are looking for a backsplash to transform your dull kitchen walls from something ordinary to something more sophisticated and elegant, marble slab backsplashes are the way to go since they bring a high aesthetic value. Plus, using it as a slab backsplash rather than tiles enables homeowners to use the marble in the purest and most seamless form that looks much more sophisticated. And finally, in terms of functionality, they still stand out as practical and durable options as long as you clean and seal them properly and regularly.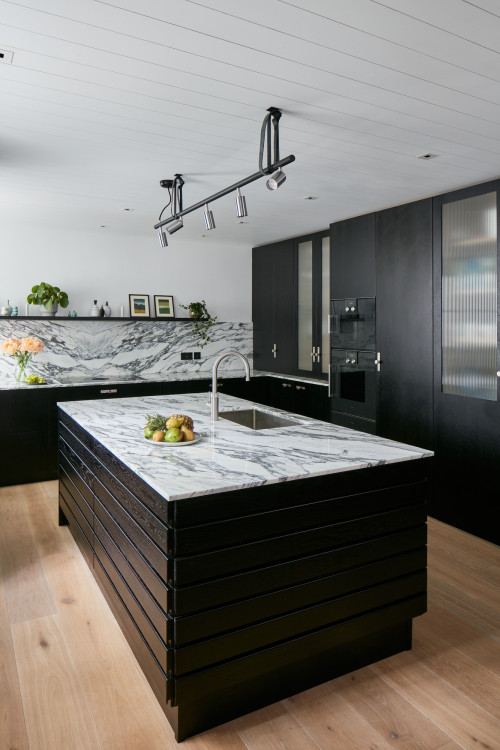 ID# 139812 | Houzz.com – Credit | © Sola Kitchens
---
Dramatic Kitchen Design with Black Cabinets and Floating Shelf
Arabescato Corchia marble is of Classical Italian origin, featuring dark pronounced veins on a white backdrop, used in this modern kitchen in abundance to offer a statement finish. Cladding the kitchen walls and countertops ties the space together, complemented by dark flat-panel joinery and black-stained oak hygge island. The lack of upper cabinetry and use of a floating shelf not only opens up the space but also keeps attention on the backsplash. The shiplap ceiling, opaque glass-front cabinets, chrome hardware, and tracking spotlight fixture orchestrate a composition of modern and classical features that give the kitchen a unique personality.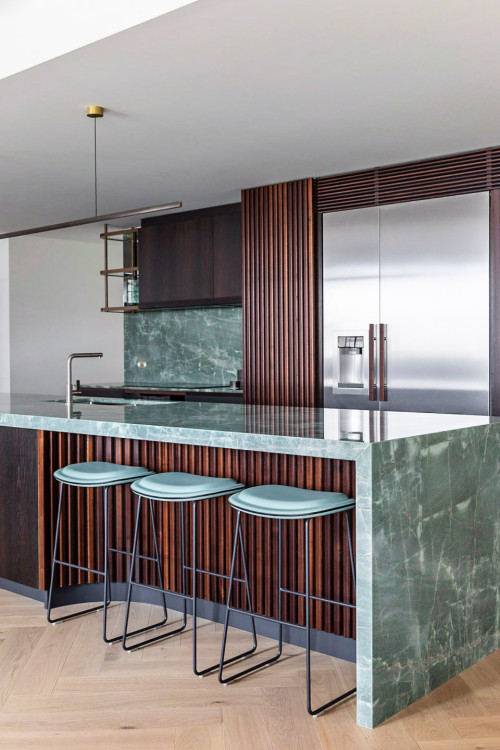 ID# 139813 | Houzz.com – Credit | © Matter Design & Make Pty Ltd
---
Contemporary Kitchen with Green Marble Backsplash and Wood Veneer Cabinets
Designed with functionality and sustainability in mind, this contemporary kitchen is inserted into an open space and outfitted with smoked veneer cabinetry and green marble backsplash. The durability of the marble in the long term along with the veneer cabinets creates a style relevant in the long term with the premise of longevity. The sleek and clean lines develop a contemporary style in aesthetic terms, while antique brass hardware casts a sense of warmth.
Natural Stone Mosaic Tiles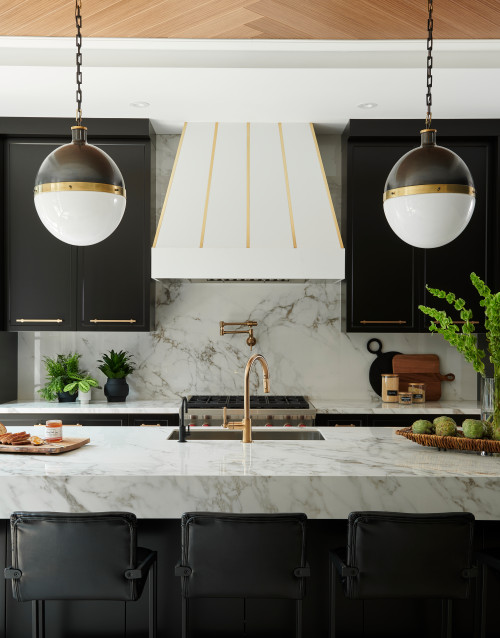 ID# 139814 | Houzz.com – Credit | © Jodie Rosen Design
---
Black Cabinets with Orb Lighting Fixtures and Brass Hardware
Marble backsplashes have an old-world charm that is unique to them, exuding elegance. Here, in a similar vein, the grayish base marble background with dark veins brings a similar edge and elevates the overall look of the kitchen, accompanied by black flat-front cabinetry. The matching countertops ensure coherence, while the thickness of the island countertop adjusts itself to the upholstered stools to create a more comfortable eating space. The brass hardware, gold stripes on the white hood, and orb lighting fixtures add depth and dimension, transforming this traditional-could-be kitchen into something more modern and contemporary.
Top Marble Colors
Marble is a luxurious material rich in crystals, coming in shades including white, green, gray, black, and rose. Though it used to be more expensive in the past, the advancements in technology also resulted in the increased availability of marble. This, in turn, renders marble more accessible at much more affordable prices for today's customers. Though, the prices and popularity also depend on the type of marble and where it is quarried from. Now let's take a closer look at top colors of the marble slab backsplash ideas.
Calacatta marble backsplash: Calacatta marble is a very distinctive marble type with its bold and pronounced veining on a white background. It is extremely suitable for book-matched installations that result in dramatic and memorable looks.
Calacatta Gold Marble: As the name suggests, it is a sub-category of the Calacatta marble and a very expensive one. It features golden and dark dramatic veining that oozes opulence and elegance.
Carrara marble backsplash: Unlike Calacatta, it has more frequent, soft, and feathery veins on a white base. Thus, when compared to Calacatta, it can be easily paired with complementary design elements.
Negro Marquina: It is a black marble quarried in Spain, featuring white veins that are soft in character. It is one of the worldly recognized and popular black marble types.
Emperador: Quarried in Spain, this alluring natural stone features a brown base with gold and light veins that resemble spider webs.
White Marble Slab Backsplash
The most popular color option is the white marble slab backsplashes that lend brightness and airiness to any kitchen. Featuring pronounced and unpronounced undulating forms that come in various shades, white marble backsplashes can create focal points easily just like another color. So, just because they are white, they don't look ordinary at all. Rather, they are visually rich and sophisticated materials, creating visual focal points effortlessly.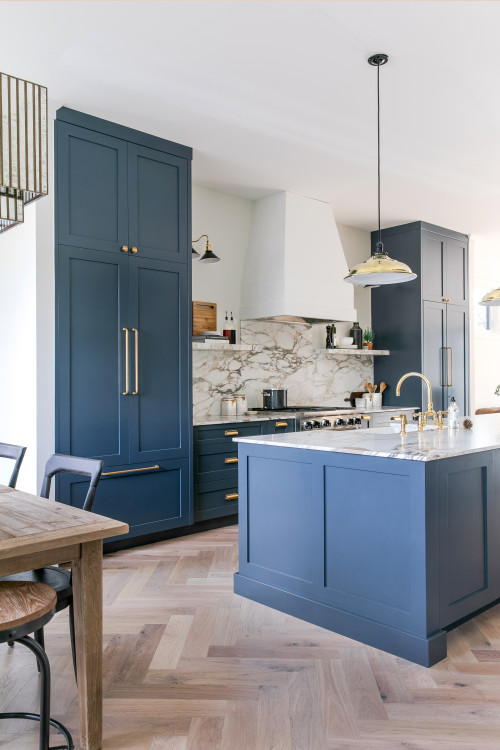 ID# 139815 | Houzz.com – Credit | © Elle Peters Design
---
Marble Slab Backsplash Ideas with Blue Cabinets and Marble Countertops
Transitional kitchens love blue touches sprinkled throughout the space, and this one is no exception. Here, the blue cabinets and blue kitchen island are used instead of two-tone or glass-front cabinetry, serving a multi-purpose: bringing the space together and creating a better perception of the space. For example, the full-height cabinets border the kitchen, while the island, likewise, zones the kitchen in this open floor plan. When it comes to aesthetics, the designers have chosen to go with a statement finish to clad the kitchen walls and countertops. The resulting scheme features white marble with dark brown veins giving the kitchen a classic spin and marble-carved floating shelves adding dimension to the walls. The rest feels complete with brass hardware, brass retro-style pendants, and black wall sconces, injecting warmth and creating a more dimensional lighting system to compensate for the lack of natural lights at night.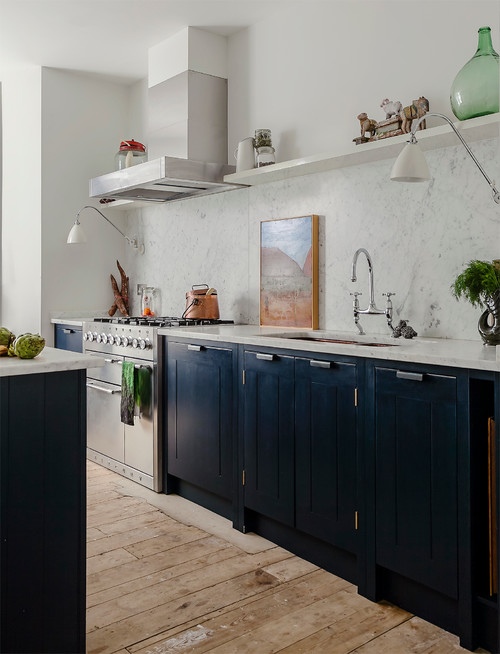 ID# 139816 | Houzz.com – Credit | © British Standard by Plain English
---
Eclectic Kitchen with Blue Cabinets and Floating Shelf
The Carrara marble slab backsplash in this eclectic kitchen with slight blue streaks is in complete synchrony with the blue beaded-board cabinets. Used at a standard size, the marble meets a floating shelf that divides the kitchen walls into two halves. The top half is painted white to deliver soothing aesthetics and keep the walls free from the excess of wall units. The rustic wooden slats blanketing the wall add warmth and give the kitchen a lived-in feel, while the whimsical decorative additions personalize the space, bringing a punch of character without causing any eye sore.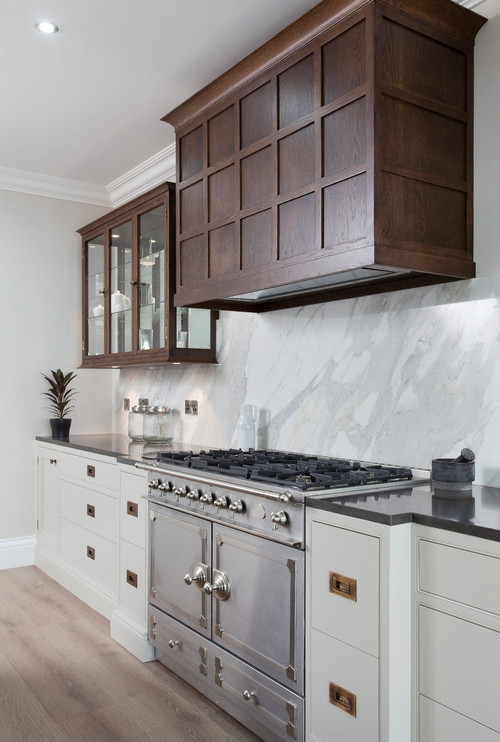 ID# 139817 | Houzz.com – Credit | © Armac Martin
---
Transitional Kitchen with Gray Quartz Countertops and Wooden Wall Units
This dramatic and neutral transitional kitchen has dark wooden wall units that give it a very traditional vibe. The style of the range hood fixture and glass-front upper cabinetry feel like they are borrowed from the living room and feel as anachronistic touches along with the vintage stove. But they fit the overall feel of the kitchen, creating visual drama and bringing solidity to the walls. Right below them starts the white-gray marble backsplash, transforming into gray quartz countertops and white flat-front cabinets eventually, providing the kitchen with a modern and sleeker profile. The glazed-finish countertops introduce a nice sheen, and the in-built brass hardware adds a splash of color to the otherwise too-plain cabinets for extra charm.
How thick is the marble slab backsplash?
In general, the average thickness of a natural stone marble backsplash range between ¾ and 1 ¼ inch, which also applies to the marble. But if you wish, you can ask your supplier to make a custom-design backsplash for you in the exact thickness you want it to be.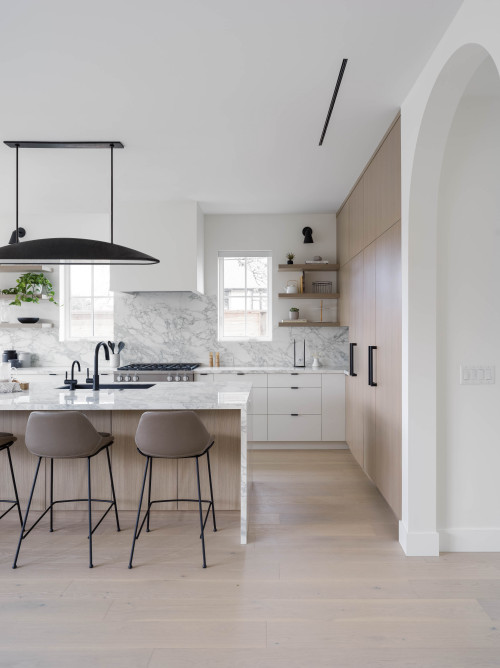 ID# 139818 | Houzz.com – Credit | © JJ Interiors
---
Two-Tone Cabinetry with White Marble Slab Backsplash Ideas
Opening itself to the rest of the house through an arched cased opening, this modern kitchen is graced with an integrated Mediterranean feel. The soft light wooden shades, natural stone backsplash, and white cabinets support this vibe while continuing to introduce clean and sleek lines. In addition to those, the timber floating shelves traverse the walls to add personality; the oversized black hardware punctuates the cabinets. Above the waterfall island is another oversized lighting fixture that is pitch-black, adding extra dimension and unceasingly asking its users to look up.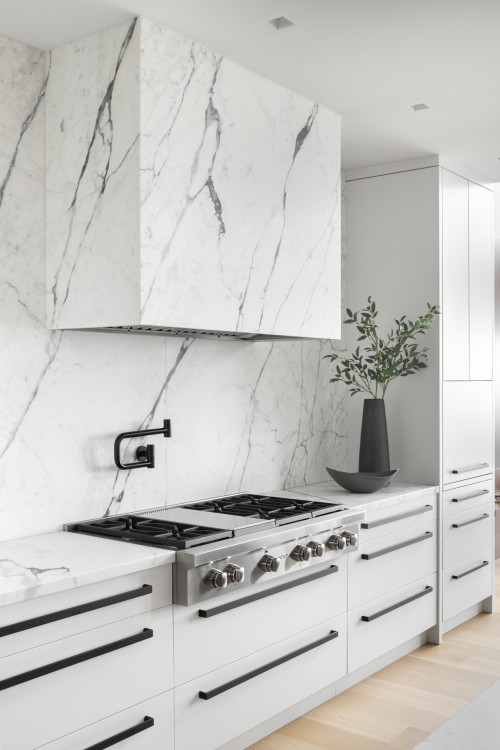 ID# 139819 | Houzz.com – Credit | © Madeleine Design Group Inc.
---
White Cabinets with White Marble and Countertops
If you want to create a uniform and clutter-free look, why don't you envelop the range hood with the backsplash material? This modern kitchen design in Vancouver, for example, is grounded on the marble slab backsplash that is taken to the ceiling and blankets the range hood on the way as well. The undulating forms on the marble add nuanced details, creating a softer look continuing on the countertops. The rest of the kitchen is outfitted with white cabinets that mostly consist of drawers for the sake of better organization of the kitchen utensils. The oversized and elongated black cabinet pulls just echo the black veins on the backsplash, tying the cabinets to the rest of the visual scheme for a well-integrated look.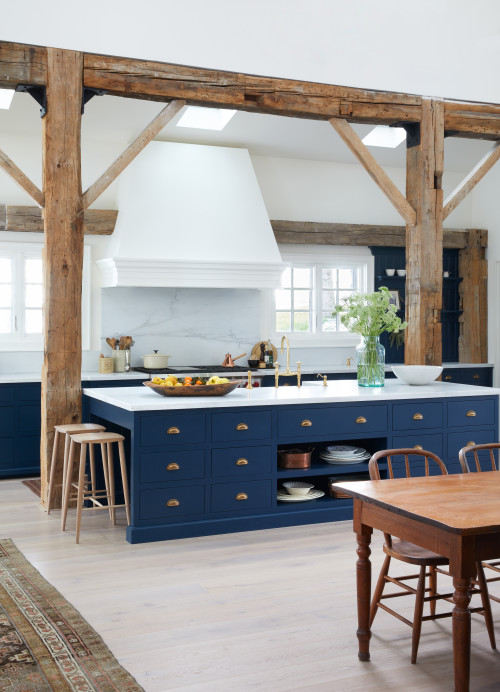 ID# 139820 | Houzz.com – Credit | © Bloomsbury Kitchens and Fine Cabinetry
---
English Farmhouse Kitchen with Exposed Beams and Blue Cabinets
Awash with sporadic injections of raw wooden forms, this English farmhouse kitchen pays tribute to the natural textures carried into the interiors through marble slab backsplash and exposed wooden beams. The beams deftly mark the cooking zone, while the oversized kitchen island not only offers a hefty countertop but also plenty of storage. These oversized additions ensure that it is a country kitchen that is ready to be home to hearty meals along with the traditional white bulky range hood that fades into the white background. The brass hardware injects warmth into the blue cabinets and the marble backsplash paired with marble countertops delivers soothing aesthetics and elegance.
Gray Marble Slab Backsplash
Suitable for darker and all-white color palettes, a gray marble slab backsplash is one of the most versatile color options that bring a genteel atmosphere to any kitchen. If you are after minimalist and Scandinavian looks, you can use a gray marble backsplash that will give your kitchen the essential vibe it needs. To complement gray marble slabs, you can combine them with biomorphic form decorations, wall sconces, and long linear floating shelves to support the minimalist look.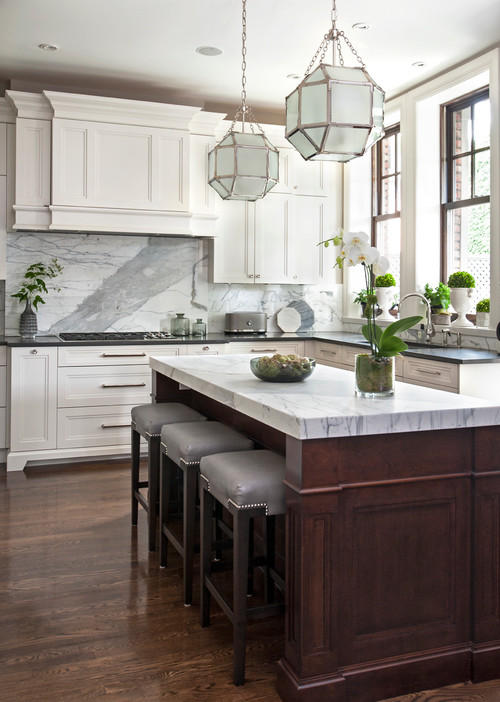 ID# 139822 | Houzz.com – Credit | © Leona Mozes Photography
---
Traditional Kitchen with Wooden Island and Gray Marble Backsplash Ideas
This traditional kitchen goes with a neutral color scheme which it honors with a gray marble backsplash that lends sophistication. The pronounced gray veins on the marble just add more depth while creating a dramatic visual accent on the walls. The white cabinets and dark wooden statement island provide the perfect setup for the marble so that it stays as the true focal point. Though, the hexagon lighting fixtures punctuated with chrome stripes underscore their 3-dimensional form, directing attention toward the kitchen island. But the marble backsplash still stays in the visual frame added color with indoor plants sprinkled here and there.
Is marble durable for a backsplash?
Marble is a durable and heat-resistant material with a longer lifespan than porcelain and ceramic tiles. And it can even outlive your home as long as it is maintained and sealed regularly.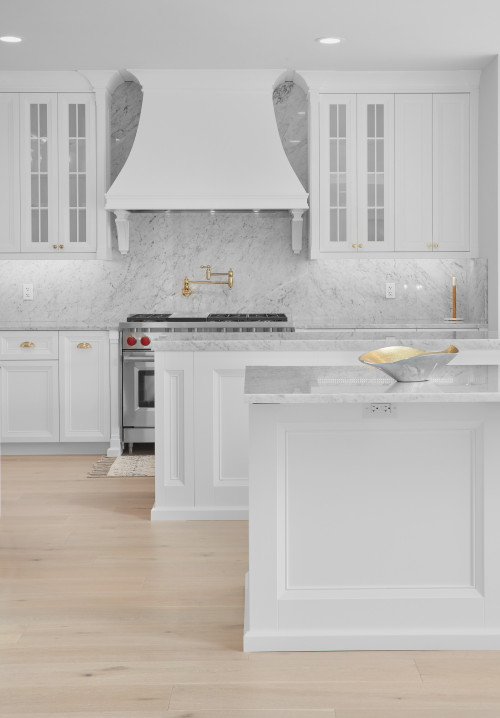 ID# 139823 | Houzz.com – Credit | © Scott Arthur Millwork & Cabinetry Ltd
---
Monochromatic Kitchen with White Cabinets and Double Islands
This monochromatic kitchen unfolds itself in layers and shades of white and gray. The double islands aligned in a slightly asymmetric form create an intriguing layout, bowing to the perimeter counters. And it is no doubt that this kitchen prides itself on the gray marble slab backsplash and book-matching countertops that bring a high-end look to the kitchen. Overall, it is well-designed with a functional layout and warmed up with brass cabinet hardware that pepper the white-gray palette.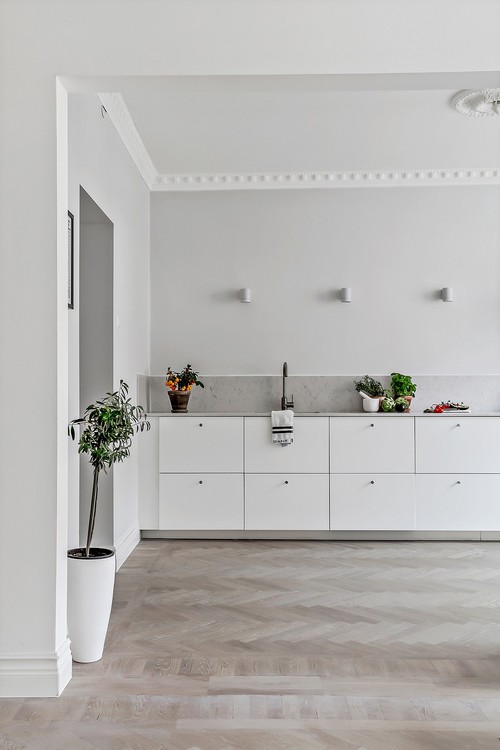 ID# 139824 | Houzz.com – Credit | © Bjurfors Skåne
---
Scandinavian Kitchen with White Cabinets and Gray Backsplash
This minimalist Scandinavian kitchen keeps the design vocabulary to the essentials. To start with, the white cabinets provide enough storage, and the gray marble backsplash running shorter on the walls provides enough coverage for the walls. The lack of upper units leaves more breathing space on the walls which gains more dimension with white wall sconces. But they almost fade into the background against white-painted walls to serve the minimalist ideals of the design.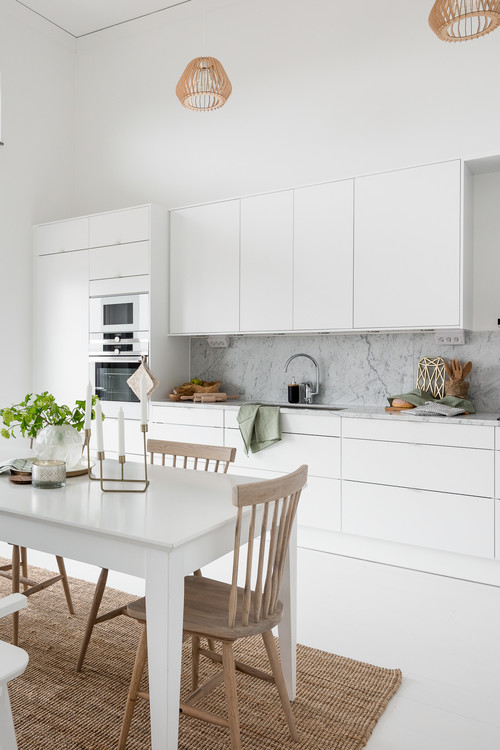 ID# 139825 | Houzz.com – Credit | © papac media AB
---
Light Kitchen Design with White Cabinets and Rattan Carpet
To break up the monochromatic look and introduce warmth, gray and natural shades could be incorporated. Here, for example, the white cabinets are divorced by a gray marble backsplash, while the rattan carpet injects warmth under the dining space. Likewise, the boho-style ceiling lamps add interest and warmth overhead. If you wish, you could drop them down over the dining space to use them for task lighting rather than ambient.
Black Marble Slab Backsplash
One of the most stunning marble colors is surely a black marble slab backsplash ideas. It not only creates visual drama but delivers sophistication to any space. It is also suitable for all-black kitchen designs as long as the concerned kitchen is flooded with natural lights to compensate for the dark color palette. But you can also incorporate LED strip lighting that will highlight the gorgeous black marble and brighten up the interior for an efficient working space.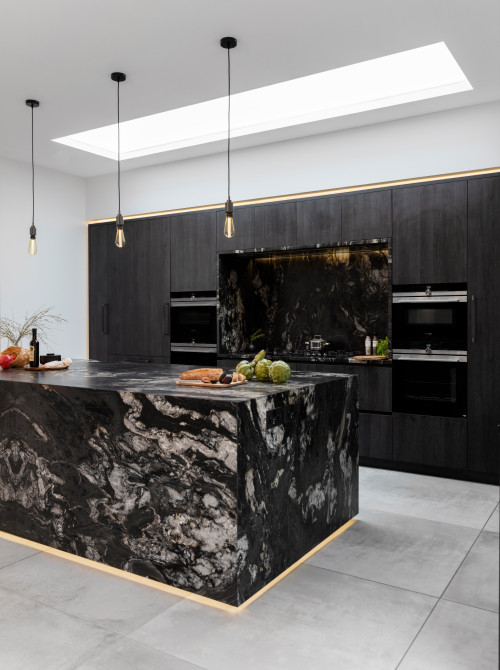 ID# 139826 | Houzz.com – Credit | © Extreme Design
---
Stunning Contemporary Kitchen with Black Marble Slab Backsplash Ideas
Thanks to natural lights diving into the kitchen through an oversized skylight, this contemporary kitchen feels blessed and uses this advantage to go with a black color palette without darkening the space. The black flat-front cabinetry, black marble slab backsplash, and a kitchen island carved out of the same black marble just orchestrate a monochromatic scheme that is sophisticated yet approachable. The under-island and cabinet LED strip lighting diffusing warm lights underscore the statement features of the interior design while softening the all-black look. Apart from those, the black built-in appliances just blend in, while the concrete-look large format tiles traverse the ground to bring an industrial edge to this black kitchen and expand the kitchen on the horizontal axis.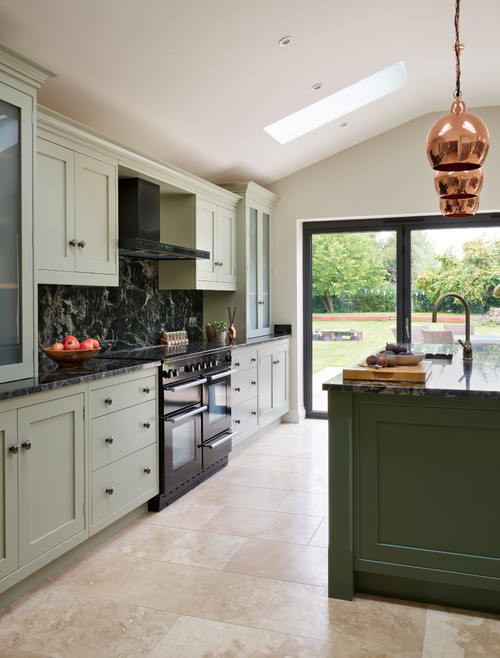 ID# 139827 | Houzz.com – Credit | © Häfele – Ideas for Living
---
Black Marble Backsplash with Green Island and Cream Cabinets
This visually rich contemporary kitchen borrows inspiration from the garden and is primarily designed to blur the distinction between the interior and exterior spaces. This explains the green island and light cream cabinets that introduce a natural color palette for a more relaxed atmosphere without sacrificing the refined design vocabulary. To serve the same aim, the black marble backsplash and countertops rich in pigments bring more natural textures, tempered with the floor tiles in light earthy shades and copper lighting fixtures. The skylight and full-glazed patio doors flood the indoors with lights to lessen the need for artificial lights through an eco-conscious design. Overall, the resulting scheme feels satisfying, well-balanced, and functional with high aesthetic values.
How to install a marble slab backsplash?
Installing a marble slab backsplash is not so different from installing marble tiles. It is only that you just have a marble slab rather than individual tiles. And the installation procedure is almost the same.
You can start by removing items on the countertops and covering them with a plastic sheet not to cause any damage to them. The next step is to clean the application area and get rid of the bumps on the wall by sanding it. To remove the residual dust, you can use a soft cloth or a vacuum cleaner. Then spread constructive adhesive to the slab or apply mortar to the wall and place the marble slab carefully and apply some pressure to make sure that it is properly installed.
For the next stage, apply silicone along the joint between the countertop and the backsplash with a caulking gun to prevent water or any liquid from seeping under the worktops. Then dampen your finger and smooth the caulk line with your finger until it feels all flat and even.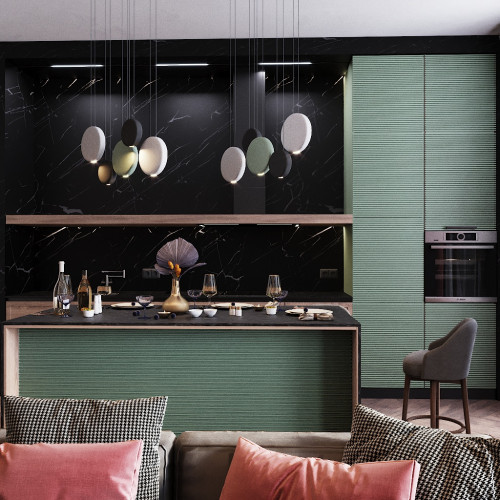 ID# 139828 | Houzz.com – Credit | © Александра Женова
---
Green Cabinets and Black Ceiling-Heigth Backsplash with Cluster Lighting Fixtures
In this contemporary open-plan kitchen, black and green collaborate for a well-balanced color scheme, while the fluted-design cabinets, timber counters with a floating shelf, and black marble backsplash cohere with each other masterfully. The use of a ceiling-height backsplash provides a sleeker background, making it easier for other elements to find reliance on something. Likewise, the island's black marble waterfall edges meet the chevron hardwood flooring that ensures connectivity between different elements. And overhead, a duo of cluster lights serves as the jewelry of the kitchen design to evoke extra interest and bring more dimension.
Brown Marble Slab Backsplash
Shades of brown are especially great hues if you want to emphasize the opulent and rich character of the design. You can combine the brown marble backsplash ideas with black, gray, and brownish cabinets to create a more dramatic look. If you give them a polished finish, you can also compensate for their dark shades effortlessly. And to spice them up, you can utilize brass and chrome hardware and lighting fixtures.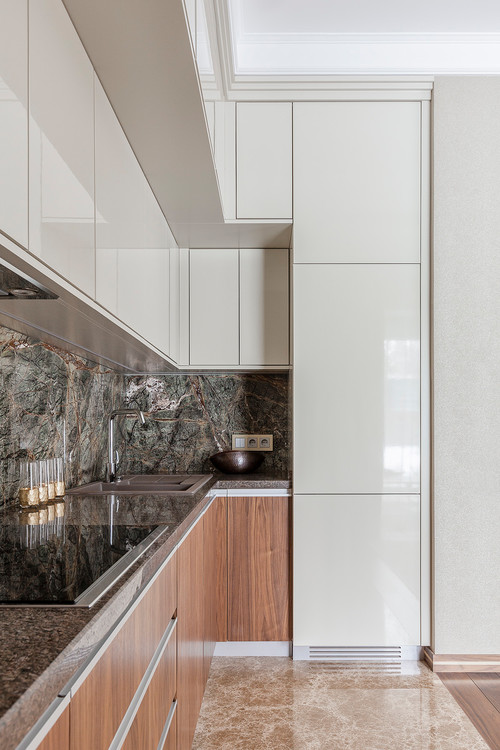 ID# 139829 | Houzz.com – Credit | © Мария Родионовская | Архитектурное бюро "ON Plane"
---
Contemporary Kitchen with Brown Marble Slab Backsplash Ideas and Two-Tone Cabinetry
In compact kitchens like this one, the two-cabinetry, when it is rigorously proportioned, creates a sense of spaciousness while ensuring diversity. Moving with a similar mindset, this contemporary kitchen in Moscow makes use of two-tone cabinetry to the fullest and utilizes the upper cabinetry in two rows with wall units varying in sizes for a more layered look. This way, it achieves more dimension without ending up with an encroached look. Also, the gloss finish of the white upper units provides a soft contrast with wooden base counters for extra interest. Between them is the brown marble slab backsplash that adds a visually rich element to the background. And to preserve the clean look of flat-front cabinets, the range hood remains out of sight, and the low-profile hob just blends with the countertops not to disturb the sleek profile of the kitchen.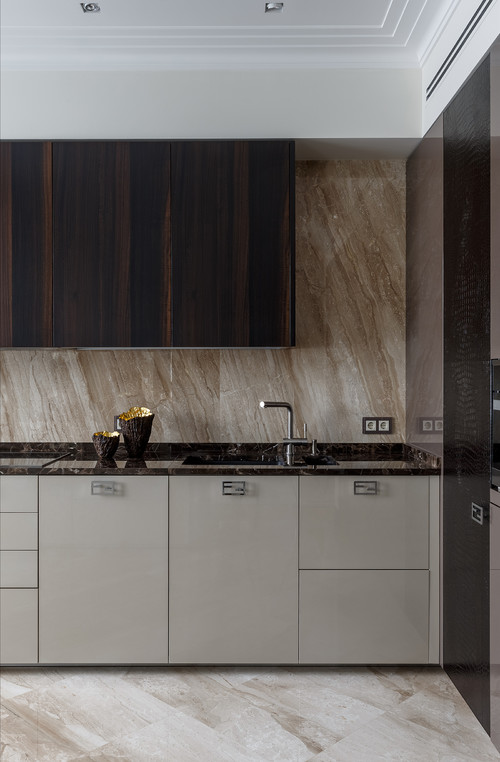 ID# 139830 | Houzz.com – Credit | © AB Architects
---
Ceiling-Height Marble Slab Backsplash with Gray Cabinets and Chrome Hardware
This contemporary kitchen uses a ceiling-height marble backsplash that peeks out behind the dark brown cabinets, while the gray base counters soften and neutralize the brown-dominated look. To enrich the overall feel, the chrome hardware on the cabinets adds nice details that stylize and modernize the kitchen, and floor tiles feature undulating forms that match the marble backsplash for a more coherent design.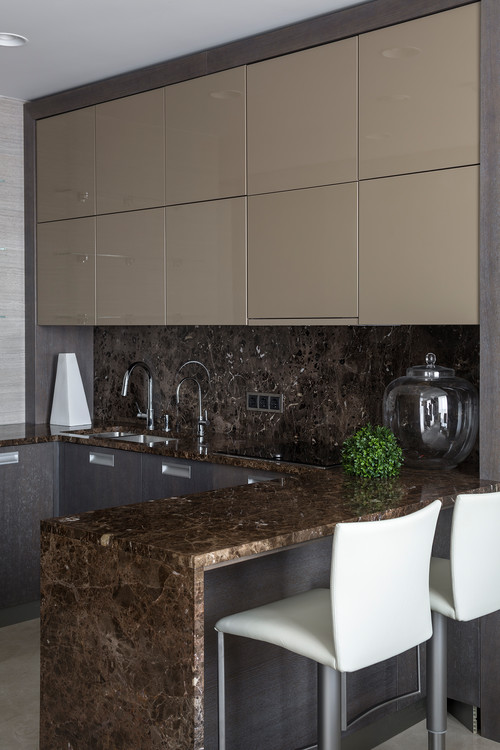 ID# 139831 | Houzz.com – Credit | © Архитектурное бюро LOFTING
---
Gloss Cabinetry with Brown Marble Backsplash and Countertops
The busy pattern marble backsplash and countertops ooze opulence between the gray and light brown cabinets in this contemporary kitchen. The gloss finish on the cabinetry and the marble also brings a nice sheen that creates a more interactive design with lights for a sense of brightness. The peninsula's waterfall edge, likewise, adds a sense of flow, paired with a duo of light beige stools to balance the dark color palette.
Finish Options for Marble Slab Backsplash Ideas
Finish options for marble slab backsplashes include honed, tumbled, and polished finishes, each one giving a different vibe to how marble looks and feels. Depending on the needs of your kitchen design, you can choose the right finish for your home. For example, if you have a rustic theme, you can prefer a honed finish. However, if you have a compact kitchen, it would be better to go with polished marble since it brightens up the kitchen and enhances openness.
Honed Marble Slab Backsplash
Honed or matte finish refers to the sanded marble surfaces, thus featuring no shine or sheen. Rather they feel more texture-rich, which makes them more suitable for natural and rustic kitchen designs.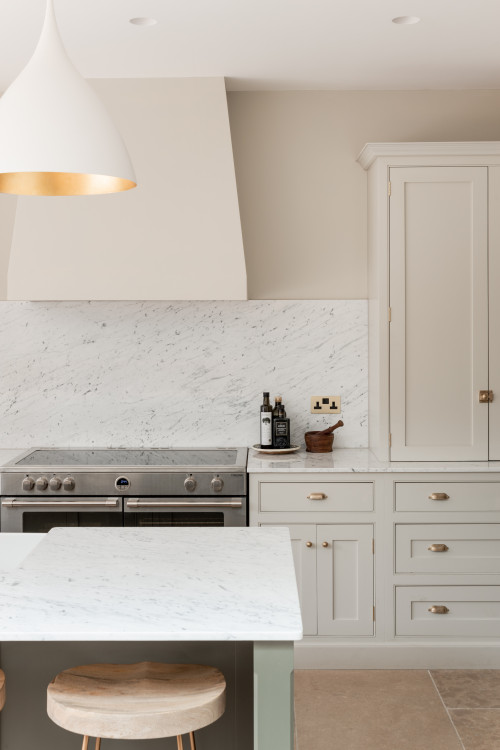 ID# 139832 | Houzz.com – Credit | © NOTO Architects
---
Cream Cabinets with Marble Backsplash and Antique Brass Hardware
This calming kitchen design is grounded upon the cream cabinets that ooze a sense of warmth. The antique brass hardware suits the overall feel, bringing an aged feel, while the honed marble backsplash adds elegance and a more textured finish.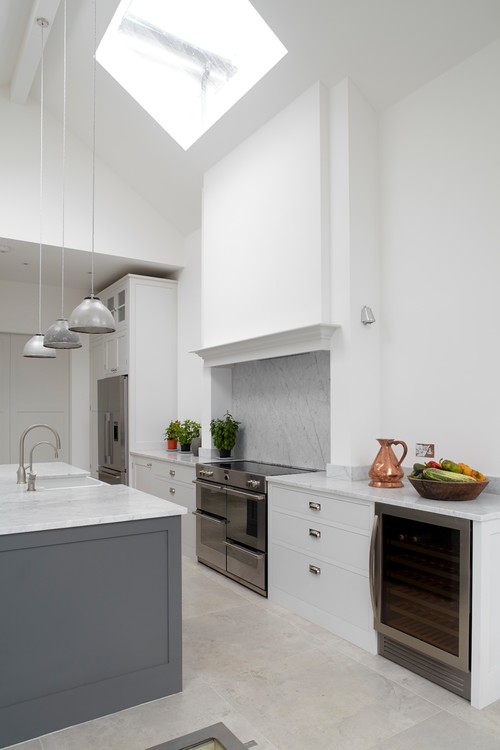 ID# 139833 | Houzz.com – Credit | © Higham Furniture
---
Honed Marble Slab Backsplash Ideas with Carrara Marble Worktops and Gray Island
Presenting a calming aesthetic, this white-dominant kitchen is blessed with its double-height volume and a skylight pouring natural lights indoors. The white shaker cabinetry conversing with the gray island expands the lightness of the kitchen, while the Carrara marble worktops and honed marble slab backsplash give the kitchen a high-end look. A trio of modern and basic pendants and the bulky range hood fixture going up to the ceiling underscore the grandeur of the kitchen, which leaves enough room for its users to enjoy this welcoming kitchen design.
Does a marble backsplash need to be sealed?
Since it is a natural stone and has a porous texture, unless it is sealed, it can etch, stain, and harbor bacteria over time. To avoid that and keep its best form, cleaning and annual sealing are basic requirements of maintaining a marble backsplash.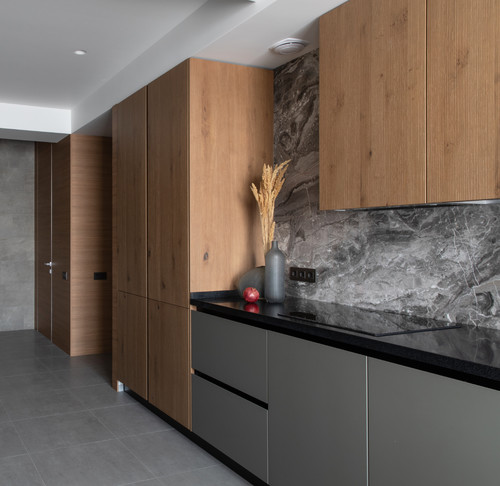 ID# 139834 | Houzz.com – Credit | © Alter studio
---
Dramatic Kitchen Design with Gray Backsplash and Black Countertops
This dramatic kitchen design has a bold and darker color palette that runs counter to the all-white, airy kitchens. From the wooden cabinets to the gloss black countertops and gray base counters, each element is synchronized to exude elegance with a high-end feel. Especially, the gray marble countertop taken to the ceiling transforms the otherwise-would-be-boring walls into a visual focal point. And its honed finish adds more interest and texture to the background.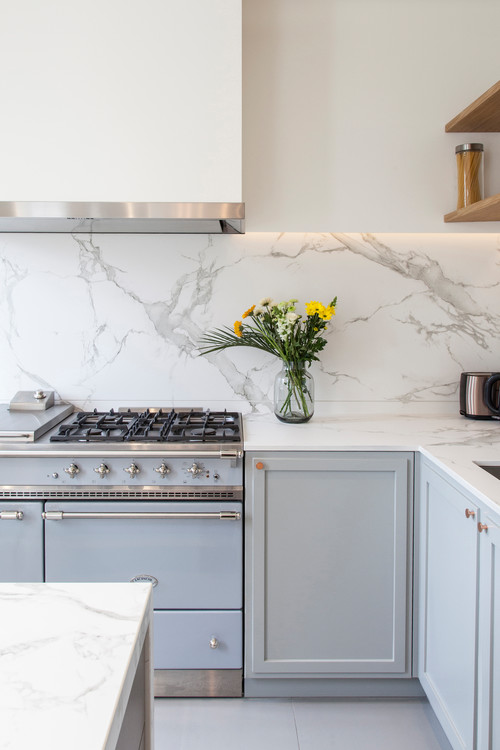 ID# 139835 | Houzz.com – Credit | © atelier daaa
---
Muted Blue Cabinets and Timber Floating Shelves with Marble Slab Backsplash Ideas
Muted blue cabinets impart a sense of calmness to this kitchen, pairing perfectly with a white-honed marble backsplash that comes with extra texture. The timber floating shelves accompany the cabinets, while the chrome hardware and chrome trim of the range hood stylize the kitchen with modern touches. The blue vintage stove just blends with its surrounding, bringing extra charm.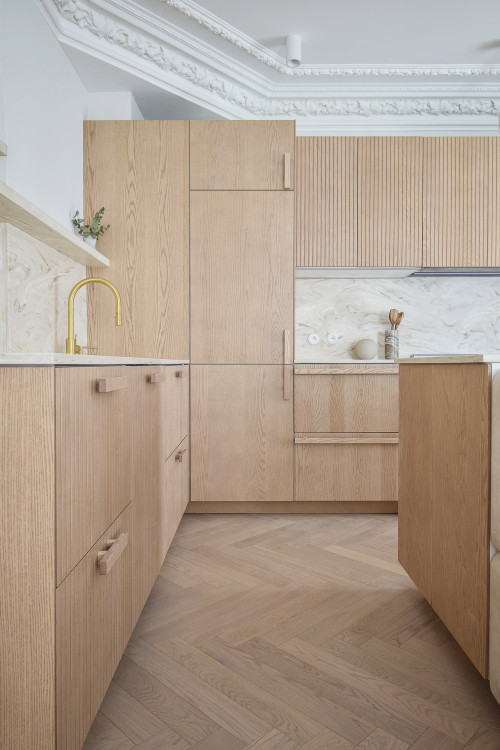 ID# 139836 | Houzz.com – Credit | © BAT & CO
---
Natural Kitchen Design with Wooden Cabinets and Chevron Wood Floor
Awash with wooden cabinets, this natural design kitchen is ready to take you on a tactile and visual journey. The fluted-design custom joinery, wood-carved cabinet handles, and chevron wood floor tie the entire space together, while what divorces the all-wood elements is the marble slab backsplash. Yet, the honed finish adjusts the marble to the texture-rich palette of the kitchen, and the elaborate ceiling moldings also give the kitchen a classical spin.
Polished Marble Slab Backsplash
Unlike the honed one, polished marble slab backsplashes come with a nice sheen with them. Introducing glow and shimmering effects, they can easily elevate the overall feel and create a sleeker and cleaner look. If you are fond of stylish and contemporary looks, polished stone marble is more suitable for you. Especially if you have a compact kitchen, it is better to go with a polished backsplash to add an element more interactive with natural and artificial lights. This way, lights can also bounce off around the kitchen playfully to evoke extra interest and accentuate the interior design.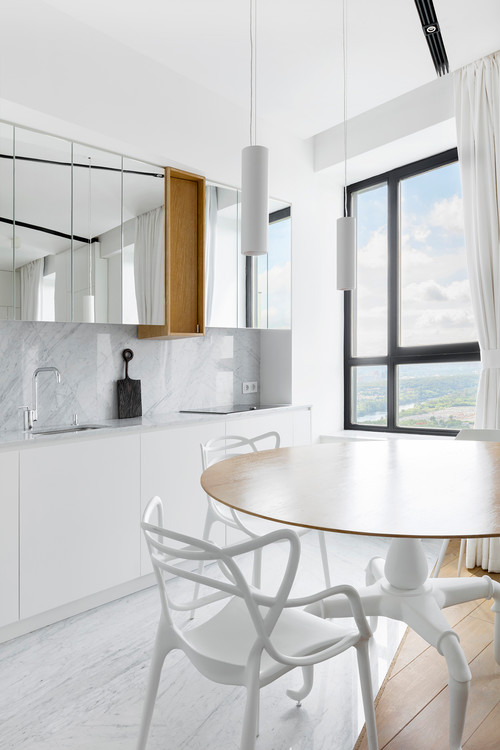 ID# 139837 | Houzz.com – Credit | © Maxim Kashin
---
Polished Marble Slab Backsplash Ideas with Mirrored Cabinets and Marble Floors
If you have a compact kitchen like this one, it is better to use reflective surfaces and employ a few design tricks to enhance the openness. And in this contemporary to achieve that, the mirrored cabinets and polished marble slab backsplash are used, giving the illusion of a larger space. The white flat-front cabinets also support this brightness, while their simple form causes no visual distraction. On the floor, the marble and wood floor finishes divide the kitchen into two separate sections: cooking and dining. This way, the compact space gains more dimension, while the oversized window lends plenty of natural light to expand the impact of the design tricks. And if you would like to keep the overhead free, you can just use flush mounts or ceiling lamps instead of pendants.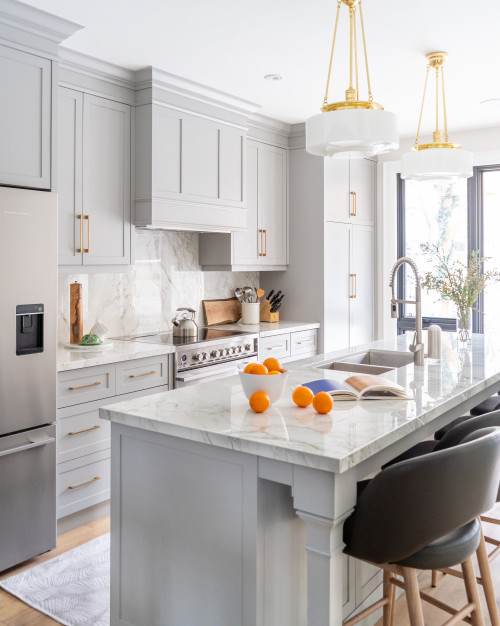 ID# 139838 | Houzz.com – Credit | © Alair Homes Forest Hill
---
Chic Kitchen with Gold Accents and Muted Lilac Cabinets
This ultra-chic transitional kitchen is outfitted with muted lilac cabinets and brass hardware that orchestrate a stylish look. The glazed marble slab backsplash adds more charm to this combination, introducing gentle veins that resonate with the patterns on the runner. Overhead, the geometric interpretation of the drum pendants adds a contemporary voice, tinged with brass details to also bring warmth and luxury. Overall, it feels classic yet modern, borrowing from different styles and melting them in one pot for a timeless feel.
How do you clean marble backsplash?
Cleaning a marble backsplash is a hassle-free process. All you need is to use warm water and dish soap for casual cleaning. As for stubborn stains, you can use a mixture of baking soda and water. Also, during the cleaning, use soft (non-abrasive) sponges and clothes not to etch the marble backsplash and its sealed surface.