34+ DARK CABINETS WHITE BACKSPLASH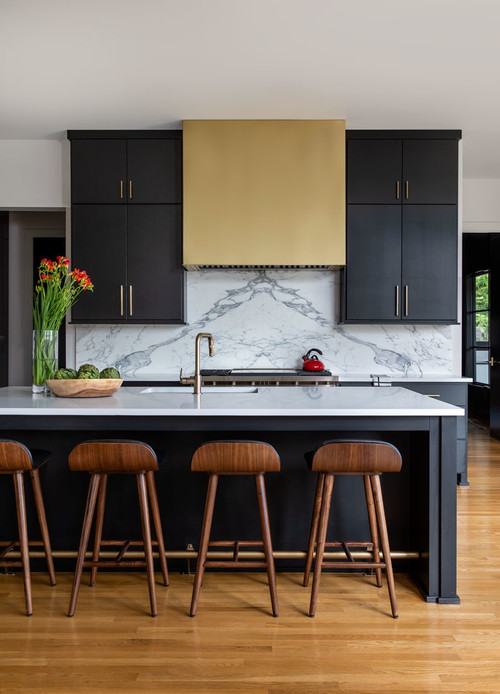 ID# 126301 | Houzz.com – Credit | © Frankel Building Group
---
Black Kitchen Cabinets with Bookmatched Marble Backsplash
With its neutral color scheme and luxurious details, this contemporary kitchen offers an elegant appeal. The gold range hood creates a focal point between the modern black kitchen cabinets while the brass hardware complements the hood. The bookmatched marble backsplash completes the sophisticated look of the black cabinets and lends a luxurious feel. The white countertops create a continuous look with the white backsplash.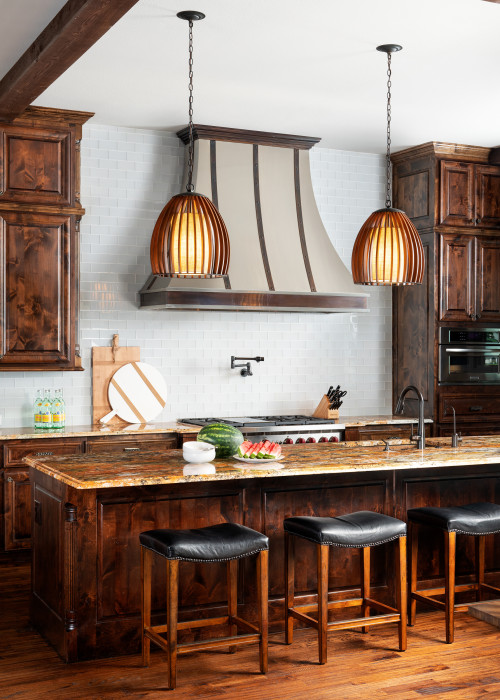 ID# 126332 | Houzz.com – Credit | © Wesley-Wayne Interiors, LLC
---
Rustic Kitchen with Glass Tile Backsplash and Granite Countertops
This rustic kitchen has a wow factor! The natural grains of the dark wood cabinets bring a unique appeal to the kitchen while the natural look of the wood brings a warm feel to the atmosphere. The white glass subway tile backsplash makes a bright and fresh twist against the rustic style of the design and provides a spacious atmosphere. The beige granite countertops create a harmonious look with the cabinetry.
Dark Cabinets with White Backsplash
Cabinets cover the large majority of the kitchen and the color of your kitchen cabinets is one of the most critical decisions that will define the overall look. With their sleek beauty and characteristic looks, dark kitchen cabinets have been on the rise. Using a contrasting color for your backsplash is a great way to emphasize the cabinets and create a stronger impact and white is the perfect color to catch this contrasting look. If you are thinking to use dark shades, get some inspiration from these dark cabinets with white backsplash ideas for your own kitchen!
Having dark cabinets doesn't mean your kitchen will be dark but matching your dark cabinets with a dark backsplash will create a moody and dramatic atmosphere. If you want to add a brighter look, matching the dark cabinets with a white backsplash will help you to give the impact that you want. White backsplashes are one of the most popular design elements for kitchens. They are like a black canvas that can fit every kitchen. From sophisticated black to elegant forest green, serene navy blue to sleek gray, there are plenty of color options to use for kitchen cabinetry and all these beautiful shades can work well with the clean and fresh look of the white. So, if you are looking for some bold and strong appeal and have a differentiation coloring? Check these stunning white kitchen backsplash ideas for dark-shaded cabinets!
Dark Brown Cabinets with White Backsplash
You might think that brown cabinets are outdated but with the right approach and material choices, they become a stylish design element for your kitchen. From espresso to dark wood, there are plenty of options to create dark brown cabinets and if you want to create a balanced look, a white backsplash will be a perfect match!
Backsplash Style
White backsplashes are the most classic and timeless option for every kitchen but it is unfair to say just white backsplash. From luxurious marble to classic subway tile, white kitchen backsplash come in a wide range of material, shape, pattern, and texture options that you can incorporate into your dark kitchen cabinets.
White Marble Backsplash with Dark Cabinets
If you want to give a luxurious appeal, there is no better option than a marble. Marble is one of the most precious stones on the market. Yes, it is pricier than other materials but this investment never fails you down!
White Brick Backsplash with Dark Cabinets
Red is the original color of the brick but real brick shades have a sharp and strong look that may not match the style of your kitchen. Using a white brick backsplash is a great way to soften this look and create a smooth backsplash with a natural texture and also a white brick backsplash with dark cabinets is a perfect combination to create a contrasting look!
White Glass Backsplash with Dark Cabinets
Glass is one of the most popular backsplash materials that provides both style and durability. The clean and fresh look of the white glass backsplash is a perfect thing to make a bright touch to your dark kitchen cabinets!
White Subway Tile Backsplash with Dark Cabinets
Subway tiles are classic and timeless options for kitchen backsplashes. . With their minimalist style and sleek appeal, these tiles offer a timeless look for different styled kitchens. Installing a white subway tile backsplash is a great way to add visual interest and brightness to your dark kitchen cabinets!