28+ White Backsplash with Brown Cabinets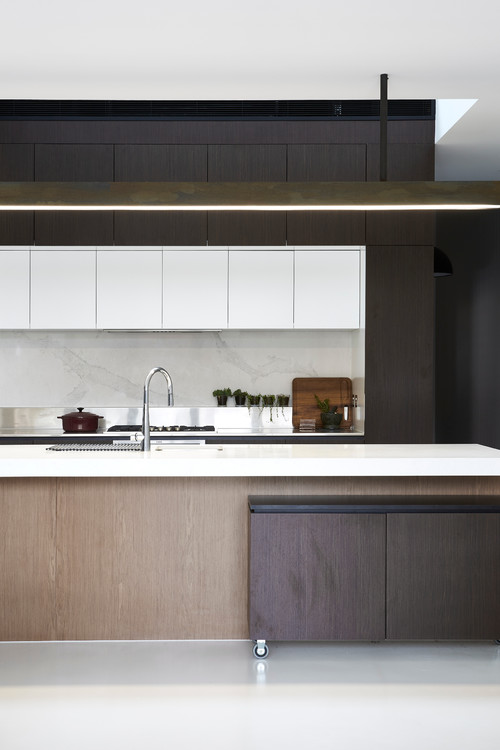 ID# 136401 | Houzz.com – Credit | © Taylor Knights
---
Contemporary Kitchen with White Backsplash and Brown Countertops
Not every statement piece screams it at your face, and this white marble backsplash is one of them. Enveloped by white and dark brown cabinets, it downplays the dark shades, imparting a sense of calmness. Plus, it is added another dimension by a stainless-steel backsplash that runs shorter on the wall and a stainless-steel countertop for a more professional and hygienic working space.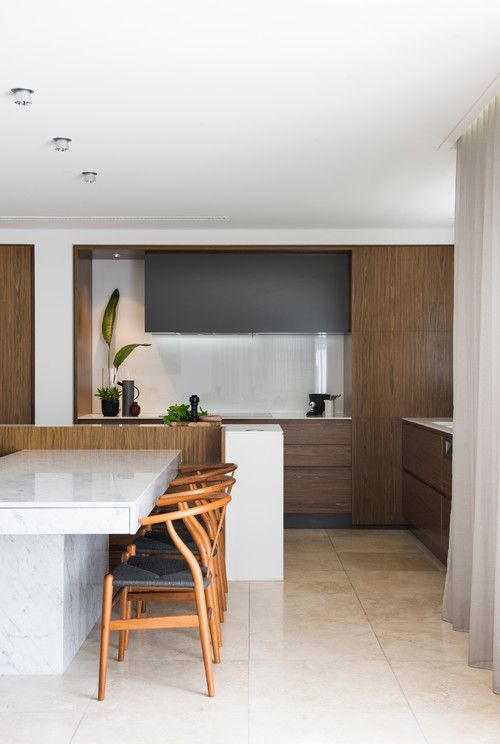 ID# 136420 | Houzz.com – Credit | © Minosa | Design Life Better
---
Modern Kitchen with White Glass Sheet Backsplash and Dark Brown Cabinets
In this modern kitchen, the white glass sheet backsplash with dark brown cabinets creates a focal point in the back. It is complemented by the gray cabinet bottom trims and the gray range hood fixture that coordinates with the gray stains on the veneer wood. The use of space feels less coherent but approachable with the cabinets that spread across the space for a more dynamic working environment, looking separate but also somehow connected. A dining table carved out of natural stone paired with wishbone stools is placed vertically on the island to create a T-shape for extra interest, while the large format beige tiles run across the room as a unifying floor plan.
White Backsplash with Brown Cabinets
A good backsplash is important to create a well-balanced look especially if you employ brown cabinets that feature a solid and powerful shade. That's why making a combination to alleviate the earthy shades gets more important, and sometimes making the use of a white backsplash with brown cabinets feels necessary. But the best part is that this pair creates timeless looks. Be it marble, quartz, glass, ceramic, tiles, or slab, a white backsplash, white backgrounds always create a background any design can find reliance in.
A white backsplash with brown cabinets can be used in various kitchen designs, ranging from modern to contemporary, Scandinavian, farmhouse, and mid-century. Especially if you have solid wood cabinets that come in various shades of brown, nothing can stop you to pull off a stylish look that is inclusive of nature and thus feels biophilic as well. Here we have gathered kitchen design projects centered around a white backsplash with brown cabinets that propose on-trend looks. And you can directly use these combinations in your home while staying true to today's trending looks that are most likely to be relevant in the long term as well. So, just read on to discover some design tricks and how to make a unique and artful combination with a white backsplash and brown cabinets.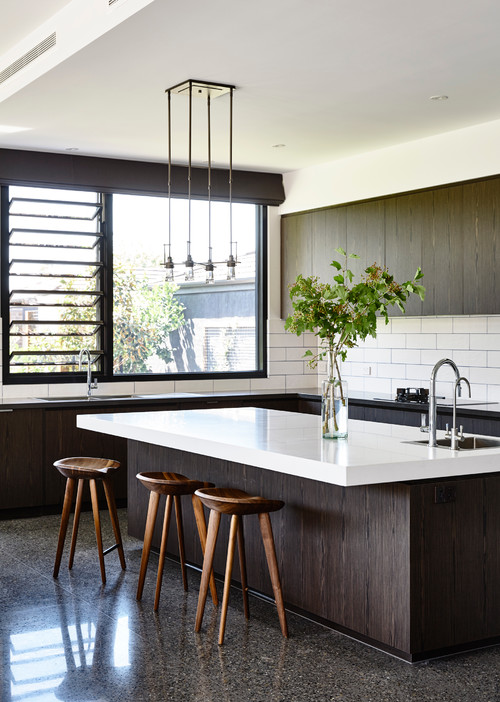 ID# 136402 | Houzz.com – Credit | © Camilla Molders Design
---
Large Subway Tile Backsplash with Flat-front Dark Wood Cabinets
Almost nothing feels classier than the combination of white subway tiles with dark wood cabinets. And here, they serve as space-enhancing and dramatizing factors, creating a timeless feel while also doing much more. First, the large format of subway tiles enlarges the walls, generating a sense of movement on the horizontal axis, whereas the vertically stained wood cabinets propose contrasting lines. To complement them, white quartz countertops just bring in a smooth energizing finish, and the concrete floor endows the floor with raw beauty. Also, concrete's seamless application with speckled and glazed finish articulates a more poetic interpretation of the space.
ID# 136403 | Houzz.com – Credit
---
White Backsplash with Brown Cabinets and White Countertops
Interlocking with the staircase, this modern kitchen is not something that you see every day. Comprising light wood cabinets topped by thin white countertops, it draws a profile that is set on the staircase, ending with a minimalist look. The ceiling-height white backsplash goes to the ceiling, ditching the wall units to let the space breathe as much as possible. These running-bond style metro tiles create a modern version of the brick backsplash, while the yellow grout used between the tiles coordinates with the high-gloss finish yellow range hood dressing. These golden touches also find a reference in the brass faucet paired with a brass-interior integrated sink that seems like a whimsical addition to this modern kitchen.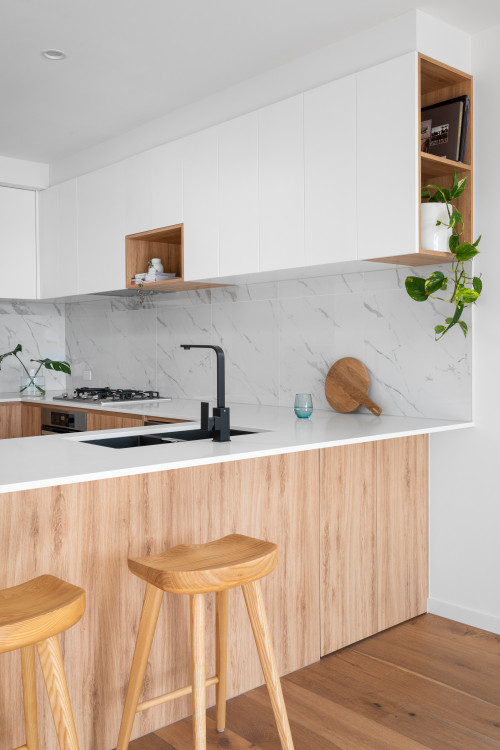 ID# 136404 | Houzz.com – Credit | © R ARCHITECTURE
---
White Quartz Backsplash and Timber Cabinets with Cabinet Shelves
In this Melbourne home, the designer grounds the overall look in a neutral and restrained color palette. The light-tone base cabinets coupled with white wall units deliver soothing aesthetics and a natural design, while the white quartz backsplash with engineered patterns creates a smooth transition between the cabinets.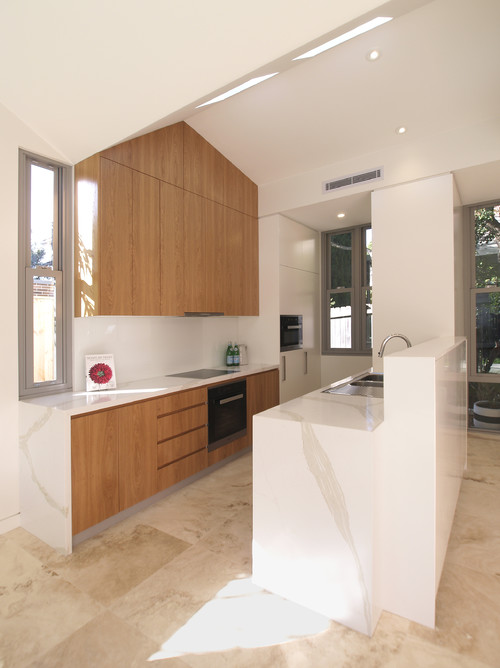 ID# 136405 | Houzz.com – Credit | © Sandberg Schoffel Architects
---
Galley Kitchen with Quartz Countertops and Wood Cabinets
Another modern kitchen that makes a combination of white and wood cabinets paired with a white glass sheet backsplash. This time, this popular combination is complemented by waterfall quartz countertop edges that create a streamlined look with a sense of flow. Overall, every material seems to be in dialogue and well-concentrated to offer an efficient and durable kitchen design.
White Backsplash Materials
Ranging from marble to ceramics, glass, quartz, and porcelain, white backsplashes come in various materials and forms. And each material is unique in its way, building different impacts and evoking different moods. Glass sheet and quartz backsplashes, for example, are especially common in modern kitchens thanks to their seamless look. Ceramics, porcelain, and marble go with any design, though with one difference. While ceramics and porcelain create more standard looks, marble is used to bring a statement finish and luxury, making the design look more sophisticated.
White Ceramic Backsplash with Brown Cabinets
Affordable and highly customizable, a white ceramic backsplash is a must to have for many house owners. Even though they have become a standard material for many, they open up limitless design possibilities thanks to their customizability. And with brown cabinets, they can create all sorts of looks, without overwhelming the homeowners with detailed and demanding cleaning routines.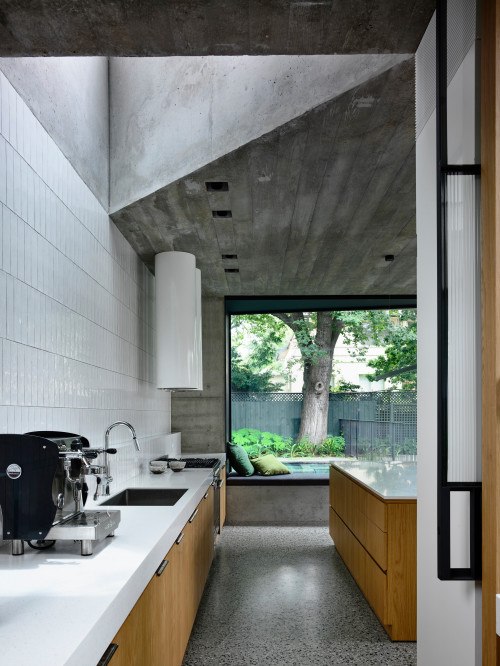 ID# 136406 | Houzz.com – Credit | © Taylor Knights
---
Stunning Kitchen with Stacked Backsplash and White Countertops
Offering an ultimate space of retreat, this stunning kitchen has the best of both worlds, where the untreated surfaces such as the exposed concrete ceiling stand in provocative contrast to the top-notching appliances. The slightly cavernous vibe due to the encasing ceiling is canceled thanks to skipping upper cabinetry and using a white backsplash. But it is not only the glazing white tiles that heal the enclose-ness but also the vertical stacking that makes the kitchen feel taller. Apart from those, another design trick is to provide a smooth transition between inside and out to make the space open up. To achieve that, the light wood cabinets are employed to build a natural connection and instill an intentional calmness.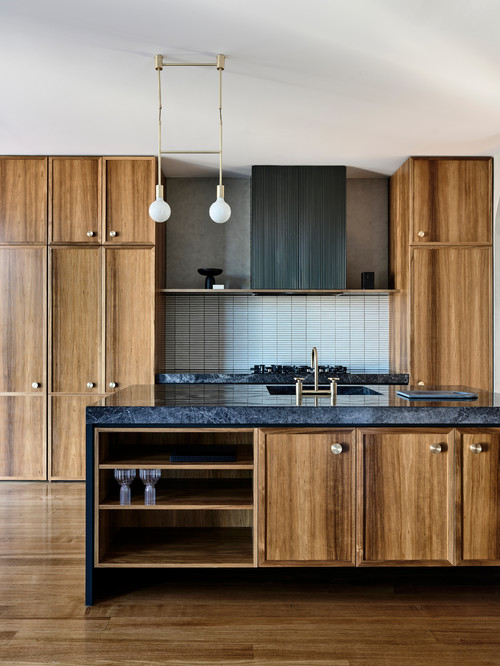 ID# 136407 | Houzz.com – Credit | © Luke Fry Architecture & Interior Design
---
White Backsplash with Brown Cabinets and Black Countertops
Even the simplest looks that utilize a basic color palette require a lot more than it seems just like in this particular kitchen. Moving with a similar mindset, this kitchen starts off treating furniture and materials as a piece of art. From the thick black countertops to the black fluted design range hood, and the beauty of the wood, each material comes with a unique personality. The accordion-like range hood has a similar texture to the white kit kat mosaic tile backsplash that adds a modern vibe, while the brass hardware brings the warming and glowing gestures.
What backsplash looks best with brown cabinets?
Since brown cabinets are relatively darker, using lighter shades like white for the backsplash keeps the kitchen airy and bright. White subway tile, geometric pattern, quartz, marble, and glass sheet backsplashes build a timeless feel, packing the kitchen with stylish touches. If you want to create a modern look, geometric patterns like hexagons and Escher tiles, along with glass sheet backsplashes are the route to go. However, if you would like to create a gloomier atmosphere, you can go with a gray backsplash rather than white.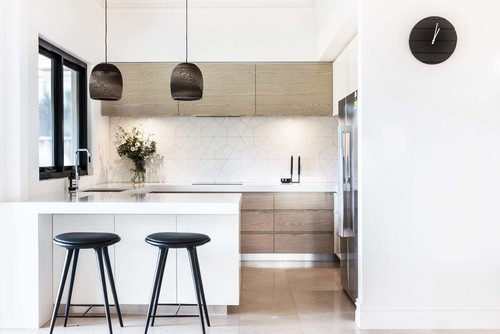 ID# 136408 | Houzz.com – Credit | © Turner Bespoke Design
---
White Hexagon Tile Backsplash with Dark Wood Cabinets and Peninsula
Do you see triangles or hexagons on the backsplash? Well, it has both. Coming in various patterns and design possibilities, ceramic tiles are one of the best friends of homeowners and this contemporary kitchen too. Here, they make a perfect pair with the dark wood cabinets that come mostly as drawers to help a better organization. To differentiate from the counters, the designer(s) clad the peninsula in white shades, pairing them with brown pendants and modern black stools to add more solid touches to the kitchen.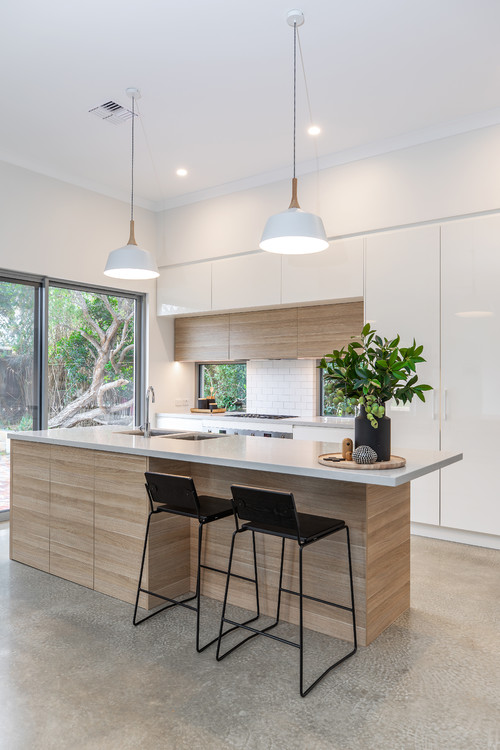 ID# 136409 | Houzz.com – Credit | © Hastings Design
---
Scandi-Modern Kitchen Design with Timber Cabinets and White Subway Tile Backsplash
This modern kitchen integrates a Scandi-feel into the kitchen with white and timber cabinetry and a white ceramic subway tile backsplash. The window backsplashes flank subway tiles to bring the outdoors in, along with the glazed patio door that blurs the distinction between indoor and outdoor spaces. Also, if that sort of inclusiveness and seamlessness between the exterior and interior spaces matter enough to you, just focus on the flooring. Here, the poured concrete floor with a glazed finish connotes the outdoors. The timber cabinets support it, while its combination with white backsplash creates a weightless appeal.
White Marble Backsplash with Brown Cabinets
The white marble backsplash is one of the best ways to add an upscale feel while also staying modest. And if you want to make brown cabinets look more sophisticated and richer, you can combine them with a white marble backsplash that lends elegance to the space.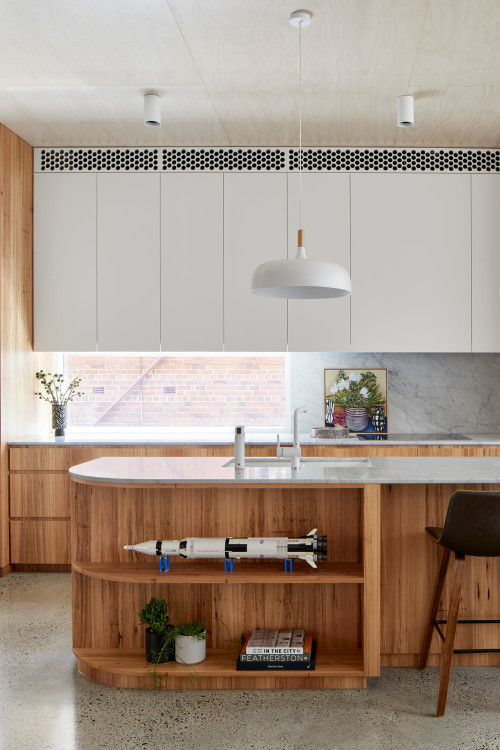 ID# 136410 | Houzz.com – Credit | © Mihaly Slocombe
---
Marble Backsplash with Wood Cabinets and Rounded Island
Without a doubt, marble is one of the most charming natural stones that deliver a luxurious feeling to the kitchen. Here, it is used in white-gray shades to create a visually lightweight design with light wood cabinets and a rounded island that adds a soft architectural feature to the space. And this natural look and design are taken to another level with concrete flooring that serves as a mass to absorb the heat borrowed from the streaming lights and warm up the kitchen. This way, this contemporary kitchen navigates energy consumption by using the right material vocabulary.
Design hint: Before designing, it is important to observe how much natural light the kitchen receives and what kind of design and materials make the best of the sunlight.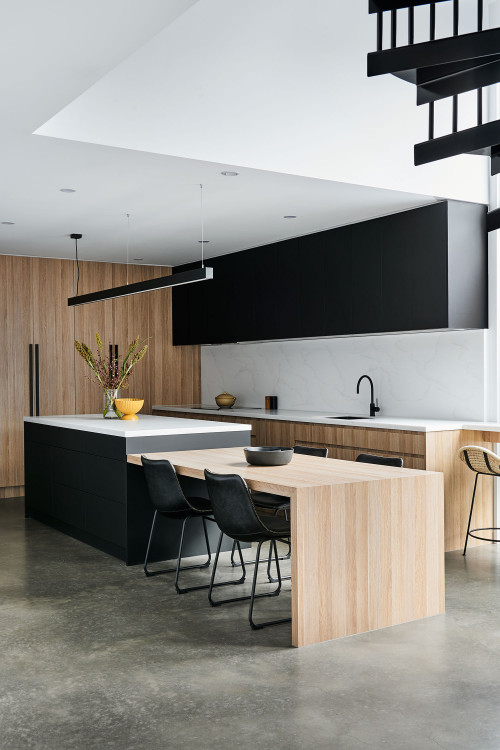 ID# 136411 | Houzz.com – Credit | © Charles Maccora Design
---
Contemporary Kitchen With Two-tiered Island and Concrete Floor
Designed as a galley style, this contemporary kitchen packs a timeless style with light wood cabinets and a white marble slab backsplash. The black wall units add a soft contrast to create a more solid look, while the two-tiered island celebrates the flawless union of the contrasting shades. The use of two different colors and materials for the island marks the different functions. The black base cabinets topped by white countertops serve as an extra benchtop and the wood extension that ends like a waterfall edge makes for texture-rich eating space. This way, the two different functions of the island don't bleed into each other. Lastly, the glazed concrete floor, one of the on-trend materials in contemporary and industrial kitchens, puts all different elements into balance with an understated feel. Its seamless application free of fussy joint lines gives the illusion of effortless beauty.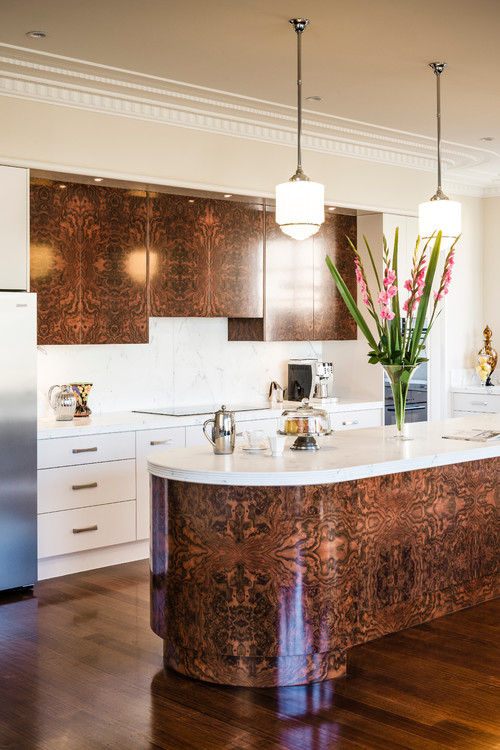 ID# 136412 | Houzz.com – Credit | © Smith & Smith Kitchens
---
Art Deco Kitchen Design with Veneer Cabinets and Curved Island
Borrowing inspiration from the 1920s Art Deco movement, this gorgeous kitchen uses undulating forms, curves, and disarming patterns to reflect the spirit of the era. The brown veneer cabinets with a streamlined look bring in rich pigmented and bold shades with elaborate patterns. In the rest of the space, everything feels proportionate to each other, while reflective surfaces and white countertops amplify the effect of lights. The curved kitchen island has a peculiar shape, diverting from the straight and regular lines. Whatever is left on the countertops adds another decorative piece that is welcome in Art deco designs. But if you want to bring a more statement piece, you could replace the modest pendants with a chandelier and use a mirror backsplash instead of marble.
Should backsplash be lighter or darker than cabinets?
There is no such rule of thumb. But to create contrast, you can go both ways. For those wishing for a background that features depth, dark backsplashes go better with lighter cabinets.
When deciding, you can also take cues from the shade of the countertops. If you have dark countertops topping dark cabinets, it is better to choose a lighter backsplash for a sense of balance and not to overwhelm the space. However, if you have dark cabinets topped by lighter countertops, you can go with a darker backsplash for a striking contrast and tie the design with the cabinets.
Overall, it mainly depends on personal interest and taste. If your kitchen receives enough natural light and is vast enough or open plan, all-dark looks are also suitable and considerable for those who prefer dark kitchens.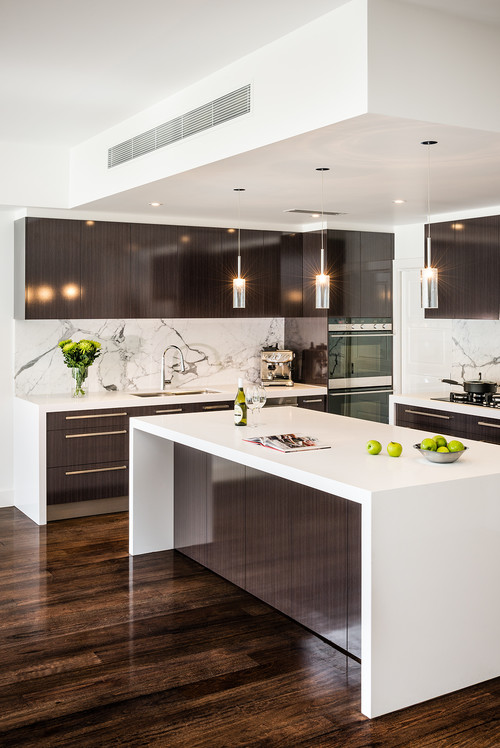 ID# 136413 | Houzz.com – Credit | © Let's Talk Kitchens & Interiors
---
White Backsplash with Brown Cabinets and Waterfall Island
The brown striations on the marble backsplash couldn't have found a better resonance with anything other than those brown cabinets. Featuring glazed finishes, these cabinets not only add a dramatic effect but also let lights bounce off around the kitchen. The waterfall island as a classic element of contemporary kitchens defines the kitchen, along with the false ceiling that adds extra dimension overhead. The dark wood floor highlights the strength of the design while pulling the whole design together.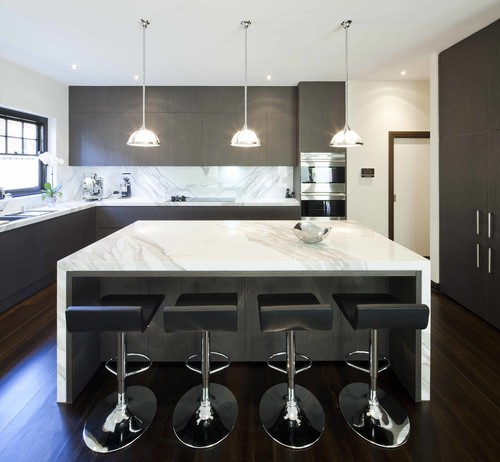 ID# 136414 | Houzz.com – Credit | © Mint Kitchen Group
---
Marble Slab Backsplash with Dark Cabinets and Statement Island
This glamorous kitchen is outfitted with a white marble slab backsplash and dark brown cabinets that create a moody atmosphere unique to itself. The built-in stainless-steel appliances just blend in with the chrome gestures of the space, including cabinet handles, fixtures, and bar stools. These chrome features not only stand in stark contrast to the wooden cabinets but also bring glow and luxury. This way, the harmony between marble and dark wood cabinets is highlighted, while the oversized island in the heart of the kitchen feels like a generous invitation for a family gathering.
White Glass Backsplash with Brown Cabinets
As an eco-friendly and non-porous material, a glass backsplash sets itself apart from many other materials such as natural stones. Coming in sheet and tiled versions, it not only provides a shimmering effect but also enlarges the kitchen. Thus, especially if you have dark cabinets, a compact kitchen, or both, you can illuminate the space and change the overall vibe with a white glass backsplash. Using such a translucent backsplash encourages the space to feel more spacious and brighter, especially when it comes in shades of white.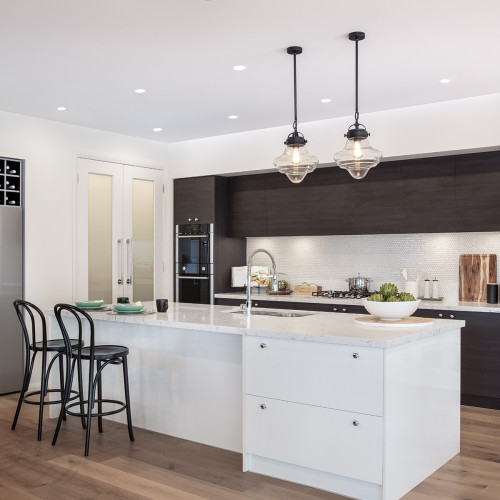 ID# 136415 | Houzz.com – Credit | © McDonald Jones Homes
---
White Glass Backsplash with Dark Cabinets and White Island
This contemporary and open-plan kitchen is in total synchrony with the living room. Consisting of dark brown cabinets with a white backsplash, it proposes a rich and elegant look. The shimmering glass backsplash illuminates the space, along with an all-white kitchen island that designates the cooking zone. White marble countertops and chrome hardware style the kitchen even more, while a light rustic floor running across the entire room ties the whole design together.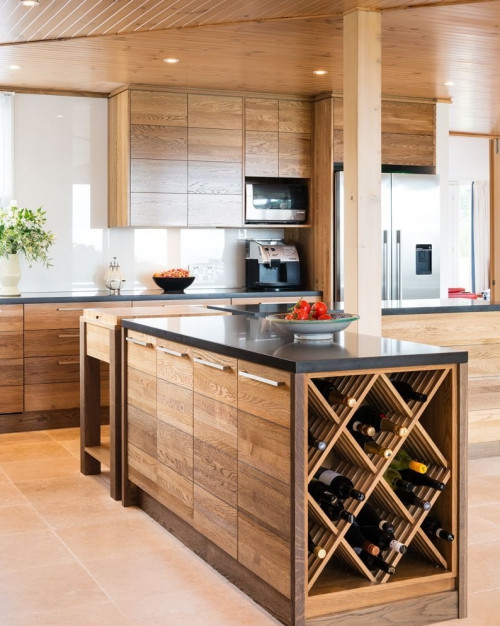 ID# 136416 | Houzz.com – Credit | © 5rooms
---
White Backsplash with Brown Cabinets and Black Countertops
Abundant with solid timber cabinets, this Scandinavian kitchen takes inspiration from Dutch kitchen designs, where the uniform look of the cabinets gets broken up with the white glass backsplash. This sheet backsplash creates a complete contrast with the timber, while its shiny, pore-free, and translucent nature just lends enough interest and glow to the otherwise all-wood kitchen. Going all the way up the ceiling, it provides a seamless background on which the shadows of the outdoors and windows find reflection for a sense of cinematic effect. To complement it, the rest of the space is fitted with stainless steel appliances and black countertops to enrich the color and material scheme. The L-shaped island comprises freestanding open storage that binds two identical islands. The exposed wine racks form part of these islands building extra interest, along with the corner windows serving as a secondary backsplash in another form of glass.
How do you brighten up a kitchen with brown cabinets?
White backsplashes are one of the best ways to illuminate the kitchen. You can even take them up the ceiling or paint the walls white to make the space feel larger and brighten up the overall look. Secondly, instead of wall units, you can choose to go with floating shelves. This, in turn, helps keep the walls freer and more open. Or you can also use smaller wall units rather than going for ceiling-height ones. Thirdly, installing under-cabinet lighting such as LED strip lighting and spotlights not only brighten up a kitchen with brown cabinets but also provides task lighting to create a more efficient cook space.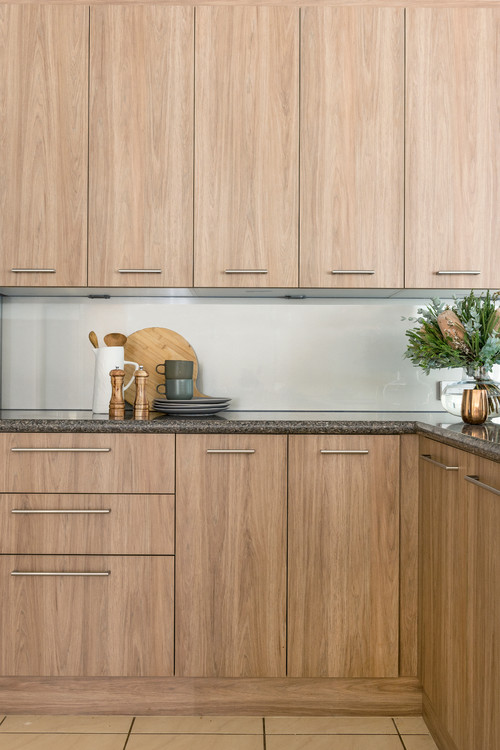 ID# 136417 | Houzz.com – Credit | © Kitchen Craftsmen
---
Modern Kitchen with Glass Sheet Backsplash and Brown Quartz Backsplash
This modern kitchen chooses to go with durable and pore-free materials without compromising its aesthetic value. The Silestone Mountain Mist brown quartz countertops with 40 mm thickness top the oak cabinets, while the white glass sheet backsplash adds a neutral transition and provides a breathing space between these cabinets. The seamless and joint-free feature of the backsplash gives the kitchen a modern spin, and the vertically stained cabinets expand the kitchen on the vertical axis.
Brown Shades for Kitchen Cabinets
Earthy shades like brown connote nature, thus bringing a sense of tranquility and a biophilic color. Though, by experimenting with the shades of brown, you can create different impacts on the space. To exemplify, going with lighter shades develop more soothing looks that impart a sense of calmness to the space and its users. On the other hand, dark brown shades create a sense of formality and drama which can be navigated and softened with lighter hues like white and light gray. Depending on the look you aim for and considering how much natural light your kitchen receives, you can make a decision accordingly. But even if your kitchen doesn't receive enough natural lights but you strongly want dark brown cabinets, don't despair. With a good lighting system and a white backsplash, you can compensate for the lack of sunlight.
White Backsplash with Dark Brown Cabinets
If you love striking contrasts and visual dramas, dark brown cabinets will give you all that you need. And white backsplashes keep the space lightened up to maintain the balance between the dark and light shades. Plus, to feed the spaciousness and brightness, you can also use glass sheets and polished sheet backsplashes as well as under-cabinet lighting. Forgoing upper cabinets also helps the kitchen feel brighter, exposing the walls without confining the space.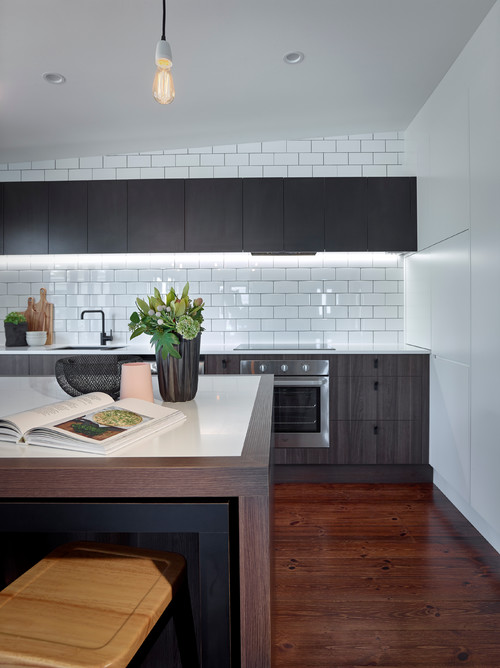 ID# 136418 | Houzz.com – Credit | © Brilliant SA
---
White Backsplash with Brown Cabinets and LED Lighting
The serious and distant look of this kitchen feels more approachable with the under-cabinet LED lighting and dropped-down light bulb pendants over the island that brings a casual feel. In the background, the ceiling-height white backsplash is broken up with the dark brown wall units, while the tiles' glazed finish captures lights as much as it can. The small kitchen island makes a room for three people, offering an extra benchtop and storage to increase the kitchen's utility. The floor finished in dark wood brings warmth otherwise too-cool kitchen despite the dark brown cabinets with gray undertones. Overall, it feels balanced and well-curated.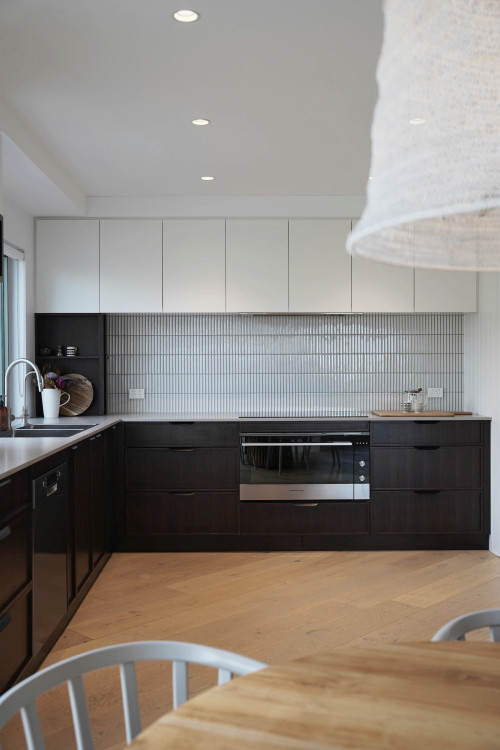 ID# 136419 | Houzz.com – Credit
---
Kit Kat Tile Backsplash with Two-tone Cabinetry and Gray Countertops
This L-shaped layout of this contemporary kitchen carves out enough space in the center, while the diagonally installed woods add a modern appeal to the floor. The white kit kat tile backsplash supports this modern vibe. Feeling well-contrasted with the dark brown cabinets, it delivers sophistication and brings out the warmth of the dark cabinets. The gray countertops and white wall units just play up these features, while stainless steel appliances achieve a top-notch look.
Are brown cabinets outdated?
In traditional cottage-style, Tuscan, and many more, brown cabinets used to be very popular, paired with beige backsplashes, raised-panel cabinet doors, and elaborate details. But since then, so much has changed, and so did the brown cabinets. Coming in flat-front cabinets with chrome pulls or any other modern hardware, they are combined with white sleek backsplashes like glass sheets, subway tiles, and marble slab backsplashes. This way, they gain a more modern momentum. As such, this recontextualization of the brown cabinets keeps them on trend.
Plus, we all know that particularly the light brown cabinets are favored in contemporary and Scandinavian kitchens. It is because they allow them to build visually lightweight looks and incorporate nature and organic textures in their way, which is especially significant for Scandinavian kitchens.
Additionally, if you love mid-century looks, it is almost impossible to imagine one without brown cabinets (particularly walnut cabinets) to establish a dramatic effect strikingly contrasted with white backsplashes.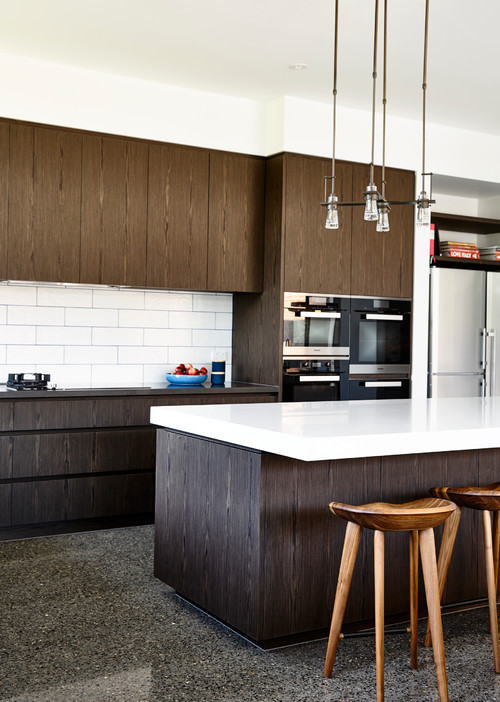 ID# 136421 | Houzz.com – Credit | © Adie Courtney Architect
---
Contemporary Kitchen with Speckled Concrete Floor and Subway Tile Backsplash
Concrete floors now feature speckled finishes that make them experts at hiding stains and in a similar visual structure as the terrazzo floorings. But who would guess that they suit this white backsplash and dark cabinet union in such a fantastic way? Here, this contemporary kitchen ties them all together, constituting a dramatic and well-articulated look. The white subway tiles laid in a running-bond style generate movement, while white and thick quartz countertops introduce optimism. The dark cabinets layer sophistication and warmth, while a cluster of light bulbs over the island style the Edison bulbs in a modern way.
White Backsplash with Light Brown Cabinets
Light brown countertops are popularly used in modern and Scandinavian kitchens to create light and airy designs without overwhelming the space. Whether you have a small or big kitchen, you can confidently pair light brown and timber cabinets with a white backsplash. And to complement this timeless couple, you can team them up with concrete floors, modern black pendants, geometric patterns, and white, black, gray, and concrete countertops. Especially, if you want to create a timeless look inclusive of nature, light timber cabinets with a white subway tile backsplash are one of the best ways to go.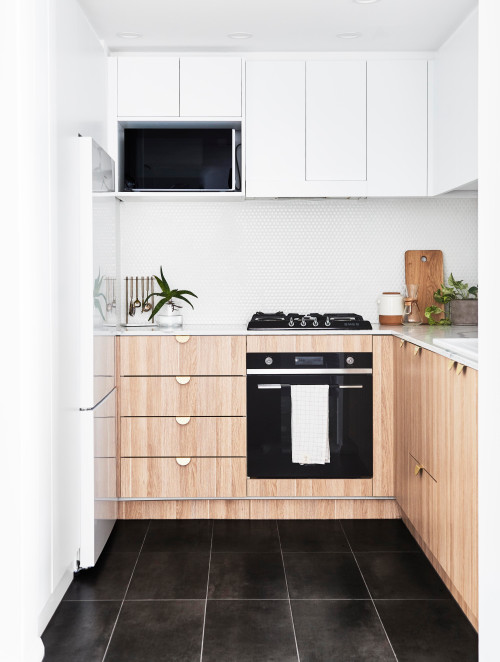 ID# 136422 | Houzz.com – Credit | © STUDIO OSCAR LEA.
---
Contemporary Kitchen with Black Floor Tiles and Timber Cabinets
Small yet self-contained, this contemporary kitchen is governed by white flat-front upper and timber base cabinets that create a streamlined design. The white penny round mosaic tile backsplash provides a texture-rich backsplash and amplifies the kitchen, teaming up with the white quartz countertops perfectly. On the floor, the use of black tiles doesn't confine the space. Rather, it elevates the weightless appeal of the top half of the kitchen. In such small spaces, it is important to consider carefully the format of the tiles and stick to the large format ones to help the floor look larger than it is.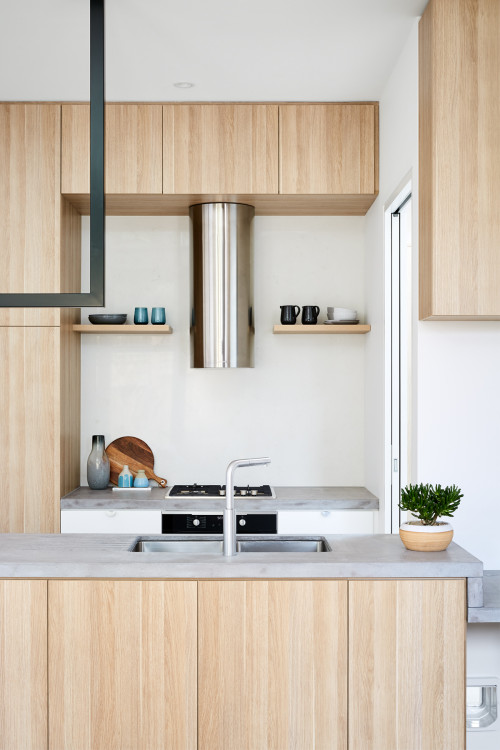 ID# 136423 | Houzz.com – Credit | © Atlas Architects
---
White Backsplash with Brown Cabinets and Concrete Countertops
This soothing contemporary kitchen design complements the light wood cabinets and white backsplash with concrete countertops that add a hard and cold finish. This radical shift in material vocabulary emphasizes the modern spirit of the kitchen, while the cylinder-shaped brushed stainless-steel hood brings a state-of-art addition. Overall, it exposes its users to a tranquil space where time slows down even though it makes homeowners experience an urban kitchen design.
Is white backsplash good for a kitchen?
If the all-time favorite white backsplash has been popular and on-trend for all this time, there has to be a good reason for it. And sure, there is. White backsplashes are versatile, timeless, cost-effective, and can adapt to any look. Even better, they can adjust themselves to any kitchen design, be it a modern, midcentury, beach-style, or farmhouse kitchen. To give an example, a glazed white backsplash serves as a fitting salute in beach-style kitchens to create a shimmering effect, while the hexagon tile backsplash goes well in contemporary kitchens, bringing some geometry in. Also, the white subway tiles are used in all kitchens to achieve a timeless look.
Overall, as white backsplashes are available in a plethora of patterns, sizes, and materials, you can create any look with them. Plus, due to their neutral color, they execute a simple yet elegant design that might feel slightly recessed, which charges them with positivity and sophistication as well.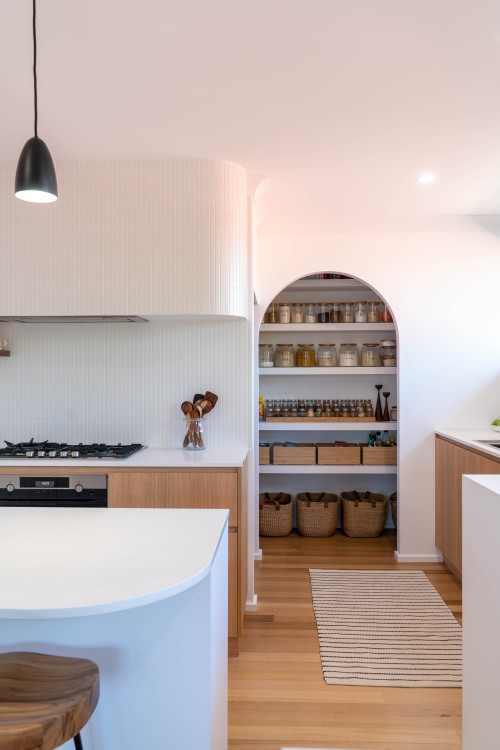 ID# 136424 | Houzz.com – Credit | © ACT Renovations
---
Scandinavian Kitchen with Two-tone Cabinetry and Black Lighting Fixtures
In this light and airy, Scandinavian kitchen, you can just luxuriate in the visually lightweight design tinged with the Mediterranean feel thanks to the curvy forms integrated throughout the kitchen. In the background, the white kit kat mosaic tile backsplash lends a sophisticated feel to the backdrop, complementing the white and wood cabinets. And the backstage of the kitchen-pantry- is revealed through a cased opening. Apart from those, if you are looking for ways to enrich the look, you can get the backsplash tiles to continue on the range hood for a uniform look as here. This way, you level up the sophistication that forms integral of the overall look. And if you want to integrate a stronger color, black lighting fixtures can do it for you without intervening in the bright kitchen look.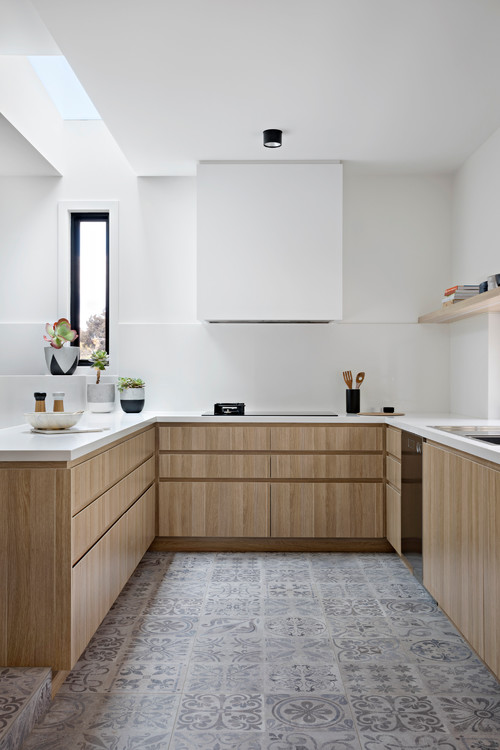 ID# 136425 | Houzz.com – Credit | © Inbetween Architecture
---
White Backsplash with Brown Cabinets and Mosaic Floor Tiles
If you want to keep the upper level of the kitchen simple, you can always introduce more patterns through the floor tiles. Here, for example, this contemporary kitchen goes with mosaic floor tiles with faded patterns that look like silhouettes, creating a subtle vignette. The rest carries a modern Scandinavian vibe with light timber cabinets and a white tile backsplash. To feed the spaciousness, the kitchen forgoes upper cabinets, freeing the top half of the kitchen. Instead, white painted walls ooze peacefulness and serenity that calms down its users as well.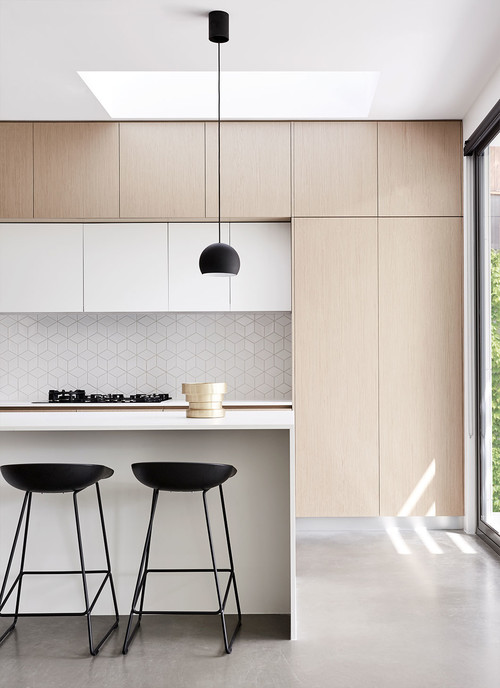 ID# 136426 | Houzz.com – Credit | © Zunica Interior Architecture & Design
---
White Escher Tile Backsplash with Light Brown Cabinets and Concrete Floor
Timeless and trendy, this contemporary kitchen goes with a white Escher tile backsplash that brings geometric patterns in a sleek profile. Its all-white color palette makes it timeless, while the patterns make it contemporary. The light brown wood cabinets add soft features and warming shades, while the polished concrete floor contrasts with its hard and cold look. It connotes an outdoor flair that directly connects to the outdoor patio. The all-white island brings a sense of flow with a waterfall countertop. If you want to add more color, you can introduce three different colors through Escher tiles. This also allows your backsplash to have a 3-dimensional look and emphasizes the contemporary flair of the kitchen.
Is white backsplash popular?
White backsplashes are popular as they provide a neutral backdrop and create a blank canvas that the whole design can rely on. Even though they have risen in popularity with all-white kitchen looks, they didn't fade with them. In other words, though the popularity of all-white looks has experienced a shift and downfall over time, it didn't affect the white backsplashes. So, they continue to be sought-after to create a background with an easygoing nature that can suit any look.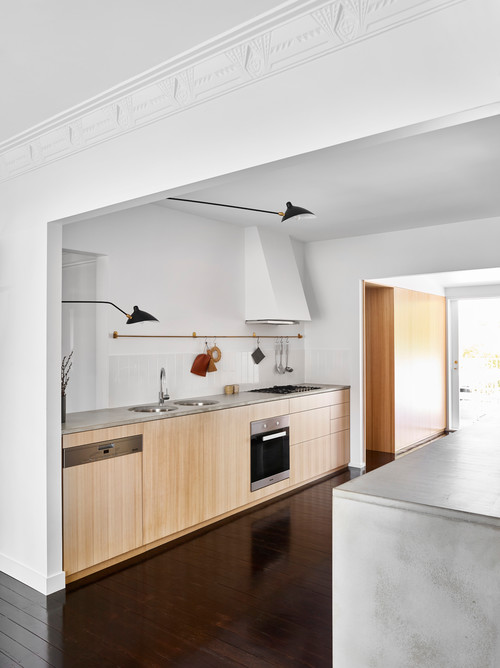 ID# 136427 | Houzz.com – Credit | © zuzana&nicholas architects
---
Contemporary Kitchen with White Stacked Backsplash And Dark Wood Floor
Situated between the two giant cased openings, this contemporary kitchen is designed in a galley style. It mainly consists of timber cabinets topped by concrete-look countertops and a white stacked subway tile backsplash. The standard size of the backsplash leaves the top half of the kitchen untreated, which exposes the white-painted walls to create a continuous look with the rest of the open space. A wall-mounted rail and two ultra-practical black wall sconces add a gesture to the wall; especially, the lighting fixtures that ooze and are easy to navigate reach different levels to provide task lighting. Lastly, the kitchen's neat and clean look feels complete with the dark wood floor for the sake of some dramatic effect. Plus, the wood's glazed finish just gives it a brand-new shiny look that is glowing and lets light bounce off the floor.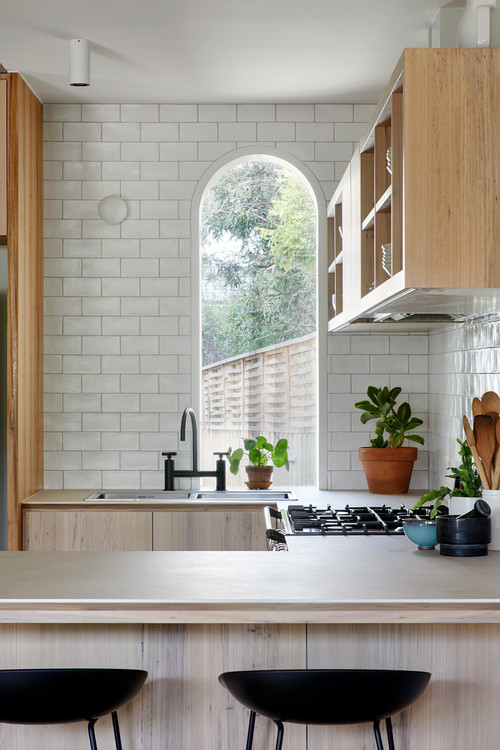 ID# 136424 | Houzz.com – Credit | © ZGA STUDIOZGA STUDIO
---
Ceiling-Height Backsplash and Cabinet Shelves with Timber Countertops
One of the on-trend looks in 2022, the ceiling-height backsplashes are great excuses to leave the upper walls bare and fully exposed. This way, homeowners can show off their beautifully tiled walls and provide breathing space. Here, this contemporary kitchen does both while the gorgeous curved window invites the outdoor in. The large sizes of the subway tiles enlarge the effect of the backsplash, encouraging the space to feel larger than it is. Even if the wall units are used on one of the walls, they come in the form of cabinet shelves that reveal what is kept without causing any enclosure. Plus, it is also a smart way to keep the range hood out of sight, while the rest feels complete with light timber countertops, black fixtures for contrast, and kitchen plants that add a splash of color.