24+ Backsplash for Brown Cabinets and Black Countertops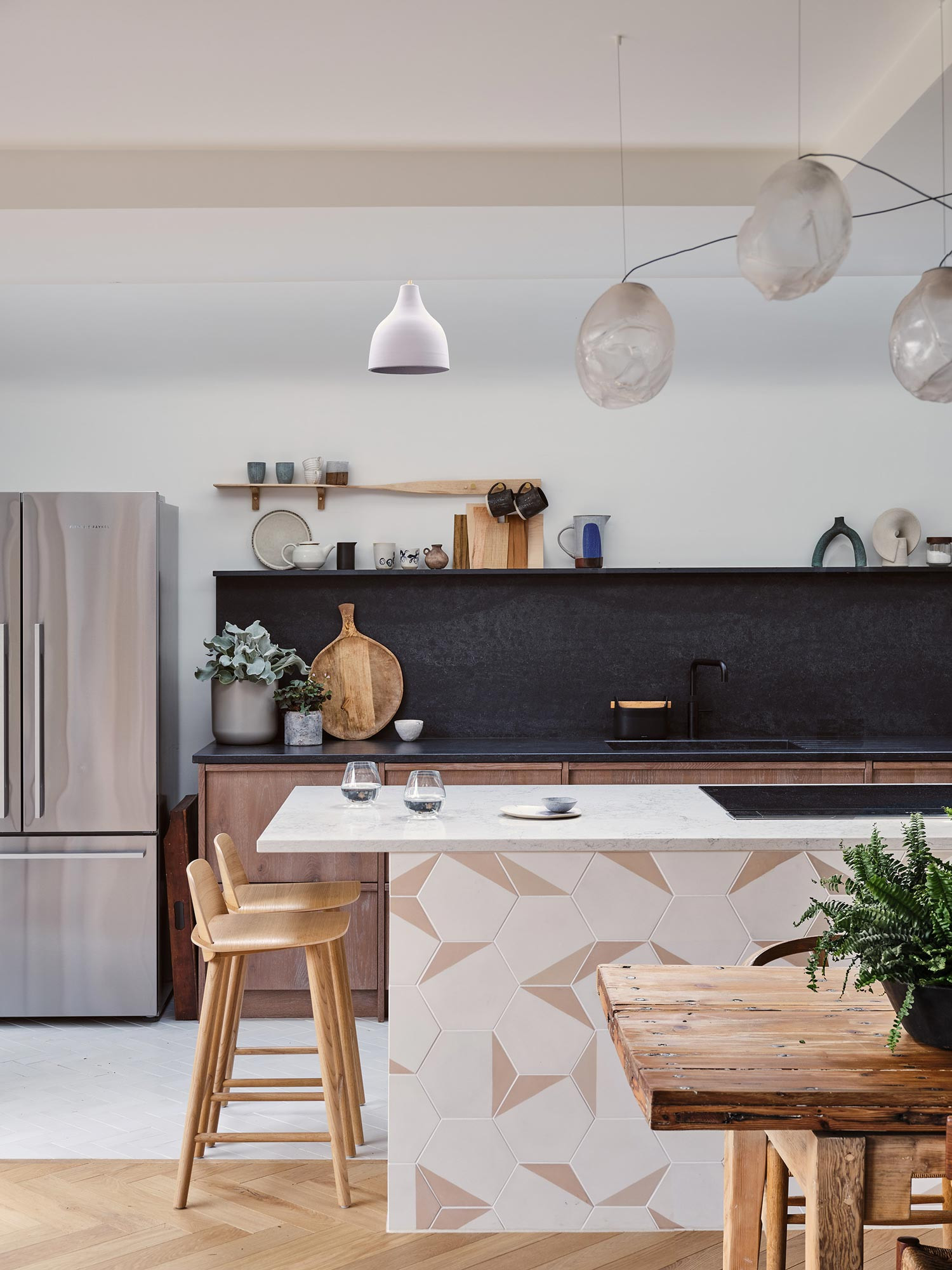 ID# 171411 | Houzz.com – Credit | © The Main Company
---
Black Backsplash for Brown Cabinets and Black Countertops
Clad in light timber and a palette of black, this modern kitchen represents a robust and grounded character! The black backsplash with black countertops gives a distant look to bring depth to the rear wall. Combined with wood cabinets, they offer a rich assortment for the eyes. The other statement-maker element is the tiled kitchen island covered with patterned hexagon tiles. These tiles complement the warm appeal of the timber accents while the oversized lighting fixture above the island makes a unique touch that enhances the overall design.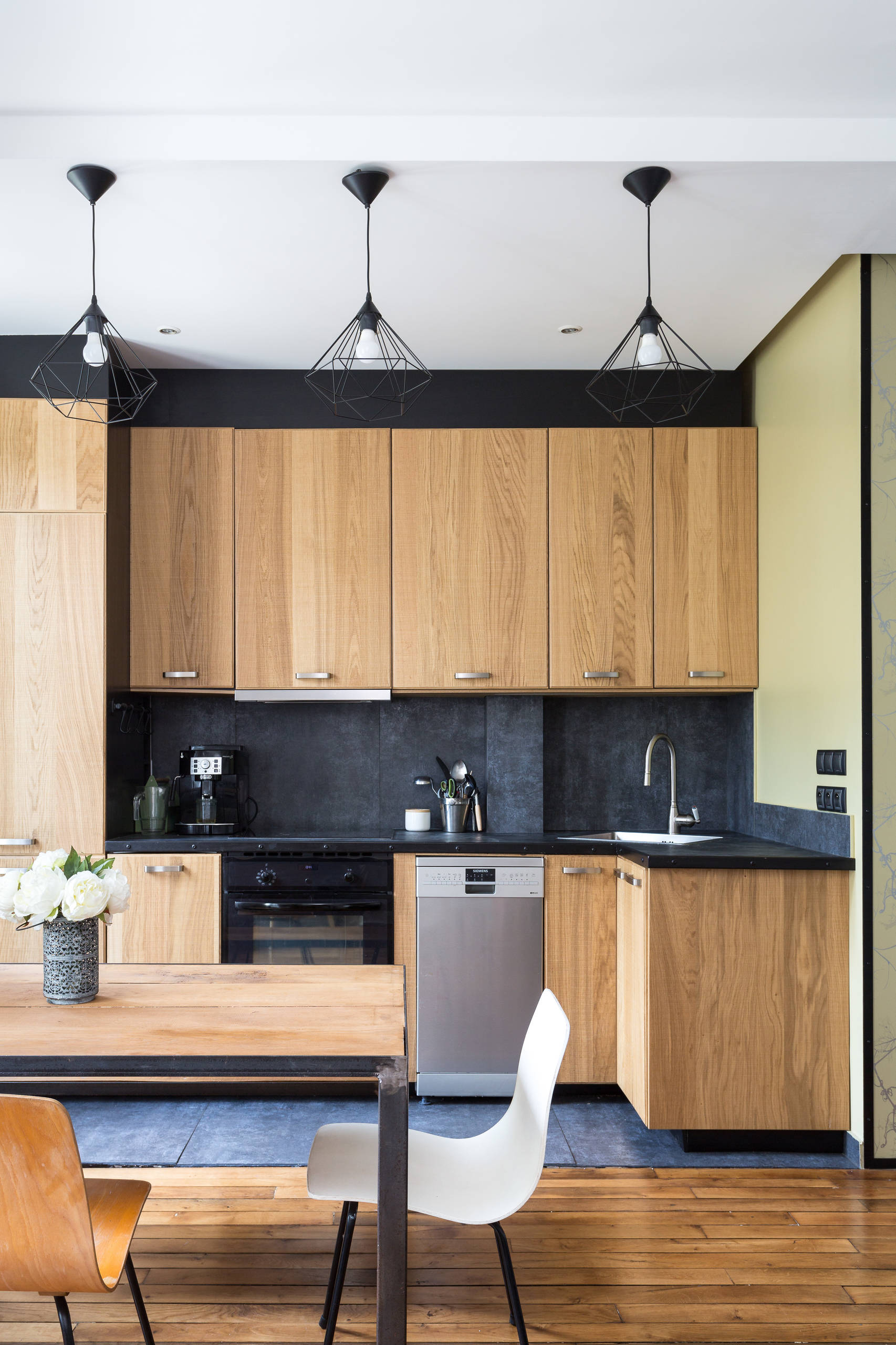 ID# 171413 | Houzz.com – Credit | © QUALIRENOVATION
---
Open-plan kitchen with Black Countertops and Light Brown Cabinets
This tiny kitchen gains a robust character with light brown cabinets and a black backsplash that brings a sense of resilience. Each wood cabinet is distinct thanks to its unique grains and inherent patterns, giving expressive and characterful looks. Subtle tree silhouettes on the yellow-painted wall cut with black vertical stripes, hardwood flooring, and black accents tie powerful textures and images connoting natural life together.
Backsplash for Brown Cabinets and Black Countertops
In contrast to colorful and vibrant kitchen designs filled with greens, blues, reds, and pinks, there is whole another design world that comes with darker tones. Visually characterful and immersive, the kitchens with a brown and black palette achieve a restful ambiance while creating visual dramas. Thus, brown cabinets with black countertops are one of the favored couples in dark-themed designs. But what about the backsplash? A backsplash for brown cabinets and black countertops can go in both directions and be lighter or darker, depending on the impact the homeowners are aiming for.
Find Stylish and Functional Backsplash Ideas
White, green, beige, black, and gray are some of the color options for a backsplash for brown cabinets and black countertops. For those who want to introduce a different texture, granite, marble, terracotta, mosaic, and glass tile or panel backsplashes are very expressive and have the potential to add more personality to the space. If you would like to gain some design ideas and delve into the rich world of brown and black, below 23 design ideas await to be discovered.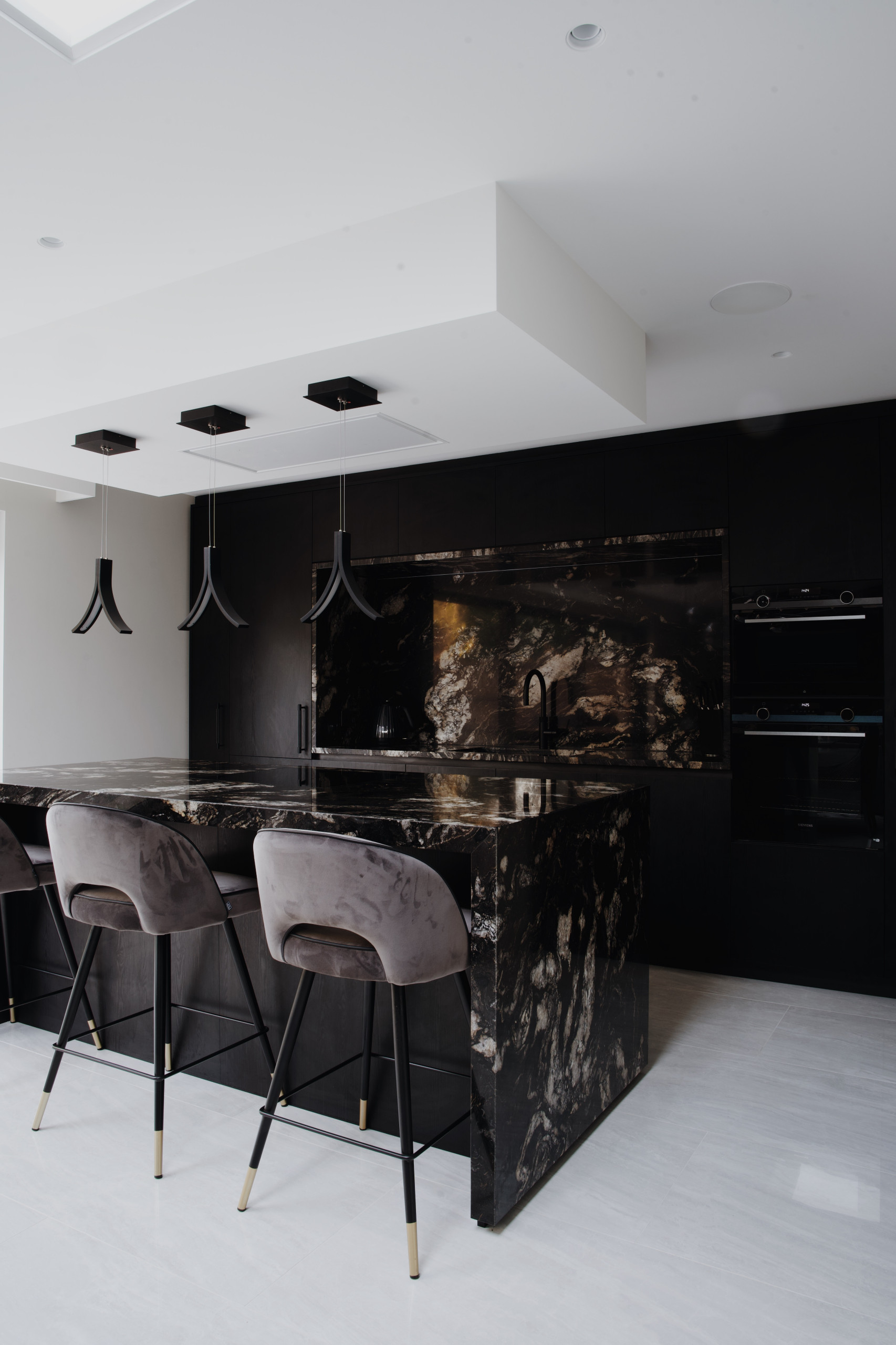 ID# 171401 | Houzz.com – Credit | © The Wood Works
---
Granite Backsplash for Brown Cabinets and Black Countertops
The top-to-toe brown monochromatic kitchen delivers a simple but delicate, pared-down but striking aesthetics. Dark wood cabinets, black granite countertops and backsplash, and a waterfall island serve as the main bones of the kitchen. On close inspection, the dark wood cabinets reveal their in-depth layers of texture and subtle tonal variations. The eye-catching granite slabs are the only elements evoking vibrancy. The material choices work so well that you wouldn't want to change anything. For those in love with dark-themed kitchens and monochromatic looks, this kitchen shows how you do it!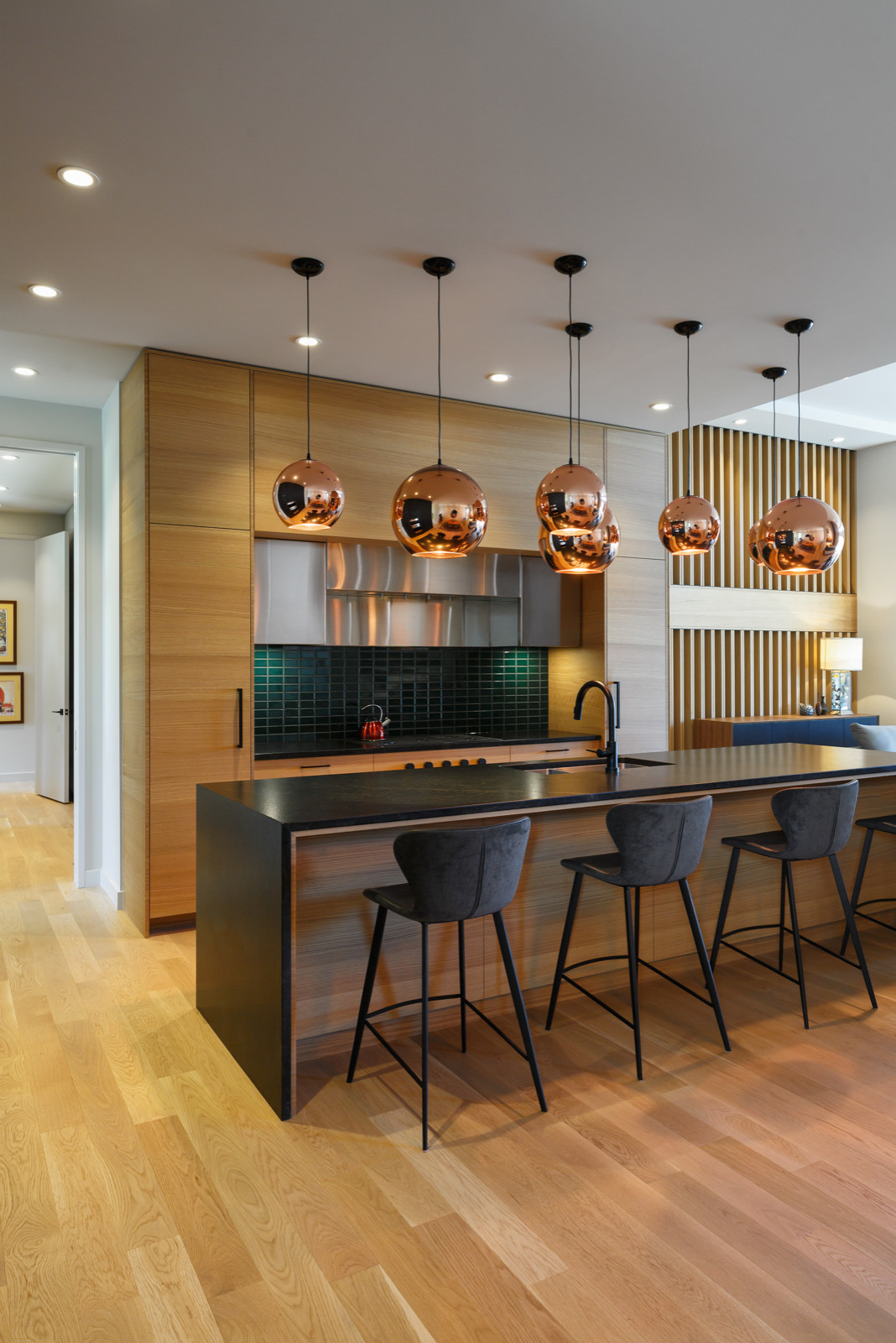 ID# 171402 | Houzz.com – Credit | © Maillot Homes
---
Green Backsplash with Wood Cabinets and Waterfall Island
Contrasting colors and textures define the main theme of this open-plan kitchen that exposes its voyeurs and users to modern nostalgia. Bringing mid-century vibes through extensive use of timber and pendants reminiscent of the 60s nightlife, the contemporary kitchen creates a bar-like ambiance where you can host your guests. Dark cabinets add a gloomy atmosphere which you can find in a club, while wood reminds us of the home context. To take a closer look at how these elements function aesthetically, we can start with the stainless steel overhead cabinets serving as a mirror and reflecting the pendants. The wood cabinets, in contrast, are used as a frame that binds the design theme to earth. The green vertically stacked backsplash adds a sense of movement, emphasized by under-cabinet accent lighting. Black countertops bring depth to help ground the overall look.
What backsplash goes with brown cabinets and black countertops?
Backsplashes stand out as one of the most important elements in the kitchen basically for two major reasons. First, they provide a background for everything to blend in. Second, as the backsplashes are at eye level when someone enters the kitchen, it is where the humans' eyes rest at the first moment. So the first impression comes more or less from the backslashes, which makes them essential to the design. When it comes to their design options with brown cabinets and black countertops, you can spice up the backdrop with patterns and bold colors like blue and green or keep things simple while applying panel backsplashes or glass sheets. Monochromatic kitchen lovers, for instance, can choose a dark-tone backsplash, while the lighter ones would serve to illuminate the kitchen.
As for material options, you can consider porcelain, ceramic, terracotta, limestone, granite, marble, glass, and quartz. Each will give a different look with brown cabinets and black countertops. So, now that your options are quite versatile, all you have to do is decide what kind of look you want. Rich and immersive? Playful but serious? Restrained but free? These kitchen design samples give you an impression of all these looks, but which one do you like most?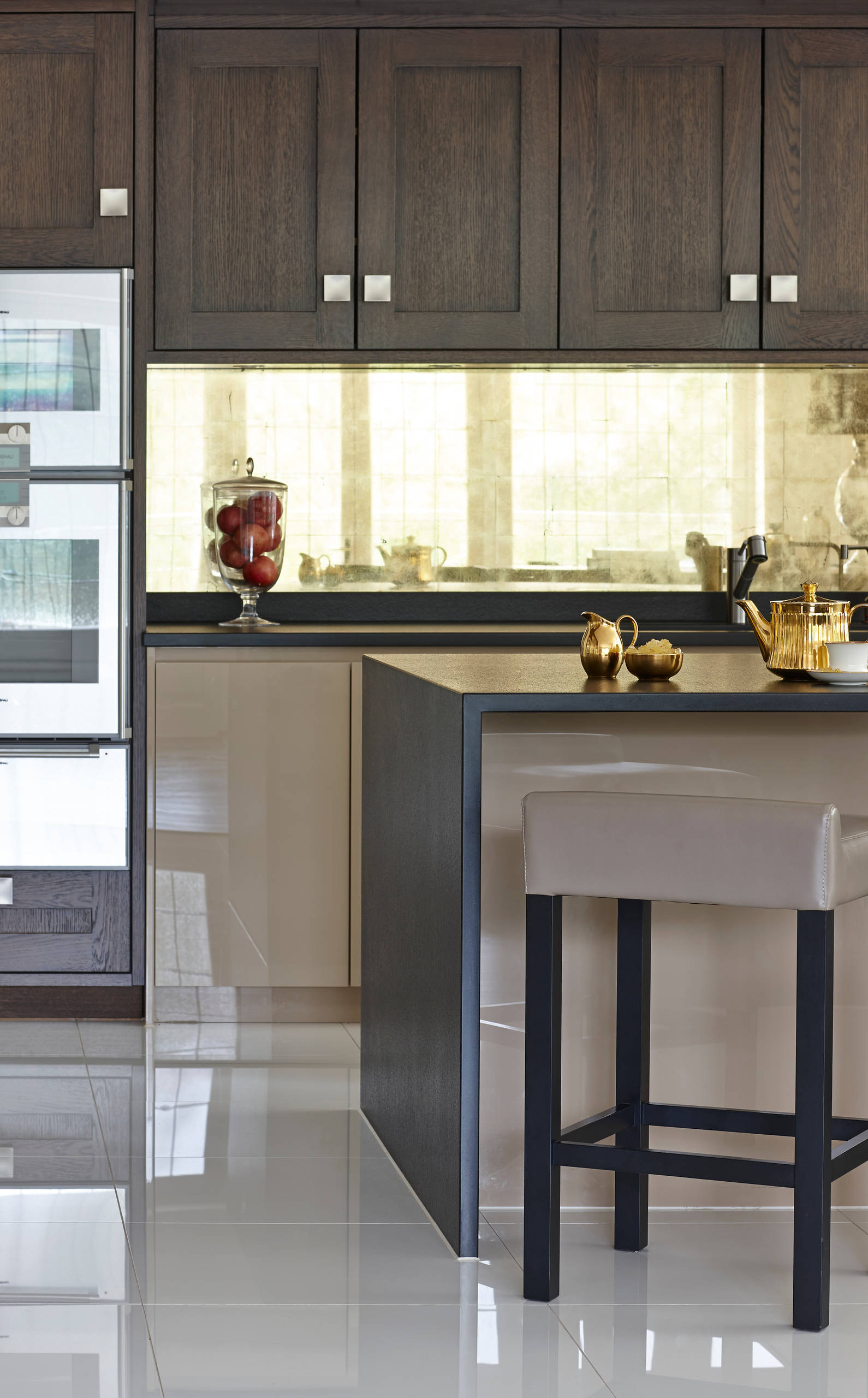 ID# 171403 | Houzz.com – Credit | © Mowlem & Co
---
Two-tone Cabinets with Black Countertops and Mirrored Backsplash
This contemporary kitchen uses a variety of tiles to build different narratives throughout the space! While the mirrored backsplash dresses the walls, the gray larger-format porcelain tiles coat the floors. They both add visual dynamism to create more authentic looks and an engaging ambiance while two-tone cabinets serve as the backbones of the kitchen. Though these dark brown and beige cabinets seem to dominate the kitchen, they do so without overpowering, and black quartz countertops neutralize the space uniquely.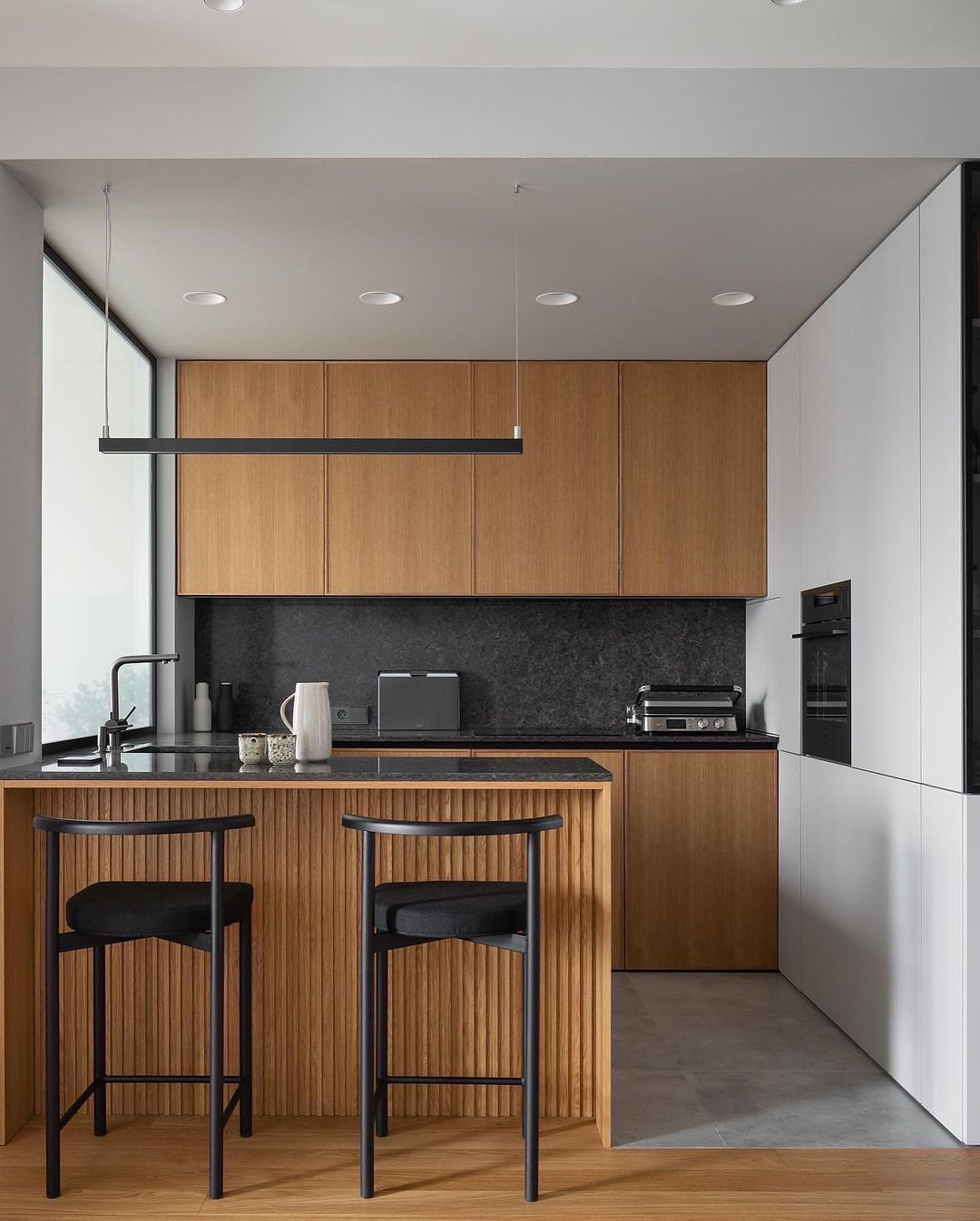 ID# 171404 | Houzz.com – Credit | © Миксон — мебель на заказ
---
Contemporary Open-concept Kitchen with Black Accents
Though this contemporary kitchen is small, it feels airy and bright as it is inserted into an open-plan layout, borrowing plenty of natural light from the picture-framed window. The medium-tone wood cabinets provide a sleek base for this space while the addition of the black granite backsplash and countertops brings depth to the space. Also, the tall cabinets on the right side help to emphasize the spacious atmosphere. Two black counter stools tucked beneath embody the modern and laid-back atmosphere.
Backsplash Colors
There is a wide range of color options that you can combine with brown cabinets and black countertops. To illuminate the kitchen, beige, white, and green are great options, while gray lends a sophisticated feel, especially when it is applied as a panel of solid stone backsplashes. Black surely adds depth and grounds the overall look of the design, especially when combined with black countertops. To build up contrasts and tension, you can also use a black tile backsplash with white grout or vice versa.
White Backsplash for Brown Cabinets and Black Countertops
White backsplashes are the best if you need a blank canvas for other elements to blend in or create a sense of spaciousness. Particularly, in small and darker kitchens where there are not enough windows, the white backsplashes can compensate for the lack of natural light, at least to some extent, to lighten up the space.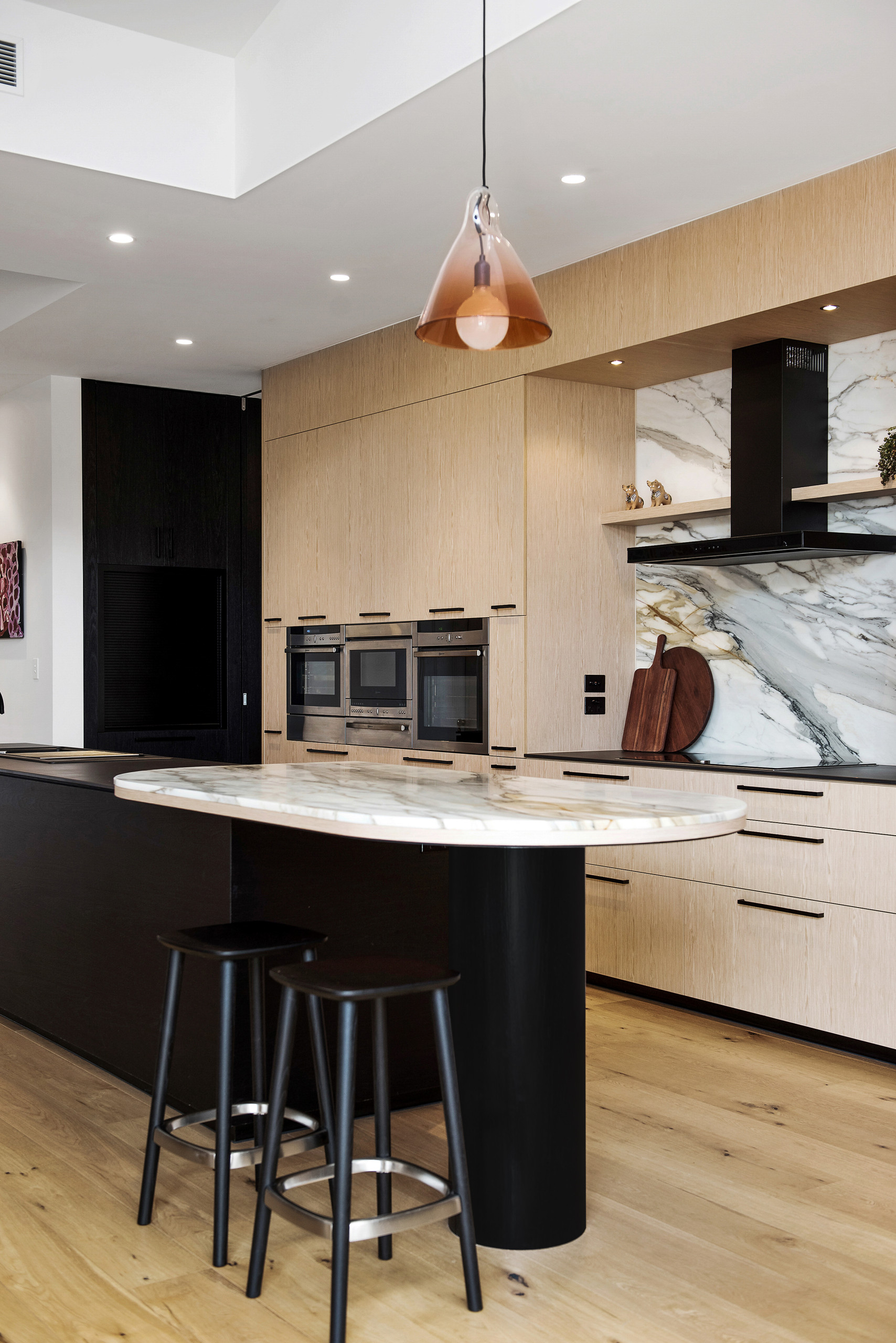 ID# 171405 | Houzz.com – Credit
---
Light Wood Cabinets with Cantilever Island and White Marble Backsplash
The overall theme of the contemporary kitchens finds its foundation in geometric forms and various textures. Here, for instance, the mixture of black with timber endows the kitchen with an organic depth, introducing strength to the space. A white marble backsplash and light-tone wood cabinets incorporate a tactile and earthy palette, and beige and blue veins add sophisticated patterns to the marble. The light wood floors with black stains retain integrity in the kitchen, while inset black appliances blend perfectly with the black island. The interesting anatomy of the island introduces different forms. Its marble extension attached to the edge of the black countertop ends with a curvaceous design to break up the monotony of the formality of rectilinear forms.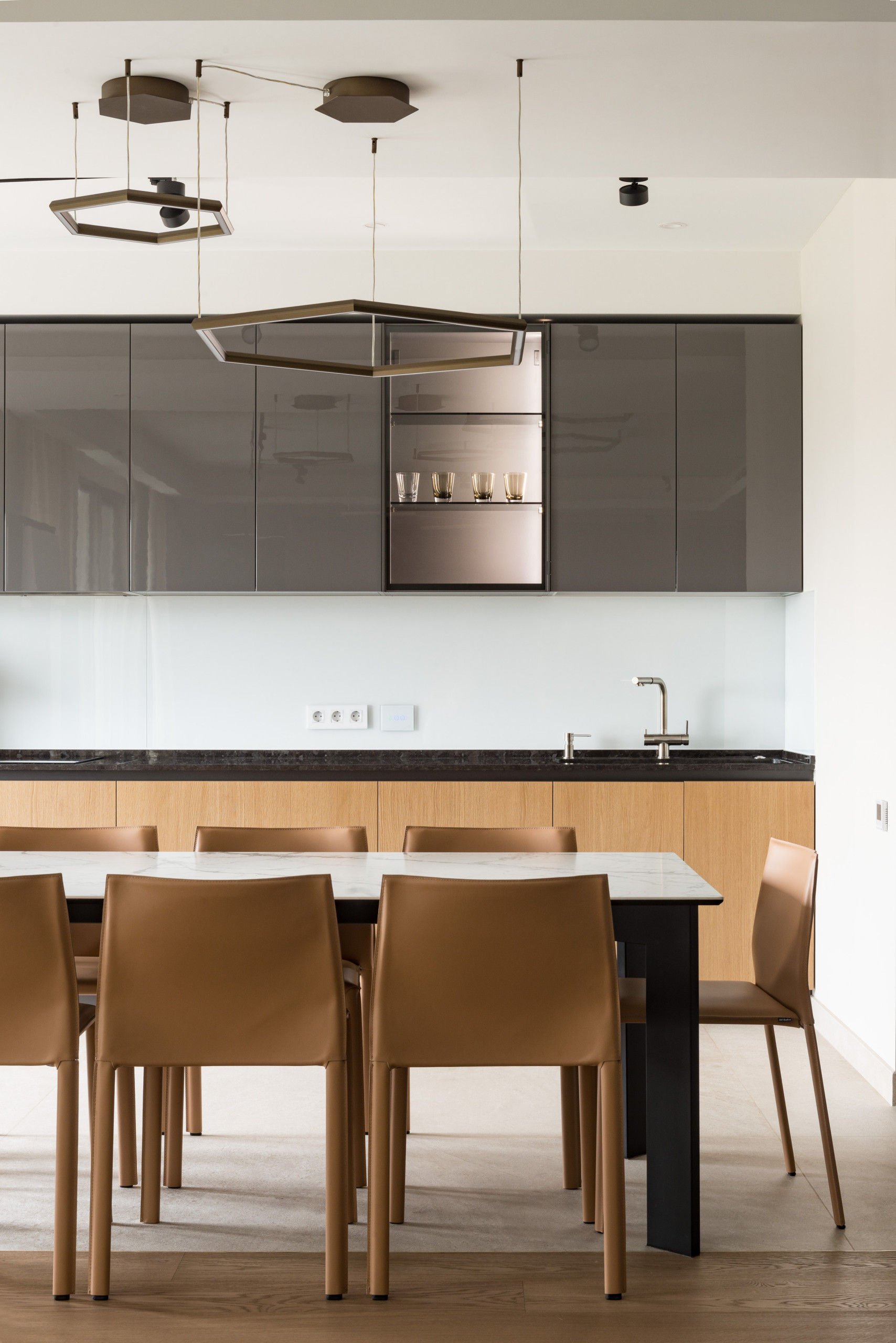 ID# 171406 | Houzz.com – Credit | © Ajform Interior Design & Architecture
---
White Glass Sheet Backsplash and Two-Tone Cabinetry with Black Countertops
Going natural is a widely employed theme taking its references from the surrounding context, encouraging flexibility, and incorporating biophilic elements to improve users' well-being. For the same reason, by combining natural elements, this open-plan contemporary kitchen feels like a retreat space, visited by streaming lights. The white glass sheet backsplash and light-tone wood cabinets wrap up the kitchen with a sense of warmth. The black refractive overhead cabinet doors and black countertops are divorced by the glass sheet backsplash that brightens the space. The cooking zone is designated with white tile flooring running towards the engineered wood to mark the beginning of the lounge.
Should the backsplash be lighter or darker than the countertop?
The backsplash can be both lighter and darker than the countertops or share the same color for a seamless look. It depends on the impact you are aiming for. For example, gray and black backsplashes with black countertops add a sophisticated look, while black-on-black brings more depth. If you wish to prefer to lighten up the space, white backsplashes, particularly, glass sheet backsplashes, achieve a very stylish look.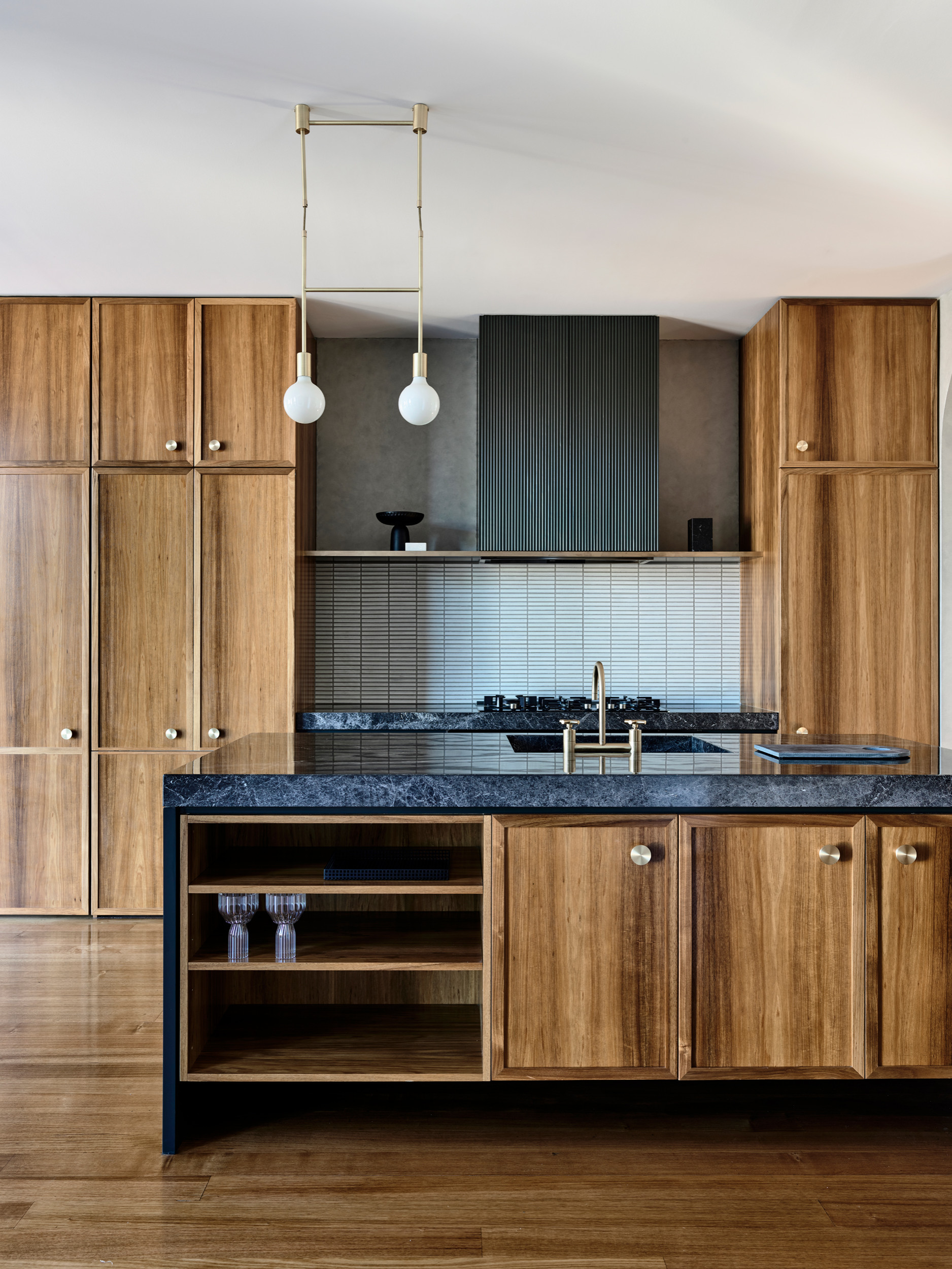 ID# 171407 | Houzz.com – Credit | © Luke Fry Architecture & Interior Design
---
White Stacked Tile Backsplash for Brown Cabinets and Black Countertops
Adorned by natural textures and a neutral color scheme, the kitchen generates an art-like interior space. The eye-catching grains of the natural wood cabinets provide a warm and welcoming atmosphere while the white stacked tile backsplash with gray grout brings visual interest and texture. The glazed black granite countertops reflecting the textures offer cinematic scenes as a visual feast.
Gray Backsplash for Brown Cabinets and Black Countertops
Though gray alone may not seem one of the most attractive colors, it has great potential to adjust to the different themes and evoke various emotions. For example, its infusion with brown cabinets and black countertops brings sophistication to the space, emitting cool vibes while staying approachable in the meantime. As much as you can use gray tiles in various patterns, ranging from hexagon, subway, herringbone, and chevron in this context, you can employ stainless steel and silver metal backsplashes.
Another option that comes with gray is to combine gray marble and metal tiles to make a visual statement with some glamour. However, if you want to achieve a simple look with wood cabinets, glass sheets or quartz, marble, and granite panel backsplashes go well with a brown-black palette.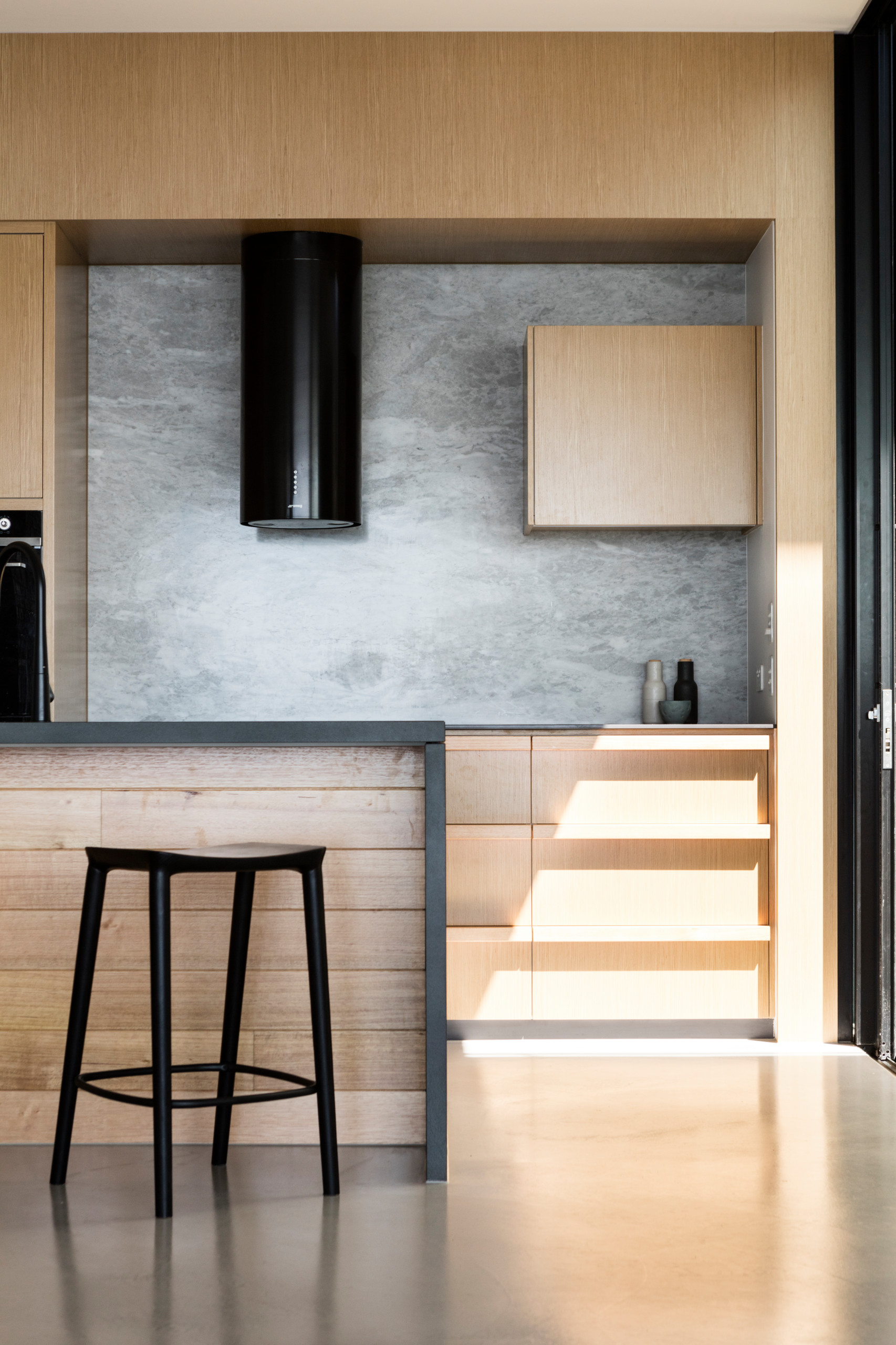 ID# 171408 | Houzz.com – Credit | © zooi design
---
Gray Backsplash for Wood Cabinets and Black Countertops
While designing an interior space, particularly with a kitchen function, responding to the surrounding environment is the key point. The brick walls and the generous garden with beautiful greeneries are full of inspiration dialoguing with the kitchen through a floor-to-ceiling patio door which can easily be eliminated as it can fully retreat. So, these natural elements endorse a sense of life, influencing the design. For example, the wood cabinets, and seamless solid stone backsplash keep the organic feelings swept by the outdoors, inducing warmth and sensibility. Though the muted palette of timber and gray responds to the outdoor space, the kitchen needs a stronger element and color to distinguish its entity. To get this impact, black accompanies the wood cabinets to strengthen their visual lightweight. The waterfall island with a wood base and black countertop creates a free-flowing, integrating cohesively with the rest.
Can you have dark cabinets with dark countertops?
Yes, you can. If you love dark-themed kitchens with a lived-in feel and pared-down look, dark cabinets with dark countertops can give you what you're looking for!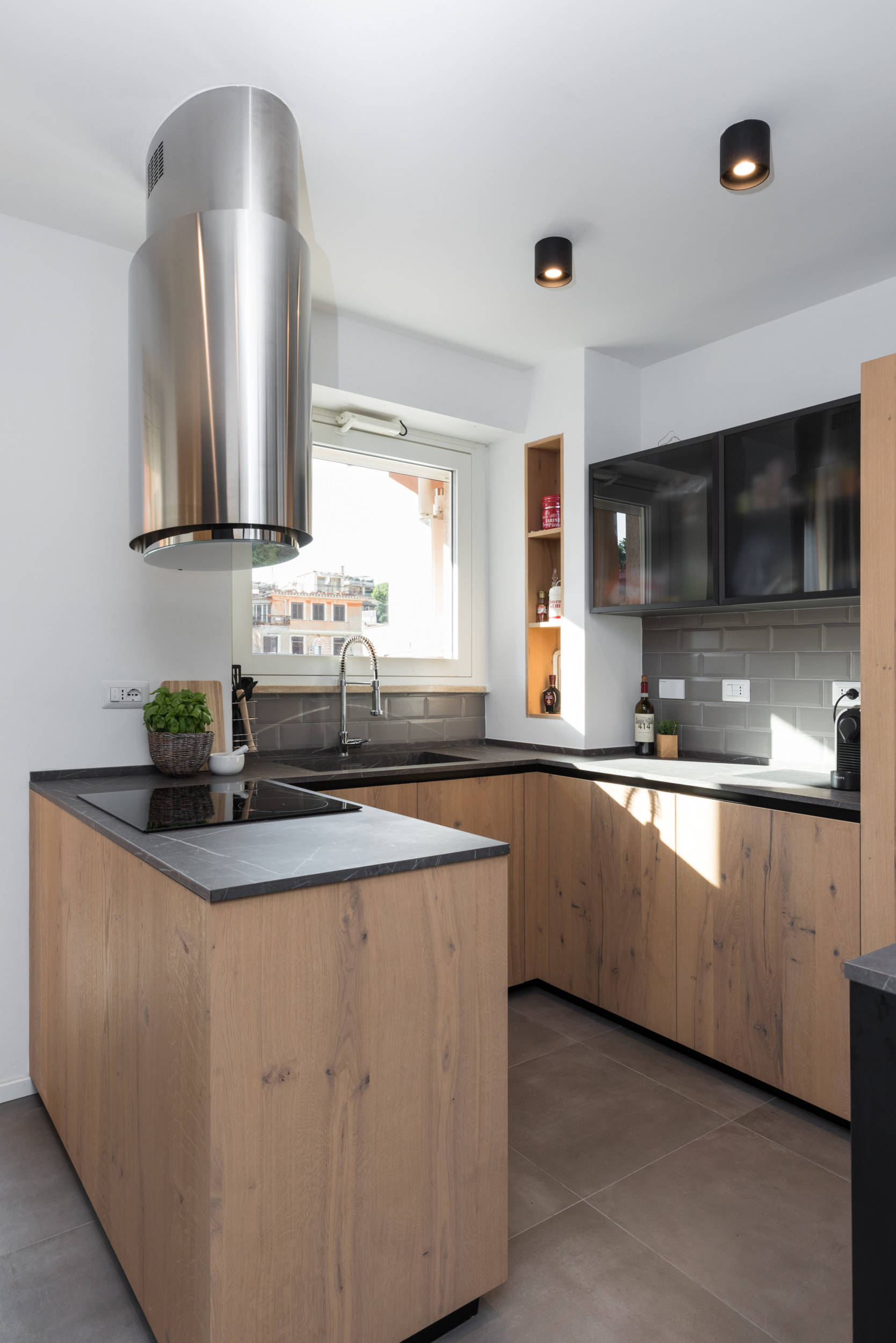 ID# 171409 | Houzz.com – Credit | © Maurizio Giovannoni Architetto
---
Gray Subway Tile Backsplash for Brown Cabinets and Black Countertops
This U-shaped small contemporary kitchen with an industrial subtext offers an efficient cooking place. Though small kitchens are a worry and more challenging to design, there are some tricks to apply to make them look stylish and welcoming. Wood cabinets are one of those materials in the company of the gray color. Here, for instance, the flat-front handle-free brown cabinets add a rustic look, drawing you into the space. Its complementary gray palette with gray countertops and the gray ceramic subway tile backsplash bring balance. The gray floor with brown-beige undertones echoes the kitchen's color scheme while bringing a sense of sophistication. The recessed open shelving inserted in the wall is a great addition to make efficient use of the space.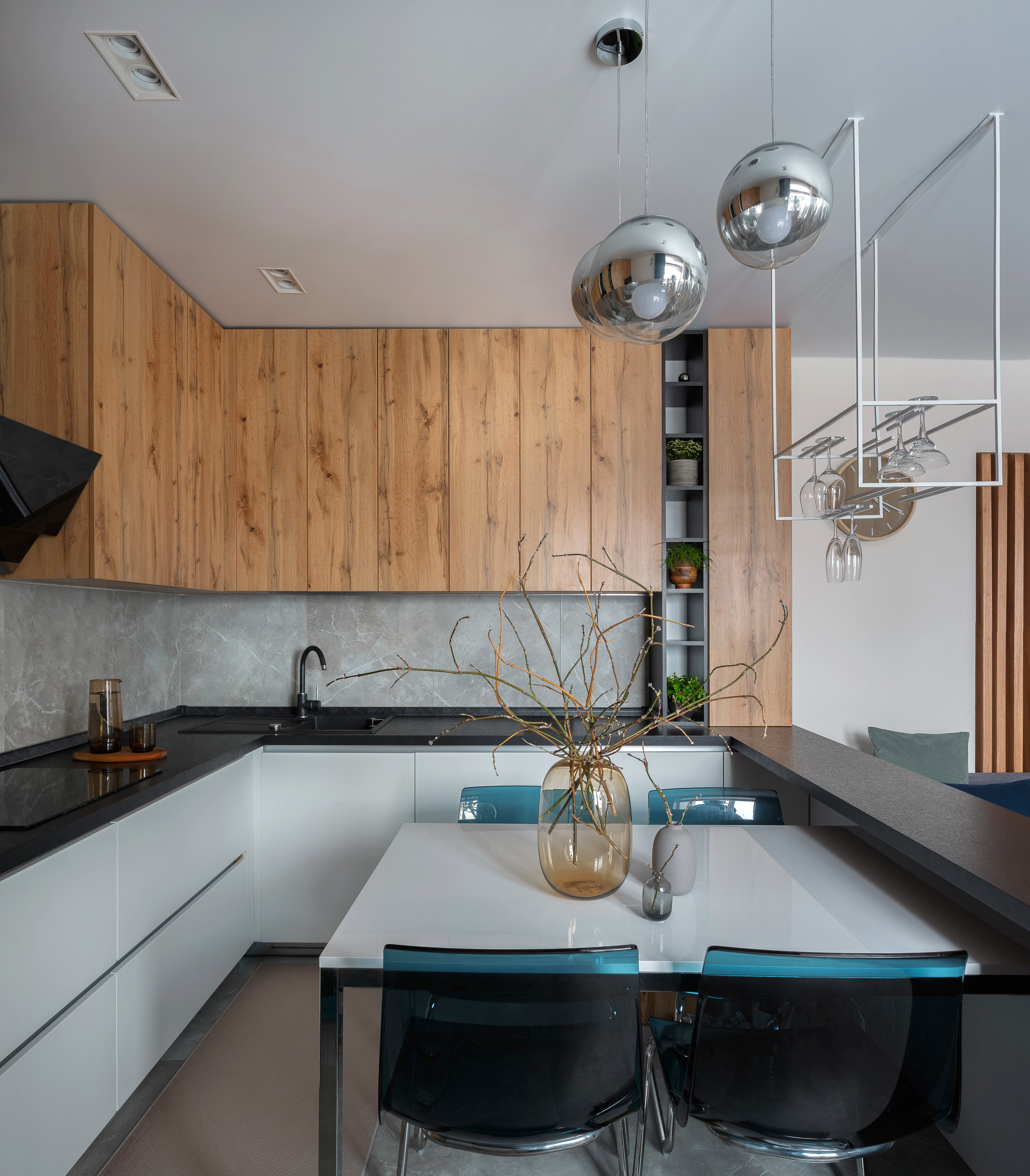 ID# 171410 | Houzz.com – Credit | © Рябченко Яна
---
Stone Slab Backsplash with Brown Cabinets and Black Countertops
The beautiful kitchen is brimming with personality and an upscale atmosphere that comes with brown cabinets and black countertops. The off-white base cabinets and gray stone slab backsplash lighten the kitchen, injecting a sense of sophistication. The ceiling-mounted hanging wine glass rack adds another aesthetic value while repurposing the ceiling. The chrome-finish globe-shaped pendants add much-needed glamor to enliven the space. The wood overhead cabinets reach the ceiling to maximize the kitchen's storage capacity. Also, the open shelving placed between the overhead cabinets adds extra interest while the potted plants enliven the kitchen by bringing life. The flat-front cabinet style and seamless backsplash achieve a clutter-free visuality to compensate for the smallness of the kitchen.
Black Backsplash for Brown Cabinets and Black Countertops
What about black-on-black? Black countertops paired with a black backsplash add depth to the kitchen. Just like the way white-on-white makes the kitchen feel spacious! It is mostly because black's subtle beauty with a sense of restrained freedom elicits elegance and sophistication, hence bringing more dimension. Also, as brown wood cabinets have the potential to cancel the all-black effect and temper the black's visual dynamism with an organic statement, black backsplashes make a great couple with brown cabinets.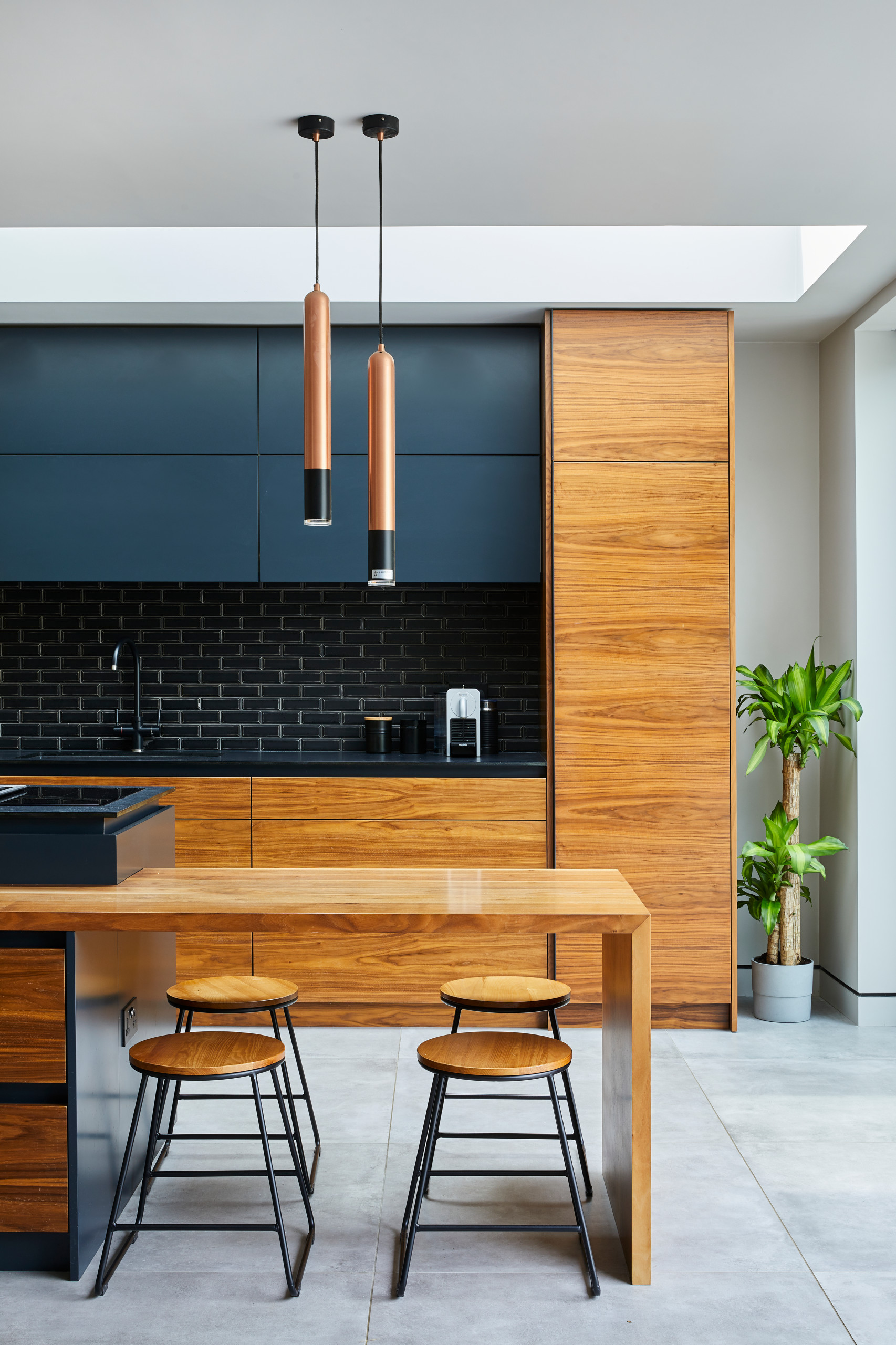 ID# 171412 | Houzz.com – Credit | © AIB Contractors Ltd
---
Black Subway Tile Backsplash with Wood Cabinets and Gray Flooring
The naturally well-lit kitchen thanks to the skylight and full-glass patio door acts with an imperative to compose organic textures with black overhead cabinets. Borrowing biophilic elements such as wood cabinets and potted plants, speaks to the soul of the homeowners. The wood cabinets define the back of the space while eccentric geometric forms are involved at the center of the kitchen to make a statement. At the rear, a black subway tile backsplash with gray grout and black countertops brings sophistication to natural aspects. Their infusion with wood cabinets offers a mélange of rustic and contemporary features, something contemporary kitchens adore. At the center, the cantilevered island with two distinct torsos clad in wood and black serves multiple functions: worksurface, storage space, and dining zone.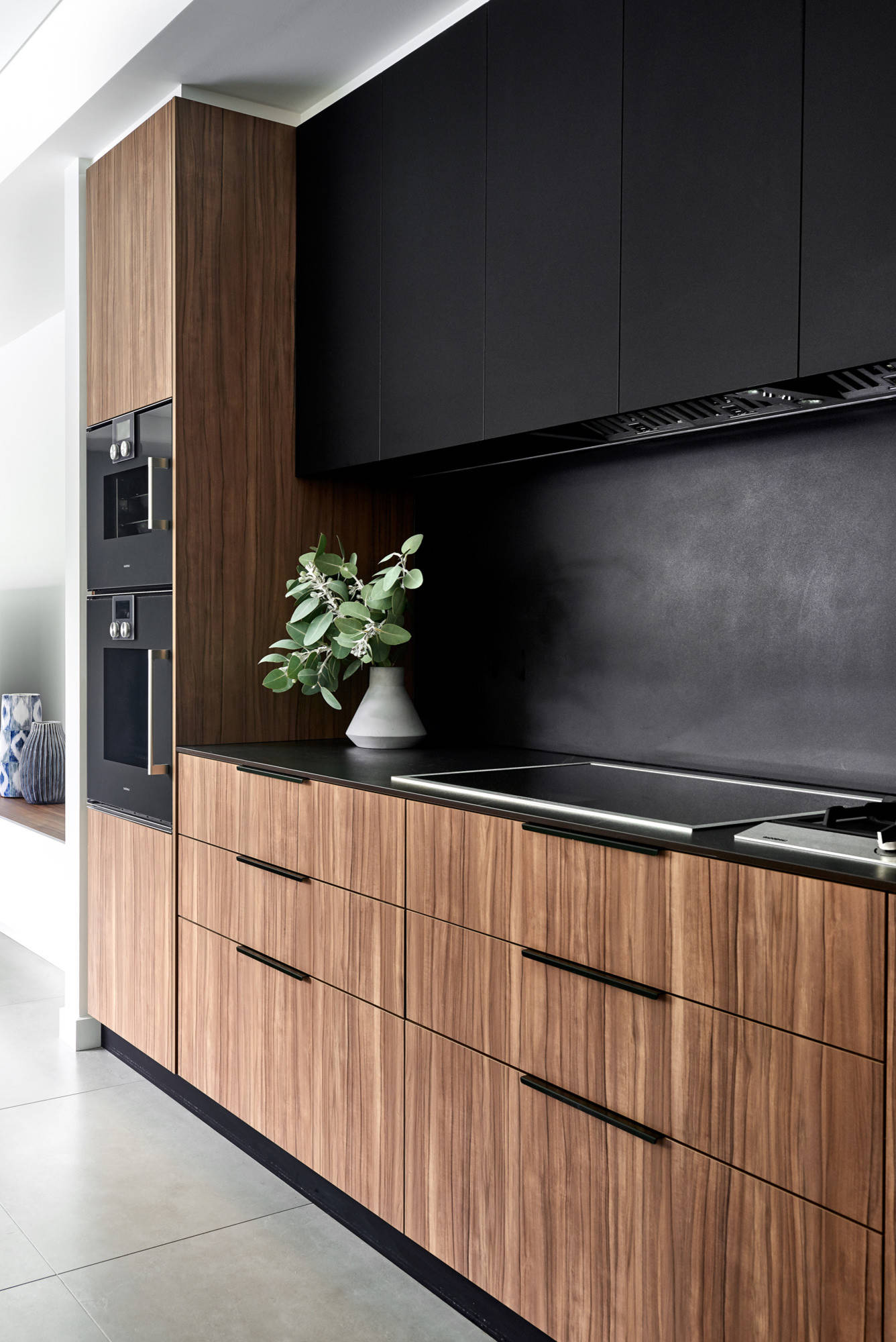 ID# 171414 | Houzz.com – Credit | © schemes & spaces
---
Backsplash for Brown Cabinets and Black Countertops and Cabinet Hardware
Harmonizing natural tones and an earthy palette, the kitchen speaks to your soul and mind. The black slab backsplash creates a seamless look with the black countertops and upper cabinets while natural wood base cabinetry brings depth and warmth underfoot. Also, keeping wood cabinets' door styles flat and the backsplash with countertops more dynamic achieves a well-balanced look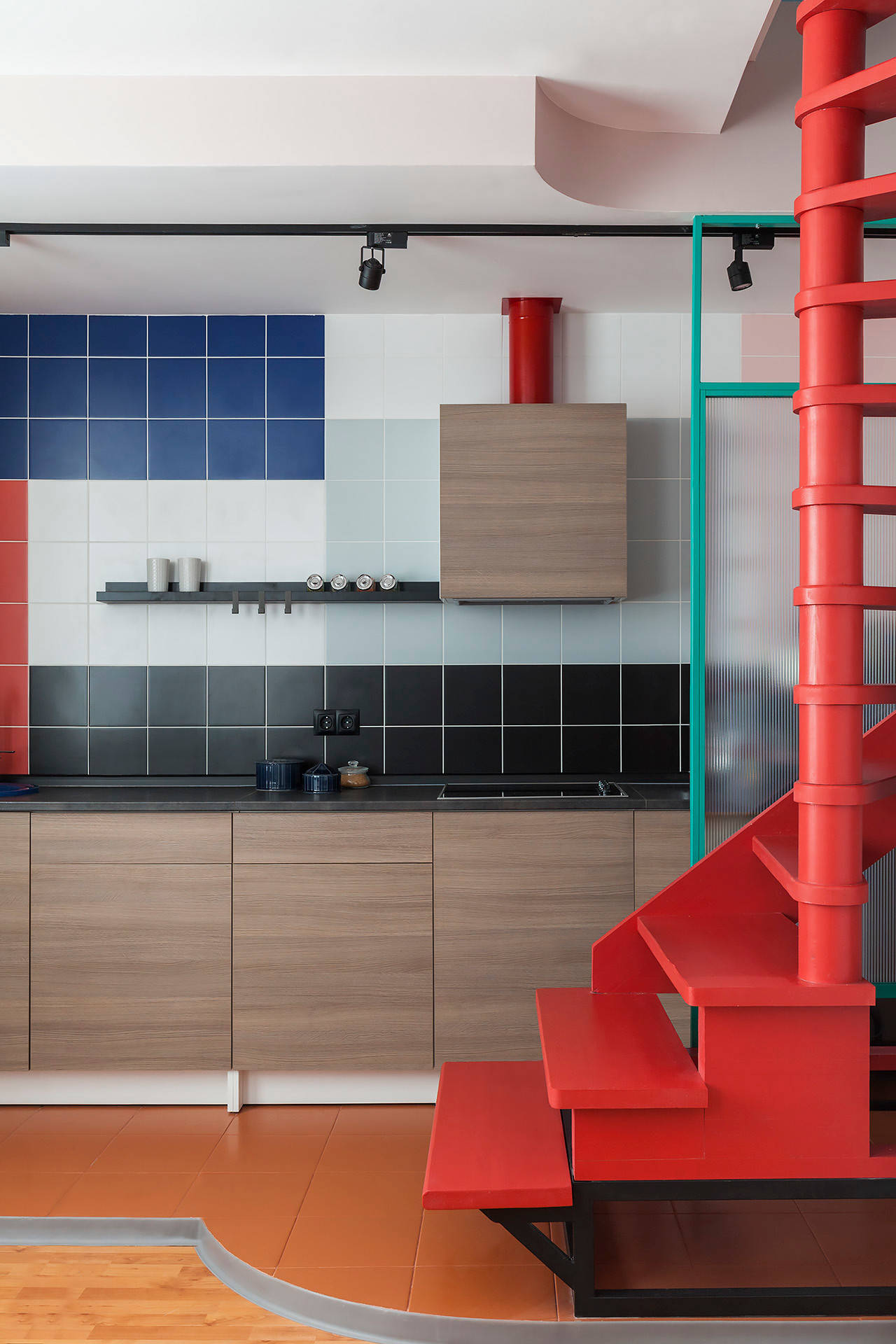 ID# 171415 | Houzz.com – Credit | © M – buro
---
Wood Cabinetry with Multicolored Backsplash Tiles
This visually dynamic contemporary kitchen is assertive in its use of geometric forms and vibrant colors to evoke visual interest. The rectangular range hood unconventionally complements the wood cabinets while the multicolored backsplash tiles make a statement with a retro touch. The matte-finish black countertops offer sleek lines, creating a continuous look with the first black raw of the backsplash. The orange floor tiles and the red staircase accompany the quirky look of the square tile backsplash and help retain integrity.
Beige Backsplash for Brown Cabinets and Black Countertops
If white seems too bright for you to pair with black and brown, then you can consider a beige backsplash that will lighten up the space and cast a sense of warmth. Limestone and terracotta tiles along with beige marble and granite backsplashes are some of the options you can employ to make visual statements. These natural stones also comply with the wood textures and enhance the kitchen's texture repertoire, making cooking a tactile experience through a spatial context.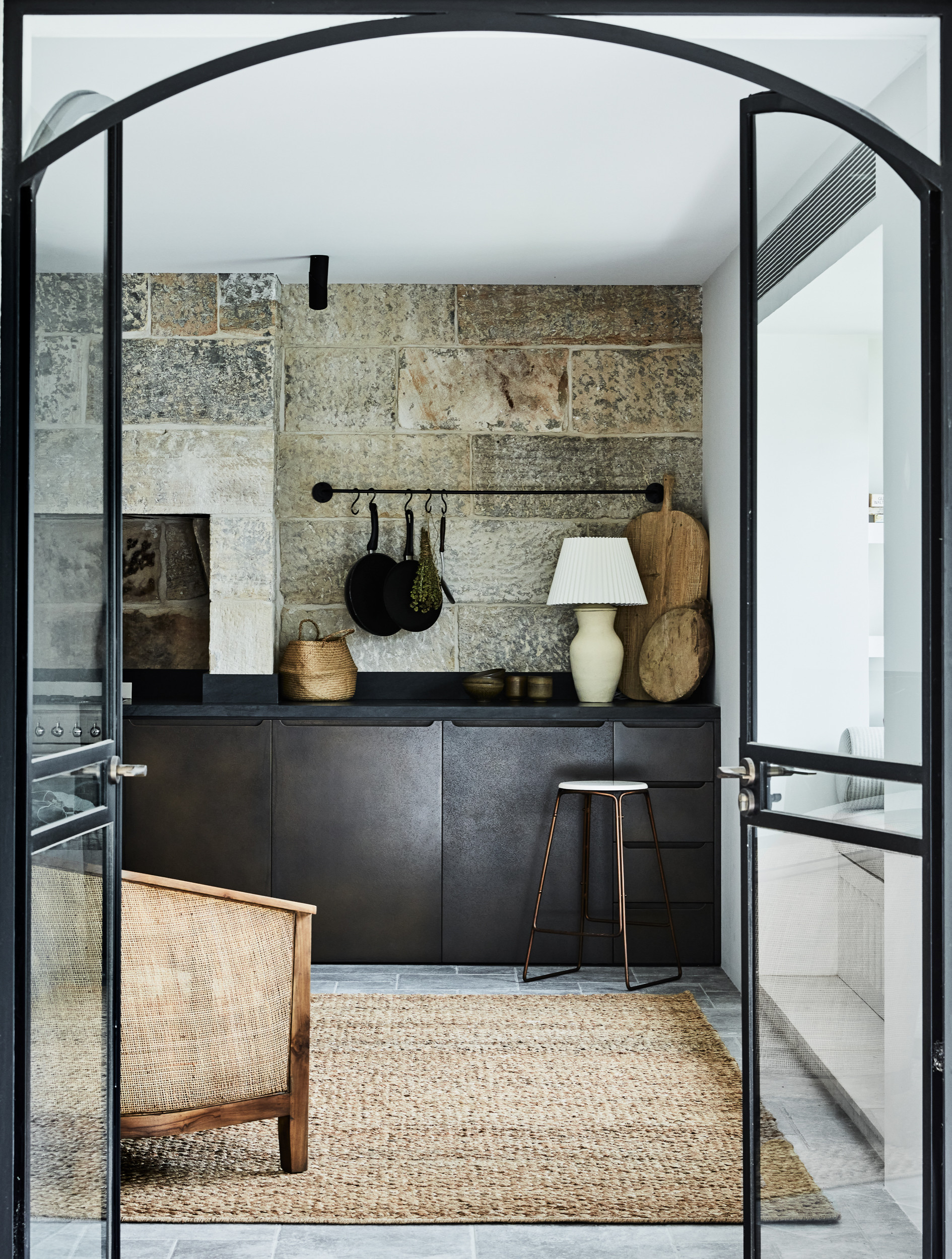 ID# 171417 | Houzz.com – Credit | © Kate Nixon
---
Limestone Backsplash and Brown Cabinets with Black Granite Countertops
The dark brown cabinets in the company of garden views and limestone tiles cultivate a natural environment of their own, nurturing the homey feelings inside. The flat-panel cabinets and matte black accents bring contemporary lines and finish to define the kitchen's main character. Black granite countertops and the beige limestone tile backsplash alleviate the burden of the rushed life and imbue the kitchen with natural elements.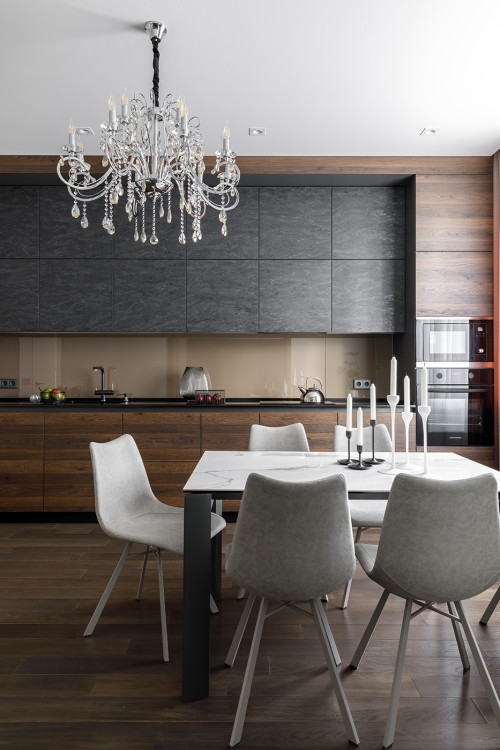 ID# 171418 | Houzz.com – Credit | © АВИЛА. Студия интерьера и архитектуры
---
Chic Kitchen with Beige Glass Sheet Backsplash and Wood Flooring
The single-wall kitchen consists of medium-tone brown wood cabinets, black countertops, and beige backsplash, all orchestrating a stylish and immersive design. The cabinets' horizontal grains emphasize the kitchen's longitudinal form to give the illusion of oozing. Thus, they work so much better than vertically-grained cabinets, which would cut the oozing effect. The glass sheet is a clever application for a backsplash as it offers a luminous surface and a seamless look. To strengthen the contrast, the black countertops, engineered wood flooring, and inset black appliances reinforce the dramatic effect prevalent in the kitchen. And the oversized chandelier is an unexpected touch, bringing a fun twist.
Brown Cabinet Colors
Brown cabinet colors show tonal variations, creating rustic feelings, lightening and dramatizing effects. With wood cabinets, for instance, there are also textural differences that come into play to enrich the visual scheme. While some wood cabinets are vertically grained, some are horizontal, suggesting different directions and expanding the visual scheme!
Backsplash for Light Brown Cabinets and Black Countertops
Light brown cabinets, unlike darker ones, create a light visual weight without overpowering elements. If homeowners want to support this impact, they can apply beige, white, and gray backsplashes. With gray, however, the kitchen might gain a different mood, depending on the other elements used in the kitchen. Also, darker backsplashes surely add elegance and serve to ground the overall look of the light brown cabinets.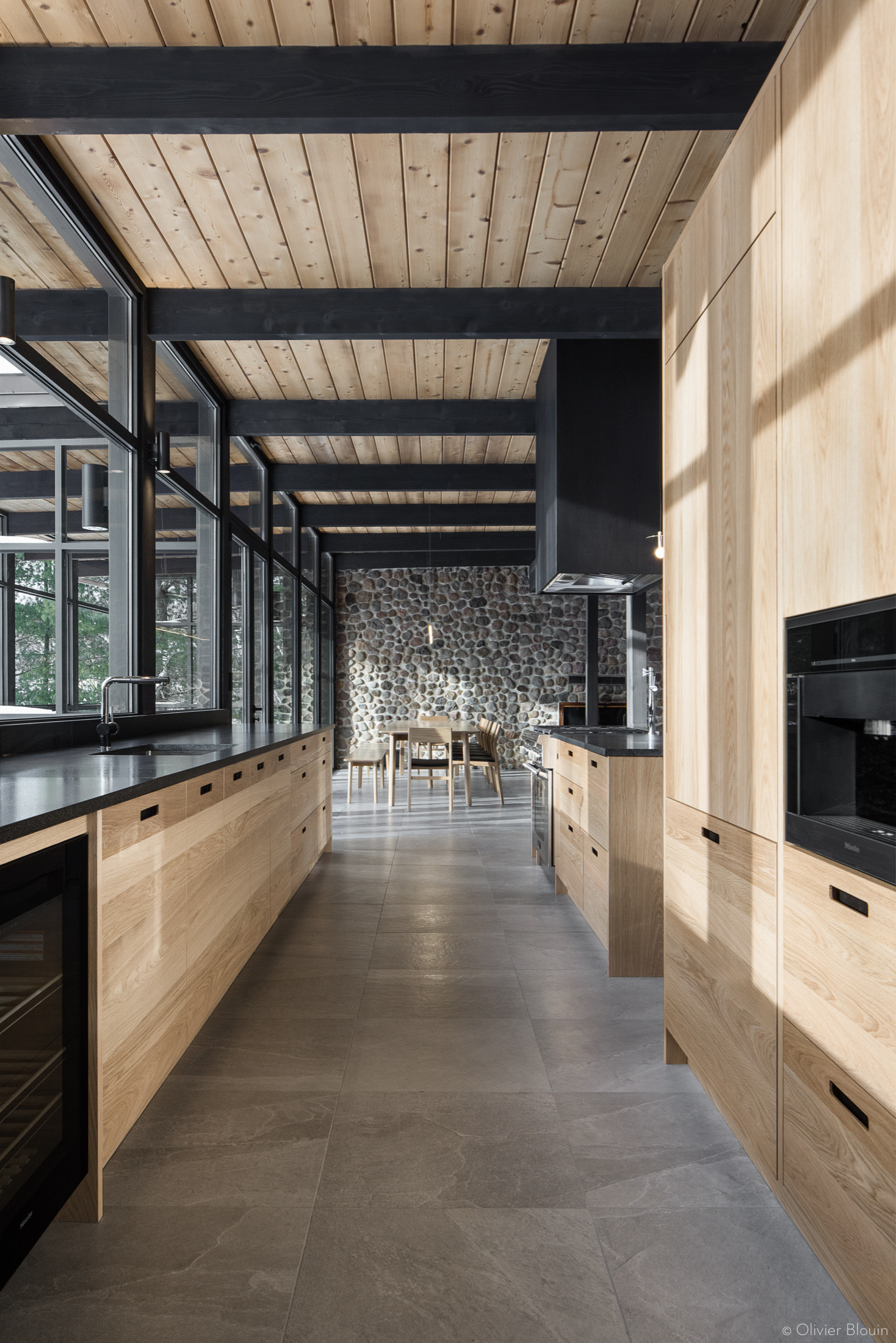 ID# 171419 | Houzz.com – Credit | © Cuisines Steam
---
Modern Kitchen with Light Wood Cabinets and Gray Floor Tiles
The soothing and refreshing color palette of the contemporary kitchen enhances the feeling of spaciousness, grounded by black accents. The delicate nuanced details keep the kitchen alive while donating it with subtle beauty. The light-brown cabinets combined with black granite countertops encourage engagement with the space. Overall, as light colors serve as the protagonist, this galley-style kitchen feels visually lightweight. Black exposed beams, appliances, and countertops add a sense of strength to let the kitchen gain a firm character as well.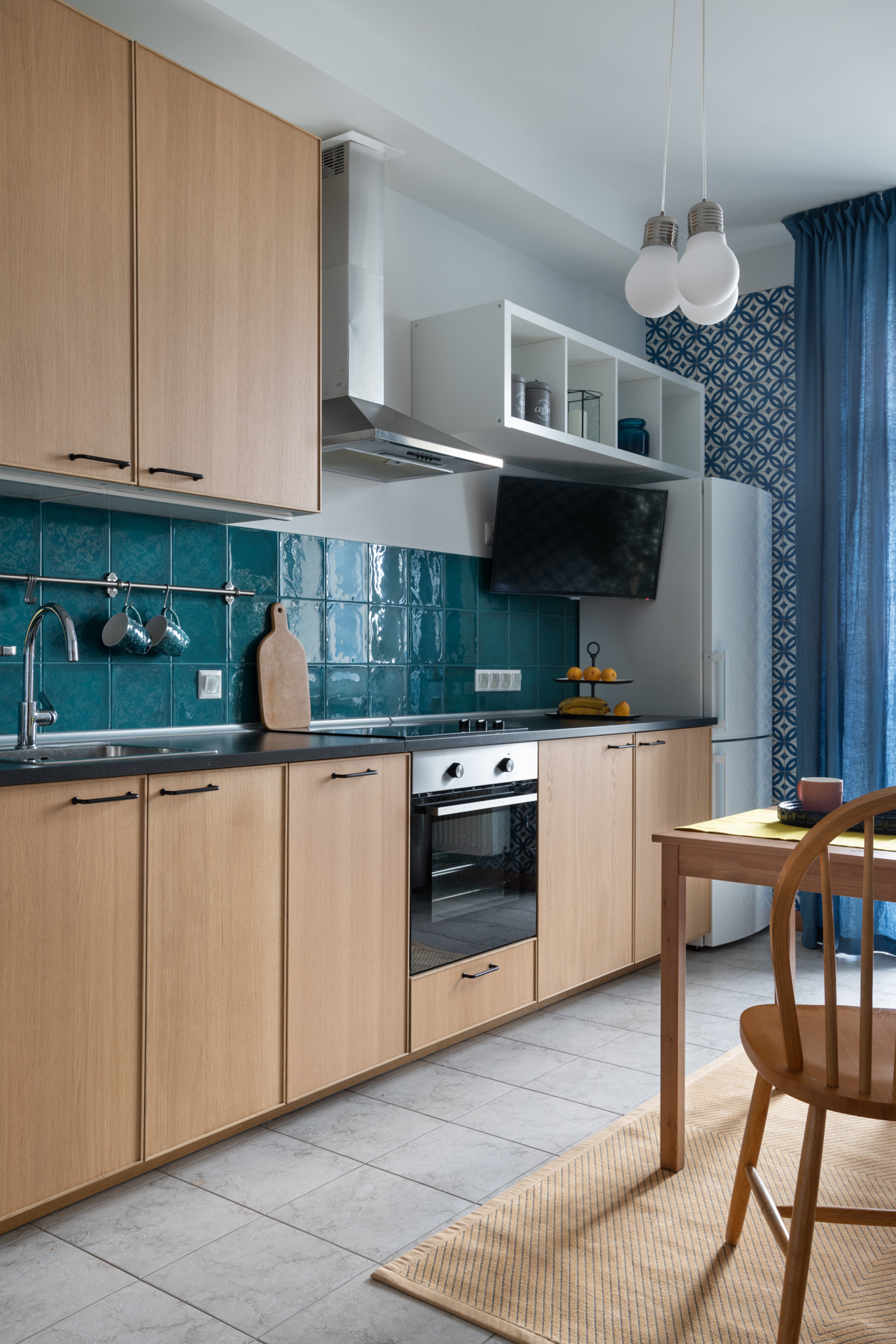 ID# 171420 | Houzz.com – Credit | © SunWaveStudio
---
Blue Backsplash and Wood Cabinets with Black Hardware
The single-wall kitchen is occupied by wood cabinets accentuated by black hardware, transferring into a dining zone only a little further. Its solid and textured palette with timber makes the kitchen look approachable and inviting. The blue backsplash tempers the strength of black countertops, while its glazed ceramic square tiles give a standard look enlivened with color and finish choices. Finally, the gray flooring emitting cool vibes is offset by a beige-colored rug placed under the kitchen table.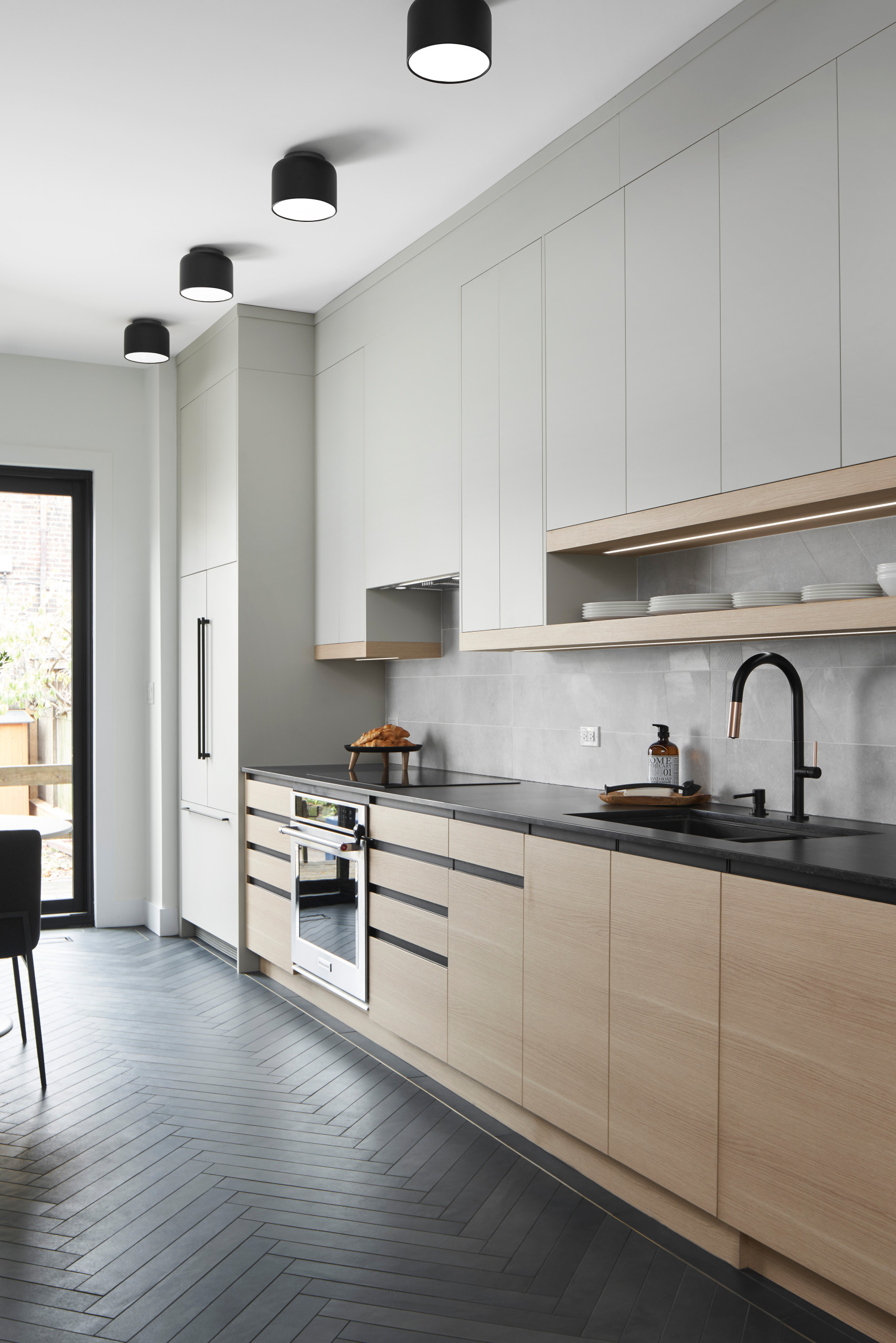 ID# 171421 | Houzz.com – Credit | © avenue design inc
---
Two-tone Cabinetry with Porcelain Tile Backsplash and Black Countertops
In this single-wall modern kitchen, the longitudinal flat-front cabinets give the illusion of oozing. As the kitchen space is relatively narrow and stretches in a rectilinear form, the cabinets follow this shape. As such, there is no island added or any extra cabinet on the other side to leave enough space for the walkway. Thus, to compensate for the lack of space, the off-white overhead cabinets reach the ceiling to maximize the storage space! Their wood trims and wood floating shelves beneath them add a natural touch while offering easy access to the most used kitchenware. The light-gray porcelain backsplash offers a smooth transition between the cabinets, while black countertops bring a firm look. In contrast to the ultra-modern aesthetics, the lower part is colonized by the light-tone wood base cabinets.
Backsplash for Dark Brown Cabinets and Black Countertops
While choosing a backsplash for dark brown cabinets and black countertops, you can go with a monochromatic design or choose to lighten and enliven the space with green, beige, and white backsplashes. For instance, monochromatic design lovers can choose a black backsplash with gray undertones to achieve a pared-down look.
But, to go bold and create interactive designs, mirror backsplashes, and oxidized metal backsplashes stand out as other options. Also, if you are a nature lover and want to benefit from the garden view from your kitchen, you can consider window backsplashes. It, in return, will change your kitchen's mood as seasons change, creating an interactive living space.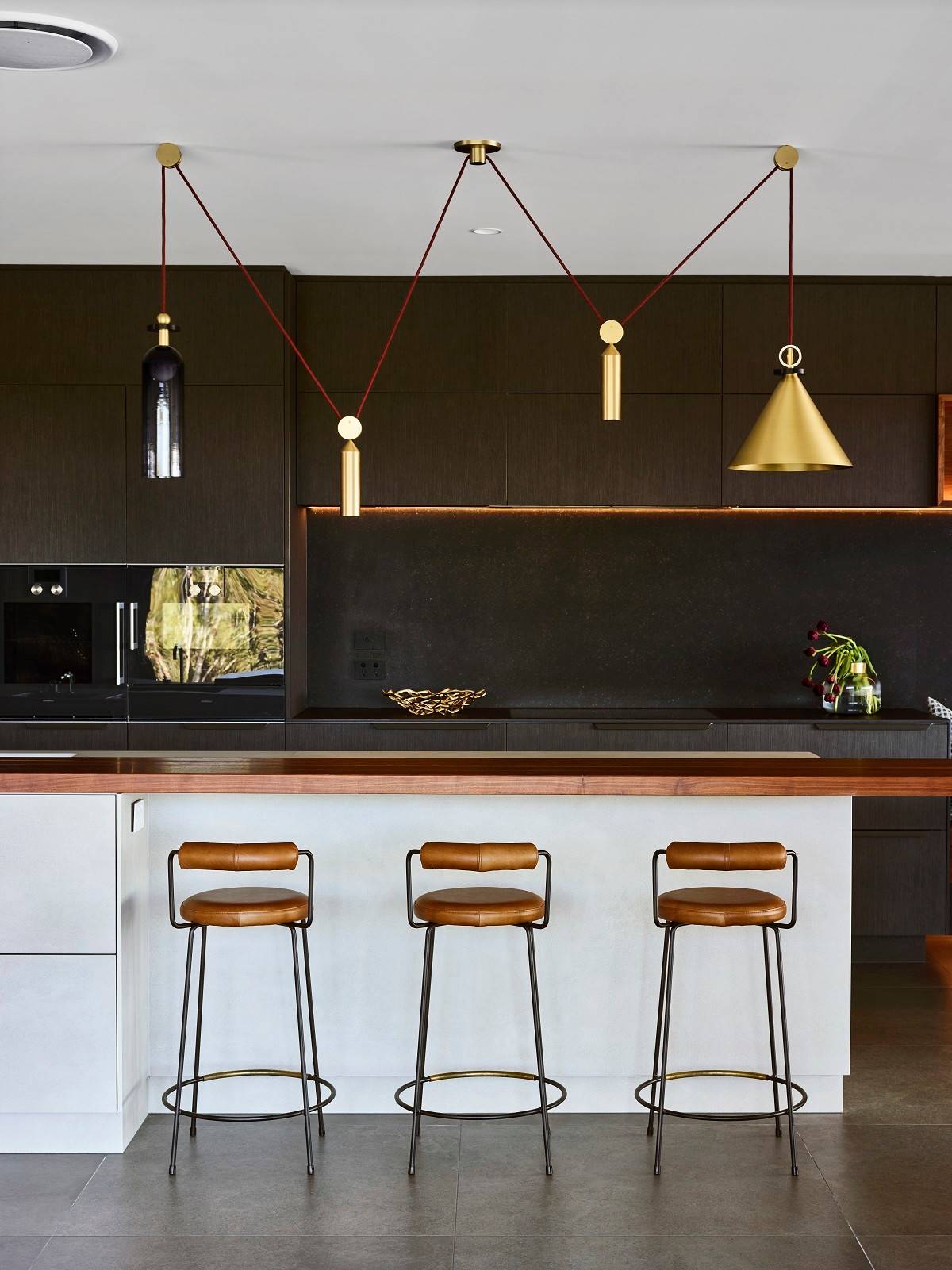 ID# 171422 | Houzz.com – Credit | © Darren James Interiors
---
Black Backsplash for Brown Cabinets and Black Countertops with Brass Accents
Aesthetically rich in brown and brass, this contemporary kitchen presents an illuminated space despite its dark-colored scheme! The tone of the brown feels just right to be lightened through brass accents. Hence, in this kitchen, the monochromatic look is softened with brass accents and added depth through a black slab backsplash. The under-cabinet accent lighting changes the ambiance at the back of the kitchen. The incongruous and authentic lighting fixture hanging over the island is a well-considered detail, lending an exotic feeling. It creates a purposeful stopover as the most vibrant element while drawing V-configurations in the air.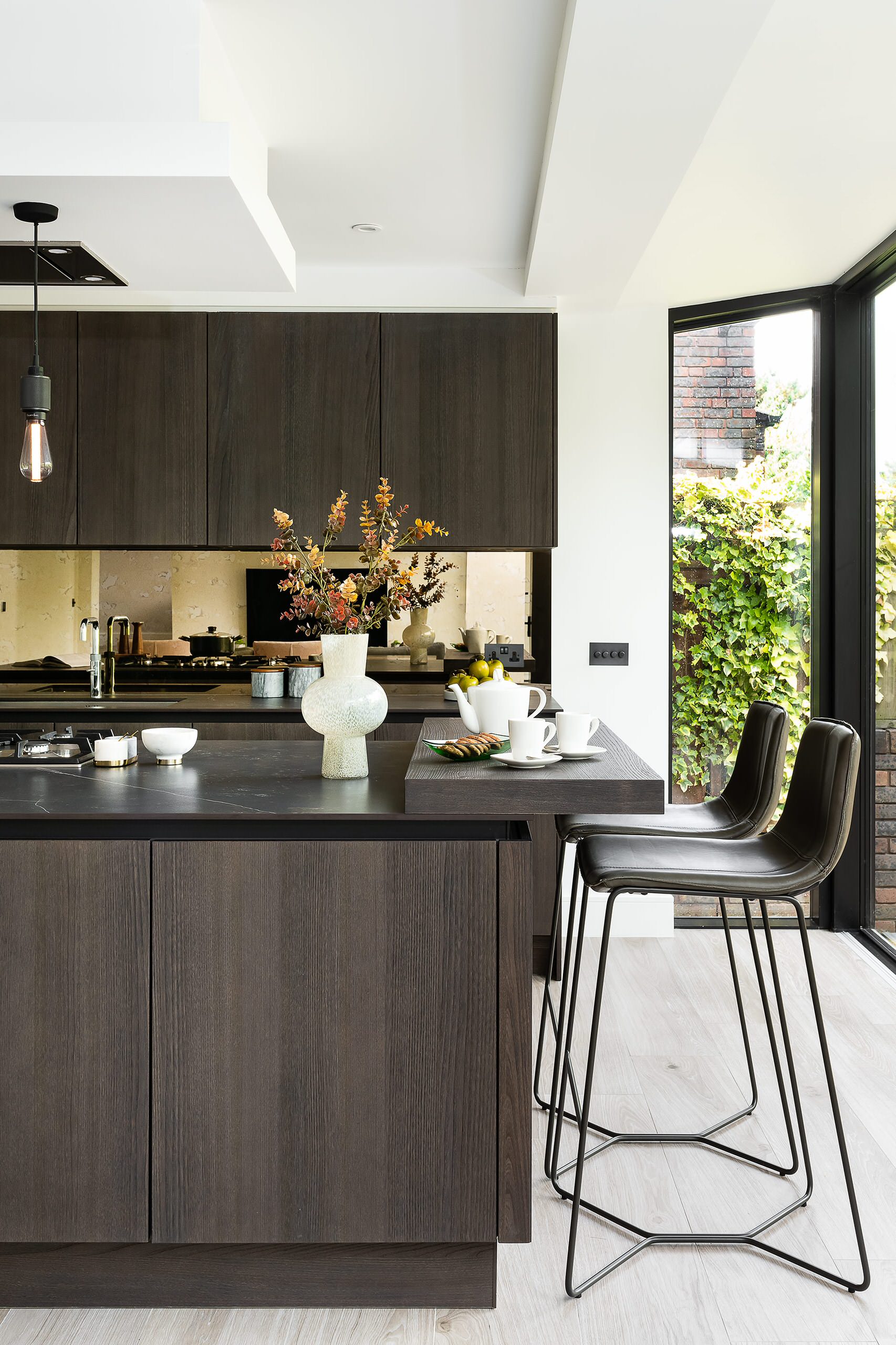 ID# 171423 | Houzz.com – Credit | © Veronica Rodriguez Interior
---
Mirrored Backsplash for Brown Cabinets and Black Countertops
Resilient and immersive rich in dark tones, the open-plan kitchen composes an unforgettable visual scheme. Characterized by industrial and contemporary lines, it merges functionality with solid values of aesthetics and owes its firm look to the dark brown cabinets reaching up to the ceiling. These handle-free cabinets and mirrored gold backsplash create a visual drama with a seamless look. Textures are traded for colors to achieve a characterful ambiance in unity with the rest of the room. The kitchen island runs along the perimeter cabinets, complemented by brown leather counter stools.
What backsplash goes well with brown cabinets?
White, green, black, and gray are some of the most popular backsplash colors! The glass sheets, subway tiles, diamond, and hexagon patterns and terracotta tile backsplashes go well with brown and wood cabinets. If you want your kitchen to mimic a natural scene with an earthy palette, green and reddish-brown backsplashes can be combined with light wood brown cabinets as well.
For more alternatives, you can consider window, mirror, and metal backsplashes for sure. Each one is a unique design element that creates a sense of spaciousness and interactive spaces and engagements within the space!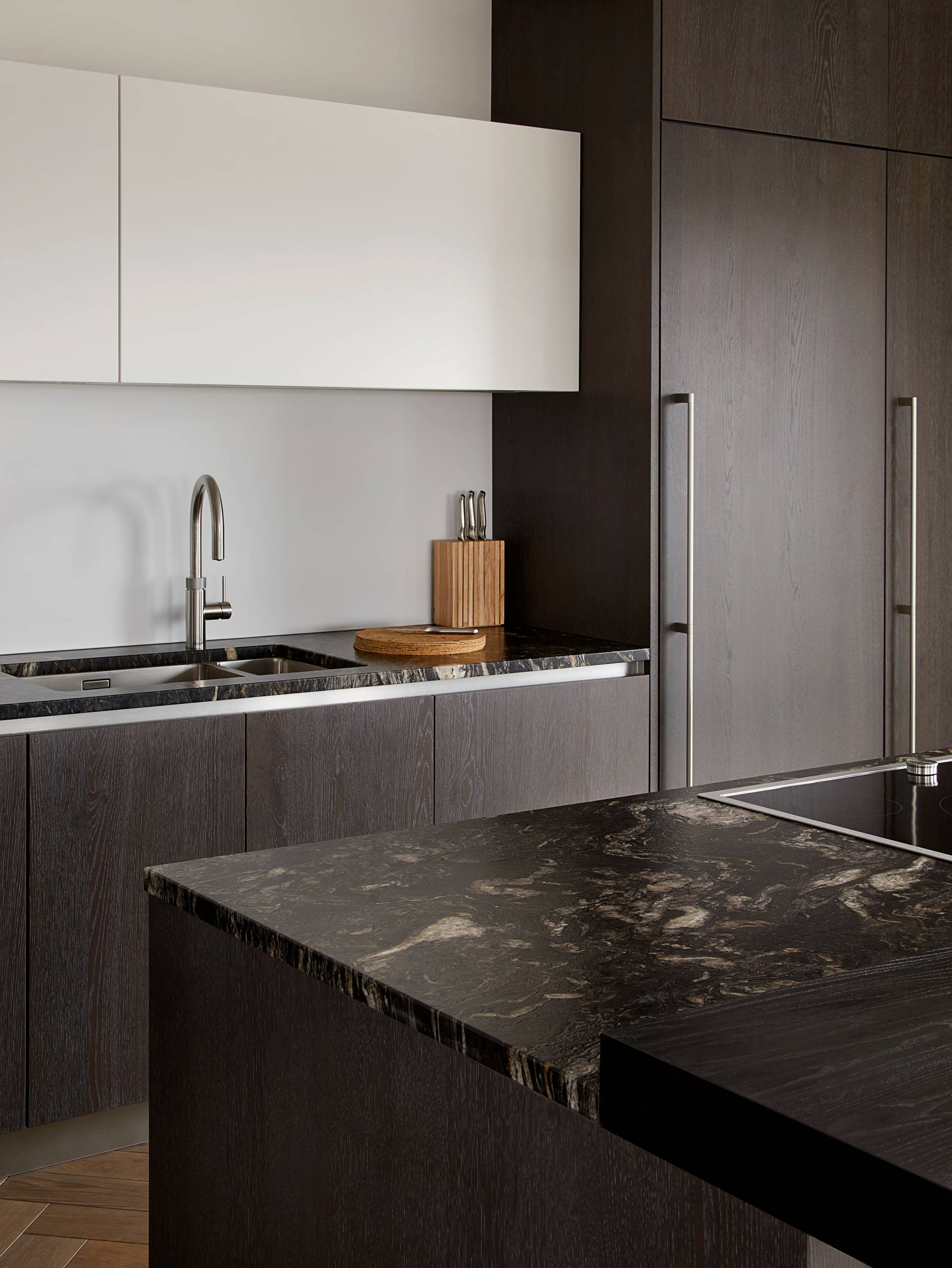 ID# 171424 | Houzz.com – Credit | © Chantel Elshout Studio
---
Granite Countertops and White Backsplash for Brown Cabinets
Visually dramatic and textually rich, this contemporary kitchen incorporates various elements, including wood and natural stones like granite. Both are inherently visually dynamic materials that enhance the overall look. The subtle vertical textured layers on the wood cabinets along with the flowing patterns on the granite countertops add a sense of movement. White flat-front cabinets and white glass non-tile backsplash are used to lighten up the space.