26+ Multicolor Backsplash Tile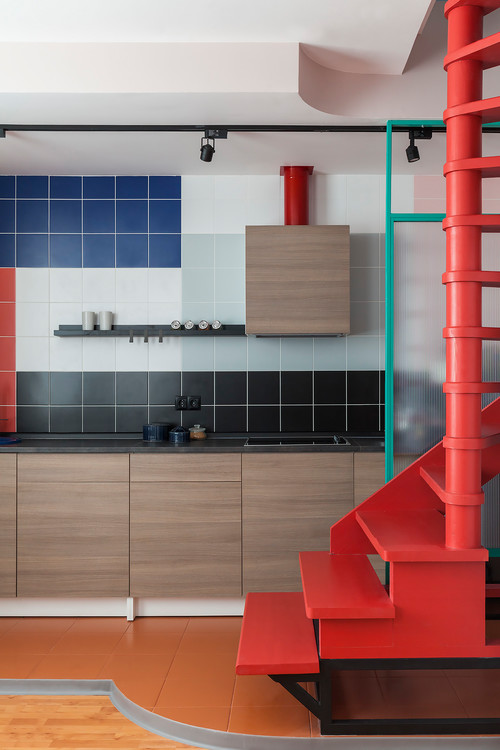 ID# 163801 | Houzz.com – Credit | © M – buro
---
Multicolor Backsplash Tile with Wood Cabinets
In today's market, you can find endless options for kitchen backsplash tiles. If you are struggling to choose the right color for your design, why not use multiple colors? In this modern kitchen, the combination of blue, black, green, and white tiles is proof that mixing colors can look stylish without overwhelming. The simple design of the wood cabinets and range hood allows the backsplash tiles to take the stage. Not just the backsplash tiles, each feature has a vibrant color in this kitchen, such as the orange floor tiles and the red staircase, and this colorful design offers a characteristic appeal.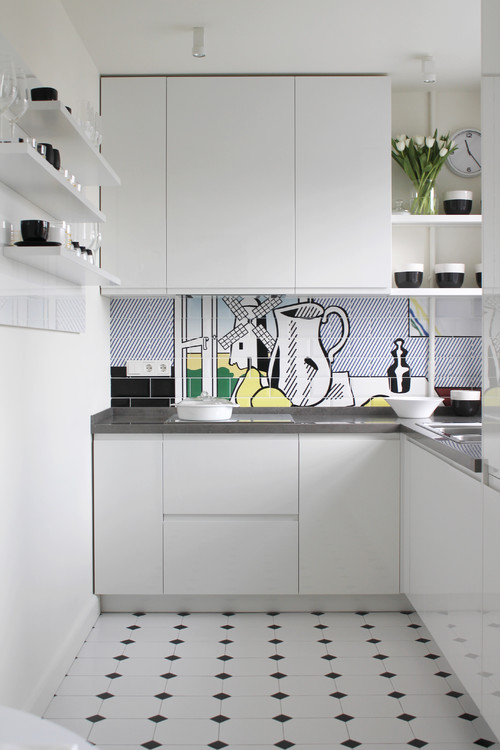 ID# 163821 | Houzz.com – Credit | © Юлия Кирпичева
---
Unique Backsplash Design with White Cabinetry
This very small kitchen packs a big punch with backsplash tiles! The unique backsplash design with its joyful pattern adds a touch of personality to the space. The crisp white cabinets and sleek gray countertop offer a timeless modern appeal. The l-shape layout maximizes the available space to makeit functional and efficient. White floating shelves provide extra storage and display space while maintaining a clean and modern aesthetic. The black and white floor tiles add a graphic element and create a dynamic contrast with the white cabinets and gray countertop.
Multicolor Backsplash Tile
When designing a kitchen, adding style and character doesn't stop with your countertop, island, and cabinet styles. The backsplash is the most vital element that brings the whole elements together and completes a space. Even though the main aspect of a backsplash is protection, it also can be a visual focal point. According to the shape of the design, adjustments are made so that it remains between the entire wall or only the counter. There are many types of materials, patterns, and colors for kitchen backsplash ideas you can use. And if you want to make a statement with your kitchen walls, a multicolor backsplash tile might be perfect for you!
Bring Joy to Your Kitchen with Multicolored Backsplash Tiles
Multicolor backsplash tiles are a lively, chirpy, energizing variety among backsplash. It can be created by providing a shape, pattern, or color transition by self-patterned or by blending different colors. Multicolor backsplashes create successful design ideas by making remarkable effects with their unusually impressive stances. In this article we gather different multicolor backsplash tile ideas that will blow your mind. Scroll down and get inspired by these stylish backsplash designs.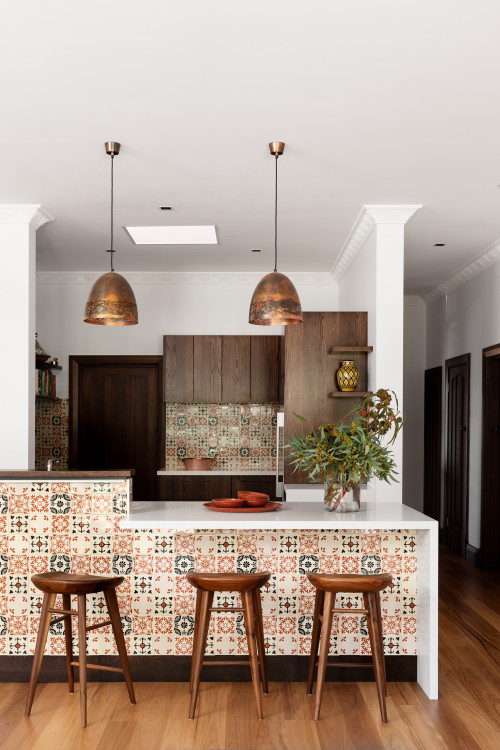 ID# 163802 | Houzz.com – Credit | © Peter Schaad Design Studio
---
Mediterranean Kitchen with Dark Wood Cabinetry and Colorful Tiles
Cement tiles come in a wide variety of colors and patterns that can easily make a statement! In this Mediterranean kitchen, the multicolored square tiles are used as a backsplash and island surround to enhance the overall look. The rest of the kitchen is dominated by dark wood kitchen cabinets which offer an elegant and dramatic atmosphere. The copper pendant lights above the island perfectly complete the rustic flair of the earthy color scheme.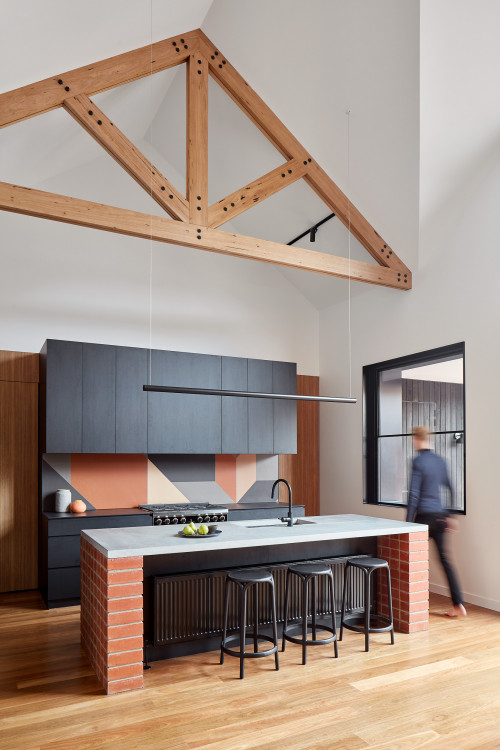 ID# 163803 | Houzz.com – Credit | © Bryant Alsop Architects
---
Contemporary Kitchen with Unique Island Design
When it comes to multicolor backsplash tile designs, there are also plenty of size options available, just like the colors! Even the smaller tiles are more popular for kitchen backsplashes, you can also consider large format tiles, like in this design. Here, the different-sized and shaped colorful tiles come together perfectly and create an eye-catching focal point as a kitchen backsplash. The modern black cabinets and countertop provide a sleek frame for this wall tile. Another statement piece in this contemporary kitchen is the kitchen island. With its brick details, concrete countertop and black stools, this island is definitely a game-changer!!
What is the new trend in backsplashes?
The newest trend for kitchen backsplashes features geometric designs such as triangles and hexagons!! These contemporary backsplashes offer a simple yet visually captivating background that matches any space. Why go for a dull and conventional backsplash when you can effortlessly upgrade your area with these elegant options?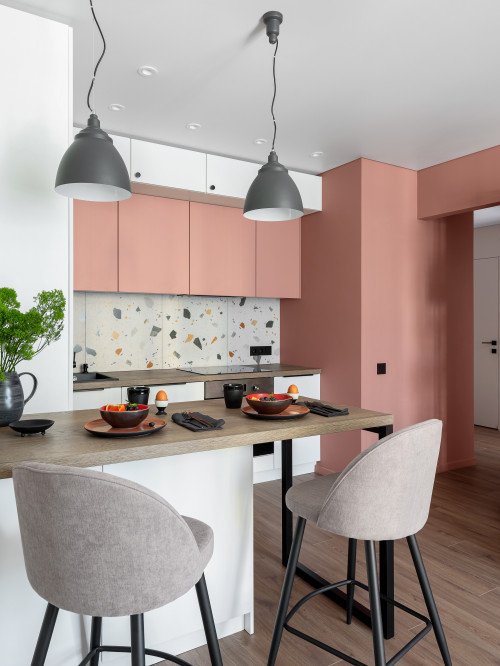 ID# 163804 | Houzz.com – Credit | © Maxim Maximov
---
Scandinavian Kitchen with Pink and White Cabinets
If you are looking for a multicolored backsplash, terrazzo tiles are also great options.! In this Scandinavian kitchen, the terrazzo backsplash creates a nice textural look between the pink and white cabinets, adding visual interest. The wood countertops bring warmth to the atmosphere while the gray pendant lights and chairs highlight the peninsula.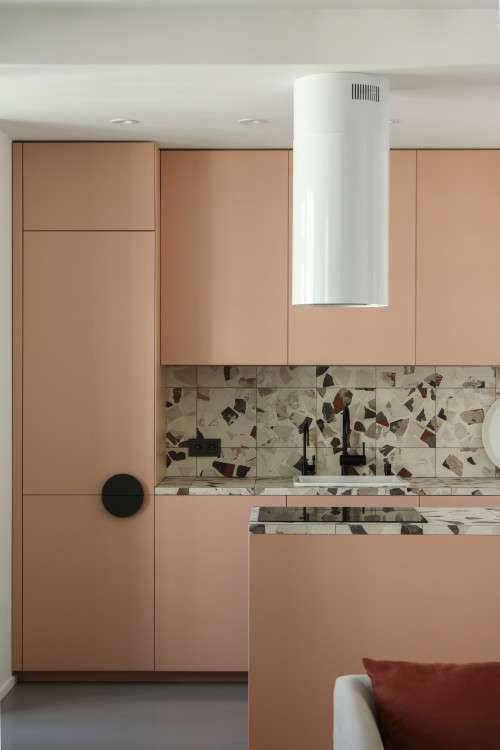 ID# 163805 | Houzz.com – Credit
---
Pastel Pink Cabinets with Multicolor Backsplash Tile and Countertops
Wow!! Each feature in this contemporary kitchen acts as a piece of art and provides a one-of-a-kind appeal! The pink flat-panel kitchen cabinets offer a sleek and minimalistic appeal. On the other hand, The multicolor backsplash tiles make an unexpected twist, creating a striking focal point with their natural stone texture. Using the same tiles on the countertops creates a continuous look.
Design tip: Tiled countertops are a little bit harder to maintain than laminate or granite countertops. That's why regular sealing and cleaning of the grout becomes more important to prevent stains.
What color do cabinets go with a multicolor backsplash?
Multi-colored backsplashes are a breeze to create in your desired colors. With a variety of options available from self-patterned to blended colors, you can perfectly match your backsplash to each cabinet color. Opting for plain cabinets is particularly advantageous if you are looking to incorporate more than one color into your backsplash. The key to successful design is mobility in a single point, keeping things simple yet eye-catching. With a vast range of multi-colored backsplash and kitchen cabinet combinations, the possibilities are endless.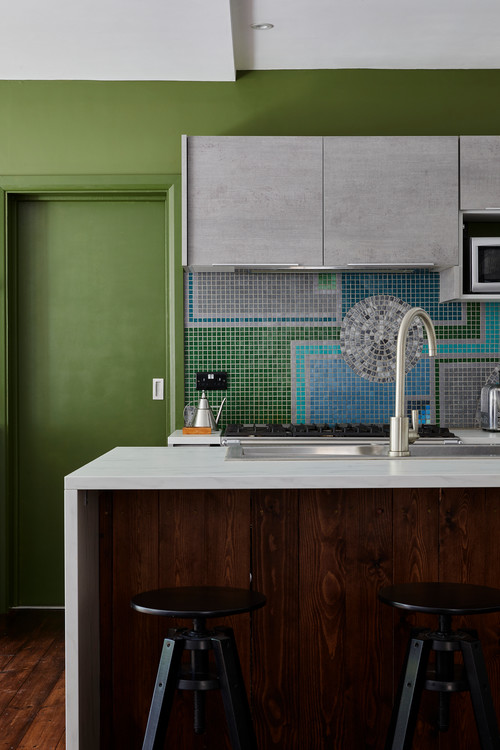 ID# 163806 | Houzz.com – Credit | © Caroline Couzens
---
Mosaic Tile Backsplash in Green and Blue Shades
Mosaic tiles are one of the most popular materials for backsplashes that can help you to create art-like surfaces for your kitchen!! In this contemporary kitchen, the mosaic tile backsplash makes a statement with its blue and green shades. The gray cabinets provide a cohesive look with the tiles while the white Silestone countertops add a bright and fresh look.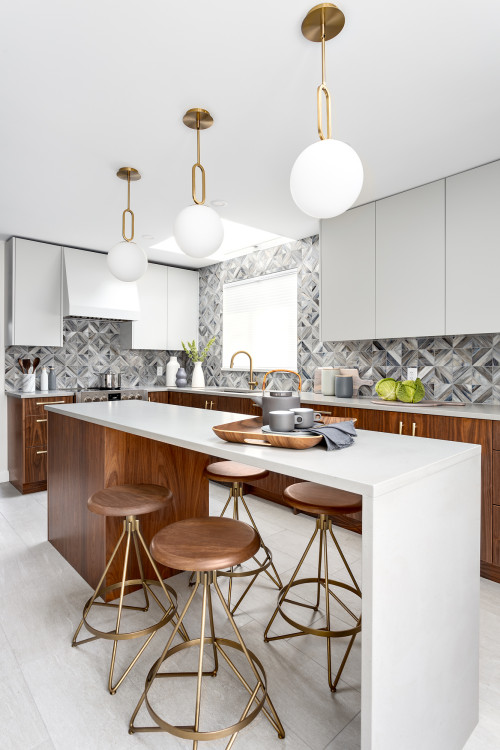 ID# 163807 | Houzz.com – Credit | © Simply Home Decorating
---
White and Wood Cabinets with White Quartz Countertops
Enriched by their wood-look pattern and geometrical shapes, these backsplash tiles can easily enhance any space. The wood base cabinets complement the neutral colors of the tiles while the white upper ones provide a bright and spacious atmosphere. The white waterfall island countertop completes the modern design of the flat-panel cabinet doors.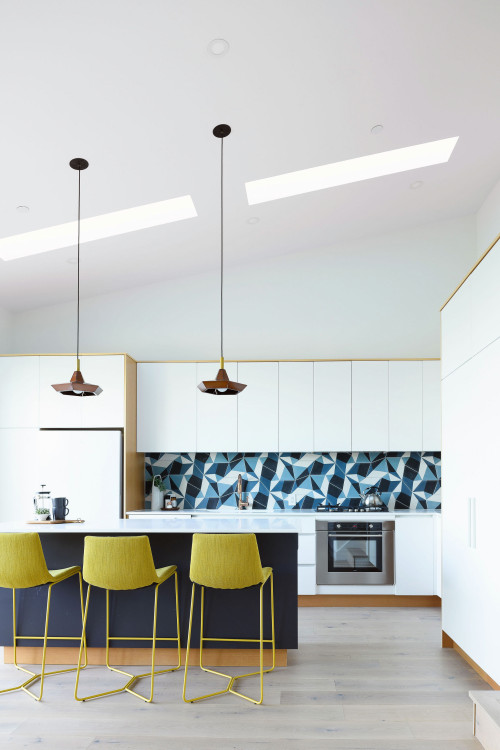 ID# 163808 | Houzz.com – Credit | © Lanefab Design/Build
---
Midcentury Kitchen with Blue Backsplash and Island
When it comes to backsplash design, there is no limit. The kitchen backsplash is the element that ties the whole element together while it gives you a chance to create a striking focal point for your space. Characterized by gorgeous blue shades, the geometric tile backsplash does this job and adds a wow factor. The simple and plain design of the white cabinets and countertops allows the backsplash to be the star while the dark blue kitchen island complements these blue shades while green chairs add another pop of color.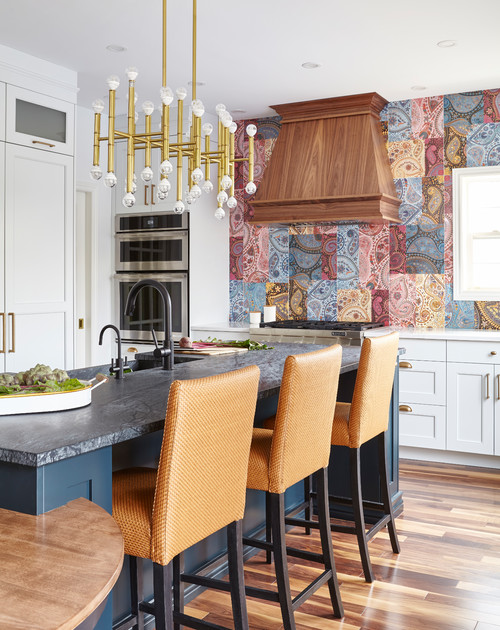 ID# 163809 | Houzz.com – Credit | © Square Footage Inc.
---
Transitional Kitchen with Black Island and Granite Countertop
Different colors, textures and patterns perfectly come together in this transitional kitchen and offer a visually pleasing look. The centerpiece of this design is the multicolor backsplash tiles which act as a piece of art behind the stove. The wood range hood complements the eye-catching colors of the tiles while the white shaker cabinet and the black kitchen island with a black granite countertop serve a classic yet stylish look.
Material Options for Multicolor Backsplash Tile
Backsplashes have different effects with various types of materials. It has many different types such as ceramic, glass, mosaic, marble, stone, and metal. For example, metal creates industrial effects, while stone backsplashes offer authentic ambiances. Marble, of course, is a kind of product that is indispensable for luxury spaces. Mosaics can create original designs by forming small particles. Glass backsplashes provide eye-catching effects with glossy effects. And ceramics always takes the first place as the most used material type in every way.
When these material types are combined with colorful shades, of course, ceramic backsplash is the most applicable and preferred type. It is the first choice of users with unlimited color arrangements. When the price is considered in terms of performance, it remains affordable. It is a very important detail that it can be prepared as desired.
Glass backsplashes also create very interesting designs with multicolor tile effects. Unique color feasts can be created with the shiny and deep texture of glass tiles.
Glass Multicolor Backsplash Tile
Glass can be easily processed in any color you can think of. In this way, it is a very useful material type for multi-color backsplash tiles. Desired effects can be easily processed. It is a functional product type. It provides successful designs, be it glossy surfaces or matte mosaics. You can use it for a long time with easy maintenance by cleaning it with a damp cloth. While it is resistant to water and stains, it has a gliding surface against spills and splashes. From modern styles to contemporary appeal, you'll love the elegance of glass multi-color backsplash tiles. They can leave very successful effects that are compatible with every style.
At the same time, glass tiles are highly durable and resistant to stains and mildew. Right from these features, they are ideal choices for any project. Glass tiles also have reflective properties. Therefore, it is a useful and ideal product for dimly lit environments. When applying glass multi-colored backsplash tile, a design can also be created by mixing different colors with a self-patterned backsplash.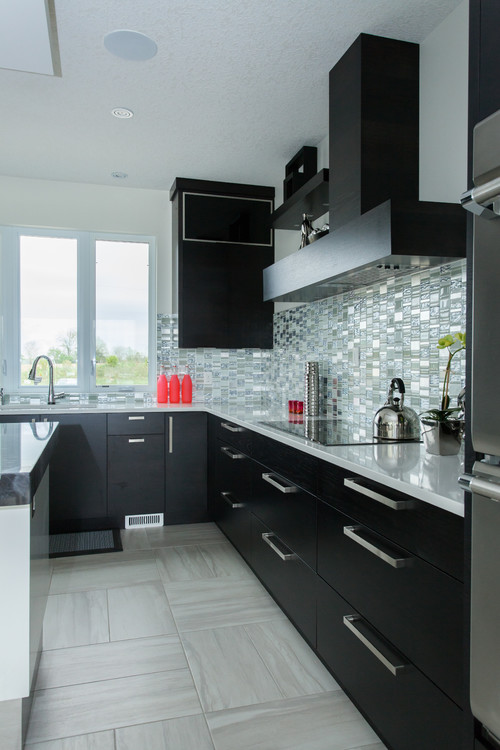 ID# 163810 | Houzz.com – Credit | © Dynamic Kitchens
---
Modern Black Cabinets with Glass Mosaic Tile Backsplash
The reflected surface of the glossy glass backsplash tiles adds a dazzling touch to the brightness. The matte black kitchen cabinets frame the backsplash beautifully and provide depth to the space! The white Caesarstone quartz countertop and brushed nickel accessories add to the airy vibe.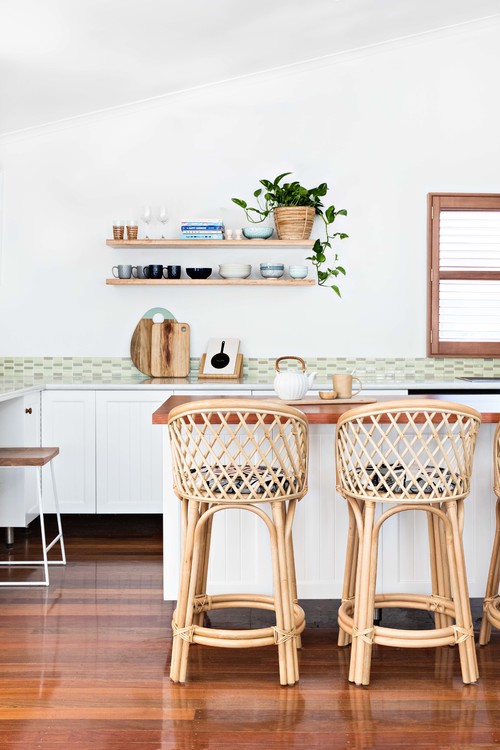 ID# 163811 | Houzz.com – Credit | © Jessi Eve
---
Glass Multicolored Backsplash Tile with Wood Floating Shelves
If you don't like too much color in your space but still want to add a pop of color, you can define the color and use it in different shades. Here, even the green mosaic tile backsplash has very light shades, it brings visual interest. The rest of the kitchen offers a classic and timeless appeal with white beadboard cabinets and countertops. The wood floating shelves complement the naturality of the green and provide a space to display some potted plants of spice jars.
What color do countertops go with a multicolor backsplash?
It may be beneficial to use a counter in neutral tones with a multi-colored backsplash, or you can create contrast. Again, it is an option that completely depends on the cabinet colors. While choosing the same tone as the cabinets and offering a neutral look, you can create an explosive effect with the backsplash, or the opposite effect can be achieved. At the same time, cabinets and counters can be chosen darker, and designs that are compatible with light tones of cabinets and countertops can be created with light tones of backsplash or dark tones of backsplash.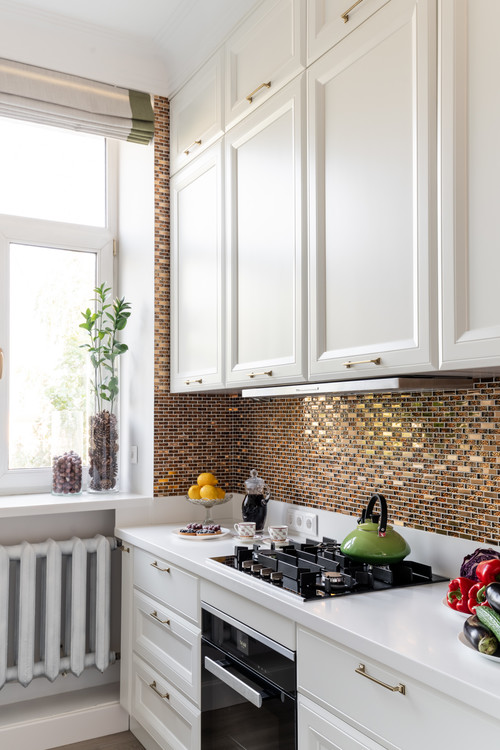 ID# 163812 | Houzz.com – Credit | © Наталья Широкорад
---
Transitional Kitchen with White Shaker Cabinets and Brass Hardware
This backsplash is really a show-stopper!!! Look at these shiny glass and metal tiles. They look stunning and create a striking focal point between the white shaker-style cabinets and quartz countertops. The reflective surface of the tiles makes the space feel larger, even if they have dark shades.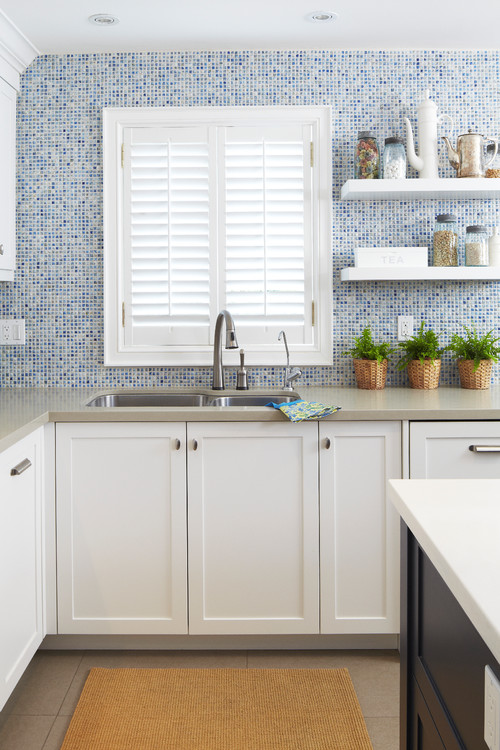 ID# 163813 | Houzz.com – Credit | © Sealy Design Inc.
---
Contemporary Kitchen with Mosaic Full-Height Backsplash
If you want to create a calm and relaxing atmosphere for your kitchen, opt for serene blue shades! In this contemporary kitchen, the blue mosaic tile backsplash does this job and brings a coastal feel. The white shaker cabinets and the gray laminate countertop create a classic and timeless appeal while using floating shelves instead of upper cabinets enhances the impact of the lovely mosaic tiles.
Ceramic Multicolor Backsplash Tile
Ceramic is the most preferred type as a backsplash material. It can be prepared in various sizes, shapes, and colors to give the desired effects. In terms of price performance, it is also at a very good point. It is easy to apply and clean. The fact that ceramic tiles can be given the desired colors easily increases the chance of selection. Stylish and successful designs can be obtained by preparing ceramic multi-colored backsplash tiles, either self-patterned or by combining tiles of different colors.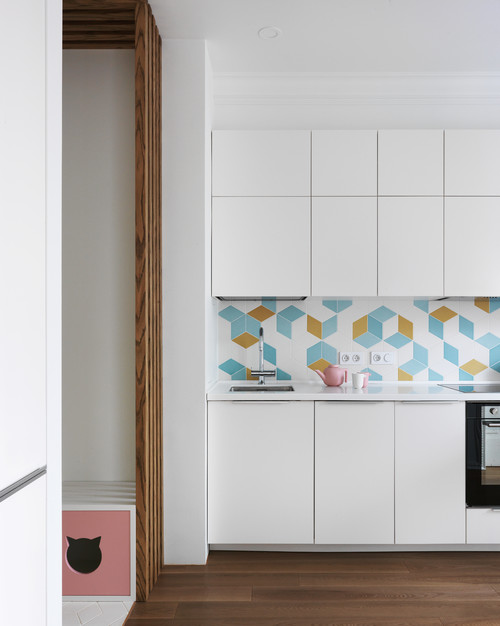 ID# 163814 | Houzz.com – Credit | © Geometrium – Студия дизайна интерьеров
---
Multicolored Backsplash Tile with Flat-Panel Cabinets
When designing a backsplash, using different colored tiles together is a great way to make a big impact. As you see in this contemporary kitchen, the blue, white, and yellow diamond tiles create an eye-catching pattern while adding visual interest to this otherwise ordinary kitchen. The plain and simple style of the white cabinets and countertop enhances the impact of the tiles. The wood flooring breaks the white domination in the room and brings warmth to the atmosphere.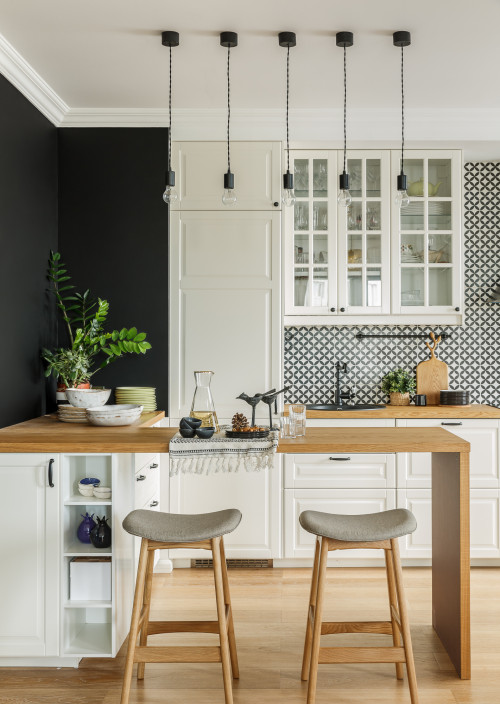 ID# 163815 | Houzz.com – Credit | © Елена Сидорина
---
Scandinavian Kitchen with Black and White Color Scheme and Wood Accents
When it comes to multicolored tiles, they don't have to include plenty of different shades. The combination of black and white is also considered a multicolor that can create timeless appeals for your space. The black and white patterned backsplash tiles make a big impact on the overall aesthetic to add visual interest! The white raised-panel cabinets serve a classic traditional look while the wood countertops add a warm sense to the room. The black wall paint on the left side creates a strong contrast against the whites and brings depth.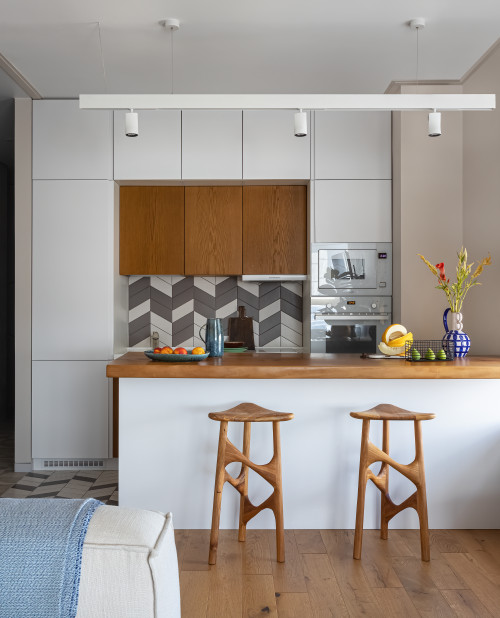 ID# 163816 | Houzz.com – Credit |© Brick buro
---
Open Concept Kitchen with Chevron Backsplash and Wood Countertop
Warmed up with wooden details, this modern kitchen design is an excellent example of how employing only two colors can have a dramatic effect on the overall look! The chevron-patterned backsplash in varying hues of gray adds curiosity to produces a captivating visual pattern. The white cabinets seem clean and modern while the wood upper cabinets and peninsula countertop bring warmth to the area.
ID# 163817 | Houzz.com – Credit | © Ирина Чернейкина
---
Two Tone Kitchen Cabinetry with Red Accents
The tastefully subtle kitchen has sleek gray and white cabinets with flat panel doors for a clean and sophisticated appearance! The unusual patterned backsplash draws attention and makes a statement, adding a spice of flair. Red elements, such as cookware and cutlery, engage the eye and provide an element of energy for a flash of vitality. The dramatic red lighting fixture is the pièce de résistance, infusing the space with artistic appeal and a sense of intrigue that will leave everyone in amazement.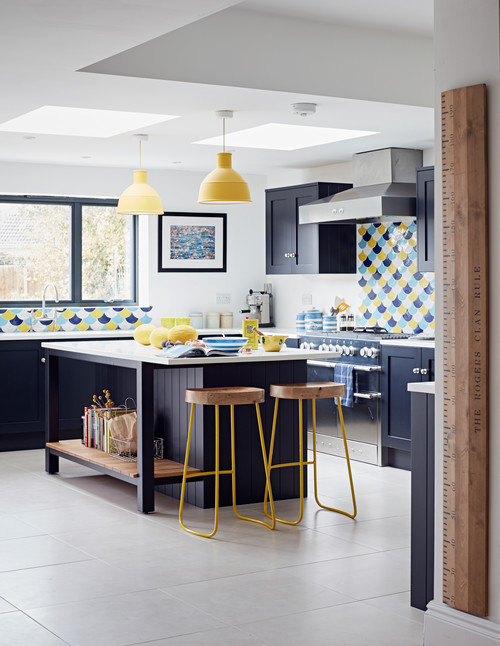 ID# 163818 | Houzz.com – Credit | © John Lewis of Hungerford
---
Colorful Fish Scale Tile Backsplash with Black Cabinets
When designing a multicolored backsplash, using contrasting colors, such as yellow and blue, is a great way to create a striking focal point. In this contemporary kitchen, the fish scale tiling as a backsplash perfectly showcases the huge impact of these two colors and offers a joyful atmosphere. On the other hand, the black shaker cabinets create a classic look with the white quartz countertops. Complementing the backsplash tiles are the yellow pendant lights above the island.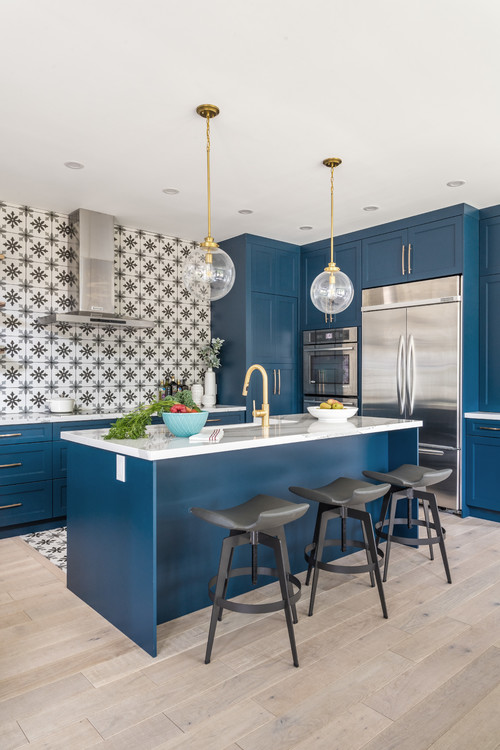 ID# 163819 | Houzz.com – Credit | © Designers Plus
---
Navy-Blue Kitchen Cabinets with Monochrome Wall Tiles
If you are looking for a pattern that will never go out of style, these monochrome tiles might be the right choice! In this transitional kitchen, the full-height backsplash creates an accent wall and instantly changes the overall look. The navy blue shaker cabinets bring elegance while brass hardware adds a dose of shine. The crisp white quartz countertops are the most plain elements that add a bright and fresh look. The globe pendant lights above the island enhance this spacious feel while bringing a midcentury vibe.
Tile Styles for Multicolor Backsplash
Multicolor backsplashes are a type of self-patterned or designed by combining different color tiles. With unlimited design variations, very good results can be achieved. In addition to these, laying patterns are also important factors that determine a multicolor backsplash. Various backsplash designs are created with flooring shapes such as subway, hexagon and herringbone. The desired effect is appropriately adjusted with the laying patterns and color distribution.
After you decide whether you want to create modern, classic, or fun spaces, your first choice should be the flooring style of the multicolor backsplash. Spectacular effects can be achieved by determining the color and pattern that will go best with your kitchen concept.
Multicolor Subway Tile Backsplash
Subway tile backsplash, which has a rectangular shape, is the most classic and timeless option in kitchen designs. Metro tiles can be easily preferred with modern, contemporary, classic, beach style, transitional, industrial and all other styles. Multicolor subway tile backsplash, on the other hand, is a cultivated variety that leaves dynamic effects. While providing combinations with unlimited color options, a pattern and color transition can be achieved while unique designs can be obtained from a piece with a self-motif or a combination of different colors. The colors are determined according to the concept of the kitchen and the desired effect is transferred to the users.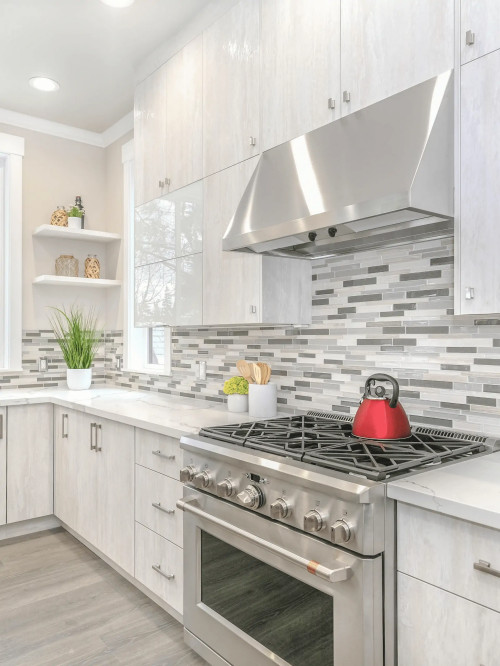 ID# 163820 | Houzz.com – Credit | © BlueKey Design + Build
---
Gray Kitchen with Multicolored Backsplash Tile
The light gray cabinets create a sleek and nice textural look while the multicolored subway tile backsplash completes the elegant look of the cabinetry and adds visual interest!
ID# 163822 | Houzz.com – Credit | © Remodel
---
Monochrome Kitchen with Tiled Range Hood
Even if this kitchen has a classic monochrome color palette, different shades and textures add interest to the space. The dark gray base cabinets provide a sleek modern look while the gray shaded backsplash tiles draw attention. The white tiled range hood adds another layer of texture while the wood countertop completes the neutral color scheme.
Hexagon Multicolor Backsplash
Hexagonal tiles are a popular choice for both users and designers, and their sleek and modern appearance has propelled them to the top of the list of alternatives for everything from kitchen and bathroom floors to doors and even fireplace surrounds! Consider the general ambiance of the space as well as your cabinet design when choosing a hexagonal backsplash for your kitchen. Several multicolor alternatives are available on the market, allowing you to experiment with contrast color combinations or vibrant colors that complement your existing decor. Alternatively, self-patterned hexagonal tiles provide a low-key yet elegant appearance. With so many variables, the design potential is virtually limitless!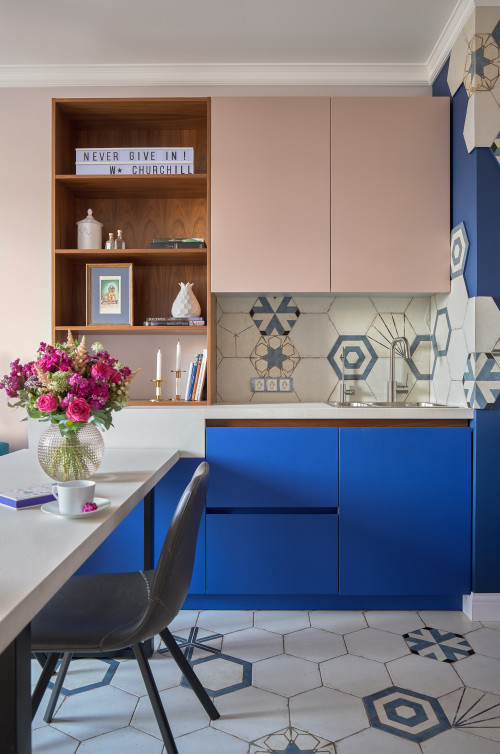 ID# 163823 | Houzz.com – Credit | © VerbaHome
---
Blue and Pink Cabinets with Patterned Hexagon Tiles
In this contemporary kitchen, colors and patterns make big differences while the blue color is carried on the perimeter cabinets to walls. Using different patterned hexagon tiles as a backsplash and flooring add visual interest to the design. For the upper part, pastel pink cabinets are preferred.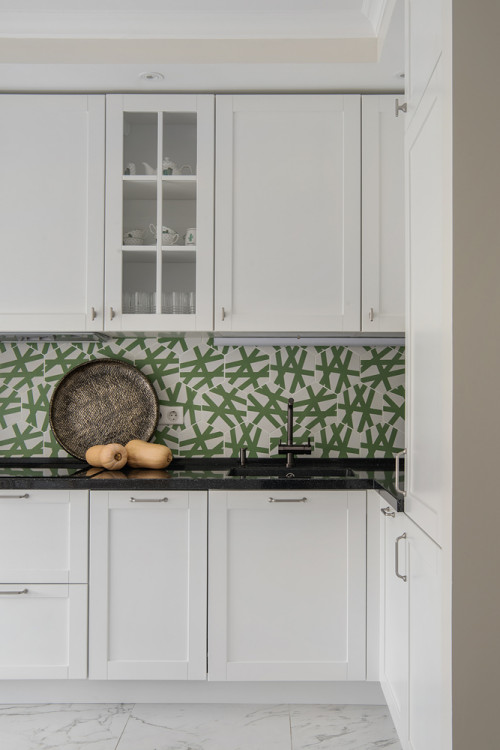 ID# 163824 | Houzz.com – Credit | © Мила Колпакова
---
Green and White Hexagon Tiles with Black Countertop
What a beautiful backsplash design… The green patterned white hexagon tiles are true statement makers that can easily enhance any kitchen. The plain appeal of the white shaker cabinets allows the backsplash to be the star of the design. On the other hand, the black granite countertop creates contrast against the white cabinetry, adding visual interest.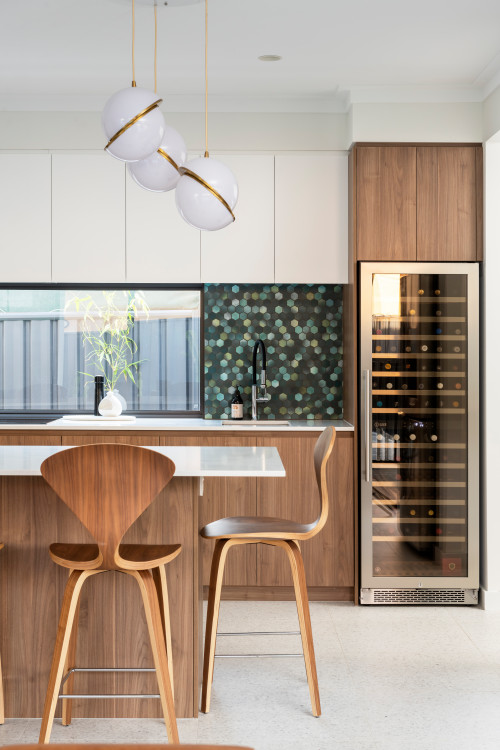 ID# 163825 | Houzz.com – Credit | © Residential Attitudes
---
White and Wood Kitchen Cabinetry with Multicolor Backsplash Tile
Enhanced by a captivating backsplash, this kitchen exudes the sophisticated charm of midcentury design. The natural wood cabinets contribute a captivating texture while the white upper cabinets and countertops bring about an inviting radiance. A mesmerizing focal point is formed by the multicolored hexagon tiles that adorn the backsplash.
Herringbone Multicolor Backsplash
Herringbone backsplashes make a big difference with a simple twist to classic rectangular tiles. With their eye-catching fishbone pattern, these tiles offer a different focal point for kitchens! There are various types of materials such as ceramic, marble, glass, mosaic and brick. Depending on the type of material applied, herringbone works well with different design styles, from modern to traditional. According to the style and color of the kitchen cabinets, the most accurate herringbone multicolor backsplash type can be determined. After this decision is made, soft colors or more vivid colors, successful spaces can be created.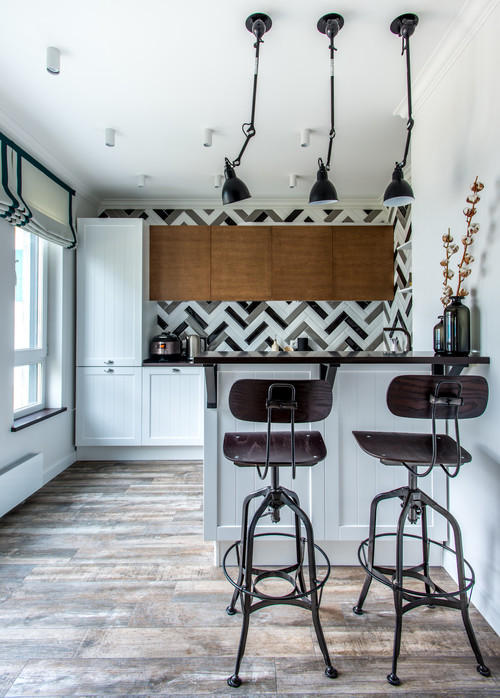 ID# 163826 | Houzz.com – Credit | © Вера Шеверденок | Roomba interior
---
Transitional Kitchen with Full-Height Multicolor Backsplash Tile and Black Countertops
A fantastic way to infuse an artistic element into a kitchen is by incorporating a full-height backsplash, particularly with a variety of hues! Take, for example, this transitional kitchen, where the black, white and gray herringbone tiles come together to form a mural-like foundation for the white and wood cabinets. The black granite countertops lend a touch of contrast against the cabinets while wood-look floor tiles that impart warmth throughout the space.