30+ Very Small Kitchen Ideas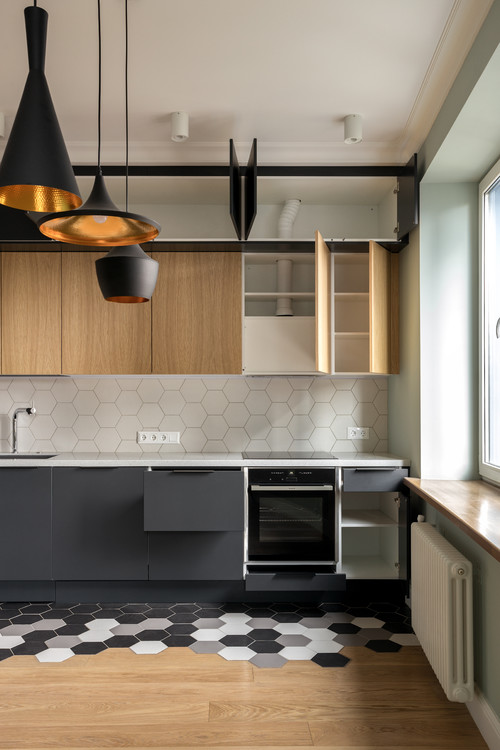 ID# 162204 | Houzz.com – Credit | © PUUSTELLI MOSCOW
---
Modern Very Small Kitchen Ideas with White Hexagon Backsplash
This kitchen design seamlessly merges wood and black cabinetry to create a stylish and balanced look. The black cabinets lend a chic and contemporary feel, while the wood cabinets warm up the space and provide an inviting touch. The white hexagon tile backsplash adds a layer of refinement and contributes to the kitchen's modern appeal. Additionally, the multicolored hexagon floor tiles infuse the space with energy and playfulness, introducing a splash of color to the room. Lastly, the white countertop completes the kitchen's sleek and sophisticated atmosphere, offering a clean and polished finish. Overall, this kitchen design successfully combines various elements to achieve a modern, yet inviting ambiance.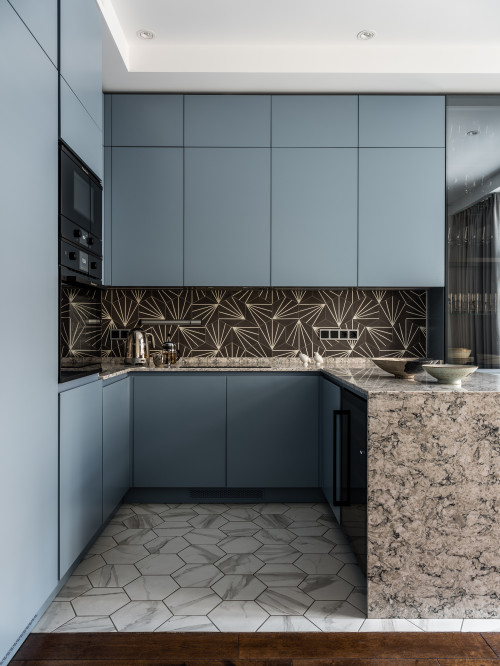 ID# 162216 | Houzz.com – Credit | © Ольга Рудакова
---
Pastel Blue Cabinets with Black Hexagon Tile Backsplash
This u-shaped kitchen boasts a unique design that's sure to catch your eye. The pastel blue cabinets provide a pop of color while the black hexagon tile backsplash with white starburst grout adds a touch of sophistication. The gray granite countertop adds a sleek and modern feel to the space, while the marble-look hexagon floor tiles tie everything together. With plenty of counter space and storage, this kitchen is as functional as it is stylish! For a perfect final touch, black stainless steel appliances perfectly match with the modern lines of the design and complement the black backsplash.
Very Small Kitchen Ideas
Kitchens are the heart of the house. We spend most of our time there. But not all houses have big and open kitchen spaces, especially tiny houses with very small kitchen areas. Also, very small kitchens are hard to organize. Fortunately, you do not have to have a huge space for a functional space. The philosophy of "less is more" helps for very small kitchen ideas. These very small kitchen ideas are very functional, useful, and clever. You need to model and plan very small kitchens carefully. For a start, investing in storage is a must. There are plenty of cute and cool storage units such as baskets and shelves which can be used as accessories, too. These very small kitchen ideas allow you to keep everything in one place. Using storage as an accessory is incredibly handy and practical.
Transform your Tiny Kitchen into a Spacious Space!
Another great way to make your very small kitchen looks bigger and wider is by using only one color for the kitchen. Kitchens with one color palette tend to look bigger than they are. You can choose a color for cabinets, counters, and wall space. Also, you can use large tiles for the kitchen floor. It is a general belief that using large tiles makes a space smaller, but it is not true. Installing small tiles for the floor makes the space small and crowded. So, to create a bigger and open very small kitchen use large tiles. So, if you want to learn more tips and tricks, these simple very small kitchen ideas will help you to build fresh, comfy, and roomy tiny kitchens.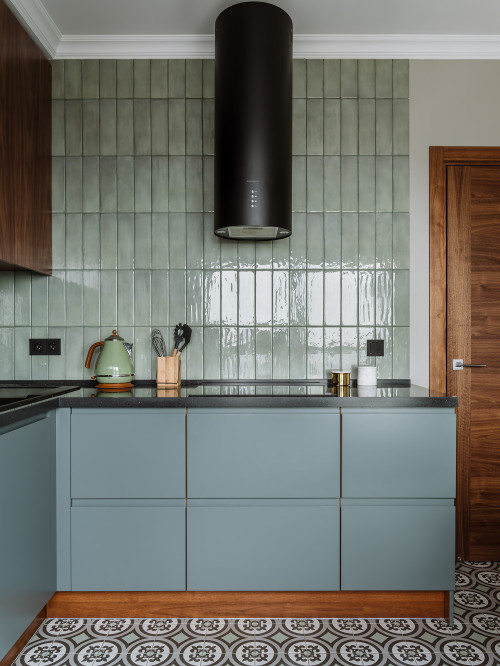 ID# 162201 | Houzz.com – Credit | © Зуева Анна
---
Contemporary Very Small Kitchen Ideas with Full-Height Backsplash
This contemporary kitchen boasts a sleek and modern design with its gray cabinets and black countertops. The sage green stacked subway tile backsplash adds a pop of color and texture to the otherwise monochromatic color scheme. The vertical layout of the tiles makes the space feel larger. The black modern range hood adds an edgy touch to the design. The patterned floor tiles tie the whole look together, adding depth and visual interest to the space.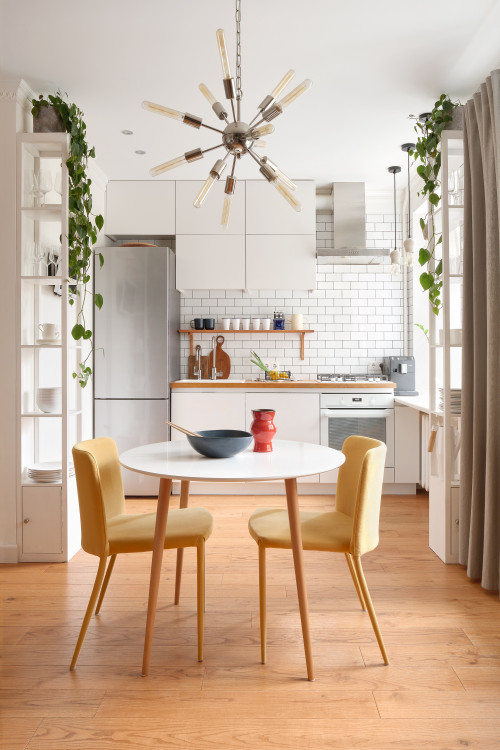 ID# 162202 | Houzz.com – Credit | © Natalie Vershinina
---
Scandinavian Kitchen with White Flat Panel Cabinets
This Scandinavian kitchen exudes a bright and airy atmosphere with its white flat panel cabinets and white subway tile backsplash that create a clean and minimalist look. The addition of a warm wood countertop and floating shelf adds a touch of natural texture and warmth to the space. A circular dining table with wooden chairs provides a cozy and intimate setting for meals while an eye-catching lighting fixture above the table adds a modern and stylish touch.
How to decorate a very small kitchen?
Using open shelves instead of upper cabinets gives your small kitchen a cooler and modern look. To get this look to avoid putting too many items on the shelves. Adding a wood cutting board, colorful flowers or potted plants, and small vases makes the small kitchen lively and spirited. These kinds of accessories add characteristics to your small kitchen.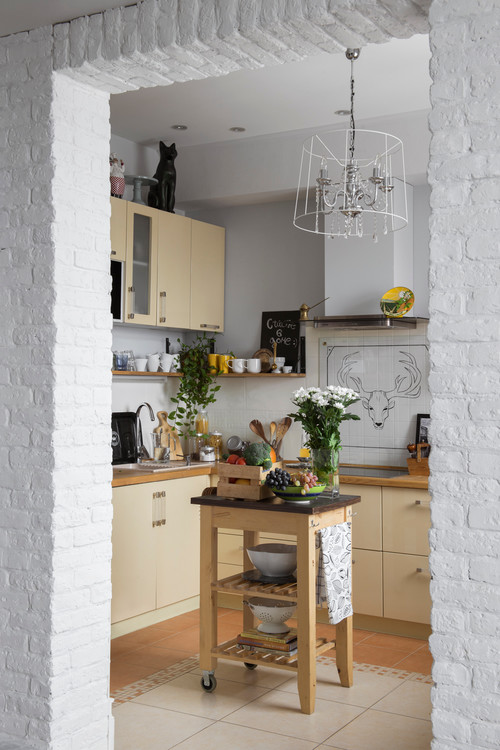 ID# 162203 | Houzz.com – Credit | © Дина Александрова
---
Pastel Yellow Kitchen Cabinets with Wood Countertop
Welcome to this cozy and delightful kitchen, where a sweet pastel yellow color palette exudes a warm and inviting feel. The cabinets are adorned with a sleek, flat panel design that effortlessly complements the kitchen's simple and minimalistic style. Boasting a wooden countertop set atop a cute wooden island, the elements of this kitchen add a touch of rustic charm to the ambiance. The beige floor tiles serve as the perfect background while allowing the other pieces to stand out. While small in size, this narrow space maximizes its functionality and style to make the most out of every single inch of space.
Modern Very Small Kitchen Ideas
Simplicity and practicableness are the key points of modern very small kitchen ideas. The size of the kitchen doesn't matter unless you build a minimalist and functional modern kitchen. To make modern very small kitchens, adding more light into the room would be a wise choice. White color is an excellent way to bring light into the area. Using white flat panel cabinets and white backsplashes can help to create fresh and airy modern very small kitchens. Also, the color white brings modernity and a minimalist aspect to the kitchen. Another modern very small kitchen idea is using wood and quartz materials. You can use these materials to create a kitchen island area with neutral colors. Besides having a kitchen island, you can have a workspace or dining area in the tiny kitchens. Wood gives a warm feeling to the space, and quartz makes the space trendy.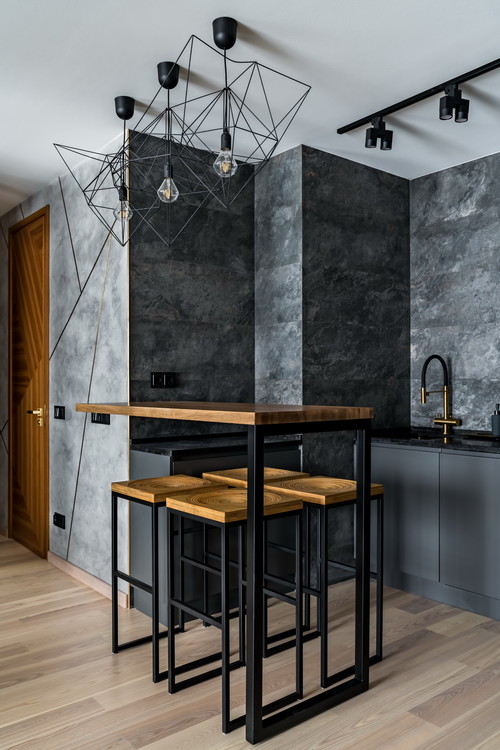 ID# 162205 | Houzz.com – Credit | © Марина Светлова
---
Gray Stone-Look Wall Tiles with Black Countertop
This gray contemporary kitchen boasts a sleek and modern design that's both functional and stylish!! The stone look gray wall tiles create a cohesive and sophisticated look that complements the gray cabinets and black countertop. The breakfast bar, featuring a wood countertop, provides a warm contrast to the cool tones of the tiles and cabinets. The modern lighting fixtures add a touch of elegance and practicality to the space ensuring that the kitchen is well-lit for cooking and entertaining!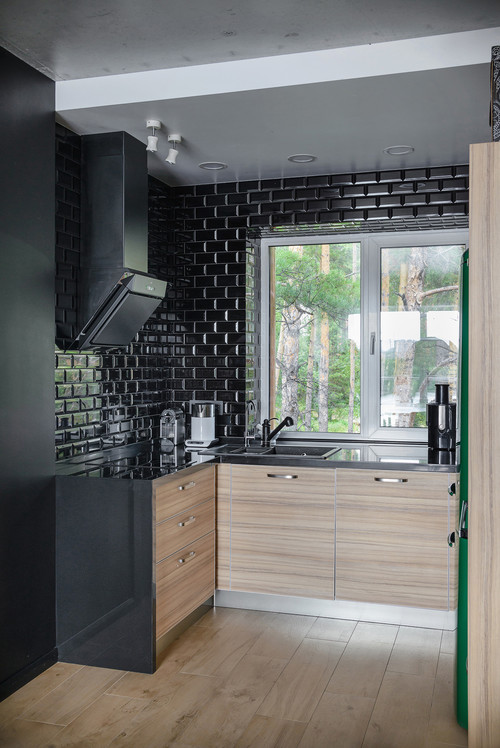 ID# 162206 | Houzz.com – Credit | © POUF бюро дизайна
---
Wood Cabinets with Black Subway Tile Backsplash and Countertop
This tiny kitchen packs a punch with its sleek and modern design. The wood cabinets offer warmth and texture while the black countertop and appliances provide a sharp contrast. The black subway tile backsplash creates a cohesive look, with the chrome hardware adding a touch of shine. One of the standout features of this kitchen is the large window behind the sink which floods the space with natural light and adds a refreshing touch of greenery from the outdoors!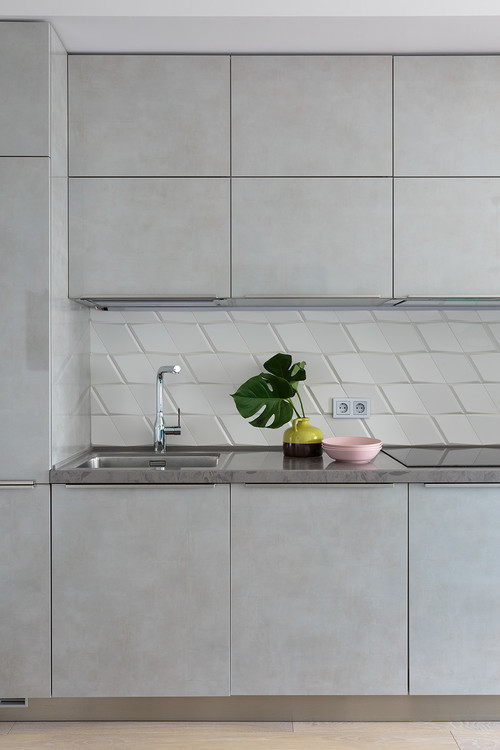 ID# 162207 | Houzz.com – Credit | © Наталия Кацуцевичюс
---
White 3D Backsplash with Light Gray Flat-Panel Cabinets
Transform your kitchen into a contemporary and elegant space with a minimalist design! Integrating light gray cabinets with a concrete-like appearance, the kitchen exudes a sleek appearance that merges form with function. The gray marble countertop augments the kitchen's luxury aesthetic, finely coordinating with the cabinets to create a stunning visual. Additionally, the white backsplash with a 3D effect adds depth and texture, enhancing the kitchen's allure with a sophisticated touch.
Very Small Open Concept Kitchen Ideas
Very small kitchens are required multifunctionality, especially for small houses. That's why designing an open-concept kitchen might be the best option. For both spacious and practical very small open kitchens, the area should be analyzed thoroughly. Measuring the areas that can be used, increases the functionality of the area, and makes the designing process easier. To prevent the claustrophobic feeling, glass front cabinets, or open shelving would be a good choice. Glass helps the kitchen to look brighter and roomier. Building open shelves creates a modern and practical very small open concept kitchens.
Very small open-concept kitchen ideas help to combine the kitchen and dining area of a house. Also, you can add the living area into the space. There are no walls or doors to camouflage the kitchen area. So, this very small open-concept kitchen must be polished and trendy. Adding an island and stools can make very small open-concept kitchens both the dining area and a work area. Thus, it becomes a functional very small open concept kitchen as well as an environment where all family members or guests can spend time together.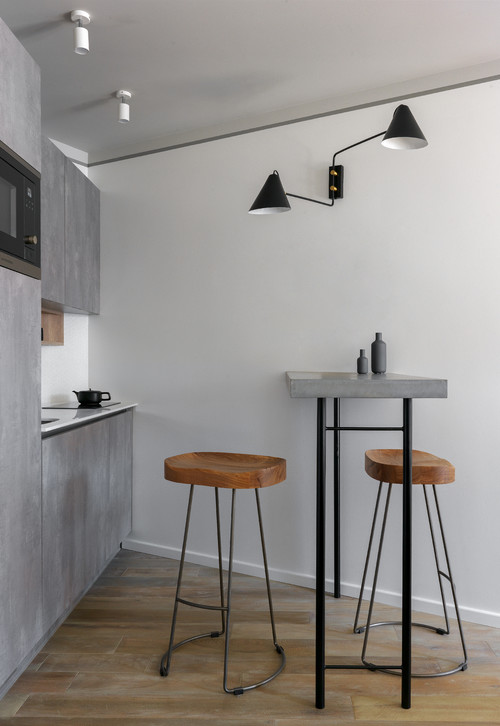 ID# 162208 | Houzz.com – Credit | © Мария Пилипенко
---
Very Small Kitchen Ideas with Tiny Breakfast Bar
This remarkable small space is a true work of art with its sleek and modern design that packs an impressive punch. The cool and contemporary gray flat panel cabinets create a stunning backdrop while the white backsplash and countertop instantly brighten and invigorate the space. A wooden stool placed at the tiny breakfast bar provides a cozy setting for enjoying meals or drinks. The stylish black wall-mounted lighting fixture above the bar not only adds an illumination that is much-needed but also elevates the sophistication of the kitchen. For those who value both fashion and functionality, this kitchen is a perfect choice, proving that small size doesn't mean sacrificing style or efficiency!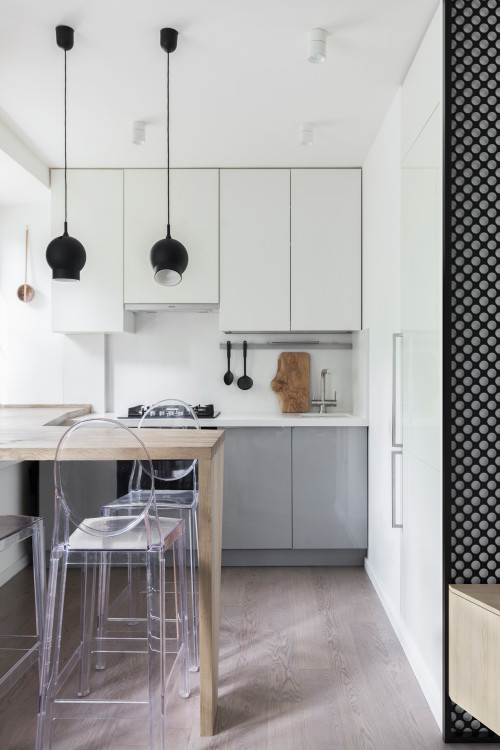 ID# 162209 | Houzz.com – Credit | © HKAF interior architects
---
Two Tone Kitchen Cabinets with Wood Peninsula
The kitchen is a sight to behold, embracing the open concept with its seamless gray and white cabinet combination that exudes modern class. The white backsplash and countertop offer a fresh and clean feel that complements the darker cabinets perfectly. But the real show-stopper is the wood peninsula, a stunning display of texture and warmth that balances out the acrylic chairs with finesse. To top it all off, the stylish black lighting fixtures bring a touch of sophistication and unify the design scheme flawlessly!
What is the smallest size a kitchen can be?
When it comes to determining the smallest square footage for kitchens, there are several factors to consider. Building codes and regulations, as well as your own personal preferences and lifestyle needs, will all come into play. In general, a small kitchen can range from around 70 square feet for a compact efficient setup with minimal counter space and basic appliances, all the way up to 150 square feet for a slightly larger kitchen with more storage and counter space. However, it's important to keep in mind that a kitchen that is too small might prove difficult to use and limit functionality, and on the other hand, a kitchen that is too large could be wasteful and inefficient.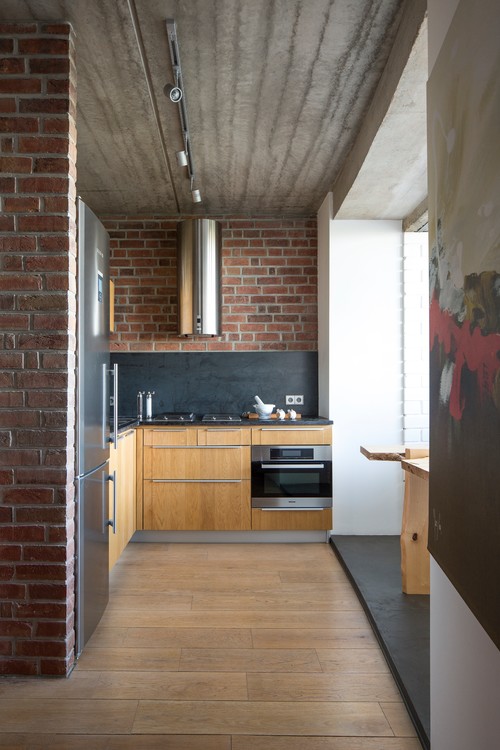 ID# 162210 | Houzz.com – Credit | © Однушечка | Odnushechka
---
Industrial Kitchen Design with Exposed Red Brick Wall
If you're someone who revels in a bold and exclusive style, then an industrial kitchen design with a rustic touch is what you need! With the warmth and appeal provided by the wooden cabinets, the black countertop and backsplash add modern touches, contrasting the former elements perfectly. Additionally, the true industrial element of the exposed brick wall enlivens the space. The circular stainless-steel range hood adds sophistication and enhances the industrial charm of the overall aesthetic of your kitchen.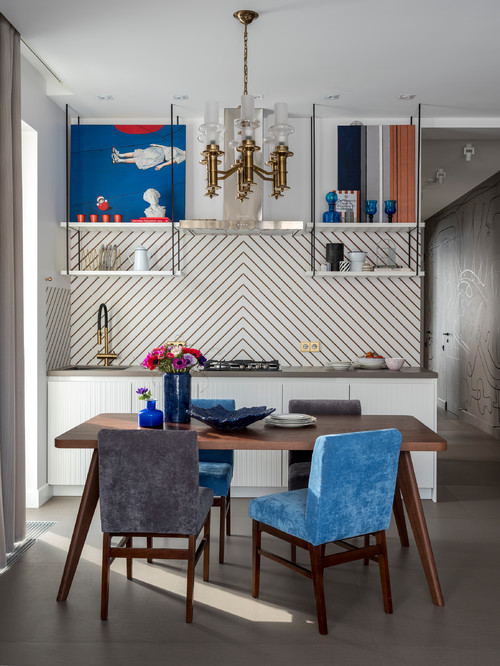 ID# 162211 | Houzz.com – Credit | © Студия Татьяны Архиповой
---
White Cabinets with Gray Countertop and Colorful Accents
If you're looking to add a touch of joy and cheer to your kitchen, a white and gray color scheme with pops of vibrant colors may be just what you need. This joyful kitchen features sleek white cabinets with a modern gray countertop, providing ample space for all of your kitchen essentials. Open shelving above the countertop allows for easy access to your most-used items while also providing an opportunity to showcase colorful accessories and decor. The black and white geometric backsplash adds a playful touch to the space. The wood dining table and blue and gray chairs create a cozy and inviting area for family and friends to gather.
Very Small L-Shape Kitchen Ideas
L – shape kitchens consist of two perpendicular walls, one short and one long. It gets its name from the way these walls form. Usually, counter space and cupboards are placed along the longer wall. Small kitchen utensils such as an oven are placed on the shorter wall. Sometimes a kitchen island is used in building an L – shaped kitchen. Kitchen islands are helpful to have more countertop spaces, a sitting area, and more valuable storage space. For these reasons, very small L – shape kitchen ideas are very practical, especially for small houses like studio flats.
Fitting a very small L – shape kitchen into a corner gives an ergonomic and efficient kitchen space and is amazing for tiny areas. It provides flexibility, and also it allows you movement in small spaces. Plus, this layout is very trendy and one of the most popular kitchen styles.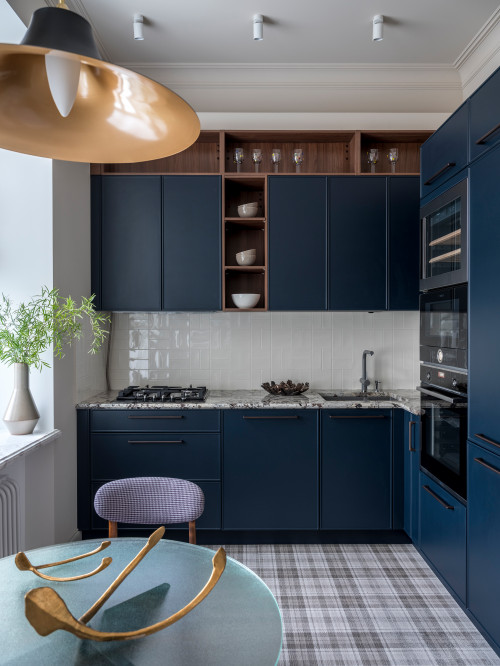 ID# 162212 | Houzz.com – Credit | © Анна Кларк
---
Dark Blue Cabinets with White Basketweave Backsplash
The kitchen design incorporates modern and classic elements seamlessly. The dark blue cabinets are striking and contrast well with the warmth of wooden open shelving which adds depth and personality to the area. A sleek and sophisticated ambiance is provided by the gray granite countertop while the understated elegance of the white basketweave backsplash creates an intriguing design feature. The patterned plaid floor gives the area a unique and cozy touch.
What type of kitchen is ideal for limited space?
The work triangle is very important for a small kitchen. For a limited space– wall kitchens, L – shape kitchens, and galley kitchens are ideal. If your small kitchen is separated from the dining room, or the living room, U – shape kitchens would be suitable for your limited kitchen space.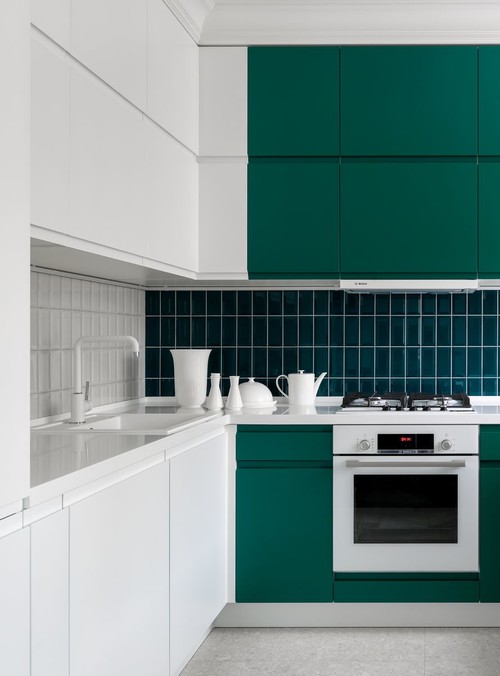 ID# 162213 | Houzz.com – Credit | © «Точка дизайна»
---
Green and White Kitchen Design with Ceramic Backsplash Tiles
This stunning kitchen seamlessly merges style and functionality, resulting in a contemporary masterpiece. The combination of green and white cabinetry effortlessly delivers a refreshing burst of color that captures the essence of modernity while staying timeless. With ceramic tiles in identical hues as the cabinets creating a harmonious flow, the space is visually consistent. The white countertop's addition highlights a crisp and polished feel, and the L-shaped layout allows maximum space utility. With the focal point squarely on the design elements, the white appliances complement and tie everything together flawlessly.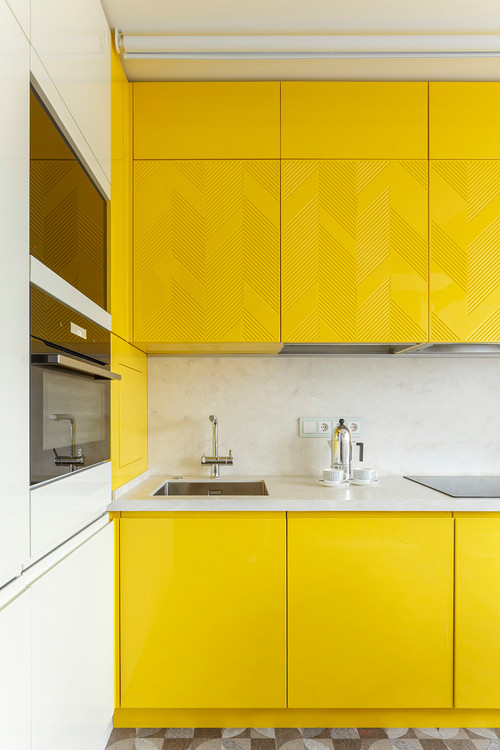 ID# 162214 | Houzz.com – Credit | © Студия "Атаманенко, Архитектура и Интерьеры"
---
White and Yellow Cabinets with White Countertop
In this very small kitchen, the vibrant yellow cabinets steal the show with their chevron pattern on the upper cabinet doors, bringing playful energy to the space. The left side features tall white cabinets for additional storage while the white backsplash and countertop provide a bright and clean backdrop. Despite its size, this kitchen still manages to pack a punch with its bold design and functional layout!
Very Small U-Shape Kitchen Ideas
U – shape kitchens consist of three adjoining walls. These designs give you more space and allow you to add more drawers, countertops, and cabinets into your tiny kitchen. The best thing about every small U – shape kitchen idea is that you can adjust the kitchen according to the space you have. For instance, three walls do not need to be actively used in very small U – shape kitchens. Depending on the space you have, you can use a breakfast bar or a peninsula as the third wall for this style of kitchen. So, you can have a creative and stylish very small U – shape kitchen.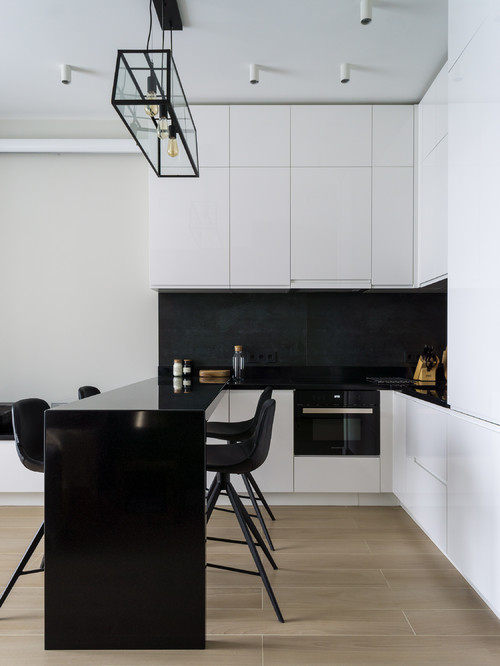 ID# 162215 | Houzz.com – Credit | © Егор Сомов
---
Black and White Very Small Kitchen Ideas with Wood-Look Floor Tiles
This black and white kitchen exudes a sleek and modern aesthetic with its clean lines and contrasting colors. The bright white flat panel cabinets create a clean and open atmosphere while the bold black countertop and backsplash add depth and sophistication. The countertop extends as a peninsula, providing ample space for food prep and casual dining. The wood-look porcelain floor tiles bring warmth and texture to the space and add a touch of natural beauty.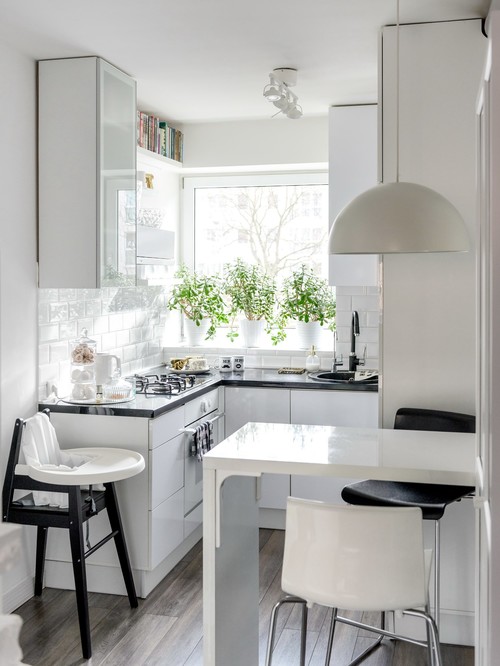 ID# 162217 | Houzz.com – Credit | © Alexander Shevtsov
---
White Very Small Kitchen Ideas with Black Countertop
This very small u-shaped kitchen packs a big punch with its stylish and functional design! Glossy white cabinets line the walls, creating a bright and airy atmosphere. The white subway tile backsplash with beveled edges adds texture and depth to the space. The black granite countertop provides a bold contrast against the white cabinets. The white peninsula offers additional counter space and a convenient place for meal prep. A large window lets in natural light, making the space feel even more open and inviting.
Very Small One Wall Kitchen Ideas
One-wall kitchens consist of laying out every kitchen item along a single wall. It is easy to see all the features of cabinets, and counters. This makes this simple layout an ideal option for very small kitchen ideas. They are economical and effortless. This layout is very suitable for applying to small houses, apartments, lofts and condos. If you have enough space, by adding a kitchen island into the area, you can solve the lack of space issue. Another very small one-wall kitchen idea is hanging most used pots and pans on a hanging rack which can be placed above a kitchen island. If you want, you can hang some kitchen items in a space on one wall.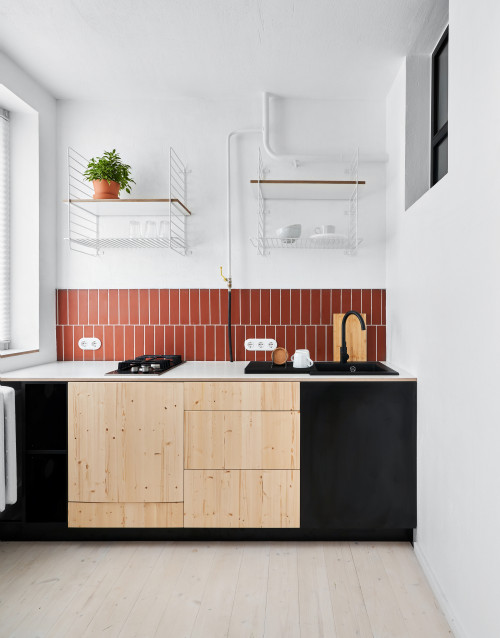 ID# 162218 | Houzz.com – Credit | © Line Design Studio
---
Black and Wood Cabinets with Red Backsplash Tiles
In this stunning kitchen design, the smoothness of black cabinetry is seamlessly combined with the natural warmth of wood accents to achieve a chic and modern appearance! The white countertop serves as a luminous and hygienic surface for meal preparation and cooking and a bold red backsplash with a vertical layout provides a burst of energy and color to the area. Additionally, the open white shelving provides a functional yet attractive storage and display solution while adding a dash of visual intrigue to the overall design.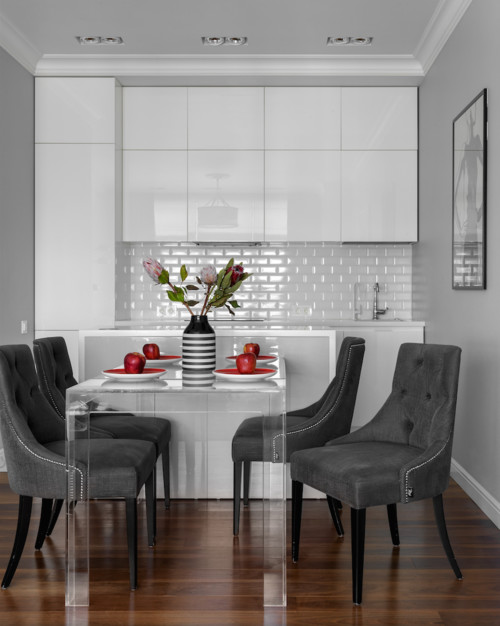 ID# 162219 | Houzz.com – Credit | © in[ex]terior by Solnyshkova
---
White Eat-in Kitchen Design with Subway Tile Backsplash
This small eat-in kitchen is a perfect blend of sophistication and simplicity! The white cabinets with high-gloss finish create a bright and airy atmosphere that is perfect for preparing meals. The classic white subway tile backsplash and countertops provide a clean and timeless look that will never go out of style. The acrylic dining table with gray velvet chairs is the perfect addition to this kitchen and they create a modern and sleek feel while maximizing the available space.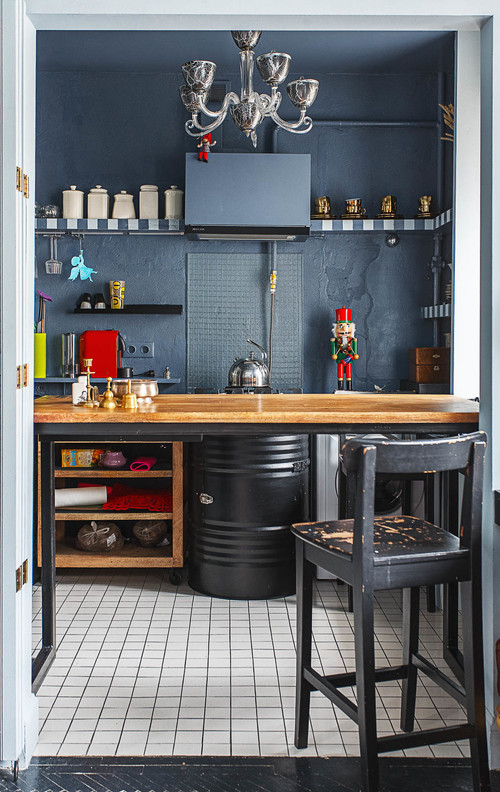 ID# 162220 | Houzz.com – Credit | © Красюк Сергей
---
Eclectic Kitchen with Unique Cabinets and Wood Countertops
Get ready to be impressed with this dazzling kitchen design that's a perfect blend of unique and stylish features! The true hero of the room is the stunning cabinet design created from black barrels that adds an edgy and industrial feel to the area. The wooden countertops serve as a warm and eye-catching contrast to the dark cabinets. You simply can't miss the remarkable blue backsplash tiles that adorn the wall behind the stove, injecting a splash of color and personality into the kitchen. The blue wall paint does wonders by complementing the backsplash and unifying the entire room. To cap it all off, white square floor tiles enhance the sophistication factor of the kitchen with their classic elegance while black grout adds a touch of depth and dimension to the space.
Very Small Kitchen Backsplash
One of the ways to make your tiny kitchen look and feels larger is by choosing the perfect backsplash. That's why backsplashes are great tools to create aesthetic and practical kitchen areas even the very small ones. In today's market, from classic subways to modern metal sheets there are plenty of different backsplash materials. Glass backsplash, which shows the kitchen area more spacious and wider by reflecting the light it receives, is very suitable for your very small kitchen. By using the mosaic–tiled backsplash you can extend the cooking and prep areas, so your small kitchen area has continuity and a cool design. To create more spacious atmospheres, opt for lighter shades and larger tiles.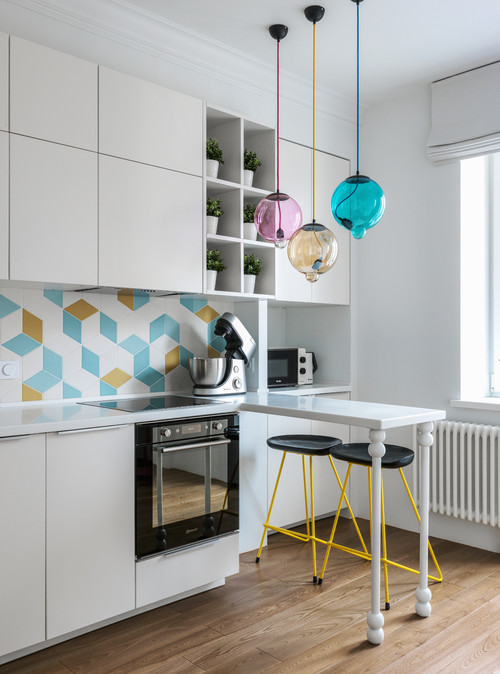 ID# 162221 | Houzz.com – Credit | © Geometrium – Студия дизайна интерьеров
---
Contemporary Kitchen with Tiny Peninsula and Colorful Pendants
This contemporary kitchen is full of joy and cheerfulness! The white flat panel cabinets provide a clean and fresh look while the multicolored backsplash tiles add a playful touch with blue and yellow shades. A tiny peninsula with black and yellow chairs offers a cozy spot for dining or enjoying a cup of coffee. Colorful glass pendant lights hanging above the peninsula provide extra charm to the space.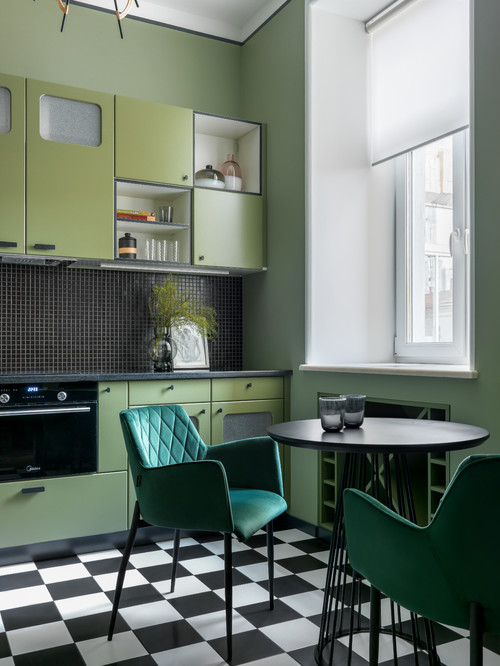 ID# 162222 | Houzz.com – Credit | © propertylab+art
---
Green Cabinets with Black Mosaic Tile Backsplash
This eclectic kitchen exudes a charming and playful vibe with its pastel green cabinets that blend perfectly with the black mosaic tile backsplash and black countertop and hardware. The checkered floor tiles add to the kitchen's unique personality while the circular dining table with green chairs provides a cozy and intimate spot for meals!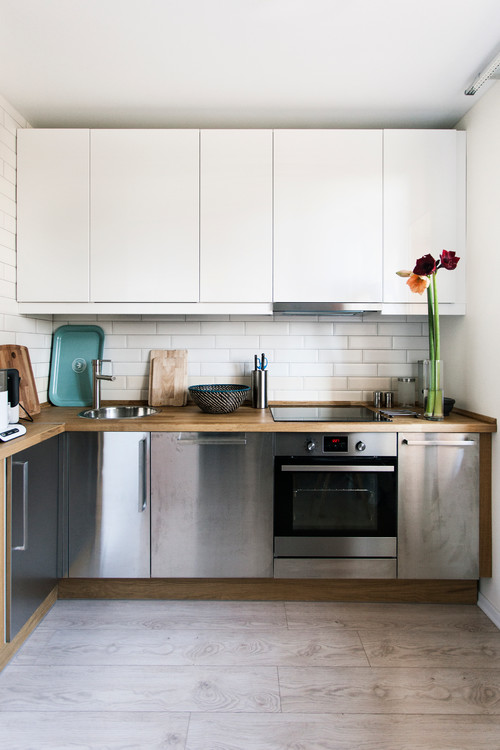 ID# 162223 | Houzz.com – Credit | © Нина Фролова
---
White and Metal Kitchen Cabinets with Wood Countertop
This kitchen boasts a chic and contemporary look with its blend of white upper cabinets and metal base cabinets. You'll have no shortage of storage for all your kitchen essentials, thanks to these cabinets! Additionally, the wooden countertop infuses some coziness into the area, making it an ideal spot for meal prep or quick bites. The stainless steel appliances contribute to the modern feel of the kitchen while the traditional white subway tile backsplash adds a clean and classic touch that never goes out of style.
How can I make the most of my tiny kitchen?
Using hanging units is one of the best ways to have space in tiny kitchens. You can hang your most used kitchen utensils above the counter space. Also, you can add a pegboard backsplash to your tiny kitchen to keep the most used tools. Another idea for your small kitchen is adding a folded kitchen table into the kitchen area. It can be used as a counter space or a dining space. These ideas make cooking practical and easier and give you more space in your very small kitchen!!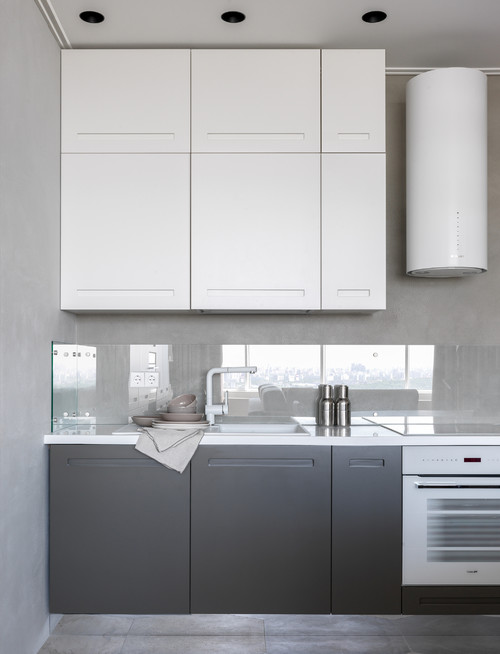 ID# 162224 | Houzz.com – Credit | © «Точка дизайна»
---
Gray and White Cabinets with Clear Glass Sheet Backsplash
This stunning kitchen exudes a sleek and contemporary vibe with its impeccably designed gray and white cabinets which blend perfectly together. The clear glass sheet backsplash brings an air of sophistication and refinement to the overall look while the gray concrete-style walls generate a subtle industrial undertone. Additionally, the white appliances fit seamlessly with the cabinets and embody the kitchen's minimalist aesthetic!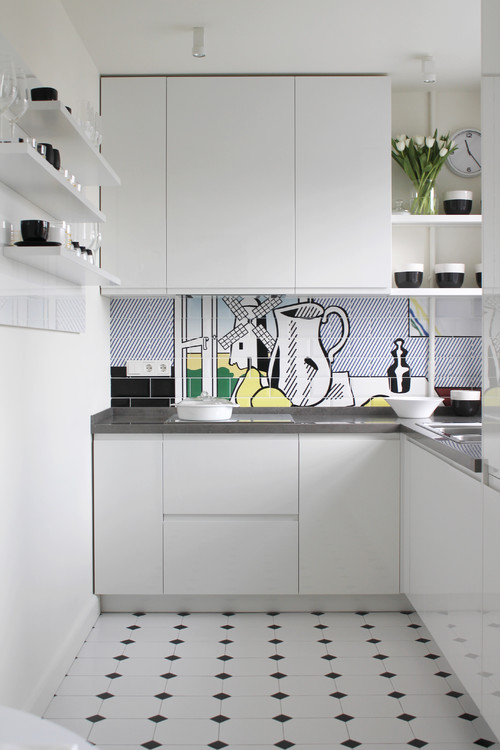 ID# 162225 | Houzz.com – Credit | © Юлия Кирпичева
---
Contemporary Kitchen with Unique Backsplash Tiles
This very small kitchen packs a big punch with backsplash tiles! The unique backsplash design with its joyful pattern adds a touch of personality to the space. The crisp white cabinets and sleek gray countertop offer a timeless modern appeal. The l-shape layout maximizes the available space, making it functional and efficient. White floating shelves provide extra storage and display space while maintaining a clean and modern aesthetic. The black and white floor tiles add a graphic element and create a dynamic contrast with the white cabinets and gray countertop.
Very Small Kitchen Storage
It is very hard to have enough space in your kitchen for storage. It doesn't matter if your kitchen is big or small. There are never enough cabinets, shelves or drawers, especially if you have a tiny space. Fortunately, there are clever and functional solutions exist! These ideas will help you to use your tiny kitchen space more practical and keep your kitchen very organized.
Hanging hooks is the easiest way to store some items in your very small kitchen. You can hang aprons, towels or cutting boards. Floating shelves are also great alternatives for wall cabinets that can provide storage in vertical space. Using corners is a good solution for very small kitchen storage problems. Putting crates in the corner of a very small kitchen helps you to store jars or cups. Another very small kitchen storage idea is using the tops of the cabinets to put baskets or boxes. You can store a lot of kitchen-related items in these baskets and boxes. Also, you can install rails on the backsplash area to store spoons, ladles, or whatever you need.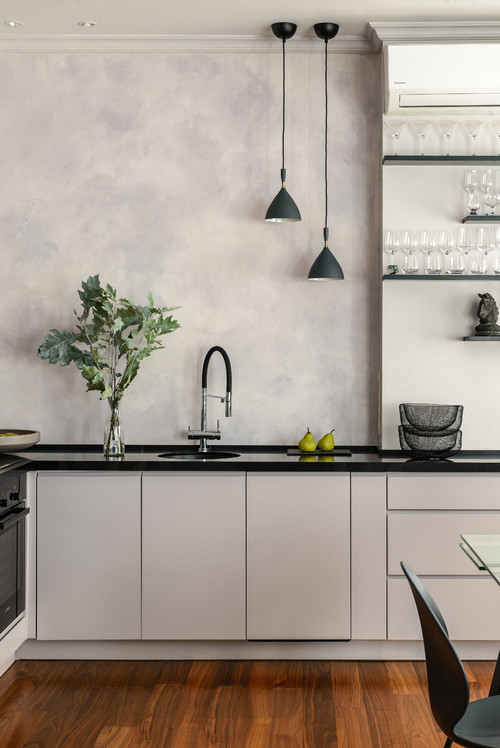 ID# 162226 | Houzz.com – Credit | © Lana Kharitonova
---
Gray Very Small Kitchen Ideas with Black Open Shelving
In this gray kitchen design, the light gray cabinets blend seamlessly with the stunning black quartz countertop, creating a wonderful contrast that is pleasing to the eyes. To add a dash of uniqueness and style, black floating shelves are installed for ample storage while maintaining the kitchen's modern and sleek look. Using open shelving instead of upper cabinets also gives an open and airy feel to the room. Additionally, the wooden floor brings warmth to the area, which balances the toned-down hues of gray and black.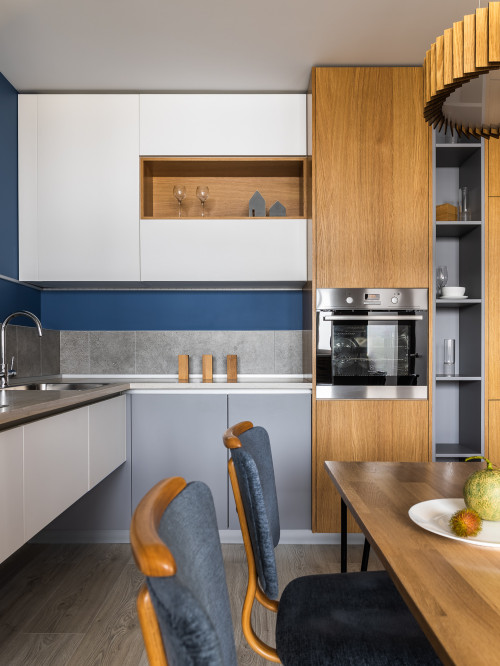 ID# 162227 | Houzz.com – Credit | © Архитектурная студия QUADRUM
---
Contemporary Kitchen with a Pop of Blue Color
One way to achieve a modern and sophisticated kitchen design is through the use of a color combination of gray and white cabinets. This approach adds a touch of warmth with the use of wood accents. The gray backsplash tiles provide a subtle yet striking contrast to the white cabinets, which are paired perfectly with a black quartz countertop. However, what sets this kitchen apart is the unexpected pop of personality introduced through the use of a vibrant blue wall paint just above the backsplash tiles. To maximize space in smaller kitchens, floating cabinets, like the ones found on the left side of this design, are great options as they free up floor space and create an illusion of a larger space!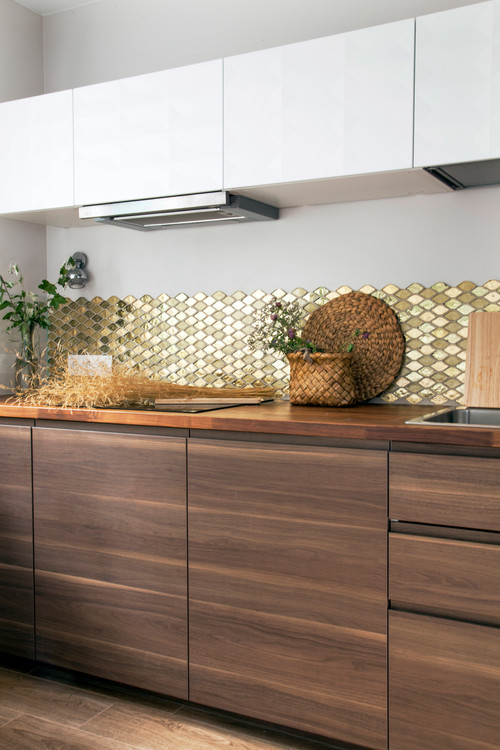 ID# 162228 | Houzz.com – Credit | © Мельникова Светлана
---
White and Wood Cabinets with Gold Backsplash Tiles
In this very small kitchen, the base cabinets boast a warm natural wood material that's beautifully matched by the wooden countertop. As for the upper cabinets, they flaunt a stunning, crisp white finish that's utterly incomparable. But without a doubt, the showstopper of this gorgeous design is the backsplash tiles! These splendid tiles are finished with a gold tone, adding a dash of sophistication and pure elegance to the overall look.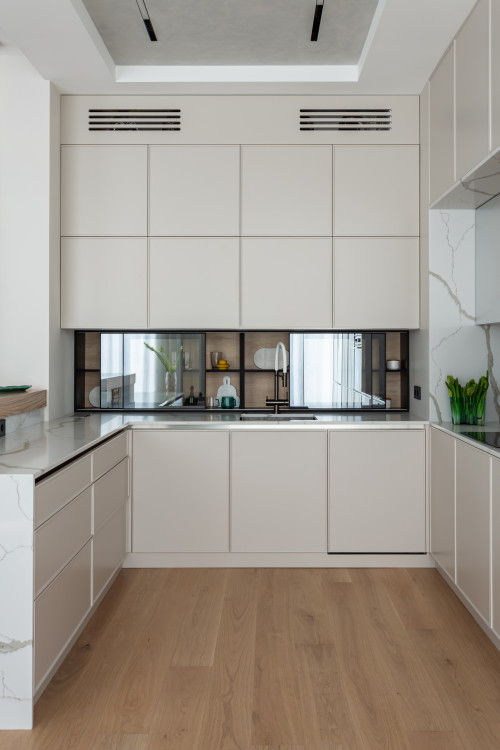 ID# 162229 | Houzz.com – Credit | © Екатерина Красновская
---
Light Beige Kitchen Cabinets with Unique Backsplash Design
That sounds like a lovely design! Light beige cabinets can add warmth to the space and the white quartz countertop can create a clean and modern look. Wood open shelving as a backsplash is a unique and functional element that can provide additional storage and display opportunities. Using sliding glass doors for these cabinets is a brilliant way to protect the dishware against dust and water splashes!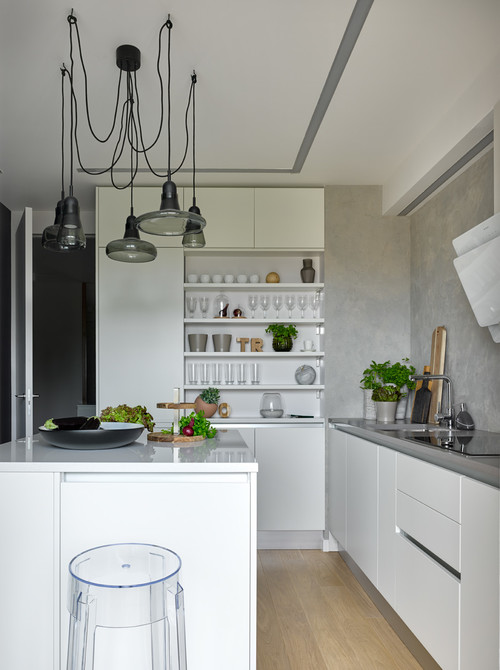 ID# 162230 | Houzz.com – Credit | © ARTUP BUREAU
---
Gray and White Very Small Kitchen Ideas with Creative Storage Units
The kitchen offers a sleek modern vibe thanks to the white flat-panel cabinets. At the same time, the light gray walls and countertop add a touch of warmth and depth to the overall design. The white kitchen island offers extra storage and countertop space for meal prep. To maximize storage space without sacrificing style, the tall storage cabinets come with floating shelves on top. And to complete the look, an industrial-inspired black lighting fixture hangs above the island, delivering that perfect final touch.