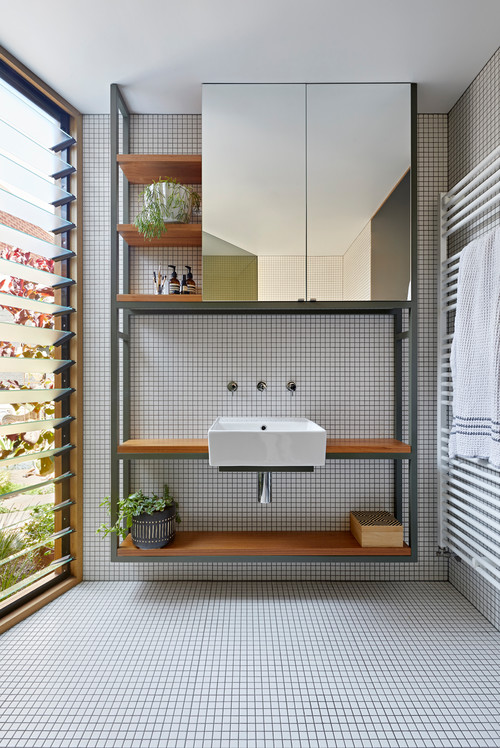 ID# 159902 | Houzz.com – Credit | © BENT Architecture
---
Scandinavian Bathroom with Timber Floating Shelves and Mirrored Cabinet
This stunning Scandinavian bathroom inspired by the garden views lying outside goes with custom-designed timber floating shelves with a green skeleton that binds them. The washbasin inserted into one of those timber shelves presents a very minimalist and calm design. This oversized suspended shelf keeps the floor level empty, exposing the backsplash tiles that are an exact match to the floor tiles. Additionally, the integration of mirrored cabinet rather than a mere accent mirror provides bonus storage. If there is any unsightly item to be concealed, it can be hidden in this mounted cabinet.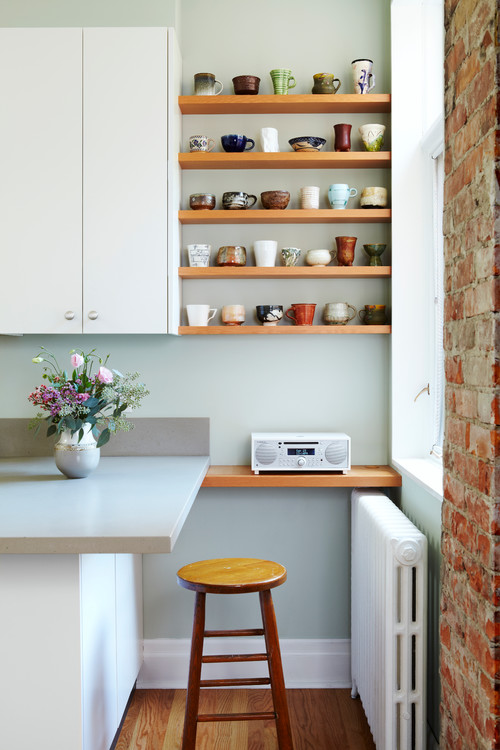 ID# 159926 | Houzz.com – Credit | © Mazzie Design
---
Open Storage Ideas with Timber Floating Shelves and White Cabinets
If you have a mug collection, exhibit them on timber floating shelves – as showcased by this modern kitchen. Here, the colorful and irregularly shaped mugs put on display add warmth to the design. The brick feature wall kept as it is builds onto the cozy atmosphere of the room. In the rest, the white modern cabinets and off-white walls provide a neutral setup, instilling calmness in the space.
Open Storage Ideas
Do you want to show off your design skills and mark your difference with your home design? Open storage ideas not only offer bonus storage solutions but also contribute to the aesthetic design of the room. Wouldn't you also like to kill two birds with one stone while also displaying how good you are at stylizing your home?
And here we have you covered with open storage ideas. You will be introduced to a wide range of open storage solutions applied for kitchens, home offices, bathrooms, closets, and pantries. So, roll your sleeves up and get ready to fire up your imagination. Glean some information and design hacks from these multiple design projects and use them to hone your organizational skills.
How do I make my open storage look good?
First, don't put everything on which your hands land on open shelves. Ensure that there are some intentional gaps to let the shelving breathe.
Secondly, incorporate artwork, accessories, vases, and family photographs to establish a well-curated design. Focus on spreading out accessories to keep open storage more appealing. Also, avoid going with too-formulated looks and keep the feeling of casualness alive.
Thirdly, try to keep the color and material of the storage shelving relevant to the overall color scheme. It is important to maintain visual integrity and for open storage not to feel out of place.
Kitchen Open Storage Ideas
Do you have a mug collection to display or want to create a visual accent? Open storage ideas could guide you on that. By applying a set of floating shelves, you can easily give the kitchen a fresh vibe. Though in kitchens, they are generally used to flank the range hood, installed symmetrically, you can act more adventurous. For example, you can feel free to keep them linear as they run parallel to the perimeter counters to achieve a more minimalist look.
What can I use for open shelving?
Open shelving can be used for multiple purposes. For example, in home offices, they can be used to store books and files. In pantries, beverages, snacks, and canned goods can be tucked on the open shelves. In kitchens, again, floating shelves can be used to display dishes and favorite mugs. Also, artwork, accessories, and vases placed on open shelves create visual statements, carving out nice spots in living rooms. And in case you would like to highlight their presence, you can pair them with wall sconces. Supported by accent lighting, they can change the aura of the room completely. So, open shelves are both functional and aesthetic, contributing to room designs in multiple ways.
Bathroom Open Storage Ideas
Do you need an extra spot to keep the towels or bring in indoor plants? Bathroom open storage ideas are as popular as they are for kitchens. Sometimes introduced by vanities, sometimes by mirrored cabinets, or as freestanding features, open storage options for bathrooms are multiple. Use them to stack your clean towels. Or better, utilize them to bring in art and create artful and well-curated designs.
Is open shelving still in style?
Practical and aesthetic, open shelving is still in style. They add aesthetic value and visual accent to the walls. Homeowners also benefit from them exhibiting their favored essentials, chinaware, and glassware. To add personality to the design, open shelving can, again, be used to create little vignettes.
Open Closet Storage Ideas
Just like kitchens, bathrooms, and pantries, closets require honed organization skills and storage ideas too. Cubbies for shoes, floating shelves for bags, wall-mounted hooks for hats, and more could serve as great storage ideas for closets. The built-in storage cabinets with multiple compartments, each dedicated to a different clothing item, also play a key role to keep it all organized. You can enrich the storage by adding a dressing room provided with privacy via curtains. Ottomans and make-up counters by the window could be alternative additions as well. Also, don't skip on adding full-height mirrors to check your outfit before heading out.
How do you make open shelves look less cluttered?
Achieving a well-curated look is essential when it comes to stylizing open shelves. The key point lies in the fact that there should be breathing spaces between the exhibited items. Purposeful randomness is what one should aim for, in other words. Regarding that, for example, you can use variously-sized items with different colors while sticking to the overall color palette.
Open Shelving Storage Ideas
Whatever the function of the room is, open shelving storage is a necessity. It could be used for both aesthetic and functional reasons. And to draw more attention to them, you can pair them with wall sconces for the sake of accent lighting.
How can I make cheap shelves look expensive?
To make cheap shelves more expensive, incorporating artwork and antique-looking decorations could do the job. Gold or chrome wall sconces can be used to provide accent lighting to keep the shelves in the spotlight. Sculptural and organically-shaped vases and sculptures of famous figures could also add an intellectual feel. Gilded framed landscape paintings or family photos also bring depth and opulence.
Open Office Storage Ideas
In the aftermath of Covid, people have started working remotely in the comfort of their homes. This, in turn, necessitates home offices designed to boost energy and encourage people to work. And it can be achieved with a good design that feels calm and clutter-free. That's why we need storage ideas that also contribute to the overall aesthetic of the room.
From floor-to-ceiling bookcases to built-in storage, and floating shelves, there are multiple storage solutions. You can use these ideas to add décor to a home office too. Also, don't necessarily think that books and files should be hidden behind closets. You can expose them fully to add personality to your room. If you worry that they will get dusty, you can employ cabinets with glass fronts.
And of course, don't skip on using natural materials, textures, and indoor plants that will create the illusion of outdoor space. This way, you won't even feel that you are stuck at home while working.
How do you style open bookshelves?
To stylize open bookshelves, use artwork, accessories, candle holders, bookends, and pants. Distribute them in purposeful randomness to keep the style natural rather than too intentional. But even more important than all, aligning the books horizontally rather than vertically could create a style and visual diversity. Thus, the best thing you could do is to experiment with the direction of the books and stacking style. It will give the bookshelves a better expression and visual interest.
Do dishes on open shelves get dusty?
Unfortunately, dishes on open shelves get dusty since they are fully exposed to dust particles floating in the air. So, it is always wise to wash your glasses or plates kept on shelves before using them.
Open Pantry Storage Ideas
Though pantries have multiple storage styles, open storage options are one of the most popular ones. Since the pantries are much smaller than most of the rooms, open storage features are installed mostly on the upper part not to make the space feel encroached on.
Do open shelves get greasy?
Open shelves in kitchens can get greasy, especially when the food is fried. No matter how careful one could be, it is still unavoidable. If it is a very serious concern for you, instead of floating shelves, you can get glass-front cabinets. This way, you can protect open shelves from dust, grease, and food splatters.