23+ Open Kitchen Storage Ideas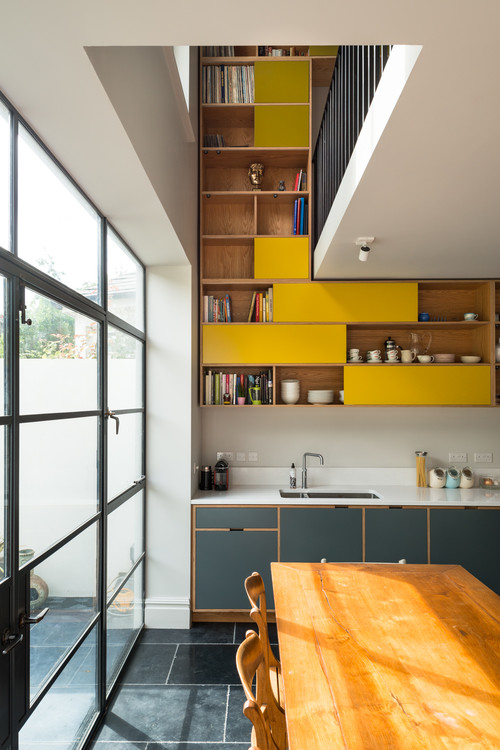 ID# 158810 | Houzz.com – Credit | © MW Architects
---
Energy with Yellow and Gray Colors for a Contemporary Style
This kitchen showcases a modern design with a unique blend of materials and colors. The gray flat-panel lower cabinets with wood details provide a sleek and sophisticated look that contrasts beautifully with the white countertops and short slab backsplash. The light wood open cabinetry for the uppers adds warmth and texture to the space, complemented by the yellow flat-panel details that create a playful pop of color. The black floor tiles add a dramatic touch, while the white walls create a clean and bright backdrop.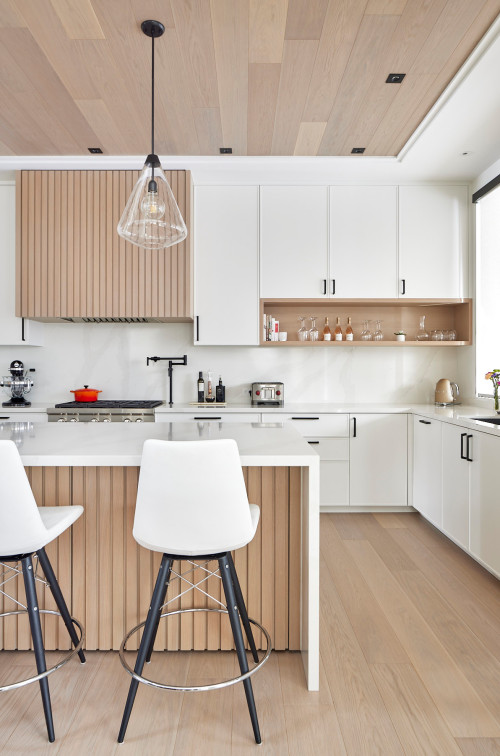 ID# 158813 | Houzz.com – Credit | © New Age Design
---
Open Kitchen Storage Cabinets with White and Wood
The white slab backsplash and countertops provide a crisp contrast, while the black hardware adds a touch of sophistication. The light wood island features white waterfalls that draw the eye and provide a stunning focal point. The hood adds a touch of texture to the white backdrop, and the open storage cabinetry detail for the uppers adds visual interest and allows for easy access to frequently used items. The light wood ceilings tie the design together and add a cozy touch to this beautiful space.
Open Kitchen Storage Ideas
There's nothing quite like the feeling of a well-designed, functional kitchen. And open kitchen storage is a great way to achieve just that – both in terms of style and practicality. With open shelves, wall mounted rack or a pegboard, you can showcase your beautiful dishware and glassware and keep your essentials close at hand. So, if you want to learn more about these open kitchen storage ideas, scroll down and find some inspirational kitchen designs that will blow your mind!
Imagine the warm, inviting look of wooden shelves adding texture to your kitchen space or the sleek, industrial feel of metal shelves. You can even mix and match materials and finishes to create a look that's uniquely yours. And a pegboard? It's a versatile option that allows you to neatly hang everything from pans to utensils. Add hooks and baskets for even more storage options. The best part? You can paint your pegboard any color that matches your kitchen design and add a fun pop of color to the space. So why not give open storage ideas a try? You may just be surprised at how much you love it.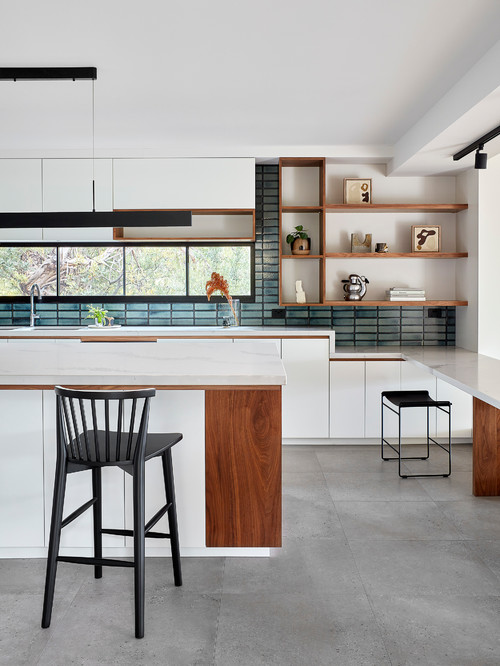 ID# 158801 | Houzz.com – Credit | © Architect Hewson
---
Open Kitchen Storage Ideas with Wood Details for White Cabinets
As you walk into the kitchen, the neutral gray floor tiles catch your eye, creating a subtle foundation for the rest of the space. Your gaze moves to the white flat-panel island with elegant wood details and white cabinets, seamlessly blending in with the floor tiles. The countertops are white, adding to the chic and polished vibe of the kitchen. Suddenly, your eyes are drawn to a striking blue metallic tile backsplash – a stunning pop of color that takes your breath away. It serves as a dazzling backdrop for the open wood cabinetry, which exudes an inviting warmth and enticing texture, making you feel right at home.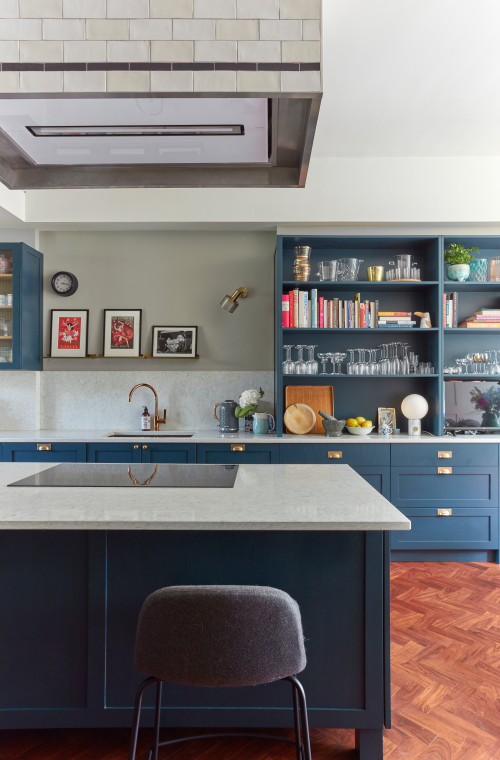 ID# 158802 | Houzz.com – Credit | © Omniform
---
Blue Shaker Cabinets and White Stone Countertops
This kitchen design features stunning blue shaker cabinets that add a pop of color and personality to the space. The blue open upper cabinets provide an open and airy feel, allowing for easy access to dishes and glassware. White stone countertops and a white stone slab backsplash create a fresh and clean look while brass hardware adds a touch of elegance and sophistication. The medium-tone wood herringbone floors add warmth and texture, creating a beautiful contrast with the blue cabinets.
How do I make my open storage look good?
First and foremost, keep it organized! Nothing screams chaos more than cluttered open storage. Think about grouping your items by color or type for a cohesive look that's easy on the eyes.
Why not add some greenery to the mix? Plants are an excellent way to bring a pop of color and texture to your open storage display. They can also add some height, making your setup even more dynamic.
Mixing textures is another great way to keep things visually stimulating – consider incorporating a mix of materials like wood, glass, and metal. You might be surprised by how much depth and interest this can add!
If you have smaller items that need to be grouped together, decorative boxes or baskets can be a lifesaver. Not only do they keep everything neat and tidy, but they add an extra layer of visual appeal.
Don't forget the lighting! Lamps or string lights can help to create a warm and inviting ambiance in your space. Plus, they're perfect for highlighting your favorite items.
Creating visual balance is key – consider using symmetry for a more traditional look or asymmetry for something a bit more unconventional. Playing around with different layouts and items will help you find the perfect balance for your open storage space.
All in all, the key to successful open storage is to keep it simple, neat and engaging. Embrace your creativity and enjoy perfecting your ideal display.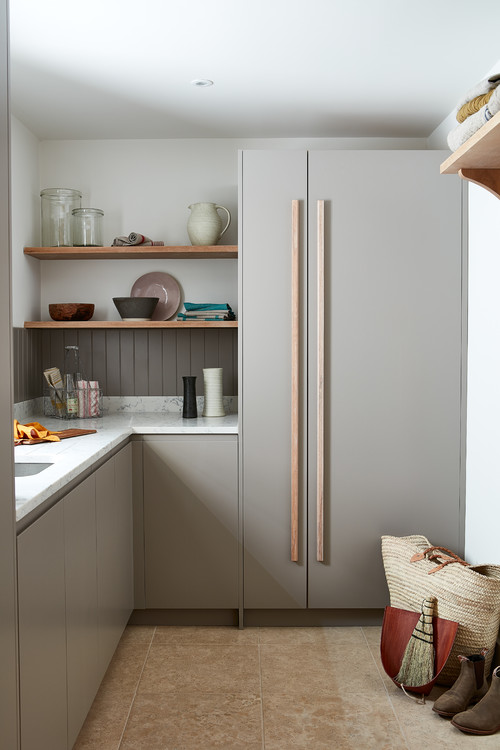 ID# 158803 | Houzz.com – Credit | © Naked Kitchens
---
Open Kitchen Storage Ideas with Light Gray Flat Panels and Oak Details
This stunning kitchen design is a harmonious blend of earthy tones and organic elements! The soft gray cabinets and streamlined appliances exude a sophisticated and contemporary feel while the natural oak accents, like the floating shelves, radiate a cozy and inviting ambiance. The white stone countertops and soft gray beadboard backsplash create a serene and airy atmosphere, and the light beige floor tiles add a hint of contrast to the entire design. This kitchen design is a splendid embodiment of how to infuse natural textures and splashes of muted hues to craft a functional and welcoming space that will always remain in style.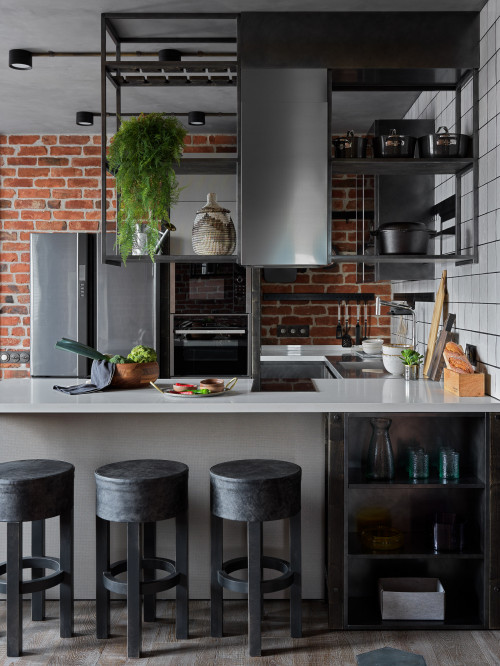 ID# 158804 | Houzz.com – Credit | © BRICKTILES.ru плитка из старого кирпича
---
Industrial Style with a Brick Accent Wall and Stainless Steel Details
Absolutely love the vibe of this kitchen! It's got this really cool industrial feel with a mix of raw materials and modern touches that come together to create a truly unique space! The brick accent wall is my favorite part – it adds so much texture and character to the kitchen. The stainless steel appliances add a touch of industrial chic, which is super trendy right now. The open shelving is perfect for storing frequently used items, and it adds a fun decorative element to the overall design. All in all, this kitchen is amazing!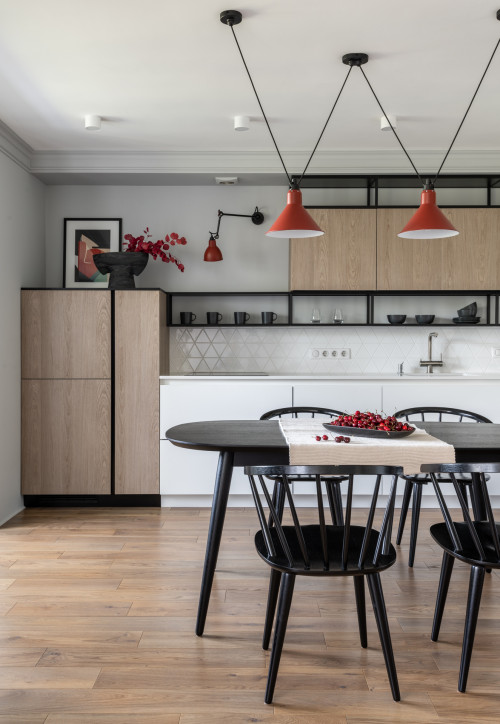 ID# 158805 | Houzz.com – Credit | © Анна Моджаро
---
Open Kitchen Storage Ideas with Wood and White Flat Panels
The wood flat-panel cabinets in this kitchen have a sleek and modern form that complements the striking contrast between black and white!! The white base cabinets, countertops and backsplashes lighten and harmonize the space, while simultaneously balancing the warmth and texture of the wood. With the addition of red elements and an upper shelf, the overall appearance of the design is given a dazzling and cohesive look!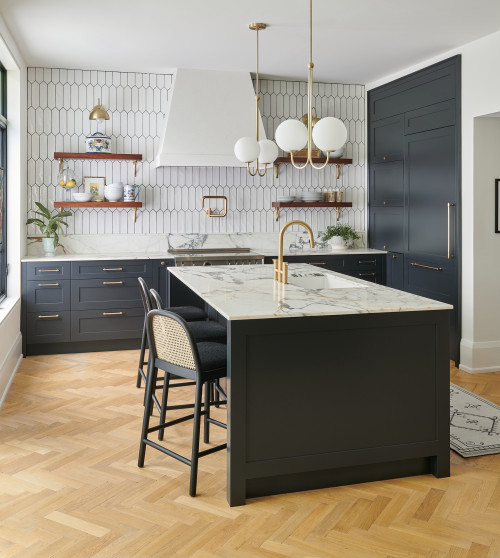 ID# 158806 | Houzz.com – Credit | © Avalon Interiors
---
Mediterranean Touch with a White Picket Tile Backsplash
Wow, this Mediterranean-style kitchen is absolutely breathtaking! The shaker cabinets are a classic combination of dark gray and white marble countertops, which give off a timeless, luxurious vibe that's hard to resist. And the brass hardware and tapware accents are simply gorgeous, adding the perfect touch of sophistication. But what really seals the deal is that striking black and white picket tile backsplash. The contrast against the cabinets is out of this world and the wood shelves located on the backsplash wall serve a dual purpose. They give the kitchen a stylish, cohesive look and provide additional storage space while creating a perfect place to display decorative items.
Open Kitchen Storage Cabinets
Are you looking for a practical yet stylish storage solution for your kitchen? Look no further than the trendy open kitchen storage cabinets! These cabinets have been gaining popularity over the years and for good reason – they add a unique touch to your kitchen design while providing ample storage space. For a beautiful and functional display, consider using open storage without cabinet doors to showcase your favorite dishes and glassware. This not only adds a personal touch to your kitchen but also keeps these items easily within reach. You can choose from wooden or metal shelves to create a warm, textured look or a sleek and modern vibe.
Another idea to consider is using open cabinets to store your cooking utensils such as spices, oils, and other frequently used ingredients. This not only adds a decorative flair to your kitchen but also ensures that your go-to items are always accessible. Try mixing and matching jars, baskets, and other storage containers to keep everything organized and add a pop of color to the space. Say goodbye to cluttered cupboards and hello to a more organized and visually pleasing kitchen!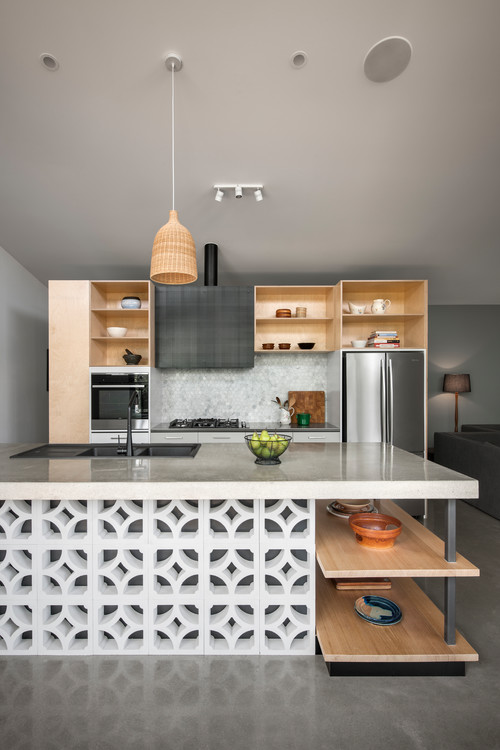 ID# 158807 | Houzz.com – Credit | © sw-architects
---
Open Kitchen Storage Cabinets and White Flat Panels
A gray marble backsplash and black countertops balance the light wood open cabinets and the white base cabinets. The light wood open cabinets style and the gray tones work beautifully together. The gray color scheme of the kitchen is given a unified appeal by the stainless steel equipment, upgrading the space's overall appearance.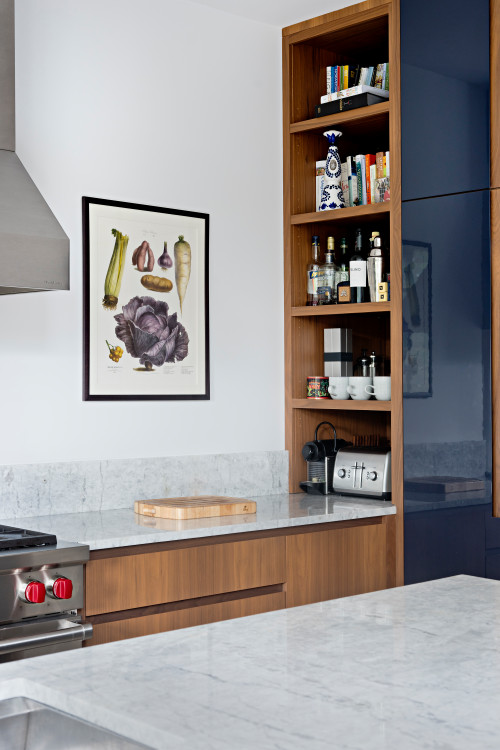 ID# 158808 | Houzz.com – Credit | © Icon Kitchens, LTD.
---
Modern and Aesthetic with Wood and Navy
Imagine stepping into a kitchen that emanates warmth and confidence – an impeccable fusion of styles! This inviting space exudes coziness with its medium-toned wooden cabinets that provide a sense of comfort. The sleek and chic white marble counter space and short backsplash add a touch of modern boldness to the kitchen, creating a perfect blend of traditional and contemporary elements. What sets this kitchen apart is the open wood cabinets that allow you to showcase your cherished dishes and glassware, fostering a sense of connection to your home. This kitchen strikes the perfect balance between style and substance, making it an ideal sanctuary for homeowners seeking both comfort and confidence in their homes.
Is open shelving a good idea in a kitchen?
Adding open shelving to your kitchen can be a satisfying experience for a variety of reasons. For one, it allows you to showcase your favorite items—from treasured dishes to cherished glassware and other kitchen essentials—enhancing your space with a personal touch. Along with this sense of pride and satisfaction, having open shelving also means easy access to frequently used items, making them readily available for everyday use. Plus, the inviting and airy feel it can add to your kitchen can create a sense of calm and joy every time you enter the space. While there are undeniable benefits to open shelving, it's important to acknowledge the potential downsides.
Regular dusting and cleaning can be a hassle, and exposure to grease and moisture can be a concern. But with careful organization and curation of your items, you can maintain a clean and organized look. It's ultimately up to you to weigh the benefits and drawbacks based on your individual needs and personal preferences.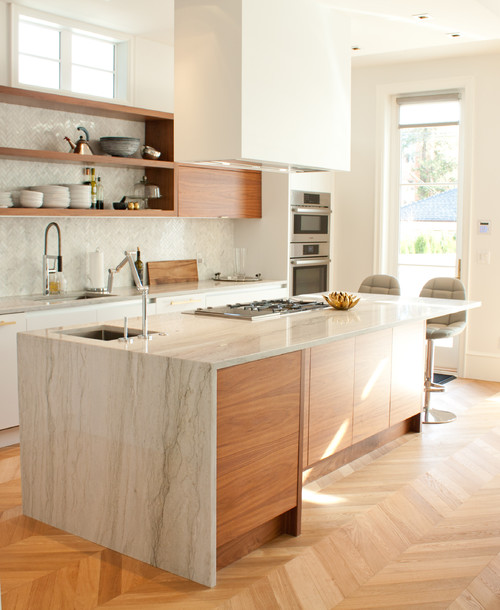 ID# 158809 | Houzz.com – Credit | © Westwerk Custom Cabinetry
---
Warm and Contemporary with Open Kitchen Storage Cabinets
As you set your gaze on the kitchen island, you'll notice the mesmerizing stone top, flat-panel cabinetry, and a sleek waterfall edge that serves as the focal point of the space. The white flat panel cabinets embody a modern and trendy aesthetic while providing plenty of storage space for your kitchenware. To put the icing on the cake, pristine white stone slab countertops and backsplash create a cohesive and sophisticated look that ties the entire kitchen together. You'll be astounded by the unique and functional approach of the wood open cabinetry that showcases your kitchen essentials while adding charm to the environment!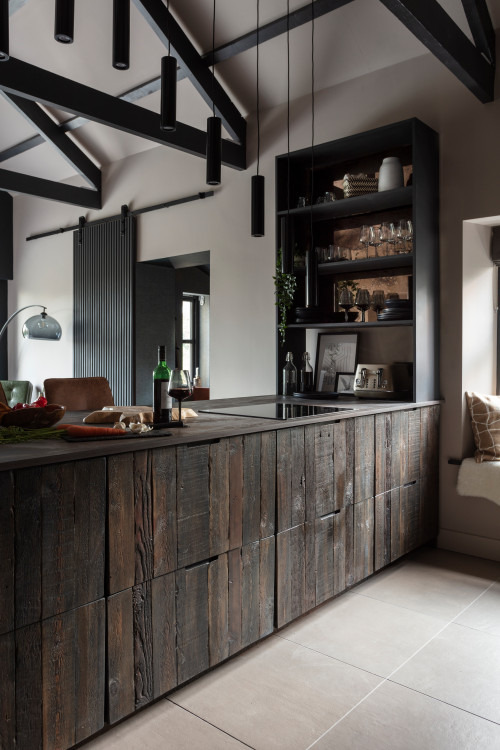 ID# 158811 | Houzz.com – Credit | © Studio Dean
---
Open Kitchen Storage Cabinets with Dark Wood Cupboards
As you step into this kitchen, an overwhelming feeling of warmth and coziness envelops you! The dark wood cabinetry exudes a rustic charm that instantly puts you at ease. The black pendant lighting fixtures suspended from above add an industrial touch to the space but also provide a sense of comfort. You can't help but notice the exposed beams that stretch across the ceiling and lend a sense of history and character to the kitchen. The open cabinetry with its dark wood finish offers ample storage and display options, while also showcasing the natural beauty of the wood's grain. It's a kitchen that invites you to gather around, enjoy good food, and create memories with loved ones.
How do you make open kitchen shelves look good?
Looking to spruce up your kitchen? Open shelves may be the way to go! With a thoughtful touch, they can create an absolutely stunning design feature. When planning out your shelving display, take care in selecting the items you'll use to adorn them. Opt for colors that work well together and don't overstuff them with too many things. Get creative with how you group items – stacking plates or grouping similar items together, for example – to create an organized and visually appealing display.
Use a mix of practical and decorative pieces, like cookbooks, dishes, glassware, and other accessories, to strike a balance in your arrangement. Add variety to your display by mixing up textures, shapes, and sizes. And don't forget to give your display room to breathe by leaving some negative space. To keep your shelves looking fresh, maintain a regular schedule for decluttering and rearranging. And if you really want to make your shelves shine, consider installing under-shelf lighting or pendant lights to create a warm and inviting ambiance.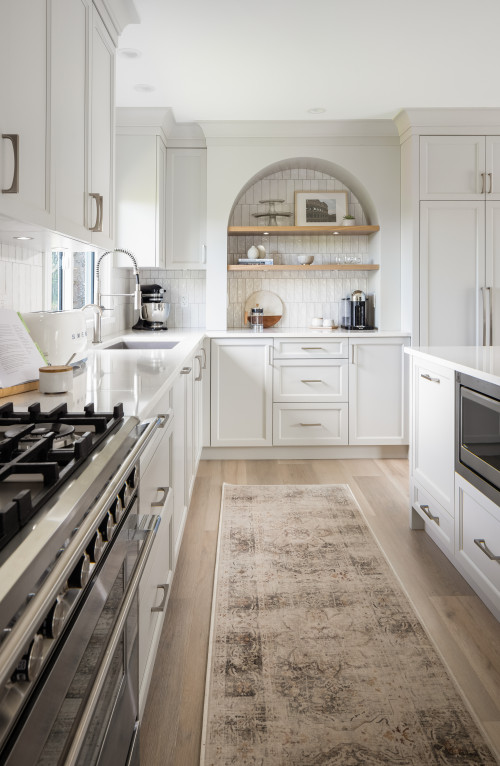 ID# 158812 | Houzz.com – Credit | © My House Design/Build/Team
---
White Shakers and White Countertops with a Niche
The L-shape design, which includes an island, presents a flawless and classic style that will never go out of fashion!! The choice of white shaker cabinets and white countertops provides a clean and radiant atmosphere that will definitely leave a lasting impression. With enough space for cooking, baking, and entertaining, the island is an ideal workspace. Moreover, the niched wall with light wood open cabinetry adds an extra level of coziness to the room. The white tile backsplash perfectly complements the white cabinetry and countertops. And lastly, the light wood floors smoothly tie the entire space together creating a warm and inviting ambiance.
Open Shelving Kitchen Storage
Do you ever find yourself feeling confined and frustrated in your kitchen? Do bulky cabinets that cover the entire wall leave you with little space to showcase your beautiful dishware and glasses? If so, open shelving may be the solution you've been searching for. In recent years, this storage trend has surged in popularity, for good reason. Beyond its visually appealing and organized appearance, it also creates a feeling of spaciousness and helps to evaluate the empty wall space that's especially beneficial for smaller kitchens.
By opting for open shelving, you'll have the freedom to choose from a variety of materials and customize the shelves to perfectly fit your kitchen's dimensions, providing a sense of control and empowerment to your space. Furthermore, having your kitchenware proudly displayed motivates you to stay organized and keep everything clean, which can bring a priceless feeling of accomplishment.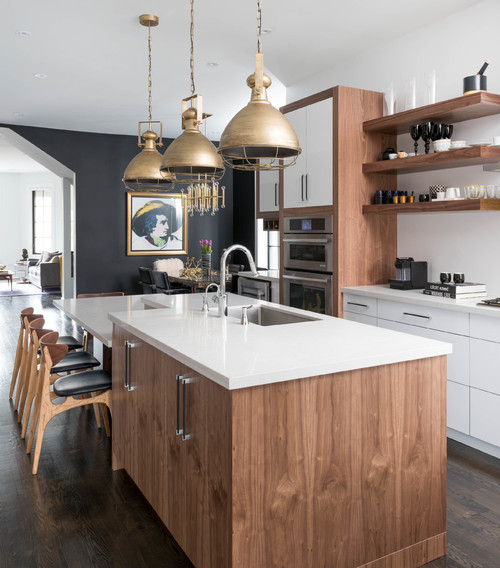 ID# 158814 | Houzz.com – Credit | © Klassmore
---
Open Shelving Kitchen Storage with White and Wood Cabinets
You won't believe your eyes when you see this extraordinary kitchen that flawlessly combines practicality and elegance. The clever use of open shelving creates a seamless storage solution that blends perfectly into the design. As you look around the space, you'll be captivated by the contrasting dark gray accent wall and the pristine white, flat-panel cabinets. And don't forget the gorgeous medium-tone wood island with its sleek white worktop – sheer beauty! But that's not all – the open shelving design feature simply exudes warmth and hospitality, making your guests feel at home while admiring your stunning medium-tone wood floating shelves that offer a convenient display for your most cherished dishes, cookbooks, or decorative pieces.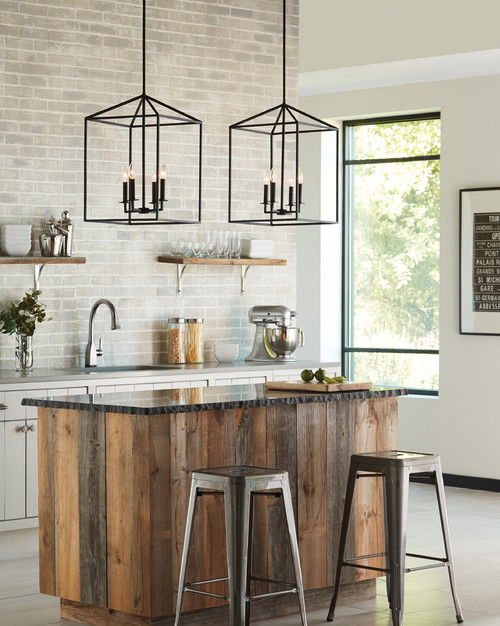 ID# 158815 | Houzz.com – Credit | © Atlantic Lighting Design
---
Farmhouse Design with Black and Wood Accents
As you step into this farmhouse kitchen, a feeling of simplicity and lightness overtakes you reminiscent of the chic style of Scandinavia! The combination of the white brick veneer backsplash and the wooden island creates a cozy and natural ambiance that puts you at ease. The bold black pendant lights provide a striking contrast with their movement, bringing a sense of excitement to the space. The light wood shelves offer a friendly and cohesive touch, welcoming you to sit down and stay awhile. Overall, this kitchen exudes a welcoming aura, sure to make any visitor feel right at home.
Are open shelves still in style 2023?
Open shelving will continue to be popular in 2023 even though it may not always be practical given how filthy displays may become. This is due to both its aesthetic appeal and practicality.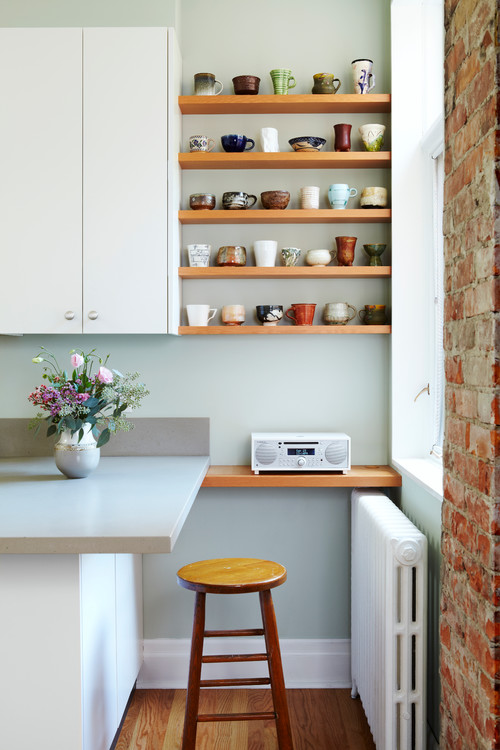 ID# 158816 | Houzz.com – Credit | © Mazzie Design
---
Open Shelving Kitchen Storage for a Contemporary Design with a Brick Wall
As soon as you step into this kitchen, you'll notice how charming and cozy it feels!! The pale blue walls are so inviting, while the rustic brick accent wall adds a touch of warmth. The white flat-panel cabinets blend in perfectly with the light gray countertops, creating a clean and modern look that's easy on the eyes. And just when you thought it couldn't get any better, the wooden open shelving steals the show by adding even more character to the space. This is where the real magic happens, as the shelves display an array of colorful mugs that never fail to bring a smile to your face.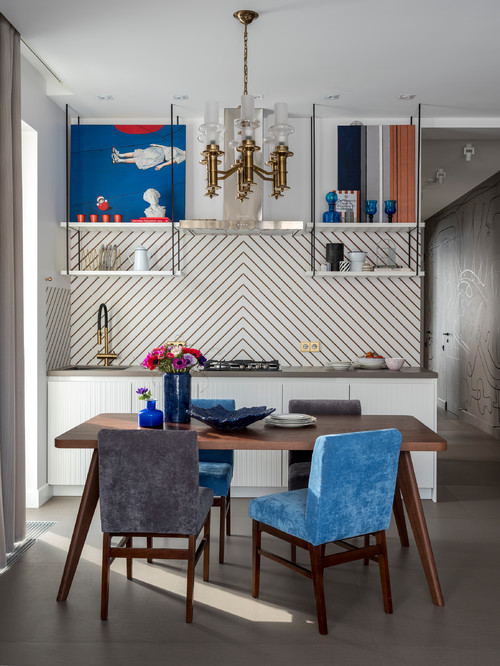 ID# 158817 | Houzz.com – Credit | © Студия Татьяны Архиповой
---
Mesmerizing Backsplash with a Bookmatched Pattern for a Contemporary Style
The lower cabinets are painted in a crisp white color that perfectly complements the gray countertops and floors, giving the room an air of sophistication. But what really catches the eye is the book-matched backsplash design with black lines, which adds an elegant touch to the overall aesthetic!! As you move your eyes around, you'll notice the warm and inviting atmosphere created by the brass chandelier that hangs above the dining table, made of dark wood. But what really sets this kitchen apart is the open ceiling-mount shelving with a blue background. It not only provides a unique storage solution but also adds a pop of color to the room.
How do you make open kitchen cabinets look nice?
Firstly, group similar items together for a more coordinated appearance. Keep all of your dinner plates or glassware on one shelf, for example – this adds a touch of organization and order.
For smaller items, it's always handy to have baskets or containers to keep everything in check. Consider using woven baskets for a natural look, or clear acrylic containers to inject a modern touch.
Spice up your shelves by mixing textures and materials – this adds depth and makes your cabinets even more visually appealing. Think ceramics, glassware, and natural materials like rattan and wood.
Don't be afraid to introduce pops of color into your display. Colorful dishes or accessories can work wonders in adding personality and making a statement. You could even choose a color that accents your kitchen decor or creates a fun contrast.
Bringing in plants or herbs is always a good idea – it adds life and an element of freshness to the display. Choose plants that thrive in low light and high humidity, such as ferns or philodendrons.
Lastly, less is often more when it comes to open cabinets. Be mindful of how you edit your display – only include your favorite and most-used items, and consider rotating your selection to keep things exciting and fresh.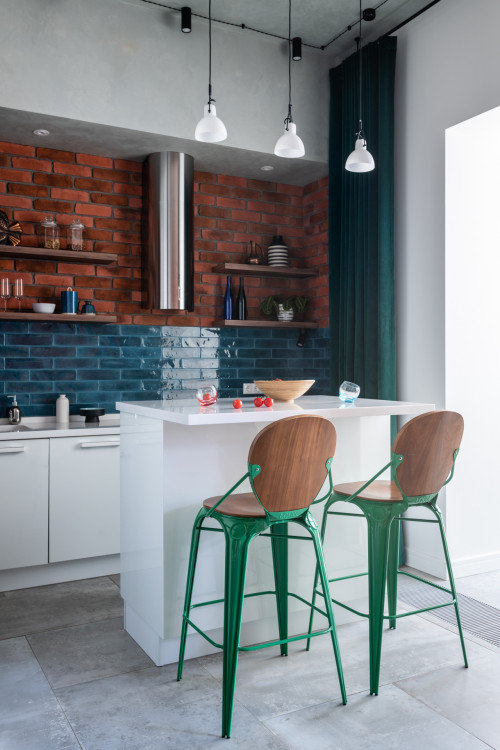 ID# 158818 | Houzz.com – Credit | © Князева Вероника /студия "ProIntDesign"
---
Open Shelving Kitchen Storage with Blue and Red Tiles
As you step into the kitchen, you'll be immediately captivated by the stunning high-gloss subway tiles and textured red brick backsplash that demand your attention!! The bright and cohesive feel of the kitchen, with its white countertops and flat panels, will also put your mind at ease allowing you to focus on your culinary creations without distractions. And when you reach the little white peninsula, your heart will flutter with excitement as you take in the elegant and warm tones of the green and wood benches.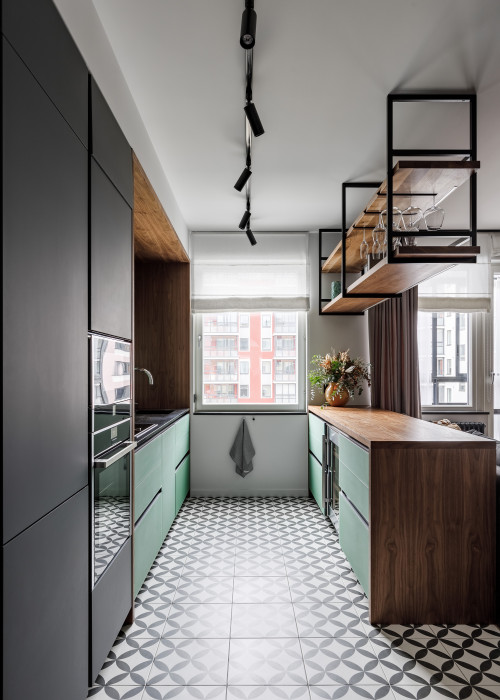 ID# 158819 | Houzz.com – Credit | © Maxim Maximov
---
Wood and Green Cabinets with a Dark Gray Hue
Step into this kitchen and be amazed by the stunning black and white patterned floor that is perfectly matched with the refreshing green flat-panel cabinets! The island is not left behind with its wood countertop and waterfall edge partnered with matching green flat panels, as well as ceiling-mounted open wood shelving. Look at those cabinets and notice how they are crafted with a wooden frame that extends into full-height dark gray cabinets, giving you more than enough storage for your kitchen essentials.
Open Kitchen Pantry Storage
Are you feeling overwhelmed by the mess in your kitchen? Let's face it – traditional pantries are bulky, hard to navigate, and just take up way too much space. But fear not, because open kitchen pantry storage is here to solve all your storage woes! Not only does this modern storage solution keep your essential kitchen items at your fingertips, but it also adds a stylish touch to your home. You'll be able to enjoy a clutter-free cooking space and impress your guests with your new and improved kitchen design.
Open kitchen pantry storage offers many benefits, including the fact that it takes up less space than traditional pantries. By utilizing open shelves instead of cabinets, you'll create a chic and spacious look that will make your kitchen feel larger than life. It's also much easier to find your items with an open pantry – no more digging through bottomless drawers or losing things in the back of unreachable cabinets.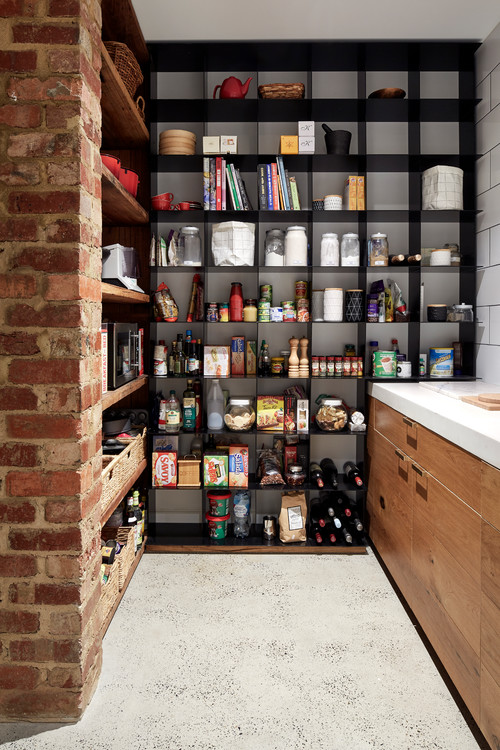 ID# 158820 | Houzz.com – Credit | © PLANtoBUILD
---
Black Shelving and Brick Niches for an Open Kitchen Pantry Storage
The brick wall with its charming niches and the black shelving extension against a white background exudes a sense of modernity that is simply striking!! The wood flat-panel cabinets and white countertops perfectly complement the white brick wall, resulting in a thoroughly cohesive look that speaks of beauty and sophistication. The overall design is minimalist, which I find refreshing and functional, with a strong focus on clean lines and functional elements. What I love most about this kitchen is the use of natural materials, such as lovely brick and wood, which adds both warmth and texture to the entire space.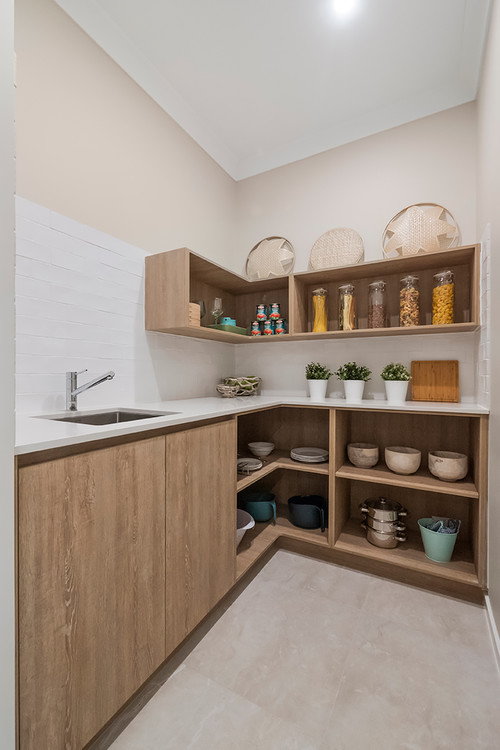 ID# 158821 | Houzz.com – Credit | © Adenbrook Homes
---
Medium-Tone Flat-Panel Cabinets and White Quartz Countertops
Step into this cozy, modern L-shaped kitchen and be greeted by warm, inviting medium-tone wood cabinets and light beige flooring that welcome you in like an old friend!! The crisp, clean look of white quartz countertops and a white tile backsplash provide a sense of clarity and serenity while the light beige walls add a touch of depth and contrast, creating the perfect balance. The standout feature of this kitchen is the beautiful, practical wood open pantry storage that blends seamlessly with the cabinets, giving you a stylish and functional storage solution that will make your heart sing.
How do you make open shelves look less cluttered?
Achieving a clean and organized look with open shelves in your kitchen is possible with a few smart strategies. First and foremost, keep the number of items on display to a minimum. Too many items can quickly make open shelves look cluttered, so opt for a selective and curated approach. Utilize cohesive and coordinated storage containers or baskets to corral small items and create a uniform appearance.
Another tip is to group similar items together, such as stacking plates or arranging glassware by type. This creates a sense of order and cohesion. Regularly declutter and rotate items to avoid overcrowding and maintain a fresh look. Lastly, be mindful of negative space and allow for breathing room between items to avoid a cramped look. With thoughtful organization and mindful curation, your open shelf can look stylish, functional, and less cluttered, enhancing the overall aesthetic of your kitchen.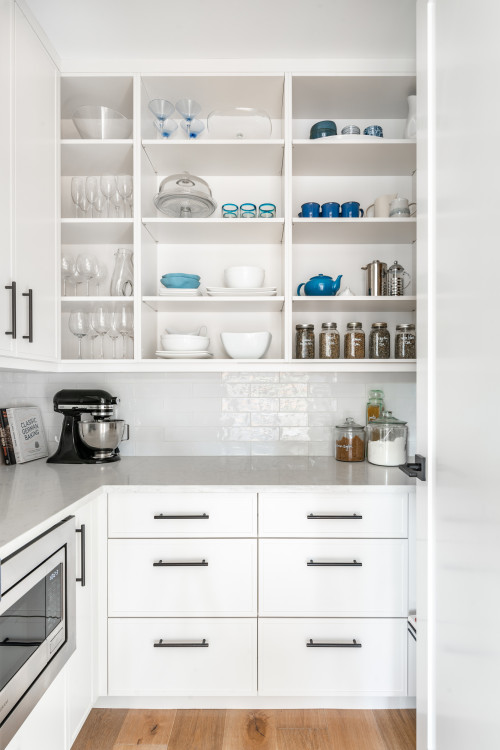 ID# 158822 | Houzz.com – Credit | © Thomas and Birch – Kitchens and Living
---
Open Kitchen Pantry Storage with White Cabinets and Gray Hardware
As you step into this little kitchen, the dominance of white hues all over the area brings forth a serene feeling that would inspire you to whip up exciting recipes or even have a dinner party with your loved ones. However, what beckons your gaze is the lovely white open upper pantry cabinets. Beyond the practicality of storing your kitchen necessities, they present a chic touch to showcase your darling dishware that exudes personality and taste. Simply put, it's a wonderful sight to behold!
How do you cover kitchen shelves without doors?
Looking to spruce up your kitchen shelves but want to avoid the hassle of installing doors? We've got you covered! Here are some creative and stylish ideas to give your shelves a new look and added functionality.
Why not opt for decorative fabric or curtains that can be hung from a rod or clips? Select fabrics that complement your kitchen's décor and color scheme and add patterns or textures that catch the eye. Another option is to use peel-and-stick wallpaper or contact paper to jazz up the back of the shelves, while also serving to protect them from any pesky spills or stains.
For those who prefer a more minimalistic look, consider attaching frosted glass or acrylic panels to the front of your shelves, creating a sleek and modern appearance while still allowing for the visibility of your contents. Plus, incorporating baskets, bins, or decorative storage boxes on the shelves helps to conceal items and grant a tidier, more organized look. Don't sacrifice style for functionality – with these innovative ideas, you can have both!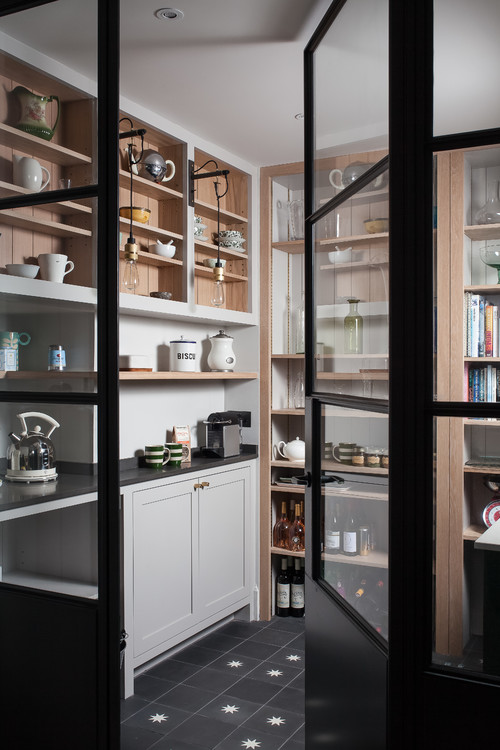 ID# 158823 | Houzz.com – Credit | © SGS Design Ltd
---
Scandinavian Style with Wood and White Cabinetry Details
This Scandinavian kitchen boasts a classic look with its white shaker cabinets and contrasting black countertops. The black square tile floors with white patterns add visual interest while keeping with the color scheme. A standout feature is the open wood pantry storage, providing both functionality and warmth to the space. Overall, the design is minimalistic yet inviting, emphasizing clean lines and a cozy atmosphere.