47+ BOOKMATCHED SLAB AND TILE IDEAS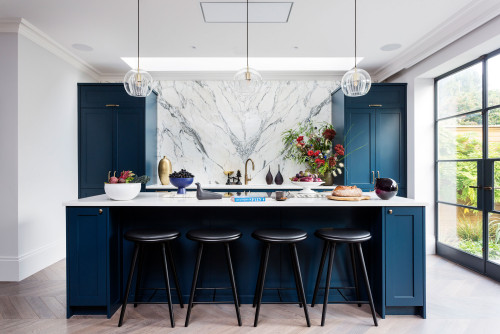 ID# 118701| Houzz.com – Credit | © Zulufish
---
Contemporary Kitchen with Navy Blue Cabinets and Bookmatched Marble Backsplash
In this contemporary kitchen, the bookmatched marble backsplash lends sophistication to space and creates a distinctive focal point between the navy-blue cabinets. The bright look of the backsplash is complemented by white countertops. Brass hardware adds a dose of sparkle while glass pendant lights enhance the spaciousness.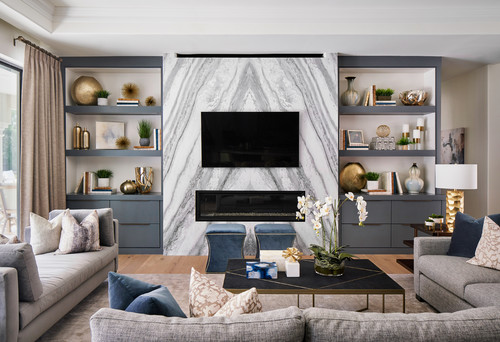 ID# 118703| Houzz.com – Credit | © Haven Design and Construction
---
Transitional Family Room with Bookmatched Marble Fireplace and Gray Shelves
The transitional family room offers a cozy yet elegant look and serves as both a functional and beautiful design. The marble fireplace and TV create a focal point between the gray cabinets which provides storage space. The luxurious look of the marble stands against the cozy furniture and makes a statement. Gold accessories on the shelves, and black and gold coffee table in a harmony with the elegant look of the marble.
From kitchen backsplash to countertop, wall cladding to flooring
When it comes to interior design, natural stones like marble and onyx are popular materials for homeowners and interior designers. From kitchen backsplash to kitchen countertop, wall cladding to flooring there is plenty of different application areas for these stones. The undeniable beauty of the marble and onyx can instantly elevate any room and add a sense of luxury. These stones are known for their natural veining and patterns that create an impactful appeal. Depending on the installation techniques, marble and onyx stones can give more distinctive results. Bookmatching is one of the most prevalent techniques. The open book impression and the symmetrical appearance of the bookmatched stones serve as a work of art and make a statement.
Although marble and onyx bookmatched slabs offer a stunning appeal, these slabs can cost thousands of dollars. If you are on a budget, for an affordable alternative, bookmatched porcelain tiles might be more suitable for you. These tiles also give the natural beauty of the marble or onyx but with a lower price tag. Also, porcelain tiles are more practical in terms of maintenance and provide easy to clean surfaces. Here, we gather out some design tips and tricks about the bookmatched slabs and tiles. Scroll down and find some inspiration to transform your design.
What is bookmatched marble?
Bookmatching is the practice of placing two or more adjoining marble stones by mirrored each other. As the name suggests, this method resembles an open book. Because of its strong veining, marble is incredibly capable of bookmatching. Bookmatched marble tiles are one of the most beautiful ways to showcase the natural beauty of marble.
Bookmatched Wall Design Ideas
Bookmatching means is matching the two symmetrical surfaces which mirror each other. Two adjoining wood or natural stone surfaces are placed end to end, and it gives an 'open book' impression. The strong movement of the natural stones and wood is best suited for book matching. Bookmatched wood slabs are generally used to beautify furniture or musical instruments like guitar or violin. Natural stone slabs are used as interior wall cladding in living rooms, bedrooms, and bathrooms. Kitchen backsplash and kitchen countertops are also suitable surfaces for using a bookmatched stone.
The artistic appeal of these large statement pieces creates a stunning luxurious look and lends sophistication to any room. But not all stones are suitable for bookmatching. Marble and onyx stones with strong veins are ideal to create visual symmetry. It's worth pointing out that bookmatched slabs are expensive. Depending on the quality of the material it can cost thousands of dollars.
Bookmatched Marble
With its natural veins and strong patterns, marble is one of the best suitable stones for bookmatching. The luxurious impact of the bookmatched slabs can instantly elevate the overall look of any room. From fireplace surrounds to bathroom backsplashes, kitchen countertops to bed heads these slabs can be used for different applications and when it comes to interior design, bookmatched marble can give the most enchanting and eye-catching result. Just like any other stone, not all types of marble are suitable for bookmatching. Marble which is used for bookmatching needs to have plenty of movement. Bookmatched Calacatta Marble and Statuary Marble are the most popular and highest-end options for this method. However, even if they offer a beautiful appeal, their prices may be higher than you can imagine.
How do you bookmatch marble?
To create bookmatch marble, large blocks of marble are sliced into slabs with specialized tools. After cutting the stones, they are polished on the two sides that facing each other. This method creates identical marble slabs which gives a mirror effect.
How do you bookmatch tile?
Just like the natural stones, porcelain tiles are created by matching stone look surfaces that mirror each other. These tiles come in different sizes. You can use large tile formats and match two tiles or go with smaller tiles and create a denser pattern.
Bookmatched Onyx
Onyx is a rare and valuable stone that has a striking beauty. With its rich layers and contrasting colors, onyx is a perfect candidate for book matching. Bookmatched onyx slabs create a space that will stand apart from the average designs and instantly add a character. Just like marble, bookmatched onyx can be suitable for different applications in kitchens, living rooms, bedrooms, and bathrooms. Because of their rarity, these slabs have a high price tag.
Bookmatched Quartz
Unlike marble and onyx, quartz is a man-made material that recently gained in popularity. With its beautiful veining and patterns, quartz offers a luxurious look as same as the other natural stones. Thanks to this appearance, quartz is a popular material for bookmatching, and it can also be manipulated and engineered for this method. It can be used for wall cladding, flooring, and some kitchen applications like countertops and backsplashes. Besides its visual beauty, quartz is durable and requires lower maintenance than marble and onyx. Also, bookmatched quartz is more affordable than marble and onyx but it still is an expensive material.
How they get bookmatched stone?
Bookmatched stones are brought in from a quarry and cut into thin slabs with special tools. After the cutting process slabs are laid flat and polished. At the end of these steps, they are brought together in the same order.
Bookmatch
Bookmatched stone slabs are undeniably beautiful, and they offer a unique luxurious look for interior designs. However, because of the rarity of the stones and the size of the slabs, these materials are extremely expensive. Depending on the size and type of the material, it can cost between $8.000-$10.000 or even more. The high price tag reduces the affordability of the product for homeowners. Actually, you do not have to spend a little fortune to achieve these looks. If you are on a budget but still want to use this appeal in your designs, we are pleased to introduce Bookmatch Porcelain Tiles.
Bookmatch tiles allow you to bring the beauty of the bookmatching to your home at much more affordable prices. These tiles come in a wide range of color, pattern, and size that can work well with different styles and rooms. Besides the smaller areas like the backsplash, you can even cover the entire wall with these porcelain tiles without thinking about the budget. Also, these bookmatched porcelain slabs are easier to maintain than natural stones. Thanks to the special veining, making these large format tiles bookmatch is a great way to create a distinctive focal point or stunning backdrop for your design with the advantage of durability and ease of maintenance.
Where to buy bookmatched marble for a fireplace surround?
Some of the companies which sell natural stone for interior applications, also sell the bookmatched slabs. You can check your local company's website to get more information. If you are looking for an affordable alternative, we are suggesting our Bookmatched Porcelain Tiles.
Bookmatched Backsplash
The primary function of the backsplash is protection against water and food damage, but it is more than this. Backsplashes are a great way to add visual interest to kitchens and bathrooms. Because of their undeniable beauty and luxurious appearance, natural stones backsplashes are a popular design trend in recent days. Using a bookmatching method for these stones emphasizes their impact and creates a luxurious focal point between the kitchen cabinetries and behind the bathroom vanities. From glorious Calacatta gold marble to earthy Carnelian onyx, there are plenty of natural stones that you can bookmatched and used as a backsplash.
Can quartz be bookmatched?
Quartz is one of the most popular materials for bookmatching. However, not all quartz is suitable for this process. To bookmatch a slab, it needs to have strong and bold veining. Otherwise, the symmetrical look created by bookmatching lost its impact.