25+ Kitchen Artwork Ideas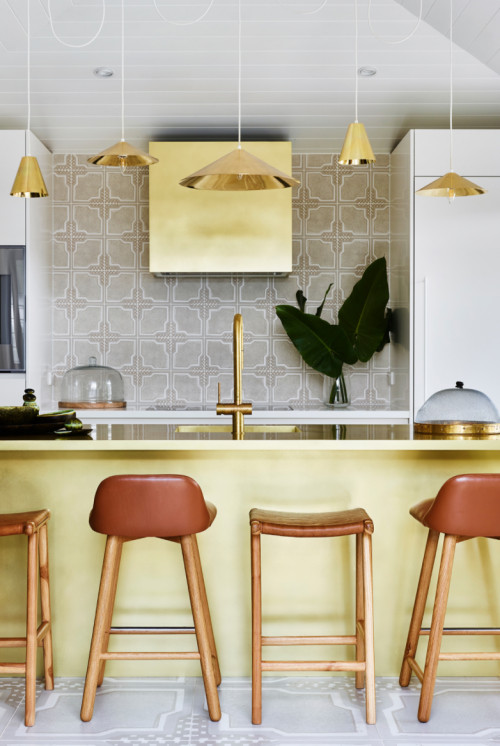 ID# 159503 | Houzz.com – Credit | © Langlois Design
---
Gold Range Hood with Encaustic Tile Backsplash and Gold Island
This contemporary kitchen is a union of opposites, where the farmhouse-style whitewashed shiplap ceiling makes a firm counterpoint to the Midas-touched gold hood and island. The gray patterned encaustic tiles taken up to the ceiling play along, creating a kitchen artwork of sorts. From where we stand, the backsplash tiles create the illusion of a countertop-to-ceiling painting. To further visual consistency, they also continue on the floor, albeit with one difference. The tiles got bigger to encourage the kitchen to feel larger. The gold faucet and gold pendants enrich the gold presence of the room, going aboveboard without breaking the design. If you want to bring this design down to the earth, a few plants and wood accents could be integrated.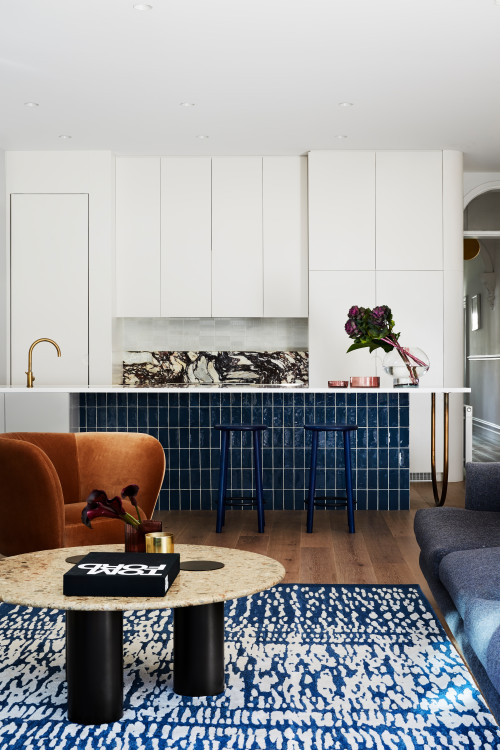 ID# 159520 | Houzz.com – Credit | © Full of Grace Interiors
---
Kitchen Artwork Ideas with Dramatic Marble Backsplash and Tiled Island
Looking for authentic artwork ideas? Tile your kitchen island or bring a dramatic marble backsplash. This contemporary kitchen does both. While the dramatic marble backsplash peeks out behind, the island prides itself on stacked blue subway tiles. The satin finish on them also achieves a beautiful sheen that commands attention. The brass island leg and gold faucet introduce metal finishes, warmth, and glam. Behind, the full-height white cabinets with curved edges create a perfect neutral setup for the island and backsplash to pop. Together, these stand-out features give the design an artsy feel.
Kitchen Artwork Ideas
Whether one should hang artwork in a kitchen or not is one of the most asked questions evoking curiosity. Though making artful additions is popular in dining rooms, bedrooms, and living rooms, it is not very common in kitchens. But it doesn't mean that artwork is banned from kitchens. On the contrary, kitchen artwork ideas can heighten the aesthetic mood of the kitchen and give it an artsy vibe. And you don't even need to restrict yourself to paintings. To the delight of fun lovers, from chalkboards to floating shelves, artwork, hanging pots, and more, there are multiple ways to create an intriguing design for kitchens.
Do you have a spare empty wall, for example, or a space on the countertop or above the stove or sink? Use this space to make a visual statement and make it with a piece of art. Not everything in your kitchen needs to be functional. Given how much one spends time in a kitchen and gathers time with family members, surely, its aesthetic value is as important as its functionality. In other words, kitchens need art too as kitchen artwork ideas boost the energy and mood of the space.
Here we compiled a list of kitchen artwork ideas that focus on their functional and aesthetic features. You can apply some of those ideas to your kitchen, it doesn't matter whether it is small or large, closed or open plan. Plus, 2023 kitchen design trends love designs that feel alive. And the artwork is one of the best ways to achieve that!
What art should I put in my kitchen?
It depends on the design theme of your kitchen. A landscape painting does suit very well farmhouse kitchen designs. As for contemporary designs, you can go with abstract paintings or minimalist designs. Yet, if you love eclectic designs, feel free to bring anachronistic pieces together.
In addition to your kitchen theme, you can borrow cues from where your home is settled. For example, assuming that it is near a beach, you can get a painting that depicts the sea. To learn more about kitchen wall decor ideas and fill the empty wall space with some artwork, scroll down!
Paintings
Are you a lover of landscape or still-life paintings? Or do you prefer modern and minimalist studies? Create a theme in your mind and curate a gallery wall – if you have enough space. It could be a neighbor to your banquette seating, breakfast nook, or island. However, if you have a small kitchen, you can even place them on countertops, on the rim of range hoods, or hang them above the stove. You will see how paintings change the overall aura of the kitchen.
How do you display art in the kitchen?
In a kitchen, there are multiple places to display art, from floating shelves to countertops and walls. You can also hang them above the breakfast bar, island, or banquette seating. If the hood has a rim, you can place artwork on it, too.
Open Shelving
Both functional and aesthetic, open shelving provides storage for you to exhibit glassware, dishes, and fun accessories. They are practical, affordable, and easy to install. If you wish, you can get them customized. They are available in a wide range of materials, including steel, timber, and glass. If you want something with unparalleled durability, choose a steel-made one for your chef's kitchen. For a more natural look, timber ones are very popular and used in all kitchen designs. As for the glass ones, though they look delicate, they are pretty strong. And they make a very stylish statement, which makes them suitable for luxury designs.
What can I put on my small kitchen walls?
Pot racks, floating shelves, cutting boards, abstract or landscape paintings, and chalk paint are some fun and practical additions. While some also provide you with bonus storage spaces, some only heighten the aesthetic value of the kitchen.
Hanging Pots
As one of the smart storage solutions, pot racks are extremely beneficial, helping reserve more space inside the cabinets. Installed generally above the stove or sink, they keep the most-needed pots within easy reach.
In aesthetic terms, hanging pots punctuate the walls or backsplash designs, serving as visual accents. Some kitchens even ditch upper cabinets to place rows of pot racks to create a more intimate ambiance. And if you want to go for a truly rustic look, cast-iron pot racks dropped over islands can add depth to your kitchen.
Also, keep in mind that pot racks are not also only for pots. You can also use them to hang your utensils, such as spoons and strainers.
Statement Backsplash Tiles
You don't necessarily need to think of kitchen art ideas as paintings, murals, chalkboards, or shelves. One of the major components of kitchen designs, namely the backsplashes, can serve as a sort of decoration as well. Available in a wide range of materials, patterns, and designs, they can easily create focal points. Patterned encaustic tiles, printed ceramics, bold geometric pattern designs, ombre hexagon splash-backs, and many more! Statement backsplash tile ideas can create a work of art on your walls. And if you look for something rather than tiles, you may want to check out wallpaper designs.
Also, for extra convenience and grout-free options, glass sheet backsplashes could be another alternative. They are available in a wide range of colors and designs. Even better, they can be customized, according to the customers' briefs. Eco-conscious, heat-resistance, and easy-to-clean, the stand-out glass sheets are worth trying.
How can I make my kitchen look classy?
From main bones, such as cabinets and backsplashes, to complementary features, a kitchen design has many elements that give it the final look. And if you want to give your kitchen a classy look, there are many features to change up and play with. For example, pendants and chandeliers are one of the best and most affordable ways for a classy finish. Likewise, cabinet hardware is often enough to upgrade your cabinets. Gold knobs or chrome pulls are effective to give your kitchen a classy and luxurious vibe.
Artwork is another way to elevate the overall aesthetic mood. And our advice is that keep it big if you have the space. If you wish, you can even allocate a large strip wall to it.
Chalkboard
Chalkboards are one of the most fun additions you could get. You can jot down your grocery lists, recipes, or some welcoming or funny messages on them. Or better, you can use them to hone your drawing skills. Plus, as they are easy to clean, you can just reset them when needed and start using them for a different purpose.
Their availability in multiple sizes allows homeowners to incorporate them into kitchens in various ways. For example, you can create a small strip of wall, frame a doorway with it, and install it on the range hood or the backsplash.
Chalkboards can be used in all designs, from traditional to industrial and modern, though perhaps different reasons. For example, in traditional kitchens, they are mostly used to leave friendly welcoming messages. In contemporary kitchens, they are mostly for whimsical statements and to add fun twists.
Should I hang art in the kitchen?
As one of the most visited rooms of homes and high-traffic areas, kitchens are where we spend the majority of our time. It is not only a space where we cook and bake but also gather around with family members. Thus, what is as important as their functionality is their design. When you have a nicely designed kitchen, then you will be more motivated to do your kitchen work. So, based on the multifunctional asset of the kitchen, every kitchen deserves a well-curated design. And that includes artwork as well.
It is not that you have to or should, but artwork elevates the room's overall feel and adds beautiful wall decor, creating a focal point. It could be a landscape painting, framed prints, or an abstract painting. You can even frame one of your favorite photos and hang it as if it is an artwork.
Especially, if you have a large kitchen, you can dedicate an entire wall to a sizeable artwork. However, if your kitchen is not that big, then you can hang one above the stove or place it on the countertop. Or even better, if your range hood has a rim, you can keep the artwork on it.
Murals
If you want to be more creative and come up with more innovative and rare-to-see designs, murals are the way to go. Even though they are more suitable for large kitchens, still you can play with their scale and find one that suits your own kitchen. But when or why do you need them in the first place while there are wallpapers?
Well, designs that revolve around a specific theme are inclined to go with murals, especially when wallpapers don't feel satisfactory for homeowners. Either being painted directly on the walls and ceilings or coming as digitalized options, murals can be incorporated into rooms. And the variety they offer in terms of design tells us that the sky is the limit. For example, if you want a tropical design, mural designs with floral patterns are various and will be there to whet your appetite. Or if you want to be reminded of the sky, choose a design featuring birds, clouds, and the sky. In a nutshell, the options are limitless and the best way to present your inner world to the walls of your kitchen.