33+ Top Kitchen Backsplash Trends for 2023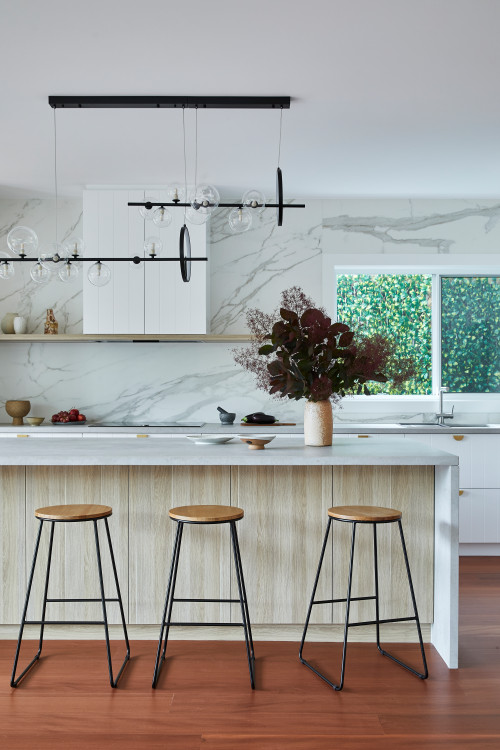 ID# 153701 | Houzz.com – Credit | © Blue Tea Kitchens and Bathrooms
---
Top Kitchen Backsplash Trends for 2023 with Marble Slabs for V-groove Cabinetry
Ceiling-height marble slab backsplashes are one of the on-trend options. It is mainly thanks to their aesthetic and functional benefits. Providing a seamless backsplash lack of grout lines, they save effort and time, which makes them a low-maintenance option. And this contemporary kitchen goes with one of them, creating a true statement piece to define the backdrop. The V-groove cabinetry, a linear oak shelf, and brass accents complement it with warmth and a touch of glam.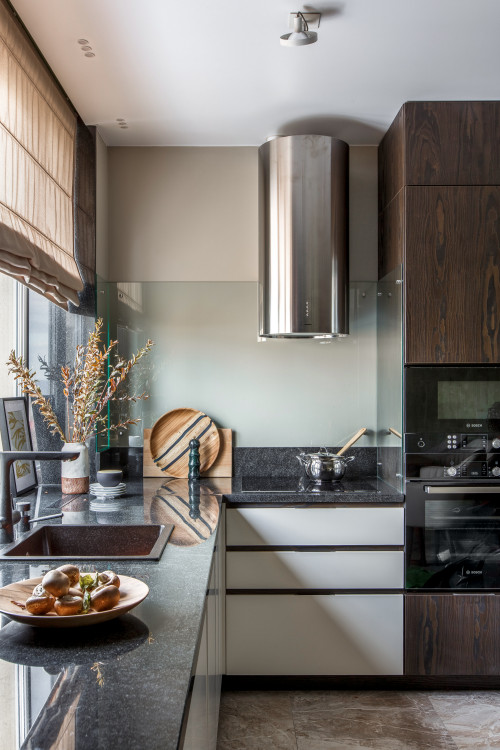 ID# 153728 | Houzz.com – Credit | © Юлия Вишнякова
---
Top Kitchen Backsplash Trends for 2023 with Matching Backsplash and Countertop
In this contemporary kitchen, a standard (4-inch) backsplash with a matching gray quartz countertop is supported by a glass sheet backsplash. Layering the stove wall, this transparent sheet adds extra protection to the wall against food splatters.
Top Kitchen Backsplash Trends for 2023
Top kitchen backsplash trends 2023 range from glossy tiles to stone slabs, handmade tiles, ceiling-height backsplashes, patterned tiles, and more. All-white kitchens devoid of color and motion seem to be dwindling. Rather, mixing and matching materials and saturated colors of deep greens, reds, and browns are more active participants in 2023.
Aside from those, by embracing natural textures, craftsmanship, and organic forms, kitchens will grow more akin to biophilic designs this year. Whether you love energic or more calm designs, 2023 backsplash trends offer the best of both worlds. Here we gathered top kitchen backsplash trends for 2023. If you want to remodel your kitchen, take a closer look at these designs. And get inspired for your own overhauling project.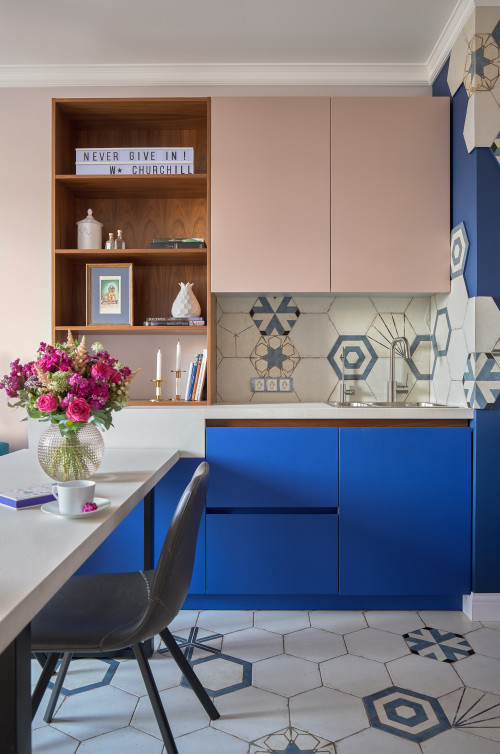 ID# 153702 | Houzz.com – Credit | © VerbaHome
---
Hexagon Tile Backsplash with Pink and Blue Modern Cabinets
In this modern kitchen, the large format hexagon backsplash tiles not only serve as a backsplash but also make for an eye-catching floor design. Some are kept plain white, and some are patterned with geometric forms, giving the kitchen a contemporary upgrade. The juxtaposition of pink and blue flat-front cabinets adds further charm and color to the tiles. And the wood-interior cabinet shelf brings a calming contrast to downplay the two-toned effect and energic hexagon tiles.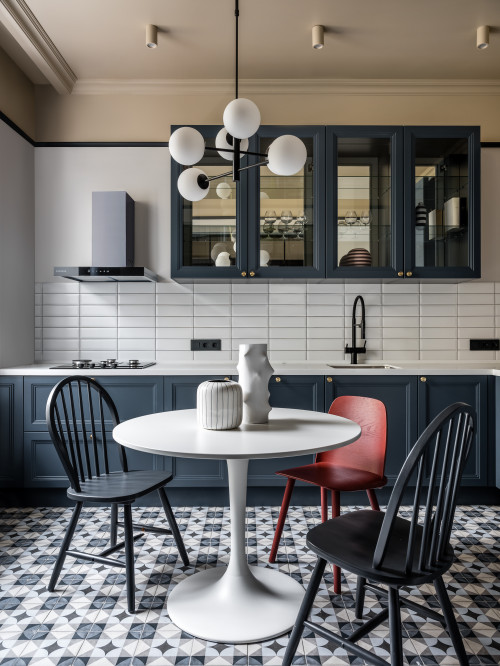 ID# 153703 | Houzz.com – Credit | © Зуева Анна
---
White Subway Tile Backsplash with Blue Cabinets and Gold Accents
Stacked horizontally, a white subway tile backsplash introduces order and clarity in this contemporary kitchen. Making a calm statement between the display and blue cabinets, it blends harmoniously with white quartz countertops. The multi-colored pattern-rich tiles run across the floor, spicing up the overall aesthetic. And overhead, cream-painted ceiling and upper walls ooze warmth, creating an intimate ambiance with gold hardware.
What are The Backsplash Trends of 2023?
Backsplash trends of 2023 encompass bold colors, patterned tiles, natural stone slabs, and handmade tiles. Additionally, mixing and matching different tiles is another technique used to create a more colorful look. On the other hand ceilling-height designs are another popular approach for backsplashes. That's why a large portion of the walls is ready to be allocated for them. Scroll down and learn the 2023 backsplash trends that will inspire you!
Stone Slab Backsplash
Stone slab backsplashes are one of the best ways to incorporate a luxe feel and create a high-end look. Also, these slabs, especiallly marble, and granite ones add a high aesthetic value to the overall design. Whether you want bold and gentle veining, honed or polished finish, you can have it all with a gorgeous stone slab backsplash!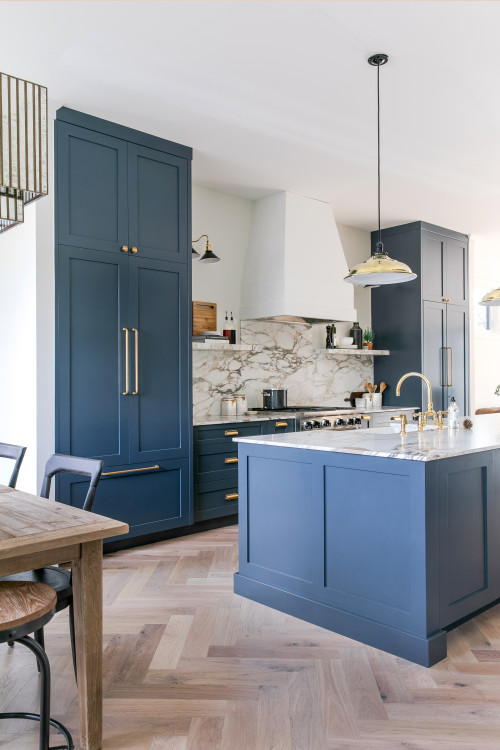 ID# 153704 | Houzz.com – Credit | © Elle Peters Design
---
Top Kitchen Backsplash Trends for 2023 with Stone Slab Backsplash and Blue Cabinets
This transitional open-plan kitchen distinguishes itself from the rest of the room with full-height cabinets and a kitchen island which develop a sense of space together. Coming in blue shades, these shaker cabinets give the design a classical finish. The marble slab backsplash with brown dramatic veining complements them by bringing earthliness. To create a cohesive design, the same marble is also continued on the countertops and island. In the background, the symmetrical placements of floating shelves flank the white hood, further accentuating the backsplash.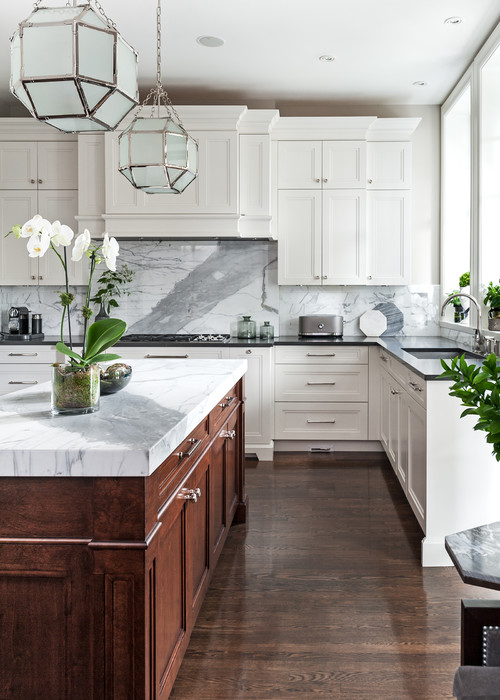 ID# 153705 | Houzz.com – Credit | © Leona Mozes Photography
---
White Shaker Cabinets with Marble Backsplash and Wood Island
Dramatic natural stones are still on-trend in 2023 for a good reason. They are sophisticated, elegant, and instant statement-makers- as proven by this traditional kitchen one more time. Here, the marble stone slab backsplash with bold patterns stands out between white shaker cabinets, while the bespoke wood island brings a traditional touch. Centrally placed, this island transforms into another focal point thanks to the geometric pendants. In the rest, the dark perimeter countertops are replaced by a marble countertop on the island. And green plants and flowers distributed here and there bring a breath of fresh air.
What trends will be popular in 2023?
In 2023, all-white kitchens are expected to be replaced by darker hues and saturated colors. In other words, jewel tones, forest green, emerald green, rich browns, and reddish browns are to create different emotional worlds. Additionally, natural stones, organic forms, glossy tiles, textured tiles, and handmade tiles are ready to bring in authenticity. Likewise, geometric tiles await to energize any kitchen design.
Aside from those, classic subway tiles and practical options such as ceramic and porcelain tiles maintain their popularity.
In terms of floor plans, open-plan kitchens or kitchens inserted into the living rooms are popular. They offer socialization and maximize square footage while promoting smooth human traffic.
Overall, kitchens are expected to feel livelier and more dynamic. Whether it is achieved with organic textures, an open floor plan, nature-inspired designs, or all!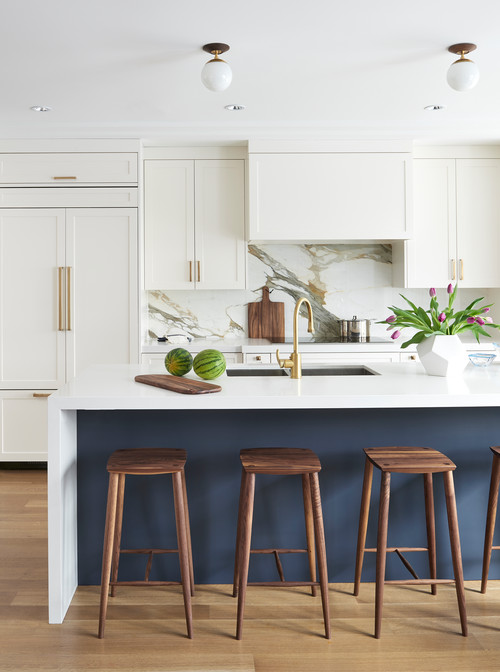 ID# 153706 | Houzz.com – Credit | © Shirley Meisels
---
Marble Backsplash with White Shaker Cabinets and Waterfall Island
This light-filled modern kitchen boasts a stunning marble slab backsplash that endows the kitchen with a seamless background. And the color scheme of marble patterns finds an echo in the room itself, creating a cohesive look. For example, the white marble base corresponds to the white shaker cabinets that create a canvas-like base for the design. The gold details on the marble, likewise, match the gold cabinet knobs that accentuate the shaker units. Finally, the dark patterns translate into a blue-base waterfall island, delivering a pop of color. And rounding up the kitchen aesthetic are globe-shaped lighting fixtures and a white geometric base that bridge old with new.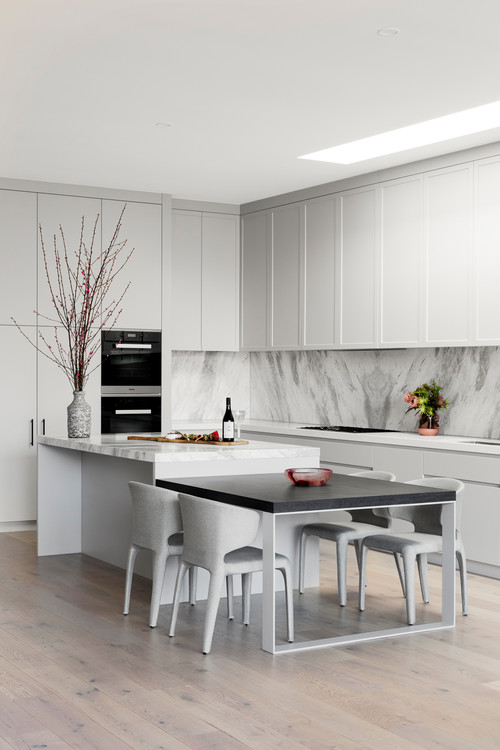 ID# 153707 | Houzz.com – Credit | © GIA Bathrooms & Kitchens
---
Off-White Cabinets with Marble Backsplash and Two-Tiered Island
In this contemporary kitchen, the off-white shaker cabinets are kept hardware-free to create a sleeker profile with them. And the marble slab backsplash just supports it with its grout-free and seamless surface. Opposite it is a two-tiered island that offers a hefty food prep zone and a dining space for 4 people. Situated under the skylight, the island enjoys freshly delivered natural light while increasing the utilitarian aspect of the kitchen.
Patterned Tiles
Moroccan-inspired tiles, printed ceramic tiles, Mediterranean-style encaustic tiles, and many more. Patterned tiles are another popular option in 2023 and are ready to elevate the overall aesthetic design. Favored by eclectic, Bohemian, transitional, and contemporary kitchens, they can be suited to any kitchen look. Even if you don't want to clad the entire room with them, you can use them as an accent or a stove backsplash.
ID# 153708 | Houzz.com – Credit | © Ирина Чернейкина
---
Top Kitchen Backsplash Trends for 2023 with Gray Cabinets and Gray Countertops
Patterned tiles can easily elevate a kitchen aesthetic- as showcased by this contemporary kitchen. Coming in star-shaped patterns, these multi-colored tiles are best downplayed by a neutral kitchen design. And here, this neutral scheme consists of gray and white flat-front cabinets topped by gray countertops. Together they provide a sleek profile with no visual distraction. Yet the further enriching elements such as an eye-catching cherry-shaped lighting fixture continue to add fun twists for visual interest. A toy of a red dog and fake cupcakes also add to the entertaining aspect of the kitchen, bringing a sense of humor.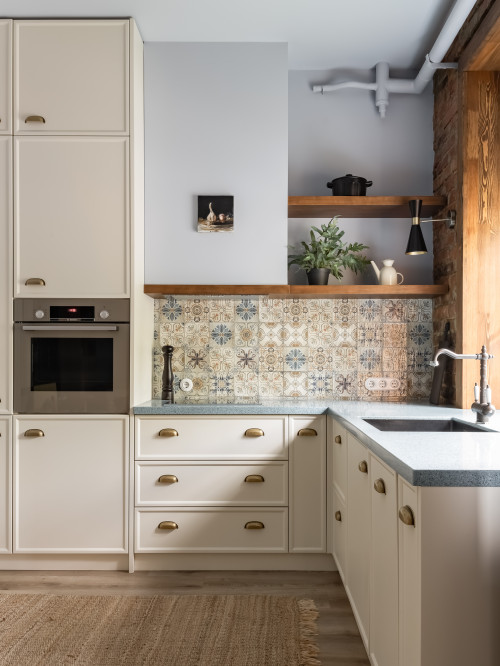 ID# 153709 | Houzz.com – Credit | © Марина Кутепова
---
Patterned Tile Backsplash with Cream Cabinets and Rustic Open Shelves
This cozy and warm kitchen benefits from patterned tiles and colorful wall paint to set itself apart from its counterparts. And it manages to do so, proposing a visual feast and a festive atmosphere. Tinged with a Bohemian feel, first, it channels warmth with rustic open shelves and a wicker runner that adds texture underfoot. And right above the light cream cabinets, Mediterranean-style patterned tiles in light earthy shades add to this intimate atmosphere. Punctuated by antique brass cabinet pulls, the light-cream cabinets ooze quirkiness, giving the kitchen a healthier look. The upper walls and ceiling painted muted blue with lilac undertones add bonus charm, drawing eyes upward. And finally, the gray countertops bring a calming contrast to soothe the patterns and color switches used throughout the room.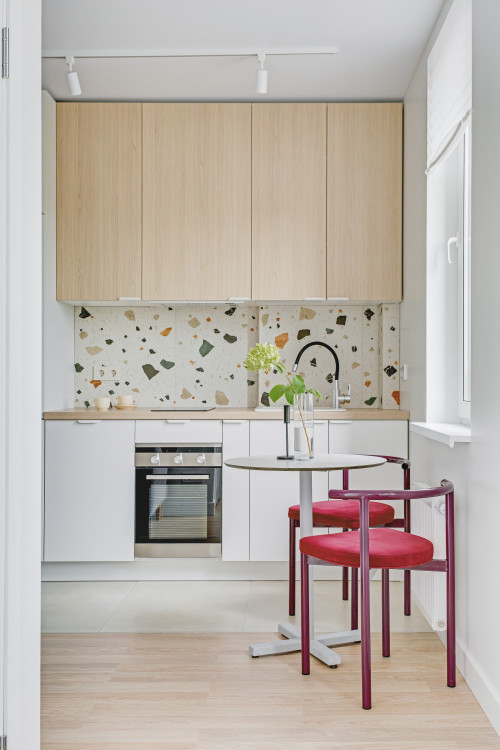 ID# 153710 | Houzz.com – Credit | © Суворова Анна
---
Terrazzo Backsplash with Butcher Block Countertops and Two-Tone Cabinets
This pint-size kitchen is visually enlarged and looks much larger than it is, thanks to its light color palette. And spicing up its calm design is a terrazzo backsplash with big and multi-colored chunks. Bringing a colorful touch and a contemporary upgrade, this terrazzo backsplash ensures the longevity of the design, promising unparalleled durability and convenient use in the long term. To complement it, the rest of the room is mainly characterized by wood and white modern cabinets. The butcher block countertops bring another organic touch. A miniature eating space with red stools is rigorously proportioned to the compact space of the kitchen. Overhead, the white tracking spotlights make for another efficient design feature, lending a contemporary voice to the room.
Handmade Tiles
What would celebrate craftsmanship better than championed handmade tiles? 2023 is the year that celebrates textured-rich and organic looks. That's why handmade tiles are an important element. In other words, 2023 welcomes staggered edges, imperfections of the tiles, and definitely authentic touches.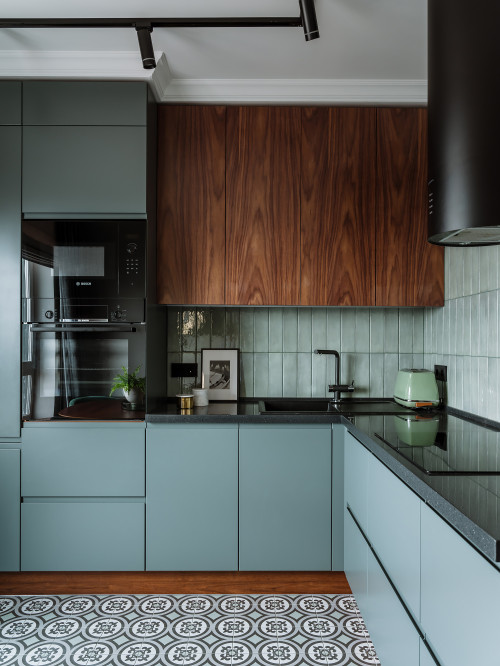 ID# 153711 | Houzz.com – Credit | © Зуева Анна
---
Top Kitchen Backsplash Trends for 2023 with Handmade Tiles and Black Countertops
With their imperfections and uneven edges, handmade tiles are another on-trend backsplash option in 2023. Showing off their staggered edges, they create texture-rich backgrounds – as showcased by this modern kitchen. Coming in light blue shades, the vertically stacked subway tile backsplash creates an eye-appealing background. The black countertops anchor this muted backsplash, while the black rounded hood accentuates the background. The dark wood cabinets radiate warmth to offset the cool and dark shades. On the floor, patterned tiles, another on-trend design, characterize the ground for extra interest.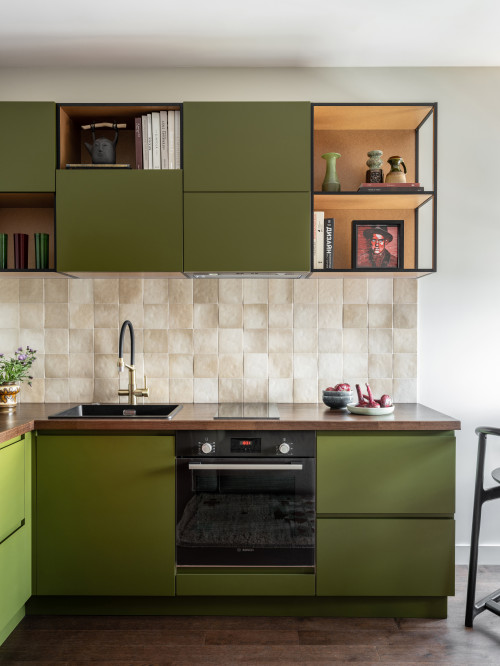 ID# 153712 | Houzz.com – Credit | © Студия Татьяны Архиповой
---
Handmade Tile Backsplash with Green Cabinets and Brown Countertops
This contemporary kitchen is like an ultimate embodiment of organic modernism. Embracing a nature-inspired color scheme with earthy shades and green modern cabinets, it offers a visual feast. The cabinet shelves integrated into the overhead units expose some personal accessories, evoking curiosity. And between the cabinets, a light-beige square tile backsplash brings warmth and texture. The subtle tonal variations add further depth and dimension, while the dark wood floor grounds the overall aesthetic. If you would like to make the design pop even more, consider yellow backsplashes instead of light beige. A combination of yellow, green, wood and dark brown can warm up the interior instantly and evoke cheerfulness.
Are backsplashes going out of style?
It is almost impossible for backsplashes to go out of style as they bring functional and aesthetic benefits. First, they protect kitchen walls from water splashes and food splatters, ensuring their longevity. This is especially important for the behind-the-stove area. Secondly, they make statements and set the tone of the kitchen effortlessly. For the same reason, they increase the aesthetic value of kitchens.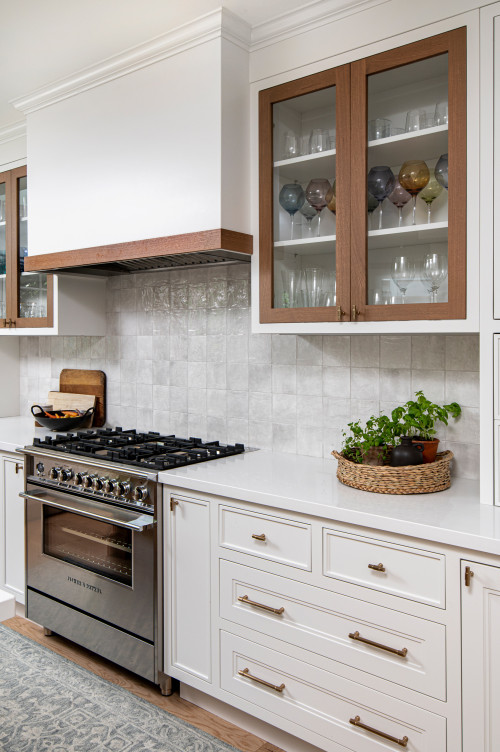 ID# 153713 | Houzz.com – Credit | © Four Blocks South
---
White Square Tile Backsplash with White Shaker Cabinets and Wood Accents
This transitional kitchen presents a rather monochromatic palette warmed up with wood accents. From the trim of the hood fixture to the wood panel of glass-front cabinets and brushed copper handles, each earthy and metallic touch evokes visual interest. Likewise, the glossy white square tile backsplash adds a glamorous vibe, capturing attention and light. The traditional-patterned rug adds warmth underfoot, bringing tactile interest.
Geometrical Tiles
From hexagons to chevrons, herringbone, triangle, and diamond, geometric tiles vary in their styles. If you aim to energize the kitchen and generate movement, go with one of those patterns. Especially, hexagons are one of the best patterns to experiment with and entertain the entire room. For example, you can create an ombre effect. Or for a change, you can also use them as a floor design to create a continuous look.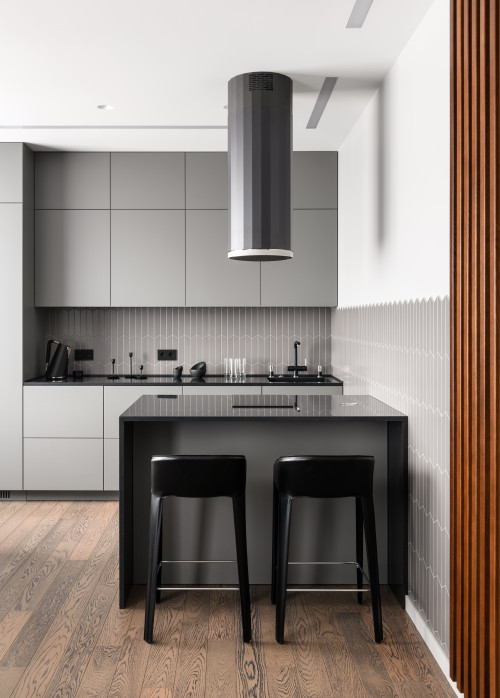 ID# 153714 | Houzz.com – Credit | © Olga Ladurko Interior Design
---
Top Kitchen Backsplash Trends for 2023 with Geometric Tiles and Gray Cabinets
Defined by the different saturations of gray shades, this contemporary kitchen features a sophisticated design. The gray ceramic picket tile backsplash lines the walls, continuing on the adjacent wall to accompany the island unit. The slatted wood feature wall marks the end of the kitchen strategically to develop a sense of space in the open floor plan. The black countertops and a black waterfall island bring solidity and strength to the neutral color scheme. The white grout between the tiles provides a clean backdrop. And an upscale hood overhangs the island that is in full resonance with the rest.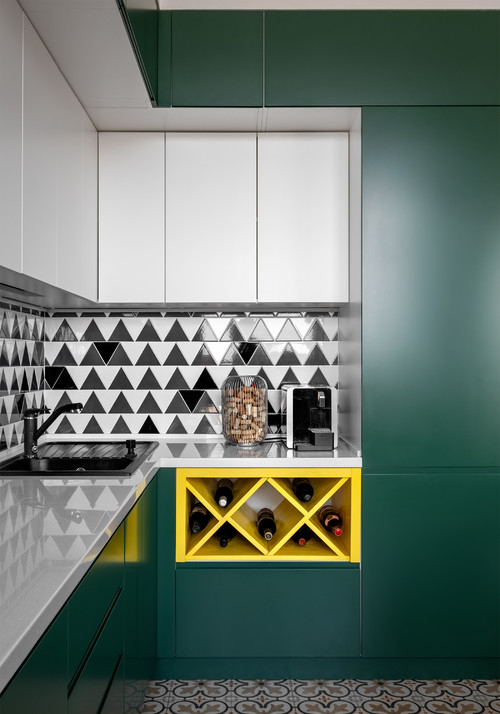 ID# 153715 | Houzz.com – Credit | © Interior designers Pavel and Svetlana Alekseeva
---
Geometric Tile Backsplash with Green Cabinets and Yellow Wine Rack
In this industrial kitchen, the surfaces are coated in shades of dark green and white, bringing dark and light shades to balance. The triangle-patterned mosaic tiles ensure the kitchen features a memorable backdrop. And a neon yellow wine rack inserted into the cabinets wakes up the entire room. The multi-colored patterned floor tiles with undulating forms deepen the artistic mood of the kitchen to finalize the overall aesthetic.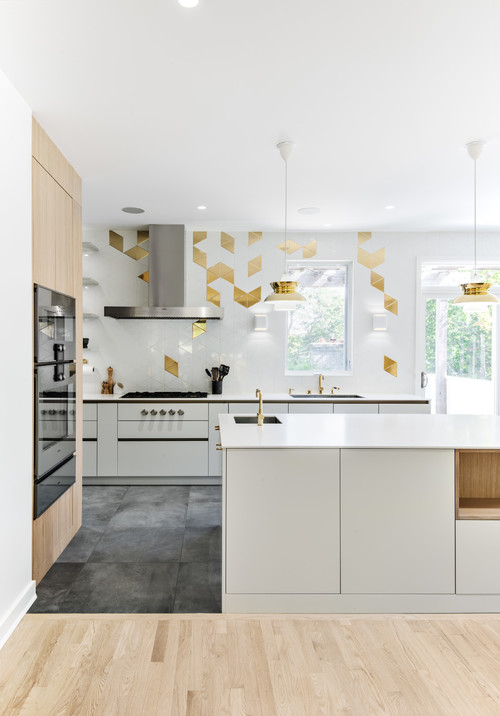 ID# 153716 | Houzz.com – Credit | © Casa Verde Construction
---
Contemporary Kitchen with White Backsplash and Gold Accents
This open-plan contemporary kitchen is light-flooded and outfitted with white cabinets that expand the impact of streaming lights. Likewise, in the background, a white tile backsplash is taken up to the ceiling, further enhancing the brightness. Ditching the upper cabinets for the sake of more breathing space, it also makes a visual statement. The gold tiles dot the backsplash to assert a glam aesthetic. The wood floor-to-ceiling cabinets downplay the gold accents, while the gray floor tiles also add a neutral touch. The resulting scheme feels well-balanced, offering the best of both worlds: something that is luxurious and natural all at once.
Glossy Tile Backsplash
On-trend kitchen designs appreciate bright and spacious rooms that feel extra welcoming. And a glossy tile backsplash is one of the best ways to achieve that. Be it a subway tile, square tile, or geometric tile backsplash, give any pattern a glossy finish to make them pop. To downplay it, you can go with matte and wood cabinets. This way, you can establish a sense of balance easily.
What is the most popular backsplash right now?
Natural stone backsplashes, especially marble slabs, are the most popular backsplashes. Thanks to their dramatic veining, they deepen the artistic character of kitchens. Coming in bold and feathery designs, they also give a wide range of options for homeowners to choose from.
Ceiling Height Backsplash
Get rid of upper cabinets that take up too much space on the wall. And in place of them, use a ceiling-height backsplash. It is one of the best ways to provide more breathing space for the kitchen. Also, if you go with statement kitchen backsplashes such as marble and terrazzo, just pride yourself on it. Take this high-end material up to the ceiling to create a true statement moment.
What backsplash does not go out of style?
Marble backsplashes, ceramic tiles, and subway patterns never go out of style. Having proven themselves to be classic and timeless, they set themselves apart from other backsplash options. Though some patterns and materials are trending on and off, there is something about marble and subway patterns. Whatever that is, it makes them work in any design, thus making them a fail-safe option.
Matching Backsplash and Countertop
"Counter-splash" -ing or matching your backsplash and countertop is another backsplash trend, which works best with natural stones. If you love seamless kitchen designs and cohesive looks, this technique. will suit your design. If you wish, you can even use the same countertop material on your kitchen island and the range hood.
Mixed Materials
Monotonic kitchens or all-white kitchens are not popular in 2023. Thus, feel free to mix and match different materials and patterns. And don't shy away from using colors. If you wish, you can create accent walls or accentuate the stove with a stove backsplash. For example, some designers prefer a timeless backsplash design as a main backsplash such as subway tiles. And for the second one, they choose something more colorful for an accent, which could be a mermaid or herringbone tile backsplash. Or you can change the material and bring in marble to install behind the stove.
Do modern kitchens have backsplash?
Just like any other kitchen design, modern kitchens have backsplashes too. Though their preferences regarding backsplash designs are a bit more different than traditional kitchens. For example, modern kitchens prefer ornate-free, decluttered, and sleek splash-backs. Thus, marble slabs, glass sheets, quartz slabs, porcelain tiles, and geometric tile backsplashes are preferable for modern designs.