32+ Bold Kitchen Backsplash Ideas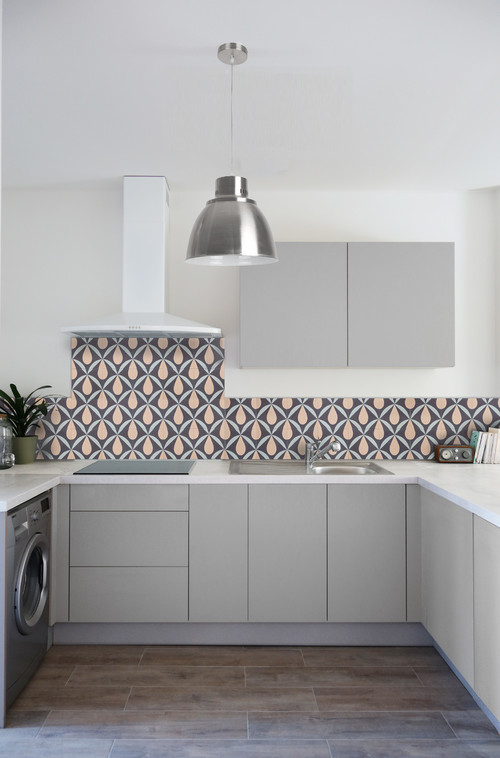 ID# 135804 | Houzz.com – Credit | © Sarah-archi-in
---
Printed Tile Backsplash with Gray Cabinets and White Countertops
If you want to stick to neutral colors in your kitchen but also desire to make a statement, using a bold backsplash is one of the best ways to make a drastic change. It is because the backsplashes cover a larger portion of the kitchen and are installed at eye level, which feels exposed to the kitchen users right away. This contemporary kitchen, though mainly featuring a light palette, goes with a printed multicolored backsplash that steals the show. The gray cabinets and white countertops with a few decorations that style the countertops just ensure that the backsplash feels at home.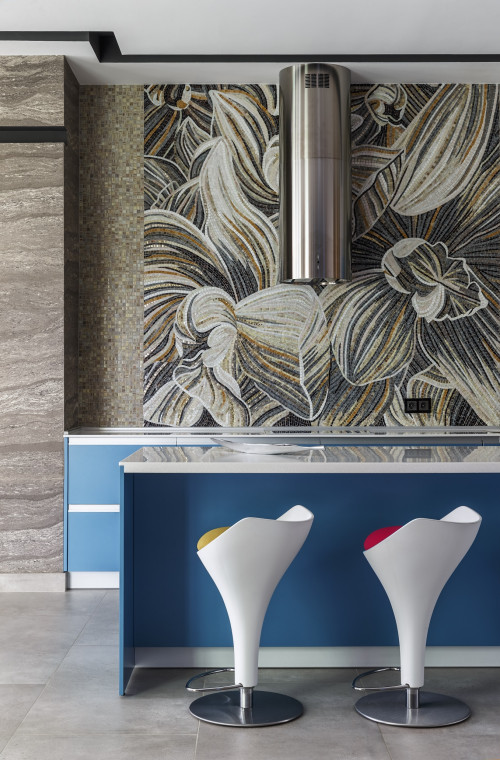 ID# 135821 | Houzz.com – Credit | © Insomnia
---
Bold Colorful Kitchen Backsplash with Blue Cabinets and Mosaic Tiles
This ultra-contemporary kitchen has a bit of everything: pops of colors, patterns, upscale appliances, and intriguing geometric forms. The mosaic tiles in the earthy shades clad the back wall, while a floral pattern mural artwork brings spring into the kitchen. The seem-to-be-unrelated blue cabinets topped by white countertops populate the kitchen. The top-notch cylinder-shaped brushed finish steel hood adds an urban flair to the background, bringing a sharp contrast to the floral patterns. And of course, the island stools, don't you also think they look like ice-cream cones?
Bold Kitchen Backsplash Ideas
Kitchen backsplashes are the guards of your kitchen walls, protecting them from water splatters, everyday spills, and grease. And while they serve such an important mission, why not make them also stunning? In today's market, with the advancement of technology, the variability of tile patterns, materials, and colors is almost limitless, opening up unending design possibilities for homeowners. Especially, for those who prefer cabinets and countertops in white or neutral shades, bold kitchen backsplash ideas can upgrade the look easily and make the space feel as if it has been fully renovated by creating a distinctive focal point.
Ranging from the multi-colored geometric patterns to the natural stone backsplashes, mural backsplashes, and mosaic tiles, bold kitchen backsplash ideas are quite expansive. In this blog, we gathered over 30 kitchen designs centered around colorful, patterned, and eye-popping backsplashes that will make you renovate your kitchen.
Bold Patterned Tile Kitchen Backsplash
Multi-colored triangles, floral patterns modernized with more geometric forms, and printed encaustic tiles are some of the options you can go with to create a bold patterned tile backsplash. Contemporary, Scandinavian, and modern kitchens love patterned backsplashes, especially the ones with Escher, hexagon, and triangle patterns.
What is the trend for backsplash in 2022?
Among the on-trend backsplash designs, we can count the metal, mirror, window, and geometric pattern backsplashes. Recently, especially contemporary kitchens choose to go with bold backsplashes that draw all attention. The various geometric forms, including hexagons, pentagons, squares, subway tiles, and chevron and herringbone patterns, are especially very popular.
Sometimes variously colored tiles come together; sometimes the layout of the tiles is given a modern twist. And if you wish, you can also use these tiles on the island's front (if you have one) to coordinate with the backsplash, which is again popular. But for those looking for something different, mosaic tiles create artsy floral patterns that give birth to a spring in your kitchen which you can accompany with powder blue cabinets, synthetic flowers, and colorful pendants. Or if you wish for a look reminiscent of a forest rather than a sky, you can go with muted green cabinets and wooden countertops.
Bold Mosaic Tile Kitchen Backsplash
The world of mosaic tiles is very rich, coming in various shades and patterns and serving as true statement makers. You can customize them to suit your wishes and even create murals on the walls. Especially if you want to create a mid-century modern feel, don't let anything stop you from using a bold blue mosaic tile backsplash!
Bold Metallic Kitchen Backsplash
Metallic backsplashes give your kitchen a natural glam. You can spruce your kitchen with a charmful touch of brass, stainless steel, copper, zinc, and silver backsplashes. Whether you want to have a custom-cut panel or metal tile backsplash, all versions are ready to make a bold statement. By applying the right finishes, you can also navigate how metal backsplashes look. For example, the brushed finish stainless steel feels more matte and is better at concealing fingerprints. For those looking for a lived-in feel, oxidized copper backsplashes are great options to consider, along with aged zinc backsplashes. As these materials are naturally anti-bacterial and non-porous, they also come with extra functional benefits.
What cabinets go with a bold kitchen backsplash?
White, gray, black, and light and dark wooden cabinets go well with a bold kitchen backsplash. But it also depends on the material type and style of the kitchen. If you want o to create an industrial kitchen, black cabinets are the way to go. But for Scandinavian kitchens, you can use white and light wooden cabinets to match a bold kitchen backsplash. If you have a multi-colored backsplash, you can use one of those colors for your cabinets to achieve consistency. Or to play safe, you can just choose white cabinets over colored ones to endorse a sense of calmness and visually light appeal to balance the colors.
Bold Colorful Kitchen Backsplash
Whether you have white or gray-dominant kitchens, a bold colorful kitchen backsplash makes a great addition to enliven the kitchen and upgrade the mood of the space. Thus, don't shy away from using oranges, yellows, and greens and even combining them. Escher tiles are very suitable for multi-colored backsplashes, along with pentagons and wind-rose patterns. If you want a non-tile backsplash, bold glass sheet backsplashes provide a grout-free and seamless background with a nice sheen.
What countertops go with a bold kitchen backsplash?
As backsplashes occupy a larger portion of the kitchen, when you use a bold one, it is better to keep the rest of the space calm and much simpler for a sense of balance. That's why white quartz, laminate, less patterned black granite, black quartz, dark gray, white marble, and quartzite are more popular and considered suitable for a bold kitchen backsplash. Additionally, butcher block countertops contextualize the bold backsplashes in a softer surrounding, embracing them with warmth. If you have a matte finish backsplash, you can give your countertop a glazed finish. This way, you can also create a surface upon which your statement back splash's reflection falls for a cinematic effect.
White Kitchen with Bold Backsplash
Looking for ways to renovate your white kitchen and give it a new outfit? You can introduce a pop of color and create a focal point with a bold backsplash. From the mosaic tiles to the copper tiled backsplashes and hexagon patterns, you have a wide range of options. Depending on the impact you want to go for, you can make a decision. For example, if you want to create a Mediterranean feel, you can go with subtle blue printed tiles or any bold pattern backsplash in earthy shades. But if you want to stick to a modern palette, hexagons, herringbone, and chevron patterns give kitchens a modern spin.
How to make a statement with a kitchen backsplash?
You can easily make a statement with metal and mirror backsplashes, geometric patterns, natural stones, mosaic tiles, mural artworks, and bold or multi-colored backsplashes. To put it differently, introducing a pattern, glow, and eye-popping color always makes a change in the overall look, creating a moment in the space. Or sometimes materials themselves are enough to make a statement, which is especially true with metal and natural stone backsplashes. Ranging from marble tiles to granite, onyx, and soapstone slab backsplashes, these materials are generally statement makers, especially when they feature pronounced striations.
Recently, for example, copper, brass, stainless steel, and silver backsplashes have been having their moments. Whether you want to keep their brand-new versions or oxidized ones with a lived-in feel, they provide both of the best worlds. And they easily create focal points. Sometimes these materials are accompanied by statement wall paints. For example, if you have a silver or brushed finish steel backsplash, purple wall paint adds a colorful touch. Brass backsplashes, likewise, are sometimes combined with dark blue wall paints. These solid contrasts help define the space better and highlight the kitchen's architectural features.
When it comes to patterns, Escher tiles are true statement-makers, especially if you use their multi-colored versions. Likewise, hexagons are designed as ombre or when mixed with other colors create puzzle-like features, with which you can entertain the space easily. For other pattern options, you can consider pentagons, diamonds, and triangles, particularly in modern kitchens. But if you want to be modern and traditional at the same time, herringbone and chevron patterns are more popular in kitchens with in-between designs.