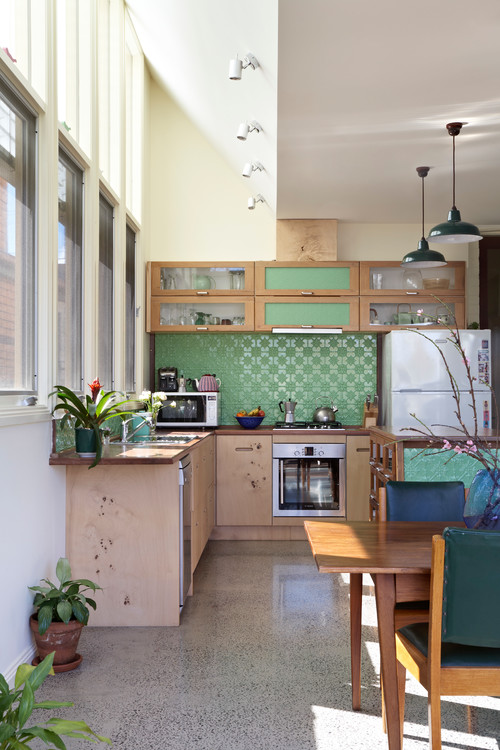 ID# 173102 | Houzz.com – Credit | © Positive Footprints Pty Ltd
---
Contemporary Kitchen with Green Tin Backsplash Ideas and Wood Cabinets
The green square tin backsplash is given a modern form, making a statement between the natural wood flat-front cabinets and wood countertops that deliver a sense of warmth with a rustic flair. This visually lightweight design oozes coziness, playing with natural light that fills through the window openings. In its general frame, this open-plan kitchen with an eat-in space draws on the communal bonds of family, reserving a sense of warmness stemming from the wooden materials for the dining table, while the cooking part is finished in warm natural tones to alleviate the heat and warming experience of cooking.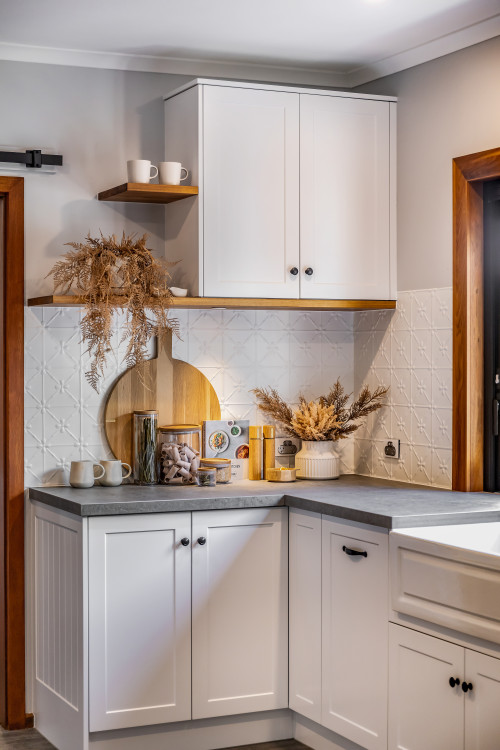 ID# 173109 | Houzz.com – Credit | © Transform-A-Space
---
White Backsplash for Granite Countertops and White Cabinets
In this achromatic classic kitchen, the white shaker-style cabinets are paired nicely with gray granite countertops and a white tin backsplash, delivering a sense of timelessness. This harmonious integrity is tinged with a punch of modern nostalgia thanks to the diverse textures. The wood floating shelves break the white domination to bring warmth while oil-rubbed bronze finish hardware communicates with the rest. As for the statement piece of the space, the pressed tin panels used as a backsplash are a great example of a DIY revamping project that offers an alternative for those looking for something inexpensive and easy to install!
Tin Backsplash
A highly durable and low-maintenance material tin is one of the most inexpensive and DIY-friendly options on the market that can be used as a backsplash. A tin backsplash effectively protects the walls from dirt, grease, and unintended splashes of water. Featuring floral, diamond, and square patterns along with other sophisticated prints, tin backsplashes come in a wide array of design possibilities. They can be pressed, whitewashed, and distressed to get a more vintage and distressed look or left unfinished. You can also get their wallpaper versions that look as impactful as the original ones, which expands your options with tin backsplash ideas.
In addition to its affordability and durability, a tin backsplash is also non-flammable and recyclable. So, whether you want something fireproof to clad the stove zone or sustainable to minimize the carbon footprint of your kitchen, you can consider tin backsplashes. Nowadays fashionably used for artworks, splashbacks, cabinets, headboards, accent walls, and wainscoting, tin tiles are a versatile material. But in this blog, we will be covering a list of tin backsplashes you can pull inspiration from.
The Brief Story of Tin Tiles
Though originally used as decorative ceiling tiles in the 19th century in the Victorian Age, tin tiles spread to North America over time. The reason behind the tin ceiling popularity was their affordable prices and usability as a cheaper alternative for plasterwork. For the same reason, they were mostly painted white to emulate plaster ceilings. In other words, back in time, they served as the fifth wall of the houses and were favored for their inflammable nature.
Stamped with sophisticated patterns, the tin ceilings were manufactured in tin plates and other metals, including copper, steel, aluminum, and stainless steel. Even though tin tiles lost their popularity over time, they were always known for their lightweight, fireproof property, and durability. Still today, they offer plentiful advantages that traditional plasterboards and drywalls can't offer.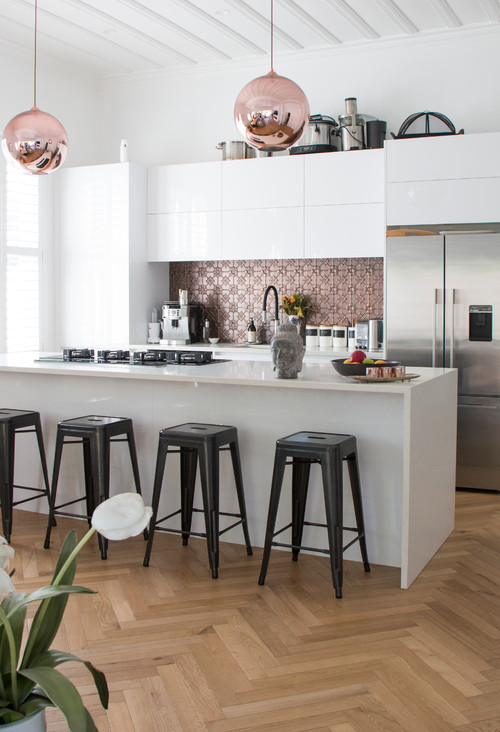 ID# 173101 | Houzz.com – Credit | © Forté – Timber Flooring
---
Transitional Kitchen with White Cabinets and Pink Pendant Lights
Conceived as a minimalist style design, this kitchen seeks new ways of incorporating tin in a more refined form, and in the resulting scheme, it comes out as a stainless-steel pressed tin backsplash. This backsplash comes as a game changer to complement the white modern cabinets, while steel appliances coordinate with the backsplash, orchestrating a much-needed contrast to enliven the white-dominant space. In the center, the kitchen island paired with pink pendants and black backless stools dedicates itself to offering a gathering place for family members. The floor is finished with stained light wood flooring to add much-needed warmth, the large window openings ensure enough natural light throughout the space.
Can tin be used for a backsplash?
Tin is a durable material preferred to spruce up the space conventionally, particularly popular in kitchens. Coming in sheet and tile versions, tin backsplash ideas elevate the overall look of the kitchen instantly. They can be used in various contexts ranging from modern to retro, Victorian, and farmhouse. If you are asking yourself why you should consider it a great backsplash option, here is why:
Tin has a distinctive aesthetic feature
Tin is an easy-to-work material that you can paint and give various finishes, including
burnished copper, aluminum, and metallic brass. Each one of those adds a distinctive aesthetic value to the tin. Even if you get bored with the aluminum finish tin backsplash, you can paint it white and give it a brand-new look. Without spending tons of money, you can easily renovate your kitchen with a bucket of paint.
Secondly, if you think it's too much to cover all the backsplash walls with tin, you can mix them with ceramic tiles. It will help you navigate to what extent your backsplash should be dominated by tin tiles. You can also combine it with steel and copper to give it an enriched form, color, and texture.
Thirdly, if you want to give your kitchen a modern look with a tin backsplash, feel free to integrate bold colors and eccentric objects in addition to glass-made fixtures. If you use a proper and layered lighting system, you can emphasize the different architectural features of the room and highlight the tin backsplash itself.
Tin is an affordable backsplash option
When compared to its counterparts on the market, tin stands out as an inexpensive material. Additionally, it is a low-maintenance material, and it doesn't have grout which is prone to mold growth. All those features help tin preserve its popularity. Especially for those looking for affordable home improvement project ideas and materials, tin tile/sheet backsplashes are one of the best.
Tin is a recyclable material
Another favorable property of the tin backsplash is that it is highly recyclable. So, it serves as a "green" material. If you want to create a sustainable interior design, tin backsplashes just like recycled glass backsplashes help you to go green. Even if you get bored of it and decide to replace it, you can feel assured that it won't sit in a landfill but rather will perhaps be transformed into another form.
ID# 173103 | Houzz.com – Credit | © Hickory Lane Kitchens
---
Black Accent Tile Behind the Stove and White Subway Tiles
The best part of having a tin backsplash is that you can easily create a focal point with it! What greets us in this transitional kitchen is donned mostly in white featuring a black tin backsplash behind the stove that brings a vintage look. Complementing it are the black granite countertops and oil-rubbed bronze hardware creating a contrasting look.
Tin Tile Backsplash
Tin tile backsplashes are various, coming in a wide array of printed patterns thanks to their moldable nature. They feature quite sophisticated and complex patterns that add a natural texture and dimension to the walls. The tin tiles are typically 4 inches square, usually imprinted on 2*2-foot or 2*4-foot tin panels. They are lightweight, easy to install, and durable. You can cut them easily with a tile saw or a tile snip and adjust them to your backsplash application area. Some tin tiles even come with self-adhesive backing, which makes the application process far simpler for homeowners. As they are inflammable, you can use them as a stove backsplash as well in case you don't want to cover the whole kitchen with a tin backsplash.
Ranging from artisan silver with burnt amber, antique brushed nickel, stainless steel gloss, and brushed bronze, they can be visually enriched with finishing options. If you wish you can leave the tiles unfinished or whitewash them and give them a stain coat for an enriched and natural look. For an antique look, the distressed-looking tile versions are also available.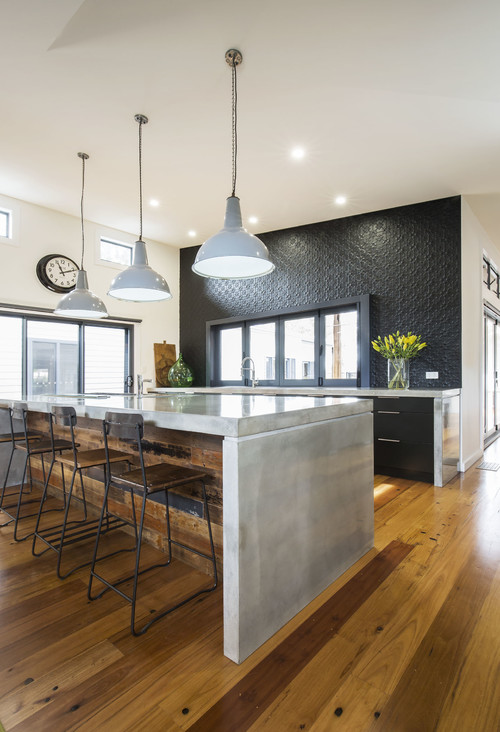 ID# 173104 | Houzz.com – Credit | © Dan Kitchens Australia
---
Full-Height Backsplash with Black Cabinets and Concrete Countertops
The unquestionable highlight of the interior space is the black tin backsplash which adds a sophisticated touch that elevates the entire area to a level of culinary elegance! These black tin tile panels extended through the ceiling, create a story with unmatched design that gives the kitchen depth and personality. Below, the elegant backsplash is echoed by the tall black cabinets next to the concrete worktops to make for a unified visual symphony. The full-height backsplash is highlighted by accent lighting and thoughtfully positioned pendants above the large wood island which highlights its alluring qualities!
Are tin backsplashes expensive?
Tin backsplashes are some of the most inexpensive options available on the market. Plus, as they are DIY-friendly and easy to install, you can also save more without a need for professional help. The tiles cost approximately 3 USD per square foot, and covering the whole area can rise to 100 USD. To give a more solid idea, we compare their prices with the ceramics known for their affordable prices. But even ceramics cost up to 30 USD per square foot, excluding the installation.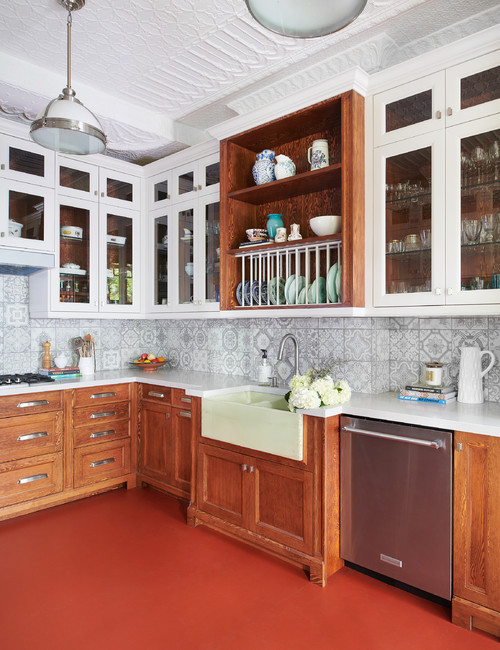 ID# 173105 | Houzz.com – Credit | © HARRISON FAE DESIGN
---
Natural Wood Cabinets with Ceramic Tile Backsplash and White Countertops
Saturating old and new features in one pot, embossed tin effect porcelain tile backsplash with intricate detailing, and pressed metal façade make a statement. Mirroring the traditional American tin ceilings, these square tiles take us back in time, while the red flooring brings an unexpected color twist. White quartz countertops, suspended open shelving, and mid-century-inspired modern pendants bring the right amount of texture and color with an industrial subtext. Overall, surface textures with a 3-dimensional feel play throughout the space to create a fully-fledged cooking experience within this enchanting kitchen.
How do you install a tin backsplash?
Tin tiles are thinner and lighter when compared to other materials such as ceramics. That's why they are easy to work with, carry around, and install. Yet, the challenge here is that they can bend easily, which means the advantage of this sort of lightness might turn into an advantage as well. But overall, tin is very eligible for DIY projects; you can easily install it without the need for professional help.
1) Start with cleaning the application area. If the old backsplash tiles are still installed, you can get rid of them by using a chisel. Then sand the wall to make it super smooth and make it ready for the tin backsplash. Instead, you can also apply plywood to the backsplash area to create a smooth surface.
2) Cut your tin tiles according to the measurement and don't forget to make cuts for electric outlets. Use sandpaper to soften the sharp edges of these precut metal tiles. While doing so, wear heavy-duty gloves to avoid injury.
3) To install them on drywall, you can use silicone adhesive. Apply it to the back of the tiles. If your tiles are embossed, make sure to spread enough adhesive to fill in the patterns. Press the tiles against the wall.
4) Fasten your tin backsplash to the wall by using nails. To prevent the backsplash from cracking, first, drill four pilot holes in the four corners. Make sure that the nails are the same color as the backsplash so that they can fade into the background and become invisible.
5) Let the adhesive dry for the next 24 hours. Then your backsplash is ready.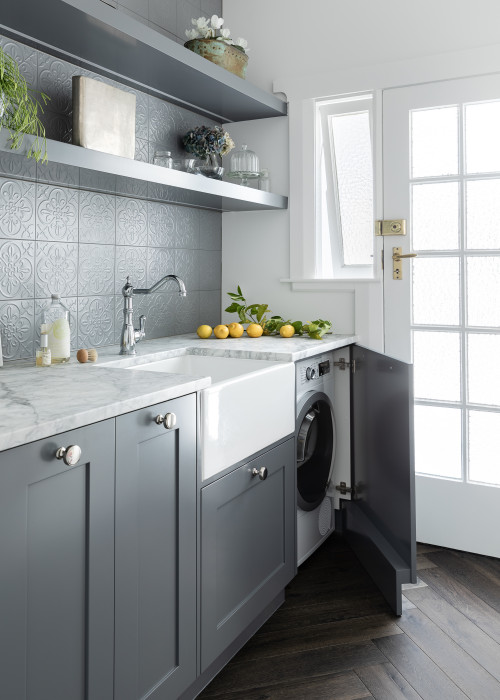 ID# 173106 | Houzz.com – Credit | © Du Bois Design Ltd
---
Black Gray Tin Tile Backsplash with Marble Countertops and Apron-front Sink
Just like the kitchens, your laundry room can also take advantage of the sleek beauty of a tin backsplash! This farmhouse laundry room is centered around a dose of authenticity, interspersed with metal and organic textures to evoke earthen feelings despite its sleek and clean lines. The core of the design is the purposeful contrast of white and dark gray. The marble countertops and white apron-front sink create a contrast against the dark gray shaker cabinets and the gray tine backsplash. The floral patterns of the backsplash add dimension to the wall.
Can tin backsplash go over the tile?
Yes, you can install a tin backsplash over an already existing tile, which is pretty suitable for DIY projects. The installation could be realized in a couple of hours. All you need is a tape measure, marking pen, adhesive, tin snips, sponge, sandpaper, and cleanser. Start with measuring the application area and calculate how many tin tiles you need. After you have the tiles ready, you can start installing them.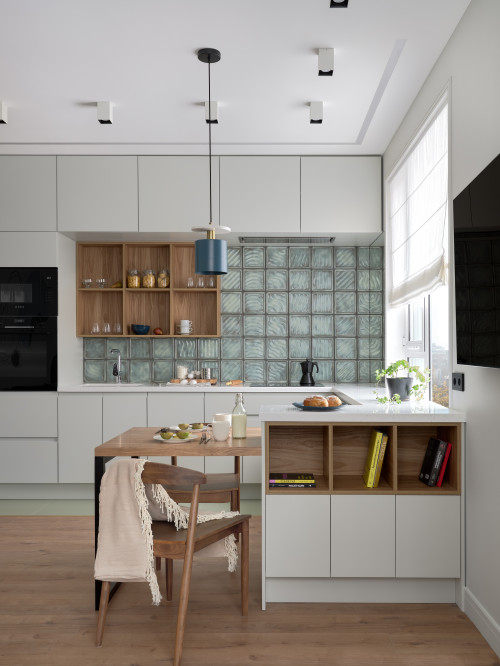 ID# 173107 | Houzz.com – Credit | © Катерина Колмыченко
---
Gray Backsplash Tiles with Modern White Cabinetry and Wood Open Shelves
Though rooted in basic forms and a minimalist color palette, there is still a lot going on in this contemporary kitchen makeover! To start with, it is awash with white flat-panel cabinets and intriguing textures particularly manifested in the gray tin backsplash. This backsplash is befriended by steel appliances to supply the kitchen with harmonious integrity. The wood display cabinets create that complement the wood floor and the details of the kitchen peninsula. This sort of layered lighting adds dimension, making the space look more authentic and welcoming.
Rustic Tin Backsplash
If you are a lover of rustic kitchens, you already know how wood, stone, and brick backsplashes are popularly used to create a rustic background. But what if you want to try something different? Then you can check rustic tin backsplashes. The repurposed ceiling tile backsplashes are some of the most rustic-looking tin backsplashes. You can also use a pressed tin with antique finishes that will give your walls a different dynamic. This way, you can easily achieve a farmhouse feel. But this doesn't mean that you can't use them in modern kitchens as well. With the right additions, you can enrich your contemporary kitchen with a rustic tin backsplash that will introduce a different texture and intriguing finish.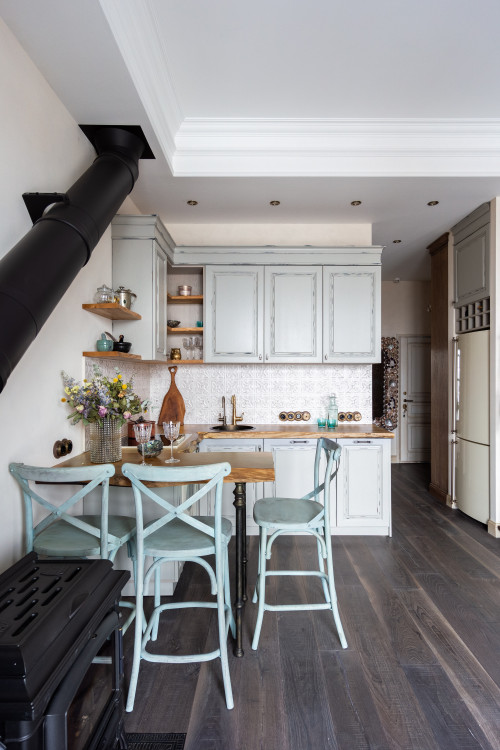 ID# 173108 | Houzz.com – Credit | © Эльвира Вербицкая
---
Rustic Whitewashed Tin Backsplash Ideas for Wood Countertops
Ticking all the right boxes, this rustic kitchen has all the essential pieces to form a well-curated and cohesive look! The wood countertops, floating shelves, and gray cabinets cancel out the modern features, bringing textural warmth and wellness to the space. Loaded with a sense of lyricism in these materials that do all the talking, this cozy yet noble kitchen design makes its users familiar with a range of materials. The whitewashed tin backsplash tiles enrich the color and texture repertoire, fantastically coordinated with other natural materials. Additionally, the boho-style blue dining chairs add just the right amount of color and interest to complement the rest.
White Tin Backsplash
White tin backsplash options comprise matte white tin tiles, vinyl versions, drop-in patterns, and ceramic and porcelain tiles pretending to be white tin backsplashes. For cheaper options, peel-and-stick tile versions are available, which are as impactful as the original ones with color oscillations along with their aged and textured look. You can also find them in various formats, including 2*2, 8*8, and 10*10. Vintage-look pieces especially look immersive, offering backsplashes you can proudly install on your kitchen walls. Depending on the context it is surrounded by, a white tin backsplash can look chic and rustic. Thus, feel free to use them whether your kitchen has a contemporary or a farmhouse design.
Whitewashing Tin Tiles
Whitewashing can be performed both on finished and unfinished tiles. To do so, it is recommended to start with unfinished yet powder-coated materials. For finished tiles, acrylic-based and oil-based paints are suggested. The brushing process requires random brush strokes with crisscrossing and overlapping movements. If you want to achieve a distressed look, you can mix two colors. Or you can wipe the tiles at certain spots to give them an aged look.
Is tin backsplash hard to clean?
Tin provides an easy-to-clean surface, helping cut down on the time it takes homeowners to clean. Its non-porous surface helps with the cleaning process drastically, not letting bacteria grow and dust and dirt accumulate in the gaps. As such, the cleaning process is pretty simple. All you need is a mild dish detergent, water, and a sponge. For stubborn stains, you can use a baking soda paste and rub the stains with a toothbrush. But still, the best thing to do is to ask your manufacturer, who will provide you with the most helpful and direct information.
What not to use to clean a tin backsplash?
Avoid using acidic and abrasive cleaning products, which include lemon juice, vinegar, ammonia, and bleach.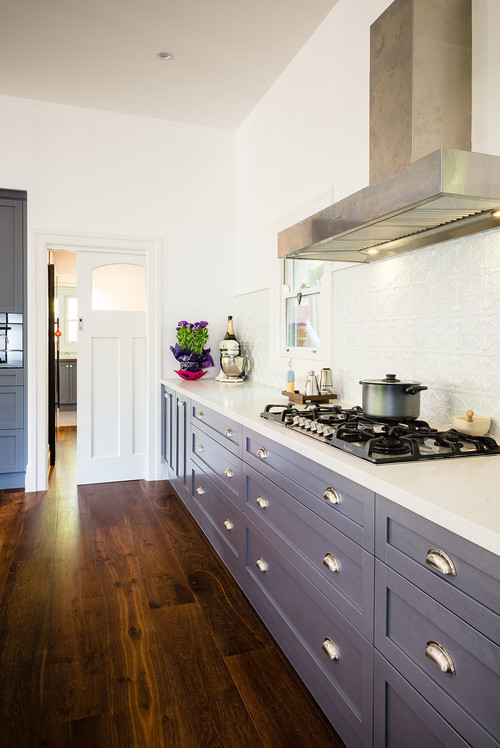 ID# 173110 | Houzz.com – Credit | © Steding Interiors & Joinery
---
Gray Kitchen Cabinets with White Tin Backsplash Ideas and Stainless Steel Range Hood
This classic style kitchen is brimming with statement pieces, ranging from the gray shaker cabinets to the stainless steel range hood, the white countertops and chrome hardware! Filled with artistic and historical touches, the material and color palette imbues the space with sophistication and elegance. The coordination of gray cabinets with wood floors ensures the flow within the space thanks to the marriage of cool and warm shades. Last but not least, the white-painted tin backsplash tiles provide a slight textural look and create a seamless look with the white walls to create a spacious atmosphere!
Is tin backsplash heat resistant?
Indeed, tin backsplashes are the kitchen décor equivalent of superheroes! They are known for being non-flammable materials and having outstanding heat resistance!
Copper Tin Backsplash
The design options with copper tin backsplashes are expansive, including copper panel and tile options. As copper is a soft material, it has a malleable nature and can be molded into any shape and pattern. Penny round tile mosaics, printed versions with floral, diamond, and geometric patterns, and twisted patterns with bespoke and sparkling finishes are only some of the popularly used copper backsplashes. For a statement piece and seamless look, you can also utilize a sheet of copper backsplashes in contemporary kitchens.
Above all, one of the favorable parts of copper tin backsplash ideas is that they change over time. The exposure to air and moisture turns back as a deepening in the color and patina develops over time. As a result, it shows a lived-in feel, which makes it perfect for those who love rustic vibes.
Last but not least, another advantage of copper backsplashes is that they are easy to install, especially the sheet versions. However, with small tiles, things can get a bit more complicated.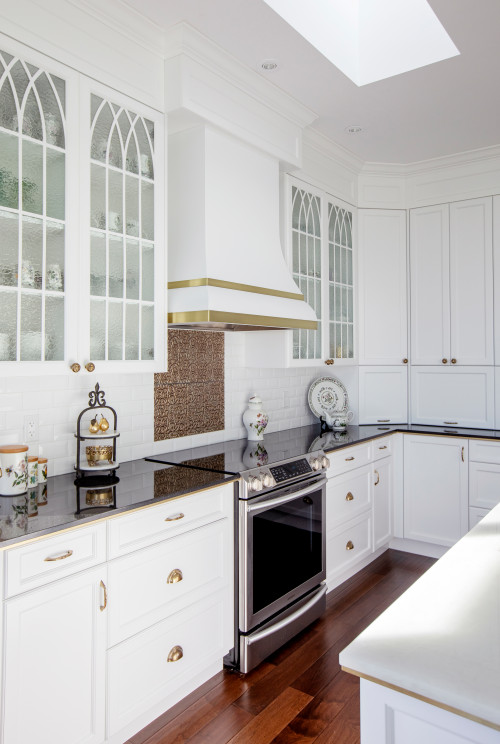 ID# 173111 | Houzz.com – Credit | © Emerge Design, Inc.
---
French Country Kitchen with Copper Tin Backsplash Behind the Stove
In this French country kitchen, using copper as an illuminating and warming shade creates a convivial ambiance to cook in. While the white shaker cabinets, white subway tile backsplash, and black granite countertops, stainless steel appliances give a modern spin to the copper square tile backsplash. This enriched material repertoire initiates a dialogue between different shades for a healthy and expressive design. With that in mind, the copper-tin tile backsplash behind the stove finds a place for itself to build extra interest. Lastly, on the floor level, the dark wood flooring leaves a dramatic impact that brings warmth underfoot.
How do you finish a tin backsplash?
Tin backsplash ideas do give you many finishing options, ranging from unfinished to painted and antique finishes! To start with, if you want distressed-looking tin tiles, you can first paint them white and give them a distressed finish. On the market, there are many distressed collections of tin backsplashes! To achieve this, first, the unfinished tiles are coated with a powder base to protect them from oxidation which also increases their durability. Then they are painted, and some parts of the paint are wiped to give it a weathered look. The next two steps include a stain coat for an enriched natural look and the top sealer for a backsplash. All those coatings also enable washability!
If you want to keep the original color of the tin, clear coat it with oil-based polyurethane. Avoid water/latex-based finishes on the metal panels.
Stainless Steel Tin Backsplash
Another hygienic and pore-free material, the stainless steel tin backsplash is a great addition to the kitchens! Featuring gloss and matte finishes and generally installed with a nail-up application method, stainless steel tin backsplash ideas make for a charming and texture-rich background. You can combine them confidently with off-white cabinets, glass pendants, chrome or nickel finish hardware and stylish granite countertops.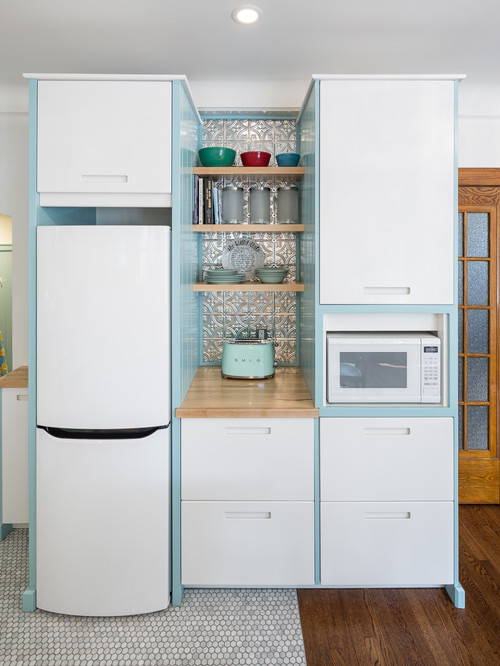 ID# 173112 | Houzz.com – Credit | © Grassroots Design
---
White Kitchen Cabinets with Blue and Wood Accents
This beautifully crafted space draws on a low-impact design approach by integrating printed tin tiles to cover the tiny backsplash area between the cabinets and this combination offers a stylish and cozy coffee station! To further enhance the backsplash area, the light wood floating shelves and some kitchenware on them add more visual interest. The white kitchen cabinet doors adorned by light blue bases provide a clean and sleek frame for the metal tiles while the marble hexagon floor tiles add another layer of texture.