21+ Laundry Room Tile Ideas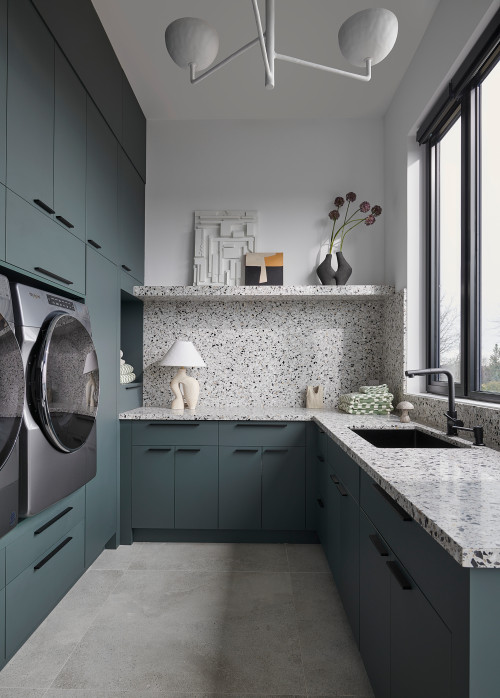 ID# 171001 | Houzz.com – Credit | © avenue design inc
---
Laundry Room Tile Ideas with Blue Shakers and Lovely Daylight
Adorned by eye-catching terrazzo tiles, this laundry room rocks! Thanks to the black and white patterns of the terrazzo backsplash and countertops, there is a dynamic look and this look perfectly blends with the dark green cabinets creating a stylish atmosphere. It is a fact that these tiles look eye-catchy but we can not deny the black and green harmony here! For a final touch, the concrete floor and white lighting fixture complete the overall design cohesively.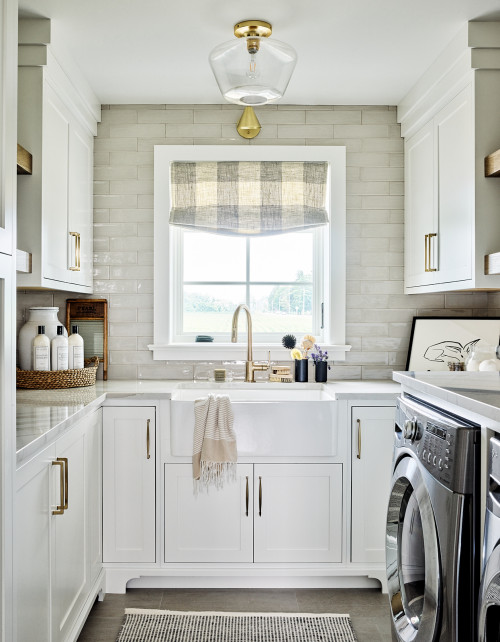 ID# 171014 | Houzz.com – Credit | © Ambiance Interiors
---
Traditional Laundry Room Design with Brass Accents
If you love the classic designs, you will love this traditional laundry room! Topped with marble countertops, the white shaker cabinets provide a clean and bright base for this room, enhancing the traditional aesthetic. The glossy white subway tiles around the window reach through the ceiling to complement the cabinets. The white farmhouse sink centralized the window bringing some vintage feel while the brass accents such as the cabinet hardware and details of the glass lighting fixtures break the white dominance to add a dose of glam!
Laundry Room Tile Ideas
The laundry room may be the most unassuming yet often utilized room in the house. The finishes you choose may enhance the appearance of your laundry room. Whatever the size of your room, the diversity of tiles available offers you terrific alternatives for floors and walls. The tile is not only water-resistant but also highly long-lasting. It is ideal for high-moisture areas such as your laundry room. You may personalize it with the many various styles available and create your dreamy design look with laundry room tile ideas.
Create an Inspirational Space with Laundry Room Tile Ideas
Laundry rooms are usually the first rooms you seal off to visitors. It is intended for labor and cleaning, and it is often overlooked when focused on the interior of your home. Creating an inspirational space with laundry room tile ideas is the perfect way to infuse joy into a daily activity, even if your laundry room isn't intended for guests or reminds you of all the clothing you have yet to put away.
Tiles can be used as a backsplash, on the floor, or even across the full wall. Because they are easy to clean and waterproof, they are suitable for use in the laundry room, where clothing from work or play is abandoned and detergent or water can get on the floor. Tiles are not only practical for use in the laundry room, but they are also adaptable and can change a drab laundry room into one that you are proud to show off to visitors. Continue reading if you're looking for ideas on how to integrate tiles into your laundry room decor! We've compiled a list of fashionable, creative, and gorgeous laundry room ideas to spruce up your design.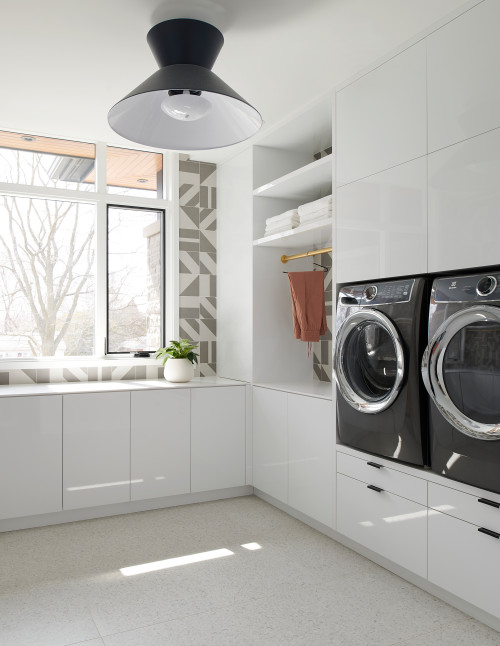 ID# 171002 | Houzz.com – Credit | © avenue design inc
---
Contemporary Laundry Room Design with Patterned Tiles
Clean and sleek lines, a bright color palette, and the right amount of texture! This flawless combination offers an ultra-modern laundry room with a stylish appeal. The white flat-panel cabinets provide a plain base for this laundry room while the black and brass accents enhance the modern style. The gray and white patterned wall tiles make an unexpected twist that instantly elevates this otherwise white room.
Is the tile good in the laundry room?
Laundry rooms come in two varieties: those you conceal in your basement and those you shoot for magazines. We would all have the latter in an ideal world. However, designing a perfect laundry room may be a significant task. However, tile can make a significant impact. Even without any additional laundry renovations, a well-chosen laundry room tile may brighten even the dullest concrete floor while providing a layer of usefulness. Tiling your laundry room was born out of need, not fashion. The washing area is frequently flooded. Water damage may occur at any time, from soaking a troublesome stain in the sink to transporting your wet garments from washer to dryer. A non-porous surface, such as tile, repels water rather than absorbing it, resulting in less warping and breaking over time.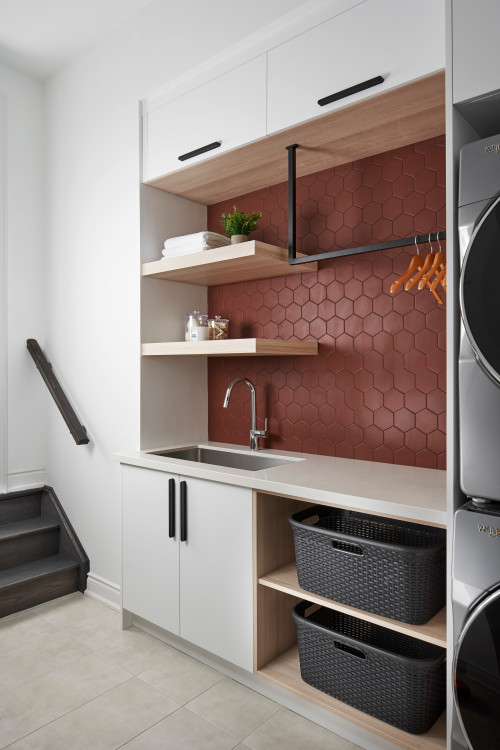 ID# 171003 | Houzz.com – Credit | © avenue design inc
---
Red Hexagon Laundry Room Tile Ideas with White Cabinets
Just like for the kitchens, backsplash tiles are one of the easiest ways to jazz up your laundry room, as in this contemporary design. Enriched by a matte finish, the red hexagon laundry room backsplash instantly draws attention between the white cabinets and creates a nice textural look without overwhelming. The wooden accents such as the floating shelves perfectly complement the warm sense of the red hue while the black hardware and hanging rack enhance the modern aesthetic by creating contrast.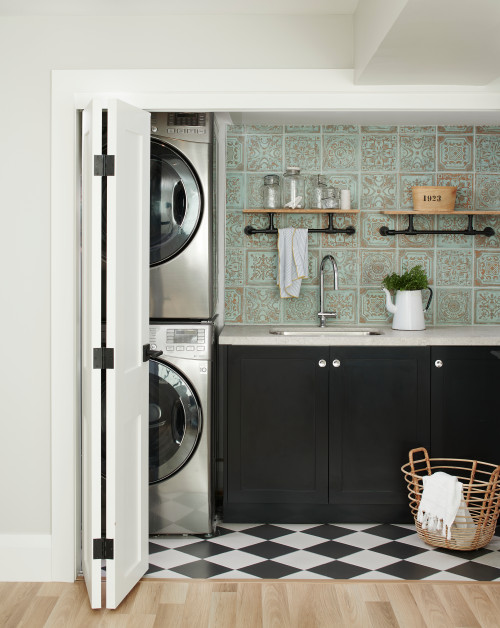 ID# 171004 | Houzz.com – Credit | © Alair Homes Forest Hill
---
Beach-Style Laundry Room with Checkered Floor Tiles
This beach-style laundry room features checkerboard flooring for a vintage vibe and a green patterned tile backsplash to liven up the space. The black shaker cabinet doors, floating shelves, and vertically stacked equipment create a well-organized space. The best aspect, though, is that this laundry room can be concealed behind a white-painted door. And, if necessary or desired, it may be blended into the rest of the home.
Do you need a backsplash in a laundry room?
Backsplashes are required in every room where water is present. It seems to reason that a backsplash can enhance the aesthetic attractiveness of a place. However, it also provides some more practical advantages. So, do you need a backsplash in your laundry room? What does it have to offer you?
One of the most appealing aspects of backsplash is how simple it is to clean. This implies that detergent spills are readily wiped up in a laundry room. Furthermore, backsplashes can help protect the wall beneath from dampness. This is ideal for a laundry area, which may become a little humid at times. It's a design element that's ideally suited to a place where the walls come into frequent touch with moisture or humidity to limit the damage to your walls since it will protect your walls indefinitely. Backsplashes are also among the laundry room requirements that boost the worth of your property if you decide to sell it later on!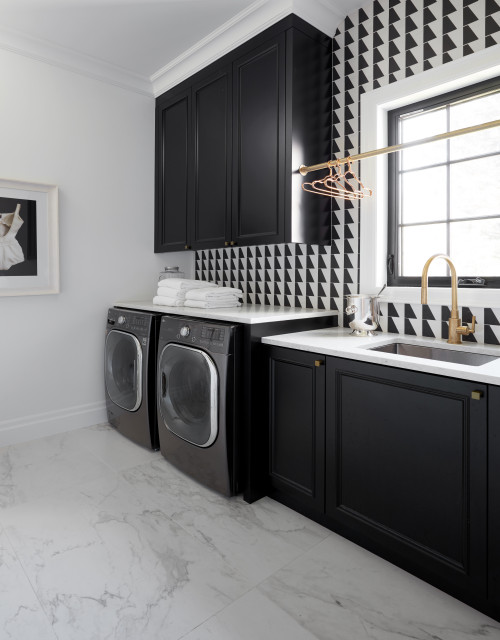 ID# 171005 | Houzz.com – Credit | © Kim Jeffery
---
Black and White Laundry Room Tile Ideas with Black Cabinets
If you are looking for the most timeless and elegant color palette the black and white combination will never let you down! In this transitional laundry room, the black shaker cabinets dominate the space to create a sophisticated foundation. The black and white backsplash tiles add visual interest between the cabinets while the brass additions add an opulent touch. For a final touch, the marble-look white floor tiles perfectly complete this luxurious sense and enhance the spaciousness.
Which Tile Is Best For the Laundry Room?
We all want our laundry room to be a pleasant place to work, as well as stylish and useful. Many factors influence function, including layout, size, washer and dryer selection, and lighting, walls and flooring in your laundry room are some of the most essential decisions you will make. If you will use tiles for your laundry rooms, you may wonder which tile is best for the laundry room.
Laundry room floors and walls are prone to moisture damage. Water might emerge from a variety of sources during a disaster, such as an overflowing washing machine, a clogged drainpipe, or a fractured or severed water supply pipe. Even in the absence of an emergency, water is constantly present in laundry rooms; it is inescapable. As a result, it is beneficial to install a laundry room floor and wall covering that is as moisture-resistant as possible. For this reason, it is necessary to understand which tile is best for the laundry room. There are ceramic tiles, porcelains, marbles, subways, or hexagon tiles, let's look at which tile is best for the laundry room!
Laundry Room Ceramic Tiles
Laundry room ceramic tiles are one of the greatest flooring options for a laundry room in terms of both style and longevity. They are water and chemical-resistant, and natural coatings are more scratch-resistant than high-polish finishes. Ceramic tile is a traditional choice for laundry room flooring, but it is also one of the most dependable alternatives on the market.
They also provide the most creative freedom because they are available in a broad variety of styles, colors, designs, and patterns.
Ceramic tiles, in general, have a lifespan of 10 to 20 years even when exposed to standing water if properly placed and maintained. This means that you will have stylish laundry ceramic tiles for 10 to 20 years! Ceramic tiles are created with coarse clay and a tiny amount of kaolin clay. Because ceramic tile is burnt at lower temperatures throughout the manufacturing process, it is somewhat more prone to water absorption than porcelain tile. Ceramic tiles absorb 3 to 7% of their weight in water, however, this can be reduced when the tile is glazed. To make unglazed ceramic tiles moisture-resistant, use a protective penetrating tile sealant. Let's look at these multitasking laundry room ceramic tiles!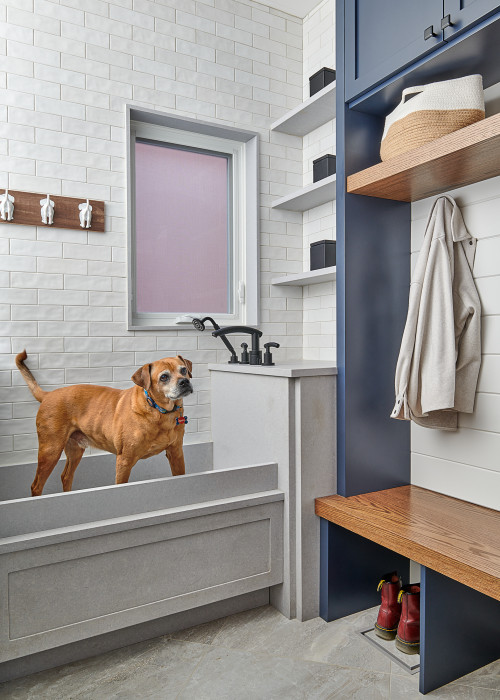 ID# 171006 | Houzz.com – Credit | © Carriage Lane Design-Build Inc.
---
White Subway Wall Tiles with Navy Blue Cabinets
If you are a dog mom/dad and have enough space, incorporating a grooming station into your laundry room might be a great way to give your pet a fun experience! Enriched by a glossy finish, the classic subway tiles surround the wall behind the tub and provide a bright and spacious atmosphere. The concrete like texture of the tub creates a cohesive look with the gray floor tiles while the navy-blue cabinets add a splash of color to make an unexpected twist.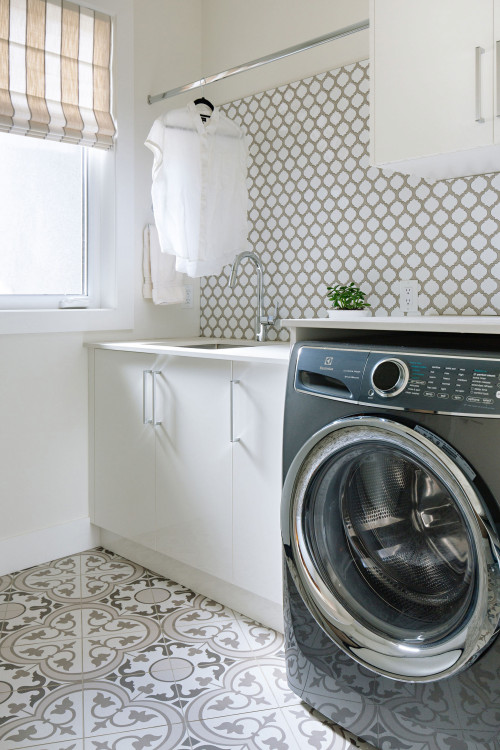 ID# 171007 | Houzz.com – Credit | © Norelco Cabinets Ltd
---
Patterned Laundry Room Tile Ideas with Patterns
Even though this laundry room is modest, the light color palette and window opening create a cheerful and expansive ambiance that makes it look larger. White flat-panel cabinets are matched with a white countertop, nickel hardware and arabesque backsplash tiles. The beige grouting on the white tiles complements this unusual design and produces an eye-catching focal point. Last but not least, the patterned floor tiles add a historic feel.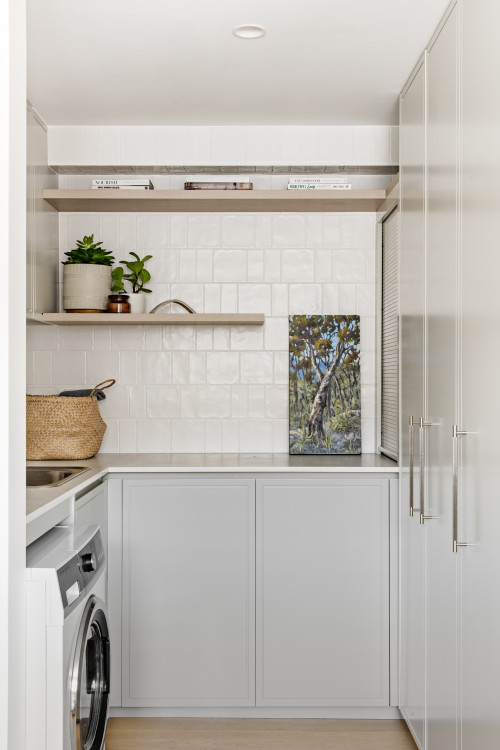 ID# 171008 | Houzz.com – Credit | © NESTED PROJECTS
---
Scandinavian Laundry Room with Light Gray Cabinets
A minimalist design strategy is a terrific method to make a tiny room feel larger if you have a small space. The off-white cabinets, white countertop, and white tile backsplash in this Scandinavian laundry room contribute to a streamlined appearance with their clear and angular lines. The white tiles' erratic placement gives the room more movement. To give warmth, the wood floating shelves and carpeting contrast with the room's overwhelming whiteness.
Laundry Room Porcelain Tiles
Porcelain tiles are another popular choice for laundry room floors and walls! At first glance, it may be difficult to distinguish between porcelain and ceramic tiles. They look to be rather similar, however the main distinction is in their material composition and production procedure. The primary attribute that distinguishes laundry room porcelain tiles is their resistance to dampness. Impervious porcelain tiles absorb less than 0.5 percent of their weight in water, but vitreous porcelain tiles absorb between 0.5 and 3%, making them more moisture-resistant than ceramic tiles. It is not only water-resistant but also heat-resistant.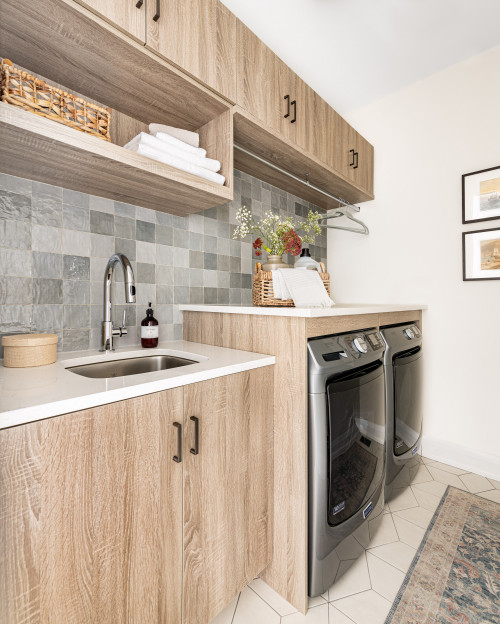 ID# 171009 | Houzz.com – Credit | © West of Main Design
---
Laundry Room Porcelain Wall Tiles with a Warm Atmosphere
Adorned by an earthy color palette, this transitional laundry room offers a sleek and elegant appeal! The natural wood cabinets provide a warm and welcoming atmosphere while the white countertops freshen up the laundry room interior. The black cabinet hardware and glossy gray square tile backsplash complement the modern style of the cabinets and finalize the design cohesively.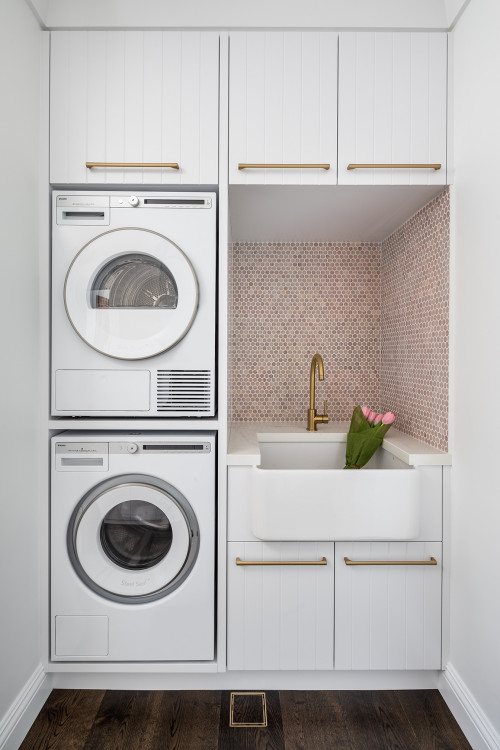 ID# 171010 | Houzz.com – Credit | © Lux Interiors
---
Classy and Dynamic Appeal with Penny Tile Backsplash
Nothing makes you feel happier than the perfectly placed penny wall tiles! The perfect symmetry of the pink penny round tiles draws all the attention however, the off-white cabinetry and the dark wood floor bring an aesthetic view with their stylish contrast which we can not deny to see it. Thanks to the white farmhouse sink and the light paint color of the cabinets the small laundry room has a fresh and bright look.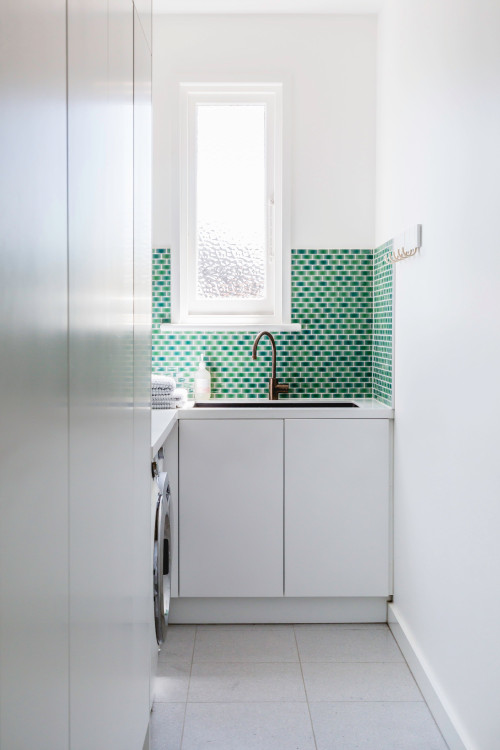 ID# 171011 | Houzz.com – Credit | © Picchio Interiors
---
Green Subway Laundry Room Tile Ideas with White Cabinets
Using a white color palette is always a great way to enhance the space feel, especially for small areas but if you want to jazz up a little bit your all-white design, you can achieve this goal by incorporating a splash of color! The tiny green subway tiles creak the white dominance and create a striking focal point that enhances the overall design.
Laundry Room Subway Tiles
When subway tile was first used in NYC subway stations in the early 1900s, it became an immediate classic. A century later, these basic, inexpensive, long-lasting, and easy-to-clean tiles are a popular choice for kitchens, baths, laundry rooms, and mudrooms in a wide range of interior design styles, from industrial lofts to modern or historical residences. While the original subway tiles remain popular, subway tiles are now available in a number of sizes that match the basic rectangular proportions, such as 1×2 or 4×8. Old school subway tiles are now available in a variety of colors, materials such as glass or stone, and finishes ranging from matte to glazed to a high gloss. This means you can have plenty of design options for laundry room subway tiles!
We adore subway tile for a variety of reasons. Aside from its rich history, it gives homeowners the freedom to decorate these areas in their own distinctive way. Keeping that space light and bright allows you to be as daring as possible with the remainder of the space. Scroll down to see some stunning laundry room subway tiles with stylish looks!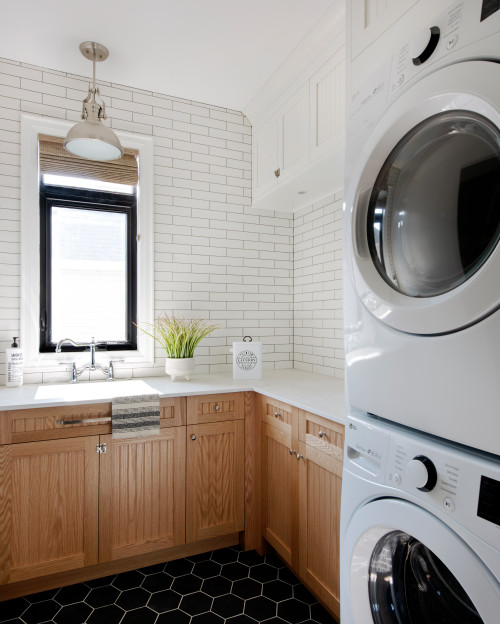 ID# 171012 | Houzz.com – Credit | © Tanya Collins Design Inc.
---
Minimal Approach with Wood Shaker Cabinets and Matte Black Floor Tiles
This laundry room has a Scandinavian design style which creates a minimalistic and warm atmosphere at the same time. The light wood shaker cabinets and white subway wall tiles create a cozy environment while the black hexagon floor tiles bring a strong contrasting look that elevates the overall design. The white subway tile backsplash and the white countertops freshen up the laundry room environment bringing a clean look.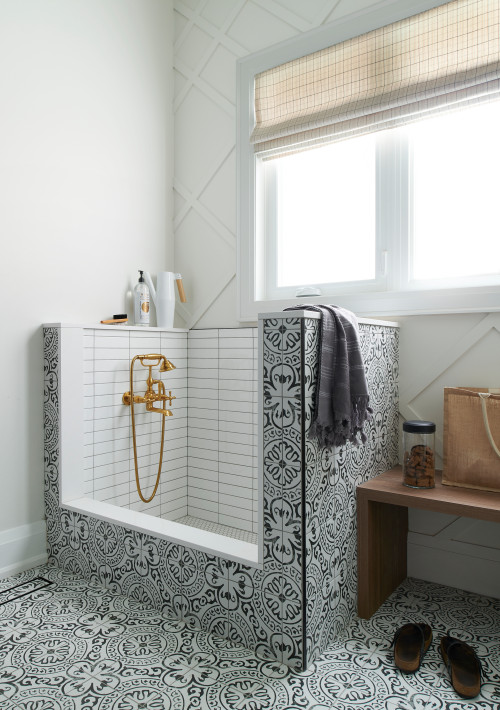 ID# 171013 | Houzz.com – Credit | © Soda Pop Design Inc.
---
Transitional Laundry Room with Black and White Tiles
If you have dogs you will love this laundry room! The energetic vibes come from the black and white patterned tiles that cover the floor and the front sides of the dog shower. Using white walls is a good choice to brighten up space and also balance the busy patterns. The white stacked subway tiles are used for the inner sides of the shower to complement the bright and airy atmosphere. For a final touch, the polished brass shower fixture adds a dose of sparkle with a touch of vintage flair.
Laundry Room Hexagon Tiles
The hexagon is the basic template for the honeycomb which is used in building facades, floor plans, garden layouts, furniture shapes, toys, textiles, home décor, laundry rooms, mudrooms and tile patterns. If you want to add a little bit of contemporary and minimalistic touch to your laundry rooms, laundry room hexagon tiles are the perfect fit for it! Because they may be utilized in both contemporary and classic interior design contexts, hexagon tiles are ageless and adaptable. Because the hexagon form is traditional geometry, employing the six shaped tile will only improve the attractiveness of your home!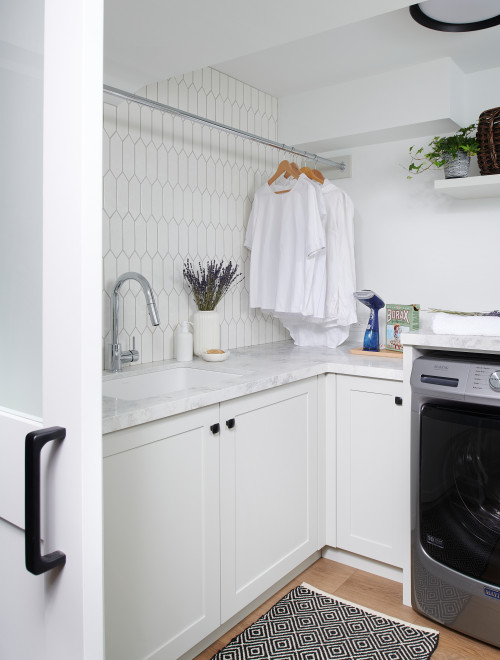 ID# 171015 | Houzz.com – Credit | © Soda Pop Design Inc.
---
Laundry Room Hexagon Tiles with White Shaker Cabinets and Marble Countertops
Simple colors can change many things with materials and shapes in an interior as in this laundry room! The combination of the white shaker cabinets and marble countertops has already won our hearts! The elongated white hexagon tile backsplash brings a classy look to the gray countertops while the black cabinet knobs create a slight contrast that adds movement to the laundry room environment. Below, the light wood floor breaks the white dominance and brings a warm sense to the atmosphere.
Laundry Room Floor Tiles
When it comes to designing or remodeling your laundry room, the floor tiles you choose are really important. Your laundry room flooring must be able to withstand, scratches, heat and humidity from appliances, denting and the occasional spill or leak. Your flooring should be water-resistant (if not totally water-proof), simple to clean and maintain, and of course, extremely long-lasting!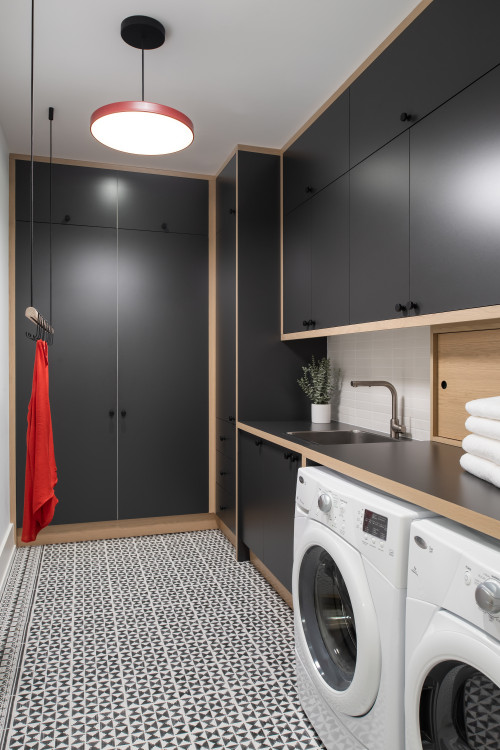 ID# 171016 | Houzz.com – Credit | © Tim Sellers Custom Homes Inc.
---
Patterned Laundry Room Floor Tiles with Black Cabinets
This laundry room looks tidy! Thanks to the wooden accents and the deep and rich black color of the cabinets the naturality fills the entire room. The black and white floor tiles make an unexpected twist to jazz up the sleek overall design while the beige stacked tile backsplash creates a contrasting look with the black cabinets to add a sense of opulence.
Should I tile under the washing machine?
You should tile under your washing machine or other appliances. Since many homeowners may want to change their layouts, cabinet design or appliance placement, it is better to tile under the washing machine and other appliances. Laundry rooms have moisture and they are places where accidents may occur such as an overflowing washing machine, other water leaks from the pipes, etc. Since tiling the floors and the walls is one of the best options to protect your surfaces from these accidents, you should tile under the washing machine. If you have good flooring which will last for 20 years, you can rely on the tile that you put under the washing machine and other appliances!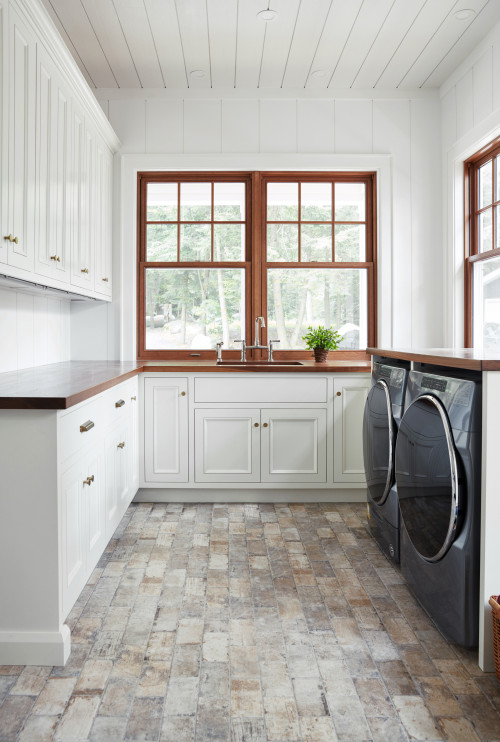 ID# 171017 | Houzz.com – Credit | © Kim Jeffery
---
Fresh and Bright Interior with a Rustic Twist
All you need is to play with the patterns, sometimes! With their raw and tough finish, the brick floor tiles make a rustic twist against the crisp white features and add visual interest! The white cabinetry and the white shiplap ceiling and walls freshen up the environment but the floor tiles draw attention. The wood countertops and the frame of the windows complement the warm and inviting appeal of the floor.
How much does it cost to tile a laundry room?
Installation and supplies should cost between $15 and $20 per square foot. This can be changed according to the material that you choose for your laundry room design.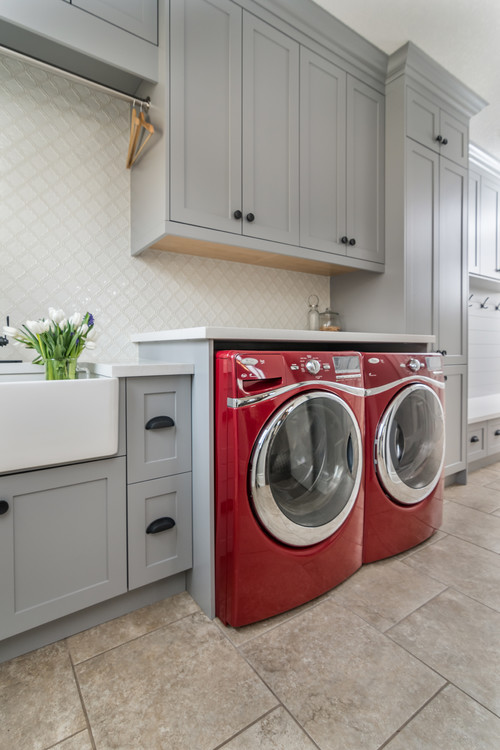 ID# 171018 | Houzz.com – Credit | © Sparrow Lane Interiors Inc.
---
Light Gray Shaker Cabinets with Beige Stone Floor Tiles
If you are designing your laundry room with a classic style but still want to add a wow factor, then colorful appliances might be your savior! Here, the red washer and dryer pop against the neutral shades and enhance the overall look instantly. The light gray shaker cabinets and the beige stone floor tiles perfectly reflect the traditional aesthetic. Adorned by a glossy finish, the white arabesque tile backsplash and white quartz countertops with a white apron front sink brighten up the atmosphere.
Laundry Room Backsplash Tiles
Few of us regard our laundry rooms to be the crown jewels of our houses. Here fact, we may argue that our laundry rooms were one of the last places we decorated when we moved in (if we got around to decorating them at all.) Laundry rooms, on the other hand, do not have to be frigid or sterile. Your laundry room may look and feel as nice as any other room in your house with a little effort such as a small touch of laundry room backsplash tiles. While a design revamp may not make folding your linens any easier, it will make your time in the laundry room more enjoyable.
Despite popular belief, backsplashes aren't exclusively for kitchens. A backsplash is an excellent method to protect your wall while also adding another decorative feature to your laundry room design. A backsplash is there to protect your walls from moisture, water splashes, etc. Laundry rooms do need a backsplash especially if you have wet countertops. Protect the walls of your laundry room with a long-lasting and stylish backsplash that will provide style and protection from whatever muck comes your way. Scroll down to see stylish examples of laundry room backsplash tiles!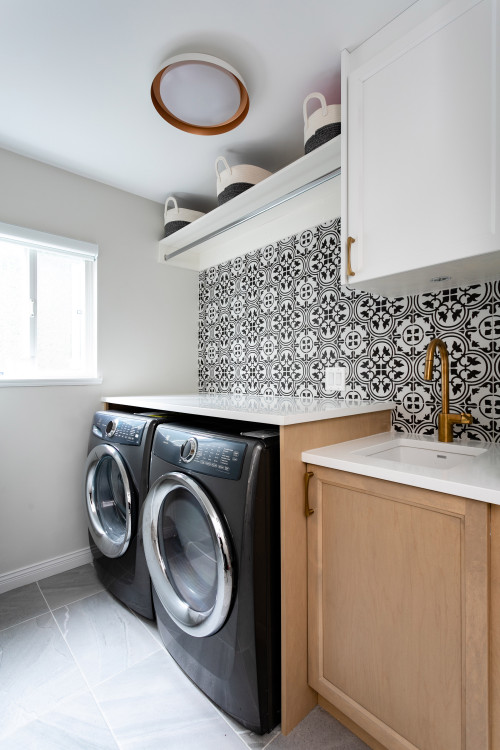 ID# 171019 | Houzz.com – Credit | © SGDI – Sarah Gallop Design Inc.
---
Black and White Laundry Room Tile Ideas with Two-Tone Cabinets
If you want to create a dynamic look for your laundry room backsplash, you will love this transitional design! Adorned by an eye-catching pattern, the black and white backsplash tiles create a striking focal point between the two-tone cabinetry. The white upper cabinets and countertops balance the busy patterns with their clean and fresh appeal while the natural wood base cabinets bring warmth to the atmosphere.
Which materials you will need to tile a laundry room?
– For safety, safety goggles, gloves, and a dust mask
– Pen or pencil
– Ruler
– Tape measure
– Spirit level
– Trowel
– Sealant smoother
– Chosen tiles
– Sealer
– To fill the holes you will need plaster
– Adhesive for tiles
– Spacers
– Tile trim
– Grout
– Sponge
– Cloth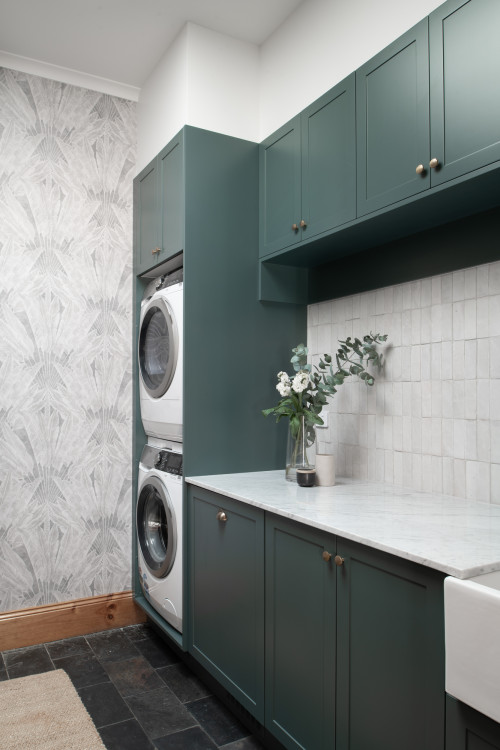 ID# 171020 | Houzz.com – Credit | © Symmetrie Interior Design & Styling
---
Dark Green Laundry Room Cabinets with Zellige Tile Backsplash
This transitional utility room perfectly balances dark and light hues! Brass hardware and dark green cabinetry create a striking sense of luxury while the black floor tiles complement the sophisticated appeal of the dark green shade. The dark colors are given a new aspect by the white backsplash and the white quartz countertop which also gives the room a bigger appearance. The quartz countertop also enhances the cabinetry's opulent look.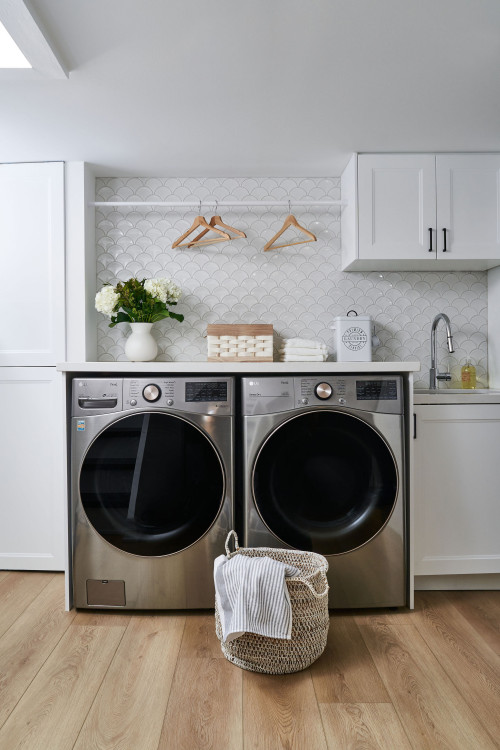 ID# 171021 | Houzz.com – Credit | © Mirelle Goren Interiors
---
White Shaker Cabinets with Stainless Steel Washer and Dryer
Most laundry rooms are small and the white color is the perfect choice to design them! White cabinets and the white mermaid tile backsplash freshen up the interior with the touch of the white countertops. The black cabinet hardware brings a contrasting look that enhances the overall design while the stainless steel dryer and washer enhance the modern aesthetic with their ultra-technologic designs.
How do you tile a laundry room backsplash?
Tile is an excellent choice for bringing fresh vitality to your laundry room at an affordable price. Laundry room tile, in particular, is water-resistant, slip-resistant, bacteria-resistant, scratch- and stain-resistant, and more. Tile, in contrast to the heaps of clothes that fill the area, is incredibly easy to clean. So if you are looking for DIY tiling explanations, let's check how can you tile the walls and the floors.
Carefully measure the space for the number of tiles you require so you know how many to order and can evaluate your options against your budget. Allow for the expected overage. At checkout, you may add a 10% safety deposit to all purchases to guarantee you have enough tiles for your project and to cover human mistakes and breakages.
Obstructions – pipes, electrical sockets – in any area of your home may alter the number of tiles needed as well as the equipment needed, so keep this in mind as you prepare.
Prepare Surfaces for Tiling
Once you've settled on your tiles, it's time to get your surfaces ready for tiling. A clean, smooth surface is critical for a good start – but what exactly does this entail?
– Using a hammer and bolster or stripping knife, remove any current tiles or wallpaper from the surface.
– Examine the wall's condition; ensure that it is level and that any holes or cracks are minimal. Repair any gaps or cracks with a plaster if necessary.
– Apply suitable cement backer boards to the surface with glue or screws as directed by the manufacturer for any exposed stud work or new boxing. This will aid with waterproofing and make them level for tiling.
– Most tile adhesives require the surface to be sealed before applying the glue. First, read the manufacturer's instructions.
Seek expert help if necessary at this point – ensuring the foundation work is perfect will determine the effectiveness of your tiling.
The Wall or the Floor is First?
While you can tile either one first, popular opinion and experience suggest that if you are tiling both in a laundry room, it is easier to tile the walls first and then the floor. This keeps the floor tiles cleaner because you won't be performing as much work around them once they're placed. Tile the walls except for the bottom row, then tile the floor, and finally tile the bottom row on the walls. However, it is mostly a matter of personal choice. The biggest advantage of tiling the floor first is that you can disguise the cuts in the floor tiles where they meet the wall when you go on to attach the wall tiles.
Where to Start?
One of the most common tiling blunders is failing to choose the proper starting point. When preparing for wall tiling, use a level to mark all the different height points on one wall, such as the floor, ceiling, top of the window, bottom of the window, top of the door architrave, and other important spots that might result in a little piece of tile showing.
Determine the optimum starting point for your tile so that no foolish little portions display.
After that, use a spirit to mark the bottom grout joint, then use a level to mark the new beginning datum point all the way around the room (when using the level around the room, always end-for-end the level in case it's slightly off). To build your vertical starting point, repeat the last exercise.
You will need to Cut the Tiles
To correctly suit the area, you will need to cut your selected tiles to size for practically any tiling project. This is due to two major factors:
– Because they were not built expressly for your room, it is doubtful that a round number of tiles would match the length and breadth of your wall or floor, requiring tiles for room boundaries to be trimmed.
– Laundry rooms have impediments and difficulties to navigate, such as plug outlets, and plumbing.
To cut tiles, measure twice or more to ensure you are cutting them to the exact dimensions. They may have a pattern or a top edge that must be considered when marking them for cutting. Use tools that you are comfortable with, such as manual or electric cutters, tile scribes, and nibblers.
Tiling the Walls
– Fix a baton horizontally to the spot you marked as your datum point before and double-check using a level.
– Spread the glue evenly on a vertical datum point in the middle of the wall and set the first tile on it.
– Work your way around the wall, using tile spacers to ensure that the tiles are uniformly spaced. Continue up the wall, trimming any tiles to size as needed.
– Remove the baton and fix the bottom row of tiles once you've finished the first row of tiles.
– If you're concealing a raw edge with an edging strip, put it with the bottom edge under the end tile of the first row, then continue to arrange tiles on top of it as you work your way up the wall.
– Once the glue has dried sufficiently, remove any protruding spacers as well as any access adhesive.
– Using a grout float, press the grout into the crevices between the tiles. Only perform as much grouting as you can while still having time to wash it off before it hardens. Allow the grout to cure to the point where wiping it off leaves a lovely finish and does not remove it completely from the joints you've just completed.
– Finally, using a moist sponge, remove any excess grout residue from the tiles and let the grout between the tiles dry. After a few hours, rub with a clean, dry cloth to get the desired sheen.
– Use excellent-grade silicon at connections in moist locations according to the manufacturer's specifications.
Tiling the Floors
– Check that the floor is sturdy and does not bend underfoot. Sheets of 6mm cement backer board should be connected to the floor with tile glue and screws or decoupling matting as directed by the manufacturer. Then, apply your preferred tiles using a flexible adhesive.
– Determine the layout in which you will arrange the tiles and the best spot to begin. In a square room, this is usually the center rather than one of the edges.
– Make a guideline to ensure that the first row is straight, and then follow it around the room, applying glue on the floor and bedding the tiles into it. Make certain that the bottom of the tiles is completely covered, as any gaps might lead to breaking.
– Use spacers to evenly place the tiles and prevent walking on them until the adhesive is completely dry. It's important to employ a lash clip system on bigger-size tiles, especially polished finished tiles, to ensure proper spacing and leveling.
– When the tiles are dry, grout them as described in the wall tile section.
Certain tiles, such as real stone and certain porcelain, require sealing after installation. Inquire in-store about how to treat your tiles, and follow the manufacturer's directions for sealing and cleaning materials.