23+ White Hexagon Backsplash Tile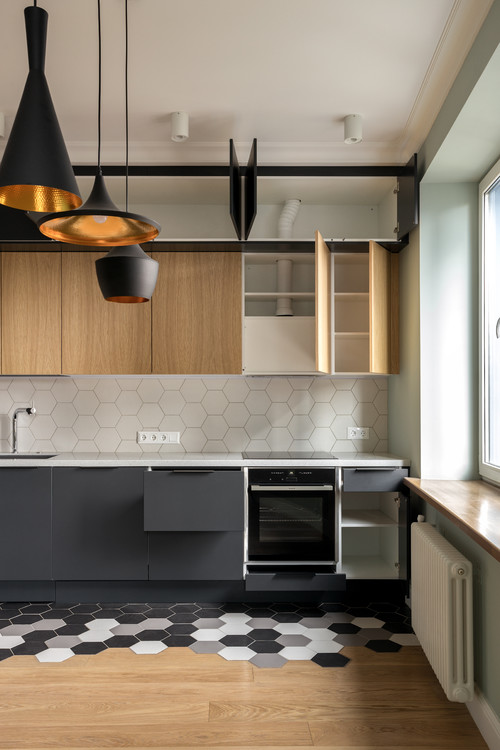 ID# 164111 | Houzz.com – Credit |© PUUSTELLI MOSCOW
---
Black and Wood Cabinets with Multicolored Hexagon Floor Tiles
The black cabinets are trendy and modern while the wood cabinets warm up the area and add a welcoming touch. The white hexagon tile backsplash offers a refined touch to contribute the kitchen's contemporary look! Furthermore, the colorful hexagon floor tiles provide vitality and liveliness to the area while the white countertop completes the sleek and professional mood of the kitchen.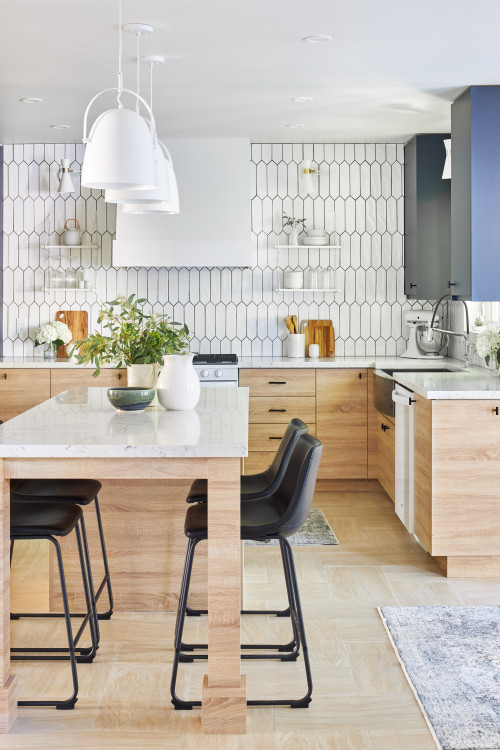 ID# 164116 | Houzz.com – Credit | © PULSAR DESIGN INC.
---
Elongated White Hexagon Backsplash Tile with Wood Cabinetry
This contemporary kitchen showcases the striking white hexagon backsplash as a pristine and luminous canvas! Undoubtedly, the contrasting grout choice highlights the remarkable pattern to bestwove it with an appealing texture. The white range hood and countertops connect seamlessly and harmoniously with the white backsplash tiles. To create a cozy and inviting ambiance, natural wood cabinets are utilized. Floating shelves in white instead of upper cabinets provide a spacious and breezy atmosphere in the room. Equally, the navy blue upper cabinets, black hardware, and black chairs produce a striking contrast, lending the space an element of visual interest.
White Hexagon Backsplash Tile
The white hexagon backsplash tile is the embodiment of timeless beauty, certain to enchant passersby with its clean lines and geometric flare. Each hexagonal tile is meticulously arranged to produce a captivating pattern that lifts any environment to a level of elegance. The clean white color contributes to the room's brightness, creating an appealing mood. This tile's adaptability is unrivaled since it merges easily with a wide range of interior designs. It improves the impression of understated elegance whether it is presented in a modern, minimalist kitchen or a historic bathroom.
Sleek and Modern Appeal of the White Hexagon Tiles
Whether you want to create a subtle backdrop or a striking focal point, white hexagon tiles will elevate your design and make a stylish stance. From marble to ceramic, hexagon tiles have been found in plenty of material options. You can go with pristine white ceramic hexagon tiles and match them with white grout to create a bright and fresh look in your kitchen. To add a little bit of texture, opt for marble tiles! So, are you ready to immerse yourself in the timeless beauty of this design classic and transform your home with its enduring allure, scroll down and check these stylish backsplash ideas that will inspire you for your next design project!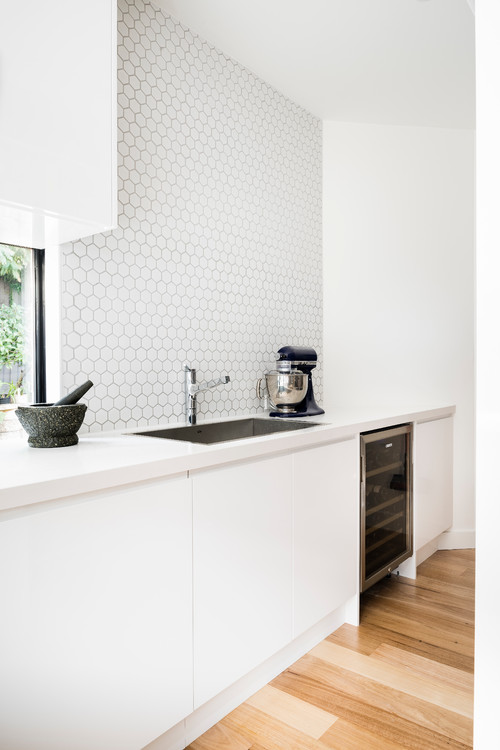 ID# 164101 | Houzz.com – Credit | © Smith & Smith Kitchens
---
Contemporary Kitchen with White Hexagon Backsplash Tile
Enriched by a monochrome color scheme, this modern industrial kitchen exudes an astounding sleekness that is simply breathtaking! The shining white cabinetry and super white engineered stone benches radiate an immaculate look that is irresistible. The white hexagon backsplash tiles bring a nice textural look between the slab surfaces. The gray grout highlights the beautiful hex pattern. Meanwhile, the feature grain Tasmanian Oak timber floors infuse warmth and contrast to the overall crispness of the space. You'll love how effortlessly this kitchen merges beauty with functionality to create an unforgettable culinary haven.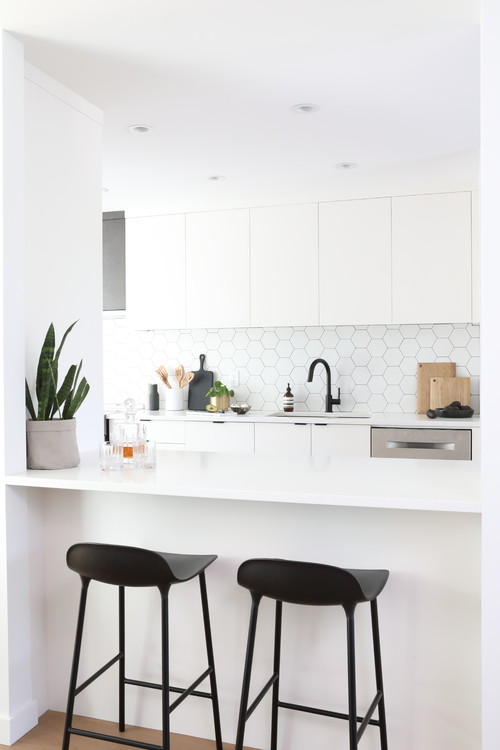 ID# 164102 | Houzz.com – Credit | © SHIFT Interiors
---
All-white Kitchen Design with Black Accents
When aiming to fashion a kitchen that exudes both timeless elegance and contemporary style, the all-white color scheme stands as an unwavering choice that never disappoints. In this midcentury kitchen, the crisp white color of the flat-panel cabinets, countertops, and backsplash provides a bright and spacious atmosphere. Thanks to the gray grout, the white hexagon tiles stand out and create a focal point. The tiny black details such as the faucet and chairs break the white domination and add a sense of luxury by creating contrast.
How do you install hexagon wall tile?
To begin installing hexagon wall tiles, prepare the surface by making sure it is dry and clean. the tile cutter, grout, trowel, level, glue, spacers and other necessary tools. Using a notched trowel, plan the arrangement, draw the reference lines and then apply glue in small pieces. Place the hexagonal tiles firmly while using spacers to preserve a uniform gap between them. Use a level to check the alignment and make necessary adjustments. Tiles can be cut with a cutter as necessary. After the adhesive has dried, apply the grout, remove any excess, and let it cure. Finally, protect the grout by sealing it. Hexagon tile installation requires meticulous attention to detail, so if you're not sure, think about hiring a pro for a perfect finish!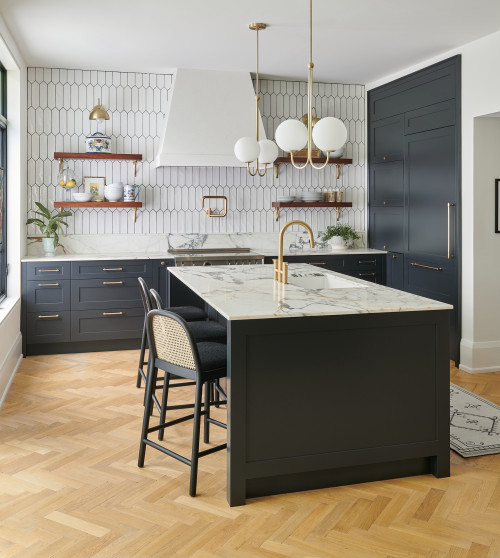 ID# 164103 | Houzz.com – Credit | © Avalon Interiors
---
Black Shaker Style Cabinets with Quartz Countertops
Enhanced by a black and white color scheme and high-end material choices, this Mediterranean kitchen offers a timeless appeal! The first thing that draws attention is the white full-height backsplash that create an eye-catching focal point with the sleek shape of the hex tiles. The black grout emphasizes the impact of the tiles. The white quartz countertops and 4-inch backsplash slab complete the bright and clean appeal of the white tiles. The black kitchen cabinets and island create a strong contrast against the white features to add depth to the space. The wood floating shelves break the monochrome color scheme, adding warmth to the atmosphere.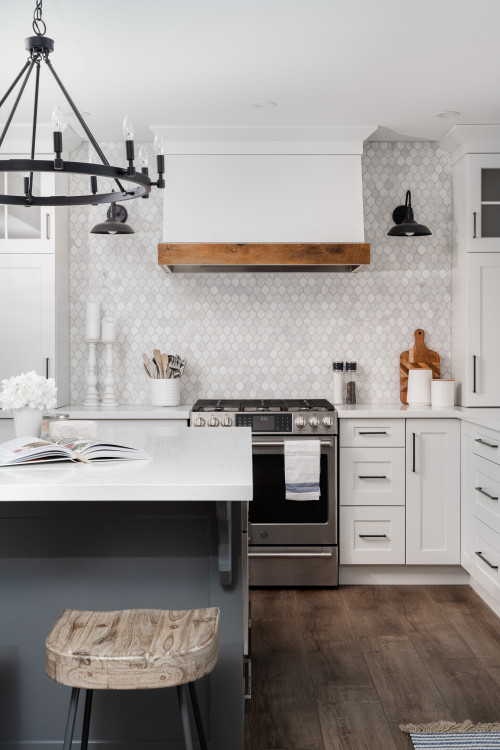 ID# 164104 | Houzz.com – Credit | © Lindsay Schultz Kitchens and Cabinetry
---
Off-White Cabinetry with Marble Full-Height Backsplash
There is a peaceful and welcome feeling thanks to the lovely modern rustic charm that is prominently displayed! This kitchen has it all, from the gorgeous gray hexagon tile backsplash that flawlessly completes the room to the quartz counters that provide lots of workspace and a touch of elegance. The dark gray island which not only adds contrast but also offers a ton of useful storage space, is what really distinguishes it. The kitchen has sleek modern black hardware and sconces throughout and the Castile chandelier over the island gives a touch of vintage elegance that brings everything together flawlessly!
Tile Materials
Hexagonal tiles, with their minimalist shapes, allow the use of different materials. From luxurious marble to shiny glass, stylish metal to eye-catching mosaics, hexagon backsplashes have an endless choice of materials.
With the quality luxury effect of marble, elegant and stylish looks are provided in the kitchens. Successful matches can occur, especially in classic designs. Since glass hexagonal tiles can be made in desired colors, they provide lively and pleasant designs with glossy textures and reflective surfaces. Different and interesting spaces are created with the industrial atmosphere of metals. And of course, ceramic hexagonal backsplashes can always be obtained in various color sizes, with different dazzling designs that appeal to every style and every taste.
White Glass Hexagon Tile Backsplash
Glass is a very popular and also durable material for kitchen backsplashes. The fact that they are in the form of hexagonal tiles adds a pleasant visual interest. From classic whites to iridescent blues to intriguing vibrant colors, there is a glass hexagon backsplash in every color that adds character to your kitchen. Of course, the white color glass hexagonal backsplash, which is always beautiful and fits easily with any style, ranks first among these tiles. It is a timeless color that never goes out of fashion. Also, glass tiles are low-maintenance, making them a useful type of material that, with routine cleaning, always continues to look brand new. These types of white, glass and hexagonal backsplash tiles are a very useful and popular variety by add a beautiful effect in kitchens.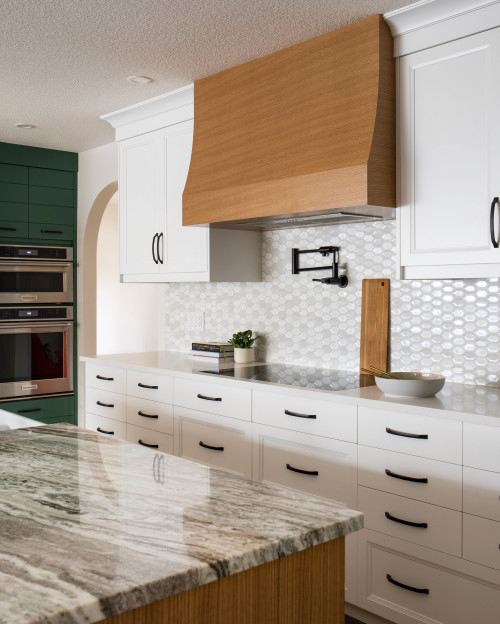 ID# 164105 | Houzz.com – Credit | © LD&A
---
White Cabinets with Wood Range Hood and Black Hardware
To infuse your kitchen with a cozy and inviting ambiance reminiscent of farmhouse charm, the harmonious combination of white and wood elements proves highly effective. The white shaker cabinets and Silestone quartz countertop establish a pristine and polished canvas that sets the stage for the entire kitchen! Adding a touch of allure, the glass mosaic tile backsplash elegantly finishes the cabinets' fresh appearance.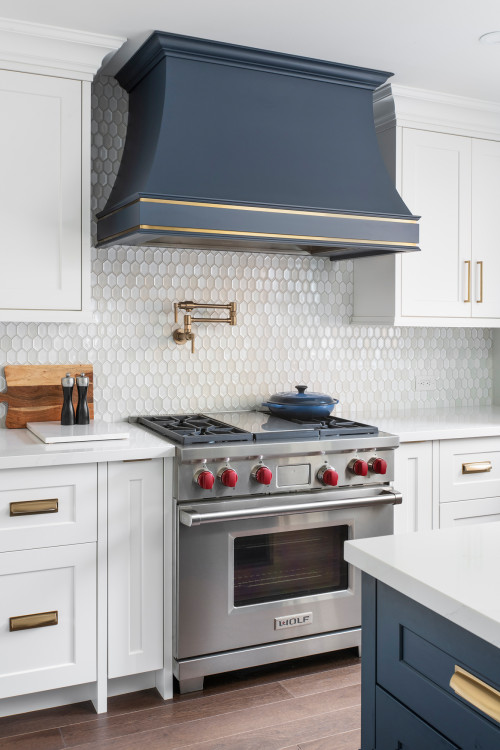 ID# 164106 | Houzz.com – Credit | © Ryan Fung
---
Glass White Hexagon Backsplash Tile with Blue Range Hood
This traditional kitchen exudes timeless charm with its white shaker cabinets, creating a bright and airy space! A stunning glass hexagon tile backsplash adds texture and visual interest while the navy blue range hood with gold details becomes a captivating focal point. If you are looking for some easy to clean backsplash ideas, glass tiles are the way to go! Brass hardware adds a touch of elegance and complements the gold details on the range hood.
White Marble Hexagon Tile Backsplash
Marble is one of the most popular materials preferred when designing spaces. Having a luxurious look, marble is a great way to create a timeless and elegant look. When the quality, expensive stance of marble and hexagonal tiles with a classic look are combined, an elegant design emerges. The stylish combination of the marble hexagonal backsplash attracts all the attention in the kitchens with its magnificent effect, affecting all the ambiance in the environment and producing beautiful results. And of course, with the pure, clean state of white, marble hexagonal tiles are a type of material that displays a fresh and elegant stance and leaves dazzling effects.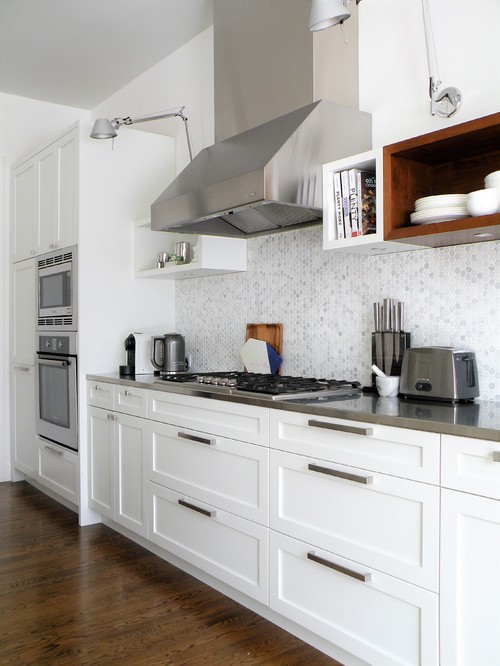 ID# 164107 | Houzz.com – Credit | © Tatiana Wojtan Studio
---
White Shaker Cabinetry with Brushed Nickel Hardware
Nothing beats the elegance of a marble backsplash for adding a sense of luxury to your kitchen! The marble hexagon tiles add a compelling textural dimension that smoothly bridges the gap between the white shaker cabinets. The stainless steel appliances and brushed nickel accessories add to the modern appeal while the gray laminate countertop matches the various hues of gray.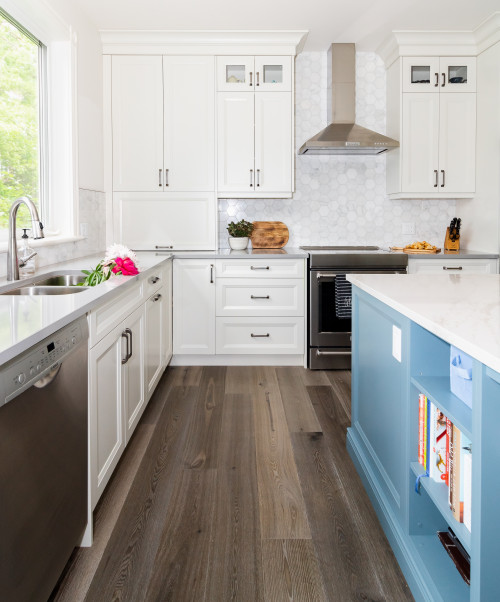 ID# 164108 | Houzz.com – Credit | © Cabinet Effects Inc.
---
White Transitional Kitchen with Blue Island 
Classic, timeless, yet stylish!! This transitional kitchen showcases the timeless beauty of the white shaker cabinets and the marble backsplash perfectly. The light gray countertops and the stainless-steel appliances complete the traditional flair. The centerpiece of this kitchen is definitely the blue island which adds a pop of color to create a joyful atmosphere.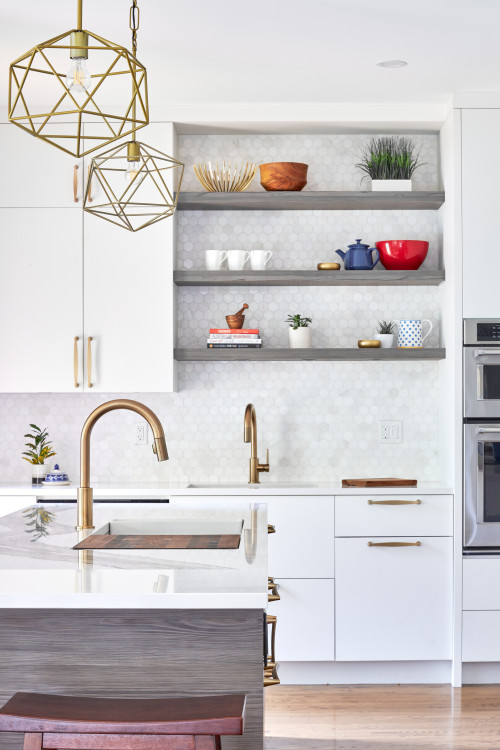 ID# 164109 | Houzz.com – Credit | © Paragon Kitchens
---
Scandinavian Kitchen with Marble Backsplash and Brass Faucets
This Scandinavian kitchen executes the timeless appeal of the white color scheme!! While the white flat-panel cabinets create a clean and sleek backdrop with the white quartz countertops, the white marble hexagon tile backsplash adds a nice textural look to this base. The gray floating shelves enhance the impact of the accent wall while the brass faucets, hardware, and pendant lights add a dose of glamour and bring warmth to this white-dominated room.
White Ceramic Hexagon Tile Backsplash
Recently, same-tone kitchen designs have started to attract attention. When this is the case, white attracts the head of these designs with their elegant and natural stances. In this way, white backsplashes are gaining popularity and becoming a trend. The pure and clean stance of white and the interesting and different atmosphere of hexagonal tiles are blended perfectly, bringing timeless and stylish designs to spaces. White ceramic hexagonal tile backsplash, which can be made in desired sizes and tones, is a material option that will never let you down. It is very easy and practical to maintain. Ceramic backsplashes are also durable. It leaves unique, beautiful effects in different designs.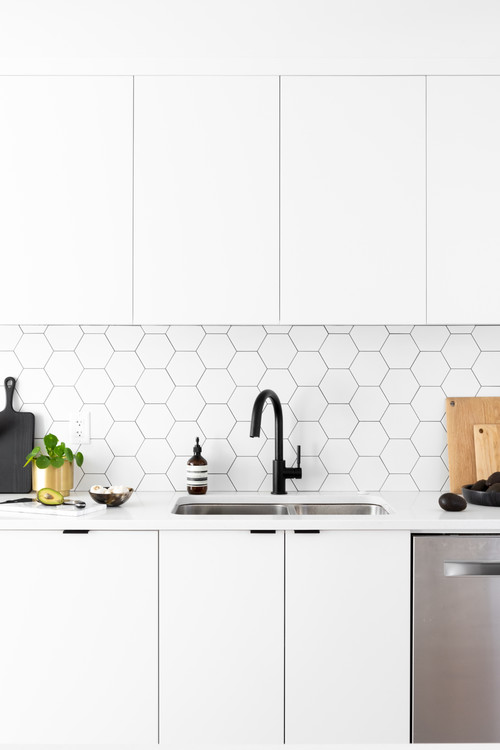 ID# 164110 | Houzz.com – Credit | © SHIFT Interiors
---
Modern White Kitchen Cabinets with Black Accents
Clean, fresh, and timeless… This white kitchen design offers a suer modern look with its flat-panel cabinets. Black hardware and faucet contrast with the white features to give a luxurious feel. White hexagon tile backsplash brings a texture to the design without disturbing the simple beauty of the overall look. The gray grout of the backsplash tiles emphasizes the beautiful pattern.
Hexagon Tile Sizes and Shapes
Hexagonal tiles are the most popular material shapes, especially recently. While it is preferred in most places with its stylish beauty, original designs can emerge. Successful and stylish designs are obtained by being easily applied in many places from kitchen walls to bathrooms, from corridors to halls, from fireplace sides to outdoors.
The size and shape of the hexagonal tiles are decided by considering the width and style of the area to be applied. Unique designs are obtained with hexagonal tile shapes such as small, large, and elongated. Different ambiances are created in different sizes. When applying hexagon tiles, you can create different patterns by adjusting their size. If you want a dense look, it is fine to apply smaller hexagonal tiles, or you can use larger tiles for a larger impression. If you want to add a different atmosphere, long hexagonal tiles will be the right and stylish choice.
Small White Hexagon Tile Backsplash
With a timeless, stylish, and elegant look, white hexagon tiles are a very popular design material, especially for kitchen backsplashes. The tiles, which leave eye-catching effects with their interesting geometric shape, can be used easily in kitchens with different styles or colors. It has a wide variety of material options such as marble, ceramic, and glass. Although each has a white color, each different material creates different effects. If you want intense effects, small white hexagon tile backsplashes are the right choice. If you wish, you can create a movement and pattern by adding backsplashes of different colors between them. There are varieties in slightly larger sizes as well as very small items such as coins. It is decided according to the desired design effect.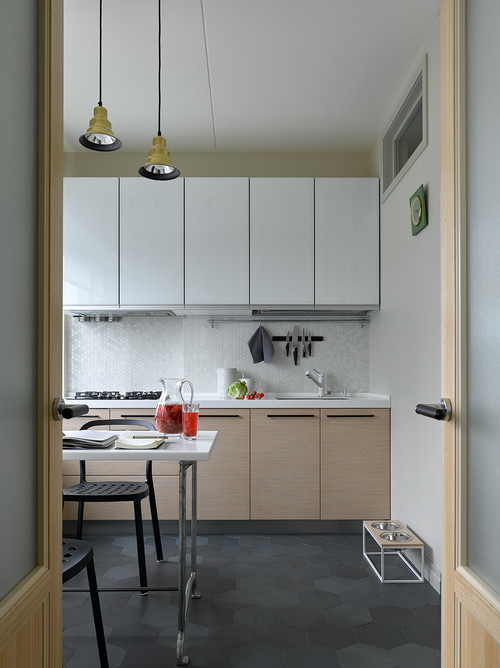 ID# 164112 | Houzz.com – Credit | © Юлия Голавская
---
Two Tone Kitchen Cabinets with Black Floor Tiles
Enhanced by clean and minimalist lines, this kitchen showcases a modern flair! The two-tone cabinetry creates a simple yet impactful appeal with its white and wood colors. The tiny white hexagon tiles as a backsplash perfectly complete the clean lines of the cabinets. The matte black handles of the base cabinets enhance the modernity while the black hexagon tiles make a harmonious final touch, bringing depth to the space.
Large White Hexagon Tile Backsplash
In the contemporary landscape, there's been a growing trend towards the utilization of large-format tiles for kitchen backsplashes. The generous dimensions of these white hexagonal tiles stand out as a bold and captivating assertion that blends harmoniously modern design elements and timeless appeal! The use of larger tiles results in less grout lines which considerably aids in creating the feeling of space and openness inside the area.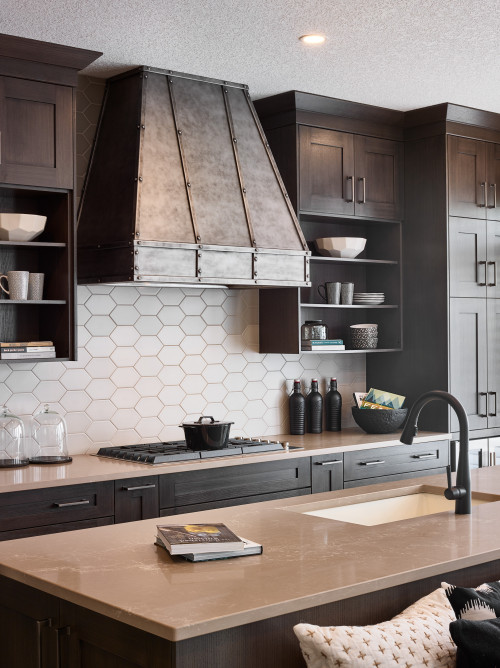 ID# 164113 | Houzz.com – Credit | © Morrison Homes
---
Rustic Kitchen with Wood Cabinets and White Backsplash
Boosted by dark wood cabinets, this kitchen offers the undeniable charm of rustic style! The dark and rich shade of the wood cabinets also creates a dramatic atmosphere and brings depth to the space while the metal range hood perfectly completes this rustic appeal with its aged texture. On the other hand, the white hexagon backsplash tiles make a modern twist and add a bright and fresh look between the dark shades. Using large format tiles also provides a cleaner and seamless finish! For a final touch, the beige quartz countertops complement the neutrality of the wood, softening the overall look.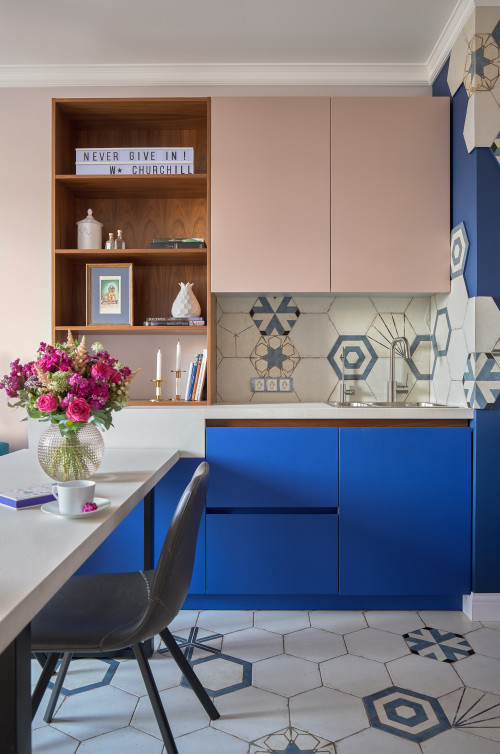 ID# 164114 | Houzz.com – Credit | © VerbaHome
---
Pink and Blue Cabinets with Patterned Backsplash Tiles
If you want to use a white backsplash but still need some dazzling effect, patterned tiles might be a perfect choice for your kitchen! Interspersed amongst the white tiles, the patterned tiles emerge as a captivating spectacle while the pink and blue cabinets further contribute to the distinctive charm of the backsplash! The pristine white quartz countertop balances the complex patterns and colors and makes a fresh final touch.
White Elongated Hexagon Tile Backsplash
Hexagonal tiles are a distinctive form of interesting material with a characteristic styled shape. Together with different types of materials, they leave different effects suitable for every style. But for those who are looking for something different from the classic hexagonal form, elongated hexagonal tiles are the right choice. These elongated hexagon tiles only differ visually. They retain the characteristic interior angles of the original hexagonal shape. With this hexagonal tile shape, they create an intriguing and big impact. In kitchens, there is a form of design outside of the standards. With the pure, clean white color, elongated hexagonal tile backsplashes create a nice variety.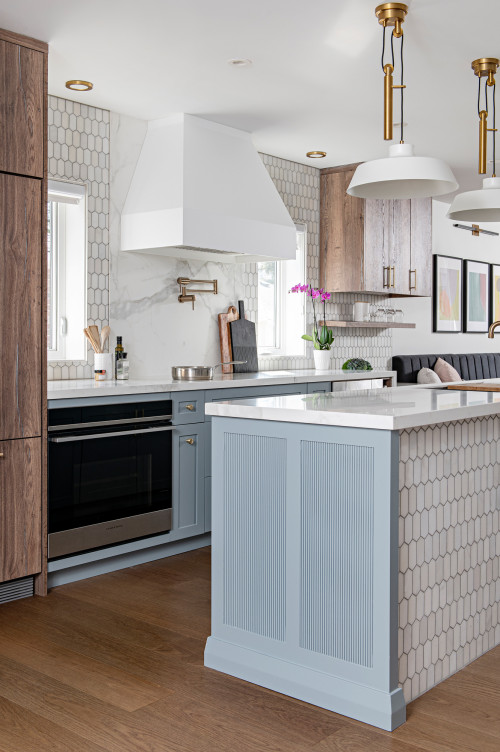 ID# 164115 | Houzz.com – Credit | © Soda Pop Design Inc.
---
Blue and Wood Kitchen Cabinets with Tiled Island
Wow… Each feature in this contemporary kitchen acts as a piece of art and creates a one-of-a-kind appeal together! The white elongated hexagon backsplash is the first thing that draws attention that creates a nice textural backdrop. The dark gray grout highlights the stunning pattern of the tiles, enhancing the impact while the same tiles are also used on the kitchen island to create a continuous look. The baby blue kitchen cabinets and island offers a romantic and elegant appeal while the dark wood upper and tall cabinets bring warmth to the atmosphere.
Is white hexagon backsplash out of style?
The current trend in tiling leans towards hexagonal tiles, which have caught buyers' attention. Retailers now carry an extensive assortment of hexagonal tiles in different designs and colors. This implies that hexagonal tiles will stay fashionable and keep up with the times. Additionally, the natural form of hexagons provides a chic and fashionable appearance to every space they adorn.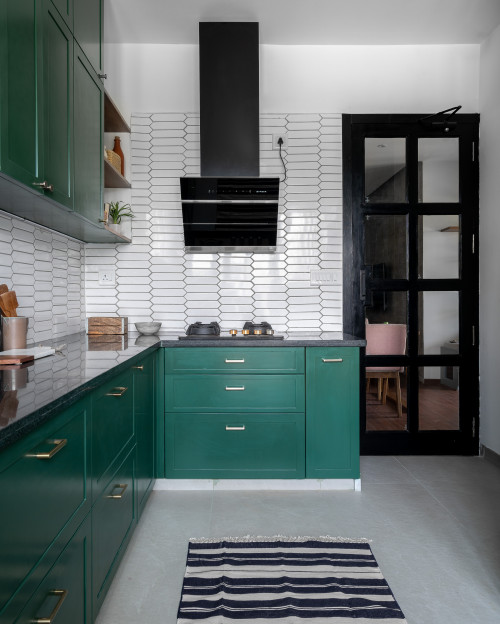 ID# 164117 | Houzz.com – Credit | © Sunita Yogesh Studio
---
Green Kitchen Cabinets with White Backsplash and Black Countertop
What a lovely shade of green… Enriched by a black granite countertop, these green shaker cabinets make a bold statement and can immediately transform any area! The brass hardware completes this classy design by providing a touch of glitz. The white elongated hexagon tile backsplash contrasts with the darker tones, creating a light and airy ambiance.
Grout Colors for White Hexagon Tile Backsplash
When designing a backsplash, deciding on the joint color is one of the most important decisions you have to make. Of course, the style of the tile you have chosen for this is also an important issue. Questions such as whether it is patterned or flat or what kind of texture it has should be answered first. And you have to decide how much you want the pattern created by the tiles to stand out and draw attention.
If you want to create a neutral, sophisticated look, it is a good way to match the joint and tile colors by choosing white as the tiles in the joint. If you want to highlight the striking pattern of the hexagonal tiles, choosing a contrasting color for your joint such as black or gray will help you create beautiful designs. Apart from these, according to the style of the designs, you can create fun areas by applying them in colorful joints.
White Hexagon Tile Backsplash with White Grout
White is the most popular joint color for all backsplash tiles. And, if you want to continue this clean and bright look, white grout will be the perfect pair. White grout helps create a clean and fresh look. It provides a neutral look when applied with white hexagonal tile backsplashes. The white joint and white backsplash duo create soft stances. The hexagonal pattern creates an elegantly animated effect without being too prominent. If you want to highlight the hexagonal tile, you need to choose darker joints.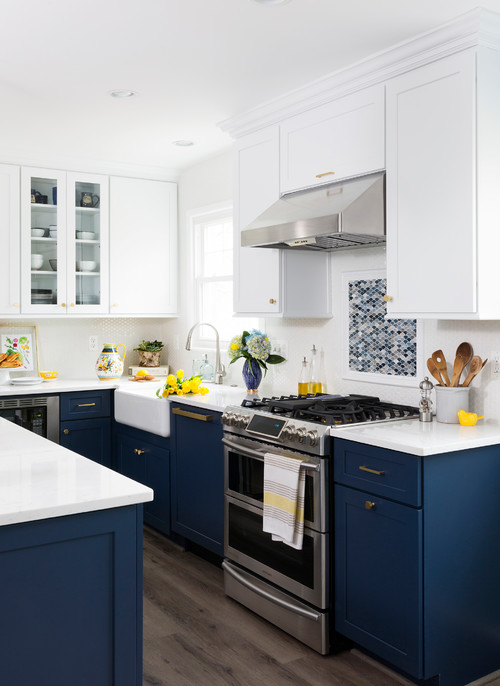 ID# 164118 | Houzz.com – Credit | © Case Design/Remodeling Halifax
---
Blue and White Kitchen with Stainless Steel Appliances
To craft a standout backsplash, consider blending diverse materials and colors as exemplified in this transitional kitchen. The white hexagon tile backsplash takes its place behind the white countertops and upper cabinets. Enhanced by the use of white grout, the hexagon tiles radiate a sense of cleanliness and vitality while the blue mosaic tile backsplash strategically positioned behind the stove commands attention as a striking focal point. To add a touch of brilliance, brushed brass hardware introduces an element of sparkle.
Are hexagon tiles hard to lay?
Installing hexagonal tiles might be difficult, therefore it's best to contact an experienced specialist for the job. While it is feasible to do it yourself, it takes a great amount of time, patience and attention to detail. It's vital to remember that the shower frame is hexagonal in design which complicates the installation process even more!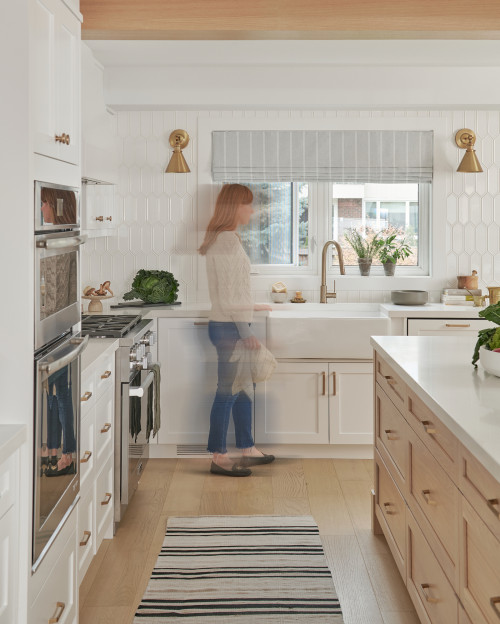 ID# 164119 | Houzz.com – Credit | © Rüme Design
---
Farmhouse Kitchen with Full-Height Backsplash
The shaker-type cabinets and white countertops have clean lines that will never go out of style and the brilliant white color offers a fresh and airy vibe that begs you to spend more time here! The deep basin and apron front of the sink provide vintage character to the area while the full-height hexagon backsplash makes a bold statement that enhances the entire design. A magnificent wood island stands in the center of the room to add a natural aspect into the kitchen. The warm and inviting tones of the island complement the white and wood features while brass accents reinforce the farmhouse look.
White Hexagon Tile Backsplash with Gray Grout
Gray is a neutral color that can be used with different colored tiles. It provides a harmonious appearance with almost any color tiles. Of course, with timeless appeal, white hexagonal tile backsplashes and gray joints achieve a contrasting harmony according to the tone of gray. A soft harmony of gray is formed with white hexagonal a-backsplashes. If you want an elegant and at the same time cool look, if you do not want a sharp transition between the white backsplash and the joint, the gray joint is the right decision.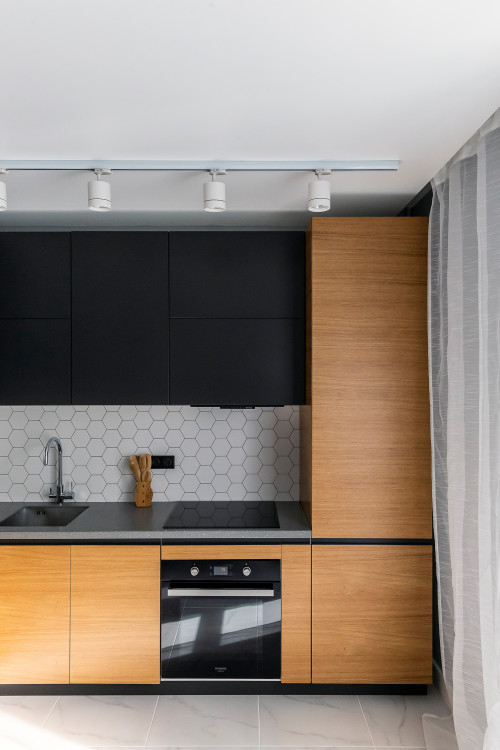 ID# 164120 | Houzz.com – Credit | © duo.ru
---
Black and Wood Cabinets with Gray Granite Countertop
Designed in sleek geometric forms, hexagon tiles prove to be impeccable selections for modern kitchens! Here, the white hexagon tile backsplash creates a clean and fresh appeal between the black and wood cabinets. The gray granite countertop perfectly completes the neutral color scheme of this modern kitchen.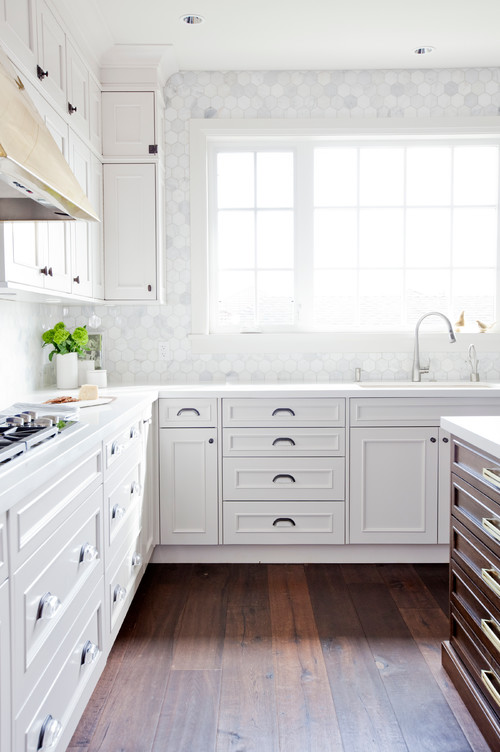 ID# 164121 | Houzz.com – Credit | © PURE Design Inc.
---
Transitional Kitchen with White Shaker Cabinets
This transitional kitchen perfectly serves the timeless elegance of the white color scheme!! The white shaker cabinets and countertops create a bright and spacious atmosphere while the black hardware adds visual interest, creating contrast. The marble hexagon backsplash completes this appeal, adding a nice textural look with its natural stone material.
White Hexagon Tile Backsplash with Black Grout
White hexagonal tile backsplashes are a highly attractive material because of their distinctive designs and lovely white impact! When black joint fillers are applied to this graceful stance, it transforms into a daring choice. However, the end outcome is flawless! In any case, black joints are frequently employed for black or white backsplash tiles. The use of black grout on white hexagon tiles gives it a robust appearance. Hexagonal shapes are more prominent, resulting in sharp lines.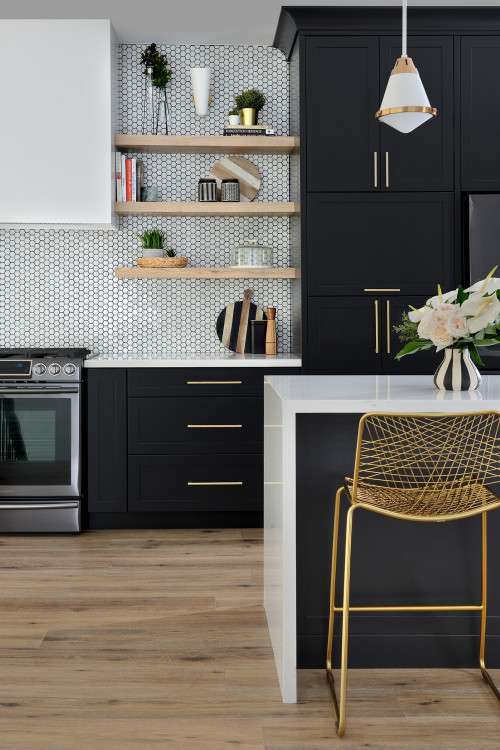 ID# 164122 | Houzz.com – Credit | © Michelle Berwick Design
---
Black Kitchen Cabinets with White Hexagon Backsplash Tile
The black cabinets not only provide ample storage space but also make a bold statement that's impossible to ignore! Taking center stage is the full-height hexagon patterned kitchen backsplash which adds a mesmerizing geometric element that's sure to captivate. The black grout works in perfect harmony with the white tiles to really bring out the eye-catching pattern. Adding a touch of luxury and sophistication are the warm tones of brass while the wooden shelves blend seamlessly into the decor for a rustic and organic charm.
Is hexagon tile trendy or classic?
Hexagon tile, like subway tile backsplash, is a design feature that may be considered both fashionable and timeless with a flexible appeal that endures the test of time. Its symmetrical patterns and one-of-a-kind design emanate timeless refinement and grace. This elegant home décor feature may also be a terrific accent to any space, from kitchen backsplashes to bathroom floors!!.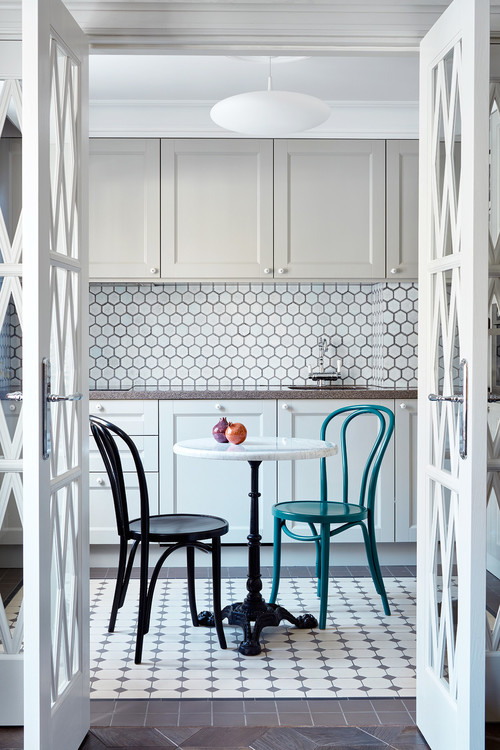 ID# 164123 | Houzz.com – Credit | © Pavel Zheleznov
---
Transitional Kitchen with Black and White Floor Tiles
In this white transitional kitchen, the hex tiles make a big impact with their black grout! The dove gray cabinets and white base ones complete the bright look of the backsplash wand offer a classic traditional charm with their shaker-style doors. The black and white kitchen floor tiles complement this classic appeal while the black and green chairs of the small dining table add a pop of color to this white-dominated space.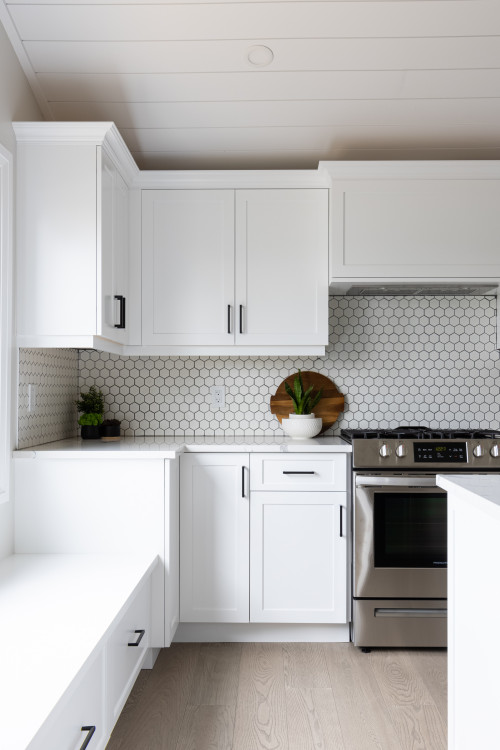 ID# 164124 | Houzz.com – Credit | © Azule Kitchens
---
All-White Kitchen with Black Hardware and Light Wood Floor
Enter this kitchen in transition where the pure and pristine ambiance stems from the prevalence of the color white. The shaker-style cabinets emit an air of refined workmanship and understated elegance. A hexagon mosaic tile backsplash brings visual intrigue with the black grout providing a striking contrast to the individual tiles. The hardware is sleek and minimal to add a modern feel to the space while light-toned wood finishes infuse the area with organic warmth and comforting homeliness.