32+ White Tile Backsplash with White Grout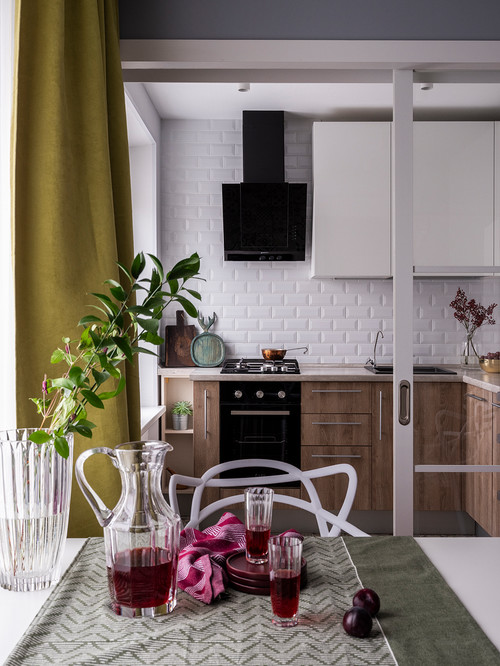 ID# 147204 | Houzz.com – Credit | © Flats Design / Евгения Матвеенко
---
White Beveled Tile Backsplash with Wood Cabinets and Black Appliances
To infuse your contemporary kitchen with organic touches and warmth go with wood flat-front cabinets that soften the white shades as this kitchen does. Here, the white beveled tile backsplash gives the background a dimensional feel, creating the illusion of a whitewashed brick wall. And it is further accentuated by a black range hood and stove that create a striking contrast to the backsplash, while the chrome hardware punctuates the design. Peeking out behind the glazed patio door, the kitchen is classic and functional, catering to the needs of modern life.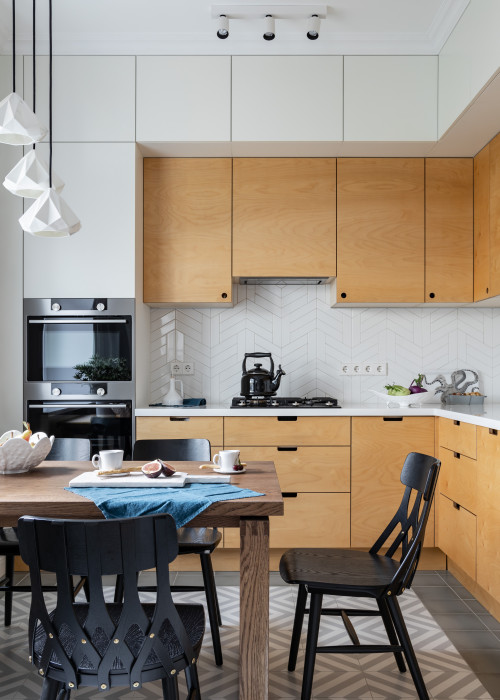 ID# 147227 | Houzz.com – Credit | © Anna Koroleva
---
White Chevron Tile Backsplash with White Countertops and Timber Cabinets
Charged with positive vibes, this Scandinavian kitchen benefits from the neutral and warm shades brought in by white countertops and timber cabinets, respectively. And what complements them is a white chevron tile backsplash that introduces geometry to some extent to make the white backdrop more expressive.
White Tile Backsplash with White Grout
Serving as a space-enhancing and brightening factor, a white tile backsplash with white grout is a classic and timeless addition to any kitchen. Whether it is the beach-style, modern, contemporary, or traditional kitchen look you are after, with the right materials and tile options, a white tile backsplash can give you any look you want.
Available in a wide array of materials from marble to ceramics, porcelain, glass, and metal and patterns (chevron, herringbone, hexagon, subway, mermaid, etc.), a white tile backsplash with white grout can make your kitchen backdrop pop. So, you don't only need colors to make a backsplash pop, with the right pattern and material combination, it is enough to create a difference and make your white tile backsplash stand apart from many other typical designs. To give you a better idea with concrete examples, here we have a list of kitchen designs grounded on a white backsplash with white grout. Just check them out and take note of these designs to get inspired for your next home-upgrading project.
Should you use white grout with white tile?
Unless you want to create a contrast and make the tile patterns pop, then sure, you can use white grout with white tiles. This allows you to establish a clean and classic look for the background that feels humble, recessed, and timeless as well.
What grout looks good with white tile?
Grout can be any color. But white and gray grout colors are the most traditional options used with white tiles. In addition to those, the third most popular grout color is black which creates a striking contrast and makes the tile patterns pop. Black grout is especially commonly used for subway and square subway tiles laid in a running-bond style. This combination adds a modern and graphite look, placing the kitchen design in an urban context. But if you love colors and warming additions, gold and colorful grouts also go well with white tiles. For example, if you have brass fixtures, you can go with brass grout that warms up the look and coordinates the tiles with the overall aesthetic.
Is white grout hard to keep clean backsplash?
When compared to tiles, grout is more porous and absorbent. Thus, when not sealed properly and regularly, they tend to get dirtier and yellower over time. To avoid that, the best thing to do is regular upkeep( detailed cleaning every 4 or 6 months) and to make sure that it is sealed properly. Sometimes using abrasive cleaners on the backsplash can strip off the seal itself, which makes them prone to staining and absorbing dirt. In short, the key point is to keep it sealed so that it reserves its stain and water-repellent nature.
Backsplash Tile Styles
Backsplash tile styles consist of the subway, chevron, herringbone, hexagon, mermaid, penny round, and kit kat tile backsplashes. Each pattern is available in multiple material and color options, executing backdrops with a designer look. Let's just dive into some of the most popular ones!
White Subway Tile Backsplash with White Grout
White subway tile backsplashes are surely a classic, which is known to everyone, providing a timeless aesthetic. That's why they are the safest options to go with. Whether you stack them horizontally and vertically or lay them in an offset pattern, they give you neat and clean looks, especially when they come with white grout.
How long does white grout stay white?
In high-traffic and wet areas like kitchens, white grout might start changing color or yellowing in six months.
Does white grout turn yellow?
White grout can turn yellow over time, which depends on many factors such as grout type, cleaning products, and sealers and waxes. 
Is white grout a good idea?
If you seek a timeless, and clean look white grout is a great idea. White grout can be used with any color and pattern. Black hexagons and geometric patterns, for example, make for astonishing backgrounds with white grout that emphasizes these intriguing forms.
Should the grout be darker or lighter than the tile?
Grout can be darker or lighter than the tile. Thus, it depends on the look the homeowners aim for. For clean and neat looks, lighter grout is a better option. But if you want your white tiles to pop and create a contrast, then dark grout is the way to go. Apart from those, you can use red, pink, gold, and gray for grouting.
White Hexagon Tile Backsplash with White Grout
Also, known as honeycomb tiles, hexagon patterns create immersive backdrops. They are popularly used both in small and large formats and available in a wide array of materials from glass to marble, ceramics, recycled glass, and metal. Even though when they come in white shades with white grout, they still feel pronounced thanks to their intriguing pattern. Yet above all, the best part of these tiles is that you can experiment with them as you wish. Some designers, for example, go with asymmetrical ombre hexagon designs. Even if you keep the backsplash white, you can create an ombre design with the hexagon floor tiles to create a continuous look. Isn't designing also about having some fun after all?
What is the most popular grout color?
White and gray are the two most popular grout colors that make the grout shade look less present for a seamless background. Black is also common grout color for kitchen backsplash. In addition to them you can also find different options according to your taste!
White Herringbone Tile with White Grout
White herringbone tiles are, indeed, subway tiles installed perpendicularly to one another. These patterns enable designers to come up with different layout options and can be oriented in any direction (right bottom, right up, left bottom, left up). It, in turn, allows them to achieve different looks and movements even with the same pattern.
Additionally, white herringbone patterns are favored for their geometric look, which explains why they are popular in modern and contemporary kitchens. But besides that, herringbone is also the pattern mostly used by the traditional and transitional kitchens that have updated themselves to look modern. In all setups, they create visually intriguing and expressive backgrounds. To highlight the beauty of the pattern, you can ditch the upper cabinetry and take the white herringbone tile backsplash up to the ceiling.
White Arabesque Tile Backsplash with White Grout
What makes arabesque tiles stand apart from other tiles is that they have curvy forms that break up the masculine and regular lines heavily used in contemporary and minimalist kitchens. So, if you are bored with such well-defined and linear forms, arabesque tiles are the way to go. They look a bit ornamental but without compromising the modern look of the kitchen. Plus, they also offer one of the best forms to use grout colors like gold, blue, and pink. And as for the white arabesque tile backsplash with white grout, it creates a classic and clean look, like any other white tile and white grout combination.
White Chevron Tile Backsplash with White Grout
As classic and versatile patterns, chevron tiles can be used as a backsplash in any kitchen setup, be it modern, transitional, traditional, or beach-style. Though often confused with herringbone tiles, chevron tile backsplashes have their unique look, resembling zigzag patterns with a more ordered pattern than herringbones. But besides those, white chevron tiles provide an excellent option if you don't want your backsplash to look too white or too plain since they give the white background movement and a modern upgrade.
White Square Tile Backsplash with White Grout
White square tile backsplashes with white grout are one of the most popular subway tile options, and recently, these square versions have superseded typical (3*6-inch) subway tiles in popularity. The white square tile backsplash especially makes great backgrounds when they are handmade and their edges protrude outwards with the imperfect edges that give them a more authentic look. White grout and satin and gloss finishes make these patterns pop more, creating a timeless and bright background.