32+ White Tile Backsplash with White Grout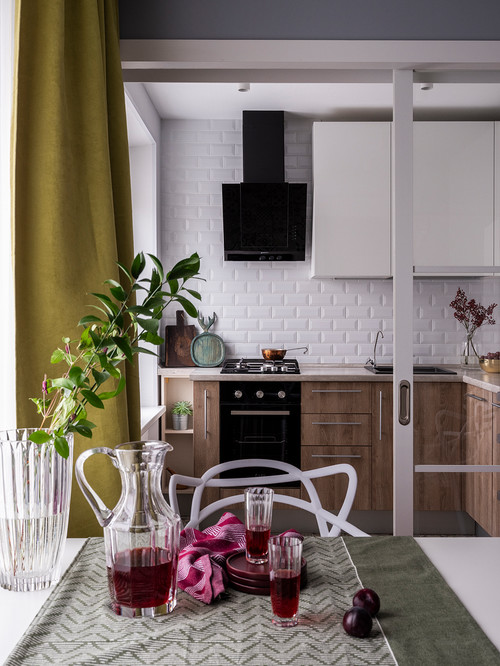 ID# 147204 | Houzz.com – Credit | © Flats Design / Евгения Матвеенко
---
White Beveled Tile Backsplash with Wood Cabinets and Black Appliances
To infuse your contemporary kitchen with organic touches and warmth go with wood flat-front cabinets that soften the white shades as this kitchen does. Here, the white beveled tile backsplash gives the background a dimensional feel, creating the illusion of a whitewashed brick wall. And it is further accentuated by a black range hood and stove that create a striking contrast to the backsplash, while the chrome hardware punctuates the design. Peeking out behind the glazed patio door, the kitchen is classic and functional, catering to the needs of modern life.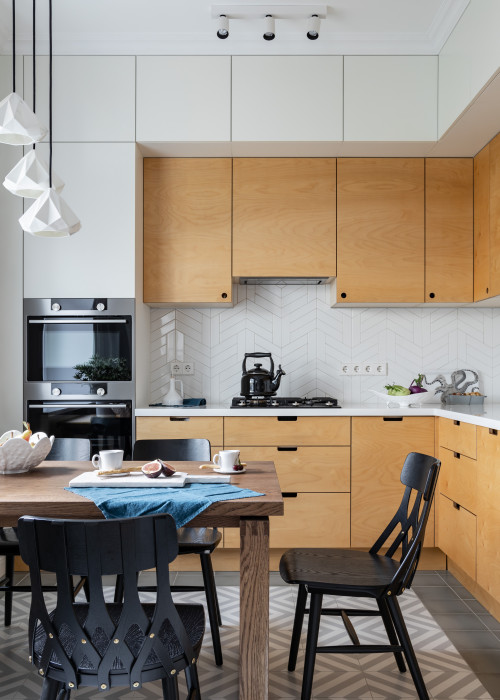 ID# 147227 | Houzz.com – Credit | © Anna Koroleva
---
White Chevron Tile Backsplash with White Countertops and Timber Cabinets
Charged with positive vibes, this Scandinavian kitchen benefits from the neutral and warm shades brought in by white countertops and timber cabinets, respectively. And what complements them is a white chevron tile backsplash that introduces geometry to some extent to make the white backdrop more expressive.
White Tile Backsplash with White Grout
Serving as a space-enhancing and brightening factor, a white tile backsplash with white grout is a classic and timeless addition to any kitchen. Whether it is the beach-style, modern, contemporary, or traditional kitchen look you are after, with the right materials and tile options, a white tile backsplash can give you any look you want.
Available in a wide array of materials from marble to ceramics, porcelain, glass, and metal and patterns (chevron, herringbone, hexagon, subway, mermaid, etc.), a white tile backsplash with white grout can make your kitchen backdrop pop. So, you don't only need colors to make a backsplash pop, with the right pattern and material combination, it is enough to create a difference and make your white tile backsplash stand apart from many other typical designs. To give you a better idea with concrete examples, here we have a list of kitchen designs grounded on a white backsplash with white grout. Just check them out and take note of these designs to get inspired for your next home-upgrading project.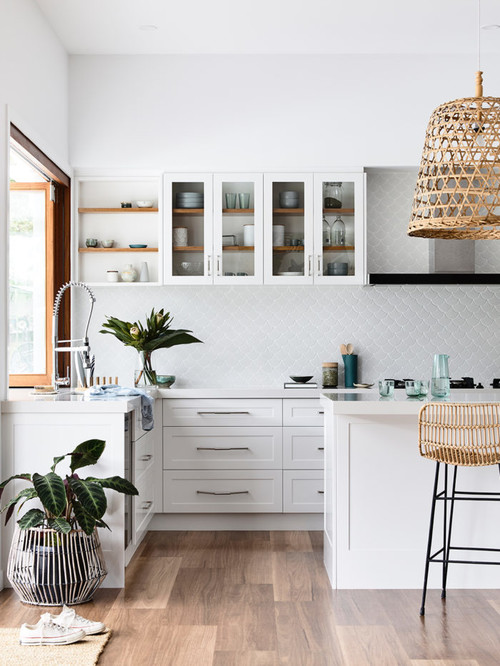 ID# 147201 | Houzz.com – Credit | © Laminex Australia
---
White Tile Backsplash with White Grout and White Cabinets
While beach-style kitchens are all about white schemes, gloss finishes, and light earthy shades, you still need something extra to create your own version. Here, this coastal design kitchen goes with a white fish scale tile backsplash whose white grout makes it look super clean. The white shaker cabinets, display units, and chrome hardware create a seamless look to enhance the airiness. To liven up the kitchen and personalize it, the kitchen plants, timber floating shelves, and wicker oversized pendants inject warmth to spice up the otherwise too-plain all-white look.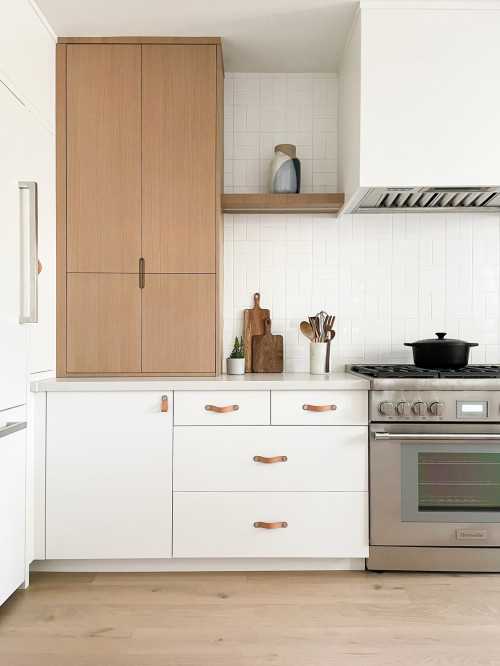 ID# 147202 | Houzz.com – Credit | © Four Blocks South
---
Two-Tone Joinery with Basketweave Backsplash and Copper Hardware
Lay subway tiles in a basketweave pattern for a change. This way, you can upgrade the modern feel of the kitchen, while with white grout you can keep the backdrop clean and humble- unless you would like to contrast with black grout-. For the next step, you can choose two-tone cabinetry to enrich the color palette- as showcased by this modern kitchen. Here, the wood upper unit and white base counters bring a Scandinavian edge to the kitchen. The copper hardware adds lovely gestures to the cabinets, while the wood floor finish injects further warmth to pull the design together.
Should you use white grout with white tile?
Unless you want to create a contrast and make the tile patterns pop, then sure, you can use white grout with white tiles. This allows you to establish a clean and classic look for the background that feels humble, recessed, and timeless as well.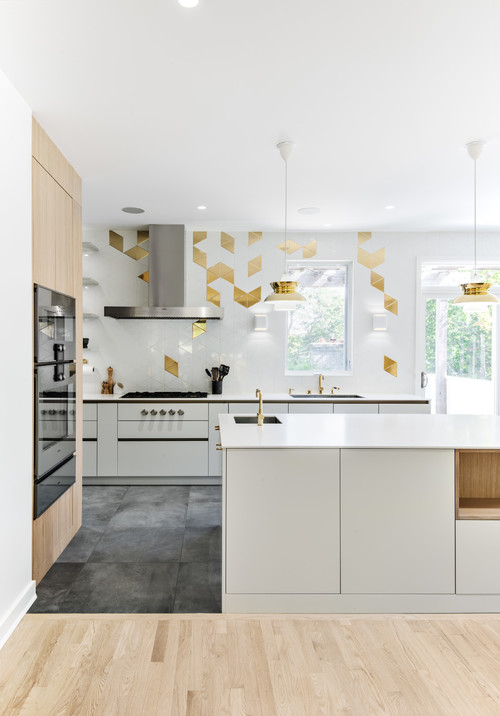 ID# 147203 | Houzz.com – Credit | © Casa Verde Construction
---
Geometric Tile Backsplash with Brass Accents and White Cabinets
This open-plan contemporary kitchen is demarcated from the lounge area via blackish-gray floor tiles that anchor the white-dominant kitchen design. In the background, the white geometric tile backsplash is taken up to the ceiling in place of the upper units to open up the space. To accentuate it, some white tiles are replaced by brass ones that communicate a sense of luxury. And complementing them are the brass faucet and gold lighting fixtures that tie the backsplash to the design.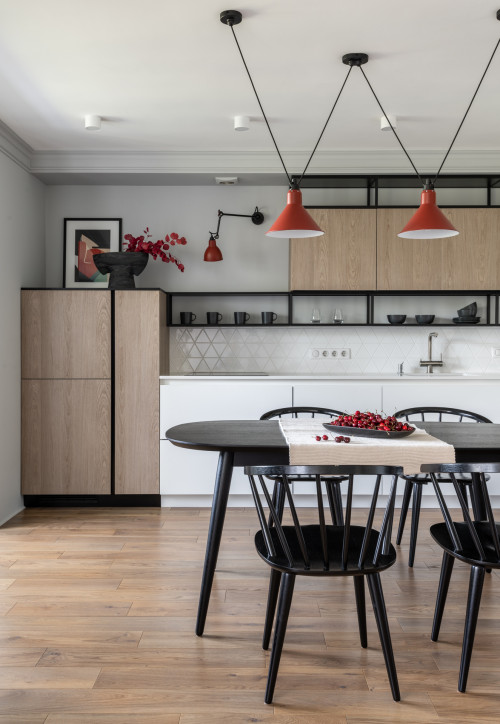 ID# 147205 | Houzz.com – Credit | © Анна Моджаро
---
White and Wood Cabinets with Black Accents
In this good-sized I-shaped kitchen, the black shelves formed like little cabinets let white and wood cabinetry pop, creating a contrast with the white ceramic diamond tile backsplash. These tiles come with a beautiful sheen, thanks to their gloss finish. To level up the aesthetic mood of the kitchen, the contemporary accessories and lighting fixtures inject pops of red into the kitchen, which is one of the best ways to make a design your own. You can also add fixtures that come in a favorite color of yours to make the overall design itself highlighted.
What grout looks good with white tile?
Grout can be any color. But white and gray grout colors are the most traditional options used with white tiles. In addition to those, the third most popular grout color is black which creates a striking contrast and makes the tile patterns pop. Black grout is especially commonly used for subway and square subway tiles laid in a running-bond style. This combination adds a modern and graphite look, placing the kitchen design in an urban context. But if you love colors and warming additions, gold and colorful grouts also go well with white tiles. For example, if you have brass fixtures, you can go with brass grout that warms up the look and coordinates the tiles with the overall aesthetic.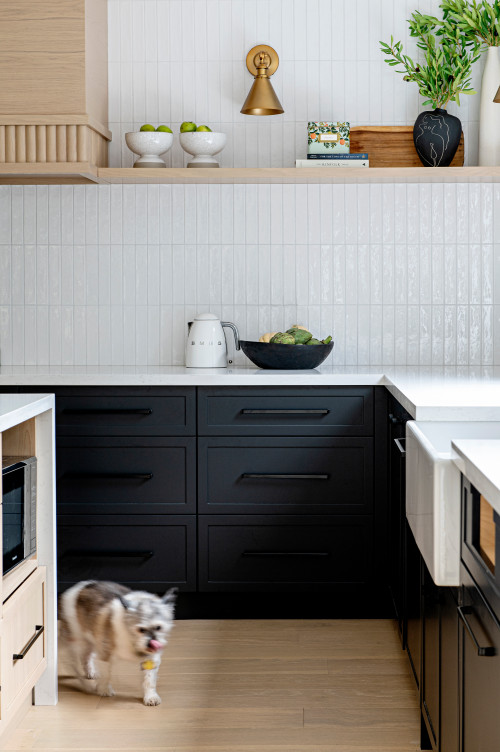 ID# 147206 | Houzz.com – Credit | © Michelle Berwick Design
---
Stacked Tile Backsplash with Dark Cabinets and White Countertops
Modern kitchens prefer stacking subway tiles rather than laying them in an offset pattern. And this kitchen is no exception. Here, the white ceramic vertically stacked subway tiles introduce order to the background, while the white grout creates a seamless look. Also, the satin finish gives them a nice glittering effect that commands attention. This way, the kitchen jazzes things up to complement the matte dark cabinets and timber floating shelf, and the hood that comes with organic vibes. The butler sink and brass wall sconces bring a farmhouse flair without stealing anything from the modern vibes of the kitchen.
Is white grout hard to keep clean backsplash?
When compared to tiles, grout is more porous and absorbent. Thus, when not sealed properly and regularly, they tend to get dirtier and yellower over time. To avoid that, the best thing to do is regular upkeep( detailed cleaning every 4 or 6 months) and to make sure that it is sealed properly. Sometimes using abrasive cleaners on the backsplash can strip off the seal itself, which makes them prone to staining and absorbing dirt. In short, the key point is to keep it sealed so that it reserves its stain and water-repellent nature.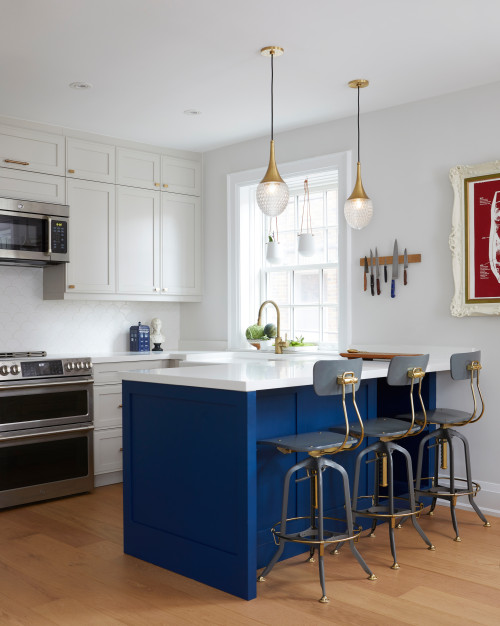 ID# 147207 | Houzz.com – Credit | © BiglarKinyan Design Planning Inc.
---
Mermaid Tile Backsplash with Brass Hardware and Blue Island
Transitional kitchens boast blue islands-as demonstrated by this one as well. This transitional kitchen creates a blank canvas-like setup by employing white cabinets and a white mermaid tile backsplash that adds an intriguing form to the backdrop. The brass cabinet knobs add small gestures to the shaker joinery, while the blue island unit adds a pop of color, topped by white quartz countertops. The bluish-gray stools pair perfectly with the island, whose brass details coordinate with the pendants and brass cabinet hardware.
Backsplash Tile Styles
Backsplash tile styles consist of the subway, chevron, herringbone, hexagon, mermaid, penny round, and kit kat tile backsplashes. Each pattern is available in multiple material and color options, executing backdrops with a designer look. Let's just dive into some of the most popular ones!
White Subway Tile Backsplash with White Grout
White subway tile backsplashes are surely a classic, which is known to everyone, providing a timeless aesthetic. That's why they are the safest options to go with. Whether you stack them horizontally and vertically or lay them in an offset pattern, they give you neat and clean looks, especially when they come with white grout.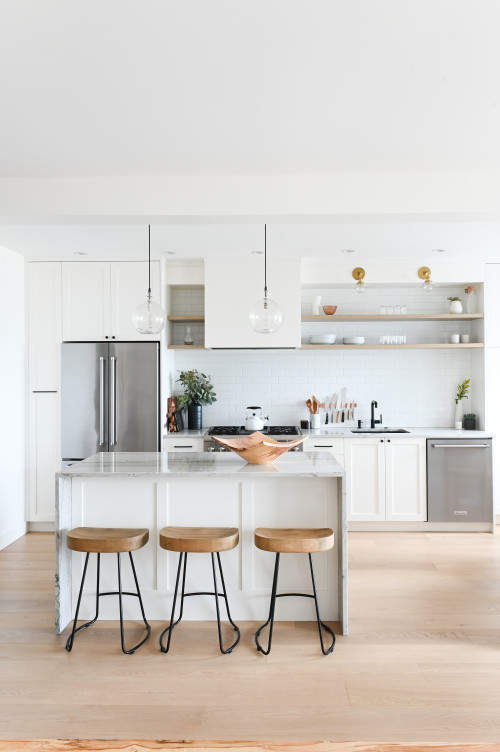 ID# 147208 | Houzz.com – Credit | © Motto Interior Design
---
White Tile Backsplash with White Grout and Glass Pendants
Bombarded with tons of stimulation throughout the day, sometimes all we need is to come home and enjoy the soothing atmosphere indoors. And one of the best ways to achieve that is to utilize light color palettes- as proven by this kitchen. This contemporary kitchen is outfitted with white shaker cabinets and timber floating shelves used in favor of upper cabinets to make the interiors feel airier and brighter. The white grout between the white subway tiles also builds upon this brightness, supported by the stainless-steel appliances' eye-catching sheen. In addition to those, a small waterfall island punctures the space, creating a cozy spot to have an informal dinner with your loved ones. Overhead, the glass globe pendants pair perfectly with the island, further modernizing the kitchen.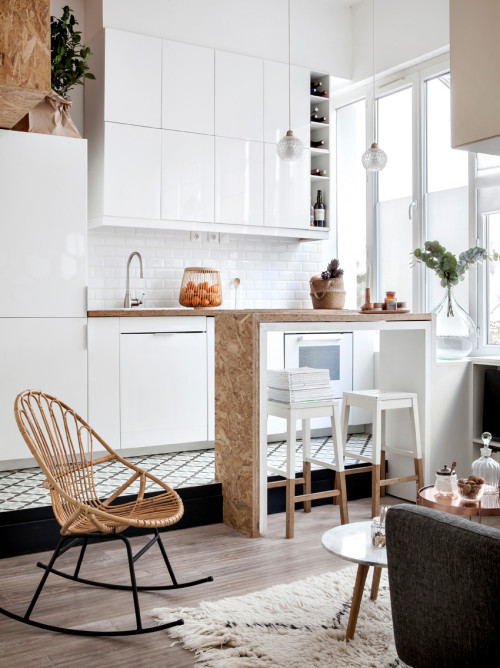 ID# 147209 | Houzz.com – Credit | © Carpediem Design
---
Gloss Cabinets with White Backsplash and Butcher Block Countertops
The pops of wood and butcher block countertops break the white look up defined by gloss white cabinets kept flat-front and hardware free. As such, they create a streamlined look with white appliances that blend with the surroundings effortlessly. The gloss finish on the subway tile backsplash and cabinets takes the brightness to the next level to compensate for this pint-size of the kitchen. On the floor, the diamond-pattern floor tiles with black contours jazz up the overall aesthetic mood. The wood baskets and kitchen plants placed on the fridge impart a sense of character to the design.
How long does white grout stay white?
In high-traffic and wet areas like kitchens, white grout might start changing color or yellowing in six months.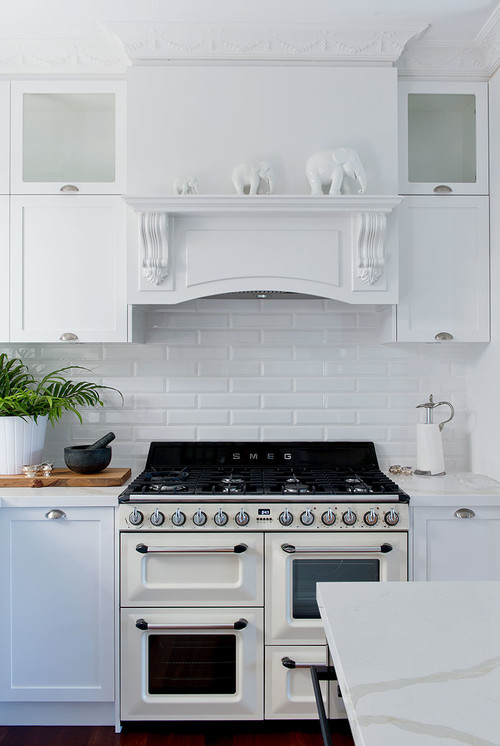 ID# 147210 | Houzz.com – Credit | © Million Dollar Makeovers
---
All-White Kitchen with Vintage Stove and Chrome Hardware
It's not always easy to make all-white designs feel anything other than dull. But in this traditional kitchen, the vintage stove and oven is the real showstopper – highlighting the utilitarian aspect of the kitchen. Meanwhile, the white subway tile backsplash, creamy quartz countertops and chrome hardware come together to give the space a bright, warm atmosphere that feels homely yet sophisticated. Even the little accessories such as the cutting board and kitchen plant really make the space come alive and give it a human touch.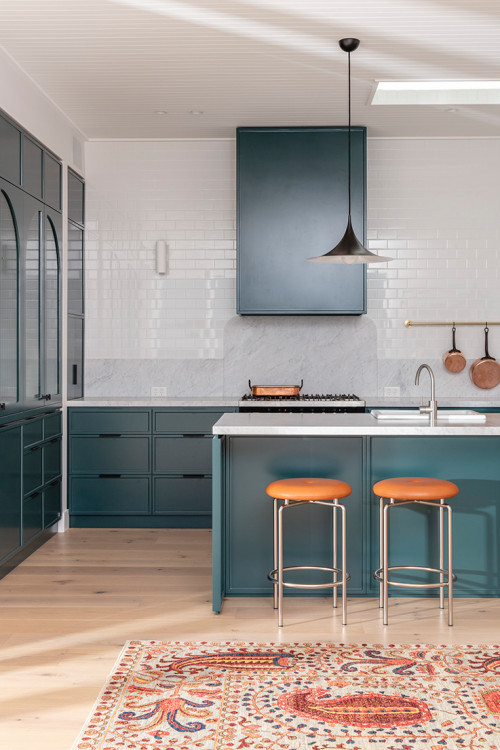 ID# 147211 | Houzz.com – Credit | © Newton Home Improvements
---
White Tile Backsplash with White Grout and Blue Cabinets
This contemporary kitchen goes with not one but two backsplashes. First, it starts with a white subway tile backsplash with white grout, taking it up to the ceiling. Secondly, it applies a custom-cut and curve-edged marble slab backsplash as a second layer, relying on its seamless, grout-free, and heat-resistance surface. To complement them, it benefits from blue flat-front cabinets that bombard the kitchen with pops of blue, while the curved forms are repeated on the cabinet doors. The copperware hung on the wall, a generously sized colorful carpet, and orange stools are among the other eye-catching and noteworthy details that set this contemporary kitchen apart from its counterparts.
Does white grout turn yellow?
White grout can turn yellow over time, which depends on many factors such as grout type, cleaning products, and sealers and waxes.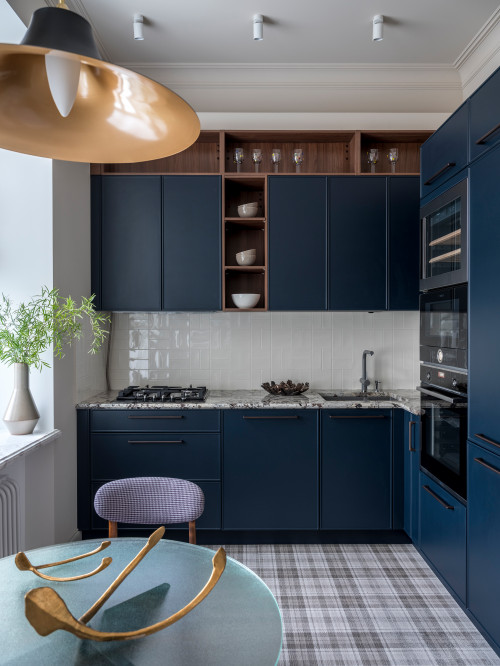 ID# 147212 | Houzz.com – Credit | © Анна Кларк
---
White Subway Tile Backsplash with Dark Blue Cabinets and Marble Countertops
This L-shaped kitchen knows how to make efficient use of space, integrating the corner into the design with the corner cabinets, while the counters' dark blue shade makes the kitchen look rich and opulent. The wood cabinet shelves, by contrast, channel warmth, and marble countertops contribute to the upscale feel. The black appliances, sleek hardware, and the high-gloss finish on the basketweave subway tile backsplash further stylize the kitchen, keeping the overall look in line with contemporary designs.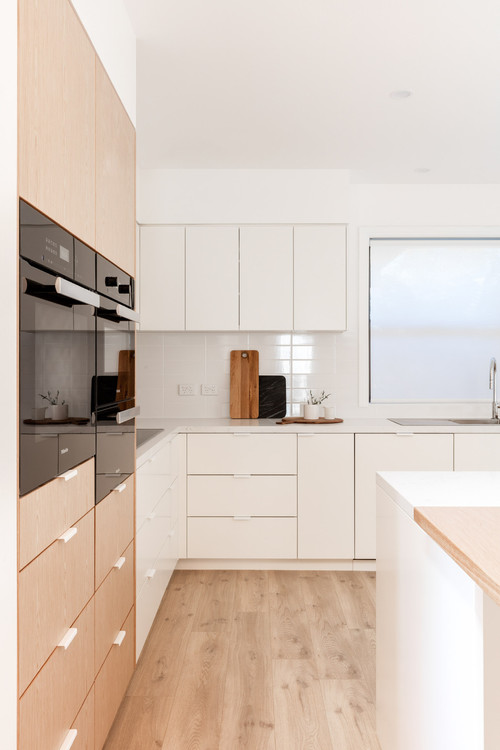 ID# 147213 | Houzz.com – Credit | © Source Architects
---
Stacked Subway Tile Backsplash with Timber and White Joinery
Use color-blocking to break up monochromatic looks without overcomplicating the design, which is what this farmhouse kitchen pulls off deftly. It combines whiteish light-cream cabinets with wood full-height cupboards that accommodate the appliances. In between the cabinets, the horizontally stacked subway tile backsplash with white grout creates a seamless backdrop. The light lip pull notches feel barely there, puncturing the cabinets, and the medium wood floor finish brings the space together.
Is white grout a good idea?
If you seek a timeless, and clean look white grout is a great idea. White grout can be used with any color and pattern. Black hexagons and geometric patterns, for example, make for astonishing backgrounds with white grout that emphasizes these intriguing forms.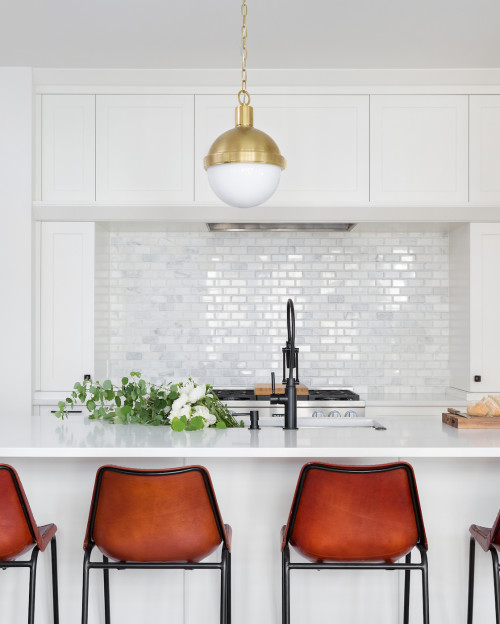 ID# 147214 | Houzz.com – Credit | © Reena Sotropa In House Design Group
---
White Marble Subway Tile Backsplash with White Cabinets and Orange Stools
Spicing up all-white looks is not that hard. Just bring in orange stools and brass-detailed globe-shaped pendants to pair with the island- as showcased by this kitchen. Here, this transitional kitchen also uses black accents to accentuate the all-white background and does so while coordinating different features. For example, the black faucet matches the black legs of the stools and the cabinet hardware. And in the background, the white shaker cabinets and a white marble subway tile backsplash instill calmness in the kitchen, allowing the colorful additions to pop.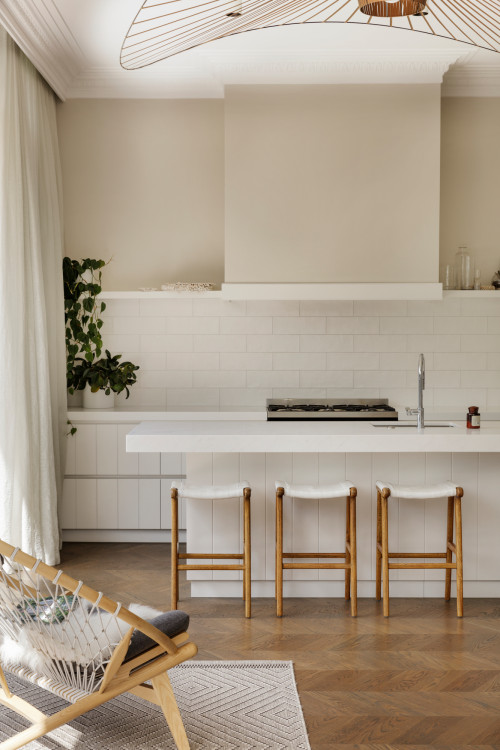 ID# 147215 | Houzz.com – Credit | © Black Box Architects
---
Beadboard Cabinets with Cream Walls and Subway Tile Backsplash
This soul-comforting kitchen design owes its tranquil atmosphere to the perfect combination of cream-painted walls and white furniture pieces. From the white subway tile backsplash to white beadboard cabinets, and an all-white island unit, everything converses with each other in harmony. The larger format of subway tiles makes them feel more present in the overarching narrative of the kitchen. Overhead, the undulating form of the oversized lighting fixture draws eyes upward, introducing a biomorphic form, along with the kitchen plant and wood legs of the stools.
Should the grout be darker or lighter than the tile?
Grout can be darker or lighter than the tile. Thus, it depends on the look the homeowners aim for. For clean and neat looks, lighter grout is a better option. But if you want your white tiles to pop and create a contrast, then dark grout is the way to go. Apart from those, you can use red, pink, gold, and gray for grouting.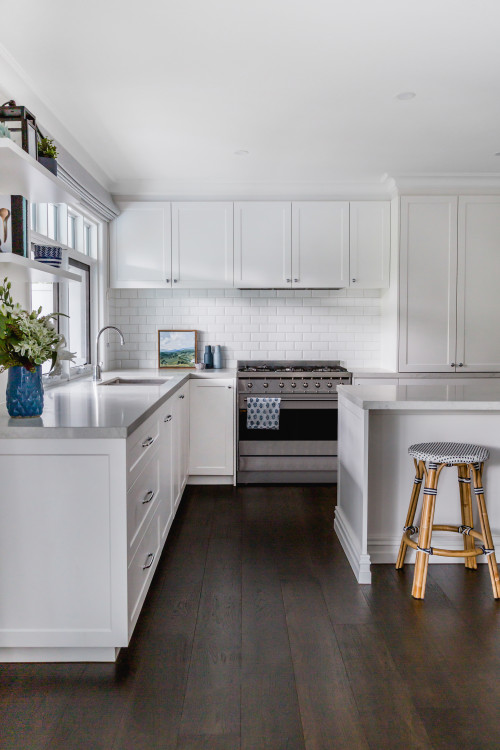 ID# 147216 | Houzz.com – Credit | © Gallerie B
---
White Tile Backsplash with White Grout and Floating Shelves
This functional and elegant transitional kitchen is designed to cater to the needs of a family of five. It is fitted with white shaker cabinets, white floating shelves, and a white subway tile backsplash. As a bonus, it also benefits from the sailor-striped stools that bring a coastal flair to break up the monochromatic color scheme. Likewise, the dark wood floor provides visual drama to warm up this achromatic scheme and anchor it with a more solid touch.
White Hexagon Tile Backsplash with White Grout
Also, known as honeycomb tiles, hexagon patterns create immersive backdrops. They are popularly used both in small and large formats and available in a wide array of materials from glass to marble, ceramics, recycled glass, and metal. Even though when they come in white shades with white grout, they still feel pronounced thanks to their intriguing pattern. Yet above all, the best part of these tiles is that you can experiment with them as you wish. Some designers, for example, go with asymmetrical ombre hexagon designs. Even if you keep the backsplash white, you can create an ombre design with the hexagon floor tiles to create a continuous look. Isn't designing also about having some fun after all?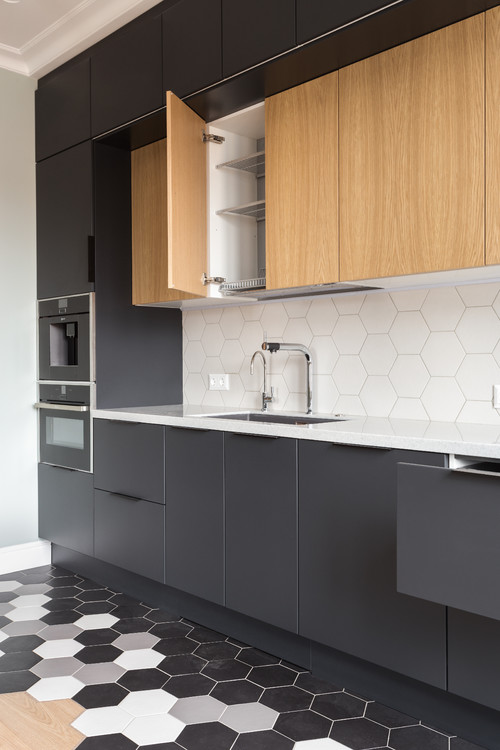 ID# 147217 | Houzz.com – Credit | © PUUSTELLI MOSCOW
---
Hexagon Tile Backsplash with Two-Tone Joinery and Quartz Countertops
This I-shaped contemporary kitchen in Moscow ties two-tone joineries with a halfway-splitting technique. Doing so creates diversity color-wise, while the hexagon tiles are used both as a backsplash and floor-coating in alternating shades to resonate with the overall color scheme. For example, for the backsplash, the pristine white hexagon tiles sheathe the walls. And when it comes to the floor, black, white, and gray hexagons come together. Both used in large formats minimize the grout work, making them easier to clean. The same thing also goes for the slab-front cabinets that feature no millwork and joints, making them extra practical.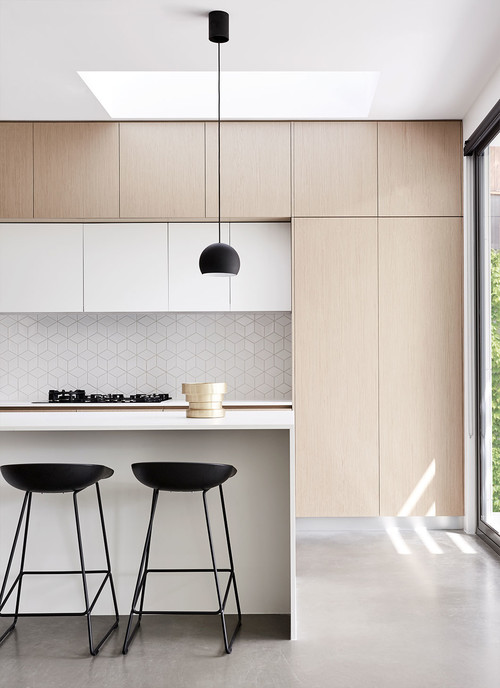 ID# 147218 | Houzz.com – Credit | © Zunica Interior Architecture & Design
---
White Tile Backsplash with White Grout with Concrete Floor and Wood Cabinets
Contemporary kitchens love geometric patterns, soothing colors, and soft contrasts. And this kitchen we have here- generously illuminated by the skylight and full-height window- prides itself on its airy and bright look. The combination of white and wood joinery gives birth to a breathable design, teaming up with a white Escher tile backsplash. In the background, the intertwined hexagons interlock with each other like puzzle pieces. And the use of white grout keeps them modest rather than highlighting them. The black pendants and curved stools break up the formal rectilinear forms, solidifying the kitchen's aesthetic mood. On the floor, the seamless concrete finish adds an industrial edge, bringing the outdoor vibes in.
What is the most popular grout color?
White and gray are the two most popular grout colors that make the grout shade look less present for a seamless background. Black is also common grout color for kitchen backsplash. In addition to them you can also find different options according to your taste!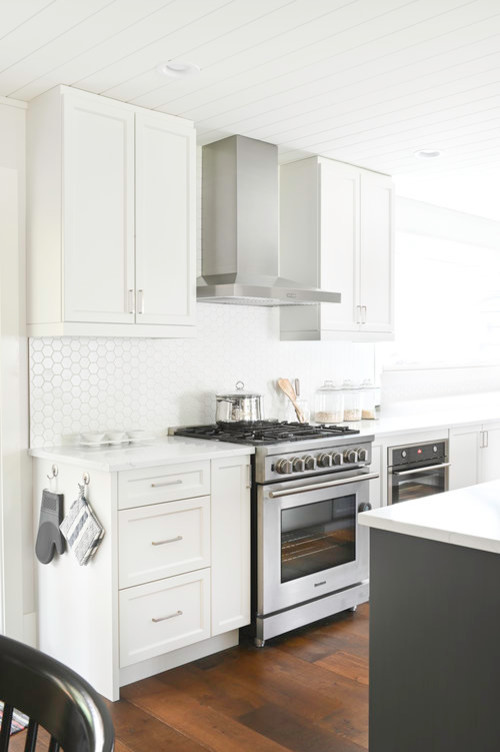 ID# 147219 | Houzz.com – Credit | © Soltis Projects
---
Shiplap Ceiling and Small Tile Backsplash with Shaker Cabinets
This beach-style kitchen finds abode under the white-washed shiplap ceiling, sticking to a basic color and material scheme. From the white shaker cabinetry to the exposed stainless-steel hood, white countertops, and a gray island, every element makes for a timeless aesthetic. The small hexagon tile backsplash with white grout creates a clean look, while the honeycomb tiles introduce a biomorphic pattern to the kitchen. The gray kitchen island and medium-tone wood floor finish bring the right amount of shade, warmth, and texture to break up the achromatic look.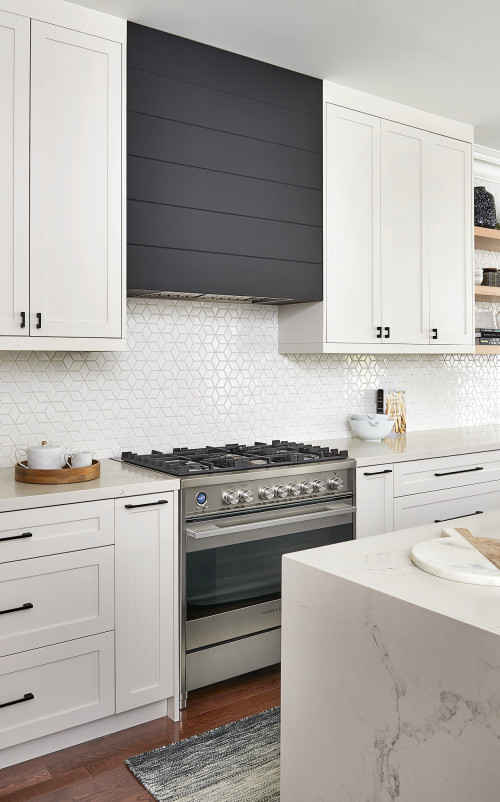 ID# 147220 | Houzz.com – Credit | © FOHR DESIGN STUDIO INC.
---
Black Shiplap Hood with White Cabinets and Floating Shelves
One of the ways to add depth to an all-white kitchen is to create a contrasting point. Case in point: the black shiplap range hood in this transitional kitchen makes the stove section the visual focal point, drawing attention to the white hexagon tile backsplash at the same time. The timber floating shelves add softening features, while the white cabinets ensure that everything harmonizes seamlessly. The black hardware adds tiny gestures to punctuate the space; the traditional pattern runner gives the kitchen a traditional spin.
White Herringbone Tile with White Grout
White herringbone tiles are, indeed, subway tiles installed perpendicularly to one another. These patterns enable designers to come up with different layout options and can be oriented in any direction (right bottom, right up, left bottom, left up). It, in turn, allows them to achieve different looks and movements even with the same pattern.
Additionally, white herringbone patterns are favored for their geometric look, which explains why they are popular in modern and contemporary kitchens. But besides that, herringbone is also the pattern mostly used by the traditional and transitional kitchens that have updated themselves to look modern. In all setups, they create visually intriguing and expressive backgrounds. To highlight the beauty of the pattern, you can ditch the upper cabinetry and take the white herringbone tile backsplash up to the ceiling.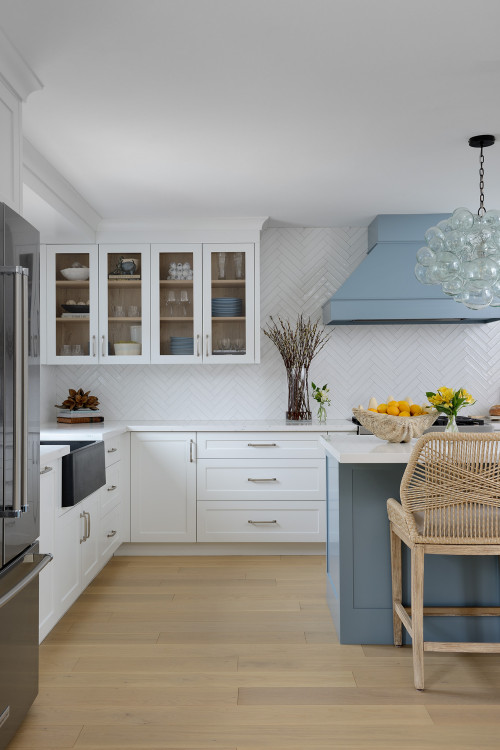 ID# 147221 | Houzz.com – Credit | © Michelle Berwick Design
---
Herringbone Tile Backsplash with Blue Island and Display Cabinets
To expose kitchenware, open shelves are not the only option. You can also use display cabinets just like this beach-style kitchen does. This way, you can also protect them against dusting and breaking easily as they are exhibited behind a glass-front cabinet door. Plus, the display cabinets have a way of their own to suit beach-style kitchens, especially when they are accompanied by a blue hood and a blue kitchen island that refreshes the overall aura immediately. Here, to accompany them, the white ceramic herringbone tile backsplash reaches up to the ceiling to make a statement, while the intriguing glass pendant that consists of little glass bubbles of various sizes commands attention.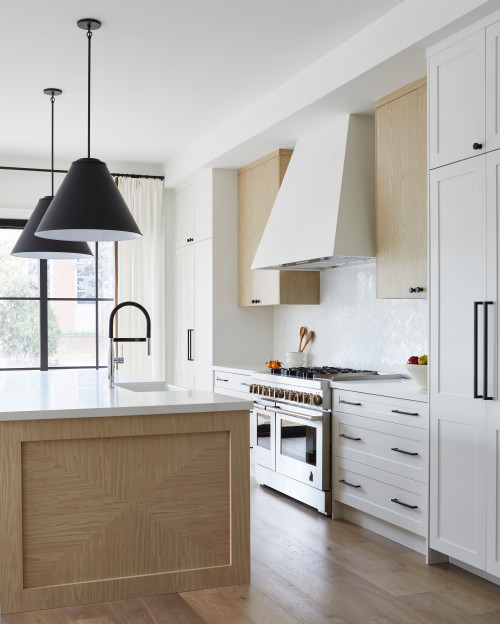 ID# 147222 | Houzz.com – Credit | © Designtheory Inc.
---
White and Wood Cabinetry with Black Hardware
If you are drawn to timeless kitchen looks, let us tell you something: the combination of white and timber makes a perfect couple that will never go out of style. Here, for example, this modern kitchen uses a timber island, timber upper units to flank the range hood, and white base counters to create a well-balanced look. The white herringbone tile backsplash with white grout provides a patterned yet neutral background. To further stylize the kitchen, the kitchen also goes with black hardware that punctuates the cabinets. In a similar vein, the oversized black pendants anchor the design to the kitchen. The final product enjoys the airy and bright atmosphere achieved with a designer look.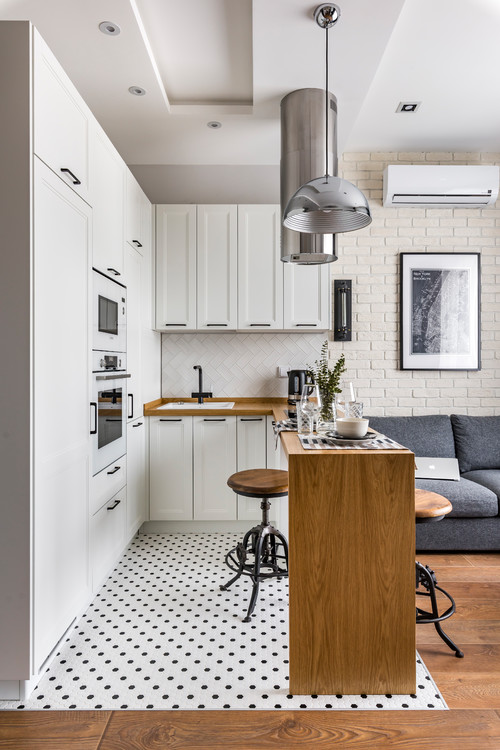 ID# 147223 | Houzz.com – Credit | © Бриц Анна Brits.design
---
White Cabinets and Butcher Block Countertops with Peninsula
Some kitchens don't have enough space to accommodate an island. This kitchen is one of them but knows how to deal with it: by turning one of its arms of cabinetry into a peninsula. The butcher block countertops take their part in the design at this point, warming up the white shaker cabinets. The brushed steel range hood and lighting fixture make a pair overhead to make the peninsula the centerpiece of the kitchen.
White Arabesque Tile Backsplash with White Grout
What makes arabesque tiles stand apart from other tiles is that they have curvy forms that break up the masculine and regular lines heavily used in contemporary and minimalist kitchens. So, if you are bored with such well-defined and linear forms, arabesque tiles are the way to go. They look a bit ornamental but without compromising the modern look of the kitchen. Plus, they also offer one of the best forms to use grout colors like gold, blue, and pink. And as for the white arabesque tile backsplash with white grout, it creates a classic and clean look, like any other white tile and white grout combination.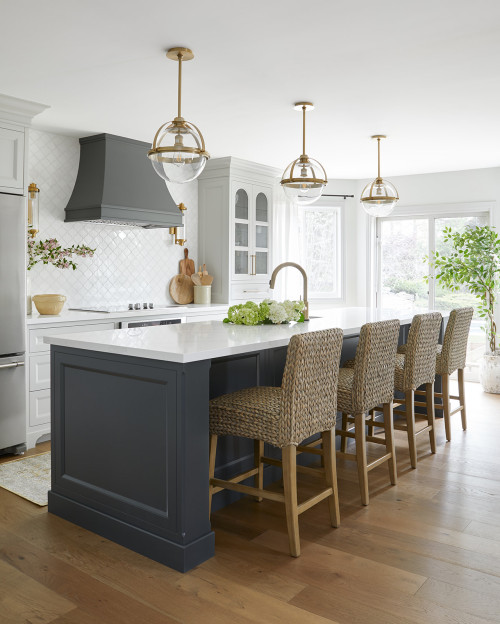 ID# 147224 | Houzz.com – Credit | © Masellis Designs
---
White Arabesque Tile Backsplash with Gray Island and Wicker Stools
This traditional kitchen feels modern enough to compete against modern kitchens. While the white arabesque tile backsplash gives it an oriental vibe, the gray range hood and island collaborate to add a subtle hint of color. The wicker stools and brass-detailed glass globe pendants team up with the island, giving the kitchen uplifting. Not only that they introduce new textures but also enhance the material vocabulary. Brass walls sconces, curved glass-front cabinets, and traditional runner are other noteworthy details used to finalize the kitchen's total look.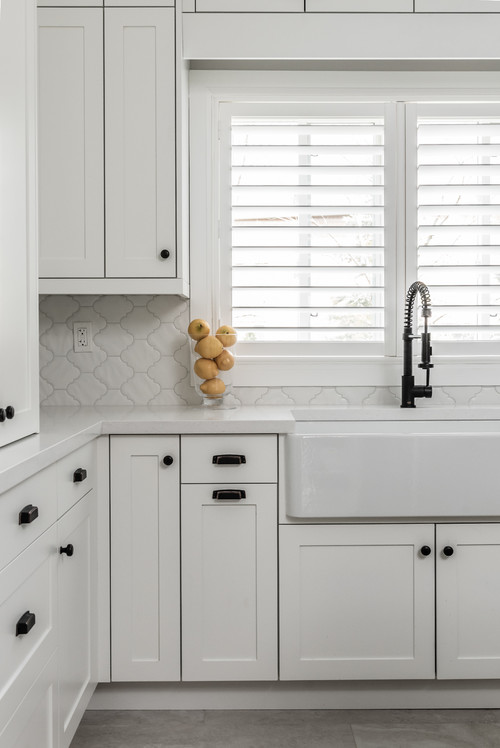 ID# 147225 | Houzz.com – Credit | © Sparrow Lane Interiors Inc.
---
White Tile Backsplash with White Grout and White Cabinets
This transitional kitchen is classic and practical, outfitted with white shaker cabinets and a white arabesque tile backsplash. The white grout between the tiles creates a clean and well-groomed background. The black hardware and butler sink give the kitchen a farmhouse flair.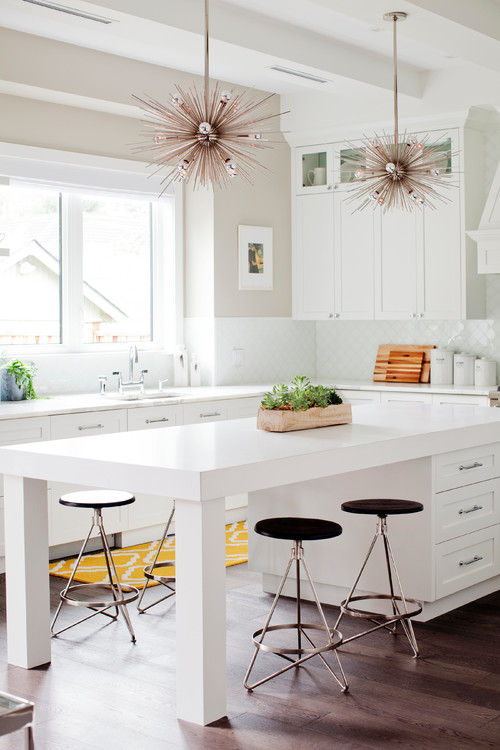 ID# 147226 | Houzz.com – Credit

---
White Cabinets with Yellow Runner and Starburst Lighting Fixtures
Every transitional all-white kitchen needs a punch of color and a whimsical touch, which are a yellow runner and starburst lighting fixtures in this kitchen. Also, keeping the backsplash from cabinet to cabinet is another strategic decision to keep the top walls free so that they can be painted any other color to make the white kitchen pop more. Here, this transitional chooses a light cream-ivory shade that makes a perfect couple with the white cabinets, instilling calmness. In addition to those, the kitchen island activates the kitchen's casual mode, turning it into a spot to hang around with friends and guests.
White Chevron Tile Backsplash with White Grout
As classic and versatile patterns, chevron tiles can be used as a backsplash in any kitchen setup, be it modern, transitional, traditional, or beach-style. Though often confused with herringbone tiles, chevron tile backsplashes have their unique look, resembling zigzag patterns with a more ordered pattern than herringbones. But besides those, white chevron tiles provide an excellent option if you don't want your backsplash to look too white or too plain since they give the white background movement and a modern upgrade.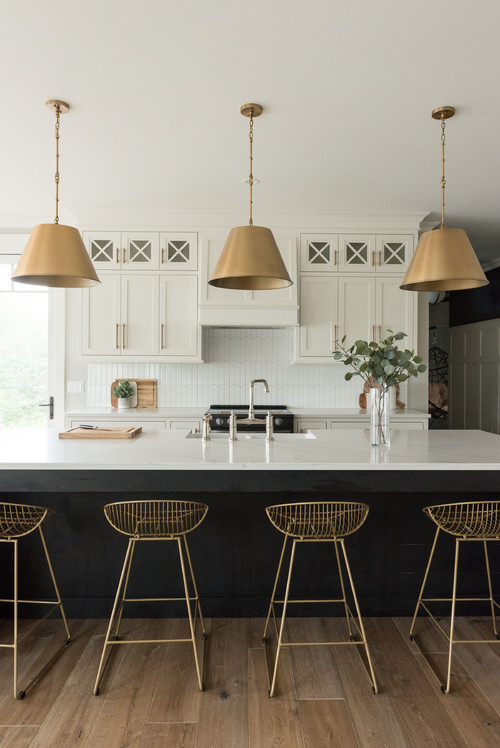 ID# 147228 | Houzz.com – Credit | © Refined Cabinets Inc.
---
White Tile Backsplash with White Grout and Blue Island
Here, the white tile backsplash with white grout peeks out behind the oversized dark blue island. The brass pendants, wood floor finish, and brass wire stools add a touch of glamor without feeling over the top!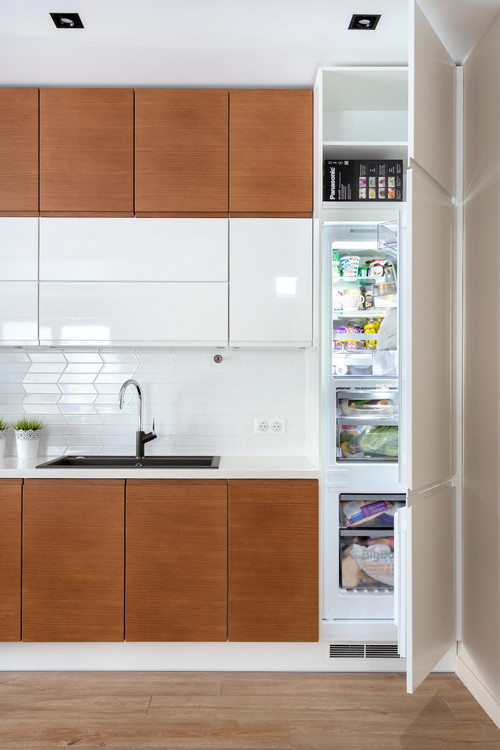 ID# 147229 | Houzz.com – Credit | © PUUSTELLI MOSCOW
---
Scandinavian Kitchen with White Backsplash and Hidden Appliances
The sleek profile of this Scandinavian kitchen mainly springs from the fridge concealed behind white panel doors and the flat-front cabinetry. The gloss finish on the white joinery is calmed down with timber cabinets. And the white chevron tile backsplash laid in an untypical direction serves as the focal point.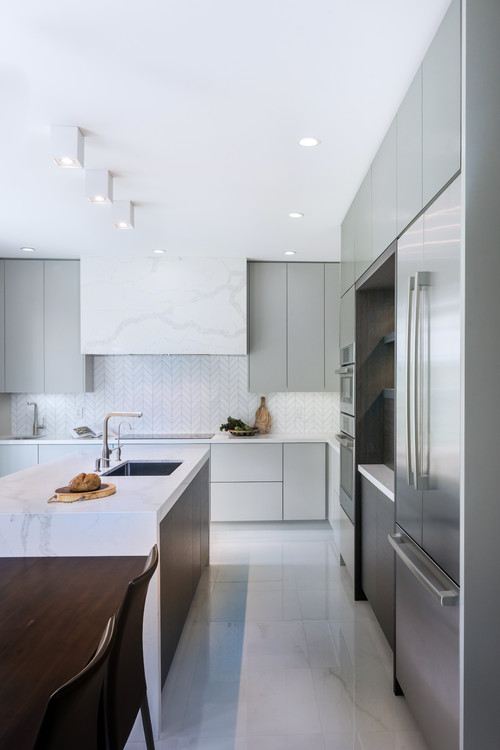 ID# 147230 | Houzz.com – Credit | © Bobeche Interiors
---
Gray Quartz and Quartz Hood Dressing with White Tile Backsplash with White Grout
Here, the gray flat-front cabinets create a neutral setup for all other elements to shine. The marble-look quartz envelops the hood, while the white chevron tile backsplash looks like little braids forming an eye-popping pattern.
White Square Tile Backsplash with White Grout
White square tile backsplashes with white grout are one of the most popular subway tile options, and recently, these square versions have superseded typical (3*6-inch) subway tiles in popularity. The white square tile backsplash especially makes great backgrounds when they are handmade and their edges protrude outwards with the imperfect edges that give them a more authentic look. White grout and satin and gloss finishes make these patterns pop more, creating a timeless and bright background.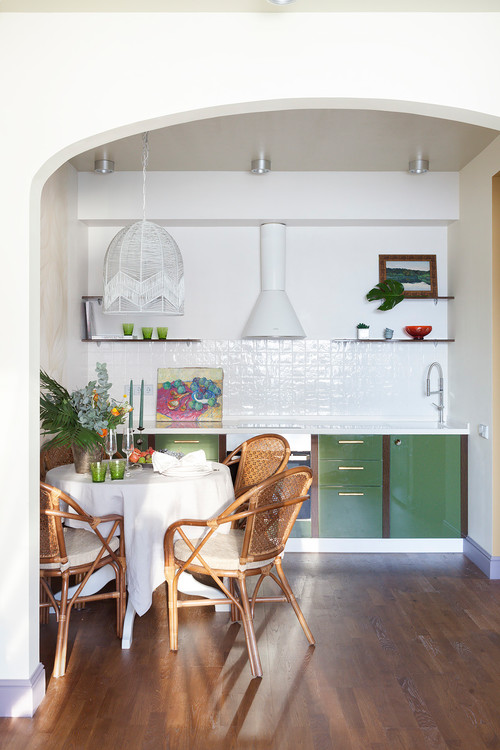 ID# 147231 | Houzz.com – Credit | © Татьяна Харченко
---
White Tile Backsplash with White Grout and Green Cabinets
This cozy I-shaped kitchen consists of gloss green cabinets paired with a white satin finish square tile backsplash. Both serve as space-enhancing factors, supported by the floating shelves used in place of upper wall units. This way, the top half of the kitchen has more room to be embellished with personal items. And here, this negative zone forms part of the design with accessories and paintings that come as whimsical touches and align the kitchen with eclectic looks.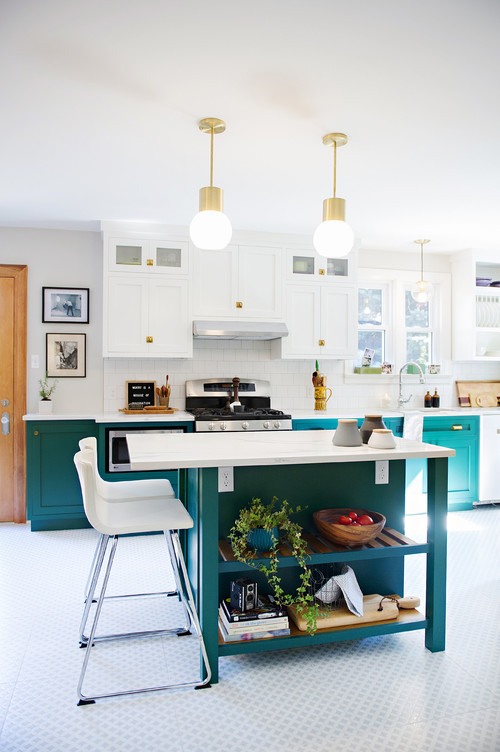 ID# 147232 | Houzz.com – Credit | © Design Factory Interiors
---
Square Tile Backsplash and Blue Cabinets with Brass Hardware
This transitional kitchen is mainly characterized by a white square tile backsplash that gives the kitchen a modern update, while the blue cabinets with brass hardware bombard kitchen users with pops of colors. In the heart of the kitchen, a blue kitchen island with open cabinet features gives the design a farmhouse spin, paired with chrome-leg stools that soften the country look with modern vibes.