60+ Island wood countertop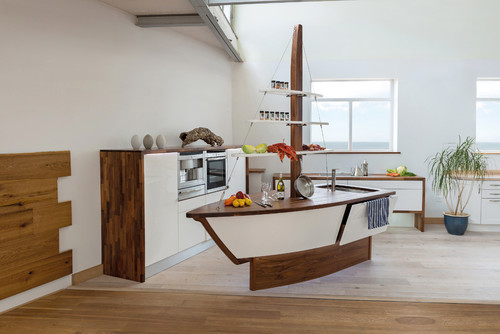 ID# 118203 | Houzz.com – Credit | © Ashgrove Kitchens
---
Unique Kitchen Island Design with Wood Countertop
If you are in love with the sea, you will also love this unique kitchen design! You will feel like you are on a ship while cooking in this kitchen. The kitchen island is designed as a boat which gives the nautical feel to the end. The white cabinets and wood countertops create a harmonious look. White shelves were placed around the sailing mast and provided a space for spices.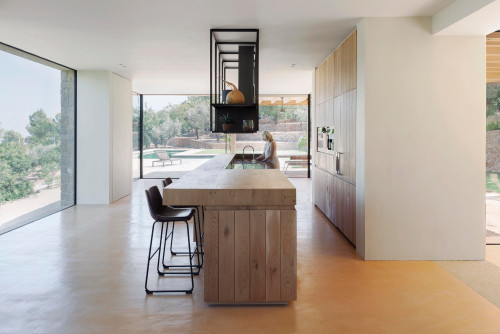 ID# 118233 | Houzz.com – Credit | © Mdba Architects
---
Mediterranean Kitchen with Black Hanging Shelves
In this Mediterranean kitchen, the wood kitchen island is paired with a thick wood countertop. The countertop extended a bit to create a breakfast bar with black chairs. Tall wood cabinets recessed into the wall. The black hanging shelves above the island provide a space for kitchenware and also some decors.
Stylish and Warm Kitchen Island Wood Countertop Ideas
The wood material is one of the most popular countertop materials for kitchens. Wood provides a warm, organic landing surface in a kitchen whatever its style is. And kitchen islands are perfect statement makers that can easily change the overall look. Here, we gather out some of our favorite kitchen island wood countertop ideas that will show you how to work with them together.
Make a rustic touch with a wood countertop to your kitchen island
An eye-catching kitchen island can make a statement and be a beautiful addition that transforms the kitchen. They are the central pieces of the kitchens and if they are well-designed, they can be the perfect spot for gatherings. Wood countertops can be a perfect material for your kitchen island and provide both style and durability. You can protect your wood counters from food and water spills by laying down a protective coating such as mineral oil, tung oil. But not all wood species good for countertops. Thanks to the wide pattern, grain, stain, and style range of wood material it can work well with different styled kitchens. Scroll down and save the best kitchen island designs with wood countertops.
From reclaimed wood to walnut, butcher block to cherry wood there is endless material option to suit up your kitchen island with a wood countertop!