22+ Reclaimed Wood Backsplash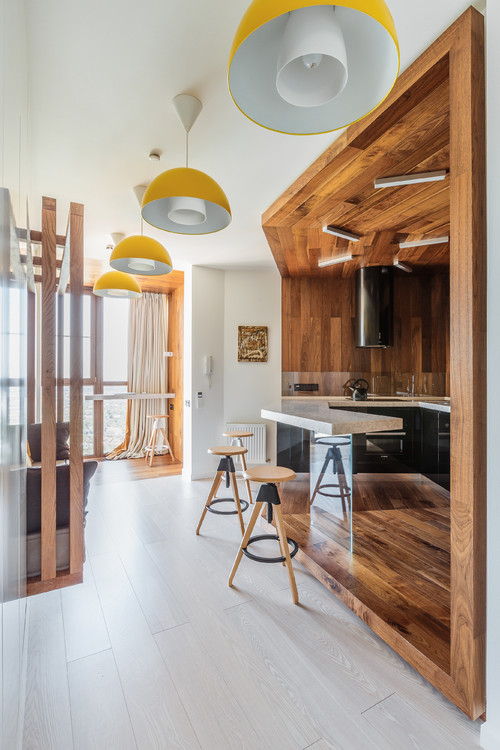 ID# 136201 | Houzz.com – Credit | © ADesign
---
Reclaimed Wood Backsplash with Black Cabinets and Gray Countertops
Situated on an elevated platform and clad in wood paneling from top-to-toe, this contemporary kitchen offers a café-like atmosphere. The black flat-front cabinets topped by concrete countertops follow the shape of the platform, continuing as a peninsula that connects to the walkway as a spill-out zone. Right across sits a banquette inserted under a wooden pergola to create an outdoor flair. Between the two sections of the kitchen, the central walkway is wide enough to preserve smooth human traffic, illuminated by the yellow modern semi-circle lighting fixtures to add a splash of color and enliven the wood applications.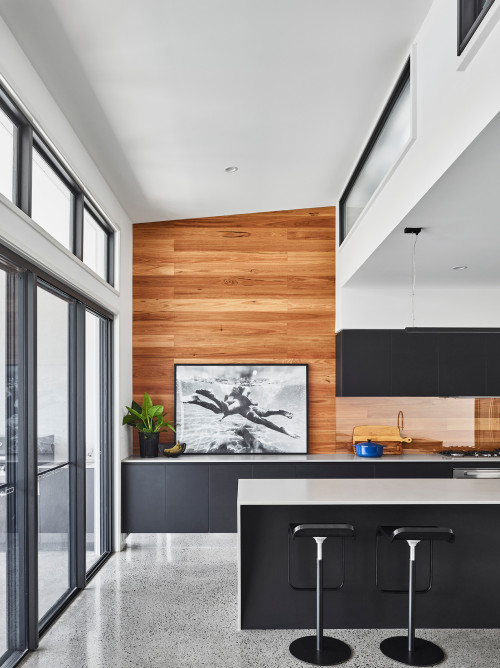 ID# 136214 | Houzz.com – Credit | © Maytree Studios
---
Contemporary Kitchen with Black Cabinets and Modern Reclaimed Wood Backsplash
Reclaimed wood backsplashes vary among each other too, ranging from those that look more rustic to the ones that feel more modern. As such, they give you enough options to go for the look that feels more convenient for your kitchen. Here this open and airy contemporary kitchen uses a ceiling-height and medium-tone backsplash that brings much-needed warmth to the kitchen. If you want to provide it with an extra layer against water splatters and everyday spills, a seamless glass sheet backsplash can be a very functional addition. To complement it, dark cabinets topped with sleek white countertops create a well-balanced look that composes a palette with dark and bright shades along with wood tones.
Reclaimed Wood Backsplash
Whether you love rustic, traditional, or modern kitchens, a reclaimed wood backsplash is a kind of material that you can utilize for any look you desire. Setting itself apart as an easy-to-install material, especially for DIY enthusiasts, a reclaimed wood backsplash when rigorously proportioned to the needs of the space makes a statement without causing the kitchen to feel closed in.
Coming in herringbone, brick, and slender tile patterns or applied as V-groove panels and shiplap boards, reclaimed wood backsplashes envelop the kitchen with a sense of warmth. Whether you want to make your backsplash the same color as the cabinets- which provide a sophisticated and minimalist look – or use it as a mediating feature between contrasting cabinet shades, a reclaimed wood backsplash can serve multiple purposes regarding the needs of the design.
If you are still not into the idea of getting a reclaimed wood backsplash, just read on. in this blog, we have a list of kitchen designs with reclaimed wood backsplashes used in different contexts that will surely get you inspired for your next home improvement project. Also, keep in mind that reclaimed wood backsplashes can easily give your kitchen a new look without requiring any further changes in the space.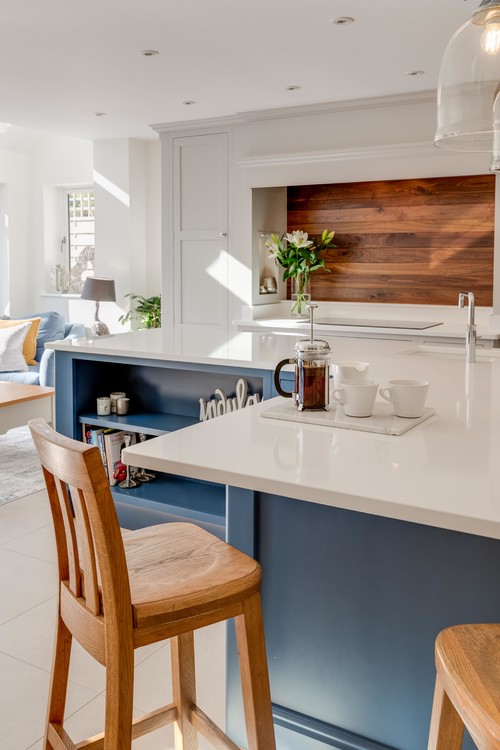 ID# 136202 | Houzz.com – Credit | © Create Perfect
---
Airy Kitchen with Blue Cabinets and White Quartz Countertops
If you have missed your vacation opportunity this year or want to feel like you are a full-time vacationer, why don't you create a beach-style look for your kitchen? With its open-plan layout, this coastal design kitchen executes the beach spirit perfectly with white quartz countertops and blue cabinets that impose a sense of serenity. The casualness is kept alive with a reclaimed wood backsplash that stands out as the highlight of the kitchen. The L-shape of the island offers a hefty workspace paired with wooden counter stools to turn the shorter arm of the island into a laid-back dining zone. Overall, it has a purposeful casualness and relaxed atmosphere championed with glass pendants.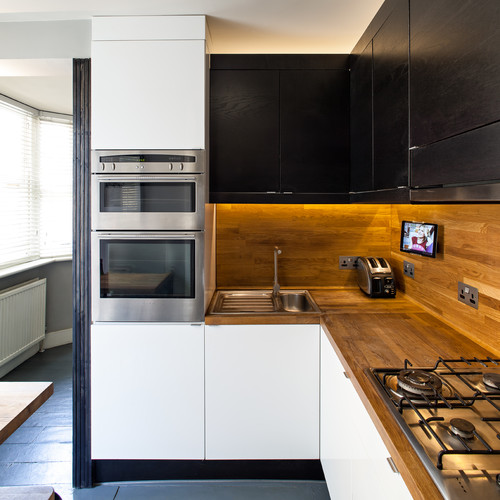 ID# 136203 | Houzz.com – Credit | © APE Architecture and Design Ltd.
---
Modern Kitchen with Reclaimed Wood Backsplash and Countertops and Two-tone Cabinetry
If you are looking for a way to soften the contrast between the white and black cabinets, a wooden backsplash and countertops will do it for you. This modern kitchen, for example, benefits from the uniform look of the wooden backsplash and countertops to create a seamless design in this cozy London apartment. It also features under-cabinet lighting that adds warm task lighting to provide a more efficient working space.
Can you use reclaimed wood as a backsplash?
For those looking for a warming and eco-conscious material, reclaimed wood backsplashes are great alternatives for a kitchen backsplash. Available in different colors, patterns, and sizes, they offer a wide range of design possibilities. You can buy them or repurpose your old wooden tables and give them a new life as your new backsplash. This way, you enjoy the process of your DIY project and create a sustainable design, going green in your kitchen. You can get them customized (or you can just do it yourself) and paint them as you wish to have the dream look you have in mind.
Another advantageous part of reclaimed wood backsplashes is that they are easy to install and a lot cheaper when compared to many other elements on the market, especially if you go with pallets and planks. So, just keep in mind that reclaimed wood backsplashes are always a choice and a good one. If you need a change in your kitchen but don't want it to cost you an arm or a leg or your time, shiplap boards, beadboard, and reclaimed barn wood can give your kitchen a new outfit. Even with this small change, you can make your kitchen feel like a whole different place.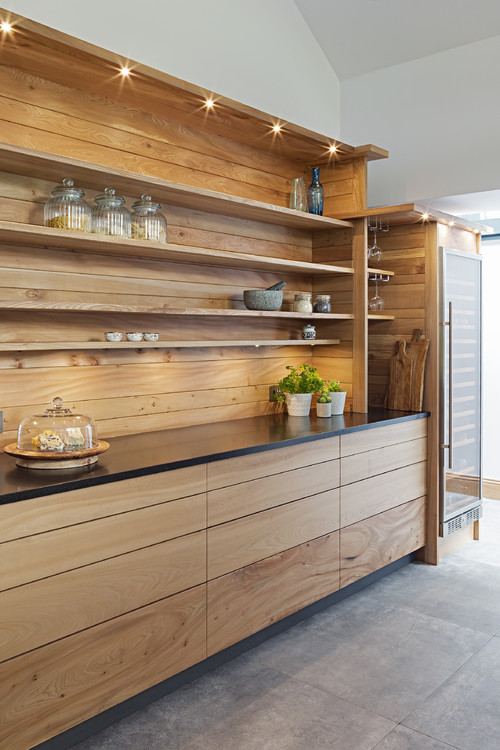 ID# 136204 | Houzz.com – Credit | © Hout Design Ltd
---
Contemporary-Industrial Kitchen with Black Countertops and Exposed Concrete Floor
For those looking for a contemporary and industrial look, this kitchen showcases how to create one. First, pairing the wooden backsplash with wooden cabinets in the same shade and material creates a singular body that gains dimension with the floating shelves. Secondly, it goes with black countertops to bring the right amount of dark shade and encourage the space to feel more modern and closer to an industrial style. Lastly, it finalizes the look with the poured concrete flooring for a raw feel that accompanies the exposed reclaimed wood surfaces. Overall, this natural design kitchen uses a very basic palette without costing it an arm and leg, complementing it with kitchen plants and cutting boards to style the shelves and countertops.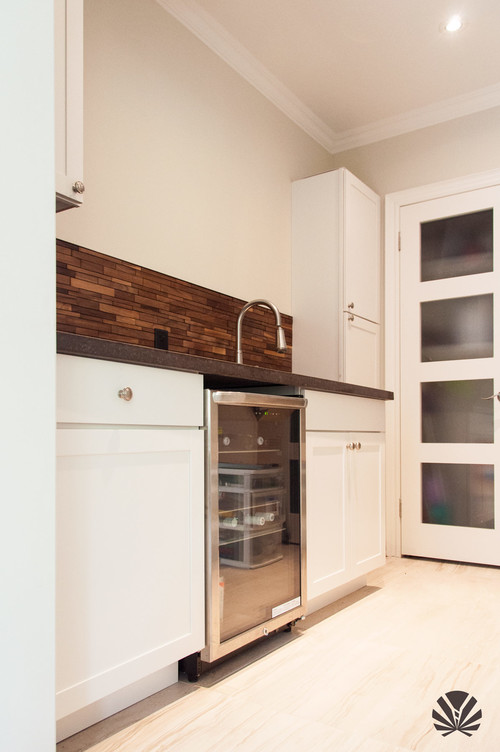 ID# 136205 | Houzz.com – Credit | © Impact Renovators
---
Renovated Storage Room with Slender Tile Wood Backsplash and White Shaker Cabinets
Used to be a dryer and washing room, this cozy spot is now a bright storage space that accommodates a wine fridge, sink, and bar top. The white shaker cabinets almost fade into the background of white walls and white-tiled floors. The dark countertops and slender tile wood backsplash break up the monochromatic look to create a rustic feel, while the washing machine and dryer are kept out of sight in a custom-designed glass cabinet skillfully.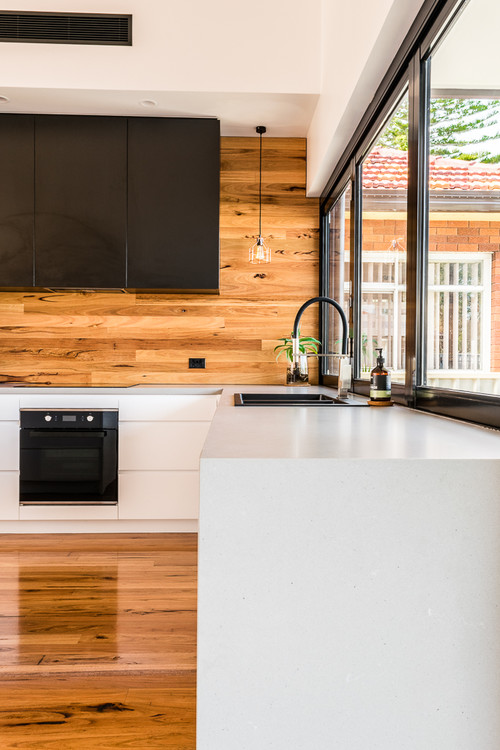 ID# 136206 | Houzz.com – Credit | © Be Inspired Kitchens
---
Modern Kitchen with Rustic Wood Floor and White Cabinets
Matching your backsplash with your flooring is a great idea to create a continuous design. This modern Sydney kitchen chooses rustic wood as the protagonist of the kitchen and uses it to sheathe the walls and floors. While doing so gives the floor a glazed finish to let lights bounce off around the room, whereas the backsplash is kept matte to not overwhelm the space. For a modern look, it also goes with two-tone cabinetry in contrasting shades of white and black to echo the black stains on the wood while brightening up the overall look. Apart from those, another interesting use of space comes with the 3-panel window serving as a second backsplash that invites natural lights indoors and visually expands the sense of space.
Rustic Reclaimed Wood Backsplash
For a picturesque mountain cabin and forestry feel, rustic reclaimed wood backsplashes are a route to you. Creating comforting and engaging looks with a beach feel, these rustic touches are more eligible in rustic, cottage-style, and farmhouse kitchens. And if you want to go all rustic, don't refrain from combining different textured elements such as bricks, stones, and more wood. Plus, you don't even have to stop the wood application on the backsplash. Rather you can extend it on the floor and ceiling or use ceiling-height wood backsplashes. Doing so will give you a continuous design and seamless look that will look sophisticated as well.
In these kitchens, you can also couple wood backsplashes with weathered-look cabinets, discolored floorings, reclaimed kitchen islands, a wood log used for range hood trim, old colorful bottles turned into lighting fixtures with light bulbs inserted into them, and rugs with traditional patterns. Of course, this list can go longer and longer. But just keep your focus on repurposing old items and intriguingly incorporating them into your kitchen. It will help you personalize the space and give you the kind of look you will feel proud of every time you step into the kitchen.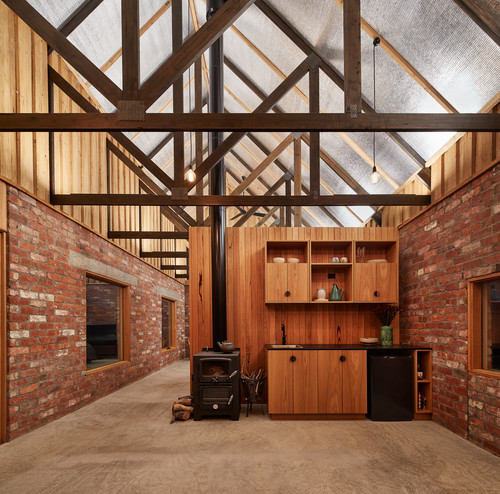 ID# 136207 | Houzz.com – Credit | © MRTN Architects
---
Rustic Kitchen with Wooden Cabinets and Brick Walls
Under the gabled ceiling with exposed wooden beams, this rustic kitchen merges the margins of domestic life with nature. It is mainly characterized by light wooden cabinets and V-groove backsplash and surrounded the red brick walls interspersed with picture windows. The exposed wooden surfaces and brick walls create a robust and raw cooking space that feels down-to-earth. The double-height volume complements the grandeur of this rustic environment, while the light bulbs take the lighting planning to the basics to match the spirit of this rustic kitchen. The black appliances, cabinet shelves, and a black wood-burning stove add a punch of character for a more industrial feel. Overall, serving as an archetype of a ranch house, this rustic kitchen creates an indoor living out of outdoor materials.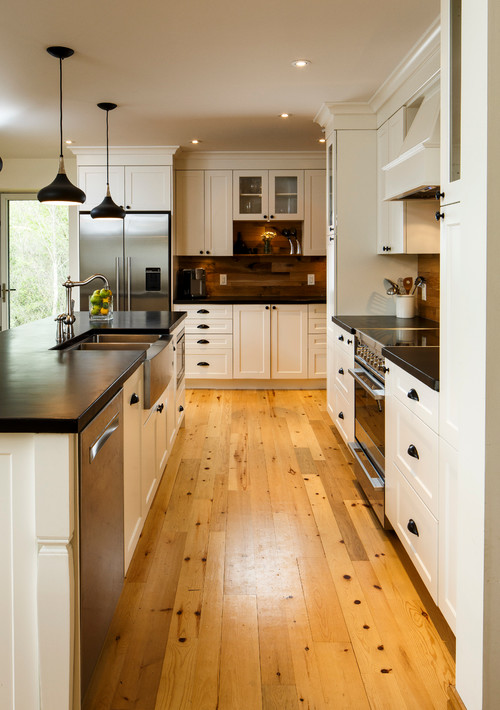 ID# 136208 | Houzz.com – Credit | © The Conscious Builder Inc.
---
Transitional Kitchen with Black Countertops and White Cabinets
This transitional kitchen brings together rustic and modern features to create an
engaging comfy space. Partially built upon the contrast between the white shaker cabinets and black countertops, it goes with rustic flooring and a reclaimed wood backsplash to complement the outlook. The bridge faucet, butler sink, dome-shaped pendants, and black oversized hardware give the kitchen a farmhouse flair, while the island unit demarcates the cooking space in this open-plan layout.
How do you make a wooden backsplash?
If you have pallets or old timber furniture items, you can reclaim these unwanted and no longer-needed wood pieces to make a wooden backsplash.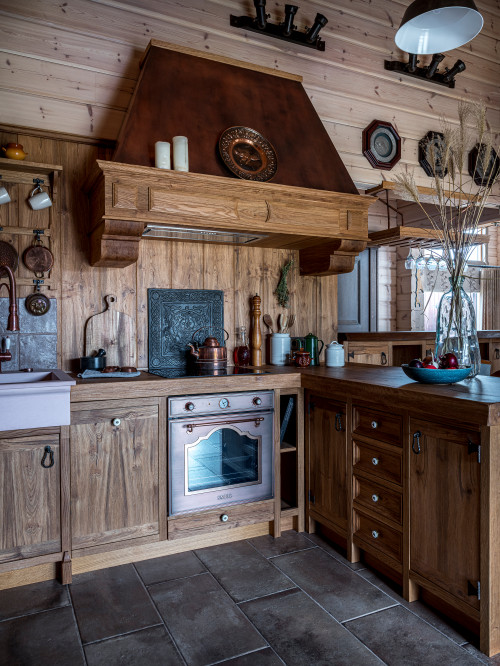 ID# 136209 | Houzz.com – Credit | © Татьяна Трофимова I Дизайн деревянных домов
---
Rustic Kitchen with Wooden Cabinets and Discolored Floor Tiles
Opting for a rustic design often means the incorporation of salvaged wood, weather-looking cabinets, and unconventional textured surfaces. But it doesn't mean that you will have to compromise the beauty and style of the space. Here, this rustic kitchen, clad in wood from top-to-toe, employs wooden cabinets, reclaimed wood backsplash, and countertops, along with discolored gray floor tiles as the main defining features of the kitchen. And these textured elements feel ready to take the users on a tactile journey, while the wall-mounted rails with copperware, antique lighting fixtures, and bulky range hood with corbels give life to the salvaged natural items.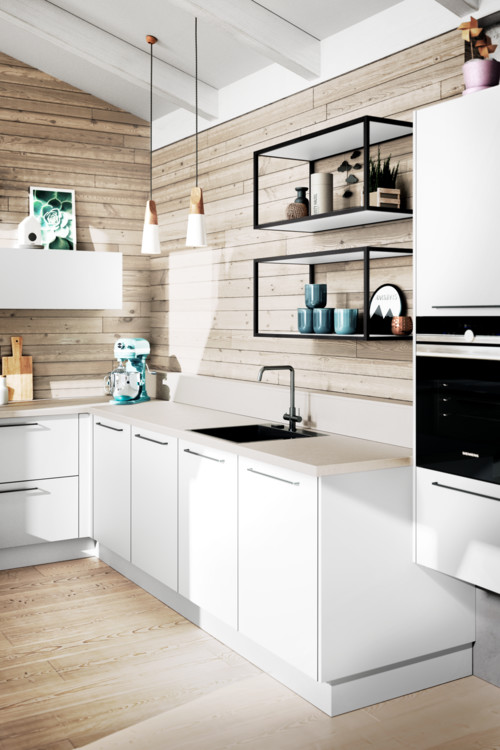 ID# 136210 | Houzz.com – Credit | © Hacker Kitchens Calgary
---
L-shaped White Kitchen with Open Cabinets and Reclaimed Wood Backsplash
Reclaimed wood backsplashes are not only for rustic kitchens. Contemporary kitchens with sleek white cabinets also favor natural elements to add a Scandi feel or just to go more natural. In a similar vein, this modern kitchen uses a light wood backsplash that reaches the ceiling, running along the perimeter counters configured in an L-shape. And it is given more dimension with black open cabinet shelves to bring together rustic and modern vibes. This way, the kitchen also feels more open and has more breathing space to compensate for the sloping ceiling that encloses the cooking zone slightly. In such situations, you can also go with a white-dominant color palette just like here to amplify the space visually.
Is a wood backsplash a good idea?
In functional terms, a wood backsplash may not be a very ideal material because it is flammable and prone to harbor bacteria and mildew. However, in aesthetic terms, it is an excellent material, especially for those seeking a classic mountain cabinet feel.
From salvaged wood logs to plywood, shiplap, beadboard, and barn wood, there are multiple wood backsplash types. Plus, they are easy to install and much more affordable. You can even repurpose your old timber table and make your backsplash. This way, you can also create a sustainable design, minimizing the burden on nature.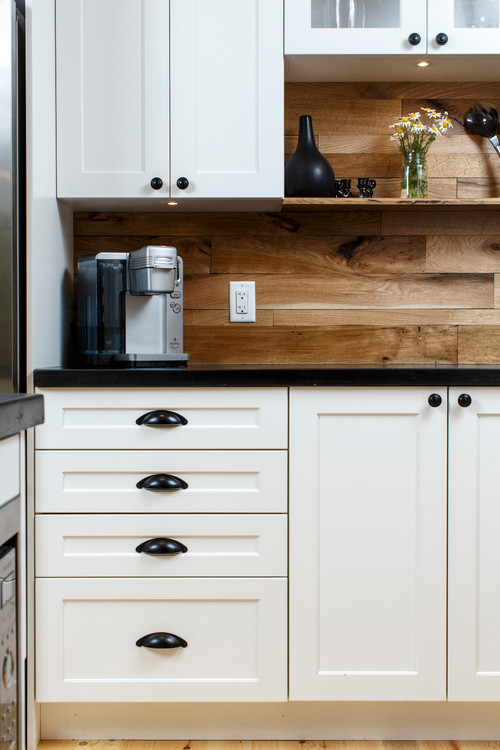 ID# 136211 | Houzz.com – Credit | © The Conscious Builder Inc.
---
Eco-Conscious Design with Salvaged Wood Backsplash and White Cabinets
If you would like to create a more eco-conscious design, focus on recycled and repurposed elements like glass, wood, and salvaged marble. By doing so, you not only diminish the burden on nature but also gives new life to old materials. In this modern farmhouse kitchen, for example, the salvaged wood backsplash adds warming shades flanked by white shaker cabinets and sleek black countertops, creating a user-friendly environment. The wood floating shelf, display cabinets, and black hardware style the rest of the space with characterful touches.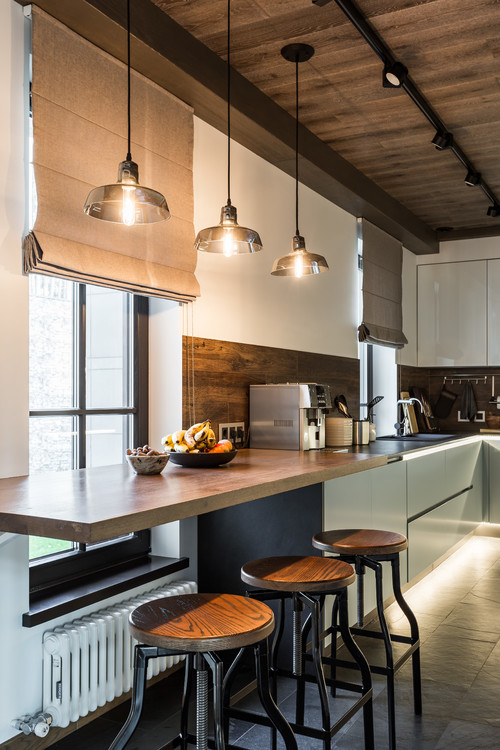 ID# 136212 | Houzz.com – Credit | © Maxim Maximov
---
Contemporary Kitchen with White Cabinets and Dark Countertops
The opposite shades, materials, and characters ring true in contemporary-rustic kitchens, and this kitchen is just one of them. Outfitted with white modern cabinets, dark countertops, and standard-size wooden backsplash, it delivers warming shades contextualized in modern lines. It is complemented by the wood-clad ceiling that envelops the space with a sense of warmth and a wall-mounted wooden countertop facing the window. And this cozy spot serves as a breakfast bar reserved for three people. Thus, a trio of modern black glass pendants and backless stools complement the modern-rustic feel perfectly.
Modern Reclaimed Wood Backsplash
Unlike salvaged lumbers and logs, a modern wood backsplash has more civilized and refined patterns and lines as well as the ones featuring black, gray, and blue undertones. But it doesn't mean that warm shade wood backsplashes are not welcome in modern kitchens; for example, if you have white and black cabinets and need a warming shade, barn wood backsplashes will introduce warmth. Likewise, if your contemporary kitchen is filled with upscale and stainless-steel appliances, a heartwarming wood backsplash will warm up the space instantly and prevent the kitchen from looking clinical and jarring. In other words, wood additions always provide nice warm additions and bring textured surfaces to add a punch of character to the otherwise too-sleek and distant-looking modern spaces.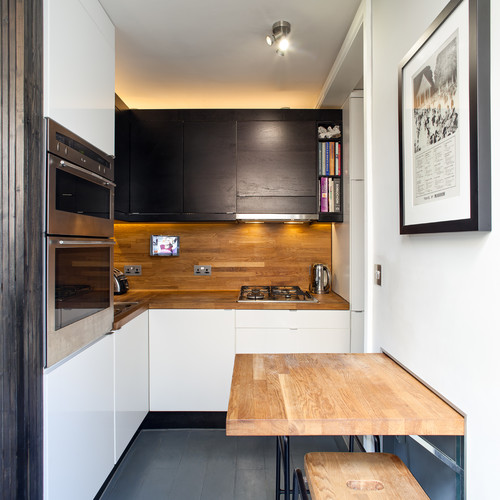 ID# 136213 | Houzz.com – Credit | © APE Architecture and Design Ltd.
---
L-shaped Contemporary Kitchen with Contrasting Shades and Wooden Countertops
When you are using a wooden backsplash, you don't have to stop there, you can also extend it to cover the countertops as this contemporary kitchen does. Though having a compact space, it optimizes the use of space configuring cabinets in L-shape. But still, it needs another trick to pull off a sense of consistency in terms of design elements not to overwhelm the look. That's why using wood for both backsplash and countertops is a smart addition. Plus, it gives the kitchen a bonus credit by initiating a soft transition between the white and black cabinets.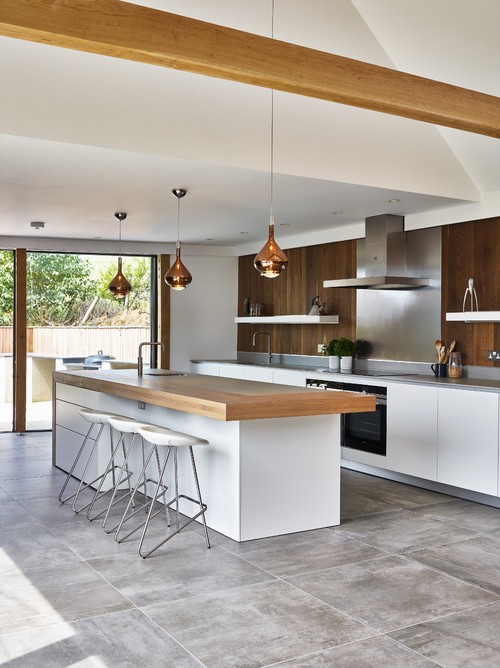 ID# 136215 | Houzz.com – Credit
---
Modern Industrial Kitchen with Stainless Steel Backsplash and Wood-Paneled Walls
In pursuit of a natural and industrial design, this modern kitchen takes design cues from the surrounding environment and overall architectural features of the house. To start with, the gabled roof allows the ceiling to protrude outwards toward the sky, while the exposed wood beam connects it back to the kitchen. Designed as a galley style, this contemporary space uses one wall to house floor-to-ceiling cabinets for ample storage and the other wall to create a cooking zone. On the opposite, the wood-paneled walls receive a metal treatment with the stainless-steel backsplash behind the hood.
The white floating shelves flank this steel range hood, accentuating the wood panels without blocking the charm of the wood shades and texture. In the center, a modern kitchen island feels at home, cantilevering out for a well-defined eating and working space. Additionally, opening onto the outdoor space through the glazed door on both sides, the kitchen feels visually expanded with a blurred distinction between the exterior and interior spaces. Plus, the exposed concrete floor supports this outdoor flair ever-present inside the home.
What do you seal a wood backsplash with?
Polyurethane and spray-on conversion varnish help preserve the wood look and increase the durability and lifespan of a wood backsplash.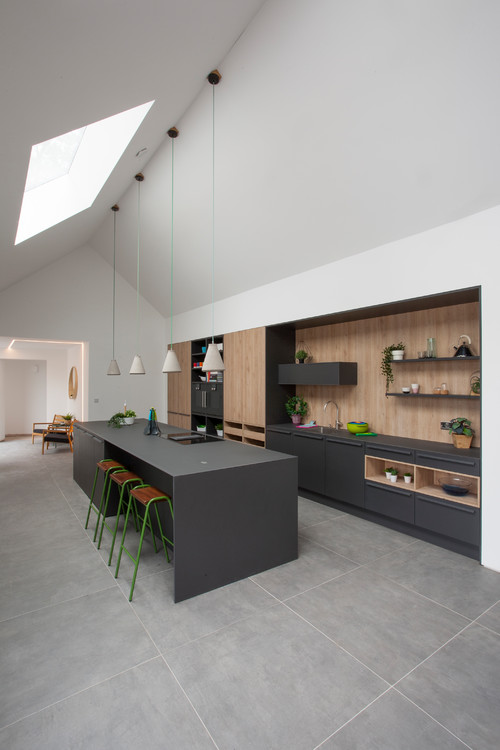 ID# 136216 | Houzz.com – Credit | © Reflections | Studio
---
Vast Modern Kitchen with Ceiling-Height Wood Backsplash and Black Cabinets
A sustainable design could be best achieved with a reclaimed backsplash made of wood as in this kitchen. Used as a ceiling-height backsplash, it brings warmth, texture, and coziness into this kitchen. To create a continuous look with this wood backsplash, the full-height cabinets are given a wood finish. Taking advantage of the vastness of the kitchen, the rest of the dark gray cabinets spread across alongside the kitchen island placed right under the skylight for natural task lighting. The floors are blanketed with large format gray tiles that feel proportionate to the vastness of the space. The cased opening leading to the adjacent seating area expands the sense of space even more. But above all, what sets this kitchen apart is the way it finds a balance between sleek lines and organic textures while going green at the same time.
Painted Reclaimed Wood Backsplash
If you are looking for something other than wood shades, you can paint your pallets or planks any color you wish for. Light blue, white, and mint green prints could bring a subtle shade of color to create an alleviated and airy feel. Plus, is there anything more entertaining and meaningful than building your kitchen?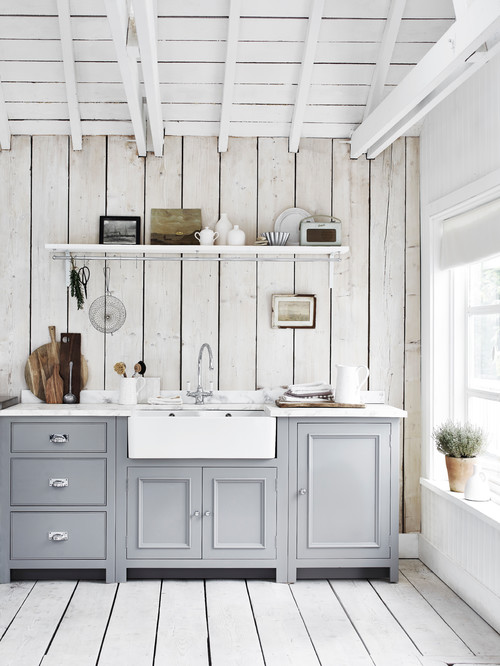 ID# 136217 | Houzz.com – Credit | © Neptune
---
White Painted Reclaimed Wood Backsplash with Blue Cabinets and Marble Countertops
If you are looking for a change and want your kitchen to adopt an all-white look, you can experiment with reclaimed wood backsplashes and paint them any color you want. Here, this traditional London kitchen sets its intention on a monochromatic look that is imparted with a subtle shade of blue. To achieve that, it utilizes a white-painted wood backsplash to give the kitchen an airy and lightened-up feeling. Likewise, the floors come in white-painted wood slats along with white ceiling beams and a white floating shelf. To break up this monotonic look, the cute blue cabinets come in, topped by Carrara marble countertops. The light bluish striations on the marble add the perfect amount of movement to the worktops. Additionally, the timber cutting boards, paintings, kitchen utensils, and indoor plants placed by the windowsill add a dash of character to the kitchen.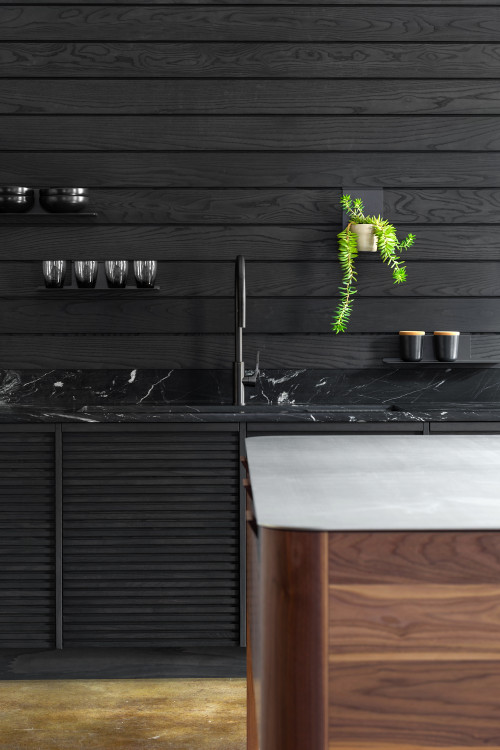 ID# 136218 | Houzz.com – Credit | © Cuisines Steam
---
Industrial Kitchen with Black Backsplash and Black Marble Countertops
Black shades always leave a lasting impression on spaces and their users, thanks to their deeply artistic and modern looks, and this industrial kitchen is no exception. It is provided with a black-painted wooden backsplash teaming up with a black marble countertop and black fluted design cabinets. Though all these essential features could have acted as a singular body, the rich and expansive material vocabulary of the kitchen enables each element to do the speaking for itself. But, when necessary, some are made to remain barely there such as the black floating shelves that melt into the background, allowing the kitchenware and kitchen plants to pop against the all-black background. And the rest of the space houses softening features that include a wooden-base island topped by a white natural stone countertop and seamless glazed green flooring. These additions make the kitchen feel much more sophisticated and opulent.
How to install a reclaimed wood backsplash?
Installing a reclaimed wood backsplash is not a very daunting task, which makes it perfect for DIY projects. Without requiring much effort and mess, you can easily install one for yourself.
Preparation
First, start by measuring the application area. Measure the length and width of the area and calculate the area by multiplying these numbers. Don't forget to get extra supplies for the mistakes and waste.
Continue with removing the electric outlets and switches. Also, make sure to cut the wood panels where the outlets need to go. You can use a jigsaw to make these cutouts. The next step is to prepare the wall. Using sandpaper, you can get rid of the bumps. Just make sure that the wall is flat and de-glossed for the glue to stick properly.
Installation
Before installing the panels, apply a coat of sealer to both sides of them. You can use varnish, lacquer, or wood oil for that. After the sealing dries, you can start to install the panels. To hang them, you can use a construction adhesive and a nail gun. Wood glue is also one of the best ways to install wood planks, extending the lifespan of the backsplash and minimizing the impact of heat and moisture.
Continue by spreading the glue on the back of the backsplash and press it on the wall. It is important to allow a 1/8-inch expansion gap around the perimeter of the backsplash so that the wood can move if needed. When installing a reclaimed wood backsplash, you can place them as you wish and secure them to the wall by using ring-shank nails and adhesive.
When you are done with this part, the biggest part is over, too. The biggest part is over. Now, you can sand the backsplash for a flatter surface before applying the varnish. But first, get rid of the dust that sanding causes; then, apply one or two coats of varnish. If you want an easy-to-clean surface, you can apply a gloss finish as well.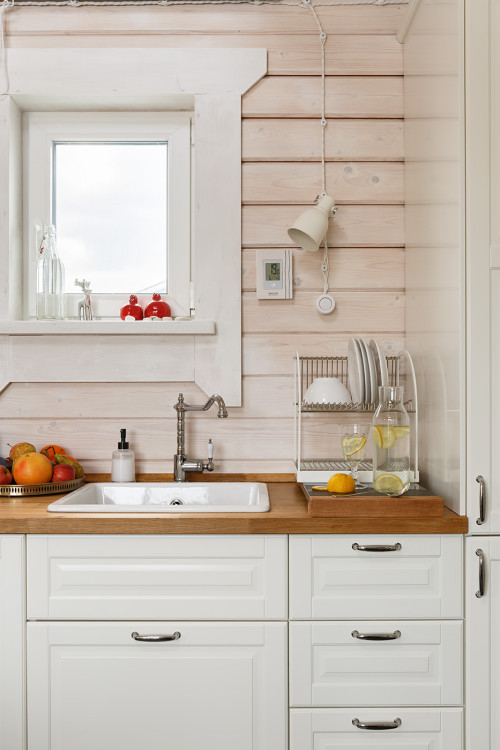 ID# 136219 | Houzz.com – Credit | © АВИЛА. Студия интерьера и архитектуры
---
Light Kitchen Design with White Raised-Panel Cabinets and Wooden Countertops
Sometimes it feels challenging to pick a color palette for your kitchen, let alone your backsplash. But for something timeless and warming, shades of white and wood are a safe choice to go with. This kitchen uses white and light wood for cabinets and the shiplap backsplash, which doesn't look boring at all. Rather, it develops a layered character with textured elements that come as wooden countertops and plywood shiplap backsplash in addition to the brushed chrome handles that add movement to the cabinets.
Faux Reclaimed Wood Backsplash
If you can't afford a real wood backsplash but can't give up on the wood look, why not go with a faux wood backsplash? You can use peel and stick panels that are easy to install and affordable. As the newly produced faux versions are as good as the original by even faking textures and color variations, thanks to the advancement of technology, you won't have to compromise anything in aesthetic terms. Plus, if you get bored with the look, you can get rid of these panels anytime you wish without damaging your walls.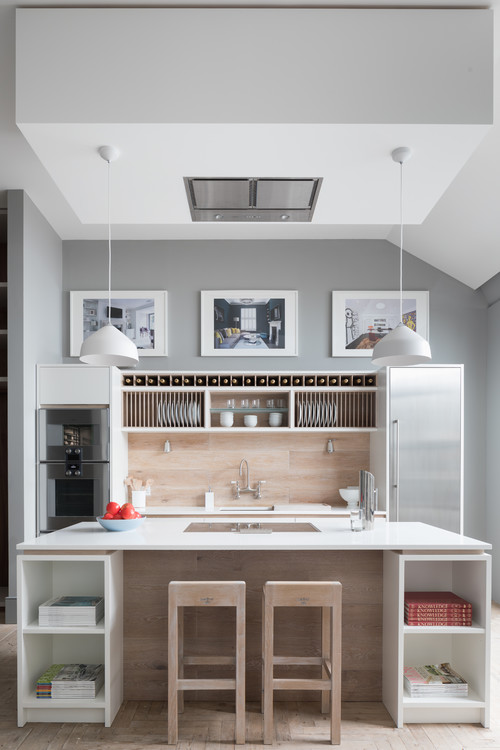 ID# 136220 | Houzz.com – Credit | © Cue Group of Companies
---
Faux Reclaimed Wood Backsplash with White Cabinets and Open Shelving
Featuring a restrained palette of wood and white shades, this modern kitchen has a compact but self-contained cooking space. Consisting of white cabinets, an oversized island with cabinet shelves, and white quartz countertops, it sticks to an airy and natural look. In the background, the faux reclaimed timber backsplash looks as authentic as the original wood panels, while the plate and wine racks help wine bottles and plates keep in order. Likewise, the drawers are designed with solid oak drawer dividers for better organization.
A little away sits the island, featuring a design reversing the perimeter counters. It has a white countertop with a light timber base for a sense of asymmetry and is illuminated by a duo of white dome-shaped pendants. Additionally, a thick white volume serves as a false ceiling, concealing the range hood for a clutter-free design. Overall, it is well-organized, keeping everything in balance.
Reclaimed Wood Backsplash Behind Stove
Sealing wood backsplashes is especially important if you are going to use them behind the stove. This way, you can ensure a non-porous surface and increase its heat resistance. Or better, you can place a glass, Perspex, or acrylic screen as armor for the wood. Since wood is flammable, it is not a very ideal material to be used behind stoves. But as long as it is sealed and maintained properly or protected by another layer of transparent material as aforementioned, it should cause no problem.
It is also important to keep in mind that there are wood types that are more fire resistant. You can just ask for the help of local manufacturers at this point. Additionally, to ensure that you do everything right, you can check with your local building department or the fire code. According to the fire code, a minimum of 18-inches needs to be left between the backsplash and back stove burners.
Apart from those, when it comes to the aesthetic benefits of a wood backsplash behind the stove, demarcating your cooking zone with a wood backsplash adds a nice aesthetic value. And for the rest of the wall, you can go with white subway tiles, white-painted beadboard panels, or gray and black glass sheet backsplashes for a modern feel. Whether you want an airy or dramatic look, you can choose your cabinets accordingly. White and black cabinets are most commonly used as it is easier to capture timeless looks with these neutral shades. Plus, warming wood tones bring out the warmth of these colors, creating a well-functioning aesthetic design.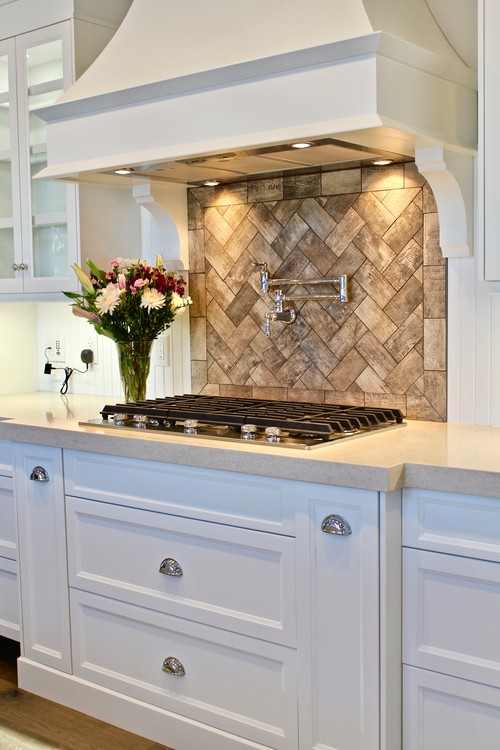 ID# 136221 | Houzz.com – Credit | © Cedar Creek Custom Homes
---
Beach Kitchen with Herringbone Pattern Wood Backsplash Behind Stove and White Cabinets
As a both visually and texturally comforting material, wood suits the laid-back spirit of beach-style kitchens perfectly, especially when it is used as a backsplash. Here, this coastal design utilizes a herringbone pattern wood backsplash that adds a very intriguing design to demarcate the stove zone, while the rest of the walls are clad in white beadboard panels. The herringbone pattern of the wood backsplash is reminiscent of the travertine tile backsplashes used in traditional kitchens under the bulky range hood dressing. The light beige countertops and white shaker cabinet along with the display overhead cabinets introduce sandy shades lightened up with white tones and glass insertions.
How to clean a reclaimed wood backsplash?
Reclaimed wood backsplashes need regular cleaning like any other material. But since it is porous in nature, unlike quartz and glass, it demands a bit more care. But its cleaning routine is more or less the same as the other materials' cleaning routines. Using soap or mild dish detergent with water is enough to remove the daily dirt. But after cleaning, don't forget to dry it with a soft cloth because exposure to water in the long term might damage your backsplash unless it is sealed properly.
Apart from those, it is also recommended to use mineral oil regularly on the backsplash to avoid any dirt and grease accumulation or penetration of unwanted splatters into the wood. Plus, a coat of mineral oil also gives your backsplash a nice satin finish. Wouldn't you also like to kill two birds with one stone?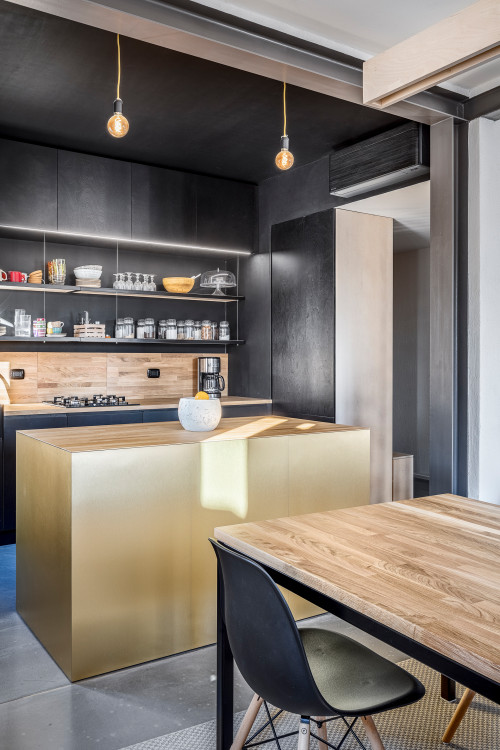 ID# 136222 | Houzz.com – Credit | © DOOT studio
---
Modern Shabby Chic Kitchen with Reclaimed Wood Backsplash and Brass Island
How would you imagine a modern shabby chic kitchen? Well, we think this kitchen might help you with that, featuring one of those looks built upon dramatic contrasts and statement materials, reconfiguring how modern shabby chic could look. To start with, as you expect from any other shabby chic kitchen, a three-row of open shelving is also used here. But in modern lines and against a sleek black backdrop. And what is complementing it is
the wood backsplash and countertops that bring a soft feature to temper the black walls and cabinets. And right across the perimeter counters, an island carved out of brass communicates a sense of luxury, bringing warming shades that feel opulent at the same time. In short, this modern kitchen uses contrasting shades introduced by contrasting materials for a more unregulated design to give it a shabby chic touch.