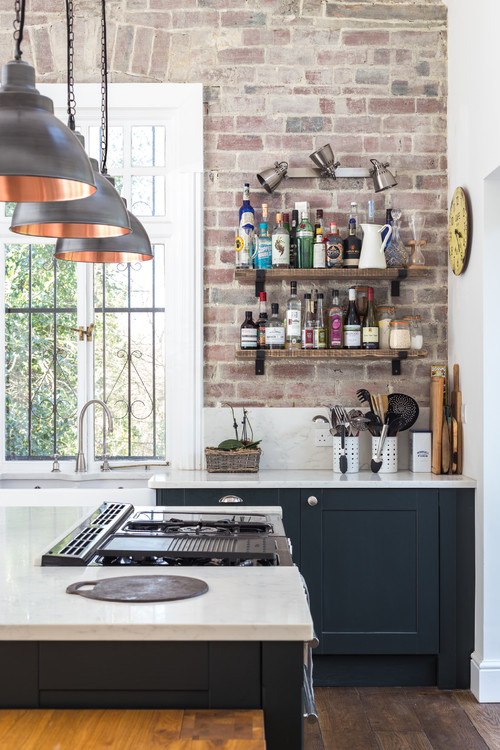 ID# 168303 | Houzz.com – Credit | © Studio Nest
---
Stunning Double-Height Kitchen with Brick Backsplash
Could you think of anything more impactful than a double-height kitchen with sloping ceilings? We can't, especially when it is enriched with natural textures and shades as in this particular kitchen! Dappled by sunlight through the triangular window, the kitchen gets its main definition through the brick walls. Yet, layers of timber shelving break up the expansive wall surface, while dark gray cabinets bring a luxurious sense of distance. The white quartz backsplash and countertops complement the sophisticated appeal of the cabinetry and enhance the lightness of the room.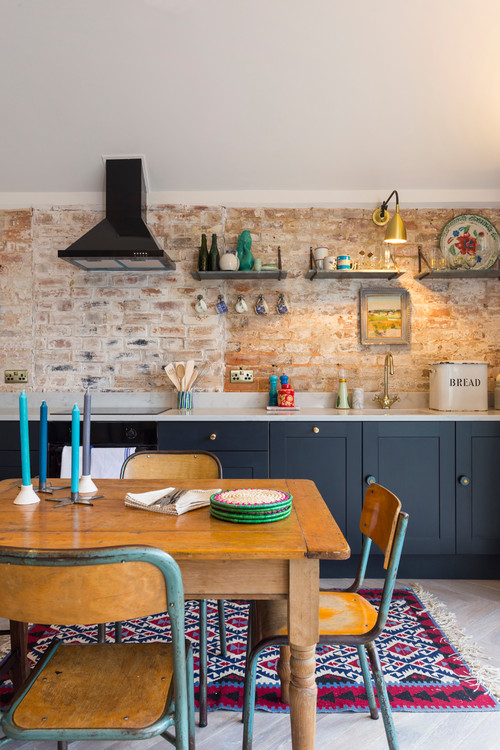 ID# 168320 | Houzz.com – Credit | © Amy Maynard Interiors
---
Black Cabinetry with Marble Countertops and Floating Shelves
Boosting a bunch of characters, this eclectic kitchen is outfitted with whitewashed brick backsplash and black cabinets that define the main bones of the kitchen. Spanning an internal volume, the shaker cabinets keep the main vocabulary basic while the rest of the palette is enriched with a variety of natural forms, including gray marble countertops and a rustic wood dining table. To command attention drawn to the top half of the kitchen and the brick backsplash, the upper wall is treated with black floating shelves and a black range hood. This way, the kitchen keeps the focus on the brick wall, drawing eyes upward to emphasize the grandeur of the kitchen.
Red Brick Backsplash
Durable and charming, a red brick backsplash is a great addition to any kitchen, which can be incorporated into any style, be it modern, rustic, farmhouse, industrial, Mediterranean, or classic. Especially if you live in a loft or have a double-height kitchen, a red brick backsplash can easily change the overall atmosphere, highlight the grandeur of the space, and bring the outdoors in. So, whether you are fond of natural designs, warming shades, textures, or robust and raw looks, exposed brick backsplashes are up your alley for sure.
Natural Charm of the Red Brick
Even if you don't want to deal with a real brick backsplash, on today's market, you can find many alternatives that come in tile, panel, and wallpaper versions, which also stand out as more cost-efficient options. If you want to inject a dose of personality, texture, and warmth into your kitchen, we can't think of anything better than a red brick backsplash. In this round-up, we compiled 20+ design projects that use the red brick backsplash as the protagonist of the space cohering perfectly with a wide range of textures and materials. Why don't you check it out to steal some inspiration for your next home improvement project?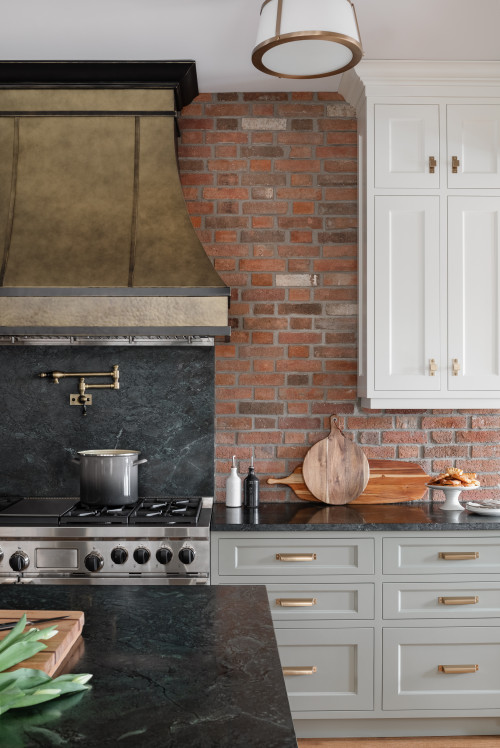 ID# 168301 | Houzz.com – Credit | © Knight Custom Homes
---
Red Brick Backsplash with Custom-Designed Range Hood
Preserving the original features of the apartment, including the exposed brick backsplash, this kitchen is a testament to the old natural textures, crowning it with a custom-designed range hood. Flanked by full-height off-white cabinets, the red brick backsplash brings in lots of texture and color. It is complemented by black granite countertops and backsplash behind the stove. The industrial-style lighting fixtures, rustic wood floor finish and brass hardware add to the material vocabulary of the kitchen, layering a unique narrative throughout!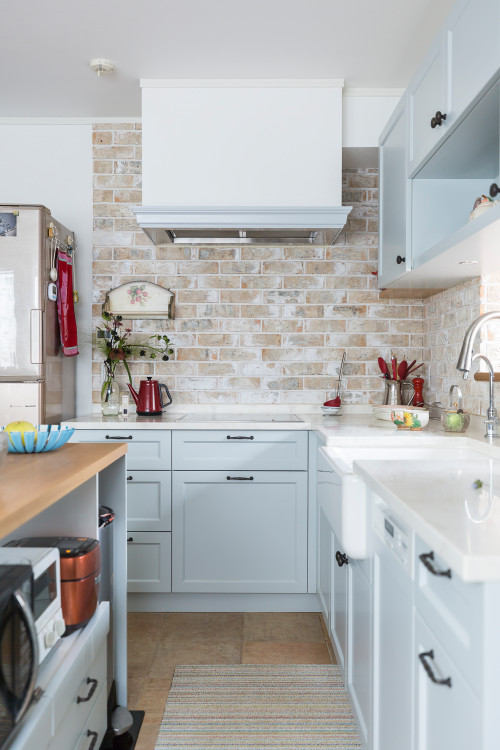 ID# 168302 | Houzz.com – Credit | © LiB contents
---
Whitewashed Red Brick Backsplash with Light Blue Cabinets
The black accents instantly catch the eye of this shabby chic kitchen and give a modern vibe to this space. The whitewashed surface of the brick backsplash provides a rustic backdrop that helps it blend into the surrounding dotted by light blue cabinets and white countertops.
Does brick make a good kitchen backsplash?
Coming with both aesthetic and functional benefits, brick backsplashes are popular for good reason. They not only make durable kitchen backsplashes but also bring nicely styled backdrops with lots of texture, color, and character. Whether you live in a standard apartment or a loft, a brick backsplash is always a good choice, conveying a sense of nostalgia and coziness.
Plus, you can try different layouts, including herringbone, basketweave, and running-bond. Or even better, you can even use different layouts to create diversity and a focal point if you have an expansive wall and want to give it a better definition.
Apart from that another advantage of the brick backsplashes is that they are adjustable to any kitchen style, whether it is modern, rustic, cottage, or farmhouse. If your dream kitchen has a brick backsplash, you can have it installed confidently.
Cons of the bricks
But of course, like any other statement materials, bricks have their cons as well. First of all, bricks are quite heavy and thick materials. Thus, you will have to sacrifice a few inches of your kitchen space to get one. But if you wish, you can use thin brick or brick veneer with a thickness of ¾, instead, as an alternative. This way, you can save yourself from dealing with extra weight and bulk.
Secondly, as bricks are thick and heavy materials, it is important that your walls can bear the load of bricks. If not, you may have to add extra reinforcement to support the weight of the bricks.
And thirdly, they require regular sealing. Unless treated, it can stain and soak the dirt and harbor bacteria because of its porous nature and the crannies and nooks on the surface that invite dust to accumulate. Also, the constant contact with moisture causes the brick to crumble over time. To avoid that, regular cleaning and sealing are important. In that regard, brick backsplashes could be a little bit demanding.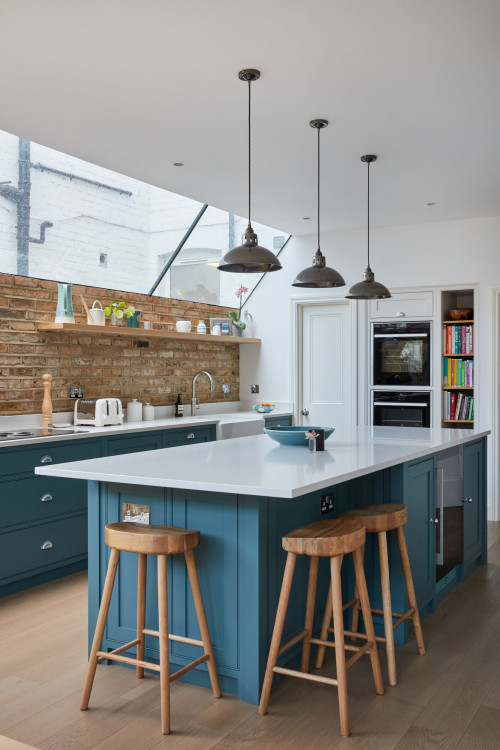 ID# 168304 | Houzz.com – Credit | © The Main Company
---
Blue Shaker Cabinets with White Quartz Countertops
Consisting of a very ambitious palette, this contemporary kitchen lays its foundation upon the natural elements and textures! The brick backsplash, the wooden floating shelves and the stools stand out as the main dramatic pieces, tied together by blue shaker cabinets. Also complemented by industrial-style pendants, they feel warmed up in a more sentimental space.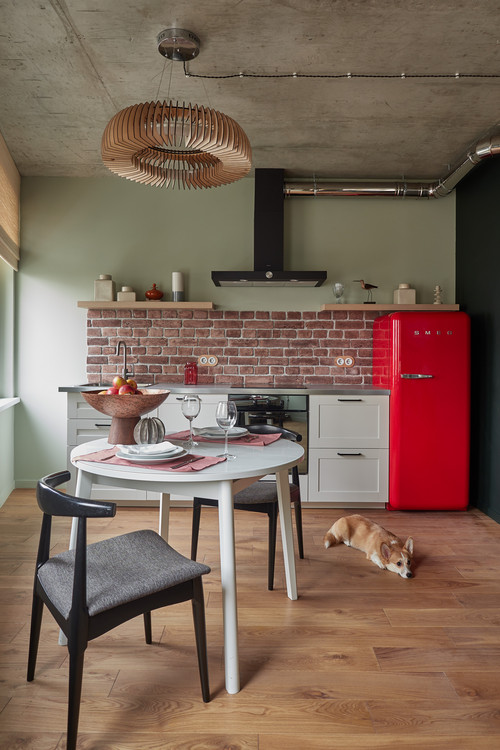 ID# 168305 | Houzz.com – Credit | © 4arts
---
Red Brick Backsplash with White Cabinets and Green Walls
White cabinets are one of the most popular combinations with a red brick backsplash. This combination offers a still look that feels like resting, upgrading the mood of its users as well. To enrich this vibe, you can incorporate colorful appliances, as in this case, it is a red fridge! By doing so, you bring in a sense of contrast and solidify the connection between red brick and white with the help of a stronger character. The pastel-painted walls as a final touch, complement the quirkiness of the overall design and provide a soft backdrop.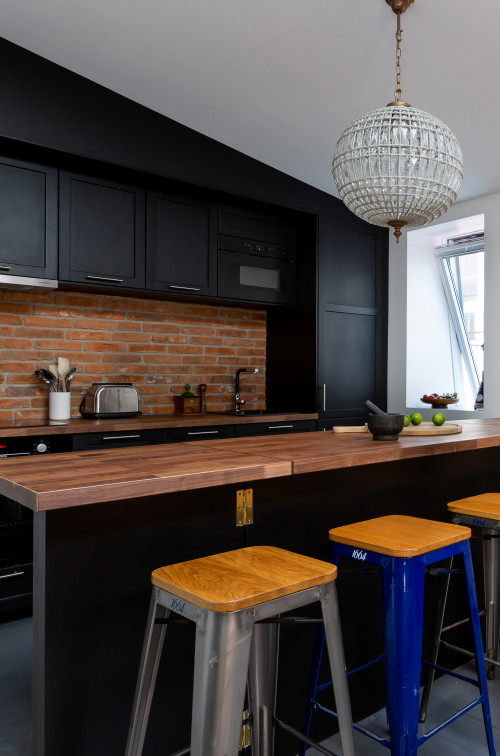 ID# 168306 | Houzz.com – Credit | © Joséphine Bonne
---
Stylish Industrial Kitchen with Black Cabinets and Colorful Stools
Brick backsplashes aren't necessarily used for rustic kitchens. You can even get a very stylish look out of them with the right color and material additions. Starting by matching them with black cabinets, you can already assimilate them to some extent. The same goes for this kitchen, which is complemented by colorful stools to ensure color variety! Lastly, the wood countertops and brushed nickel hardware tie this transitional kitchen design together while the crystal chandelier above the island makes an unexpected twist and brings a sense of luxury to the space.
Real Red Brick Backsplash
Real red brick backsplashes convey a sense of nostalgia, bringing earthy shades that warm up the interior space instantly. For those looking for textures and the outdoor feeling invited indoors, real brick backsplashes will allow them to have both.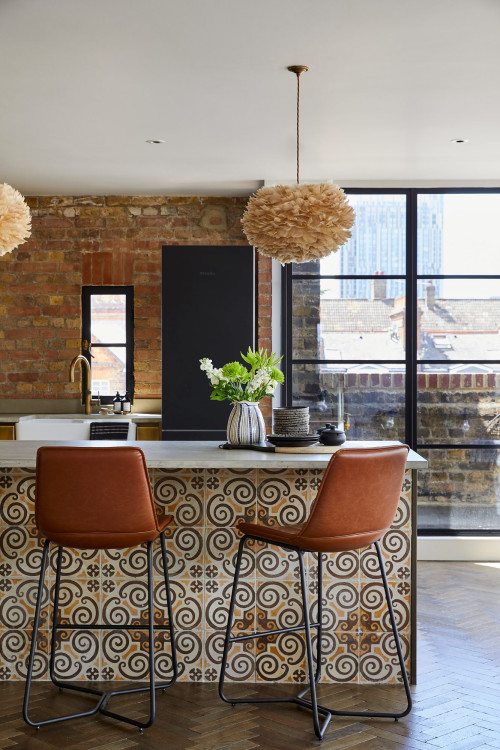 ID# 168307 | Houzz.com – Credit | © The Main Company
---
Modern Kitchen with Tiled Island and Unique Pendant Lights
Warm and welcoming are just two of the first things that spring to mind when you see this gorgeous kitchen! Complemented by a concrete countertop, the tiled kitchen island is the first accent piece that makes a strong statement. The pastel pink pendant lights above the island soften the atmosphere and add a romantic vibe. At the back, the exposed red brick wall stands out and creates an eye-catching backdrop.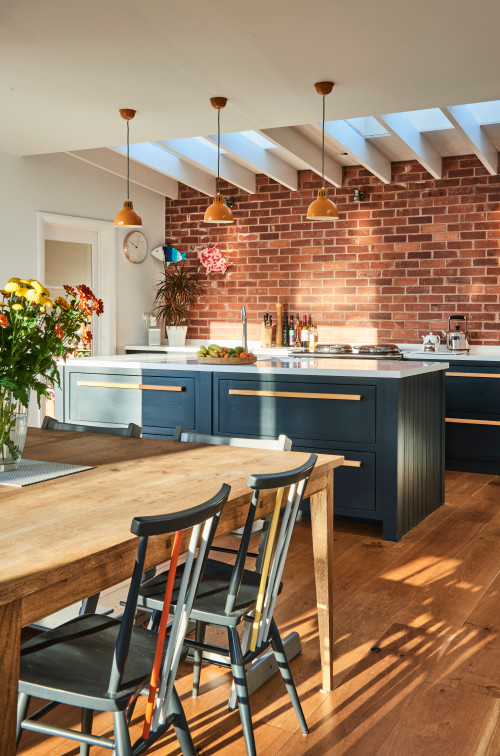 ID# 168308 | Houzz.com – Credit | © Barc Architects Ltd
---
Full-Height Red Brick Backsplash with Dark Cabinets and White Countertops
The red brick backsplash in this contemporary kitchen creates a focal point, complemented by white countertops that put the backsplash in the spotlight and enhance the openness surrounding it! The black kitchen cabinets and wood hardware come as complementary features to add accents and enrich the material vocabulary of the kitchen. And the yellow pendant lights above the kitchen island make a nice touch to add color to the space.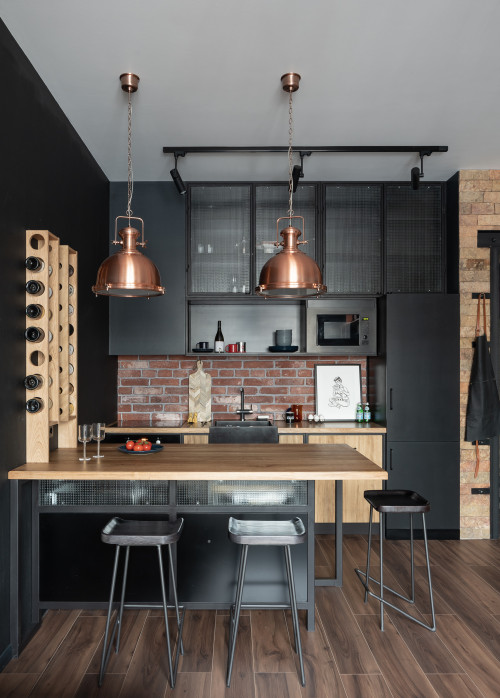 ID# 168309 | Houzz.com – Credit | © Rock'n'wood
---
Open-Plan Kitchen with Two-Tone Cabinets and Wood Countertops
In this industrial open-plan kitchen, the red brick backsplash creates a focal point, flanked by two-tone cabinets. The wood base cabinets and peninsula topped by wood countertops add a modern and optimistic feature, while the bronze pendants offer a contrast that makes a statement over the peninsula. The black upper cabinets enhance modernity and bring depth to the space with the black painted wall!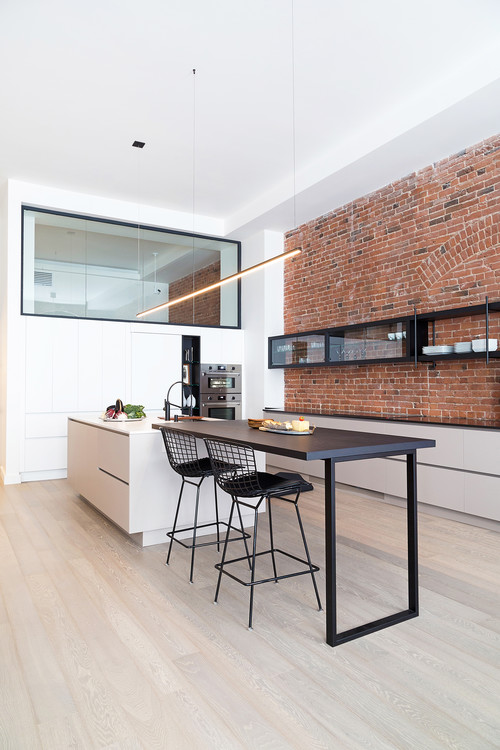 ID# 168310 | Houzz.com – Credit | © Cuisines Steam
---
White Cabinets with Galley Kitchen Island and Linear Lighting Fixture
Executing a robust look with a ceiling-height brick backsplash and black upper cabinets, this modern industrial kitchen feels airy and well-lit! The galley-style kitchen island mirroring the perimeter site provides extra storage, worksurface and eating space, expanded with a black table and modern minimalist black stools contrasting with the all-white look. As a final touch, the linear lighting fixture above the island makes a warm glove and enhances the modern vibes.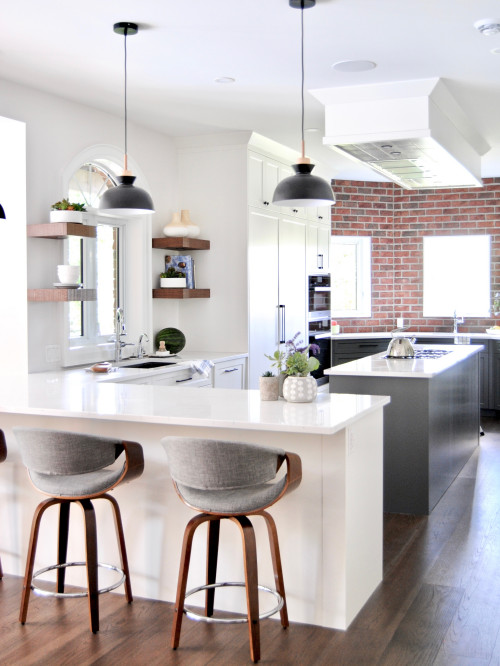 ID# 168311 | Houzz.com – Credit | © Kitchen Appeal
---
Modern Craftsman Kitchen with Black and White Cabinets
If you want to create a timeless kitchen, the gray and white color combination will never fail you and this modern kitchen, for instance, perfectly merges the gray and white cabinets and offers an elegant appeal that will never go out of style!! The white quartz countertops complement this modern look while the wood floating shelves add a dose of warmth. Last but not least, the exposed brick wall stands out at the back and brings some rustic flair to the atmosphere.
Is a brick backsplash practical?
Favored for its excellent guarding of wall surfaces against grease, water splatters, and everyday spills, a brick backsplash has made a name for itself for its practicality for sure. Expansively used both in residential and commercial places, they continue to be a popular material for their raw texture and natural earthy shades that bring the outdoors in as well.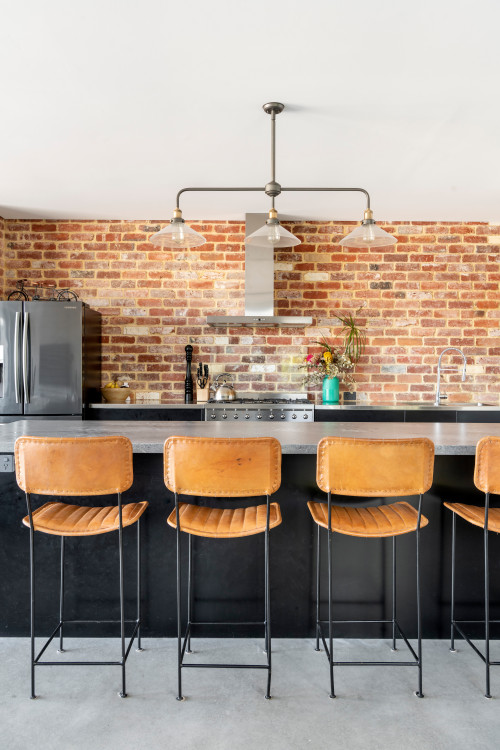 ID# 168312 | Houzz.com – Credit | © Ecolectic Homes
---
Contemporary Kitchen with Black Cabinets and Concrete Countertops
One of the best parts of the bricks is that you can experiment with the layout of the brick tiles freely. Here, for example, we have a full-height placement that generates movement on the wall surface, sheltered by black cabinets to create an elegant cooking zone. Due to its porous nature, brick might be a material that is hard to maintain, especially for the area behind the stove. That's why adding a clear glass sheet backsplash will enhance the durability without disrupting the rustic charm of the brick. Right across it sits the oversized island paired with a gray concrete countertop and comfortable leather stools in shades of orange. To complement them, glass lighting fixtures, black appliances, and concrete floors make for a memorable look for sure.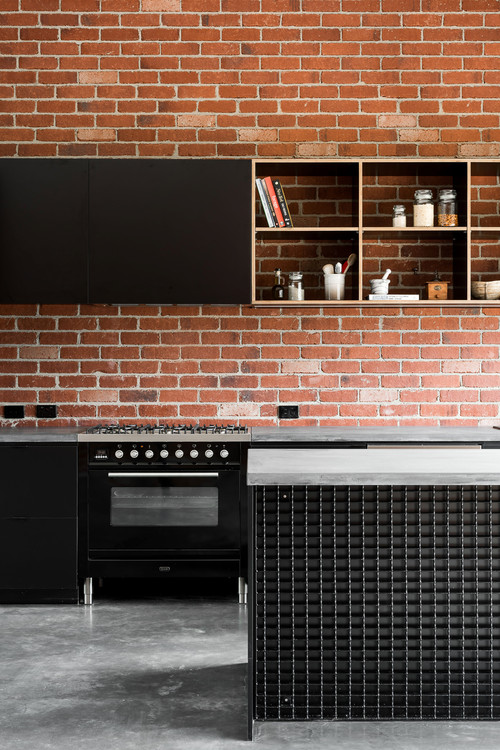 ID# 168313 | Houzz.com – Credit | © Cast Studio
---
Black Cabinets with Concrete Countertops and Custom-Built Island
If you are looking for ways to put a brick backsplash in the spotlight but also don't want other elements to steal attention from it, black cabinets can help you with that. This kitchen, for example, has black kitchen cabinets topped with concrete countertops to make it more sustainable and sophisticated. By matching it with the ceiling-height brick backsplash, it orchestrates a detail-oriented look, complemented by dark hues to bring out the warmth. And in the center, the black kitchen island delivers enough interest with the just right amount of texture.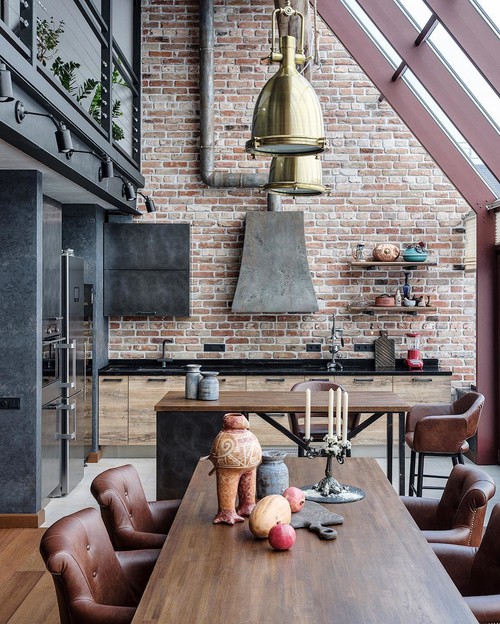 ID# 168314 | Houzz.com – Credit | © Giulia Novars
---
Industrial Kitchen with Natural Wood Cabinets and Rustic Range Hood
If you are lucky enough to have an original brick house, feel free to expose the natural charm of the brick! In this industrial kitchen, for instance, the exposed brick wall directly catches the eye as a backdrop and creates a rustic atmosphere. The double-height design of the space enhances the impact of the brick while providing a bright and spacious environment. The oversized rustic range hood and floating shelves highlight the gray brick backsplash area more. The natural wood kitchen cabinets and black countertops complement the organic feel of the brick.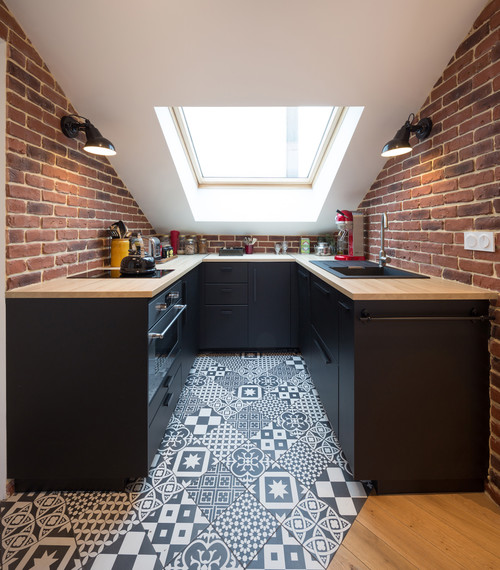 ID# 168315 | Houzz.com – Credit | © Prisca Pellerin Architecture & Intérieur
---
Scandinavian Kitchen with Red Exposed Brick Walls and Patterned Floor Tiles
Even if you are working on small spaces, it doesn't mean that you have to use a light color scheme! In this Scandinavian kitchen, for instance, the deep black color of the kitchen cabinets dominates the space while the red brick walls complement this appeal and make a rustic touch. Thanks to the skylight, natural light fills the room and balances the dark hues. Last but not least, the patterned floor tiles and the wood countertop make a cohesive final touch.
Faux Red Brick Backsplash
Mostly made from polyurethane, faux brick veneer backsplash panels offer a durable and lightweight alternative to real red brick backsplashes. Being easy to install and easy to maintain, they also come as cost-efficient materials for those who are on a strict budget. Both used in indoor and outdoor areas, along with residential and commercial spaces, faux brick backsplashes look as authentic as the real ones, plus come with some extra benefits, including impact and insect resistance.
On the market, you can even find panels as a type of manufactured stone with an industrial finish and UV inhibitors, which make them eligible for high-traffic areas, including bathroom and kitchen backsplashes. But apart from those, the ceramic and porcelain tiles have brick-look versions with which you can achieve similar impacts.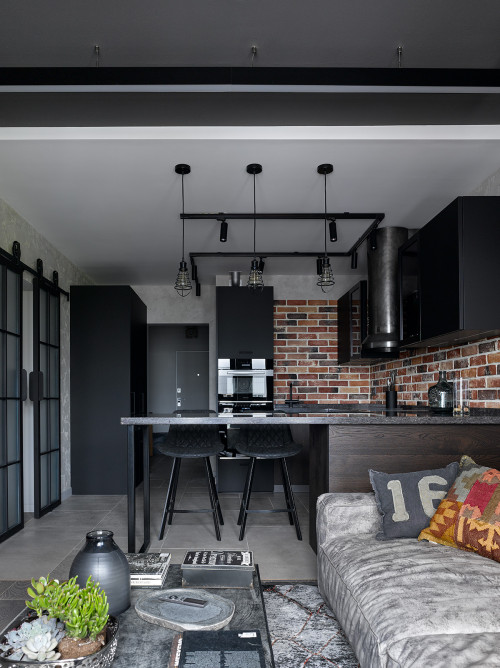 ID# 168316 | Houzz.com – Credit | © Анастасия Уфимцева
---
Industrial Kitchen with Faux Red Brick Backsplash and Black Sleek Cabinets
This industrial kitchen conjures up a well-articulated design theme with a faux red brick backsplash, black sleek cabinets, and a kitchen peninsula. To enrich the utility area of the kitchen, a kitchen peninsula is added, introducing complementing elements with a wooden base and gray granite countertops rich in texture. Overall, championing the harmonious integrity of the industrial vibes and natural textures, this kitchen ensures a sentimental design that speaks to the five senses of its users!
How much is a brick backsplash?
The real brick costs 12 to 20 USD per square foot. But this may go up depending on the bricks whether they have some intricate patterns or not. But if you want to look for cost-efficient alternatives, you can check the faux brick backsplashes which have many options, including tiles, wallpaper and panels!
Ceramic and porcelain tiles, for example, have their brick-look versions as well. And using them always feel safer for homeowners for they are commonly used and affordable. Plus, these versions are easier to install and very lightweight which makes them DIY-friendly as well. As for the wallpapers, they are one of the on-trend backsplash options in 2023. So, why not give a chance to the ones that mimic the brick pattern skillfully?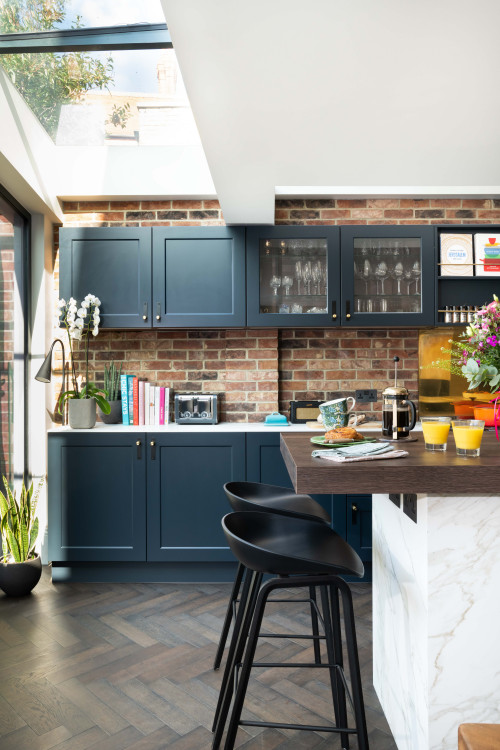 ID# 168317 | Houzz.com – Credit | © Veronica Rodriguez Interior
---
Navy-Blue Kitchen Cabinets with White Countertops and Wood Floor
As authentic as the real ones, this faux red brick backsplash exposes the kitchen to a sense of nostalgia while navy-blue cabinets and black accents create a sleek and elegant vibe throughout. The sleek white quartz countertops and the marble island bring enough character to allow a fully-fledged cooking experience. The dark wood herringbone floor finalizes the look and creates a well-lit design to ease the body and soul of its users!
ID# 168318 | Houzz.com – Credit | © Ирина Шевченко
---
Red Brick Backsplash with Blue Cabinets and Unique Kitchen Island
Offering an ultimate form of escapism, this industrial kitchen creates an urban retreat and brings the outdoors in with wood accents and a red brick backsplash!! In the background, the stunning faux brick backsplash creates an eye catching texture while the black wall sconces peek out between the windows that enhance the spaciousness of the room. The whimsical vibe of the blue kitchen cabinets is enhanced by black stainless steel appliances. The kitchen island's one-of-a-kind design is complemented by a lovely hardwood countertop that matches the natural and rustic appeal of the brick.
Whitewashed Red Brick Backsplash
If you love brick backsplashes but want to soften their dark reddish-brown shades and add a human print, you can whitewash them. This way, you can offset the brick look and give the backdrop a new outfit. If you have white cabinets, it will also make the white brick backsplash melt into the background better thanks to the whitewashing.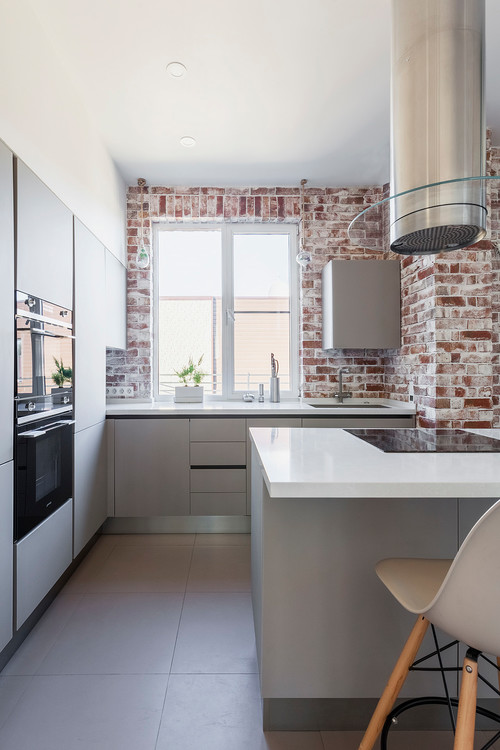 ID# 168319 | Houzz.com – Credit | © Юлия Барискина
---
Light Gray Cabinets with Red Brick Backsplash and White Countertops
If you want to combine light cabinets with a red brick backsplash, you can whitewash the backsplash to soften the all-red background while achieving a distressed look at the same time. This contemporary kitchen uses a whitewashed brick backsplash to expand the visual effect of lights, while the surrounding white walls and light textures serve the same aim. The versatile gray color of the cabinets provides a sleek and elegant base for the space while the ultra-modern range hood above the island anchors the look with a high level of sophistication.
What goes with a red brick backsplash?
Long gone are the days when red brick backsplashes were considered outdated, something to be covered up, and alternated. Now, the architectural features of the old houses are embraced and revamped by respecting their vernacular character that embeds history, character, texture, and more. And for the same reason, the exposed brick backsplashes are preserved and the complementary design elements are chosen to cohere with what is already present in the house. But how do you complete a red brick backsplash?
White, dark, gray, and wood are the most popular colors used to keep the focus on the brick as well. So, the rest generally plays along to compose a timeless aesthetic for the brick backsplash to be the protagonist. As complementary elements, floating shelves, glass pendants, cage pendants, and wooden countertops help balance the brick look. If you want a modern kitchen, you can include flat-front cabinets, use glass and marble, and stick to a refined material language to keep the overall look decluttered and sleek. To add some color, you can also bring in kitchen plants or flowers placed in large glass vases. Concrete countertops and bulky range hoods can be incorporated in rustic and farmhouse kitchens.
Additionally, when you have a red brick backsplash, you can benefit from white-black contrasts throughout that give the kitchen a more defined look. And to enlighten the kitchen, quartz countertops serve as great additions. If you want to soften the red-brown backsplash look, you can use cream, ivory, or pale-yellow shades.
Red Brick Backsplash with White Cabinets
White cabinets are skilled at illuminating the kitchens, adding a sense of freshness and bringing contrast with a red brick backsplash. If you want the brick backsplash to look rather assimilated, you can get a whitewashed backsplash. This way, you can help the bricks fade into the white-dominant theme of the kitchen and blend with the rest of the space seamlessly!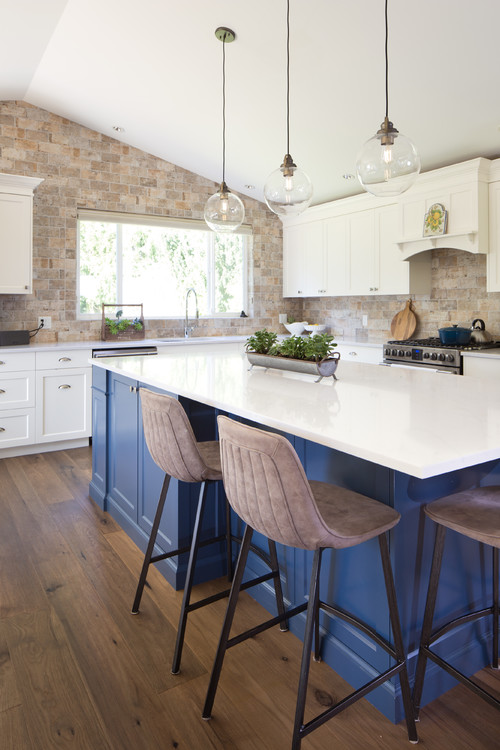 ID# 168321 | Houzz.com – Credit | © LIDA Construction
---
Red Brick Backsplash with White Cabinets and Blue Island
If you are looking for a different look on the backdrop, you can an eye-catching appeal with a brick backsplash. In this kitchen, for example, a full-height backsplash stands out between the white features and instantly enhances the overall design. And complementing them are white shaker cabinets with white quartz countertops that open up the space. The blue statement island enriches the overall look and adds drama and a pop of color while the gloss finish on the countertops comes with a beautiful sheen on them.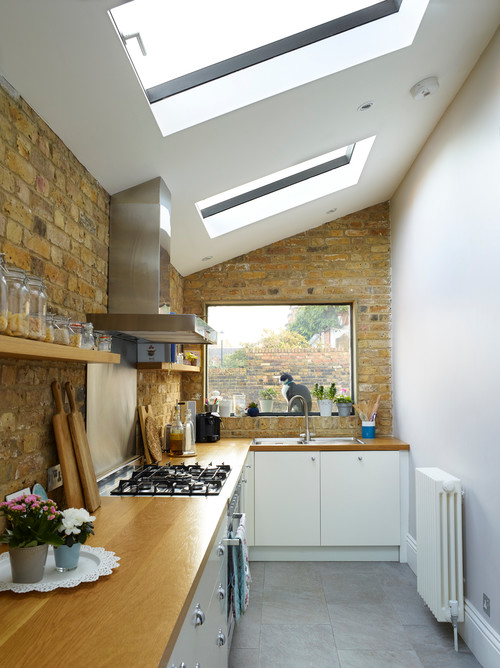 ID# 168322 | Houzz.com – Credit | © Woldon Architects
---
White Flat-Panel Cabinets with Wood Countertop and Stainless Steel Stove
Capturing light efficiently with the white cabinets, this contemporary kitchen serves its purpose of creating a welcoming atmosphere very well. Also, giving the brick backsplash a brownish finish and pairing it with wood countertops improves the warm feel of the atmosphere! To make use of efficient use of space, the wood floating shelves are placed on the brick wall as a connecting piece. Of course, how could we forget to mention the generously sized window and skylights on the sloped ceiling, which enhance the spaciousness of the room?
How to install a red brick backsplash?
Coming with both functional and decorative benefits, a red brick backsplash provides a timeless look and a hard-covering for the walls. Though installing a red brick backsplash is not much harder and different than installing other materials, it requires appropriate tools such as a special saw to cut through the bricks. But to make things simpler, you can get faux brick veneer panels.
And to install it, you can follow the steps aligned right below:
1) Start by measuring the application area and get enough supplies to cover the area.
2) Lay a plastic sheet on the countertops for protection. Then, see if the drywall is smooth enough or has any bumps. In both cases, you can sand it with sandpaper, which will help the thin-set mortar set properly. Don't forget to remove the dust and clean the area.
3) After ensuring the area is ready, apply the thin-set mortar with the flat edge of the trowel.
4) Now it is time to press the brick veneer in place. You can start at the countertop and move upward. Press the brick until it sticks to the wall properly. When you need to cut it align the form according to the edges and electric outlets, you can use a wet tile saw or a hacksaw.
5) When you reach the ceiling or the bottom of the wall or upper cabinets, check the width of the gap. If it is greater than half the height of the brick, it is better to fill the gap by cutting the brick veneer. But if it is not that large, then you can just skip this part and leave the gap as it is.
6) After finishing laying the bricks, it is time to apply the grout to the joints. Mix the grout with water, spread it with a grout float, and wait for it to dry. Don't forget to clean the excess with a dampened sponge.
7) Then add caulk with the caulking gun to the gap between the countertop and the backsplash.
8) After everything dries, apply the sealing, until you make sure that the surface is fully sealed.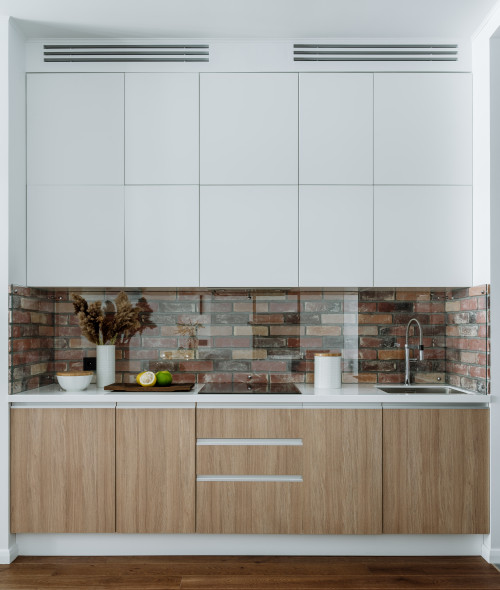 ID# 168323 | Houzz.com – Credit | © Studio DA
---
White Floating Shelves with Wooden Range Hood and Brick Backsplash
Creating a distinguished cooking zone with a reddish-beige brick backsplash, this contemporary kitchen ensures a warm and welcoming atmosphere with a wow factor! Yes, the natural charm of the brick is undeniably beautiful but due to its porous nature, it can be a daunting task to maintain it. That's why, using a clear glass sheet backsplash that covers the brick tiles is a perfect way to increase the durability of your cooking zone.
Red Brick Backsplash with Gray Cabinets
Just like white cabinets, gray cabinets also help the color palette cohere even if the kitchen is awash with whimsical elements or unexpected pops of colors. They are lifesavers in that sense, especially when you are building a home that speaks to your taste. But apart from that, if you want to enmesh cool and warm shades together, you can pair gray cabinets with a red brick backsplash.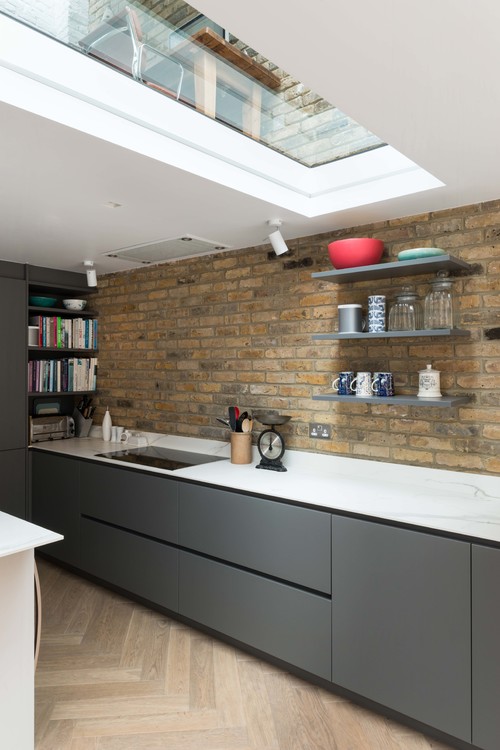 ID# 168324 | Houzz.com – Credit | © MW Architects
---
Red Brick Backsplash with Gray Cabinets and Skylight
While feeling entranced by the synchrony between cool and warm shades, it is hard not to fall for this kitchen that orchestrates a modern feel! Starting from the brown brick backsplash to the gray cabinets, white quartz countertops, and intriguing accessories, it executes a curated look. To give a more specific definition to the main bones, sleek floating shelves and the handless design of the cabinets enhance the modern appeal. And of course, the skylight brings natural light into the space and lends a breath of fresh air to the interiors!
Natural Stone Mosaic Tiles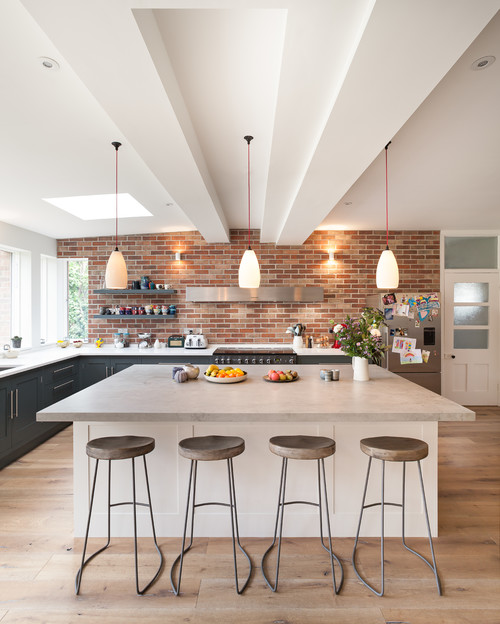 ID# 168325 | Houzz.com – Credit | © Cairn
---
Transitional Kitchen with Dark Gray Shaker Cabinets and Floating Shelves
Nestled in the corner, this transitional kitchen lays its design narrative on a neutral color palette and brick backsplash that creates a cool yet approachable atmosphere. The dark gray shaker cabinets, white countertops and floating shelves compose the main body of the kitchen. The rest is outfitted with sleek features, including stainless steel range hood that treats the cabinets, sleek hardware, and a brick backsplash that stands out between the shaker cabinets. Last but not least, this large kitchen island makes a statement at the center of the space. The white color of the island contrasts with the dark hues of the other features to enhance spaciousness.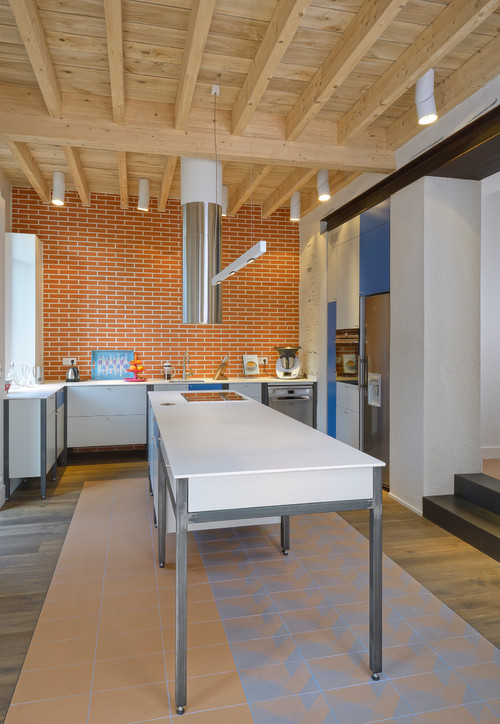 ID# 168326 | Houzz.com – Credit | © Les Ateliers de Cécile
---
Industrial Kitchen with High-Ceiling and Stainless Steel Appliances
Subway tiles in a running bond pattern are a traditional choice for kitchen backsplashes and if you want to give your tiles a rustic feel, use this design with a red hue. For example, the rich red hue of the full-height subway tiles makes an impact and seems like a real brick in this modern industrial look! The exposed wood beams of the ceiling and the rustic wood floor enhance the warmth of the room.