28+ Rustic Farmhouse Kitchen Ideas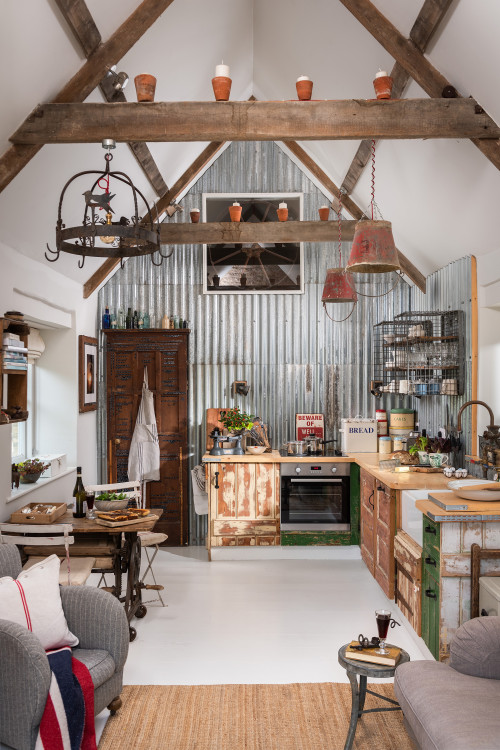 ID# 154006 | Houzz.com – Credit | © Unique Homestays
---
Rustic Farmhouse Kitchen Ideas with Wood Cabinets
Distressed rustic farmhouse cabinets stand out against the white background. A harmony consisting of the contrast of metal backsplash and wood. The living area and the kitchen dissolve together, making it a comfortable and airy space. Lattice-style shelves add a different atmosphere to the kitchen. The rustic air is strengthened by wooden beams and lighting from old metal buckets.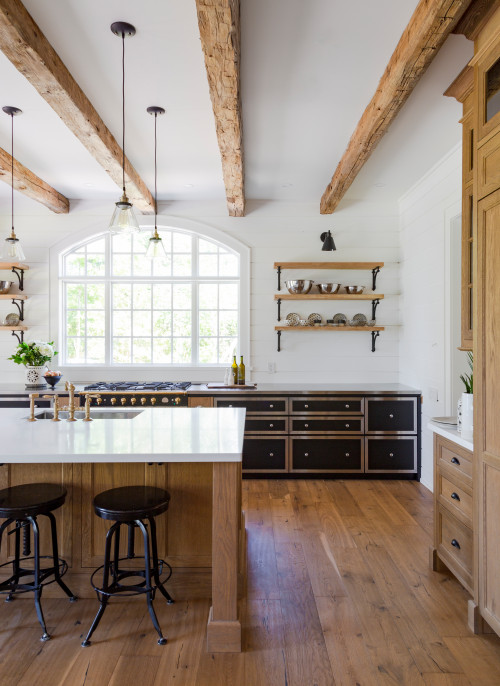 ID# 154019 | Houzz.com – Credit | © LVZ Design
---
Black Kitchen Cabinets with White Shiplap Walls
Farmhouse kitchen design with rustic influences. In the kitchen, which has a large and spacious atmosphere, wooden shelves accompany the black lower cabinets. Using floating shelves instead of upper cabinets creates a more spacious area. The rustic style is supported by exposed wood beams on the ceiling.
Rustic Farmhouse Kitchen Ideas
When it comes to the rustic farmhouse kitchen, some of the first concepts that come to mind are solid, worn, comfortable, and warm! For this style, the prominent brick walls, metal details, and exposed piping give it that rustic vibe. Rustic kitchens should feel intimate, so ultra-monochromatic modern kitchen ideas detract from their appearance. It's a rustic and lived-in feel that comes with naturally treated stones like terracotta, marble and granite, bricks, wood, concrete, and even glass. With the right combination of these materials, great designs can come out for rustic farmhouse kitchen ideas.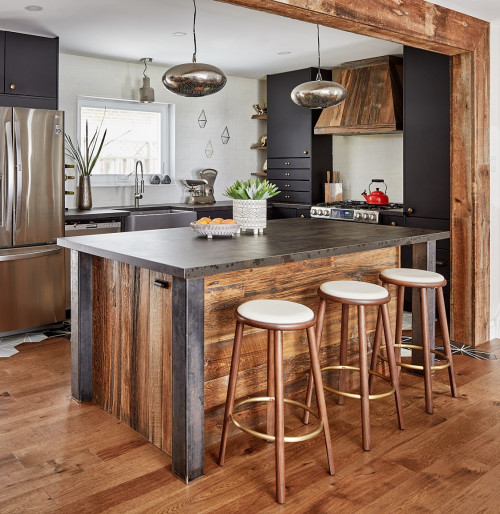 ID# 154001 | Houzz.com – Credit | © Linda Mazur Design
---
Rustic Farmhouse Kitchen Ideas with Black Panel Cabinets
Black and wood together. At first glance, we can say that this is a rustic farmhouse kitchen. Natural air obtained from reclaimed wood is combined with black flat-panel cabinets. Despite the modern look of the black cabinets, the worn wood texture on the body of the island suppresses this atmosphere. This image is strengthened by the fact that the hood surface is made of the same material. The design is completed with wooden stools, a gray farmhouse sink, and lighting.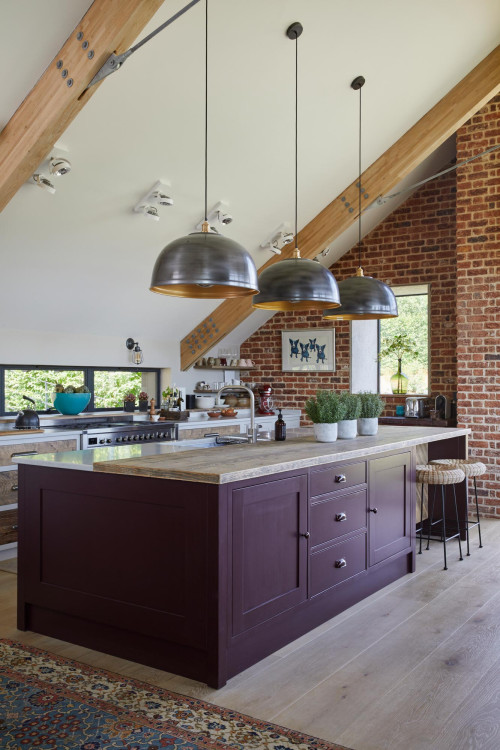 ID# 154002 | Houzz.com – Credit | © The Main Company
---
Great Rustic Farmhouse Kitchen Ideas with Purple Cabinets
A great kitchen design with purple shaker island cabinets. One of the most distinctive features that make this kitchen rustic farmhouse style is the wooden beams and the other is the natural stone wall. This combination creates a warm and comfortable environment. The purple island, completed with a white countertop, adds color to this kitchen and visually completes it with the large-scale pendant lighting on it. While the light floor parquets create a bright space, it becomes a classic image with the ethnic patterned carpet.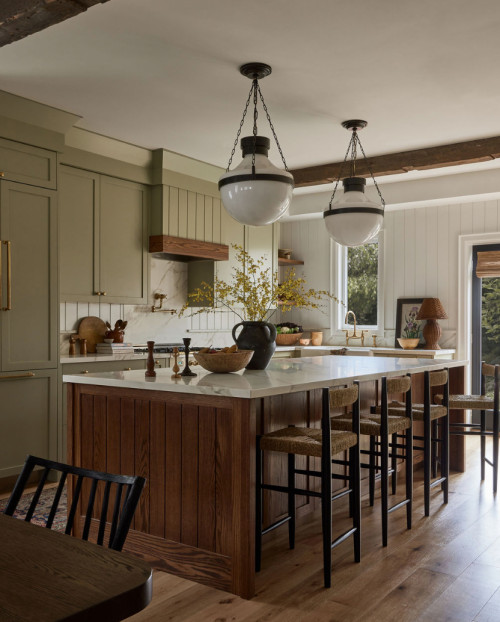 ID# 154003 | Houzz.com – Credit | © The Home Improvement Services
---
Peaceful Rustic Farmhouse Kitchen Ideas with Pastel Shades
The combination of wood and light green shaker cabinets offers a warm and inviting atmosphere for this transitional kitchen. The dark wooden island in the form of a shiplap is complemented by a white countertop. The white shiplap walls and the white backsplash complete the cozy vibes while oversized pendant lights make a statement above the island.
What Is Rustic Farmhouse Style Kitchen?
Rustic farmhouse-style kitchens are timeless and natural. The materials are more honest and the colors are quieter! In this style, function and comfort are valued. Rustic farmhouse style is a celebration of the all-natural and the rough-hewn. Reclaimed and unfinished woods, natural fibers, and rusted/worn surfaces are the hallmarks of the style, and repurposed items abound. Consider a comfortable space; It features weathered woods, found objects, aged metals, and warm earthy colors and textures. This is what the rustic-style design is.
Classic farmhouse kitchens tend to focus on natural materials, unpretentious design, and cooking areas that can accommodate large meals. Cabinets, chairs, and large, rustic tables are usually made of quality hardwood, with particular preference being given to cherry, maple, oak, and pine. In general, it offers natural kitchens where comfort is at the forefront.
Rustic Farmhouse Kitchen Cabinets
The stunning rustic style often draws from antique textures, colors, and forms and pays particular attention to cottage and farmhouse interiors. Rustic home decor is all about comfort and effortless appeal, blending the spirit of durability with a more refined approach to city and country living. Rustic farmhouse kitchen cabinets often showcase the wood for a natural look. In other words, we can say that it is a decoration style inspired by nature. You can complete the charm effect of these cabinets with natural stone backsplashes or quartz countertops.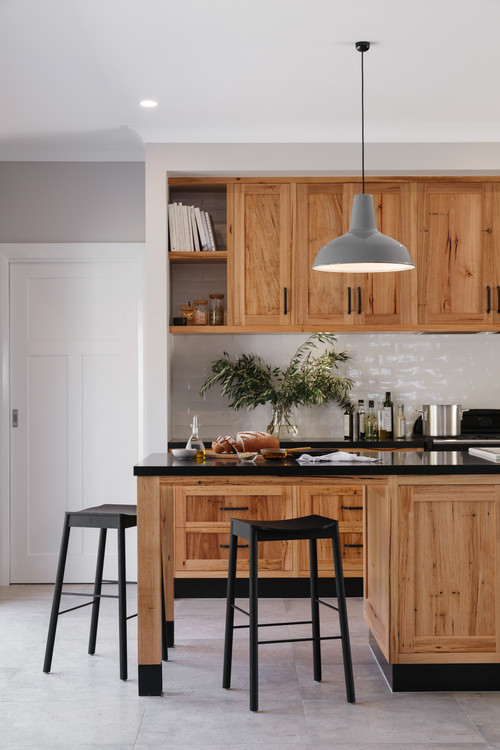 ID# 154004 | Houzz.com – Credit | © Space Craft Joinery
---
Wood Shaker Cabinets with Black Countertops and Glossy Backsplash
Worn wood shaker cabinets that best reflect rustic farmhouse kitchen cabinets. Combined with gray walls, a gray floor, and a white glossy backsplash, these rustic cabinets look perfect. While it takes on a charismatic image with the black countertop, the design is completed with black handles and stools.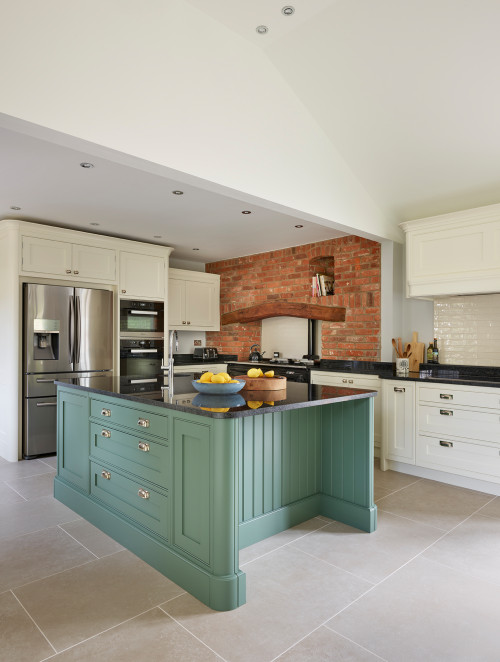 ID# 154005 | Houzz.com – Credit | © Davonport Kitchen & Home
---
Green Island with White Cabinets and Black Countertops
White shaker kitchen cabinets and a green island with curved edges offer an elegant and classic appeal for this rustic farmhouse kitchen! This design also offers a timeless and attractive look. The sleek black granite countertop and polished nickel handle complete the soft neutral tones with a classic look. The exposed brick wall makes a rustic twist against the traditional elements while the subway tile backsplash behind the stove bring a fresh look with its glossy surface.
How do I make my kitchen look like a rustic farmhouse kitchen?
From materials and textures to colors and accessories, there are many ways to apply rustic kitchen ideas to your home. Here are some examples.
– Open your shelves: The most defining feature of a farmhouse kitchen are closed lower cabinets and lots of open shelves.
– Create a homey plan
– Use natural flooring materials
– Add patterns
– Choose a shaker-style cabinet
– Think carefully about your lighting
– Use warm neutrals
– Use polished metal touches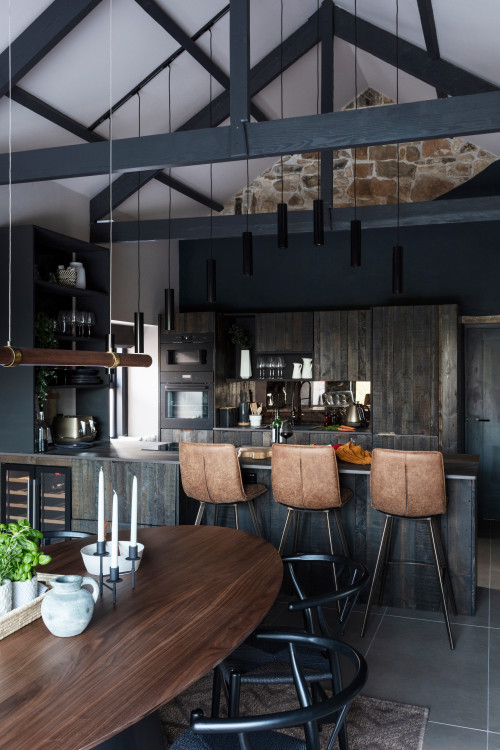 ID# 154007 | Houzz.com – Credit | © Studio Dean
---
Dark and Dramatic Kitchen Design with Mirror Backsplash
Rustic kitchen design consists of dark tones and becomes a noble image. Worn dark gray wood cabinets offer a very natural look. The old and worn appearance of the cabinets is broken with the accessories in the kitchen and makes modern touches. The rustic farmhouse vibe is intensified with dark gray beams and stone wall detail.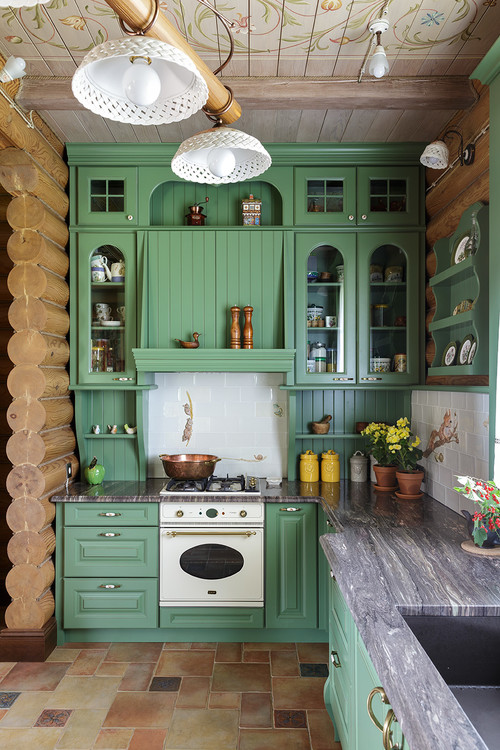 ID# 154008 | Houzz.com – Credit | © Татьяна Трофимова I Дизайн деревянных домов
---
Green Kitchen Cabinets with Gray Natural Stone Countertop
One of the most trendy colors of the rustic color palette is green. In this kitchen, green shaker cabinets create a farmhouse style and rustic atmosphere. The kitchen design, which is completed with a gray natural stone countertop, reflects the warmth and naturalness wonderfully. A bright image is created with the white retro backsplash. The rustic feel of this kitchen is supported by the patterned ceiling and wooden beams. It creates an elegant look with the wonderful harmony of the floral motifs on the ceiling and the green cabinets.
Rustic Farmhouse Kitchen Backsplash
You can create delightful designs with rustic farmhouse kitchen backsplashes and there are a wide variety of materials and color options for this. You can create a feeling of coollness and nervousness with a concrete backsplash, or you can choose granite and marble slabs for sophisticated appeal. Alternatively you can use multicolored wood panels placed horizontally or vertically, or opt for an earth palette and strip and herringbone patterned stone backsplashes.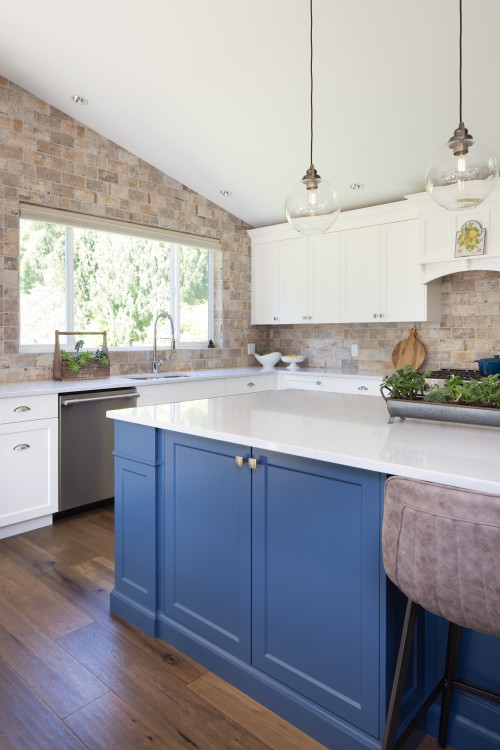 ID# 154009 | Houzz.com – Credit | © LIDA Homes
---
Blue and White Kitchen with Exposed Brick Walls
A wonderful rustic farmhouse kitchen design with a natural stone backsplash! The use of natural materials, which is one of the most important features of the rustic style, is here. The retro styled stone backsplash creates a natural environment with its color and texture. A spacious kitchen design with a blue shaker cabinets island and white shaker kitchen cabinets on walnut-tone floor parquets. Round glass pendant lights add a stylish touch.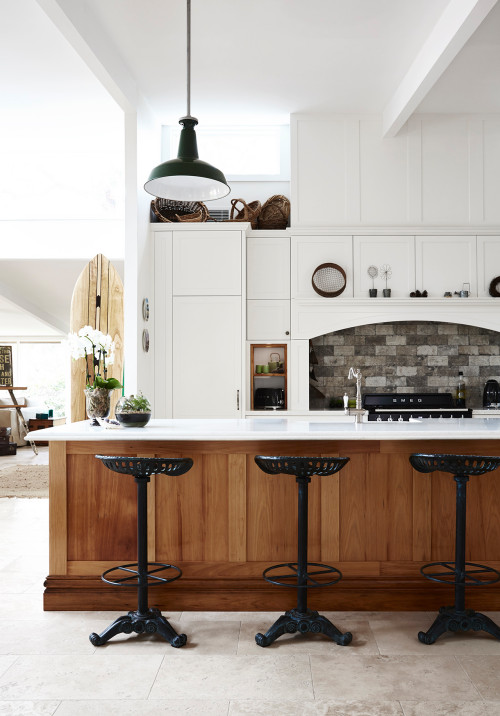 ID# 154010 | Houzz.com – Credit | © Collaroy Kitchen Centre
---
White Shaker Cabinets with Wood Island and Stone Subway Tiles
A large rustic farmhouse kitchen with the bright and fresh air of white! It looks great with wood and white quartz countertop on a large island body. Between the white shaker cabinets, the gray stone backsplash tiles complete this kitchen with its rustic style. There is a charismatic touch with black pendant lighting and black stools.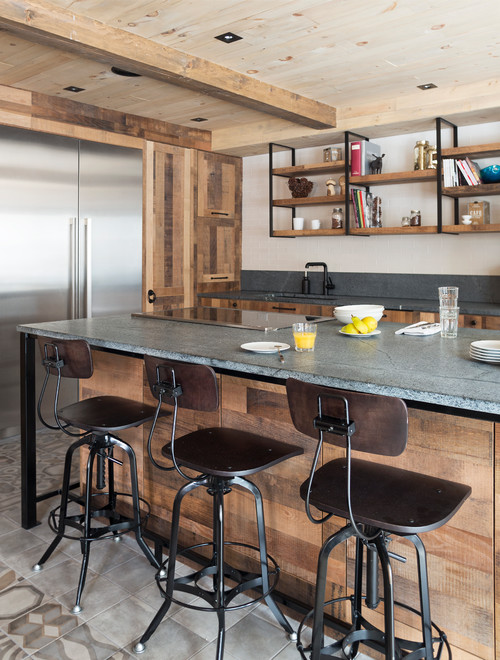 ID# 154011 | Houzz.com – Credit | © Polycor
---
4-inch Grey Backsplash in Rustic Farmhouse Kitchen Design
Rustic farmhouse kitchen design with open shelves and distressed wood cabinets. A gray granite 4-inch backsplash and countertop in the same material round out this design. With a wooden ceiling and wooden beams, the farmhouse kitchen vibe is intensified. Although the stainless refrigerator creates a contrast in this area with its industrial appearance, it adapts to the design. Black accessories and bar chairs in front of the island add a charismatic touch with their rustic style.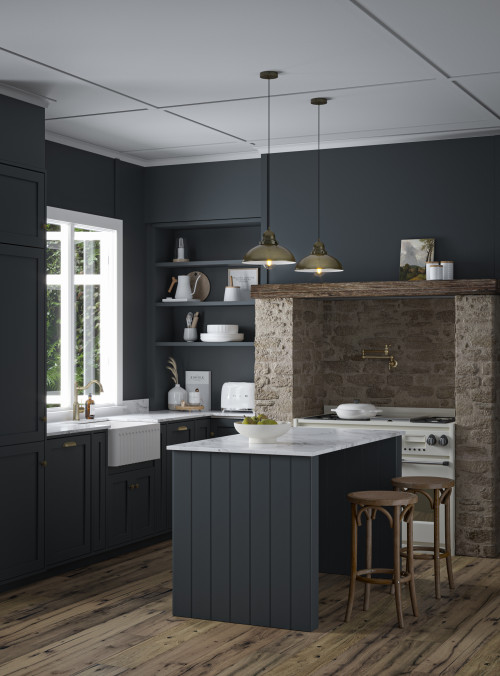 ID# 154012 | Houzz.com – Credit | © The Build by Temple & Webster
---
Rustic Farmhouse Kitchen Ideas with Dark Gray Cabinets
Rustic farmhouse kitchen design gains nobility with its dark color palette! The hearth section in the natural stone wall style and the wooden headboard on the backsplash stand out in this design and contrast with its old look. Dark gray shaker cabinets with modern lines and open shelves are illuminated by white quartz countertops. Brass handles and brass pendant lights add a twinkle to this kitchen.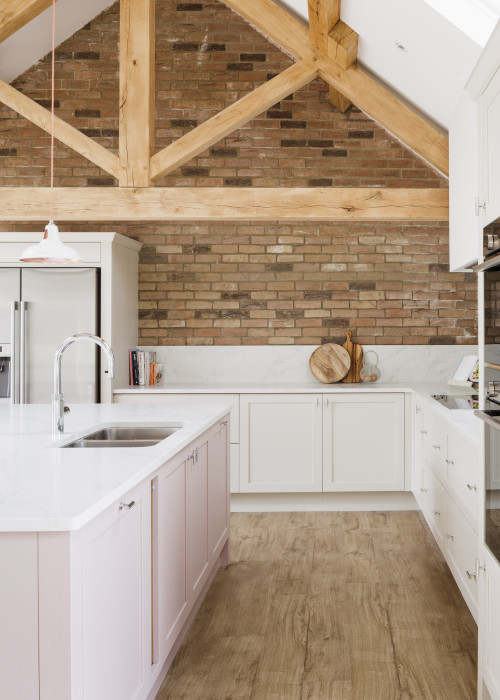 ID# 154013 | Houzz.com – Credit | © Studio Nest
---
Rustic Farmhouse Kitchen Ideas with Brick Backsplash and White Shaker Cabinets
In this cozy kitchen, white cabiinets, countertops, and a 4 inch backsplash offer a clean and fresh look. On the other hand, the exposed brick wall makes a rustic twist against the clean lines. With the light pink cabinets of the island, it becomes a fresh and warm image. The vaulted ceiling complements this rustic flair.
Rustic Farmhouse Kitchen Island
The kitchen is often the beating heart of the home. Located in the middle of the room, the kitchen island provides additional space for meal prep, cooking, gathering for informal meals or coffee breaks, and even more storage space. Apart from its many utilitarian uses, the island can also be used as an aesthetic focal point in the space. With a rustic farmhouse kitchen island, you can get spacious, comfortable, and natural designs. Warm and functional spaces can be created with the natural texture of wood.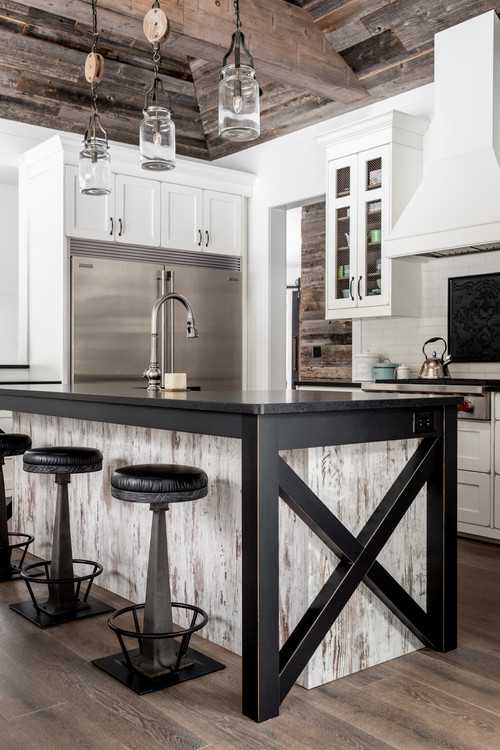 ID# 154014 | Houzz.com – Credit | © Hickory Lane Kitchens
---
White Distressed Wood Kitchen Island with Black Bench
White distressed wood meets black. Offering a large living area and sink area, the island defines a rustic farmhouse feel with its style. The white tumbled body is complemented by a black countertop and with its cross-shaped supports, it forms the main character of the kitchen. While the white shaker kitchen cabinets offer a spacious space, the wooden ceiling gives a rustic feel. It has an industrial look with a stainless faucet and electrical items. Integrity is also provided with parquets in the same tone as the ceiling.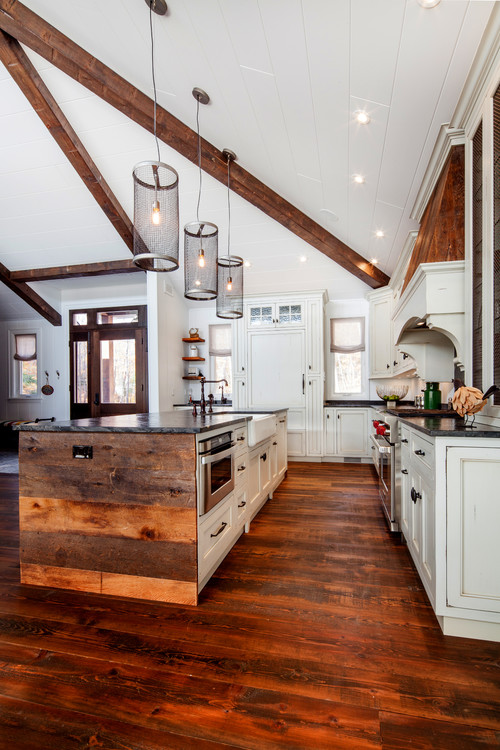 ID# 154015 | Houzz.com – Credit | © Chervin Kitchen & Bath Inc.
---
White Cabinets with Black Granite Countertops
A very great example of a large farmhouse l-shaped eat-in kitchen in rustic style. White shaker cabinets and granite benchtops reflect naturalness and elegance in perfect harmony. Dark hardwood floors add depth and warmth to the kitchen. The rustic farmhouse kitchen island offers a large work area and the washbasin is here. The kitchen reflects a classic farmhouse kitchen, the kitchen takes on a rustic feel with wooden beams. The texture of the wood on the body of the island also contributes to this style.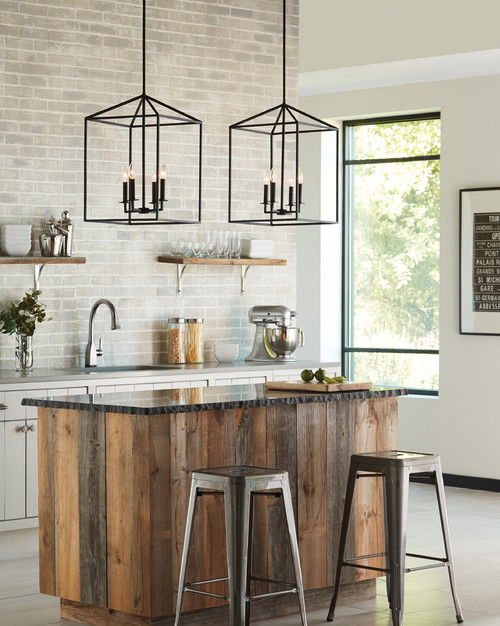 ID# 154016 | Houzz.com – Credit | © Atlantic Lighting Design
---
White Cabinets with Gray Subway Backsplash and Wood Island
A rustic farmhouse kitchen design with a brick look backsplash and a raw wood island. The island, which stands out on a light-colored background, adds naturalness to this area with its texture. The detailed candelabra lighting on it adds an eccentric atmosphere. There are strong touches with black details and a frame. With open cabinets, there is a more spacious area.
What is a good color for a rustic kitchen?
Rustic colors are deep and natural. The color palette swings heavily towards neutral, and rich earthy tones like greens, browns, and grays are common color choices. An example of one of the popular color schemes in the rustic kitchen trend is pairing a primitive or understated blue with a creamy white. This color combination can give your kitchen an aged look.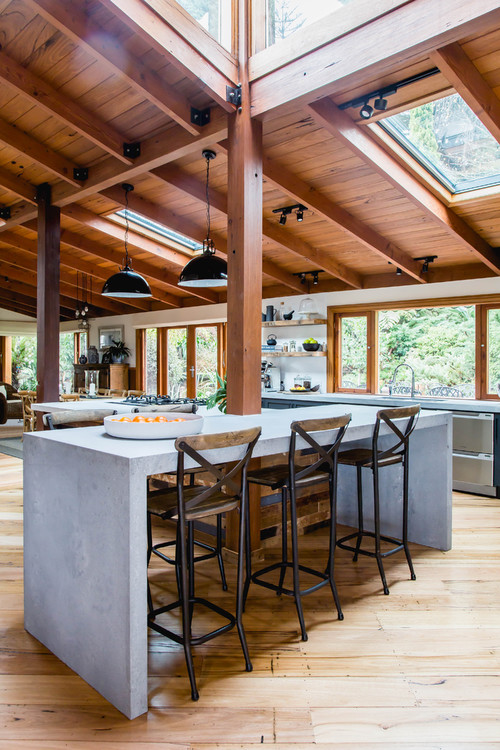 ID# 154017 | Houzz.com – Credit | © Smith & Smith Kitchens
---
Rustic Farmhouse Kitchen Design Illuminated with Natural Light
The skylights, bring natural light in wonderfully and pour nature here. A natural and warm atmosphere is created with wooden ceilings, columns, and beams. The concrete-looking island defines a pleasant seating area. While contrasting with black lighting, it becomes a stylish touch. A wonderful rustic farmhouse design with the gray concrete look of the island and wooden details.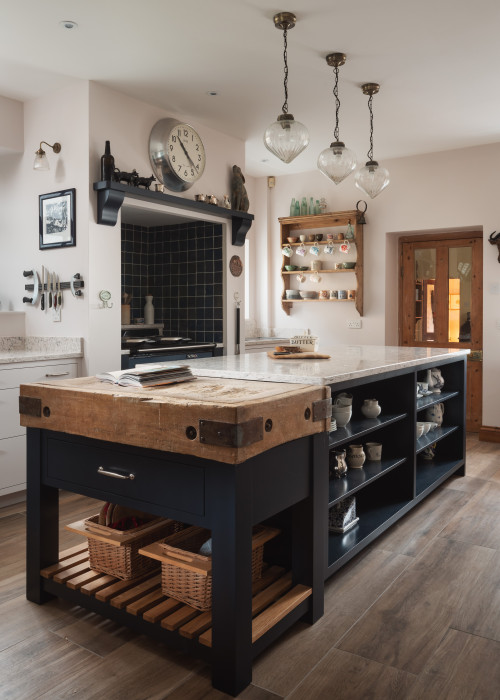 ID# 154018 | Houzz.com – Credit | © Eternal Kitchens
---
Black Kitchen Island with White Countertop and Storage Unit
A naive farmhouse kitchen design. It's a big island made up of two parts. Here, contemporary style and rustic style are together. The dark blue open shelf island is complemented by a white countertop and offers ample workspace. Adjacent to this is another rustic-style island with wooden countertops. This place adds a relaxed and natural feel to this space.
Rustic Farmhouse Kitchen Shelves
When designing a kitchen, there are plenty of ways to add functional elements. Open shelving has been popular in traditional and cottage-style kitchens and provides easy access to the most used kitchen utensils. You can make great designs with the most commonly used wooden material as rustic farmhouse kitchen shelves.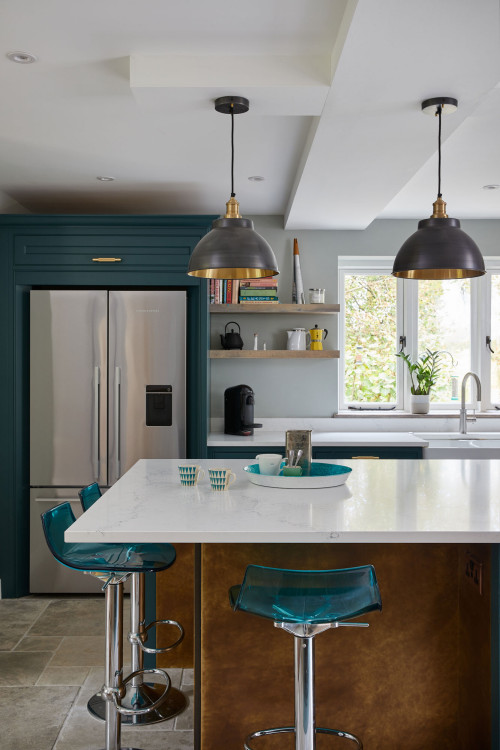 ID# 154020 | Houzz.com – Credit | © The Main Company
---
Farmhouse Appeal with Blue Touches and Rustic Wood Shelves
A contemporary kitchen design with blue touches! The blue shaker cabinet and blue chairs bring color to the kitchen. This contemporary kitchen design is accompanied by rustic-looking wooden shelves and creates a wonderful decorative detail. Also, using floating shelves instead of upper cabinets give a more spacious atmosphere. The black pendant lights with gold details perfectly complete the industrial lines of the island and chairs.
Rustic Farmhouse Kitchen Floor
Sometimes, kitchen flooring ideas come to mind after a remodel. However, for a cooking space with a particular theme or style, it may be helpful to think about it sooner rather than later. Gray, one of the neutral colors, can be an ideal choice for modern farmhouse kitchen designs. Apart from that, you can make wonderful farmhouse kitchen designs with wooden parquets in different tones. Natural materials that reflect the farmhouse style will always be one of the most ideal options. If you are looking for ideas for rustic farmhouse kitchen floors, you can take a look at the examples we will show.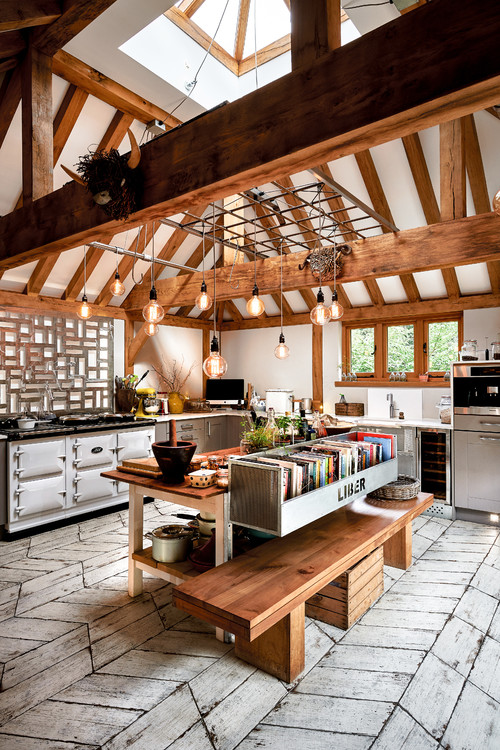 ID# 154021 | Houzz.com – Credit | © Mark Hardy
---
Rustic Farmhouse Kitchen Ideas with Herringbone Distressed White Floor
With ita vaulted ceiling and exposed beams, this kitchen has already a rustic character! With the combination of many different details, a natural and warm atmosphere is created in a wide area. The lightly distressed herringbone floor creates a natural and rustic effect.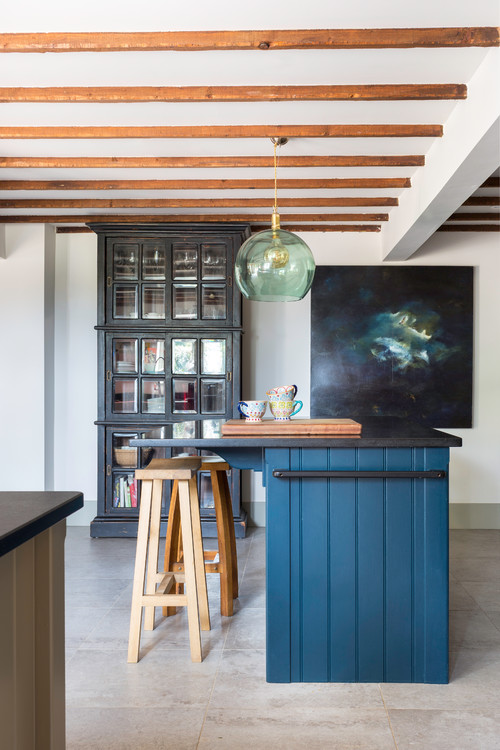 ID# 154022 | Houzz.com – Credit | © Completion Interior Design & Architecture
---
Light Grey Rustic Farmhouse Kitchen Floor And Blue Cabinets
A modern farmhouse kitchen design takes on a rustic feel with wooden beams seen on the ceiling. Gray, one of the neutral colors, is an ideal choice for modern farmhouse kitchen designs. Here, this area comes alive with a magnificent blue island on a light gray floor. The black glass detailed cabinet is reminiscent of a living room showcase. Dark types of furniture stand out with a light gray floor.
What type of cabinets is in a farmhouse kitchen?
Open shelving or glass-front cabinets that showcase antique dishware, heirloom pieces, and other accents often identify farmhouse kitchen design. Apart from that, you can use shaker cabinets or combine flat panel cabinets with wooden details for a more modern look.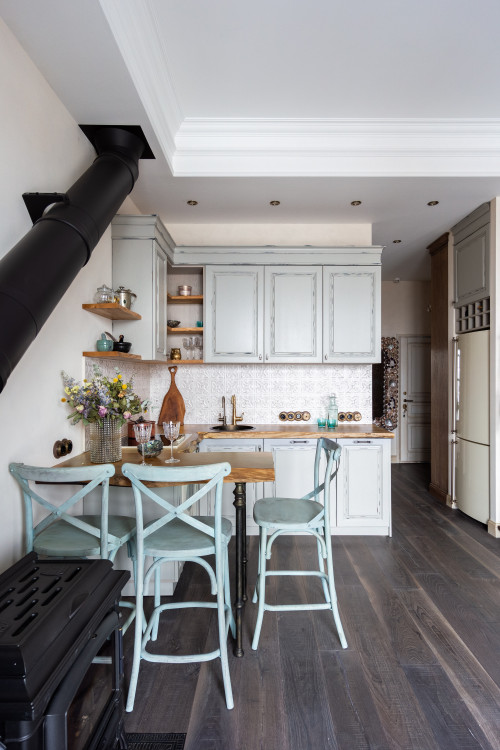 ID# 154023 | Houzz.com – Credit | © Эльвира Вербицкая
---
Open Concept Kitchen with Light Turquoise Cabinets and Dark Flooring
The light turquoise kitchen cabinets gain a rustic look with the dark wood-toned parquets with an aged look. Kitchen cabinets with their bright color on a dark floor invite spring to this space. A warm atmosphere is created with medium-toned wood countertops. The black stove chimney supports the rustic feel of this farmhouse kitchen design, as does the floor parquet. The vintage table with blue chairs completes the overall look.
How can I make my kitchen look more rustic?
Prominent brick walls, metal details, and exposed piping lend this rural vibe. You can mix it with plenty of wood and warm color schemes to keep it on the rustic end of the industrial style. Rustic kitchens should feel intimate, so move away from the ultra-monochromatic look of modern kitchen ideas.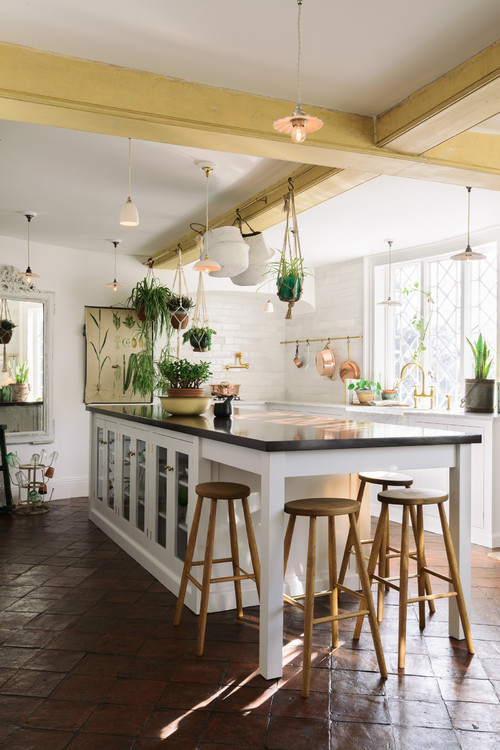 ID# 154024 | Houzz.com – Credit | © deVOL Kitchens
---
An Energetic Kitchen with Brown Rustic Farmhouse Kitchen Floor
An energetic farmhouse kitchen design. A bright and white kitchen on a terra-cotta brown floor. It is very functional with a large island, storage areas underneath, and a seating area. With the white backsplash and the large window, it becomes a very bright space. The wooden beams in yellow tones standing on the ceiling increase the energy of this space with their colors and add a rustic atmosphere. There is fresh air in the kitchen with many plants. A spacious atmosphere despite the dark floor.
Rustic Farmhouse Kitchen Lighting Fixtures
Of all the ways to add a dash of rustic charm to your kitchen, getting creative with your kitchen lighting ideas is probably the quickest, easiest, and most effective. The lights you choose are a great way to add a rustic flair to your kitchen. From adding filament bulbs to your industrial-style fixtures to hanging Mason jar pendant lights above your island to lighting your prep area with a vintage patina light shade that matches the materials used in the rest of your space.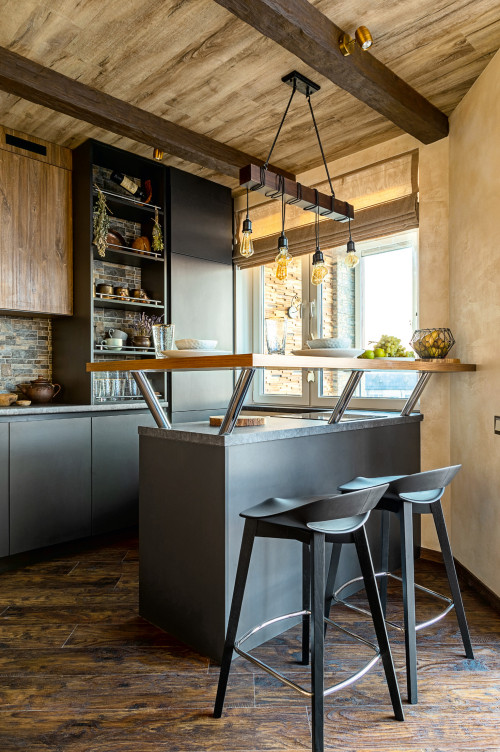 ID# 154025 | Houzz.com – Credit | © Студия дизайна Бойчук Марии
---
Modern Farmhouse Kitchen Design with Rustic Details
A rustic farmhouse kitchen design with a dark floor, wood upper cabinetry, and dark panel kitchen cabinets. While flat-panel cabinets and island style connote a modern look, the rustic style is enhanced by the exposed wooden beams and light fixtures on the ceiling. Lighting designed with light bulbs on a wooden piece stands out with its rustic style.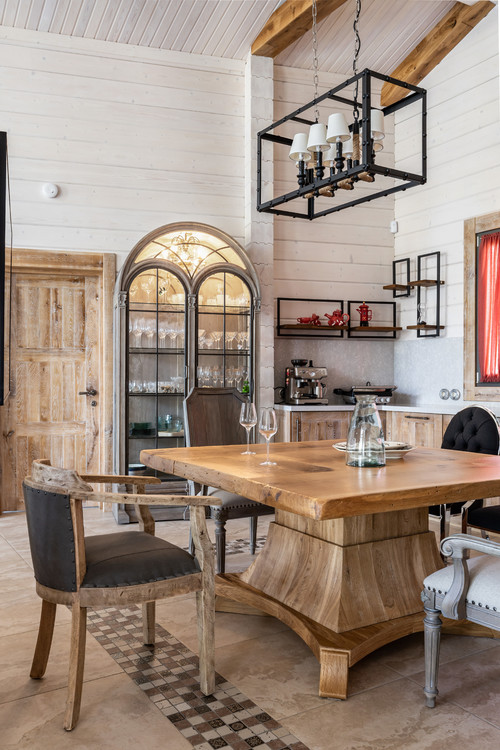 ID# 154026 | Houzz.com – Credit | © Откидач Вера частный дизайнер интерьера
---
Nostalgic Rustic Farmhouse Kitchen Lighting Fixtures in a Homey Kitchen
A nostalgic farmhouse kitchen design. Rustic style is reflected in the showcase and dining table that define a living space where comfort is at the forefront. It reinforces the rustic atmosphere with its standing lighting style to illuminate the dining table.
What makes a kitchen look classy?
Colors such as creams and beiges can make a kitchen look elegant and expensive! If your kitchen is modern, you can use dark colors, such as blacks and greys, which can make it look extravagant. White reflects light and makes the space look bigger, so complement white with some wood and metallic highlights.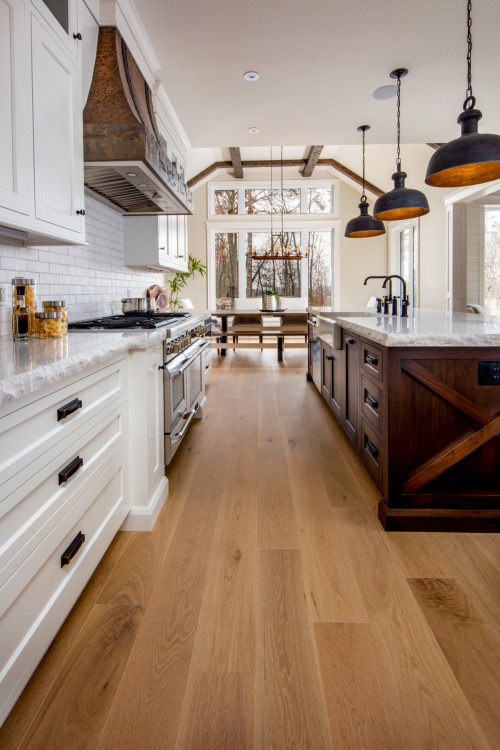 ID# 154027 | Houzz.com – Credit | © Chervin Kitchen & Bath Inc.
---
Spacious Farmhouse Kitchen with Stainless Steel Appliances
The refreshing white of this farmhouse kitchen is gorgeously accented by the rich, warm tones of a walnut island and a hammered copper range hood. Consoles and X-features at the ends of the large central island add style to this space and enhance its rustic look. The white shaker cabinets and the dark wooden island also enhance the harmony with the contrast they create. The black drawer pulls complement this contrast. Long pendant lights on the island on the other hand, become the focal point of the kitchen with their black exterior and distressed copper interior, and rustic style.
Natural Stone Mosaic Tiles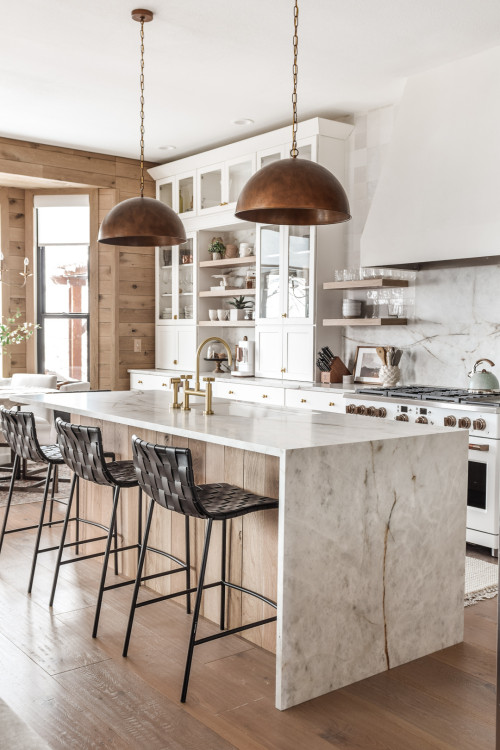 ID# 154028 | Houzz.com – Credit | © Neolith Australia
---
White Cabinetry with Marble Countertops and Copper Pendants
With its earthy color palette and luxurious marble slabs, this farmhouse kitchen is definitely a conversation piece! At the back, white shaker cabinets, stove, and range hood create a clean backdrop while the marble backsplash brings a nice textural look. The large kitchen island offers a stylish appeal with its waterfall edges. The metallic pendant lights enhance the rustic flair while creating a focal point. The brass hardware, bar stools, make a beautiful final touch.