26+ Modern Farmhouse Kitchen Ideas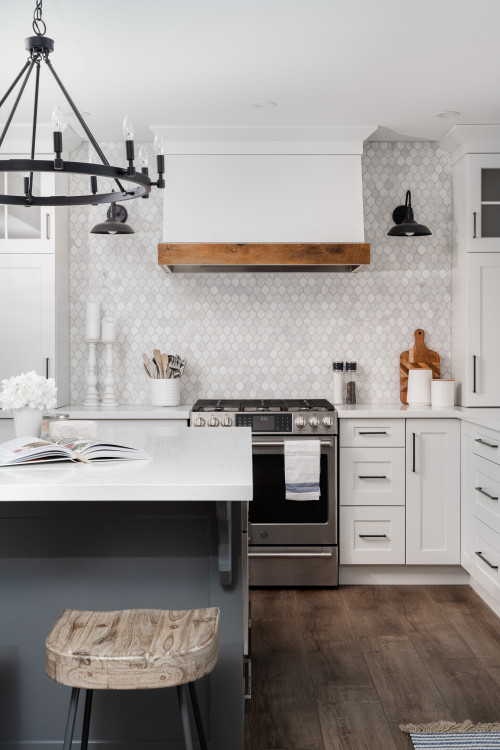 ID# 161611 | Houzz.com – Credit | © Lindsay Schultz Kitchens and Cabinetry
---
Gray Modern Farmhouse Kitchen Ideas with Hexagon Backsplash
This farmhouse kitchen is truly a sight to behold. The beautiful modern rustic charm is on full display, with the light gray shaker cabinets creating a calming and welcoming atmosphere! The stunning gray hexagon tile backsplash perfectly complements the space, making it even more inviting. And with quartz countertops offering plenty of workspace and a hint of elegance, this kitchen has it all. What really sets it apart, however, is the dark gray island which not only adds contrast but also provides plenty of valuable storage space. To top it all off, the modern black hardware and sconces throughout the kitchen provide a sleek, contemporary edge to the space while the Castile chandelier above the island adds a touch of classic charm that ties everything together perfectly.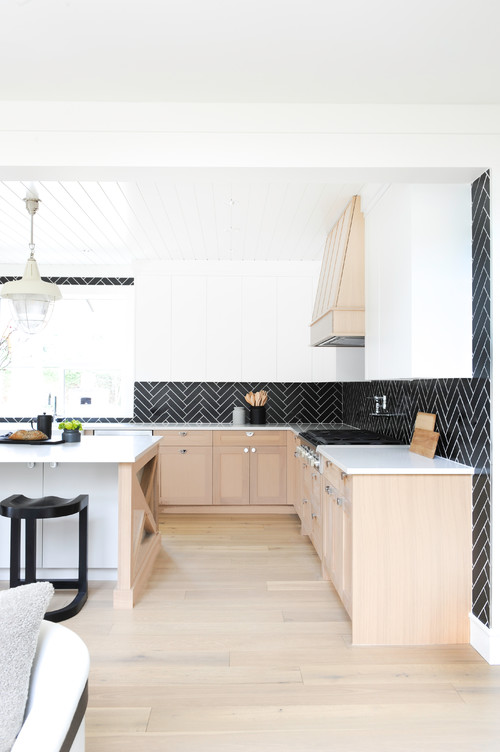 ID# 161618 | Houzz.com – Credit | © PlaidFox Studio
---
Two Tone Cabinets with Black Herringbone Backsplash Tiles
Transform your kitchen into a stylish farmhouse haven with this captivating design. Two-tone cabinetry featuring wood base cabinets and white upper cabinets offers a classic yet modern touch. The black herringbone tile backsplash serves as a statement maker in the space with white grout beautifully highlighting the intricate pattern. This eye-cathing backsplash also creates a focal point between the cabinets and elevates the design instantly!
Modern Farmhouse Kitchen Ideas
In recent years, the modern farmhouse kitchen style has gained immense popularity. This particular design is a perfect blend of the timeless appeal of a traditional farmhouse kitchen and the sleekness of contemporary styles. Modern farmhouse kitchens emanate an inviting, warm and comfortable feel, making them a great choice for those desiring functional spaces with an inviting aura. In this article, we gather some tips and tricks about this design aesthetic. Scroll down and find stunning modern farmhouse kitchen ideas that will inspire you for your next project!
Warm and Inviting Aesthetic of the Modern Farmhouse Style
To incorporate this warm and inviting style into your kitchen, there are plenty of ways. One idea to achieve the modern farmhouse kitchen look is to use white shaker cabinets with black hardware and a black quartz countertop. This creates a striking contrast and gives the space a modern touch. Adding open shelves made of reclaimed wood or metal can bring in the rustic element and provide additional storage space. The versatile and timeless white subway tile backsplash is also an excellent feature that can complement this design aesthetic. To add a dramatic focal point, a large farmhouse sink will always be a good option. Exposed wooden beams or wood flooring can provide a warm atmosphere too. For a final touch, industrial light fixtures or pendant lights can provide a touch of modern style, adding to the overall aesthetic of the space.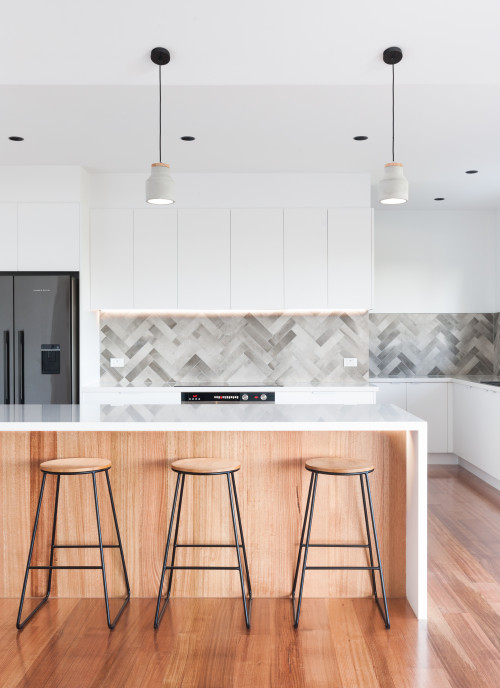 ID# 161601 | Houzz.com – Credit | © HL Building Solutions Pty Ltd
---
Modern Farmhouse Kitchen Ideas with Gray Herringbone Backsplash
This modern farmhouse kitchen exudes a luminous and open feel thanks to the bright white flat panel cabinets and pristine white quartz countertop. The trendy yet elegant appearance is enhanced by the gray herringbone backsplash, lending an appealing visual element to the room. One can't help but notice the stunning wooden island as the focal point of the kitchen! It features a striking waterfall top that enhances the modernity of the design. This functional workspace doubles as a source of warmth and personality in the kitchen.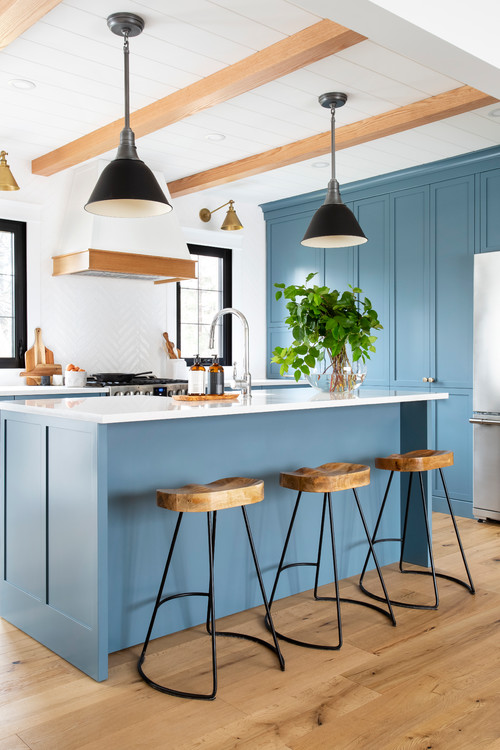 ID# 161602 | Houzz.com – Credit | © Hibou Design & Co.
---
Blue Shaker Cabinets and Island with Wooden Beams
The farmhouse kitchen is a perfect blend of rustic charm and modern functionality. The blue shaker cabinets and island serve as a refreshing pop of color against the white herringbone backsplash and countertops. The exposed wooden beams and wood trim of the hood create a warm and cozy atmosphere, perfect for cooking up a delicious meal! The black pendant lights hanging above the island add a touch of industrial flair to the space.
What is a modern farmhouse-style kitchen?
If you're looking to achieve a timeless yet modern look for your kitchen, a farmhouse-style design might just be it!! The idea is to marry classic farmhouse elements with contemporary design features for a cohesive aesthetic. Typically, this will involve installing white or subtle-colored cabinets paired with natural or reclaimed wood accents. A combination of vintage and modern hardware and fixtures will add depth to your design. Other signature features usually include an apron-front sink and a roomy kitchen island. And to play up the texture, incorporate shiplap, subway tiles and patterned floor tiles.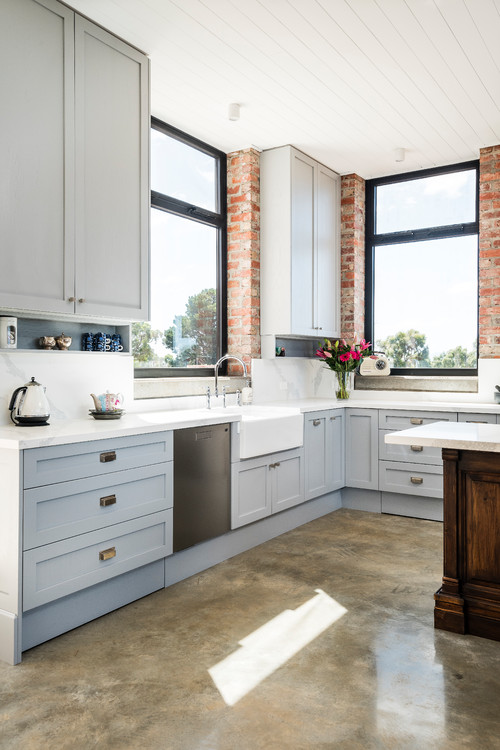 ID# 161603 | Houzz.com – Credit | © Smith & Smith Kitchens
---
Light Blue Cabinets with Quartz Backsplash and Counterops
Welcome to this bright and airy country kitchen! The shaker cabinets in light blue add a fresh touch of color, while the white quartz countertops and backsplash provide a clean and timeless appeal. The large windows allow plenty of natural light to fill the space. One charming feature of this kitchen is the exposed brick walls, adding rustic character above the backsplash. The hardware on the cabinets and drawers in brass provides an elegant contrast to the blue and white color scheme.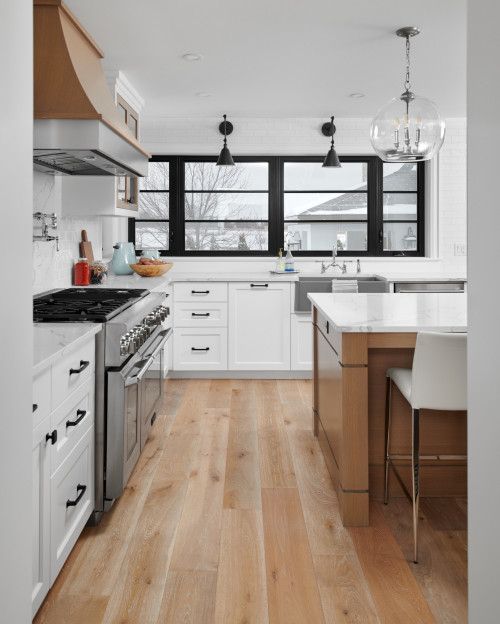 ID# 161604 | Houzz.com – Credit | © Urban Interiors Kitchens & Bath
---
Modern Farmhouse Kitchen Ideas with Wood Island
The modern kitchen features a sleek and contemporary design with white shaker cabinets and marble-look quartz backsplash and countertops. The combination of white and marble creates a bright and airy atmosphere that is perfect for cooking and entertaining. The kitchen island and range hood are made of warm-toned wood, providing a contrasting element to the predominantly white space. Matte black hardware and fixtures add a modern touch to the kitchen.
How do you make a modern kitchen look like a farmhouse?
To give a modern kitchen a farmhouse look, focus on adding rustic and natural elements like reclaimed wood or metal accents, a farmhouse sink, and open shelving. Combine these features with sleek and modern touches like shaker cabinets, quartz countertops and industrial lighting. Incorporating a neutral color palette with pops of greenery and natural textures will also help achieve the modern farmhouse style!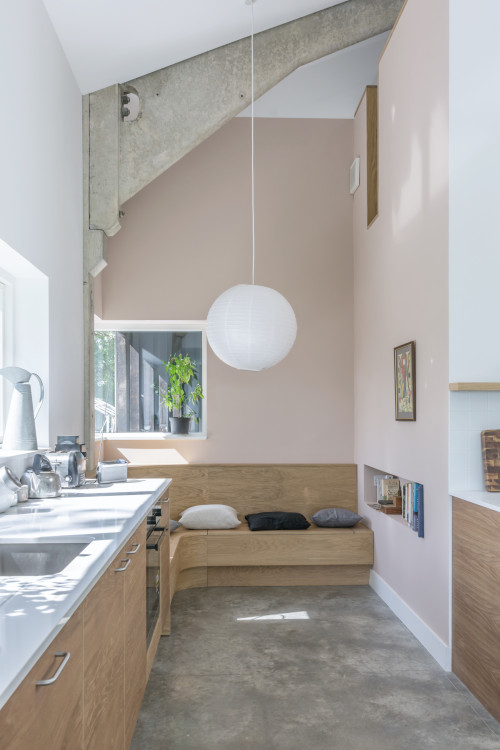 ID# 161605 | Houzz.com – Credit | © HeathWalker Studio
---
Minimalist Kitchen Design with Concrete Floor
Experience the minimalist farmhouse kitchen – a harmonious blend of simplicity and warmth that will leave you in awe! The kitchen boasts natural wood cabinets that give a touch of rusticity and provide ample storage while the built-in bench made of wood adds a cozy seating area for enjoying breakfast or afternoon tea. The soft pastel pink wall paint creates a serene atmosphere that perfectly balances the warmth of the wood, making it an ideal spot for relaxation. Moreover, the large white pendant light hanging above the dining table is a nod to modernity. The concrete floor injects texture and interest into this space!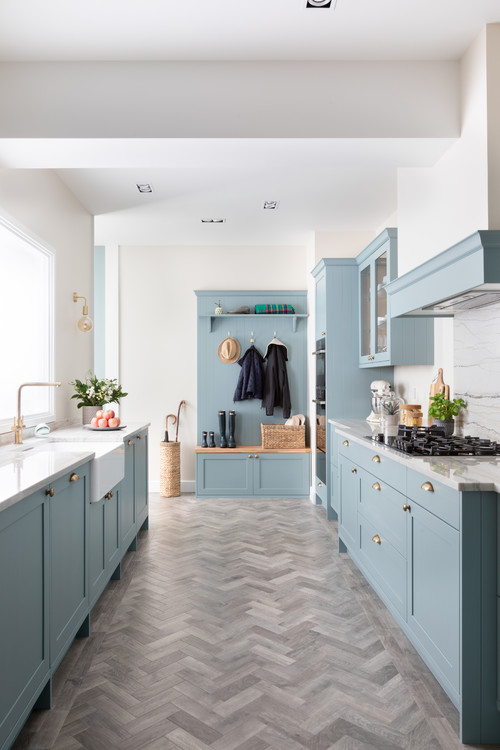 ID# 161606 | Houzz.com – Credit | © Classic Interiors
---
Baby Blue Shaker Cabinetry with Gray Herringbone Floor Tiles
This lovely farmhouse kitchen design brings a touch of charm to any home! The soft baby blue shaker cabinets create a warm and inviting atmosphere while the white quartz countertops and backsplash add a modern touch. A beautiful white farmhouse sink completes the look and adds to the traditional feel of the space. The brass hardware provides a subtle pop of shine, tying the design together. The gray herringbone floor tiles add a playful element while still maintaining a classic look.
White Modern Farmhouse Kitchen Ideas
A white modern farmhouse kitchen combines the simplicity of a modern design with the warmth and coziness of a farmhouse kitchen. It often features white shaker cabinets, white subway tile backsplash and a white quartz countertop for a clean and timeless look. Rustic elements such as open shelving made of reclaimed wood or metal, a farmhouse sink and wooden ceiling beams are popular choices to add character and warmth. Scroll down and find different farmhouse kitchens with a white color scheme.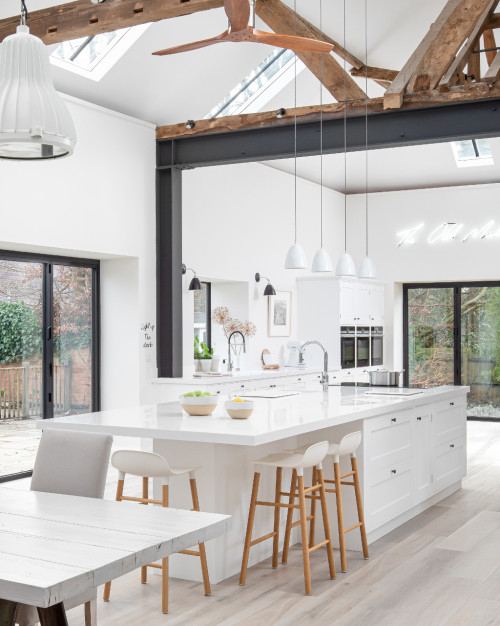 ID# 161607 | Houzz.com – Credit | © Rencraft Ltd
---
White Modern Farmhouse Kitchen Ideas with Shaker Cabinets
This white farmhouse kitchen is a calm and inviting space that welcomes you with its neutral color scheme. The shaker cabinets provide a classic farmhouse feel while the Silestone quartz countertops offer a modern touch. Exposed wood and metal beams overhead draw the eye upwards, adding depth and interest to the design.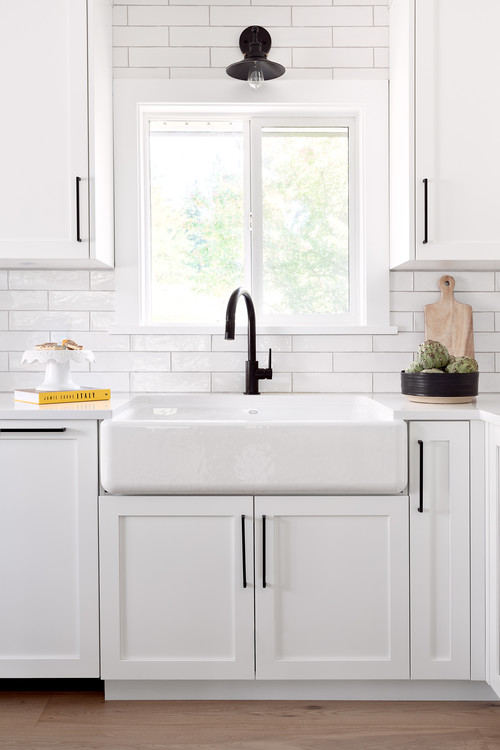 ID# 161608 | Houzz.com – Credit | © Beyond Beige Interior Design Inc.
---
All White Kitchen Design Black Hardware and Farmhouse Sink
This all-white kitchen exudes classic simplicity and modern style, making it a perfect fit for any contemporary home! The centerpiece of the kitchen is the white farmhouse sink, which commands attention with its clean lines and traditional charm. Classic white shaker cabinets offer plenty of storage space while blending seamlessly into the overall design. A white subway brick backsplash adds texture and contrast, serving as the perfect backdrop for modern black hardware.
What are the elements of modern farmhouse design?
Reclaimed woods, large comfortable furnishings, wrought iron accents, large wooden floors, and vintage accessories are key elements of modern farmhouse design.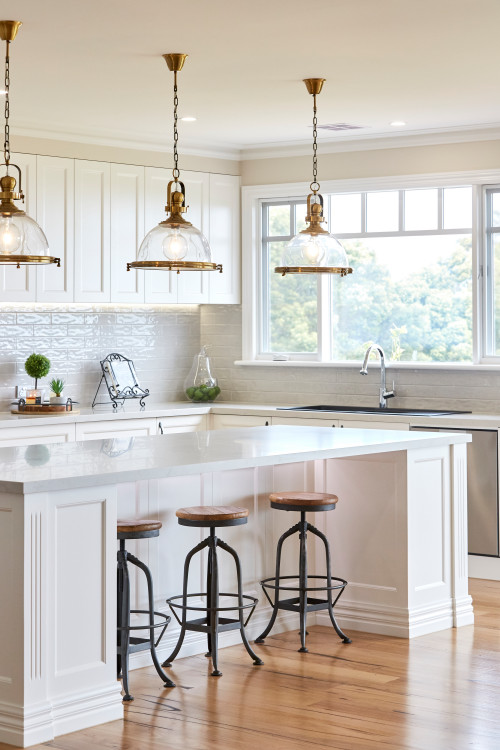 ID# 161609 | Houzz.com – Credit | © Bathtime Bathrooms
---
Off-White Kitchen Cabinets with Antique Lighting Fixtures
For those seeking an enduring and timeless farmhouse kitchen design, an all-white color scheme is a perfect choice. But if you're in search of something with a little more warmth and character, consider off-white cabinets and a natural wood island! To create a charming and rustic ambiance in the space, antique lighting fixtures such as vintage chandeliers or pendant lights with Edison bulbs can be added above the island. This will add a touch of elegance and still retain an overall clean and fresh appearance.
Is farmhouse style out for 2023?
Trend designs are moving targets with no definite start and end dates. This means that the farmhouse style will not go out of style tomorrow. It looks like it will continue to be popular for a while.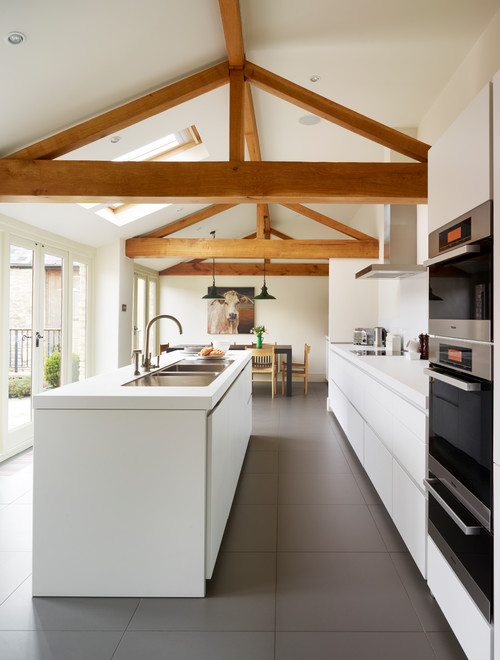 ID# 161610 | Houzz.com – Credit | © Hobsons Choice
---
Sleek Modern Kitchen with White Flat-Panel Cabinets
Step into the sleek modern farmhouse kitchen and you'll be transported into a world of clean sophistication. The white flat panel cabinets give off a feeling of clarity and elegance that's hard to ignore. The white quartz countertops add a luxurious touch to the space while complementing the stainless steel appliances beautifully. The wooden beams add a touch of rustic warmth and character to the space. These elements together make for a kitchen that feels both modern and timeless and that's something that's hard to come by!
Gray Modern Farmhouse Kitchen Ideas
Gray is a neutral color with a sophisticated stance. The gray color palette you apply in your kitchens, from a light hue to a sharper charcoal color, is a tasteful, simple, and versatile choice. It also produces good results for modern farmhouse kitchen designs. Gray adds to the space, from cabinets to countertops and backsplash designs. While color tones and designs are shaped according to the general style, size of the space, and user requests, highly successful areas are provided. So, if you want to create a stylish design, the cool appeal of the gray color can easily work with the inviting feel of the modern farmhouse style.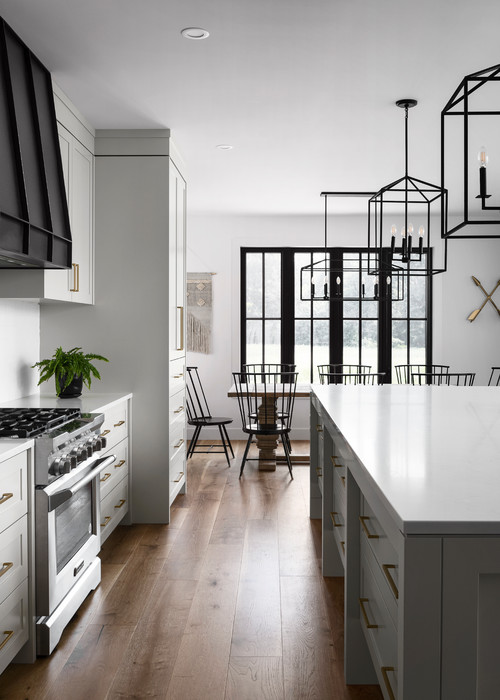 ID# 161612 | Houzz.com – Credit | © The Wood Studio
---
Gray Kitchen Design with Black Lantern Pendant Lights
Step into this elegant gray kitchen and you'll immediately feel a sense of sophistication and refinement! The gray shaker cabinets offer a perfect balance between modern and classic, adding depth and texture to the space. The white countertops bring a crisp and clean aesthetic that complements the cabinets seamlessly. The brass hardware adds a touch of warmth and luxury to the space while the black oversized range hood takes center stage as a bold and dramatic focal point. The black lantern pendant lights hanging above the kitchen island add a beautiful contrast against the light and airy color palette.
What is the difference between a modern farmhouse and a rustic farmhouse?
The charming modern farmhouse style seamlessly blends classic farm-style elements with contemporary design features, creating an elegant and streamlined aesthetic. Conversely, a rustic farmhouse style embodies a vintage and rugged appearance by incorporating distressed wood and antique finishes.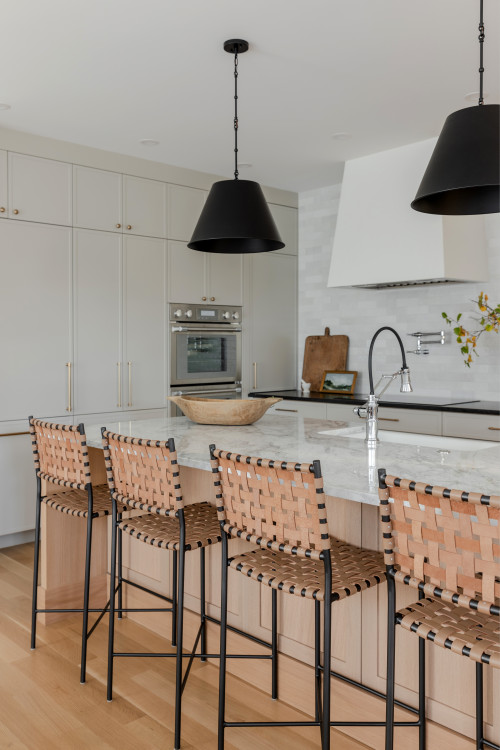 ID# 161613 | Houzz.com – Credit | © Elle Peters Design
---
Light Gray Kitchen Cabinets with Marble Subway Tile Backsplash
This modern farmhouse kitchen exudes elegance and sophistication with its light gray shaker cabinets and marble subway tile backsplash! The white marble countertops provide a beautiful contrast to the soft gray cabinets, and the brass hardware adds a touch of warmth to the overall aesthetic. Black lantern pendant lights illuminate the island which features a large wood countertop with a luxurious marble inset. Brown chairs provide comfortable seating for family and friends, making this kitchen the perfect gathering spot for any occasion.
Black and White Modern Farmhouse Kitchen Ideas
Black and white kitchens are a classic design, and although this color scheme may seem easy, there may be considerations when we consider the space as a whole. Whether you're designing a minimalist, living in a period home, or creating a classic farmhouse kitchen, a beautiful combination and transition create successful spaces. The contrasting harmony of black and white creates characteristic spaces. Along with the elegance of white and the noble stance of black, you can add movement to the cool stances of black and white by adding striking different colors. A modern farmhouse effect can be interestingly combined with wooden elements as well. The neutral states of black and white provide impressive spaces in modern farmhouse kitchen designs.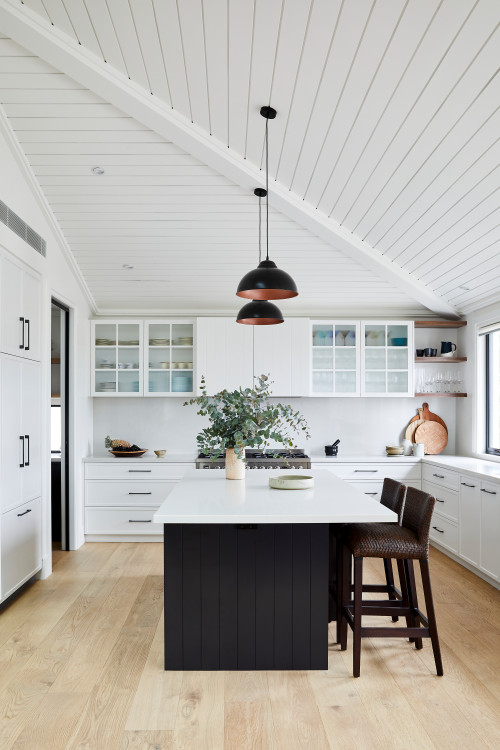 ID# 161614 | Houzz.com – Credit | © Blue Tea Kitchens and Bathrooms
---
Black and White Kitchen with Shiplap Ceiling
This stunning black and white kitchen effortlessly blends classic farmhouse elements with modern style! The space features a perfect balance of white shaker and V-groove cabinetry with a sleek black island as a statement piece. The white subway tile backsplash and countertops provide a crisp and clean backdrop, while the shiplap ceiling and warm wood floors add cozy and inviting touches to the space. The black hardware provides a chic and sophisticated contrast to the white cabinetry, tying the overall look together. To complete the aesthetic, the kitchen is illuminated with striking black pendant lights and adds a touch of drama and elegance to the room.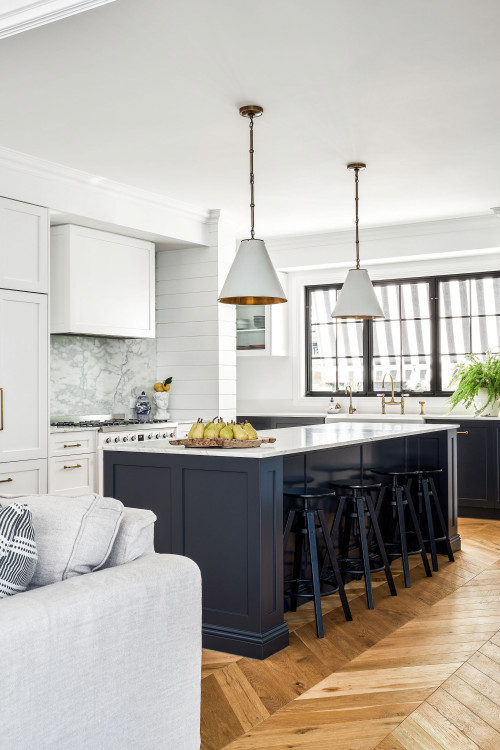 ID# 161615 | Houzz.com – Credit | © Intrim Group Pty Ltd
---
White Shaker Style Cabinets with Black Island
This farmhouse-inspired home takes on a modern twist, resulting in a stunning masterpiece! The kitchen features a combination of classic and contemporary elements with white shaker cabinets and a striking black island serving as the focal point. The black and white color scheme is carried through the space with marble backsplash and countertops, providing a sleek and sophisticated look. The white pendant lights above the island add an elegant touch.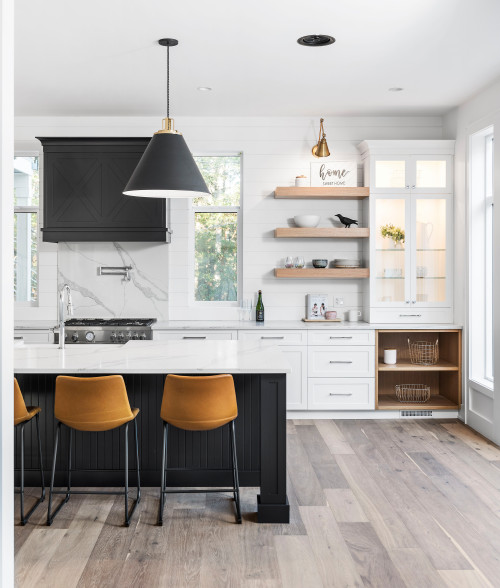 ID# 161616 | Houzz.com – Credit | © Raven Valley Kitchens
---
White Cabinets with Black Island and Wood Open Shelves
Looking for a bright and spacious kitchen with a modern farmhouse vibe? Look no further than this stunning space with white shaker cabinets and a sleek black island. The quartz backsplash behind the stove provides a beautiful and durable surface while the black range hood steals the show as a stunning focal point. Open wood shelves add warmth and a touch of rustic charm while allowing for easy access to frequently used items.
Modern Farmhouse Kitchen Backsplash
The right kitchen backsplash can easily enhance the overall aesthetic of the space. When it comes to modern farmhouse kitchen ideas, the most popular option is to use white subway tiles for a classic and timeless look. For a more modern twist, consider using larger tiles or a unique shape like a hexagon or herringbone pattern. A brick or stone veneer backsplash can add a rustic element while still maintaining a modern feel. Glass tiles or a mirrored backsplash can bring in a sleek and reflective touch. Adding open shelving above the backsplash can create a cohesive look while providing extra storage space. A colorful or patterned backsplash can also add a pop of personality to the kitchen.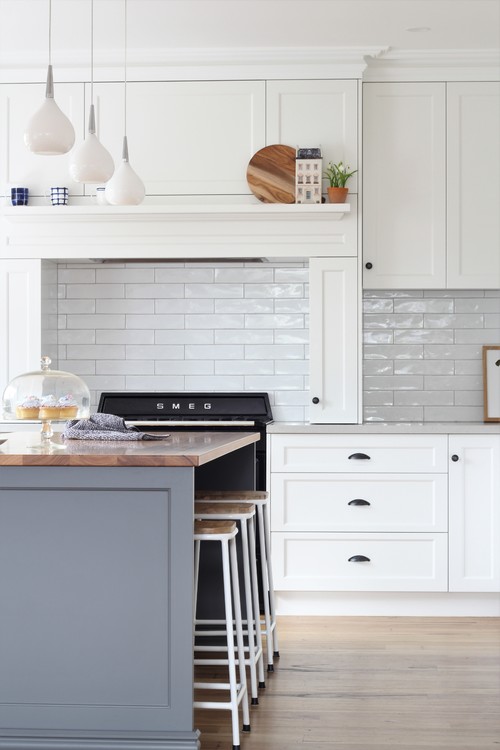 ID# 161617 | Houzz.com – Credit | © My Beautiful Abode
---
Glossy White Subway Tile Backsplash with Gray Countertop
This modern farmhouse kitchen is the perfect blend of classic and contemporary design! The glossy white subway tile backsplash beautifully complements the white shaker cabinets, creating a bright and inviting atmosphere. The gray island with a wood top provides a striking contrast to the white cabinetry, adding depth and character to the space.
Can you mix modern and farmhouse?
It's absolutely possible to fuse modern and farmhouse styles in interior design and the result can be stunningly stylish and one-of-a-kind! Achieving the perfect balance between the two styles is crucial to create a coordinated and cohesive overall look. So, don't be afraid to experiment and find creative ways to complement each style with the other!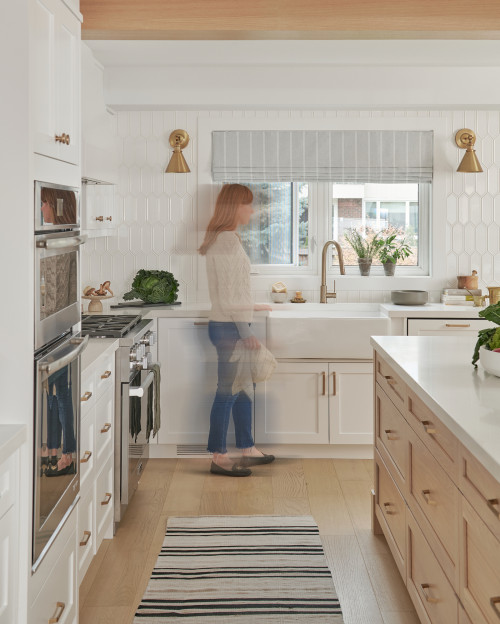 ID# 161619 | Houzz.com – Credit | © Rüme Design
---
Modern Farmhouse Kitchen Ideas with Oak Flooring
This elegant farmhouse kitchen exudes a timeless appeal with its off-white shaker cabinets and white farmhouse sink that beautifully blend with the white elongated hexagon tiles used as a backsplash. The full-height design of the backsplash provides a clean and sleek backdrop while the brass accents add a touch of glamour to the space. The wood island with a contrasting oak floor adds warmth and texture to the room, making it an inviting space for gatherings and cooking. The natural light flooding through the window behind the sink enhances the bright and airy atmosphere.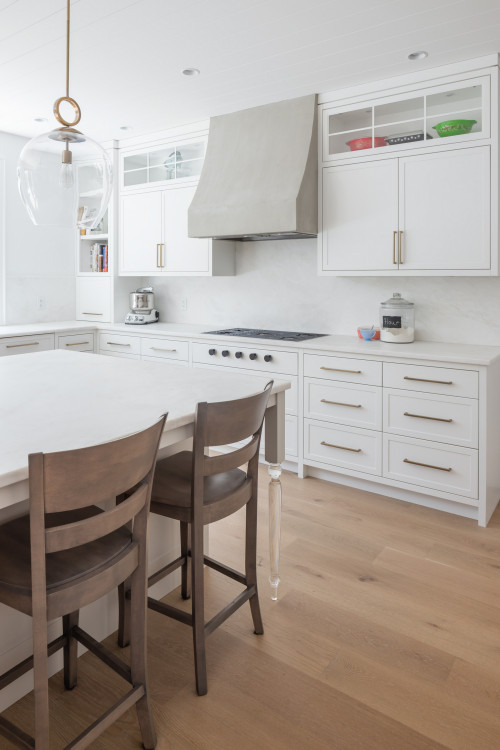 ID# 161620 | Houzz.com – Credit | © SGDI – Sarah Gallop Design Inc.
---
Modern Kitchen with White Quartz Slab Backsplash and Gray Range Hood
Step into this modern kitchen and be amazed by its sleek and minimalist design! The ivory cabinets and quartz slab backsplash and countertops create a pure and sophisticated look, complemented by the grey range hood serving as the main attraction. In addition, the brass handles offer a touch of refinement and warmth that completes this overall elegant ambiance.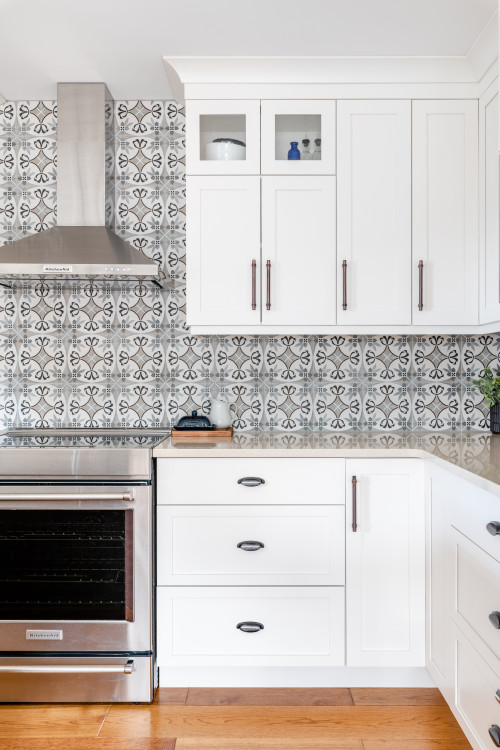 ID# 161621 | Houzz.com – Credit | © MAC Renovations LTD.
---
Monochrome Patterned Backsplash Tiles for White Kitchen
In this stunning white farmhouse kitchen, the monochrome patterned backsplash tiles are the star of the show! This eye-catching pattern creates a striking focal point for the space. It also adds a touch of elegance to the otherwise minimalist decor. The white shaker cabinets and countertops create a clean and crisp look that is complemented by stainless steel appliances. The oil rubbed bronze hardware adds warmth and depth to the design, tying everything together beautifully.
Modern Farmhouse Kitchen Light Fixtures
When it comes to designing a kitchen, light fixtures can play a significant role in the ambiance of the room. The right lighting fixture can easily change the atmosphere and enhance the overall look. When it comes to modern farmhouse kitchen ideas, one popular option is to incorporate industrial-style pendant lights that add a touch of modernity to the rustic farmhouse charm. Another trend is to use black iron chandeliers with a mix of rustic and modern elements, such as Edison bulbs or geometric shapes. For a more minimalist approach, simple black or white flush mount lights can provide ample lighting while blending seamlessly with the farmhouse aesthetic. If you want to add some color to the kitchen, consider using statement light fixtures, such as oversized lanterns or colorful beaded chandeliers.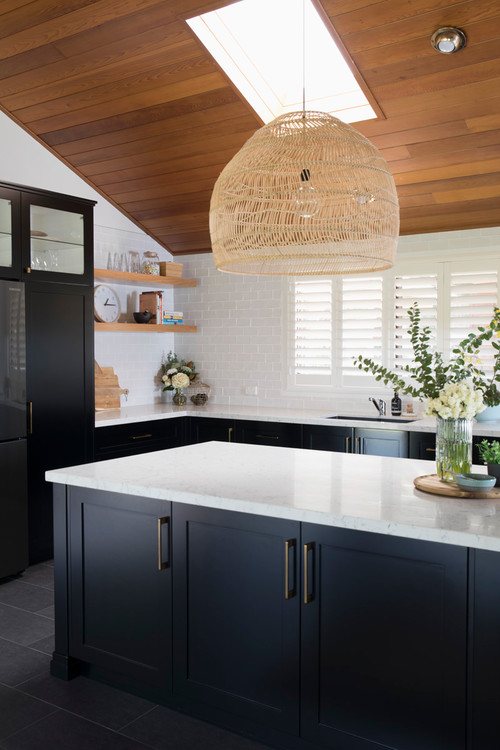 ID# 161622 | Houzz.com – Credit | © Elska Interiors
---
Modern Farmhouse Kitchen Ideas with Wood Paneled Ceiling
This modern and elegant kitchen boasts a stunning black color palette with matte finish shaker cabinets that contrast beautifully with the light gray subway tile backsplash. The pure white countertops create a crisp and clean look and add an open and airy feel. The oversized basket pendant light above the island serves as a striking statement piece while the wood panelled ceiling adds warmth and texture.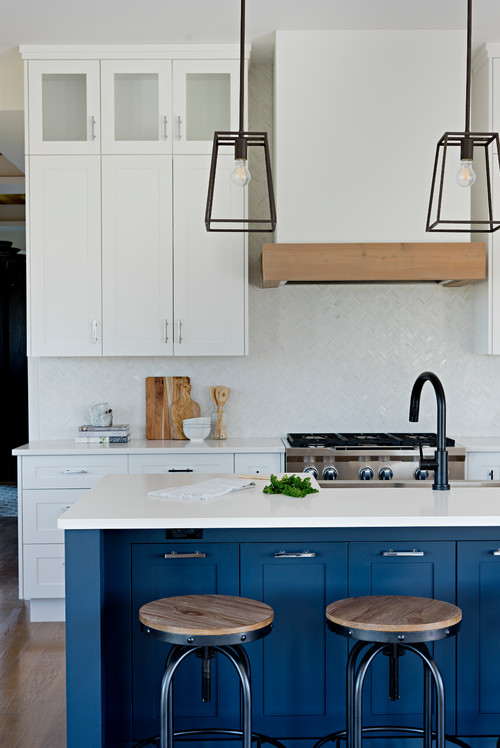 ID# 161623 | Houzz.com – Credit | © Soda Pop Design Inc.
---
White Cabinets with Blue Island and Black Pendant Lights
This white farmhouse kitchen exudes a clean and bright atmosphere with its white shaker cabinets and countertops. The glossy mosaic tile backsplash adds a touch of texture and visual interest to the space while the blue kitchen island provides a pop of color and a focal point. Black pendant lights hang above the island, creating a sophisticated contrast against the light color scheme. Wood accents throughout the kitchen, such as the trim of the hood and chairs, bring warmth and natural elements to the design.
Modern Farmhouse Kitchen Hardware
In the world of modern farmhouse kitchen hardware, there are several choices to enhance the overall aesthetic appeal of your kitchen space. Matte black takes the top spot as a popular option since it offers a sleek and modern contrast that accentuates light-colored or white cabinets. Brushed nickel, on the other hand, exudes elegance and refinement that can elevate the overall design of your space. For those who want to create a more rustic or vintage vibe, antique brass or oil-rubbed bronze hardware is an excellent choice. You can even mix and match hardware finishes, for instance, using black pulls on your cabinets and brass knobs on drawers for an interesting effect. Choose hardware that speaks to your personal style and taste!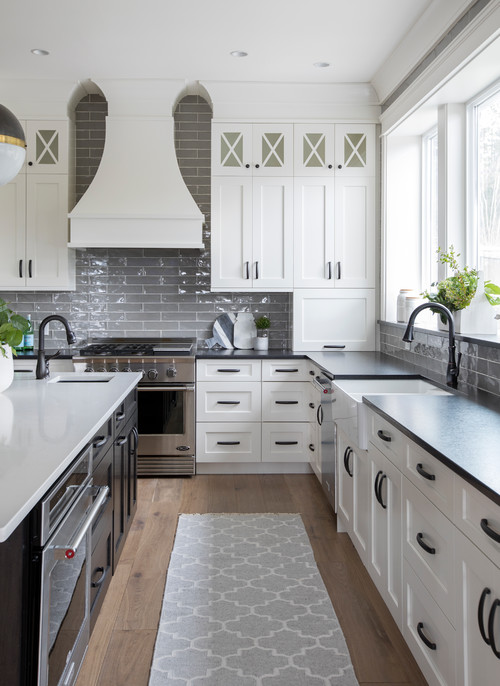 ID# 161624 | Houzz.com – Credit | © PlaidFox Studio
---
Monochrome Kitchen Design with Wood Floor
The kitchen is bathed in natural light, thanks to its spacious layout and the use of white shaker cabinets that offer enough storage space for everything you need! The black soapstone countertops make a bold statement against the white cabinetry, creating a visually stunning effect. The glossy gray subway tile backsplash adds depth and texture to the overall design, accentuated by matte black hardware for additional allure. Rounding out the look is the warm wood flooring, both timeless and contemporary in its appeal.
Natural Stone Mosaic Tiles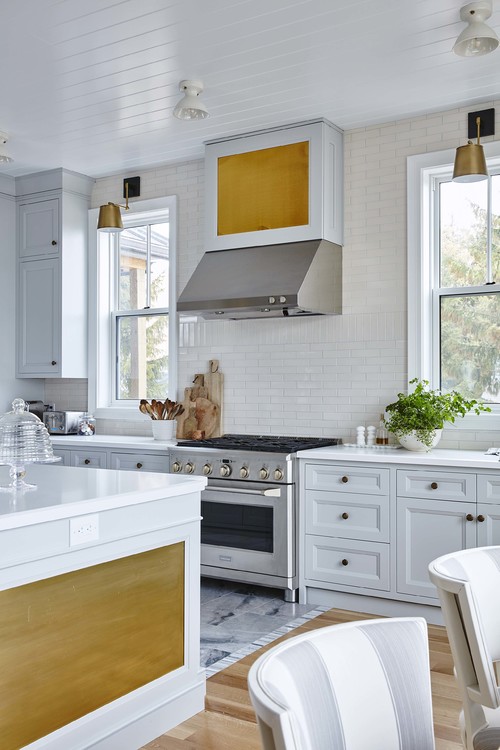 ID# 161625 | Houzz.com – Credit | © Robinson Residential Design
---
Light Gray Kitchen Cabinets with White Subway Tiles and Brass Knobs
Prepare to be amazed by this gorgeous kitchen design that perfectly blends elegance and farmhouse charm! From the classic light gray shaker cabinets to the timeless white subway tile backsplash, this kitchen exudes a clean and fresh look. Adding a modern touch to the design are the stainless steel appliances, while the brass knobs lend a touch of sophistication. Oh, and don't forget the stunning white shiplap ceiling which adds rustic charm to the space. It's a masterpiece that's sure to impress!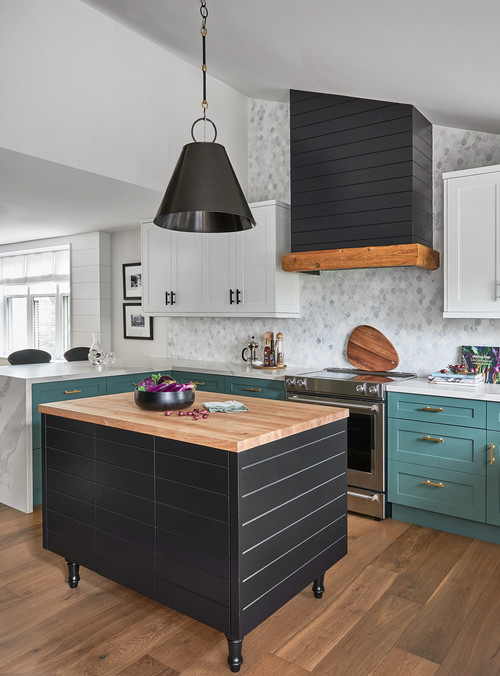 ID# 161626 | Houzz.com – Credit | © Soda Pop Design Inc.
---
White and Green Cabinets with Black Range Hood
Looking to add some extra style to your modern farmhouse kitchen classic? One tried and true trick is to mix and match hardware finishes for a truly unique look. Take inspiration from this kitchen design, where crisp white upper cabinets pop against bold matte black hardware. The lower cabinets in a soft green shade offset beautifully with shiny brass hardware, for an undeniably stunning effect. A marble backsplash reaching all the way up to the ceiling adds an element of luxury to the space, while a sleek black range hood commands attention and complements the wooden topped black island. With this clever combination of finishes, your kitchen is sure to make a statement.