Beautiful Kitchen Designs for Every Type of Cook
Whether you are a professional chef or just a home cook who rarely goes to the kitchen, kitchens are an integral part of your house. Kitchens are where we cook, eat and also socialize. So, it is important to create a kitchen which provides both style and function at the same time and also it should be suitable for our budget. Yes, there are a lot of decisions to be made, but don't be afraid. If you don't know where to start designing your kitchen, you are on the right page. Scroll down and find how to work with different styles, materials, and colors!
1. Kitchen Cost
Kitchens are spaces that we spend most of the time in it. So, we want them to provide both function and style at the same time but the most important question that arises is, "how much would it cost?" Kitchens are the most expensive rooms to remodel. When designing a new kitchen, from the main furniture to the tiny details, there are many things to keep track of. Of course, the cost changes depending on the material choices but the sky is the limit.
If you don't want to spend a fortune, you can go with the inexpensive ends which the total cost will be between $5,000 and $15,000 for a full kitchen renovation. If you do some of the works by yourself, you might get closer around $5,000, but if you want to add custom cabinets, marble countertops, or new flooring, the cost easily creeps up to $20,000. For a mid-range kitchen, you can expect to pay $30,000 – $70,000. As we've mentioned above, there is no cost limit. For a high-end luxury kitchen renovation, you can expect to pay more than $75,000.
You might think that these costs are extremely high, but there are too many things to take consider in kitchens. If you are going to stay in your house for at least 15-20 years, investing in this space, which is the heart of your home, maybe the right decision.
2. Kitchen Styles
When you are designing your dream kitchen, from cabinetry to lighting fixtures, there are plenty of decisions to make but first, you need to decide the overall look of your kitchen. From ultra-contemporary to rustic kitchen, there are plenty of options that will inspire you to cook!
Traditional Kitchen
Despite the rise of modern and contemporary kitchens, traditional kitchens are still one of the most popular design styles which offer charming and inviting spaces. Although traditional kitchens have a basic color palette, the key features of this style are details and embellishments. Traditional kitchens include details like beaded-board panels, legs, and pilasters on islands, crown moldings, quartz or granite countertops, and furniture-like pieces with embellishments. Creating eye-catching details not that easy. But with the right material choices, when all these beautiful details come together, traditional style helps to create a timeless appearance for your kitchen.
Modern Kitchen
Definition of modern is very widely but clean lines, minimalist details, sharp edges are the first things that come to our minds. Much like contemporary kitchen styles, the high-quality materials are hallmarks of modern kitchens. With the combination of flat-panel cabinets, polished countertops, natural materials, and some pop-up colors, modern kitchens offer clutter-free, inviting, and seamlessly functional spaces. If you want to create a sleek modern look for your kitchen, hide everything behind the cabinet doors and use smart storage solutions to maximize the functionality of your kitchen!
Contemporary Kitchen
The contemporary kitchen style is a highly popular design trend these days. When designing a contemporary kitchen, the sky is the limit and there is no standard! With their neutral color palettes, minimalist cabinets, and unexpected details like metallic hardware or concrete floor, contemporary kitchens offer a sleek elegance that never goes out of style.  The contemporary kitchen style beautifully blends modern design with other styles like traditional, industrial to create a distinctive look with a more artistic and minimalist approach. Also, when it comes to minimalistic style, natural light plays a big role. We know that in today's modern homes, kitchens are quite small but with the right kitchen layout, you can maximumly take advantage of the natural light and emphasize the high-quality materials in your contemporary style kitchen.
Transitional Kitchen
Transitional style kitchens are perfect blends of traditional and contemporary design concepts. Transitional designs are elegant, sophisticated, and classy.  So, it is no surprise that the transitional style is one of the most popular design styles.  The transitional style offers the perfect charm of the traditional style with clean and minimalist design elements of the contemporary style.  The key point of this blended style is a cohesive design with a basic color scheme. The recessed-panel doors of the transitional style kitchens make a signature look with clean lines while quartz countertops are a great way to create a streamlined look. Also, with textured or polished backsplashes, these kitchens provide visual interest.  Because of the minimal aesthetic of this style, appliances have a strong visual impact on them. Oversized pendant lights with metal finishes are the most noteworthy decor element in transitional kitchens.
Rustic Kitchen
Rustic style has an undeniable charm and is full of character. This classic style can bring a casual and welcoming atmosphere to any kitchen. When choosing materials, you want to stick to something natural to create a cozy look at the heart of the home. Wood and stone are commonly used design elements in rustic kitchens which help bring nature into your home. You can incorporate some rustic elements such as weathered wood beams, wooden cabinets, reclaimed countertops, stone backsplashes, wood-burning stoves, to achieve this rustic feel in your kitchen. The combination of the neutral color palette, natural materials, and weathered feel provide an inviting space for family meetings!
Farmhouse Kitchen
There is something about farmhouse kitchens that evokes a warm nostalgic feel. The charm of the farmhouse décor is a perfect blend of the old and new. Farmhouse-style kitchens offer warm and inviting spaces with a combination of painted cabinetry, rustic elements, industrial-inspired accents, apron-front sinks, reclaimed wooden shelves, shiplap walls, exposed beams, and a neutral color scheme. White, beige, or brown cabinets are generally used for a classic farmhouse look while for a more interesting effect painted cabinets can be a perfect choice. The apron-front sinks are the stars of the farmhouse style with their unique aesthetic. Also, if you want to go with a more modernized look, clean and minimalist details can work well with the warm feel of the farmhouse style. With a farmhouse-style kitchen, you can bring country comfort into your house that can inspire you to cook!
Scandinavian Kitchen
When we are designing a kitchen style and functionality are our main expectations. Scandinavian-style kitchens offer an effortless style with usable functionality. Scandinavian style principles revolve around an overall less is more approach. When the functionality meets with the clean lines, natural materials, and some plants, the beautiful Scandinavian style emerges! The Scandinavian kitchens focus on simple lines and bright, clutter-free spaces. Sleek cabinets, wood or stone countertops, and metal accents are the main elements of this style. The natural and organic materials take the stage in this style and reflect the Nordic countries' relationship with nature.
Industrial Kitchen
Industrial kitchens are known for their functionality and spacious open concepts. That's why industrial style favorite decor choice for kitchens. When industrial kitchens are executed properly, they can make a huge statement in your house. Industrial-style kitchens are characterized by bricks, woods, and metals. Brick backsplashes, wood cabinets, concrete countertops, and stainless-steel appliances are the most obvious traits of an industrial kitchen.  The unfinished look of the exposed building materials such as beams, pipes, wares, gives a utilitarian vibe to an industrial kitchen. It is also a versatile concept that can work well with individual tastes. If you fan of a modern loft-style atmosphere, an industrial kitchen could be the perfect choice for you!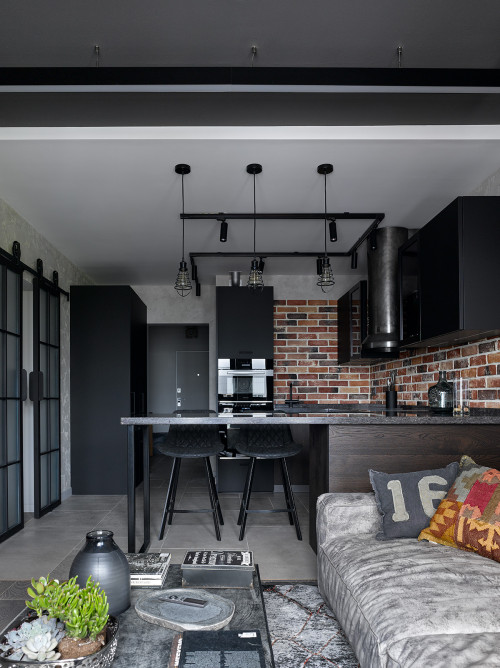 Houzz.com – Credit | © Анастасия Уфимцева
Mediterranean Kitchen
The warm and inviting Mediterranean style takes its inspiration from beautiful nature. The Mediterranean-style kitchens incorporate earthy colors, glazing techniques, natural materials, to invoke the beauty of the countries around the Mediterranean Sea such as Italy, Spain, and Greece. Unlike the modern or contemporary kitchens, swooping curves and arched architecture stand out in Mediterranean style and provide the elegance of the dramatic old word. Terra-cotta floor tiles, hand-painted blue backsplashes, finest quality hardwood cabinets, and stone countertops: Mediterranean kitchens offer a timeless look with a welcoming atmosphere.
Beach Style Kitchen
When we are thinking about the beaches, we imagine a space where we feel relaxed, calm, and eventually refreshed. Beach-style kitchens are perfect and trendy designs that can bring these feelings within the comforts of your own home.  A mix of natural materials, bright whites, soft beiges, and a touch of blue. The beach-style kitchens bring the reminiscent of sand and sea to create a warm and calm atmosphere which is perfect for the chaotic environment of the kitchen. But don't worry, you don't have to have a home by the beach to create a coastal kitchen. It all depends on your design elements! White cabinets, wood flooring, blue backsplashes, unique finishes, and personalized details like seashells, sea glass. With these elements, you can create your very own beach in the home!
2. Kitchen Layouts
When designing a kitchen, the kitchen layout is one of the most important factors if you want a functional and practical kitchen. Of course, we want our kitchens to look stylish and inviting but if your kitchen is not placed properly, your workspace will be restricted and an overwhelming environment will result. With the right kitchen layout, even the smallest spaces can turn into a functional kitchen.
It's always helpful to consider the classic 'working triangle'. This idea is based on the minimize the distance between the cooker, fridge, and sink by placing them on three points of a triangle. And this idea works well with most of the kitchen layouts but of course, you don't have to stick to it.
So, before you make any big decisions, first define the proportions of your kitchen and find the right layout for these proportions to create more livable and functional spaces.
One-Wall Kitchens
This simple kitchen layout is a space saver. As the name suggests, the cabinets are placed on one wall which offers an open and airy look. This layout is generally found in studio or loft spaces because of its compact placement. If your wall width is limited you should consider the tall cabinets which help create extra storage space. Also, open shelving between the cabinets can help to enhance the airy feel. It is hard to apply the 'working triangle' concept on this layout but depending on your kitchen size you can include an island to create a sort of Galley style.
Galley Kitchen
The galley kitchen layout consists of cabinets that are facing each other on the opposite walls with a walkway in between them. This layout is ideal for narrow kitchens to maximize functionality. By eliminating the corner cabinets, it offers space without wastage. You can add open shelves between the cabinets to avoid the cluttered feel.  Also, placing a pantry cabinet can help to kitchen organized and provide additional storage without disturbing the design.
L-Shaped Kitchen
An l-shape layout is one of the most common layouts for kitchens. This practical layout can work well with both small and large kitchens. Thanks to this ergonomic layout, you can be more flexible in the location of workspaces. For a tip, you can place the sink and fridge on one wall and the cooker on the other wall to take advantage of the triangle.   Another big advantage of this layout is the ability to center a table because of the empty area between the cabinets. However, you need to find some clever corner solutions to avoid unused areas.
U-shaped Kitchen
The u-shape layout provides plenty of workspaces and the perfect working triangle for kitchens. This layout is generally preferred for large kitchens, but with the right cabinet and color selection, it can be practical and functional also for small kitchens. The lighter color scheme and a central window can help to create a more spacious atmosphere for small areas. If you have a large space, you might have a chance to place an island too!
The Island Kitchen
Kitchen islands are probably the most popular elements of recent years. If the space is large enough, the island unit offers plenty of workspace and storage in the middle of the kitchen. Besides its large workspace, it also provides a perfect space for family gatherings. With stylish counter chairs, you can turn the island into a dining area. You can also include wine racks, recycling bins, mini-fridge, utilize drawers, or open shelves into the island to increase the storage capacity.
3. Kitchen Colors
Considering the importance of kitchens in the home, it is important to create spaces that can be enjoyed. And the choice of the color scheme is one of the most crucial points that you need to decide. Whether you prefer a classic white kitchen to create a timeless look or go with a bolder color like navy blue to make a difference, the color scheme is important to emphasize the quality of materials and the style of your kitchen. Before deciding the color, make sure that check all the possibilities because choosing the right color can make or break your desired design!
White Kitchens
When it comes to creating a timeless and elegant kitchen, you can never go wrong with a white palette. White kitchens are classic because they offer a clean, bright and fresh look and also don't require complicated color decisions. Also, white kitchens act as a black canvas and are the safest and perfect base for different materials and textures. You can create an all-white kitchen to reach perfect pureness or incorporate natural wood textures to add warmth to the atmosphere or make a strong contrast with black accents.  If you are thinking the white kitchens can be boring, don't be. From sleek contemporary to classic traditional style, the white color scheme never fails you.
Black Kitchens
Generally, black isn't the first color that comes to mind when designing a kitchen but besides a classic white kitchen, black is another good alternative. The popularity of black kitchens increases day by day and has become one of the most used color schemes for kitchens. Black is the subtle shade of elegance and sophistication. The overall look can run between cozy and elegant, dramatic and moody but always sophisticated. First, you need to find the right color shade according to your taste and style. then you need to decide what intensity you want to use black. You can go all-black cabinets, backsplashes, countertops, and even floors or break the domination with contrasting white tiles, warm wood countertops, shiny brass accents. It all depends on you. So, what we want to say, black kitchens in whatever style will always be a conversation piece with their bold looks.
Blue Kitchens
After white, blue is one of the most popular choices for kitchens. Blue is the color of the sea and sky and unlike the other colors, it acts as a neutral color and adds color without overwhelming. Aqua, royal, pastel, teal, navy, or dark, these hues can provide a laidback and sleek style to any kitchen concept. You can go with dark and deep shades to create an elegant look or lighter shades to bring a beach feeling. Whether your choice is dark or light, the blue's calm and relaxing feeling is always a perfect option for kitchens. Also, you can use this color on many surfaces from cabinetry to walls, backsplash to the countertop, and integrate it into your kitchen.
Gray Kitchens
You might think that the gray color is boring, but don't be. A classic gray kitchen is the representation of timeless elegance. Appearing on furniture and decor, this favorite neutral color is a popular choice for kitchens. It provides the perfect balance between warmth and neutrality.  The gray is not just the most popular neutral color but also a versatile color that offers a wide range of shades. From dramatic dark grays to bright light shades, this color can lend sophisticated air to a kitchen. Also, thanks to the versatile hues, the gray color can work well with modern or traditional, industrial or transitional. Yes, gray can come in many shades but you need to figure out what shade is best for your kitchen! 
Green Kitchens
The green color reminds us of the sense of renewal and growth and it might be an eccentric yet beautiful choice especially for kitchens. The green kitchen trend is getting more popular day by day. We know green might seem a bit strange color for a kitchen but from a bright mint to a bold forest green, soft sage green to a warm olive, this color has immense range. This means that you can easily incorporate it in your kitchen which always seems to get lots of attention. You can use it on cabinetry, backsplash, walls, or even countertops and combine it with natural wood, pastel colors, and bold metallic accents. So, if you are looking for a color for something different than white and at the same time a statement-maker, you might fall in love with green kitchens!
Colorful Kitchens
There's nothing bad about neutral kitchens but adding color is the best way to create a more welcoming and livelier kitchen. Bright, bold kitchen color schemes will give an instant personality to the hub of your home. You can color up your kitchen with vibrant colored cabinets or choose an eye-catching backsplash in a white kitchen or create an accent wall with pop-up wall paint or mix and match kitchen elements in different colors. Whether you choose bright yellow or moody dark green, colors make a personal twist on the cooking space. The classic kitchens aren't going anywhere, but colorful kitchens create an impactful wow factor. So, why not turn your kitchen into a happy place?