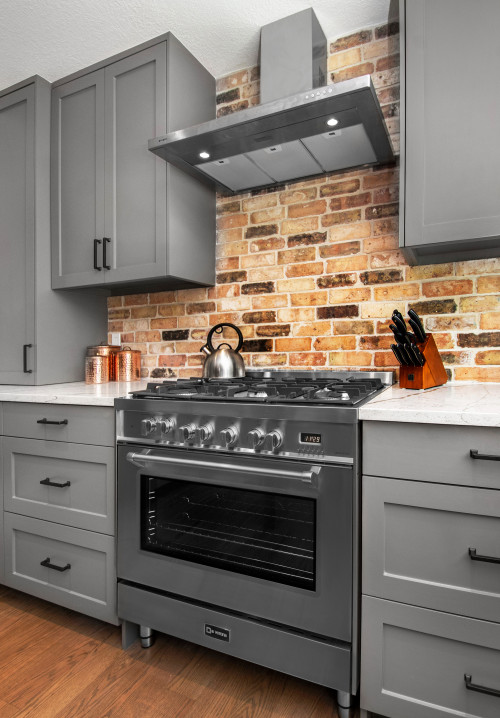 ID#123701 | Houzz.com – Credit | © Sardone Construction
---
Gray Shaker Cabinets with Red Brick Backsplash
The red brick backsplash creates a distinctive focal point between the gray shaker cabinets and breaks the cool atmosphere which is created by the cool undertone of the cabinets. The white countertop, black handles, and stainless steel appliances bring a modern and fresh appeal.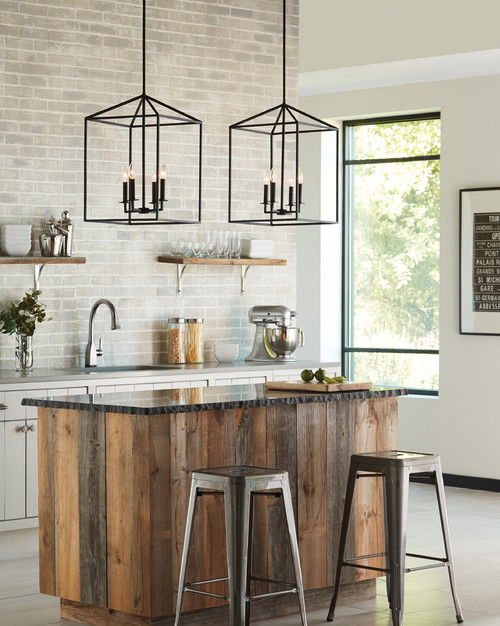 ID#123724 | Houzz.com – Credit | © Atlantic Lighting Design
---
Modern Farmhouse Kitchen with Gray Brick Wall and Wood ISland
Even if it has a rustic appeal, the clean look of the gray brick wall brings modernity to this farmhouse kitchen and creates a sleek backdrop with the white cabinets and countertops. Wooden floating shelves serve a minimalistic look not to disturb the backsplash. The wood kitchen island makes a statement with its beautiful textures and grains while the black granite countertop and metal bar stools enhance this look. Black lantern pendant lights complement the modern look of the brick veneers with their geometrical shapes.
Brick Backsplash
Brick is a strong and durable material used to build masonry constructions. Today, not only for an exterior, brick is one of the trendiest interior design elements, especially for kitchens. Its incredibly durable structure makes the brick a perfect material for kitchens. Solid brick backsplashes are harder to install but you can't beat their strength and durability. If you are installing a solid brick, you need to lay bricks over an existing masonry foundation and it can cost more expensive. That is why generally homeowners prefer brick veneers. Brick veneers are a type of decorative wall paneling made of thin, brick panels which give the real brick look cost-effectively and provide an easy installation which you can install with a DIY project. Whether it's a solid brick or a brick veneer, a brick backsplash complements every style from farmhouse to modern gives a unique look for kitchens.
A kitchen backsplash needs to provide durability, easy maintenance, and style. Material choice is one of the important decisions that you need to make to achieve these functions. With its beautiful rough texture, strength, and durability, brick is a perfect material for backsplash. If you want to highlight your backsplash area, the brick backsplash is a great way to get a natural and distinctive look. You can use real shades of the brick to bring an industrial feel to your kitchen or use painted bricks to incorporate it into different styles. Whatever your choice is, brick has a timeless and nostalgic appeal that provides a distressed glamour for kitchens. Scroll down and find some design tips and tricks about brick backsplashes to get inspiration!
Brick Backsplash Colors
Brick backsplashes are no longer seen as an old-fashioned style. From classic red bricks to whitewashed bricks, there are plenty of color options for a brick backsplash. Depending on the style of your kitchen, you can incorporate different shades of brick that create a one-of-a-kind backsplash for your kitchen.Here are some beautiful examples of the brick backsplash colors.I
Red Brick Backsplash
A red brick backsplash offers an undeniable charm and timeless character for kitchens that make it a popular choice for homeowners and it tops the rising kitchen design trend list. From reddish-brown to super red, red brick comes in a wide variety of colors. The strong and distinctive look of the red brick affects every element in the room and creates an eye-catching focal point.
How to clean brick backsplash?
Due to uneven surfaces, a brick backsplash is harder to clean than other materials. Before the cleaning, you need to remove surface dirt. You can use a brush to get rid of the dirt on the surface. Brick is porous so you need to avoid some cleaning products which include undiluted acids. This can cause permanent damage to your brick backsplash. Natural cleaners that you mix up yourself are always a better option. Prepare a paste with two tablespoons of cream of tartar and water. Then apply it to brick, wait 10 minutes and wipe down with warm water and a soft cloth.If it is not enough to get stains, mix a tablespoon of boric acid and a gallon of warm water and gently scrub with a bristle brush.
White Brick Backsplash
Real brick shades have a sharp and strong look that may not match the style of your kitchen. Using a white brick backsplash is a great way to soften this look and create a smooth backsplash with a natural texture. If you don't want to lose completely the classic brick look, whitewashing will also create a softer look while protecting the original beauty of the brick.
Gray Brick Backsplash
A gray brick backsplash is a versatile material that creates a cohesive look with different kitchen styles and color schemes. From light grays to almost black ones, gray come in a wide range of shades that bring the richness and substance of brick with a cool appeal.
Black Brick Backsplash
Black is an elegant color that can lend sophistication to any room. Matching this elegant look with the rough texture of the brick is a great way to create a distinctive focal point and one-of-a-kind backsplash. A black brick backsplash can instantly elevate the overall look of your kitchen and from contemporary to traditional, it can work well with different styles.
Farmhouse Kitchen Brick Backsplash
Farmhouse kitchens have a warm and inviting atmosphere that reflects country style. And choosing a cohesive backsplash for this look is important. If you want to create a vintage and cozy feel there is no better choice than a farmhouse kitchen brick backsplash. You can use a red brick backsplash to give a more traditional look or use a white painted brick backsplash to create a softer look. Whatever your choice, the rough texture and natural beauty of the brick will be a nice addition to your farmhouse kitchen.
Can i paint brick backsplash?
Painting backsplash, cabinets, or walls is the easiest and cheapest way to create a new look for your kitchen. However, some materials are difficult and laborious to paint, but you can easily paint your brick backsplash and give it a fresh look.
Brick Backsplash White Cabinets
White cabinets are like a black canvas, so if you want to highlight your brick backsplash, there is no better option than them. Whatever its color is, brick has already a characteristic look that can draw attention. Depending on the style of the cabinets, brick backsplash white cabinets can create a cozy farmhouse look or sleek modern appeal.
Painted Brick Backsplash
A painted brick backsplash offers a new and fresh look while still keeping the beautiful texture of the brick. You can paint them white color to gets a more clean look or use black to bring a sophisticated look. If your brick backsplash gets old and needs to be replaced, painting is the easiest and cheapest option.
Rustic Brick Backsplash
Because of its rough texture and raw look, real brick shades have a rustic appearance. Whether you have a modern, traditional, or farmhouse kitchen, rustic brick backsplash work well with different styles and offers a distinctive focal point that adds drama to the overall look.
Are brick backsplashes in style?
The short answer is yes. The rustic charm of this backsplash can make a beautiful twist in your contemporary kitchen or complete the country style. Whatever your style is, brick backsplashes work well with different styles and easily become the focal point of the kitchens. Besides its visual beauty, brick is known for its strength and durability that makes it a perfect material for backsplash. Also, brick backsplashes are easy to install and you can install them on your own. That is why brick backsplashes are in style!
How To Paint Brick Backsplash?
Before starting to paint, clean the brick, remove the electrical switches, define the border with painter's tape. Then apply a border primer with a brush and let it dry. Now you can paint your brick backsplash with your favorite color. The easiest way to paint brick is using a paint sprayer but if you don't have experience operating a sprayer, you can use simple tools like a brush or roller. If you are using these tools, make sure to paint all the tiny cracks and crevices and apply a second coat if you need it.
Herringbone Brick Backsplash
Herringbone brick backsplash is a beautiful way to add some interest to your kitchen. If you want to add some rustic or industrial feel to your kitchen in an outstanding way, lay the bricks in a herringbone pattern instead of the classic brick pattern. This way you will combine the raw look of the brick with a modernized pattern and create a unique backsplash.
Is brick backsplash expensive?
A brick backsplash is more expensive than some other backsplash materials. But thanks to its strength and durability, this investment will never fail you down. The average cost of a brick backsplash is between $12 and $20 per square foot to purchase.