54+ Cabinets Black Countertops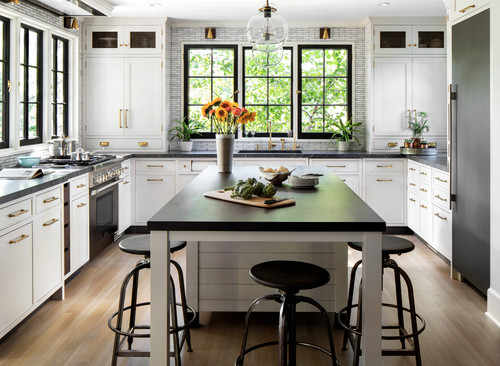 ID# 102839 | Houzz.com – Credit | © Studio Dearborn
---
White Shaker Cabinets Black Granite Countertops and Grey Matchstick Backsplash Tile
This farmhouse kitchen's black colour usage hits the design! Golden coloured handles add a more elegant look and they do not bother the design. They combine. Symmetric usage of the cabinets which are sided to windows makes feel tidy.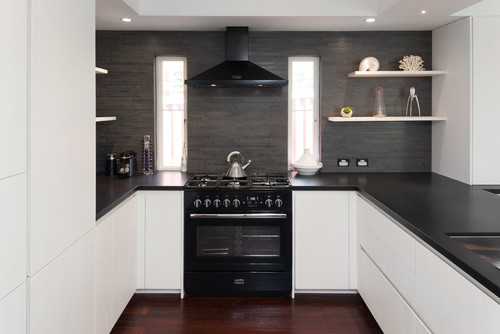 ID# 102845 | Houzz.com – Credit | © Retreat Design
---
Modern White Cabinets Dark Wood Floor With Absolute Black Granite Countertop
The symmetrical approach of window usage and white shelves look simple and luxurious. There is no cabinet handle and this modern kitchen's cabinets create a tidy look.
Clean, Tidy, Modern and Classic Kitchens with Always Trend Color!
Endless design colour meets with black dignity. For centuries black and white colours are opposite to each other but when it comes to design they make a beautiful harmony! It is a little cliche but Ying-Yang is the greatest example of this design approach. There is a balance between these colours. In different design styles, we can see their usage, red with black or white either brown or every colour! Check out these white cabinets with black countertops to create your kitchen with elegance!
For Tidiness Choose White, For Elegancy Choose Black!
White colour always reflects the light and this causes to create brighter and spacious interiors. While using black with white colour adds movement to the design. According to the usage of colours and shapes, you can define the style. As a suggest use a little bit of black with white colour because it gives a space for both harmony and movement! Black countertops define the kitchen limits while white cabinets create a spacious look. Using black on countertops add a different look.
White colour always trendy, supply it with black countertops, trusty design style for everybody.