35+ Backsplash for Off White Cabinets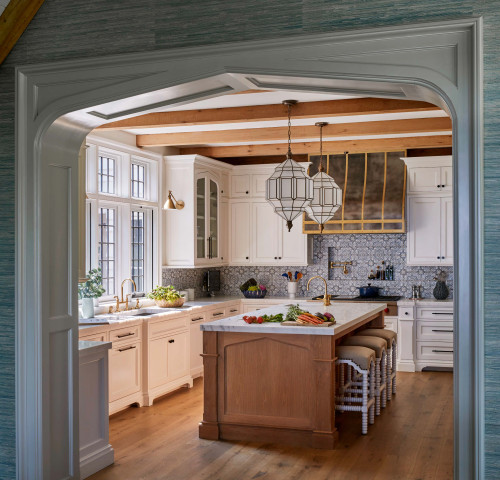 ID# 131103 | Houzz.com – Credit | © VanderHorn Architects
---
Gray Spanish Tile Backsplash for Off White Cabinets and White Marble Countertops
The curvy lines help you to have a soft and charming look for your cabinets. The light wood floors and the wood island complete each other harmoniously and using white marble countertops complete the natural look of this kitchen. You may like to have a little contrast with the handles, as in this kitchen. Black handles and white cabinets balance the stylish look with their contrast. The gray Spanish tile backsplash is one of the eye-catchy design elements from this kitchen and it has a soft contrast to white cabinets.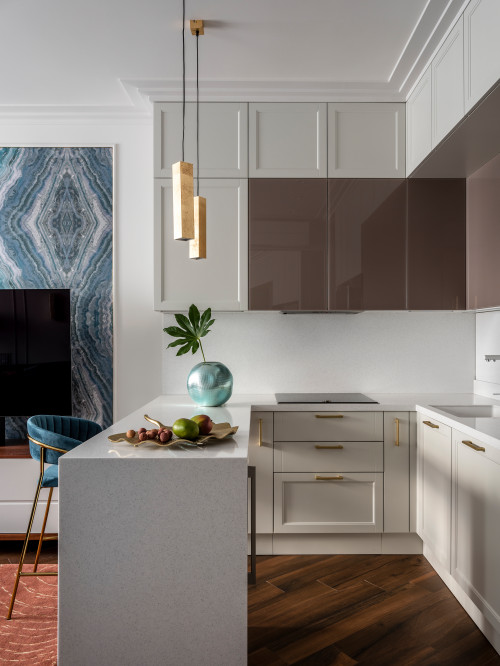 ID# 131124 | Houzz.com – Credit | © ANDdesign / Александра Дашкевич
---
White Backsplash with White Quartz Countertops and a Peninsula
If you want a seamless look for the backsplash and the countertops it is better to have quartz material for them. By doing this you can emphasize the kitchen cabinet design. The kitchen has a nice contemporary look with recessed-panel cabinets and flat brown uppers. The peninsula surrounds the kitchen creating a u-shape plan, and its white waterfall adds a stylish view.
Backsplash for Off-White Cabinets
If you want to incorporate the classic beauty of the white with a vintage appeal, off-white cabinets are a perfect choice. These cabinets are not white truly, they can have shades of white. By doing this you can have a warm atmosphere with the brightness of the white hue. The cream-like color of the white helps you to create a soft inviting look for the kitchen cabinets. You may wonder about the color of the backsplash for off-white cabinets to complete your kitchen design. Thanks to the white color's ability to be able to harmonize with every color, you can create lovely kitchens. Scroll down and find the best backsplash for your creamy cabinets!
If you do not like the bright and strong white color, you can have shades of it and create dark and moody cabinets. If you decide what kind of style you will have for your interiors, even one color has issues with its shades, right? But this is the most fun part of designing a place. Let's look for the stunning kitchen backsplash ideas for off-white cabinets!
Best Paint Color for Off-White Cabinets
Since the off-white color does not give the strong bright color, you will gain soft and warm appeal with an elegant look. You may get lost in the world of many color alternatives to choose the best paint color for off-white cabinets. Color palettes will be handy for you to decide your paint color in this stage of designing. There are beautiful and stylish colors for off-white cabinets such as cream off-white, antique off-white, and glazed off-white colors.
Backsplash for Cream Off-White Kitchen Cabinets
Since a backsplash is a complementing design element for the kitchen cabinets, choosing from the many color alternatives is hard work. But do not be afraid, thanks to the technology we have so many options to see the design results, right? Backsplash for cream off-white kitchen cabinets can vary according to design style and your ideal design approach. You can use a complete white backsplash, but this can throw out of focus your cabinets. However, you can still have it if you can balance the cabinet type with the complete white color backsplash. The Cream color is neutral and it goes well with the pastel colors, also stone-like materials can increase the naturality of the kitchen.
Backsplash for Antique Off White Kitchen Cabinets
If you like traditional kitchen style, you can find inspiration for antique off-white kitchen cabinets mostly from that style. Since it is not as bright as regular white color, you can have a warmer atmosphere. This color can be paired with almost every color scheme. We have a lovely color that can be harmonized easily, and this helps you to choose a backsplash for antique off-white kitchen cabinets with ease. You can go with gray, white, brown, and blue colors for the backsplash for antique off-white kitchen cabinets.
Backsplash for Glazed Off White Kitchen Cabinets
Glazed off-white kitchen cabinets have a special production process. To achieve this kitchen cabinet, you will need a semi-transparent color to apply over the painted-finish of the kitchen cabinet panels. By doing this you will gain extra depth and dimension. Then wipe off the glaze from all flat surfaces which will create a darkened color along with the corners and profiles that are used for the ornamentation of the panels. This special process creates a stylish appeal to your kitchen, and choosing a backsplash for glazed off-white kitchen cabinets could be easier when you will have a guide in terms of decoration. You can match the backsplash color with the glazed cabinets or you can create a contrast with them. Let's see!