45+ White Tile Backsplash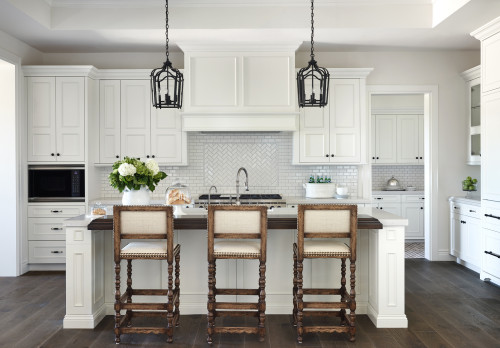 ID# 130202 | Houzz.com – Credit | © Lissa Lee Hickman
---
All-white Kitchen with Dark Wood Accents
If you are creating an all-white kitchen, the backsplash is the perfect place to spruce up the design. In this traditional kitchen, even the white tiles have a classic rectangular shape, the herringbone layout behind the stove creates a focal point and adds a nice texture. The offset layout of the other tiles provides a sleek frame for the herringbone tiles. The black cabinet hardware breaks the white domination and brings some interest by creating a contrasting look. Also, the wooden extension of the island and counter chairs complement the rustic appeal of the dark wood flooring.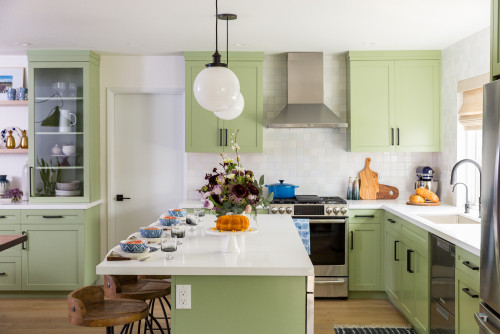 ID# 130225 | Houzz.com – Credit | © Fireclay Tile
---
Light Green Kitchen Cabinets with White Tile Backsplash
A lovely traditional kitchen blinks an eye with its fresh light green color. It is a lovely choice to combine them with black minimalistic handles that add movement to the interior. Little square tiles of the white backsplash bring a cute but elegant look to the kitchen. The light wood color of the floors and light green cabinets complete each other harmoniously. The wooden part of the stools gives the natural look and white countertops complete that natural look.
White Tile Backsplash
When it comes to the kitchen backsplash, it might be overwhelming to choose the right one. Patterned ceramic tiles, luxurious marble slabs, or sleek metal sheets, there are endless options and you may be stuck between these options. At these times, it may be a good option not to stray from the classics. Of all the different alternatives, white tiles are the most popular and common option for kitchen backsplashes. With their wide range of shapes, patterns, and texture options, and thanks to their effortless beauty, these tiles can work with any design aesthetic and color scheme. It can be a classic white subway tile or modern white hexagon tile, but whichever it is, white tiles will definitely help you create the most timeless look! Are you ready to dive into stunning white tile backsplash ideas? Keep reading and find the perfect tile in these inspirational kitchen designs!
A well-chosen backsplash is the underutilized power of the kitchen. It can bring all the elements together and it has the power to create visually pleasing appeals. From sophisticated black tiles to serene blues, there are endless color options for a kitchen backsplash. However, if you are looking for a failsafe option, there is no better than a white tile backsplash! Just because it's safe doesn't mean it will be monotonous. In today's market, white tiles come in a wide range of style options. That means you can even create a striking focal point with them. There are so many adventurous materials for white tiles which allow you to get creative. And thanks to this wide variety, you can make a statement without overwhelming!
Types of White Tile Backsplash
Yes, white tiles are very popular and they offer timeless appeal. But, what kind of white tile backsplash is right for your kitchen? White tiles are like an endless world. In today's market, they come in a variety of shapes, colors, textures, patterns, and styles. This endless variety might confuse you but do not worry! Keep reading and see the different types of white tile backsplash and figure out what are their impacts!
White Subway Tile Backsplash
White subway or brick tile backsplash is the all-time favorite for all kitchen types. Whether you have a sleek modern kitchen or a cozy farmhouse-style kitchen, a white subway tile backsplash can work with all design aesthetics and help you to create a beautiful and timeless backdrop. The offset or running bond pattern is the classic layout for these tiles but you can go with a basketweave of the diagonal pattern to add more visual interest. To create the traditional offset pattern, tiles are laid in a 50% offset but for more modern appeal, you can use a one-third offset and a one-fourth offset. Also, the classic size of these rectangular tiles is 3 x 6 inches but you can use any rectangular tile with 1-to-2 dimensions such as 2 x 4, 3 x 6, or 10 x 20 inches.
White Herringbone Tile Backsplash
Herringbone backsplash also consists of classic rectangular tiles but in this layout, tiles are laid in a herringbone pattern that resembles a fishbone. Even it is an angle difference, this simple twist can make big differences. Generally, these tiles are made of ceramic, porcelain, and stone. Ceramic or porcelain ones are ideal to create a clean and fresh look. On the other hand, you can use a white marble herringbone backsplash to add a sense of luxury!
White Hexagon Tile Backsplash
Timeless, chic, and sleek! White hexagon or honeycomb tiles are a popular interior design element, especially for kitchen backsplashes. The eye-catching geometrical shape of these tiles looks very stylish and they can work with different styled or colored kitchens. From marble to ceramic, a white hexagon tile backsplash comes in a wide variety of material options. Although each of them has a white color, different materials give different visual impacts!
Is a white backsplash a bad idea?
You may be concerned about the dirt or staining of the white tiles but you don't have to worry about it at all! Yes, the white color may show dirt more, but with the regular cleaning routine, you can easily maintain the fresh look of your white tiles. Putting aside these worries, no backsplash can beat the timeless and beautiful appeal of the white tiles. If you are looking for a material that requires less maintenance, you can go with ceramic, porcelain, or glass tiles. Natural stones like marble, require more maintenance because of their porous surface. So, a white backsplash isn't a bad idea, on the contrary, it's a very good idea that offers effortlessly beautiful looks!
White Mosaic Tile Backsplash
Mosaic tile is a combination of different shaped, sized, and colored tiles. These different tiles bring together and create art-like pieces. If you want to give a mosaic appeal with white tiles, you can mix and match different materials. For example, you can incorporate tiny metallic tiles between the white marble tiles. This way you can create visually pleasing appeal for your white mosaic tile backsplash!
White Square Tile Backsplash
Although the square is the most basic geometrical shape for a backsplash, they are ideal to create a timeless appeal, just like the subway tiles. You can spruce up the simple look of the white square tile backsplash with different finishes or you can use a slightly patterned white tile.
White Arabesque Tile Backsplash
If you are looking for an oriental look for your backsplash, the arabesque tiles are the way to go! The unique and beautiful shape of these tiles is perfect to make a statement and it can easily characterize your kitchen with beautiful pattern and texture! Because of its curved shapes, a white arabesque tile backsplash is more suitable for traditionally styled kitchens.
White Penny Tile Backsplash
Penny tiles are perfect to create catchy but unobtrusive appeals for kitchens. These tiny round or hex tiles can create a slight textural backdrop without overwhelming. When this nice textural look meets with the pureness of the white, the result is just amazing. The other important advantage of a white penny tile backsplash is its versatility. You can easily incorporate these tiles into both modern and traditional styles!
White Textured Tile Backsplash
Textured tiles are a perfect choice to create a more visually interesting look for kitchens and these tiles gained popularity in recent days. To achieve this textural look, marble is the best material. Because of its natural veining, marble gives a textured appeal. Besides the marble, you can also find textured tiles between the ceramic and porcelain tiles. Also, these tiles are more affordable than other materials.
What color grout should you use with white tile?
The biggest advantage of white tiles is their versatility. They can be finished with all grout colors. The grout color is a personal choice and different grout colors offer different appeals. As the grout color darkens, the pattern created by the white tiles becomes more impactful.
White Tile Backsplash with Black Grout
White backsplash tiles have a clean and simple appeal. And if you want to add some interest to these tiles, using black grout is the most effective and easiest way. Black grout will create contrast with the white tiles and emphasize the beautiful pattern of the tiles by adding depth!
White Tile Backsplash with Gray Grout
If you want to highlight your white tiles but don't want to use black grout, gray grout will also provide a contrasting look but with softer touches. You can get more contrast as the shade of gray gets darker.
White Tile Backsplash with White Grout
If you want to create a pure and clean look for your backsplash, finish your white tiles with white grout. Using all-white background doesn't have to mean it will be boring. You can use 3d tiles to add dimension or try different tile shapes to add interest!
How to clean white tile backsplash?
You might think that it is impossible to keep white for long, but it is not true. In fact, you can keep clean the white tiles, just like the other color options, with regular cleaning. For the first step, you need to clean your tiles immediately after cooking. You can use dish soap, a microfiber cloth, and warm water to wipe the tiles. And if you will do this process in a certain routine, you will not worry about the dirt.
If you are working with stubborn stains, you can use an all-purpose backsplash cleaner or prepare a mix with a quarter cup of baking soda or vinegar, a cup of water, and a few squirts of hand dishwashing soap. Apply this mix on the stains and wipe the tiles with a damp cloth. But if you are working with natural stone tiles, be careful not to use abrasive cleaning products. These can harm the natural surface of the stone.