44+ Arabesque Tile Backsplash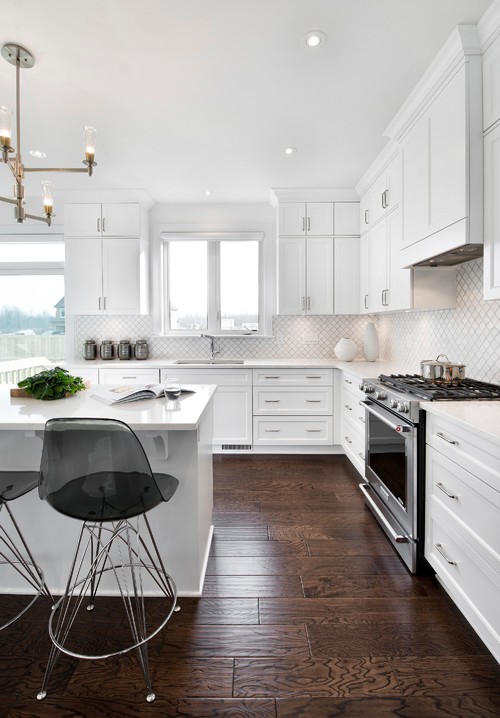 ID# 92101 | Houzz.com – Credit | © Tartan Homes
---
Transitional Kitchen With White Arabesque Backsplash
The one who loves a clean look kitchen with keeping the cabinets all white, however, the one who still wants to give a characteristic to the kitchen, this white thin stroked arabesque backsplash tile might be the perfect option for you!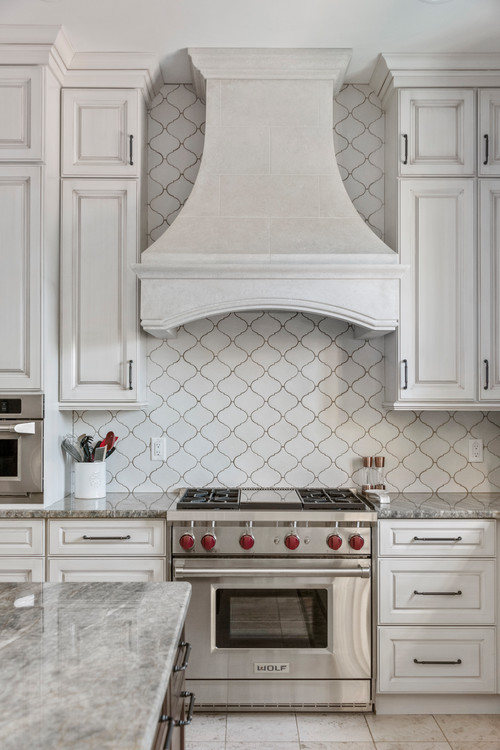 ID# 92129 | Houzz.com – Credit | © S&W Kitchens
---
Spanish Mediterranean Farmhouse Kitchen With Stone Hood And Backsplash
The traditional kitchen cabinet style and the white stone hood reflects the Spanish farmhouse kitchen vibe! The marble countertop is always a good idea which reflects the arabesque pattern!
44 Different Arabesque Backsplash Tile Ideas
If you are a person who keeps everything traditional, especially in your kitchen, or the one who like contrast, and transitional kitchen looks, it might be a good idea to create the contrast or complete the traditional look with arabesque backsplash tile. In this post, you will see modern, beach style, traditional and transitional kitchen ideas that are harmonized or in contrast with arabesque the backsplash tiles!
You'll be surprised by the color variety and the pattern designs of the arabesque tile! It shapes up the character and turns out one of the essentials of the kitchen!
We hope you enjoy the arabesque backsplash tile selection that we wanted to talk about in our blog post today!
What is Arabesque tile?
Arabesque is an ornamental decoration that is originally found in Arabic decoration. Arabesque tile is basically a surface decoration that has rhythmic pattern that we see in most of the pattern sequences.
Why is it called Arabesque?
It is a decoration or craft design where we see in Arabic culture. The "arabesque" bears the traces of the history of the Middle East. The Middle Eastern artists developed an ornamental art form that was inspired by vines, flowers, and lines where appears mostly the interior design of Mosques.
Is arabesque tile trendy?
The feminine arabesque pattern results differentiate in every kitchen according to the customer desires. If you are one who keeps the traditional looking or enjoys the contrast effect that creates a transitional look, you would love to bring it back the spirit of arabesque and create your trend that suits best for your kitchen! In our post, we shared the very modern-looking arabesque backsplashes that help you to characterize your kitchen!
Is arabesque tile a fad?
We can not say yes to this, because it is a true classic in Arabic culture. And it is a gem with the color choices or textures on arabesque tiles! Even if you go with all vibrant or white arabesque, it characterizes your kitchen with beautiful pattern and texture! Choose what you makes you smile.
What style is arabesque tile?
It is an ornamental style that is inspired by flowers and vines.
Is arabesque tile timeless?
It is timeless because it is customizable. You can create a modern, traditional, or transitional kitchen that looks with it! It almost fits and doesn't look odd into your kitchen at all!
Is arabesque tile classic?
It is definitely a true classic in Arabic culture where you can mostly find in mosques. However, it fits perfectly into your modern, transitional, or traditional kitchen!
How to cut arabesque tile?
The first step is measure and mark where you will cut from with your wet saw you can easily cut your arabesque tiles. And lay out the design on your countertop. Ten apply the thin-set to the wall and begin adding each arabesque tile.
Is arabesque tile hard to install?
It is not hard, however, it needs craftsmanship. The point is how you carefully spaced each grout line to create a clean look. The installation is not that hard if you find a constructor who is good at craftsmanship.