19+ Black & White Backsplash
ID# 91613 | Houzz.com – Credit | © Kendall Ansell Interiors
---
Modern Geometric Backsplash Tile White Kitchen
The angled diamond shape pattern of the backsplash tile gave another dimension to this white kitchen. The white European style cabinets would have looked empty without the touch of this texture! It also seems like the wooden shelves are in a harmony with the backsplash tile!
ID# 91606 | Houzz.com – Credit | Fireclay Tile | © Lindsay Lee Brown
---
Transitional Kitchen Hand-painted Black And White Backsplash Tile
This is a hand-paint tile and we are in love with it! The geometric shapes give another dimension and pop the white cabinets! It is an impressing work of the designer to keep each tiles even considering that is a hand-painted backsplash!
White and Black Backsplash for Classy and Eminent Feel in Your Kitchen
Black and white colors appear highly contrasting and sharp thus making a statement to your interior design. These colors are ideal in that they offer a steady color blend for interior designers in addition to the fact that they can be updated easily using different colors for countertops and cabinets as cadence in the scheme. White and black backsplash provides you with a full list of interior décor ideas that you can use for your color schemes and should therefore rank highly in your kitchen design list.
ID# 91602| Houzz.com – Credit | © Bevolo Gas & Electric Lights
---
Transitional Kitchen White Kitchen Cabinet Black White Backsplash Tile
Loved the arabesque marrakech pattern that changed the dynamic of the idea of monotonous farmhouse white kitchen! The wooden details on the ceiling that keep the farmhouse spirit alive!
Black and White Mosaic Tiles
ID# 91603| Houzz.com – Credit | © Nest
---
Transitional Kitchen White Marble Countertop Cement Backsplash Tile
Beautiful contrast of Cement tile and white subway backsplash. We loved the silver appliances reveals the beauty of this pattern!
ID# 91604 | Houzz.com – Credit | © Motivo Home
---
Transitional Kitchen White Brown Kitchen Cabinets
The Square tiles give another dimension to this kitchen, and make it remarkable!
ID# 91605| Houzz.com – Credit | © Designers Plus
---
Transitional Kitchen Blue Kitchen Cabinets Cement Backsplash Tile
It's a harmony! The contrast of blue cabinets and the cement tiles is dazzling! We loved the idea of carrying the tiles on the floor too!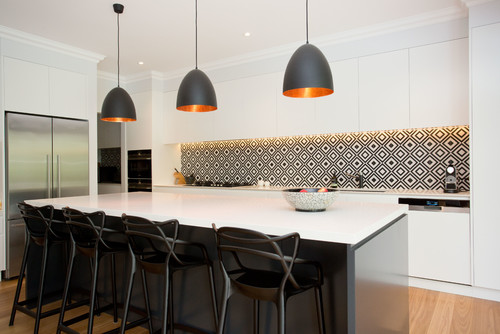 ID# 91607| Houzz.com – Credit | © Beecraft Pty Ltd.
---
Contemporary Kitchen White Quartz White Kitchen Countertop
It is all about the patterns! We loved the idea of keeping all the cabinets and countertops white and pop the tile pattern! With the beautiful touch of patterns you can make your minimalist kitchen more vibrant!
ID# 91609| Houzz.com – Credit | © Beautiful Chaos Interior Design & Styling
---
Modern French Country Kitchen Black And White Backsplash
As we can see, for all the patterned backsplashes for the cooker hood, designers would prefer to keep it simple with the rest of the tiles white, mostly the subway tiles are preferred. Also we love adding a touch of wooden makes the kitchen warmer, and that makes you feel like you wake up in a summer morning everyday!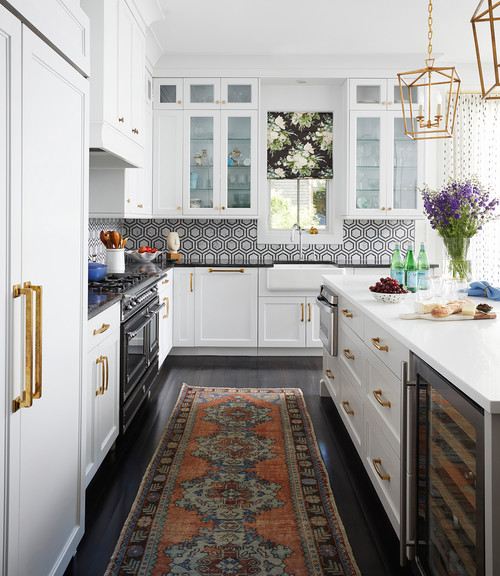 ID# 91614| Houzz.com – Credit | © Summer Thornton Design, Inc
---
Contemporary Kitchen Geometric Backsplash Tile
This geometric shape of the backsplash tile created a modern look for this kitchen! Also the countertop choice is on point. It gives dimension and extrudes the space between the cabinets. With the gorgeous beautiful Persian rug, it still keeps its spirit even tough the geometrical backsplash tile!
---
Farmhouse Kitchen White Black Gray Tones
It is a beautiful contrast of the inset cabinets and black & white geometrical pattern as a backsplash! If you want to keep it classic with the cabinets but still need authenticity for your kitchen, this would be a perfect contrast for you!
ID# 91615| Houzz.com – Credit | © Kingswood Custom Homes
---
Modern Kitchen Design Black White Cement Backsplash Tile
What a beautiful touch of texture that goes perfect with the wooden textured cooker hood! The chairs and the lightings complement the harmony of gray and flowery pattern of the backsplash tile!
ID# 91616| Houzz.com – Credit | © Colossus Mfg.D
---
Mediterranean Kitchen Cement Black And White Tile
The idea of covering the island with tiles is genius!The island takes all the attention with this pattern. The designer kept it simple with the other backsplash tile white to pop the island even more! It would be a good idea considering all the kitchens are connected to living area. The island's pattern would seeable from every perspective! And your events' eye catcher would this patterned island!
ID# 91617 | Houzz.com – Credit | © Bobby Sanders — Sanders Design Build
---
Black And White Traditional Kitchen
Can we say the owner favorite geometric shape is this black and white diamonds? We loved the idea of continuing the pattern around the kitchen. With the backsplash to picture frame, this kitchen makes you feel like you are in Alice's Wonderland!
ID# 91618| Houzz.com – Credit | © RD Architecture, LLC
---
Modern Kitchen Full Slab Black And White Backsplash
It is a perfect contrast of marble black backsplash and touch of orange every part of the kitchen! Also we loved the black cooker hood that helps to give all the attention the backsplash!
ID# 91619| Houzz.com – Credit | © Custom Home Group
---
Farmhouse Farmhouse Black Countertop Backsplash Tile
Beautiful cement backsplash tile that goes so well with black granite kitchen countertop and the wooden cooker hood. It is definitely a different interpretation of a farmhouse kitchen!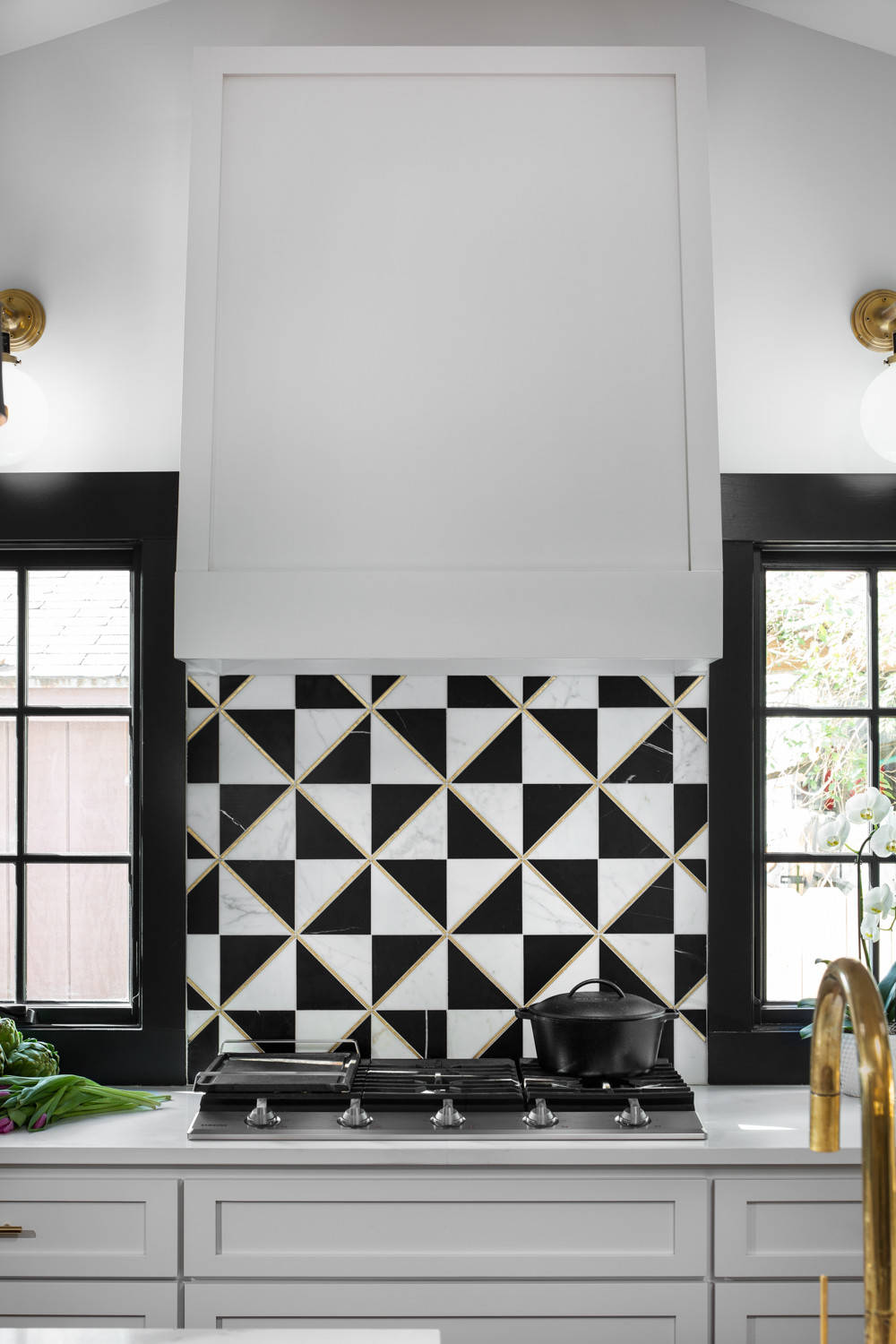 ID# 91611
---
Transitional Kitchen Modern Black And White Water-jet Tile
The perfect touch of pattern which fits between two black framed windows! Patterns are always a good idea!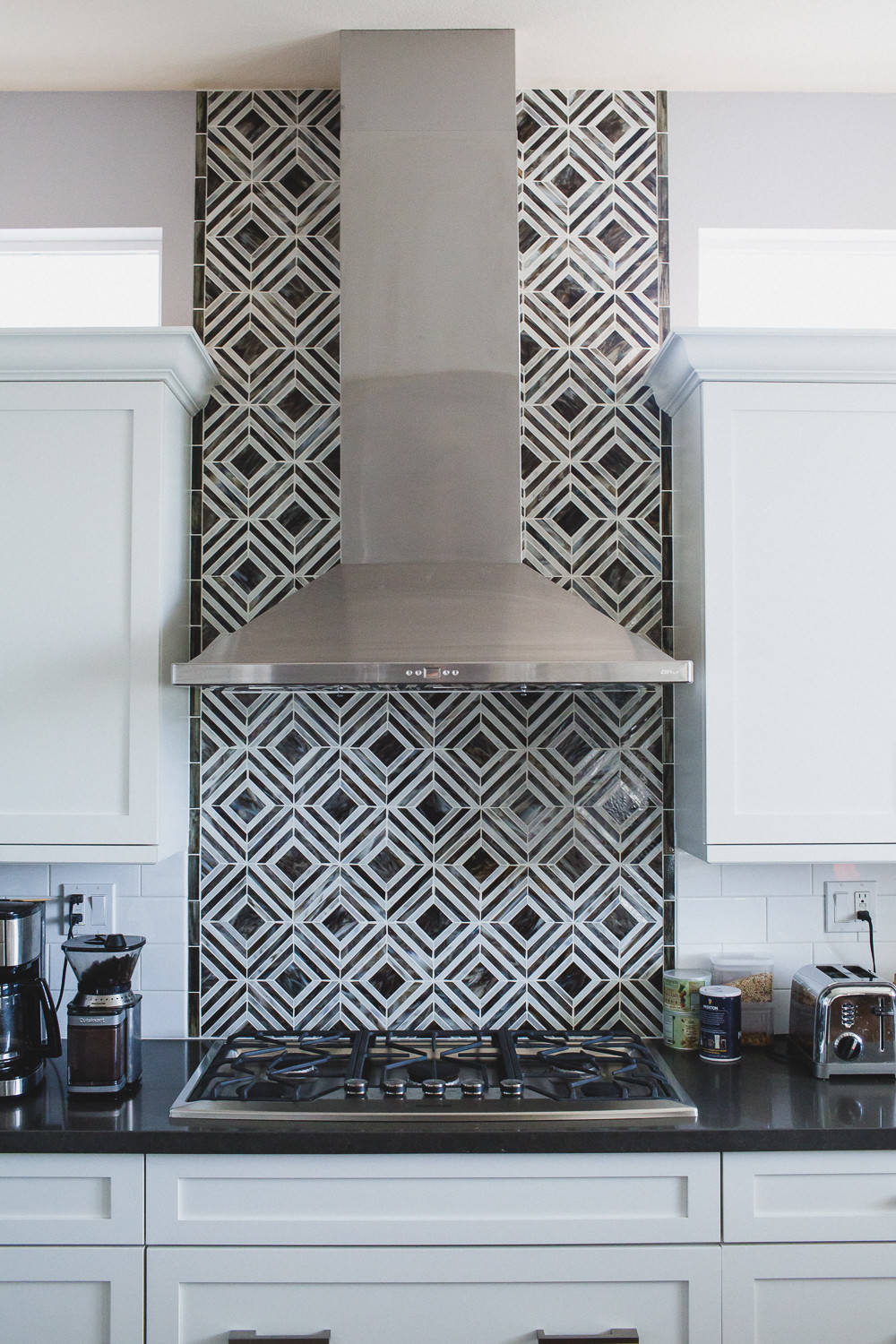 ID# 91601
---
Contemporary Kitchen Black And White Backsplash
It is always a great idea to change the dynamic of your kitchen playing with tiles! The white subway backsplash choice with white cabinets, black kitchen countertop pop up the pattern of the cooker hood's backsplash tile. The hypnotizing black and white pattern makes you want to say here forever!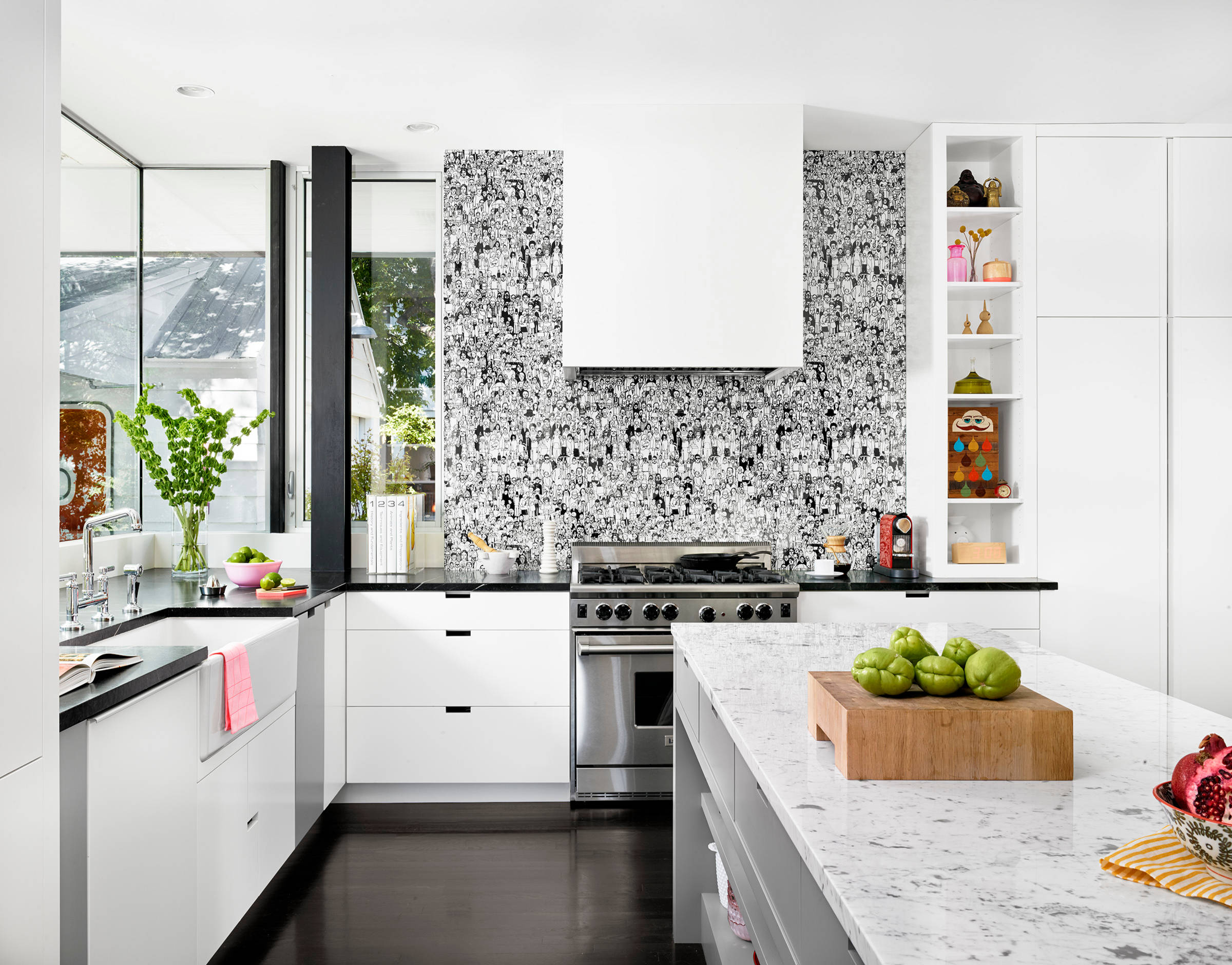 ID# 91610
---
Contemporary Kitchen Black And White Printed Backsplash
The choice of print as a backsplash tile gave this kitchen a significant characteristic. The black countertop helped to pop op the wall even more! This pattern is not just a backsplash, it is the spirit of kitchen!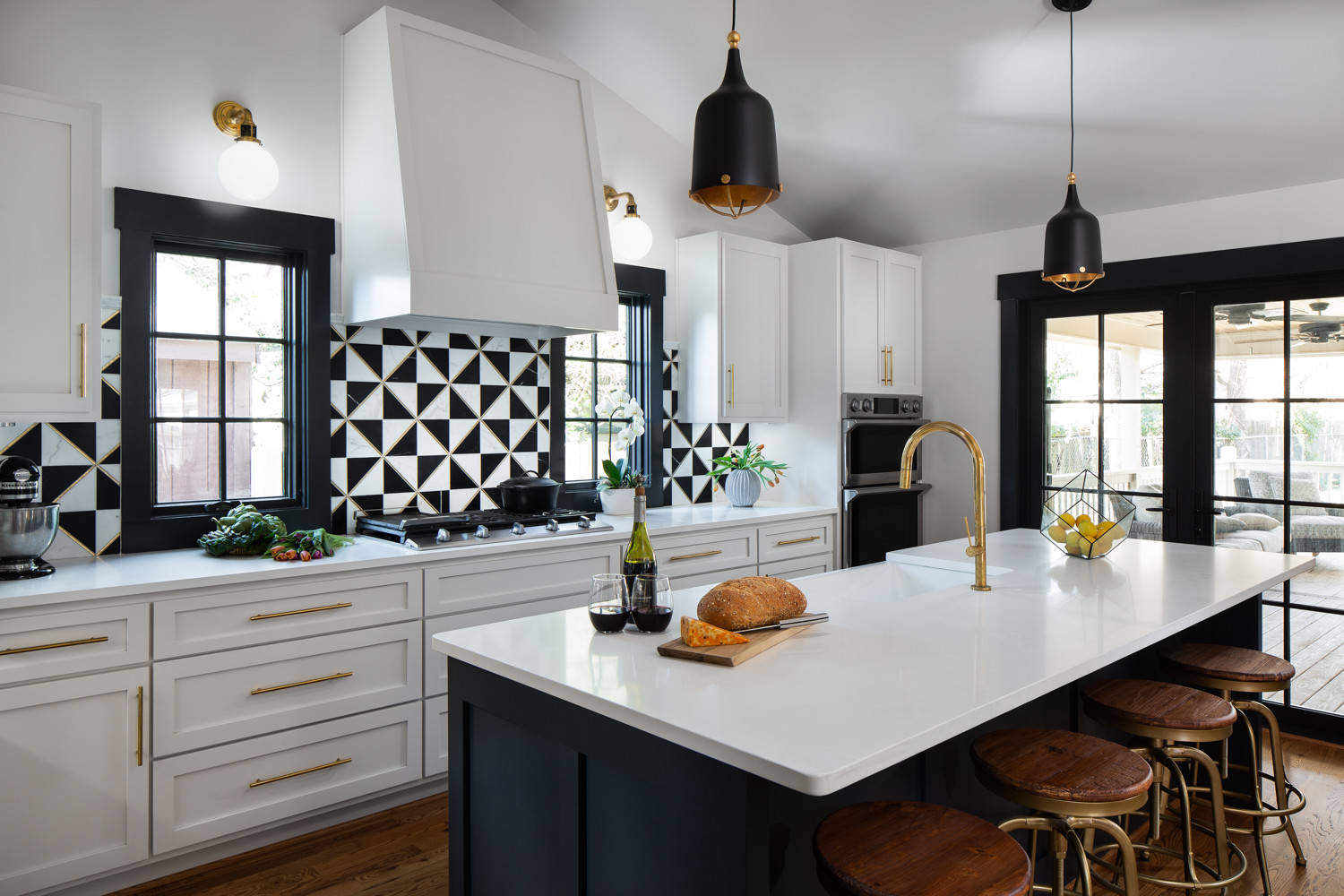 ID# 91612| Houzz.com – Credit | © Tommy Daspit
---
Transitional White Kitchen Modern Geometric Backsplash Tile
The same kitchen from a wider perspective! Now the island cabinet detail remarks the beauty of the backsplash tile's pattern!
White and black backsplash tiles are very elegant and engaging
If you are looking for powerful color combination that will stand out from the rest, then white and black will be the most ideal selection. Due to their standing in the color spectrum, these two colors are able to offer maximum contrast to each other in a harmonious way and this is what makes the white and black backsplash ideal and magical. When using these tiles for your backsplash, the 2 colors give your room the full authority as they are able to draw the attention of every person who comes into the room.
The two colors can blend well on the backsplash giving you an uncompromised and smart feel while at the same time setting a chic and stylish tone. It is amazing how well these kinds of backsplash colors can blend well with a number of other color installations within the kitchen and the bathroom without becoming dull and unwelcoming.
Express your confidence with white and black backsplash
As colors that can clearly be seen and understood by everyone, white and black exudes confidence, eminence, power and class as well. White and black backsplash is plainly beauty in simplicity and will give you a sophisticated interactive feel for your interior design. If there is anything that will give you a stunning look in your kitchen, then black and white backsplash ideas will achieve exactly that.
White is always stunning, crisp and clean but when blended with black, the style gives the room a totally different dimension. The checkerboard white and black tiles add excitement and movement to the kitchen as seen in the design ideas and while at the same time introducing a delicate tone to the kitchen. Black and white backsplash tiles are available from different materials thus catering for different preferences and deign needs.
Create a stylish look with the white and black backsplash
You can go beyond the common color combination by using black and white tiles as part of your backsplash in the kitchen. This brings in the feel of elegance and especially when you introduce black countertops and white cabinetry as well. White detailing works subtly well to break the black contrast giving the room a stunning look. The white and black backsplash makes for a unique and admirable focal point in the kitchen and can team up with a decorative pendant light for a more peculiar style. We have a huge selection of black and white backsplash materials and ideas which you can check out and utilize to and value and warmth to your kitchen.