35+ White Tile Backsplash with Black Grout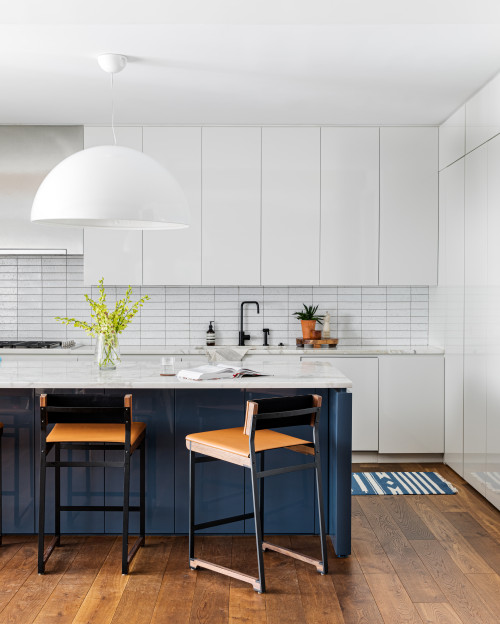 ID# 133506 | Houzz.com – Credit | © Broderic Design
---
Full-Height White Cabinets with Blue Island and Dark Wood Flooring
The horizontally stacked ceramic subway tile backsplash enlarges the kitchen visually, while its black grout adds a definitive feature to make a statement. Also, its stacked layout gives an impression of an ordered and clean look. The horizontally-lined rug and full-height white cabinets emphasize the geometric patterns in the kitchen while lending a contemporary appeal. The blue island imbues the kitchen with a colorful accent, and dark wood flooring brings warmth.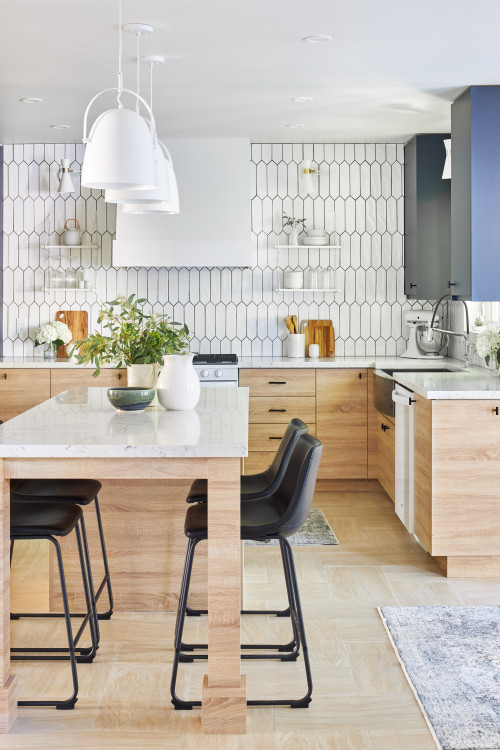 ID# 133524 | Houzz.com – Credit | © Pulsar Design Inc.
---
Open-plan Kitchen with Two-tone Cabinetry and White Tile Backsplash with Black Grout
This stunning kitchen orchestrates warm and neutral tones masterfully while inspiring you how to make use of an open-plan layout. First of all, the white porcelain hex tile backsplash goes all the way up to the ceiling, creating an expressive wall surface, while its elongated pattern adds movement and makes the kitchen feel taller. Secondly, natural wood cabinets and soothing blue overhead cupboards team up to add warmth and color. The addition of a coordinated island offers a practical dining zone with its half-open bottom, while its cabinet section provides an extra prep zone and storage space. Plus, the island's vertical alignment brings a contrasting profile that strategically distinguishes its dining section from the high-traffic kitchen zone.
White Tile Backsplash with Black Grout
When choosing a backsplash, what is as important as the backsplash is the grout colors that will modify the look of your backsplash drastically. A white tile backsplash with black grout is one of the most popular tile-grout combinations for it provides a traditional and modern look for your kitchen. Of course, it also heavily depends on how you contextualize it. Especially, for a neutral and focused look, it is one of the best.
White tile backsplash with black grout does perform well with many tile shapes: subway tiles, hexagons, chevron, herringbone, arabesque, and more. A white tile backsplash provides a bright and reflective wall surface that aids a spacious feeling. And black grout hides stains and emphasizes tile shapes, making a perfect pair with a white tile backsplash. If you want to see the different alternatives for these trendy elements, scroll down and check these stunning white tile backsplash with black grout ideas!
Can you use black grout with white tile?
Yes, definitely! Black grout with white tile offers a striking contrast and makes a bold statement in your kitchen. It is especially favored for traditional looks.
What color grout should you use with white tile?
It depends on the effect you want for your kitchen. If you want a seamless look, then white and gray grout is preferable. But to achieve contrast or warmth, black and gold grout are other options you can take into consideration.
Tile Shapes
The well of the tile shapes is deep and versatile. To name a few, we can mention subway, herringbone, chevron, arabesque, geometric, fish scale, hexagon, and more. In today's market, tiles are available in a wide range of materials, size formats, colors, and designs.
This versatility is enriched even more with various layouts, each achieving a unique look in itself. For instance, diamond patterns merge with cubes and hexagons, while hexagons vary among themselves, including regular, picket tile, and elongated patterns. Likewise, subway tiles can be stacked vertically, horizontally, and even diagonally. So, it is important to keep in mind that tile shapes can be laid in various ways to create appealing wall surfaces.
White Subway Tile Backsplash with Black Grout
Dating back to the Victorian era, subway tiles are versatile, which makes it hard to define them. Laid in different directions in stacked and running-bond styles, they orchestrate various impacts. Even though the standard versions of subway tiles measure 3 by 6 inches, in today's market, they exist in many different formats to dress the walls.
Another fad in kitchens is the square tiles used alternatively to subway tiles. These white square tiles with black grout feature a modern and graphite look and can be used in different combinations and interior décor styles. Lastly, subway tile backsplashes with again a white-black palette can look modern and traditional depending on the context.
Is black or white grout better?
Choosing grout is as important as deciding a backsplash, as grout is very impactful to define the overall look of the backsplash. So, let's discuss what black and white grout do.
Black adds a more dramatic and industrial look, while white grout looks more refreshing, soft, and relaxed. Especially, with white tiles, the difference becomes more remarkable. White-on-white look looks clean and neat, whereas black-on-white makes a bold statement and displays a sense of strength and focus. Another advantage of white grout is that it creates a spacious feel. So, if you have a small kitchen, it might be wiser to apply white grout. On the other hand, darker grouts like black are experts at hiding the stains and offer practical use.
What is the most popular grout color for white subway tile?
Gray grout is the most popular grout color for white subway tiles as it makes for a neutral look. Gray grout provides something in the middle rather than pushing the color limits too far as white and black grout does.
White Hexagon Tile Backsplash with Black Grout
Also known as honeycomb tiles, hexagon tiles refer back to nature, thus considered biophilic elements, upgrading the mood of the kitchen significantly. Unlike other patterns, hexagons are versatile as they have subgroups. These groups include regular, elongated, picket tile, and penny hexagon tiles, and each creates a unique impact on the kitchen. The white-black palette of the hexagons is also very effective for a seamless and engaging design. It is one of the tile patterns that black grout suits most.
Should grout be lighter or darker than tile?
The answer to this question depends on the taste of the homeowners and the look they are aiming for. Lighter grout makes for a seamless and more homogeneous look, while darker grouts emphasize and define the tile shapes better. At this point, you can also consider the size of the tiles. For smaller tiles, for instance, the grout lines feel much larger, which reveals the grout impact even more, whereas it's the quite opposite for the larger ones.
White Herringbone Tile Backsplash with Black Grout
Herringbone tiles are cut at a 90-degree angle and composed of rectangles laid in a staggered pattern. Fitting into any style, they create stunning backdrops. If you desire something neutral but also bold, a white herringbone tile backsplash with black grout will give you the look you want.
White Chevron Tile Backsplash with Black Grout
Chevron tiles are cut at a 45-degree angle, widely used for floor coating. Classical features themselves, they still maintain their popularity thanks to their interesting shapes with a "zig-zag" look. For the same reason, the white and black palette does work well with chevron tiles due to these ambitious patterns. And black grout helps bring out the chevron's unique pattern.
White Arabesque Tile Backsplash with Black Grout
The concept of Arabesque originates from Arabic and Moorish designs, which find reflection in tile format as well. Arabesque tiles, unique in themselves, resemble lantern tiles in a way. But they are curvier and more rhythmic. Their delicate curvaceous lines motivate a flowing ornamental design that achieves a traditional look and projects the Arabesque spirit perfectly. To make a statement with arabesque tiles while not pushing too hard, you can choose white arabesque tile and apply black grout for a monotonic and inspiring design. For their local character, arabesque tiles also add a personality to the kitchen without a doubt.