43+ Backsplash Tile Trends 2022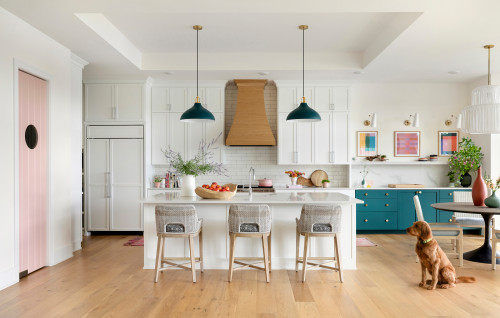 ID# 133413 | Houzz.com – Credit | © Zawadski Homes Inc.
---
White Kitchen Desing with Wood and Green Accents
The wooden range hood pulls the attention at the first sight with its sculptural shape and creates a focal point between the white shaker cabinets. White subway tile backsplash creates a clean and fresh backdrop for the hood while wicker counter chairs complement the hood with their wooden legs. The green pendant lights add a splash of color to the white-dominated design while complementing the naturality of the wood textures.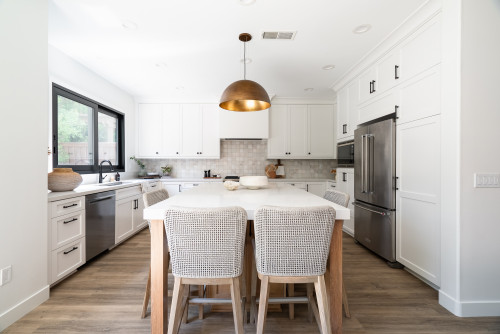 ID# 133432 | Houzz.com – Credit | © Signature Designs Kitchen | Bath | Interiors
---
Beach-Style Kitchen with Gray Backsplash and Large Island
This bright beach-style kitchen offers clean, simple lines, minimalism, and functionality without sacrificing beauty! The gray square tile backsplash adds a nice texture and creates a harmonious look with the white shaker cabinets with black hardware and white countertops. The large kitchen island serves also as a dining area and thanks to its large counter it provides plenty of space for both working and gathering!
Backsplash Tile Trends 2022
Tiles are the all-time favorite material for kitchen backsplashes. From luxurious natural stones to sleek metal tiles, a tile backsplash comes in a wide range of material, color, and style options. Of all these options, what are the backsplash tile trends 2022? There are plenty of different alternatives that you can incorporate into your kitchen. In this article, we rounded up the hottest backsplash trends that you can find some inspiration for your next design project!
When it comes to designing a kitchen, there are too many decisions that you need to make from cabinets to hardware. Between all these elements, backsplashes are the most fun and personalized decision and there are no certain rules! Kitchen backsplashes are constantly evolving. However, when it comes to backsplash there is nothing that ever really goes out of style! That means you can use your imagination to make a personal touch through a backsplash. And a right backsplash can be the focal point of your kitchen.
Today we have the luxury of installing a variety of materials like metal, glass, ceramic, or stone. So, are you ready to see different alternatives which are the trendiest options in 2022? Read on for more kitchen backsplash tile trends 2022 and beyond.
Most Popular Backsplash Tile Trends for 2022
When it comes to kitchen backsplashes, options are almost endless. But what is in for backsplash in2022? In this year, more modern shapes like hexagons, fish scales, metallic tiles, are gaining huge popularity. If you want to make a statement and make your backsplash is the centerpiece of your kitchen, these unique tiles are the way to go! On the other hand, all-time classics like white subway tiles or marble slabs still are on the stage! To give a more modernized look for the subway tiles, you can try the vertical layout or use larger tiles!
Subway Backsplash Tile Trends 2022
There is no doubt that subway tiles are the most classic and the failsafe options for all types of kitchens. The effortless beauty of the subway tiles offers sleek and timeless appeals for kitchens that never go out of style. Just like in the past, these classic tiles are dominating the trends lists also in 2022! The classic size of the subway tiles is 3 x 6 inches. However, you can find different size options such as 2 x 4, 5 x 10, 4 x 8, or 10 x 20 in today's market. Smaller sizes are great to create a nice textural look. On the other hand, larger subways offer sleeker and cleaner looks.
What is the most popular backsplash?
When it comes to the most popular option, there is no doubt that subway tiles are the ones! With their effortless beauty, these tiles will be always the most popular and timeless option for all kitchen types. On the other hand, hexagon or herringbone tiles are also popular options for many homeowners and interior designers.
Hexagon Backsplash Tile Trends 2022
With their sleek geometrical shape, hexagon or honeycomb tiles are one of the most popular options for many homeowners and interior designers and this popularity is continuing also in 2022! Whether it is small or large, these tiles are perfect to create a timeless look for kitchens. Also, if you want to add more interest, you can check the picket or elongated hexagon tiles. These options offer more modern looks.
Fish Scale Backsplash Tile Trends 2022
Fish scale tiles are one of the hottest trends of 2022! These tiles, also known as mermaid tiles, scallop tiles, or fan tiles can be a stunning addition to any kitchen design by creating art-like appearances! The unique shape of these tiles offers visually pleasing appeals with an Art Deco vibe. From glass to ceramic, you can find different material options for them. With all these options and the whimsical shape of these tiles, you can create a seaworthy style for kitchen backsplashes!
Metal Backsplash Tile Trends 2022
If you are looking for a material that is both stylish and extremely durable, metal tiles can be your solution! A metal backsplash can instantly create an accent for kitchens. Generally, metal material is used in sheet form for backsplashes. However, you can find also metal tiles in today's market, and also these tiles are the newest trends of 2022! Gold, copper, and stainless steel are the most popular metal options for a tile backsplash and each of them has different visual impacts. Stainless steel tiles offer a more sleek and modern look. Copper or gold tiles can be a good addition who is looking for a bit of vintage charm!
White Backsplash Tile
Among all the color options, white is the most common option for kitchen backsplashes. Thanks to its versatility, a white backsplash can work with different color schemes and easily adapt to the different styled kitchens. Whether it is a traditional white subway tile or sleek white hex tile, a white backsplash tile is the most timeless option that never goes out of style. So, because of this timelessness, these tiles are still dominating the trend lists in 2022!
Square Backsplash Tile Trends 2022
You might think that square tiles are out of style, but that is not true. Also, these tiles climbing to the top of the backsplash tile trends 2022! Even the square is one of the most simple shapes that you can use for a backsplash, with its endless material, color, pattern, and texture options, you can easily create a unique and stylish look with these tiles! Generally, the size of a square tile backsplash is 4×4 inches. However, to create a more modern look, you can go with larger squares. So, whether it is a handmade Zellige tile or luxurious square marble tile, these tiles can be a perfect alternative for classic subways!
What is the current trend in backsplash?
Nowadays the kitchen backsplash is a large market and trends are keep changing and developing constantly. In 2022, besides the classic tile options like subway tiles or white backsplashes, bolder patterns, vibrant colors, and unique shaped tiles sit at top of the trend lists. You can use your imagination and create art-like pieces as a backsplash!
Stone Backsplash Tile Trends 2022
If you want to add a luxurious feel to your kitchen, natural stones are perfect for it! Marble, granite, onyx, travertine, and more! There is a wide range of material options to create a natural stone backsplash. When it comes to the stone backsplash, giant slabs might be the first thing that comes to mind, but in today's market, these stones also come in tile forms which is a very popular trend in 2022! The biggest disadvantage of these tiles is their porous surfaces. Unlike the other materials, stone backsplash tiles require regular sealing. But with a bit more maintenance, this investment will help you to create timeless looks!
Colorful Backsplash Tile Trends 2022
Classic colors like white, black, or gray are beautiful and timeless. However, in 2022, we will see bolder and more vibrant colors for kitchen backsplashes! A kitchen backsplash is a space where you can be as crazy as you want to reflect your personality. That's why, using bold and vibrant colors for your backsplash is a perfect way to add a splash of color to your design and with these colors, you can instantly elevate your design! From adventurous greens to serene blues or joyful yellows, colorful tiles might be the new white tile!
Do i need a kitchen backsplash?
The short answer is yes! Besides its visual impact, the main aspect of a backsplash is to create a protective layer for the wet spaces between the cabinets and countertops. That's why it is important to have a backsplash and tiles are the best options. Yes, there are different options that you can use as a backsplash such as wallpaper, wall panels, or wall paints. However, these materials can absorb the liquids and cause permanent damage to the walls. So, if you want to create a visually pleasing look with a durable surface, tile backsplashes will be the best option!