33+ Metal Backsplash Ideas – (Modern?) Add a splash of modern styling!
Nothing declares modernity quite like the simple glitter and gleam of a metal backsplash tile adorning your kitchen. The reflective natural quality of metal makes these metal backsplash ideas ideal candidates for homeowners searching for the perfect modern element browse our metal backsplash tile products.
Sparkling metal will add just the right finishing touch to make your whole kitchen feel more spacious.
Modern Metal Backsplash Ideas
What makes our metal backsplash ideas decidedly modern? They share a few of the features most commonly found among modern backsplash design enthusiasts:
Sleek, clean lines for a structured pattern that is simple yet eye-catching
Highly polished and refined for a naturally reflective quality that makes spaces feel instantly larger
Low-maintenance for a no-fuss approach to keeping your kitchen clean
Simple color schemes for bold accents of color without overwhelming the eye
Metal backsplash tiles are the ideal choice for homeowners seeking a modern space. They are constructed of high-quality and durable materials that will last throughout the years. Metal is both a stylish and a wise investment in the future of your home.
Gray & Copper Metal Backsplash
Metal & Marble White Backsplash
White Metal & Marble Backsplash
Designing with Metal Backsplash Ideas
Want to know if metal backsplash cold matches the current décor in your home? Chances are that you can find a design scheme you love that will pair perfectly with this chic addition to your space.
Metal backsplash tiles come in a variety of colors. From gleaming copper metal backsplash to the industrial shine of silver-gray metal backsplash, you can uncover the many shades of metal. Mix them into a mosaic with colorfully-hued glass or porcelain or natural slate stone for even more ways to pair with any and every cabinet color.
Add a splash of modern styling!
You won't be disappointed with the infinite selection of elements you can bring to your kitchen to complement our metal backsplash kitchen tiles. In fact, you'll find yourself falling in love time and time again as your scroll through these metal backsplash ideas.
Sheet Metal Backsplash
Sheet metal backsplash is characterized by its sleek and clean look. The modern appeal of the metal sheets can take any kitchen to the next level and goes well with stainless steel appliances. From the industrial feel of stainless steel to the glamorous look of the brass, there are several materials to incorporate a metal backsplash into the kitchens. If you are looking for something different than tiles, metal sheets might be your solution.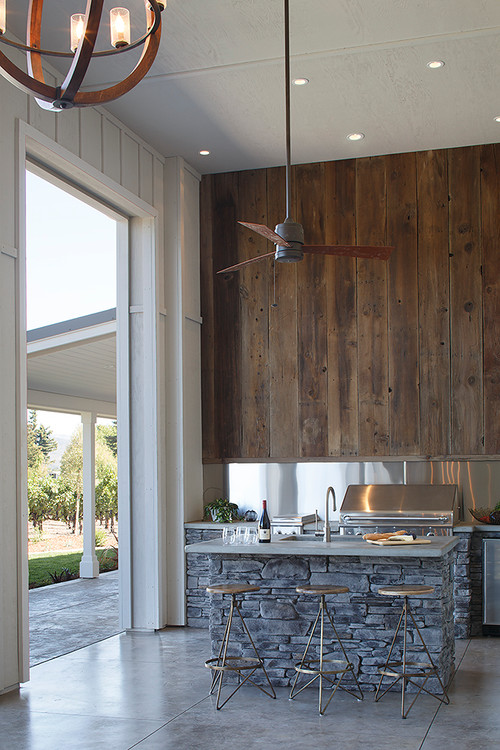 ID# 119301| Houzz.com – Credit
---
Farmhouse Outdoor Kitchen with Stainless Steel Backsplash and Stone Island
Different materials and textures perfectly come together in this outdoor kitchen design. The sheet metal backsplash makes a modern twist against the raw look of the wood paneling and stone cabinet finishes. The reflective surface of the metal panel creates a visual illusion and elevates the design. Even if the color palette is dark, thanks to the high-ceiling and large door opening, the kitchen has a bright and spacious atmosphere.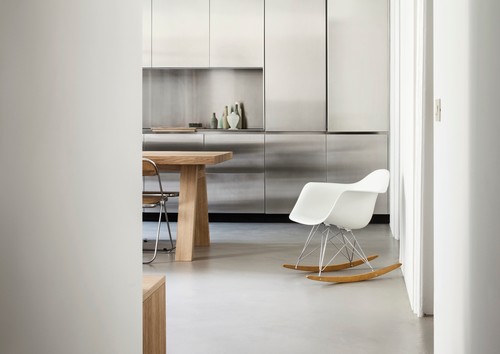 ID# 119302| Houzz.com – Credit | © CM9Architects
---
Stainless Steel Cabinets with Backsplash and Wood Accents
The cool vibe of the metal surrounds all this contemporary kitchen and creates a one-of-a-kind design. Stainless steel cabinets, countertop, and backsplash offer a sleek backdrop. Wood accents like the dining table, legs of the chair stand out against the modern look of stainless steel and add warmth to the atmosphere. The white swinging chair completes this cozy feel which is created by wood accents.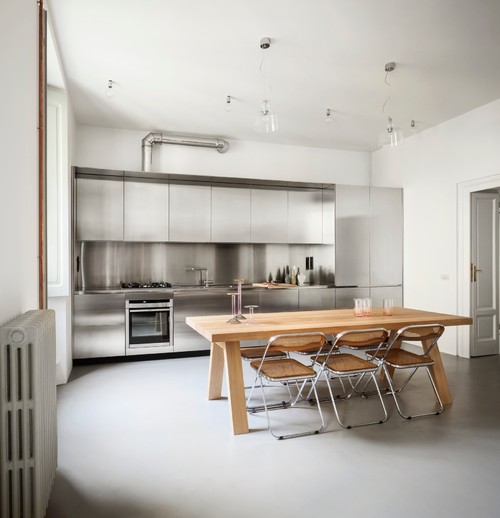 ID# 119303| Houzz.com – Credit | © CM9Architects
---
Metal Kitchen Cabinets with Wood Dining Table and Glass Lighting Fixtures
The combination of stainless steel and wood offers a balanced look between cool and warm. Metal kitchen cabinets are paired with the same metal backsplash and countertop which creates a continuous look. The warmth of the wooden dining table contrast with the metal accents to give a more powerful look.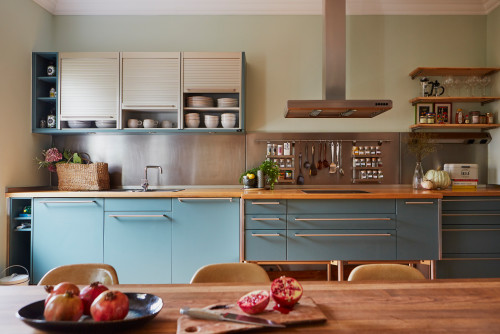 ID# 119304| Houzz.com – Credit | © Cocobird Design
---
Eclectic Kitchen with Blue Cabinets and Metal Sheet Backsplash
This welcoming kitchen features blue flat-panel cabinets, reclaimed wood countertops, metal backsplash, wooden shelves, white upper cabinets, and pastel green walls. The combination of blue, green, and wood create an intimate atmosphere by reflecting nature. The metal backsplash modernizes the design while metal handles and range hood complement the backsplash.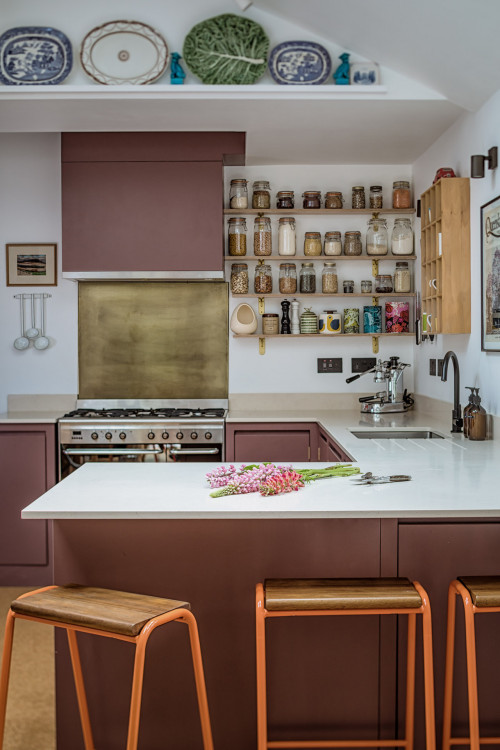 ID# 119305| Houzz.com – Credit | © Honest Kitchens
---
Burgundy Cabinets with Gold Backsplash and Open Shelving
When the elegant shade of burgundy meets with gold, the result is show-stopping. The burgundy Painted flat panel with handle-less offers a sophisticated kitchen design. The gold backsplash panel behind the stove completes this elegance by adding a vintage charm. Wooden open shelves and counter stools create a harmonious look with the cabinets and backsplash while the white countertop and walls bring a fresh feel.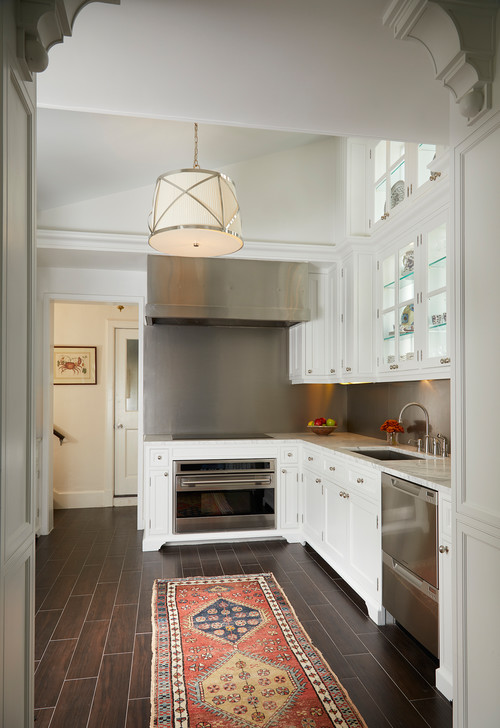 ID# 119306| Houzz.com – Credit | © Beacon Construction Group Inc.
---
White Shaker Cabinets with Dark Wood Floor and Colorful Rug
This kitchen is a great example for mix and matches different styles. The traditional style of the white shaker cabinets stands against the sleek modern look of the metal backsplash and stainless steel appliances. Dark wood floor parquets contrast with the crisp white color of the cabinets to create a luxurious look. The multicolored roller colors up the space and adds a nice texture.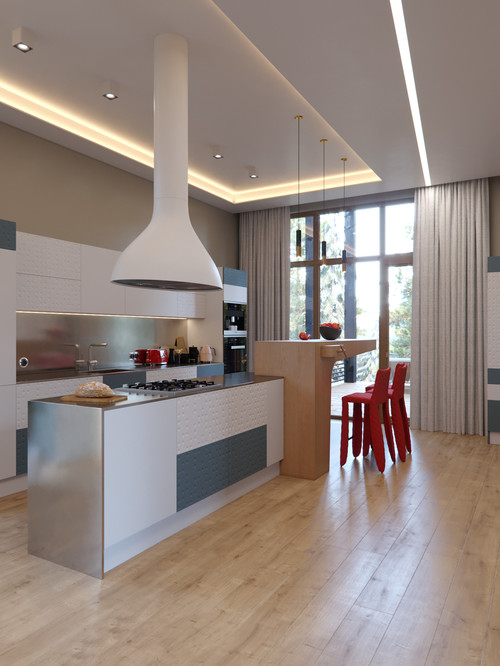 ID# 119307| Houzz.com – Credit | © Алеся Нестяк, MA-Design
---
White Kitchen Island with Metal Countertop and Oversized Range Hood
The statement white range hood acts as a piece of art and creates a focal point above the white kitchen island with a metal countertop. White flat-panel kitchen cabinets and metal backsplash create a clean and fresh backdrop. The wooden attachment of the kitchen island is completed with red bar chairs to create a breakfast bar. The lovely shade of red brings joy to the atmosphere.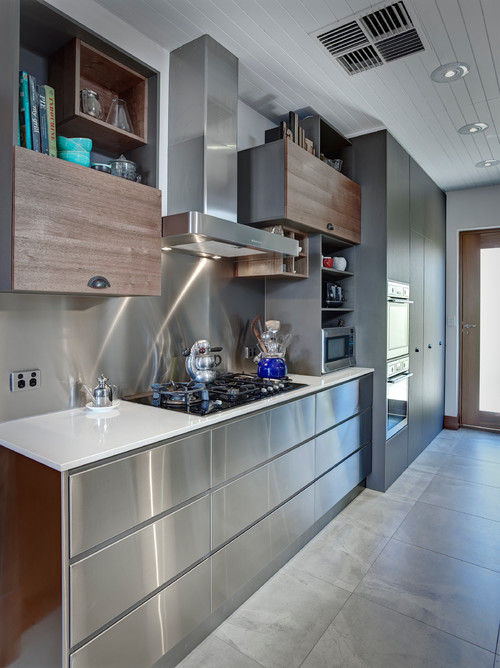 ID# 119308| Houzz.com – Credit | Tk Design Kitchens, Bathrooms, Interiors | © Phillip Handforth
---
Contemporary Kitchen with Concrete Floor and Metal Backsplash Ideas
The combination of stainless steel, wood, and black creates an industrial kitchen. The stainless steel cabinets are paired with a white countertop. Wooden doors of the upper cabinets contrast with the sleek look of the metal and bring warmth to the atmosphere. The white shiplap ceiling completes this warmness. Black floor-to-ceiling cabinets provide plenty of storage space without disturbing the flow of the design.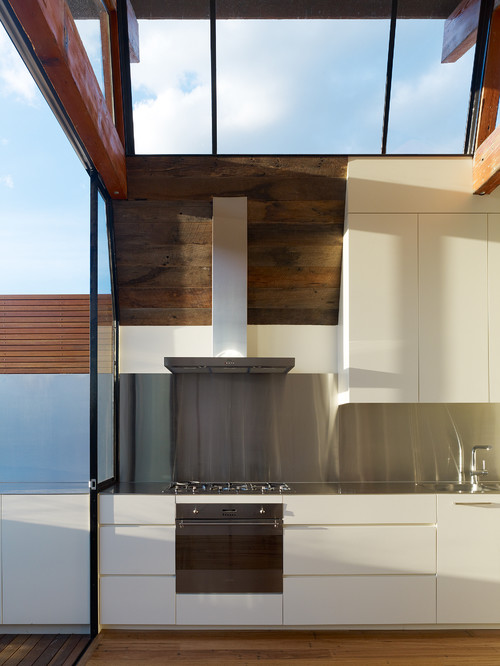 ID# 119309| Houzz.com – Credit | K+ARchitects | © Peter Bennetts
---
Industrial Kitchen with Wood Wall Planks and Skylight
This industrial kitchen gives elegance effortlessly. White flat-panel cabinets, metal backsplash, and countertop offer a minimalistic yet impactful look. Dark wood wall plans behind the range hood add a rustic vibe to the design while complementing the wooden structure of the building. Thanks to the generous skylight and windows this kitchen has a bright and spacious atmosphere.
Metal Backsplash Panels
Metal backsplash panels come with a wide range of styles from classic to contemporary. Thanks to this variety, you can get a high-end and stylish look according to your style without spending a little fortune. Also, metal backsplash panels offer an easy installation that can be cut with a snip, scissors, or utility knife. You can use 2-sided tape or polyurethane construction adhesive for installation.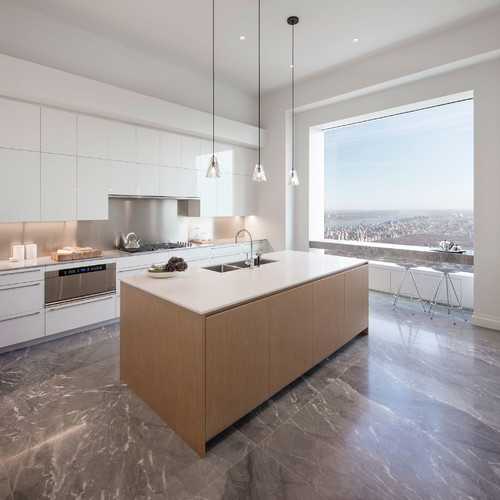 ID# 119310| Houzz.com – Credit | © Santucci Group – Italy
---
White Kitchen Cabinetry with Wood Island and Marble Floor Tiles
Sleek, modern, and elegant! This contemporary kitchen features white cabinets, a wood island, white countertops, a metal backsplash panel, glass pendant lights, and marble floor tiles. The modern look which is created by the flat-panel door style of the cabinets is completed with a metal backsplash which elevates the design. Gray marble floor tiles make a luxurious twist against the minimalist style. Glass pendant lights and the breakfast nook with marble table and white chairs make a beautiful final touch.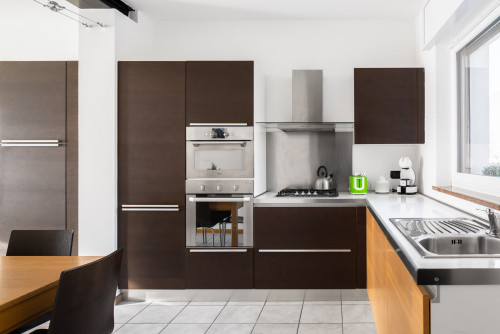 ID# 119311| Houzz.com – Credit |  © Matteo Crema
---
Contemporary Kitchen with Dark Wood Cabinets and Metal Backsplash Panel
This contemporary kitchen serves a sleek and elegant look with its dark wood cabinets, metal backsplash panel, white countertop, stainless steel appliances, and metal hardware. The metal accents bring an industrial appeal which is completed by stainless steel appliances. The kitchen cabinets are paired with metal hardware which complements the appliances and backsplash.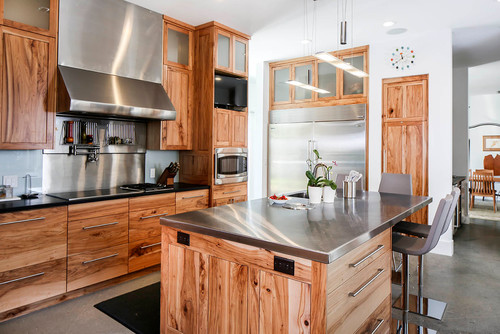 ID# 119312| Houzz.com – Credit |  © Northworks Architects + Planners
---
Light Wood Cabinets with Metal Accents
The arrangement of volumes, detailing of forms, and selection of materials provide an elegant farmhouse kitchen design. The metal backsplash panel stands out between the light wood cabinets. The oversized stainless steel range hood creates a continuous look with the backsplash. The metal counter chairs complement the other metal accents while bringing an industrial vibe.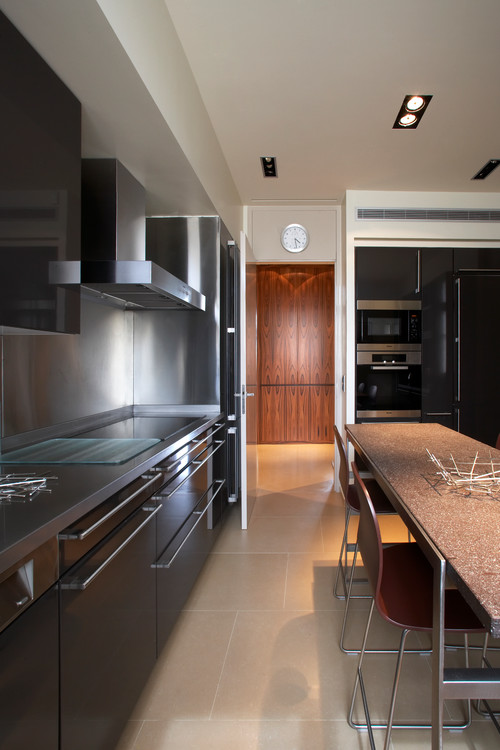 ID# 119313| Houzz.com – Credit | © C'est Magnifique
---
Black Flat-panel Cabinets with Gray Countertop and Wood Dining Table
The sophistication of the black perfectly blends the modern look of the metal to create an elegant kitchen design. The black flat-panel cabinets are paired with a gray countertop, stainless steel appliances, backsplash, and handles. Beige floor tiles and the wooden top of the dining table soften the sharp look of the black and make a warmer atmosphere.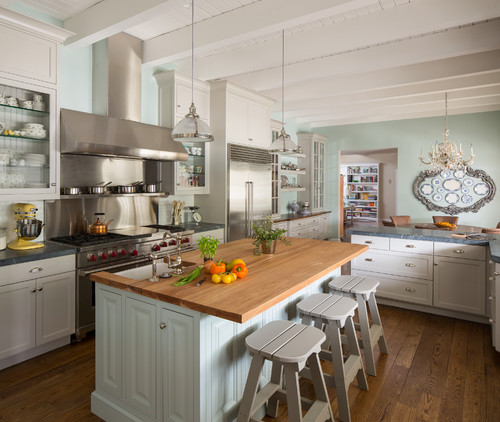 ID# 119314| Houzz.com – Credit | © Shannon Ggem Design
---
Traditional Kitchen with Soap Stone Countertops and Mint Green Walls
In this interior design, the shaker style cabinets raised panel island, and black soapstone countertops create a timeless traditional kitchen. The stainless steel range hood and backsplash behind the stove make a modern twist to emphasize the design. The mint green paint of the walls, reclaimed wood countertop of the island, and wood floor make the space cozier and more welcoming.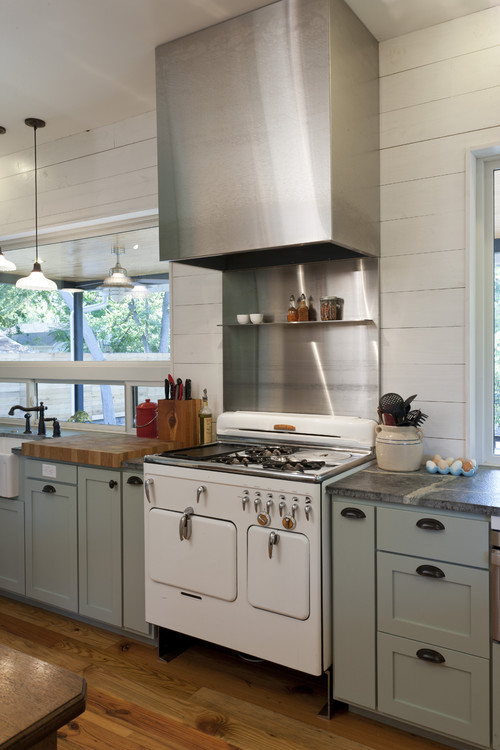 ID# 119315| Houzz.com – Credit | © Rauser Design

---
Farmhouse Kitchen with Shiplap Wall and Vintage Range
In this farmhouse kitchen, modern and traditional elements perfectly blends and offers a wamr and cozy kitchen design. The white vintage range is accentuated wiht gray shaker cabinets and soapstone countertops. The sleek look of the
stainless steel range hood and metal backsplash panel make a modern twist against the cozy look of the white shiplap wall and range.
Metal Stove Backsplash
Metal backsplash ideas are a great way to create a stylish and functional surface for the wall behind the stove. It is a fireproof and easy to clean material which is perfect for a backsplash material. If you want a sleek and modern look, go with a plain sheet metal stove backsplash, and want to add a visual interest check the textured and patterned metal backsplashes.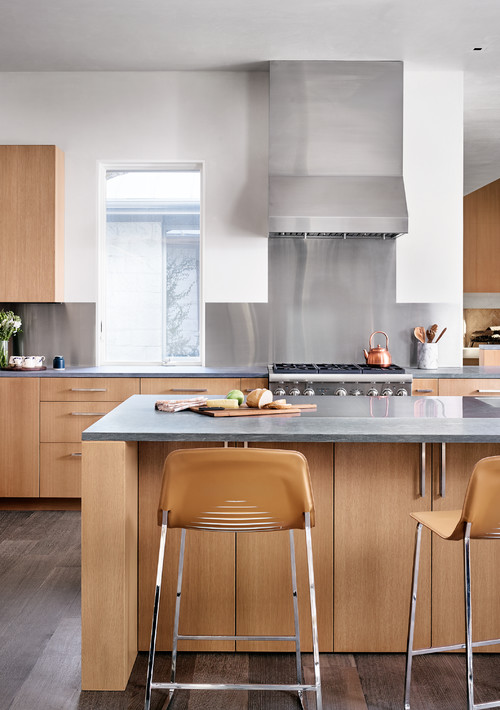 ID# 119316| Houzz.com – Credit | © Shiflet Richardson Architects
---
Wood Kitchen Cabinetry with Gray Countertops and Leather Counter Chairs
This contemporary kitchen features wood cabinets, gray soapstone countertops, metal backsplash, leather counter chairs, and dark wood flooring. The combination of the earthy colors offers a strong kitchen design while stainless steel accents transform the kitchen by adding a modern appeal. Leather counter chairs create a harmonious look with the kitchen island and complete the overall look.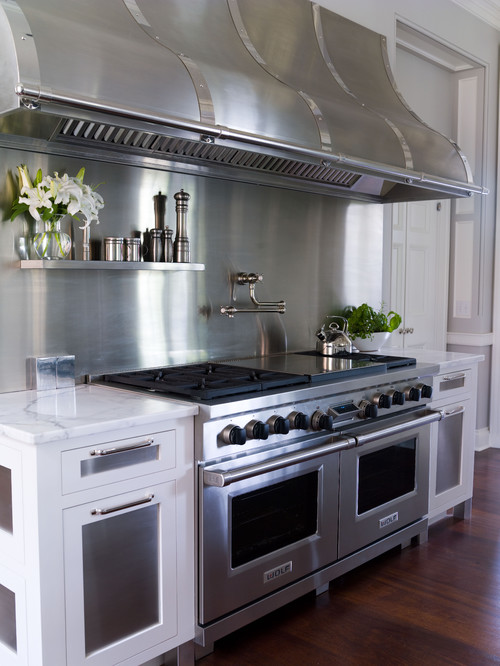 ID# 119317| Houzz.com – Credit | © Vicente Burin Architects
---
Traditional Kitchen with Stainless Steel Accents and Dark Wood Floor
The sinuous shape of the oversized range hood creates a distinctive focal point for this cooking area. Stainless steel finishes in both polished and brushed are used in cabinets, hardware, shelf, fittings, backsplash, and range. The white base of the cabinets adds a clean look to the metals while dark wood floor parquets bring warmth to the atmosphere.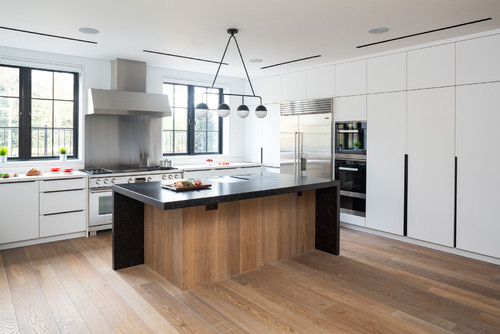 ID# 119318| Houzz.com – Credit | © Point 5 Kitchens Ltd.
---
Wood Island and Black Soapstone Countertop with Waterfall Edge
The wood kitchen island with a black soapstone countertop definitely is a show-stopping piece that makes a statement between the white flat-panel cabinets. The waterfall edges of the countertop add a dramatic appeal to the kitchen. Using the same material for the floor and island creates a continuous look. White perimeter cabinets allow the island to stand out by creating a simple and minimal look. The metal backsplash and the range hood complete this clean look.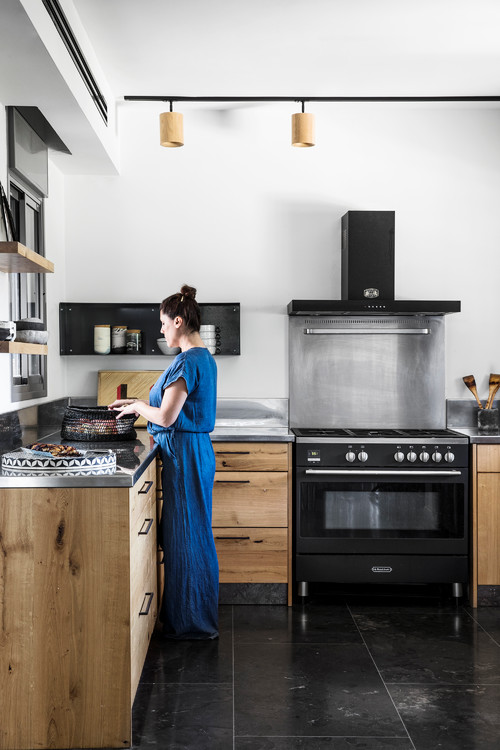 ID# 119319| Houzz.com – Credit | sharonella1970 | © Sharon Ella – Gaash – Israel
---
Natural Wood Cabinets with Black Appliances and Floor Tiles
This industrial kitchen is a great example that how to create an impactful design without too many elements. The natural wood kitchen cabinets offer a cozy look while black appliances and black floor tiles bring an instant character to the space. The stainless steel countertop and backsplash elevates the design while black handles, shelves, and lighting fixtures complete the design without disturbing the minimalist style.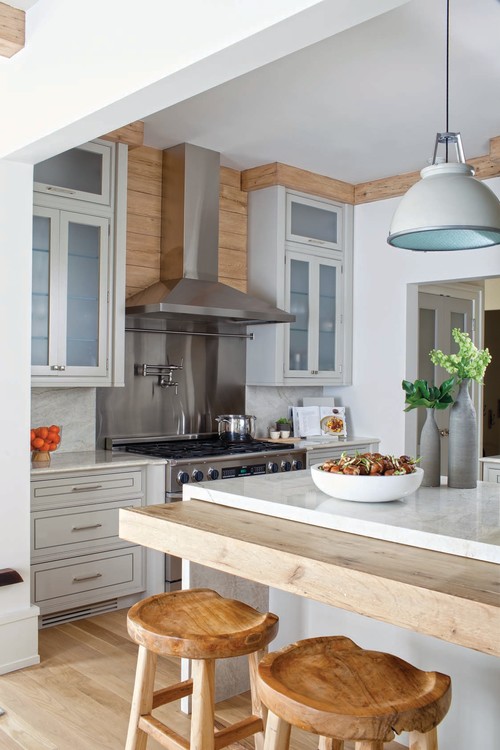 ID# 119320| Houzz.com – Credit | Fairfield County, Connecticut Residence | © Amy Aidinis Hirsch
---
Transitional Kitchen with Wood and Metal Accents
In this transitional kitchen, traditional, modern, and organic elements gracefully combine and create a beautiful space that will be a conversation piece for years. Light gray kitchen cabinets offer an elegant look with the glass-fronted upper cabinets. The golden-toned wooden elements and stainless steel accents attract the eye. The waterfall-edged marble countertop of the island adds a sense of luxury while the wooden extension of the island acts as a buffet or as seating for guests.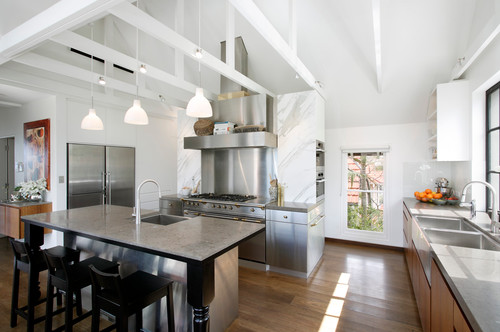 ID# 119321| Houzz.com – Credit
---
Marble Accent Wall with Modern Range Hood and Metal Backsplash Ideas
White cabinets, gray countertops, stainless steel appliances, backsplash, and marble slabs create an accent wall in this contemporary kitchen while providing a separation between the spaces. The luxurious appeal of the marble slabs stands against the industrial look of appliances and backsplash.
Type of Metal Backsplash
When choosing a backsplash material, you need to consider its functionality, style, and cost. Metal backsplashes provide these three features for kitchens. Here are the types of metal backsplash ideas that you can use for your kitchen.
Glass and Metal Backsplash
Glass and metal backsplash ideas are made of glass tiles and metal chips. These metal chips are generally made of stainless steel, copper, and aluminum alloy. This beautiful combination of shimmering glass and metal offers a unique and inviting look while adds a visual interest between the cabinetries. With its sleek modern look, glass backsplashes have become a popular material preferred by homeowners and designers.
Copper Metal Backsplash
With its charming appeal, copper is a unique and high-end material that provides both visuality and functionality. Copper metal backsplash comes in a wide range of colors, textures, and patterns. The warm allure of it can lend sophistication to kitchens and turn the ordinary backsplash into a piece of art. You can go with a flat single piece of copper or smooth copper tiles. Both ways will be a great addition to your kitchen and add visual interest.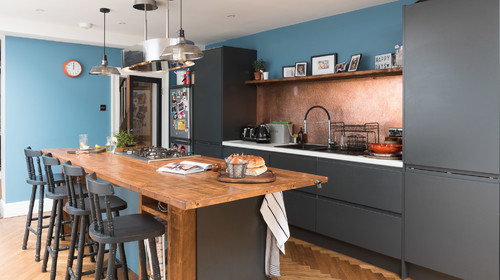 ID# 119322| Houzz.com – Credit | © Kopal Jaitly
---
Dark Gray Cabinets with White Countertop and Wood Shelf
This kitchen has definitely a unique vibe! Dark gray flat-panel kitchen cabinets and white countertop provide a sleek modern backdrop while copper backsplash creates a distinctive focal point between the cabinets. The black kitchen island makes a rustic twist with its reclaimed wood countertop against the modern style of the cabinetry. The wooden shelf above the backsplash complements the countertop of the island.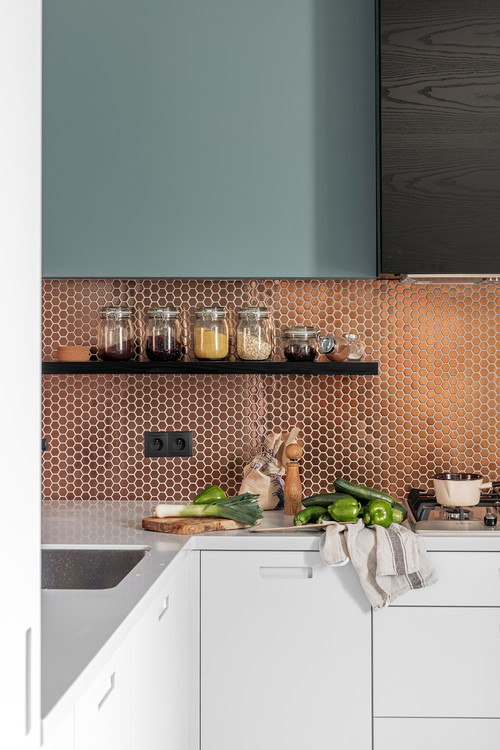 ID# 119323| Houzz.com – Credit | © Finchstudio
---
Copper Penny Tile Backsplash with Black Range Hood and Shelf
With its glamorous appeal, the penny tile backsplash transforms this otherwise ordinary kitchen into a stylish design. The copper backsplash complements the olive green wall paint with its earthy color while white flat-panel cabinets create a clean and fresh look. Black range hood and the shelf contrast with the white cabinets to emphasize the characteristic look of the design.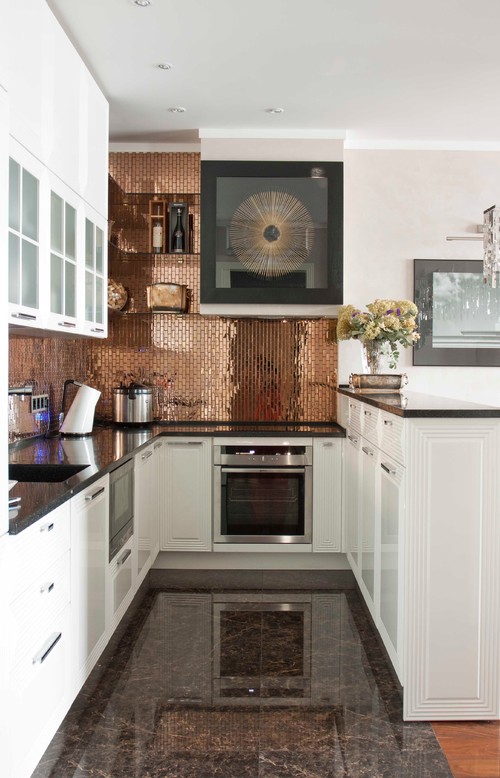 ID# 119324| Houzz.com – Credit | In&More Design | © Екатерина Малая
---
Transitional Kitchen with Copper Tile Backsplash and Black Marble Floor
The warm and glamorous appeal of the copper tile backsplash adds a unique flair to this transitional kitchen. White kitchen cabinets and black countertops serve a minimal look to allow the backsplash to take the attention. The glossy finish of the black marble floor tiles adds a luxurious feel while reflecting the beauty of the copper to emphasize the impact.
Hammered Metal Backsplash
Unlike the smooth surface of the brushed metal backsplashes, hammered finishes add visual interest to their unified surface and create an elegant and textural backdrop for kitchens. Hammered metal backsplash is usually made of brass, copper, zinc, and pewter, and depending on the material and the patterns, they can work well with different styles.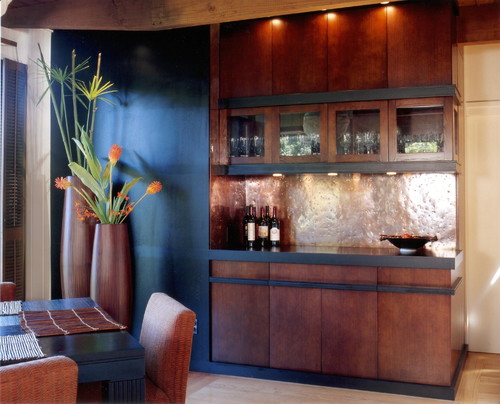 ID# 119325| Houzz.com – Credit |  © Mark Dutka
---
Contemporary Home Bar with Hammered Copper Backsplash
With its unique look, a copper backsplash also can be a perfect addition to the dramatic atmosphere of the home bars. In this contemporary home bar, the copper backslash is hammered to create a textural look. Wood flat panel cabinets and black accents offer a modern aesthetic while glass-fronted upper cabinets highlight the glassware and bae a focal point for the room.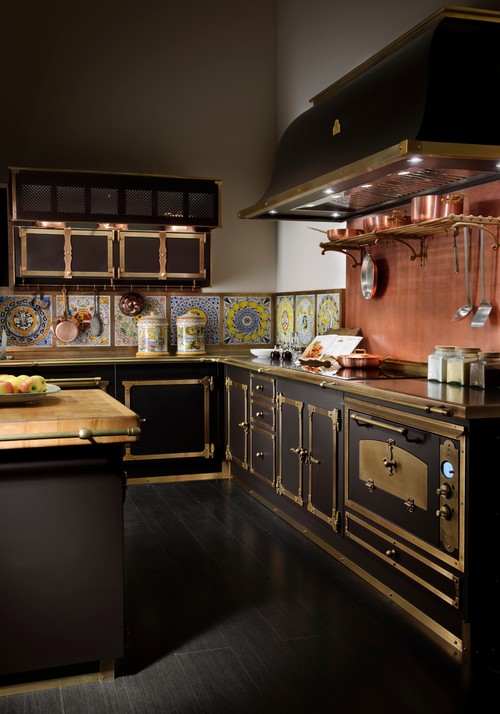 ID# 119326| Houzz.com – Credit | © Vittoriano Cucina
---
Victorian Kitchen with Sophistication of Black and Gold
Victorian style is all about glamour and this kitchen design gives it perfectly! All pieces act as a piece of art. The black kitchen cabinets are paired with brass accents which adds a vintage feel. The oversized range hood creates a focal point with the copper backsplash sheet which complements the other metallic accents.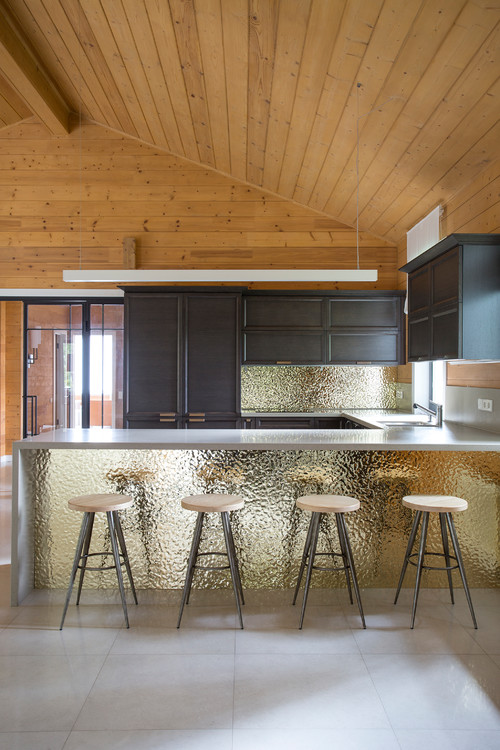 ID# 119327| Houzz.com – Credit |  TS Design | © Тарас Безруков и Стас Самкович
---
Contemporary Kitchen with Gold Hammered Backsplash
The glamorous appeal of the gold hammered backsplash take all the credits in this kitchen. Same material also is used on the kitchen island to create continuous look. The hammered surfaces add another layer of pattern. Black shaker cabinets and the white counterop are in a harmony with the elegance of the gold.
Brushed Metal Backsplash
A brushed metal backsplash is made by polishing the surface that leaves a dull, matte sheen on the steel and offers a more sleek surface than shiny metals. A brushed finish gives a visual illusion to create a distinctive focal point as a backsplash. Also, a brushed finish hides the fingerprints more than shiny ones and provides a little more resistance.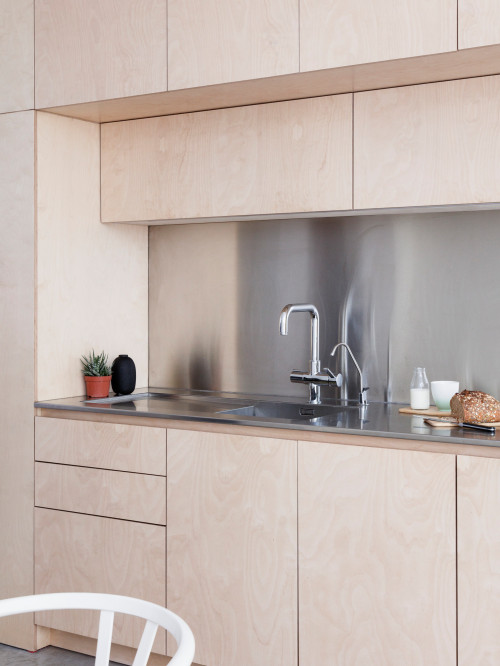 ID# 119328| Houzz.com – Credit | Larissa Johnston Architects | © Islington Maisonette
---
Light Wood Kitchen Cabinets with Metal Backsplash Ideas
In this minimalist kitchen, light wood cabinets offer a bright and fresh look while adding a slight texture with their beautiful grains. The metal backsplash and countertop add a unique look to the cabinetry and take the design to the next level.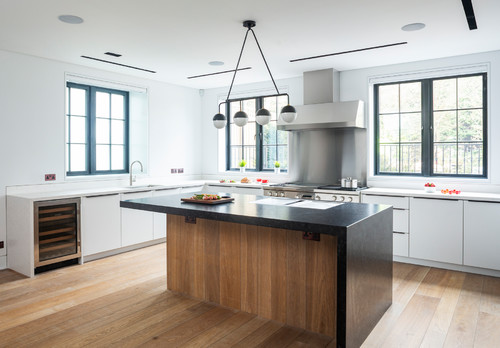 ID# 119329| Houzz.com – Credit |  © Point 5 Kitchens Ltd.
---
Contemporary Kitchen with Wood Island and Black Granite Countertop
In this contemporary kitchen, the wood island with a black granite countertop is the centerpiece. The waterfall edge of the granite countertop adds a dramatic effect to the design. The white perimeter cabinets, white countertop, and metal backsplash provide a clean and fresh backdrop for the island.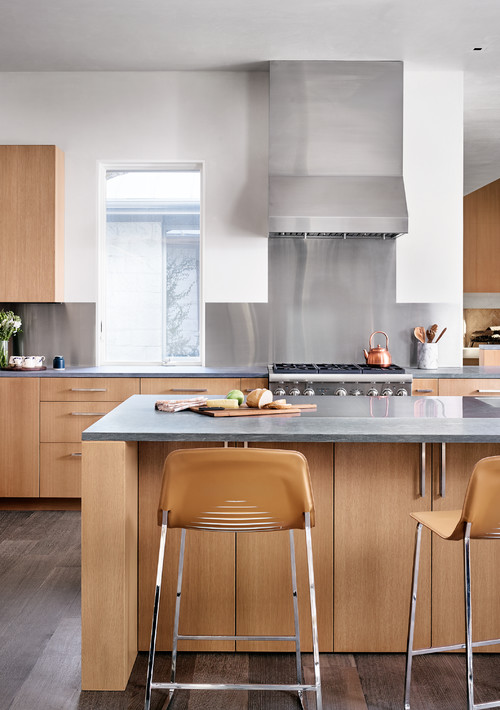 ID# 119330| Houzz.com – Credit |  © Shiflet Richardson Architects
---
Light Wood Cabinets with Gray Countertops and Brushed Metal Backsplash
In this modern kitchen design, the neutral color scheme offers a warm yet elegant look. The light wood cabinets are paired with gray stone countertops. The brushed metal backsplash adds visual interest to the design while the stainless steel range hood creates a continuous look with the backsplash. The metallic hardware complements the backsplash and appliances and finalizes the design.
Stainless Steel Backsplash
With its splendid brilliance and easy-to-clean surface, stainless steel backsplash became a popular option for homeowners. The modern look of stainless steel backsplash can instantly transform a kitchen. It is a practical and economical material that offers an easy-to-clean and hygienic surface, heat and water resistance. Also, stainless steel reflects the light that makes space feel larger and lighter.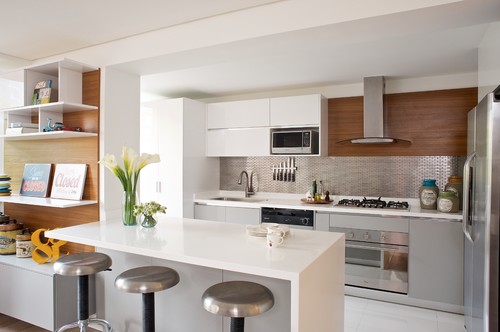 ID# 119331| Houzz.com – Credit | © Finishing Haus
---
Two-Tone Kitchen Cabinetry with Subway Tile Backsplash
Gray flat-panel cabinets are paired with white countertops, an undermount sink, and a black faucet. Using a white color for upper cabinets makes the space feel more spacious. Metal subway tile backsplash adds texture while completing the modern look of the cabinets.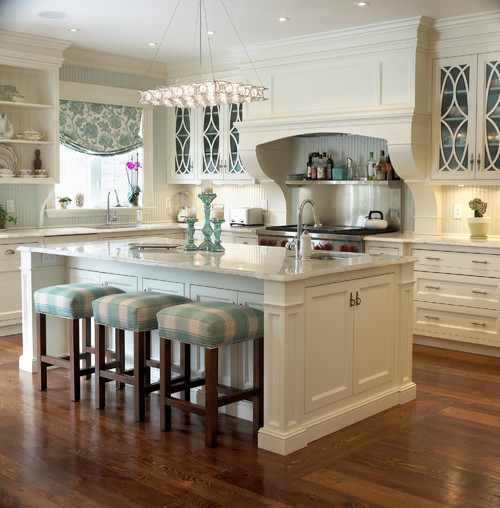 ID# 119332| Houzz.com – Credit | © Cheryl Scrymgeour Designs
---
Timeless White Kitchen Design with Blue and Cream Textiles
Beautiful moldings and details of the white cabinets offer a luxurious and timeless kitchen design. The cabinetry is paired with a marble countertop which contributes to the luxury feel. The metal backsplash and range modernize the atmosphere by reflecting the light. Blue and cream textiles like window treatments, cushions of the stools make this kitchen more livable.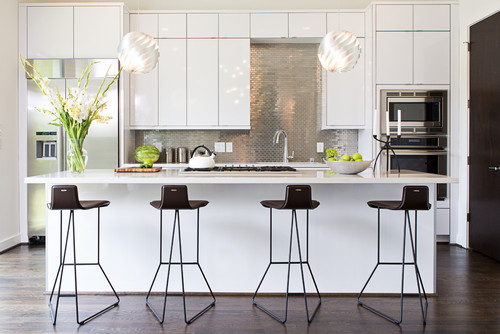 ID# 119333| Houzz.com – Credit |  © Capital Builders Houston
---
Metal Subway Wall Tiles with Lacquer White Cabinets
In this contemporary kitchen, the stainless steel subway tile backsplash gives a one-of-a-kind look and adds a nice texture. The reflective surfaces of the metal tiles and the high-gloss cabinets reflect the light and make the space feel larger. The handless style of the cabinets perfectly matches the modern look of the backsplash.
Pros & cons of Marble Backsplash
Pros
Metal backsplashes come in various colors, styles, and finishes. So, they add textural interest and color to kitchens and they are suitable for different styles.

Besides being used as a perfect backsplash on its own, it can also be combined with glass, stone, or other materials and create stunning looks.

Unlike ceramic or stone backsplashes, metal is nonporous and provides a hygienic surface which makes them a perfect material for kitchens.

Metal is one of the simplest surfaces to clean. With warm water, a sponge, and soap, you can keep clean it.

Metal backsplash is a durable material that is resistant to stains, heat, and water damage. Also, the non-porous surface of the metal is resistant to stains, heat, and water damage.

Although the metal backsplash has a high-end look, it is a more affordable option than stone backsplashes.
Cons
Although it is durable, a metal backsplash can be difficult to keep looking pristine. It is not scratch-resistant and these scratches can cause an unpleasant look.
How To Cut Metal Backsplash Tiles?
You can cut all types of metal tiles with a blade meant for metal and you can use a hack saw or a band saw with a metal blade. Face up the tiles, wear eye protection and start the cutting procedure. Don't forget to clean the area after the cutting because metal shards can be dangerous.
How To Clean Metal Backsplash?
Cleaning metal backsplash is actually very easy and if you do this cleaning regularly, your shiny material will look as new as the first day. A simple sponge, dish soap, and warm water are enough to clean metal backsplashes. Grab a sponge, soak it with warm water and soap, and clean all surfaces with circular motions. Then take a dishcloth or microfiber cloth and wipe down the backsplash. You can do these steps for everyday cleaning. Using chemicals can create a build-up on the metal's surface and make water spills and fingerprints more visible day by day. Also, to maintain the look of metal, you need o clean the acidic foods like tomato, orange immediately. Otherwise, these acidic things can cause discoloration.
How To Cut Glass And Metal Backsplash?
If you don't cut them correctly, mixed materials suck as glass and metal can be hazardous. The best way to cut glass and metal is by removing all the tiles from the glue mat and cut each piece separately. This way you can use the right cutting tool for different materials without damaging them. For glass tiles, you can use a regular tile cutter, and for the metal tiles, a hack saw will do the job.
Where Can I Buy Stainless Steel Backsplash?
You can check your local suppliers which sell the backsplash materials, or you can check the websites like Amazon, Home Depot, Lowes for your DIY projects.
Do Tin backsplashes rust?
Tin backsplashes generally come with a corrosion-resistant finish that protects the tin from rust. However, some acidic elements like vinegar, coffee, tomato, and lemon juice can break this finish and cause rust on the tin backsplash. To avoid rust, you need to clean these spills immediately. Otherwise, tin can corrode and you may need to replace it.