32+ Elegant Kitchen Backsplash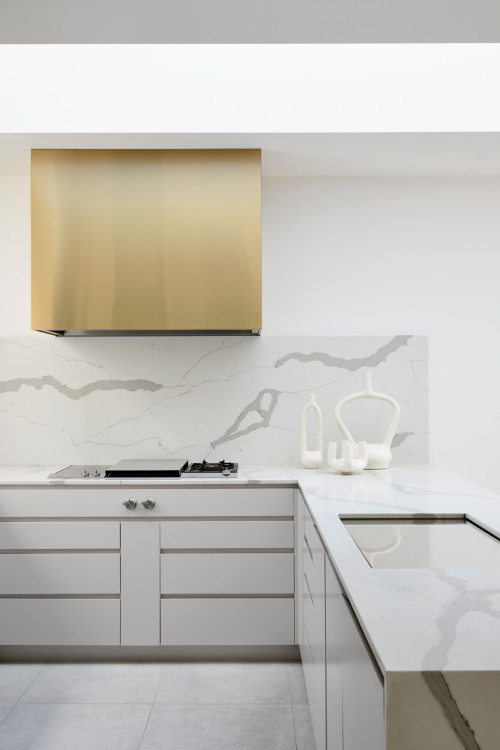 ID# 136101 | Houzz.com – Credit | © WALA
---
Elegant Kitchen Backsplash with Brass Range Hood and White Cabinets
Slab backsplashes seem to be always a step ahead of tiled backsplashes in terms of aesthetics. Their seamless and grout-free form proposes an upscale look that feels rich and more expressive. Here, for example, the white marble-look slab backsplash creates a sophisticated look, punctuated by a brass range hood that creates a focal point. The white cabinets and marble-look quartz countertops inscribe a human imprint in this contemporary kitchen that results in a sleek and streamlined look. The sculptural decorative items add extra vertical volumes in biomorphic forms that lend a Scandinavian feel while resting against the white walls.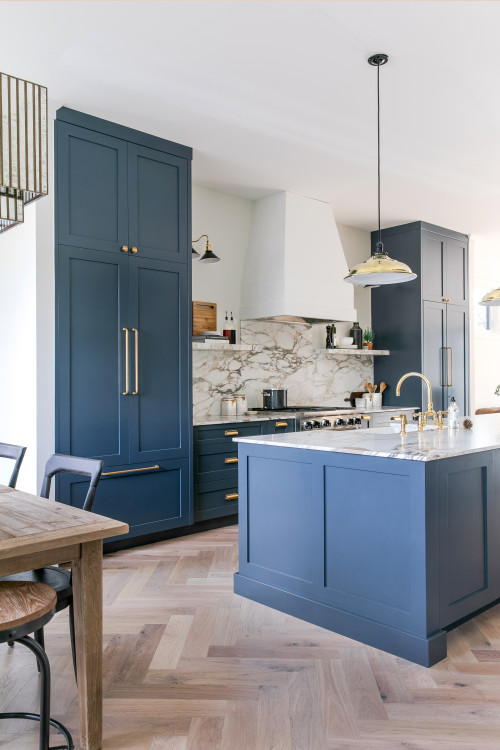 ID# 136117 | Houzz.com – Credit | © Elle Peters Design
---
Blue Cabinets with Elegant Backsplash and Brass Hardware
Suitable for larger families and spanning a vast spot, this transitional kitchen feels calm and serene with blue cabinets. The white marble slab backsplash with brown striations brings the kitchen down-to-earth, offering a durable background as long as it is sealed and cleaned regularly. The floating shelves made of marble add an extra dimension to the walls, and the brassware brings a warming shade and glow along with brass lighting fixtures. The herringbone pattern wood floor finish constitutes a classy feel that lends warmth.
Elegant Kitchen Backsplash
Making a change in kitchen design sometimes feels necessary whether because you got bored with the old one or it just started to feel dysfunctional. Whatever the reason is, a kitchen backsplash is always a great opportunity to make a drastic change and introduce some color or pattern into the kitchen. But if you are not feeling adventurous and not interested in a bold backsplash but rather seeking a new timeless look that feels sophisticated, here we have a list of elegant kitchen backsplash ideas that deliver an upscale feel to the kitchen.
An elegant kitchen backsplash could be in a simple form like ceramic or more sophisticated like marble and metal. But in both cases, with intriguing patterns, light shades, and glazed finishes, you can always incorporate elegance into your kitchen. In this blog, we compiled over 30 design projects. Just take a look at these inspiring designs that will fire up your imagination and give you an idea of how you can create an elegant kitchen for yourself.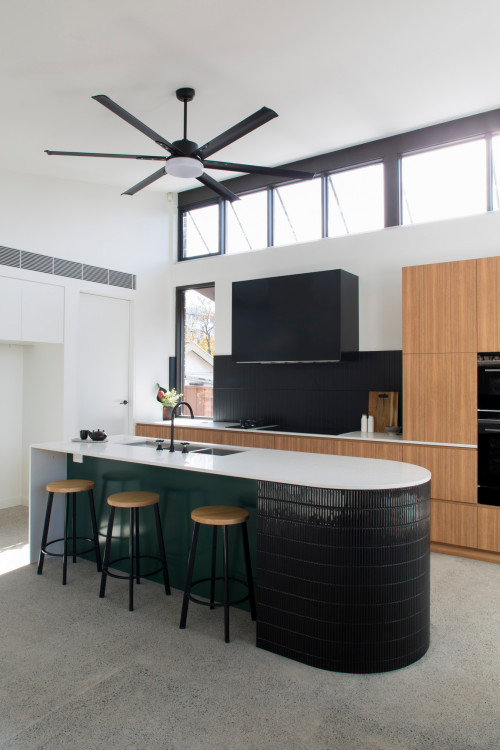 ID# 136102 | Houzz.com – Credit | © Danny Broe Architect
---
Contemporary Kitchen with Black Backsplash and Rounded Island
Is it the gorgeous black backsplash or scene-stealing black rounded island that you can't take your eyes off? We honestly can't decide. The stacked subway tiles aligned up in two rows make a backsplash for stunning timber cabinets and white countertops. The island with a green base has a waterfall and rounded edge clad in black kit kat mosaic tiles. Sticking to a minimalist palette and refined lines, the kitchen orchestrates a well-curated look. Double-height white walls interspersed with windows pour natural lights indoors, keeping the kitchen airy. The black ceiling fan not only provides lighting but also ventilation overhead that suits the double volume spaces best. And lastly, the seamless beige speckled rubber flooring provides an easy-to-maintain floor coating running across the room.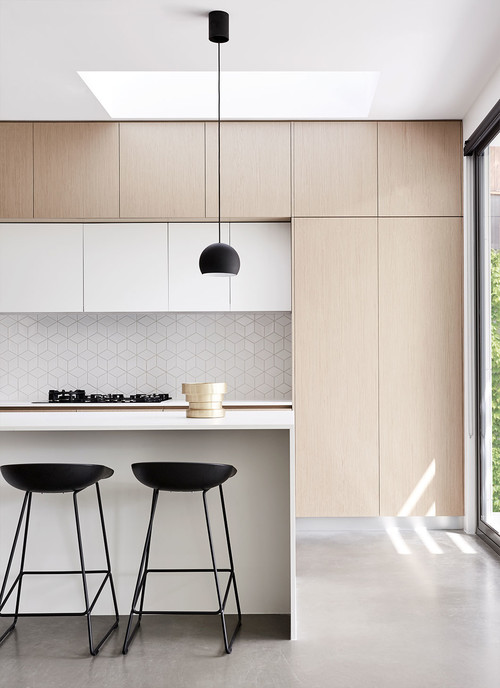 ID# 136103 | Houzz.com – Credit | © Zunica Interior Architecture & Design
---
White Escher Tile Backsplash with Wooden Cabinets and Waterfall Island
An Escher tile backsplash is a true classic in contemporary kitchens and this kitchen goes for it too. Choosing a white palette for it keeps the tiles seem more recessed yet more sophisticated and elegant. The light wood cabinets and all-white waterfall island add neutral elements to complement the backsplash without stealing the show. The skylight and the expansive window fill the kitchen with natural lights, engaging with the visually light patterns and materials. Below eye level, the poured concrete floor with a glazed finish also brings in a sleek and weightless appeal, creating an outdoor feel. But when looking at this resulting scheme, don't you think that a white Escher tile backsplash is a great option for those looking for geometric, modern, and elegant?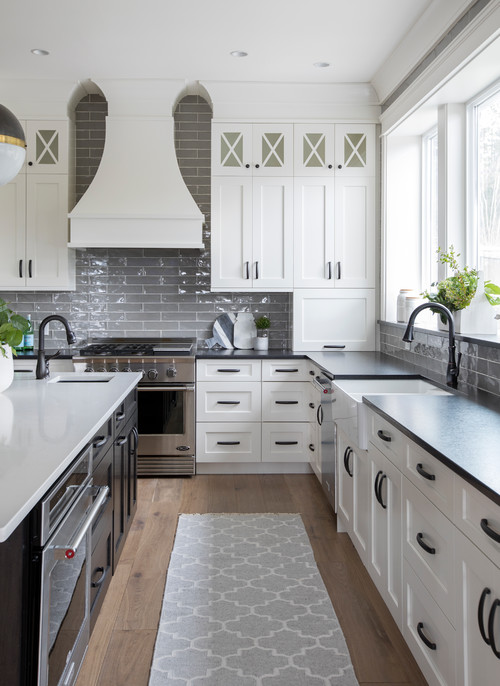 ID# 136104 | Houzz.com – Credit | © PlaidFox Studio
---
Country Kitchen with Glazed Subway Tiles and White Cabinets
Though classic subway tiles have become a standard backsplash that serves as a blank canvas, turning it into an elegant backsplash takes only a few touches. For example, here, the subway tiles come in gray with a glazed finish. This version not only attracts natural lights but also creates a beautiful sheen that draws attention. And the rest gets defined with white cabinets paired with black countertops and hardware that create a contrasting color scheme softened with this shimmering backsplash.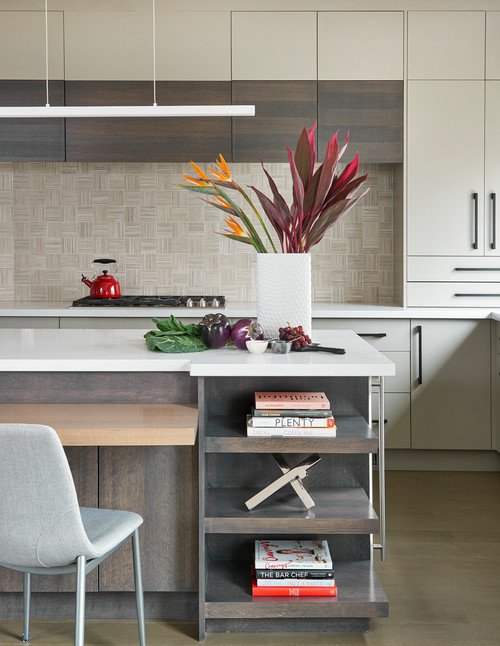 ID# 136105 | Houzz.com – Credit | © Carriage Lane Design-Build Inc.
---
Modern Kitchen with Off-white Cabinets and Basketweave Backsplash
The basketweave pattern backsplash brings in gentle patterns in sandy shades, generating an elegant movement. It is complemented by off-white and distressed-looking cabinets, thus orchestrating a more natural look that has aged over time. This way, the design captures consistency with the light sandy shades of the backsplash. Apart from those, the books placed on the cabinet shelves and plants and vegetables on the island bench add a punch of character and life to the kitchen.
Backsplash Materials
From marble to quartz, glass, ceramic, porcelain, metal, and many more, backsplashes come in various materials and designs. So, you have almost limitless options for every budget and design theme you have in mind. However, the abundance of options could sometimes be tricky and make it hard for homeowners to decide what is better for their kitchen. Here we have many design projects that employ glass, ceramic, marble, and metal backsplashes. You can check and see how these backsplashes are brought together with cabinets and countertops and steal some inspiration.
Elegant Glass Kitchen Backsplash
Eco-friendly and non-porous materials, glass kitchen backsplashes can absorb and reflect the light, creating a visual accent throughout. Due to their pore-free nature, they are easy to clean and maintain without requiring sealing. In aesthetic terms, they are available in a wide range of colors, patterns, and designs. For a seamless look, you can even get glass sheet backsplashes that add a sleek and elegant profile to the kitchen. The tiled versions such as subway tiles, mosaics, and kit kat mosaic tiles create dazzling and shimmering backgrounds that make a statement.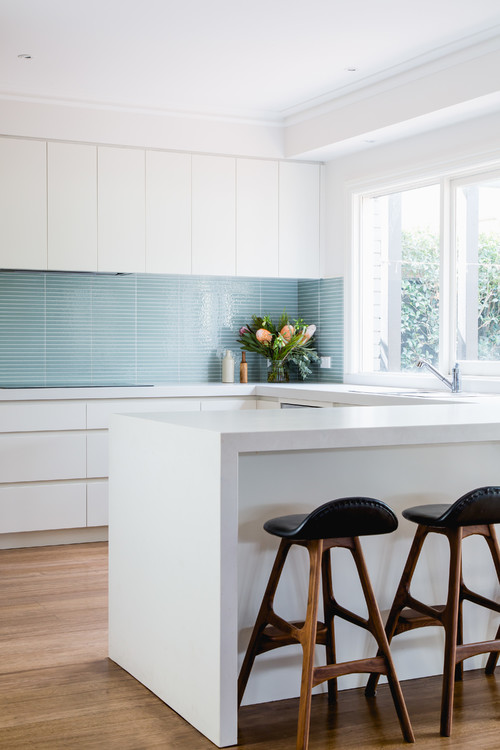 ID# 136106 | Houzz.com – Credit | © VMD Interiors
---
Elegant Kitchen Backsplash with Blue Stacked Tiles and White Cabinets
In this kitchen, the blue backsplash is a gentle colorful touch between the white modern cabinets. It picks up the color of the sky, ocean, and pool associated with the outdoors. Thus, it brings a sense of freedom while its stacked and slender tiles are complete ease to the eye. It is complemented by the sleek lines of the cabinets and countertops that present a monochromatic look and champion the backsplash. The waterfall edge of the island ensures a sense of flow. The rest features a rustic floor finish and modern black stools that pop against the soothing background for a sense of contrast.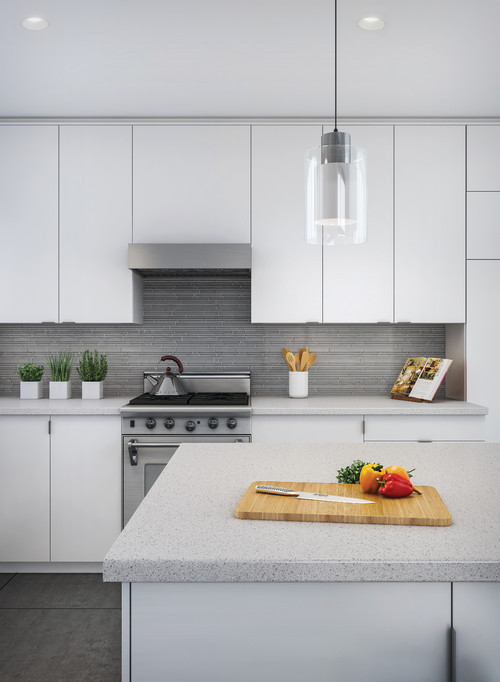 ID# 136107 | Houzz.com – Credit | © Arborite Australia
---
Gray Backsplash with Laminate Benchtops and White Cabinets
Form and function are a priority in contemporary kitchens and this kitchen is no exception. Employing white flat-front cabinets and sticking to a neutral color palette, it just proposes a simple and utilitarian space. The gray thin tile backsplash just like Arctic ice laminate benchtops brings in a quiet and sophisticated voice, while the speckles on the worktops and the tiles laid on a running-bond style generate movement.
What is the most popular backsplash for a kitchen?
A timeless pattern, subway tiles are very popular. But nowadays, their vertically or horizontally stacked versions are more on-demand. In terms of material, ceramic tiles are commonly used since they come at affordable prices and are easy to clean and maintain. So, overall, ceramic subway tile backsplashes are still considered the most popular for their adjustability and functionality. What is different is only how they are laid.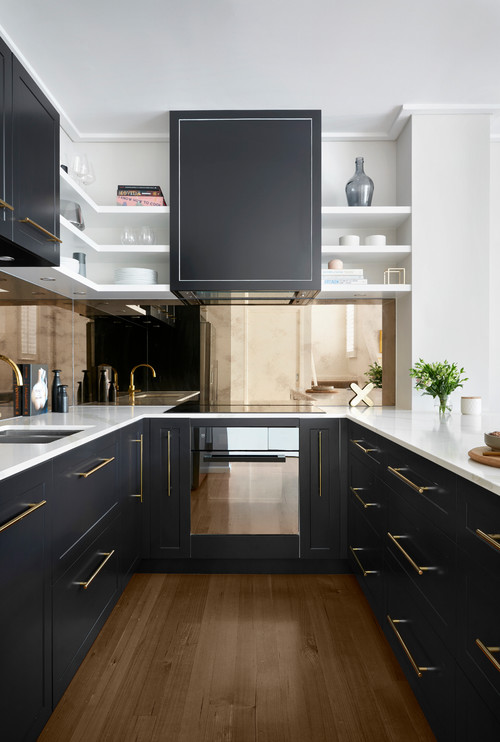 ID# 136108 | Houzz.com – Credit | © smarterBATHROOMS+
---
Mirror Glass Backsplash with Dark Cabinets and White Countertops
If you want something different that lacks the look of standard backsplashes, why don't you try a mirror glass backsplash? It is a space-enhancer and illuminator that promotes engagement with the surrounding context. You can complement it with blue dark cabinets and white countertops as in this particular kitchen. This way, you highlight its elegant nature with a contrasting theme and enrich the overall look with brass hardware and wood floor finish.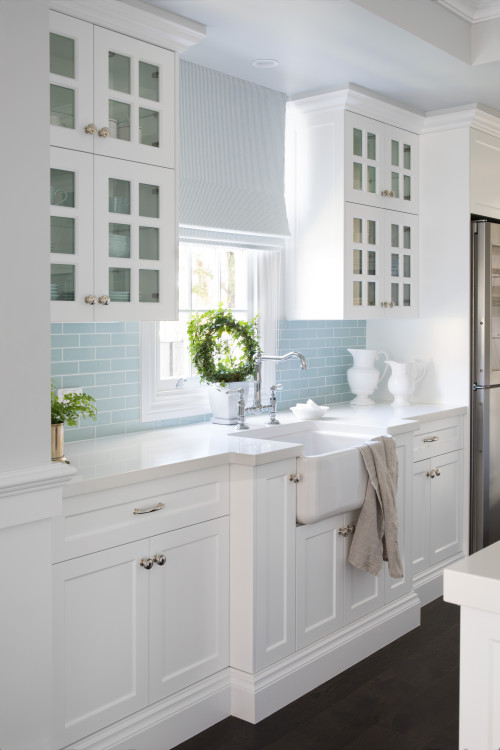 ID# 136109 | Houzz.com – Credit
---
Blue Subway Tile Backsplash with Display Cabinets and Butler Sink
Having a blue frosted glass backsplash is an excellent way to revamp your kitchen. Unlike other glass tiles, this frosted version has a more robust nature and unique decorative finish. It is less translucent, presenting a sense of ambiguity but still interacting with natural lights. And here, it comes in subway tiles that capture a timeless look, paired with display cabinets and a butler sink that add a farmhouse flair. Chrome hardware coordinates with the stainless-steel appliances beautifully to add a stylish vibe, matching the serene nature of the blue backsplash.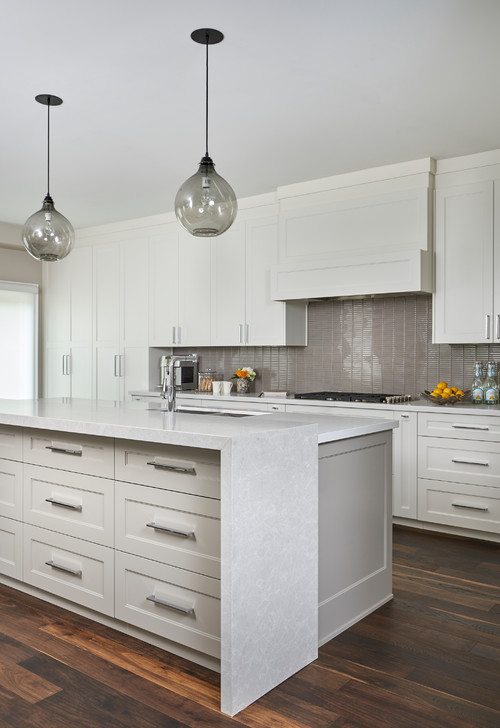 ID# 136110 | Houzz.com – Credit | © Casa Perfecta Inc
---
Transitional Kitchen with Elegant Kitchen Backsplash and Statement Island
The smaller the backsplash tiles get, the more they feel sophisticated and draw attention. Especially when they come in a winning color like gray. But there is something else in this kitchen that comes as a second statement piece, which is the island unit. Here, it receives a special treatment with a waterfall countertop installed on the edge of its base to offer a distinguished eating space. This smart addition prevents the eating space from bleeding into the worktop. When the island's modern form merges with the elegant gray mosaic tile backsplash, it results in a quite sophisticated design celebrated by two gray glass pendants overhead.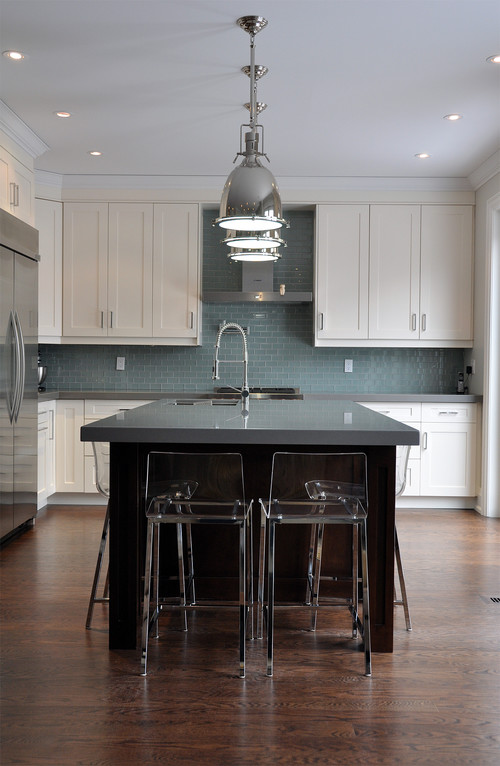 ID# 136111 | Houzz.com – Credit | © Woodsmith Construction Inc
---
Dramatic Kitchen Design with White Cabinets and Modern Transparent Stools
This renovated kitchen is designed to open up the space and create a more functional cooking space. The island centered in the heart ensures a flow while anchoring the design with a dark wood base. Its hefty blue benchtop with gray undertones is in resonance with the subway tile backsplash in the same color. Aligned on the same line, both serve as centerpieces that exude elegance, complemented by modern transparent stools and industrial-style pendants. Overall, though borrowing from different styles, the kitchen manages to pull the whole design theme together.
Elegant Marble Kitchen Backsplash
Adjustable to any kitchen design, be it modern, rustic, minimalist, or traditional, as a statement material, marble kitchen backsplashes create elegant backdrops. Coming in various shades from black to white, gray, blue, and green, they suit any color theme. You can either center the whole design around them or install them later as part of a home improvement project with no hesitation as they go well with different textures and color schemes. Their natural striations, sometimes looking bolder and sometimes less pronounced, endow the marble with unmatchable beauty and unique patterns. Whether you go with the tiled or the slab marble backsplashes, they maintain their sophisticated look thanks to these natural streaks. But slab backsplashes, especially the ones that envelop the range hoods as well, create instant focal points that ooze opulence and communicate a sense of luxury.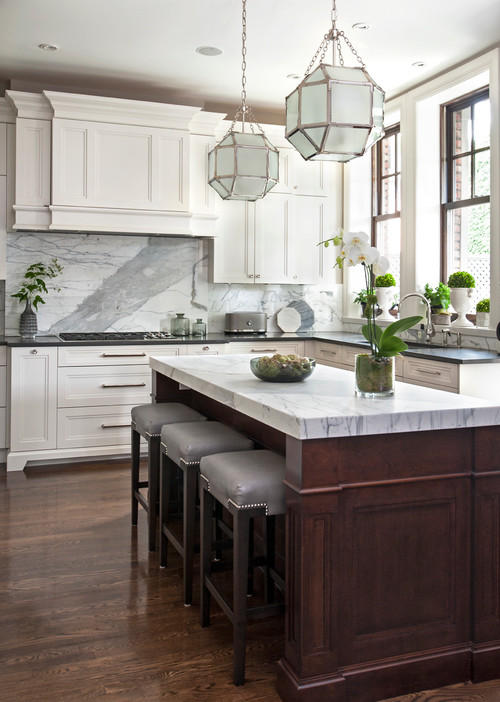 ID# 136112 | Houzz.com – Credit | © Leona Mozes Photography
---
Elegant Kitchen Backsplash with Marble and Dark Countertops
No elegant kitchen backsplash list can feel complete without marble backsplashes. Featuring gorgeous striations, they embody the ultimate form of elegance and sophistication. And if you want to make a true statement and are not strict on budget, a marble backsplash is the look you should go for. Here, the grayish-blue backsplash with pronounced and understated striations imparts a sense of calmness to the kitchen. The dark wooden flooring and island bring in a dramatic influence that suits the traditional design of the kitchen. The 3-dimensional hexagon lighting features in a subtle shade of blue add another statement feature that creates a sanctuary of sorts with kitchen plants sprinkled throughout the space.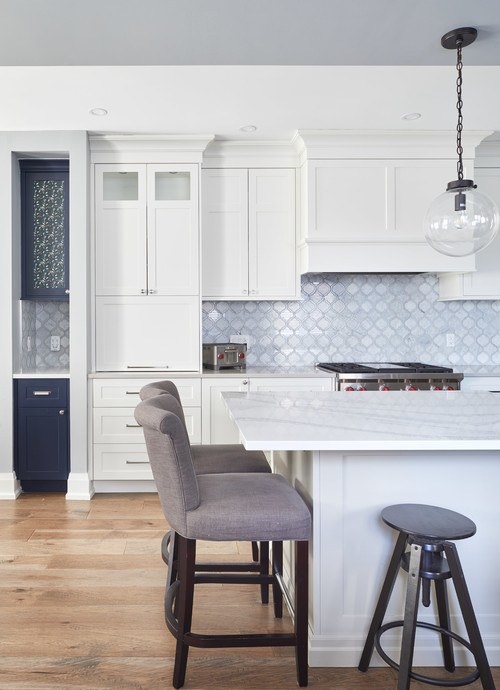 ID# 136113 | Houzz.com – Credit | © Gatti Brothers Ltd.
---
Monochromatic Kitchen with Marble Tile Backsplash And Glass Globular Pendants
Tiled marble backsplashes are as impactful as the slab versions. This transitional kitchen, for example, goes for a round-tile marble backsplash to lend a luxurious feel. Coordinating with white shaker cabinets and white quartz countertops, the kitchen makes the backsplash the focal point. The glass globe-shaped pendants just pop against this beautiful background, offering a well-curated look for its users.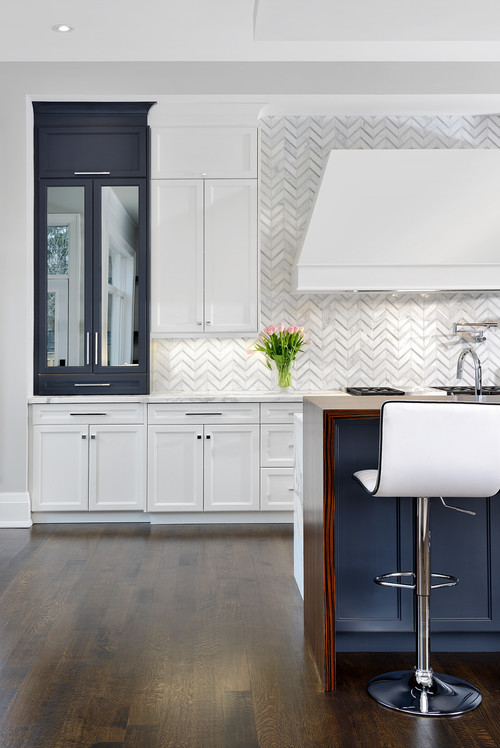 ID# 136114 | Houzz.com – Credit | © Evelyn Eshun Design Inc.
---
Transitional Kitchen with Ceiling-Height Chevron Tile Backsplash and White Cabinets
Patterns are important to give a better definition and even movement to the walls. Here, for example, the chevron pattern backsplash goes all the way up to the ceiling, creating a visual focal point. It is complemented by white and dark blue cabinets and marble countertops that add more elegance. The two-tiered island defined by two different materials, marble, and wood, keeps the focus in the center, while the chevron tile backsplash draws the eye upward to highlight the grandeur of the kitchen.
What is the current trend in backsplash?
Current trend backsplashes consist of window, geometric pattern, glazed-finish, slab, and ceiling-height backsplashes. Each one has its unique beauty. But this beauty is used to enhance the kitchen. In other words, with current trend backsplashes, the kitchens are generally aimed to get expanded with some design tricks. That's why it is no wonder that window backsplashes, glazed finish, and ceiling-height backsplashes have gotten more popular.
To start with, seamless and grout-free backsplashes like glass sheets and marble slabs bring a sophisticated feel and make the walls feel enlarged. The ceiling height backsplashes, likewise, free up the space, especially when floating shelves are used instead of the upper cabinets. They also draw eyes upward to make the kitchen feel taller.
Additionally, metal backsplashes that come with a sheen and glazed finish backsplashes serve the same purpose, creating interactive backgrounds that play up the natural lights. But you can also trade these materials and finishes with window backsplashes that not only provide an easy-to-clean surface but also the sunlight and views of nature or the city.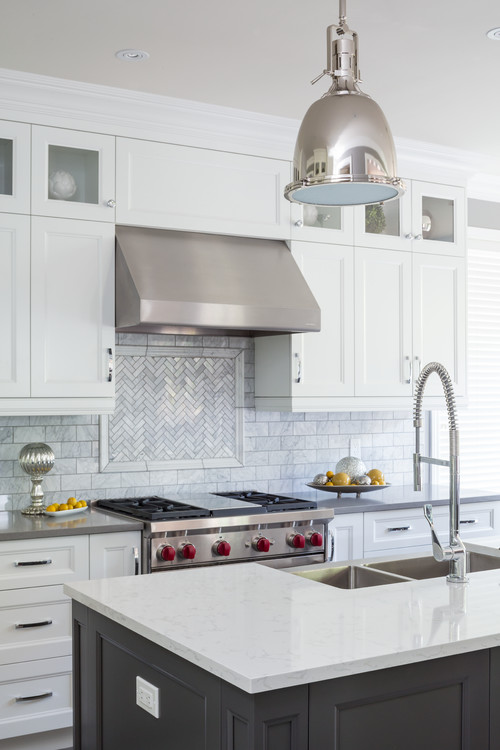 ID# 136115 | Houzz.com – Credit | © Paragon Kitchens
---
Gray Countertops with Two Marble Backsplashes and Industrial Lighting
Not one but two marble backsplashes elevate the overall look in this transitional kitchen with elegant touches. Coming in subway and herringbone pattern tiles, the herringbone backsplash marks the stove zone, while the rest is clad in subway tiles that add movement to the background. The stainless-steel appliances, gray countertops, and gray base of the island unit coordinate with the gray striations on the marble backsplashes.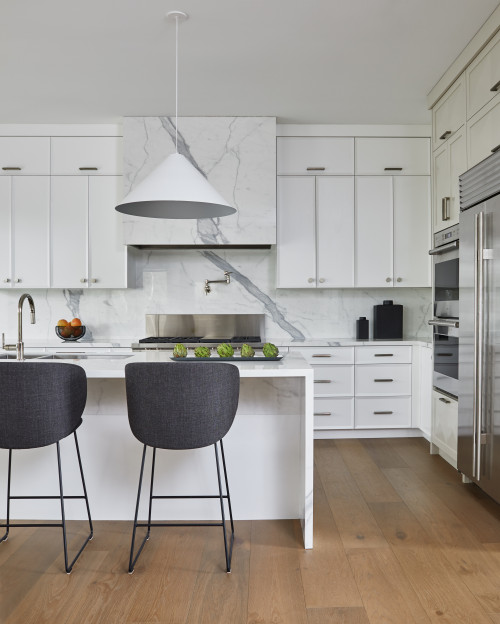 ID# 136116 | Houzz.com – Credit | © Madison Taylor
---
Marble Range Hood and Backsplash and Waterfall Island in Contemporary Kitchen
If you can't get enough of marble slab backsplashes, envelop the range hood dressing with marble, too, to achieve a uniform look. Here, this contemporary kitchen uses white marble as the protagonist of the kitchen to sheathe the backsplash, countertops, range hood, and island's waterfall edge, whereas all the other elements serve to complement it. The white flat-front cabinets, black hardware, and stainless-steel appliances create a neutral set-up, while the wood floor brings much-needed warmth to the kitchen.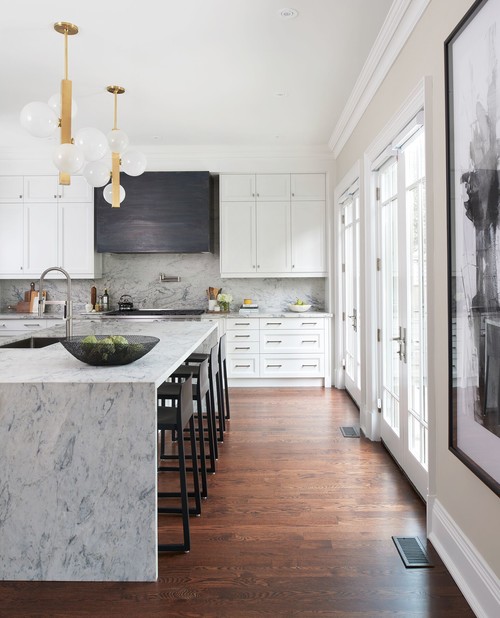 ID# 136118 | Houzz.com – Credit | © HARRISON FAE DESIGN
---
Sophisticated Kitchen Design with Gray Marble Backsplash and Kitchen Island
Characterized by statement materials, this transitional kitchen articulates a calming simplicity. Well-illuminated with the natural lights directed from the terrace, it uses a gray marble backsplash to set the tone of the design. The marble countertop of the waterfall island creates a continuous look, running parallel to the double terrace doors. The use of a blue and distressed range hood creates a focal point drawing attention to the stove zone. The abstract wall painting in resonance with the kitchen's color theme adds a modern element, while the brass lighting fixtures channel warmth with wood flooring.
Elegant Ceramic Kitchen Backsplash
To make an elegant addition, you don't necessarily have to go with a statement material like terrazzo, marble, and granite. Sometimes the simple and sleek forms with subtle color variations nail an elegant feel as well. For example, white ceramic subway tiles, Escher, hexagon, kit kat mosaic, and chevron patterns elevate the overall look of the kitchen effortlessly. And you can let these light patterns melt into the background by surrounding them with white-painted walls. This way, you can capture a more sophisticated look. Or better, you can go with dark blue and black shades of these ceramic patterns to constitute a dramatic impact. Plus, dark shades have a better way of articulating an upscale feel, and you can just use this feel to create an elegant look.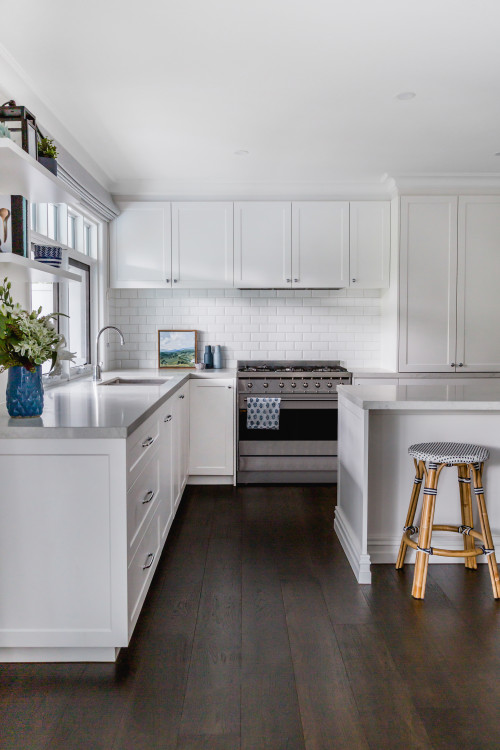 ID# 136119 | Houzz.com – Credit | © Gallerie B
---
All-White Kitchen with Elegant Kitchen Backsplash and Beach-style Stools
What counts as elegant may have different connotations for different people and kitchens. Here, for example, it means simplicity and timelessness that comes with a white ceramic subway tile backsplash. Laid in a running-bond style, the matte finish ceramic tiles bring a sense of movement, nursing a calm state of mind. The surrounding white shaker cabinets and off-white countertops paired with silver hardware play along and go for an all-white look. But this monochromatic design is broken up with sailor-stripped beach-style stools and dark wood flooring that entertain the space with a pop of color and drama.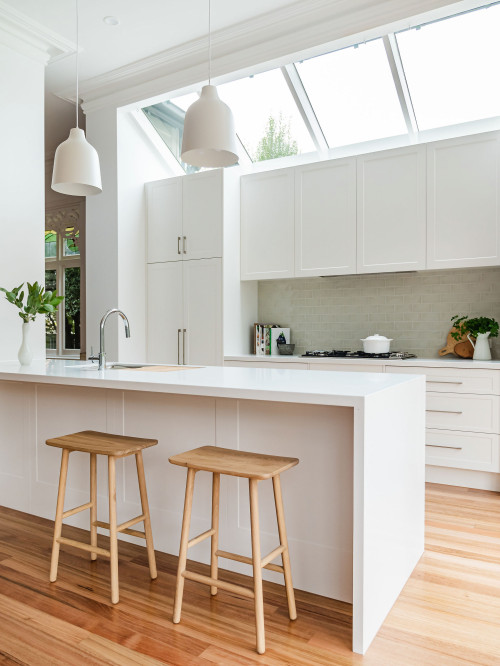 ID# 136120 | Houzz.com – Credit | © Eclectic Creative
---
Contemporary Kitchen with All-white Color Scheme and Dome Pendant Lighting
Constituting a calm and nurturing environment in contemporary kitchens takes precedence with the optimized use of natural lights. This way, the kitchen expands the effect of the light color schemes that create floating spaces like in this particular kitchen. Here, the white flat-front cabinets coupled with an island create a functional layout, complemented by the muted green tile backsplash. The Tasmanian oak solid timber floors, timber backless minimalist stools, and leafy branches serve as the ultimate translations of the greeneries lying right outside the glazed door. The rest features chrome hardware for a stylish addition and a duo of white dome pendants that provides task lighting for the kitchen island.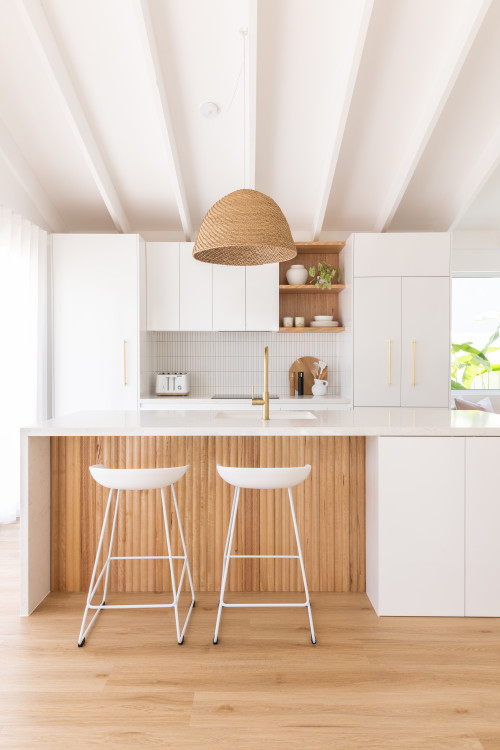 ID# 136121 | Houzz.com – Credit | © Tile Touch
---
Beach-style Kitchen with Boho Pendants and Stacked Kit Kat Backsplash
Sophisticated and elegant, the kit kat mosaic tile backsplashes are one of the popular backsplash options in 2022. Though these are not made of chocolate, they still add a delightful flavor with a modern flair, celebrated for their durability and texture-rich character. This beach-style kitchen puts this elegant backsplash in dialogue with the bamboo-treated island front that creates a synchronic movement with the kit kat tiles and a choreography of sorts to build extra interest. The rest features warming elements, including brass hardware, light wood floor, and boho-style rattan pendant to prevent the white cabinets from looking jarring and too clinical. And all those features are taken to another level with the banquette nestled in the corner. It provides a cozy spot that suits the beach-style spirit, while a picture window right behind blends the inside and out for a seamless connection.
Should the backsplash be lighter or darker than the countertop?
There is no such rule of thumb regarding the backsplash and countertop color coordination. But it is recommended to keep one of them lighter to achieve a well-balanced look. If you prefer backsplashes to add depth and lend sophistication, you can go with a darker backsplash and keep the rest light-colored (cabinets and countertops). This way, it will be much easier to navigate the working space as you can directly spot what is where.
But if you want your countertops not to show dirt much, you can choose darker countertops. Especially in industrial and contemporary kitchens, dark countertops serve the space very well.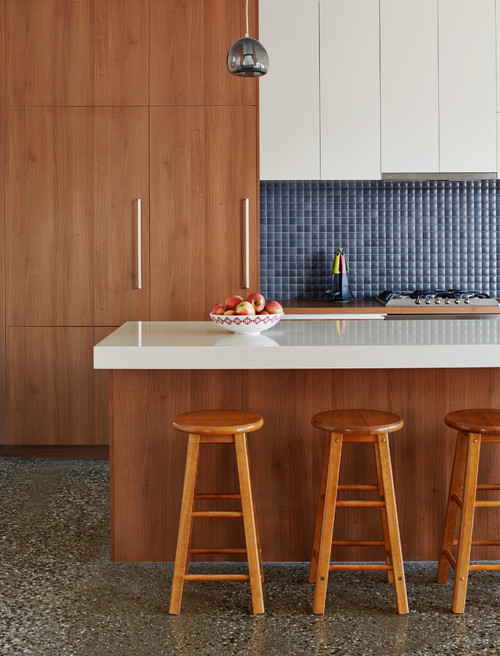 ID# 136122 | Houzz.com – Credit | © Mesh Design Projects
---
Blue Backsplash with Two-tone Cabinetry and Quartz Countertops
If you can't decide which color to go with for an elegant look, a dark blue backsplash could be one way to go. Here, for example, we have a kitchen aligning itself with the slimline and sleek profile of contemporary kitchens. To do so, it uses a white-wood combination for its flat-front cabinetry and celebrates this union with a dark blue mosaic tile backsplash that creates a sophisticated look for the background. And complementing it are dark terrazzo flooring and wooden stools that establish a highly durable and well-functioning kitchen design that remains loyal to contemporary kitchen principles.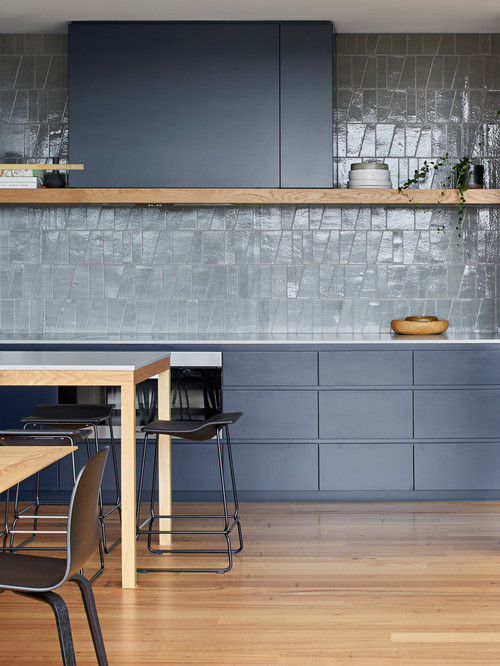 ID# 136123 | Houzz.com – Credit | © Kart Projects | Architecture
---
Elegant Kitchen Backsplash with Blue Cabinets and Timber Floating Shelf
This kitchen receives a modern treatment that introduces fuss-free, clean, and sleek lines. The geometric patterns on the backsplash create an intriguing background with the shades of blue used throughout to instill calmness. The glazed finish adds a delicate sheen to the backsplash, turning it into something more elegant. The timber floating shelf softens the blue shades and offers open storage to keep indoor plants, cookbooks, and some personal items. As you move further in the space, you see that the timber kitchen island and a dining table layer the space as these furnishing items get closer step by step to the full-height glazed windows and beautiful views, enjoying nature.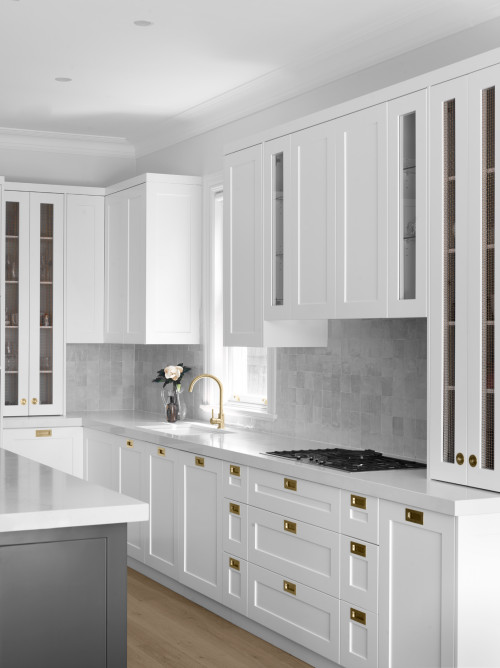 ID# 136124 | Houzz.com – Credit | © Dieppe Design
---
Achromatic Kitchen with Ceramic Tile Backsplash and Brass Hardware
All-white looks are still very much popular as they create canvas-like spaces. But they require a few characteristic touches to build more interest. To achieve that, this transitional kitchen uses built-in brass hardware and a brass tap to get a healthy glowing effect. Also, for a more elegant look, it utilizes a gray square tile backsplash with subtle shade variations to add depth to the background. The glass-front overhead cabinets serve as another interesting addition that captures a level of transparency, encouraging engagement with the kitchen.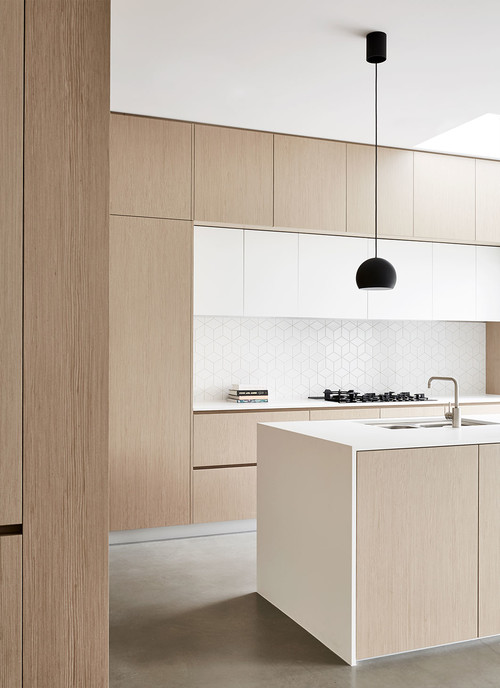 ID# 136125 | Houzz.com – Credit | © Zunica Interior Architecture & Design
---
Scandinavian-inspired Kitchen with Escher Tile Backsplash and Concrete Floor
Celebrating the beauty of brightness and simplicity for an open feel, the Scandinavian-inspired kitchens generally go with light and timber cabinets to create a weightless appeal. And this kitchen is no exception. Here, it has employed white and plywood cabinets to impart calmness to the space, pairing them with a white ceramic tile backsplash. The Escher tiles on the backsplash, creating little cubes in a recessed manner, add an elegant touch, incorporating geometric forms without making them obvious. As such, the kitchen gains a silent momentum that makes it look more elegant and stylish.
What makes an elegant kitchen backsplash?
The meaning of elegance can vary from person to person. While for some, it means functional simplicity, for some, it is an upscale vibe that oozes opulence. If you are one of those people who prefer the former, the monochromatic and clean looks are for you. The Escher tile backsplashes and white ceramic tile backsplashes are less eye-popping but still elegant in their way. Though they feel a bit more recessed, they still preserve their well-articulated form that delivers calmness to the space. For a sense of sparkle, you can give them a polished finish which works well in Scandinavian and modern kitchens especially.
For the second category, some materials are just elegant by themselves without receiving any treatment. Natural stones like marble, granite, terrazzo, onyx, and soapstone, are some of them, creating elegant and sophisticated looks that prevail over the space. If you are fond of luxurious finishes and not slim on budget, you can consider these backsplashes. You can take them up to the ceiling and even envelop the range hood as well for a uniform look.
In addition, the metal backsplashes like brass, stainless steel, and copper, make statement pieces. Especially with the advancement of technology, they are tiled in unique patterns and many sizes that expand the design possibilities with them.
Overall, glazed finishes, and intriguing materials like glass, metal, mirrors, printed tiles, and natural stones can help you make elegant kitchen backsplashes. But at the end of the day, it is all up to you. Whatever look feels more elegant to you, that's what you should go for.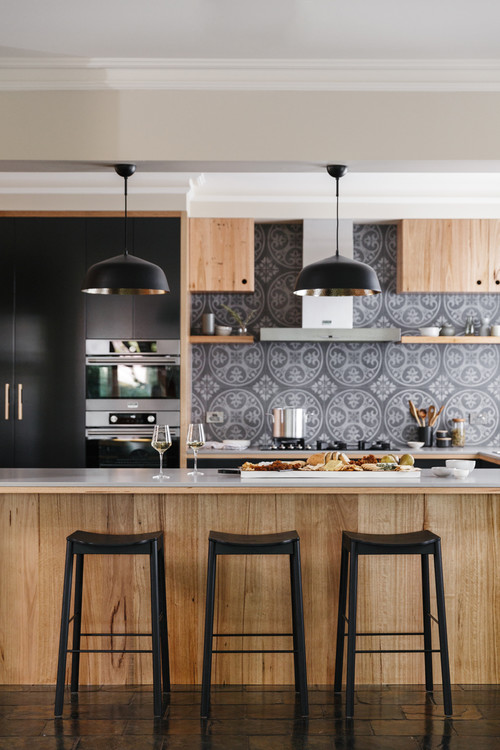 ID# 136126 | Houzz.com – Credit | © Space Craft Joinery
---
Modern Kitchen with Black Cabinets and Elegant Kitchen Backsplash
The design of this modern kitchen is centered around the elegant backsplash that has an ecosystem of its own with fish and floral patterns. Coming in shades of gray, it creates a focal point between the light wooden cabinets. With a longline shelf that runs parallel to the perimeter cabinets right above, the backsplash gets more space to go up to the ceiling and owns this whole swath of wall. This way, it encourages the space to feel freer, while the miniature-like overhead cabinets look like a wall decoration. The rest comes in dark contrasting shades that make a counterpoint to the lightweight center with the full-height black cabinets, black stools, and pendants.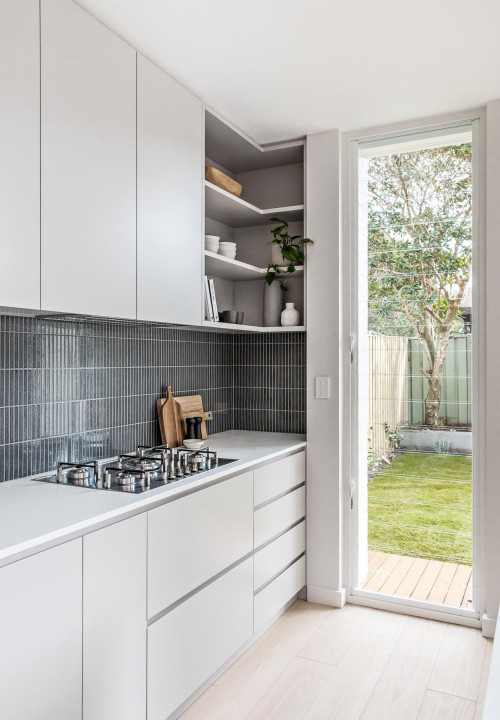 ID# 136127 | Houzz.com – Credit | © Kitty Lee Architecture
---
Kit Kat Mosaic Tile Backsplash with White Cabinets and Open Shelving
Here we have another contemporary kitchen that employs a dark kit kat mosaic tile backsplash for a texture-rich background. The white grout between these elegant tiles coordinates them with the white cabinets and countertops. The corner cabinet shelves add extra interest without breaking up the monochromatic look, and the range hood is concealed behind the cabinet panels that preserve the uniform look skillfully.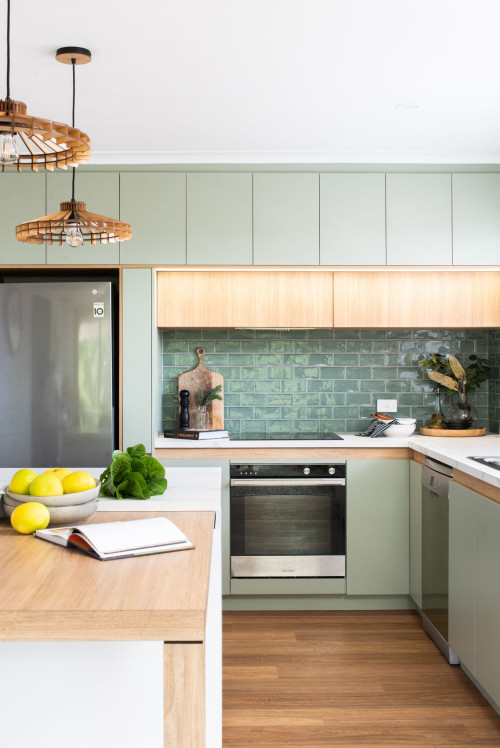 ID# 136128 | Houzz.com – Credit | © Lydia Maskiell Interiors
---
Scandinavian Kitchen with Glazed Subway Tile Backsplash and Two-tone Cabinetry
Finishing details are key to adding an extra touch of character that will make the overall look glow. Here, for example, the glazed ceramic tile backsplash is used as a fabulous way of introducing a glow to the matte finish cabinets without compromising the kitchen's Scandi feel. The incorporation of light green and timber cabinets brings in natural textures and shades expressed through clutter-free lines. The white marble-look quartz countertops instill calmness to preserve the peaceful ambiance.
Elegant Metal Kitchen Backsplash
Metal kitchen backsplashes can easily create focal points thanks to their translucent nature. In addition to their anti-bacterial and non-porous characteristics which make them easy to clean, they also come with a beautiful sheen that captures the natural light. This way, they encourage the kitchen to feel not only spacious but also brighter.
In today's market, available in panels and tiled versions, these metal backsplashes even gained more unique forms with the advancement of technology. You can confidently incorporate these patterns into your kitchens to channel a modern vibe and add more elegance. Ranging from brass to steel, copper, zinc, and silver, they have multiple versions as well. The beautiful color variations and their beautiful sheen already inhabited in these metals just make them look more sophisticated and stylish. For rustic looks, you can get oxidized zinc and copper that will add an aged feel without compromising its elegant look.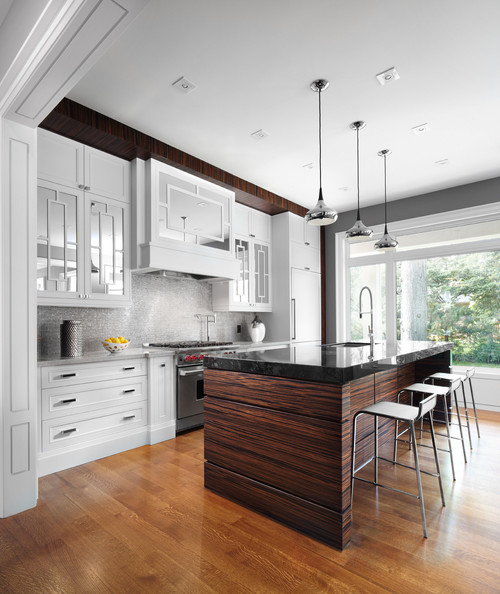 ID# 136129 | Houzz.com – Credit | © Urban Development Inc
---
Elegant Kitchen Backsplash with Black Granite Countertop and White Cabinets
In an open conversation with the garden through the expansive window, this stylish modern kitchen lays its foundation upon the contrasting shades. The perimeter counters, for example, come in shades of white, paired with a metal tile backsplash that dazzles its users. The overhead glass-front cabinets also enhance this feeling, while in the center, the brown kitchen island sits, topped with thick black countertops, to anchor the overall look. Overhead, the metal dome-shaped modern pendants coordinate with the metal backsplash, and the light wood floor finish brings the space together with a sense of warmth.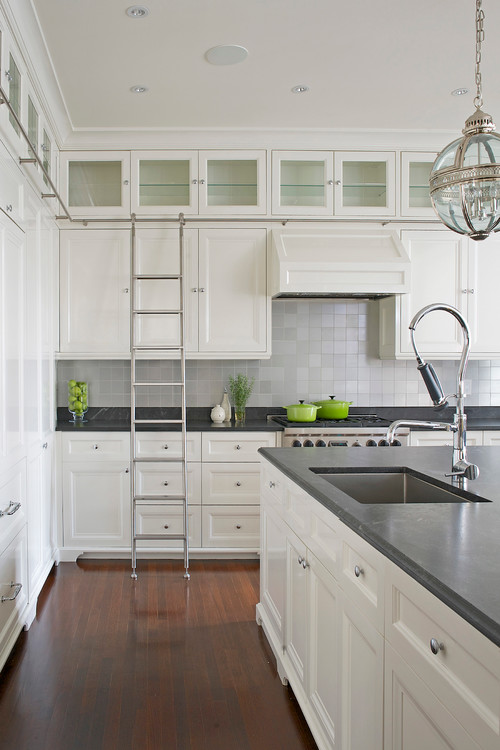 ID# 136130 | Houzz.com – Credit | © Leona Mozes Photography
---
Metal Tiled Backsplash with Black Countertops and White Cabinets
This transitional kitchen enmeshes traditional with modern lines. The timber ladders get replaced by stainless steel ones. The bridge faucets and farmhouse sinks are traded with commercial taps and integrated sinks that offer a clutter-free look. And finally, the ceramic tile backsplashes transform into metal tiled versions, earning a sleeker design with unparalleled durability without forgoing their tile look. And the shaker cabinets with the medium dark wood floor remain the same to keep the traditional feel alive. They are also supported by dark countertops that paint a contrast to the white-dominant color scheme. Lastly, the globular pendants with iconic green kitchenware give the kitchen a classical spin and a tinge of color.
Natural Stone Mosaic Tiles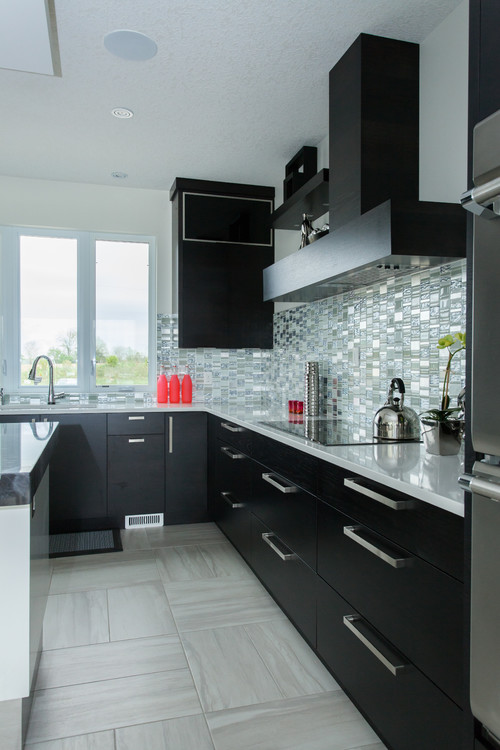 ID# 136131 | Houzz.com – Credit | © Dynamic Kitchens
---
Black Cabinets with Black Appliances and White Countertops
If you would like to dive into the deep shades of the color spectrum, black cabinets with black appliances will give you all that you need. To jazz it up and add a sophisticated flavor, you can go with chrome hardware and metal backsplashes that are popularly used in modern kitchens. Here, for example, the horizontally stacked kit-kat backsplash comes in a metal form with a shimmering effect. Standing out between the white cabinets, it not only oozes opulence but also brightens up the kitchen.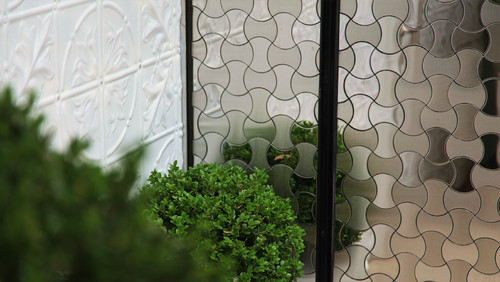 ID# 136132 | Houzz.com – Credit | © ALLOY Solid Metal Tiles
---
Elegant Kitchen Backsplash with Nature-inspired Metal Tiles
This stunning brushed stainless-steel mosaic tile backsplash, each tile 1.6 mm thick, consists of unique and undulating patterns, taking their cues from the biomorphic forms. They deliver an authentic and impeccable feel to the kitchen, creating a focal point. The brushed finish makes them better at hiding watermarks and fingerprints. And what is even better, they are resistant to rusting, cracking, and denting and are adjustable to various kitchen models. You can combine this gorgeous backsplash with white cabinets and white countertops or go with a gray and dark-oriented color palette. Though especially suitable in modern, contemporary, industrial, and transitional kitchens, thanks to their brushed finish, you can use them in many different styles as well.