18+ Blue Mosaic Tile Backsplash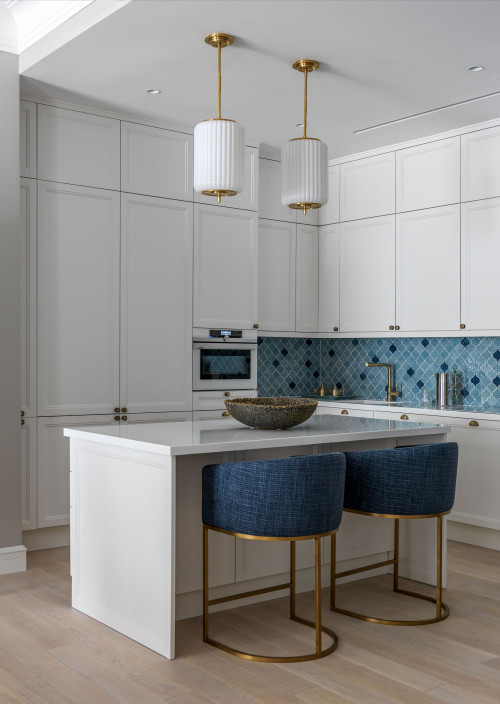 ID# 135502 | Houzz.com – Credit | © Ангелина Аскери / Angelina Askeri Interiors
---
Diamond Pattern Blue Backsplash with White Shaker Cabinets and Brass Hardware
If you want to make the blue mosaic tile backsplash the star of the design, you can complement it with white sleek cabinets as in this particular kitchen. Though the white cabinets are shaker, they almost give the illusion of flat-front cabinets, introducing clean lines. And they are topped by white quartz countertops, while the appliances are hidden behind the panels to retain the uniform look and not to cause any decluttering in this compact kitchen. To create a cozy spot, a small island is added in the center to provide a practical eating space and extra worksurface, paired with a duo of modern stools. The stools' blue cushions coordinate with the backsplash effortlessly, while their brass legs are coupled with the brass hardware. Lastly, a duo of pendants with brass hardware adds a stylish element.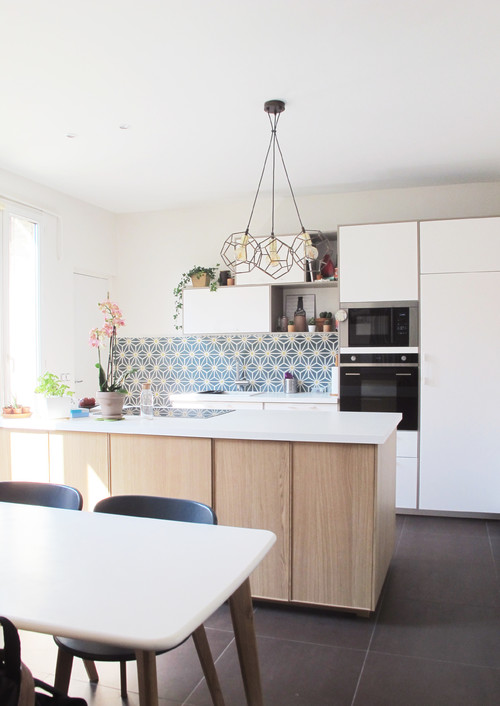 ID# 135516 | Houzz.com – Credit | © Cinqtrois
---
Open-Plan Kitchen with Two-tone Cabinetry and Open Shelves
If you have white cabinets and a wooden island, a blue backsplash is a route to go to enliven the kitchen with a third color. In case you also want to highlight the modern vibes of the space, the geometric pattern options give the kitchen a modern spin. Here, for instance, the white core of the patterns coordinates with the white modern cabinets and sleek countertops. Additionally, asymmetrically installed cabinet shelves and hexagon pattern lighting fixtures add extra interest overhead and, in the background, spice up the overall look of the kitchen a bit more. Lastly, the dark bluish-gray flooring anchors the space, while the large format of the tiles expands the kitchen visually, creating the illusion of spaciousness.
Blue Mosaic Tile Backsplash
From bright shades to deep navy blues, baby blues, and muted blue shades, each hue of blue adds a different vibe to the kitchen. Championed for their capacity to evoke a variety of emotions, ranging from serenity to dynamism, blue tile backsplashes make great additions if you are looking for a third color to energize or soften the overall feel. This even gets more intense with a blue mosaic tile backsplash as it provides a more textured background expressed in small sizes, adding a strong glittering effect when glazed.
So, if you have decided to upgrade your kitchen and want it to deviate from the standard looks, a blue mosaic tile backsplash is a route to go. Just enter the rich world of the blue mosaic tile backsplashes that ensure versatility and withstand the test of time. Whether it comes in ceramics, cement, or glass, each has a character on its own and features a variety of shades and patterns. Depending on the overall theme of your kitchen, you can choose a rather light and less pronounced or bolder character of blue mosaic tiles. In this round-up, we compiled a list of blue mosaic tile backsplash ideas that are executed in various materials and shades, showcasing how a blue mosaic tile backsplash is used in the rustic, contemporary, farmhouse, and transitional kitchens. Read on to get some inspiration from these design projects that surely rock.
Is mosaic good for a kitchen backsplash?
Mosaic tile backsplashes create dazzling effects, stealing the show and forcing other elements to play along. So, when choosing a mosaic backsplash, you already know that it will be a statement piece.
As very durable and reliable materials, they offer resistance to heavy use and moisture. But since they are very small, which means they have more grout lines, they are more demanding when it comes to the installation and cleaning processes. Especially if you go with glass mosaics, then you will have to be even more careful while applying the thin-set and grout as they can easily be visible due to the transparent nature of the glass tiles.
But, even though the cleaning and installation of the mosaic tiles are a daunting task, the result is worth it. They create a well-articulated background. As they come in various patterns and sizes, you can adjust them to any theme.
Blue Glass Mosaic Tile Backsplash
Coming in a wide range of sizes and shapes, blue glass mosaic tiles are aesthetic and functional backsplash options. To start with, glass tiles are non-porous, which makes them easy to clean and maintain and resistant to mildew and staining. This non-porous skin also doesn't leave any space to harbor bacteria. And unlike natural stones, they don't require any sealing. Secondly, as eco-friendly materials, mosaic tiles help designers and homeowners go green in the kitchen. They can easily be recycled and repurposed for a variety of uses. You can even find their recycled glass tile backsplashes that come with a wood and marble-like look. The hexagon pattern versions of these versions especially give the walls a nice eye-catching finish, along with other designs including silk and iridescent finish blue glass tiles.
When it comes to their aesthetic benefits, you can customize a mosaic tile according to your needs and ensure creating an eye-catching background. Plus, thanks to glass tiles' luminous nature and natural sheen, they create an interactive place, encouraging natural lights to play around. As such, they also illuminate the space better, enhancing the spaciousness by creating a mirror effect. Especially if you have a mid-century kitchen design, you can combine them with dark woods to create an immersive look.
Is mosaic tile hard to clean?
As with any other statement material, mosaic tiles have a con, too. Since they are cut into very small sizes, they have more grout lines, which makes them harder to clean when compared to large format tiles that bring less grout. But they don't require any special cleaning product, unlike natural stones. Mild dish soap is generally enough for the causal cleaning unless you are dealing with a stubborn stain.
Blue Ceramic Mosaic Tile Backsplash
Coming in various shades and patterns and at affordable costs, ceramic tiles are made with a clay mixture fired in a kiln at high temperatures. In addition to their ease of maintenance, they offer resistance to heat and mildew. Highly customizable, they feature a rich spectrum of blue patterns and sizes, including blue mosaic tile backsplashes. For extra interest, you can treat them with a glazed finish to create a backsplash that is more interactive with natural lights. To complement them, you can use light wood and white cabinets, which will put the blue backsplash in the spotlight. For complementary elements, you can go with glass pendants and brass and chrome hardware for additional glow and chic, modern appeal.
What color goes with a blue mosaic tile backsplash?
Blue is a versatile color that can be combined with a wide range of colors. But grey, white, pale green, and wood shades are the most popular shades combined with blue in the kitchen. Additionally, golden hardware adds glow and a sense of warmth while communicating luxury at the same time. Chrome range hoods with brass stripes create big design moments, drawing attention to the blue mosaic tile backsplashes. So, metallic shades are also welcome if you want to bring in a modern-rustic feel. Also, feel free to include pops of oranges and red to go bold. If you have a dark blue mosaic backsplash, you can even consider adding pops of yellows with accessories and stools to enliven the overall look.
If you want to create an all-blue look, you can incorporate different shades of blue to curate a sophisticated space, which especially works well in eclectic and contemporary kitchens.
Blue Cement Mosaic Tile Backsplash
Dating back to the 1850s, cement tiles are handmade tiles. They consist of cement, sand, mineral powder, and color pigment compressed with a hydraulic method that makes them hard-wearing in the long term. That's why they are also known as hydraulic tiles. When compared to ceramic tiles, they have a longer lifespan and are less prone to wear and tear over time. Apart from those, what makes the cement tiles extra special is the slight imperfections the tiles have (because they are handmade), which add more depth and character to the tiles, making each one unique.
Used popularly in many different settings, including staircases, backsplashes, and floors, they are also highly customizable and offer all sorts of looks. Especially the Mediterranean-style kitchens and Moroccan-design spaces use them a lot as they offer intricate vegetal, multi-colored, and non-geometric patterns. The same goes for blue cement mosaic tile backsplashes that provide homeowners and designers with expansive design possibilities. You can confidently integrate these tiles into the farmhouse, modern, and rustic kitchens. The shades of blue, even in their pale shades, impose serenity and tranquility. But if you want something modern for your contemporary kitchen, they also feature various geometric patterns and even scalloped versions in light and bold shades to create a light or statement volume in the background.
How to clean a blue mosaic tile backsplash?
Dish detergent or mild soap, and a bucket filled with warm water are enough to clean a mosaic tile backsplash. But for more stubborn stains, you might need to mix vinegar with water in equal measure. For ease of use, you can keep this mixture in a spray bottle. Or instead, you can make a paste with baking soda and clean the surface with a soft damp sponge.
The same goes for the grout. You can spray the grout lines with a vinegar-water mixture and let it sit for a couple of minutes. This way, you give the mixture enough time to do its job and dissolve the stains. After a few minutes, you can scrub the stains with a soft brush, rinse them, and dry them with a soft cloth.
But if you want to keep your backsplash in its best version for years, regular cleaning is the key. This way, you clean the surface before letting dirt build up, and removing them gets more challenging.
Blue and White Mosaic Tile Backsplash
If you want to evade a monochromatic look for your kitchen, you can always go with multi-colored backsplashes. But if you don't want your space to look color-poisoned, then it is better to consider blue and white mosaic tile backsplashes just to be on the safe side. To complement a two-colored backsplash, you can incorporate two-tone cabinetry in blue and white. This way, you can create a continuous design throughout that feels cohesive. Plus, it is almost impossible to go wrong with a blue and white combination. They are almost as classic as white subway tiles and white looks. Especially with the hand-painted blue-white tiles, you can capture a truly authentic feel with a curated look. Also, keep in mind the importance of the colors and their influence on the environment. The combination of white and blue imparts calmness and serenity to the space, revitalizing the overall look.
What countertop goes with a blue mosaic tile kitchen backsplash?
As blue mosaic tile kitchen backsplashes are already statement pieces themselves, it is better to choose something that is less attention-seeking to complement them. Thus, generally white quartz and laminate countertops are used popularly with blue mosaic tile backsplashes. But if you want something that has more patterns, you can give a chance to the quartzite, blue granite, marble, and marble-look quartz countertops. Additionally, for a sense of warmth, butcher block countertops can achieve a soft contrast and smoothen the blue shades. To neutralize it, light and dark gray countertops could be incorporated as well. Also, don't forget the terrazzo countertops that feature blue-orange chips of small sizes. They can accompany blue mosaic tile backsplashes nicely to make for a memorable design.
The second hint that you may follow is the material and finish type of the tiles in the kitchen. For example, if you have a shiny dazzling finish on the glass mosaic tile backsplash, choosing something in a matte finish for the countertop provides a better balance and synchrony between the different design features of the kitchens.
Thirdly, the overall style of the kitchen plays an important role when determining which countertop is better. In contemporary kitchens, for example, granite countertops are not very popular. Instead, quartz and marble countertops rank high. In farmhouse kitchens, for example, you can go with butcher block, quartz (especially for modern farmhouse kitchens), and quartzite countertops.
Modern Blue Mosaic Tile Backsplash
Modern blue mosaic tile backsplashes feature geometric patterns and star shapes. Especially hexagon and mermaid patterns are very popular in contemporary, Scandinavian, and mid-century modern design kitchens. You can combine them with timber island units, butcher block countertops, sleek quartz countertops, and flat-front cabinets. If you want to jazz up the design, you can incorporate abstract art paintings, modern prints, and cabinet or floating shelves. Also, don't forget the modern lighting fixtures that play an important role to define the overall style of the kitchen. For example, you can go with linear pendants, simple flush-mounts, tracking spotlights, and even better, biomorphic form task and accent lighting to make a statement.